The secret is out that the way to avoid the dry, stringy turkey of your grandparents' generation is to use a simple turkey brine before the big day.
Despite sounding scientific, turkey brines have an easy formula and in many cases, the ingredients are already in your pantry. Using a brine always results in a flavorful turkey, and is a great opportunity to add extra personality to your bird.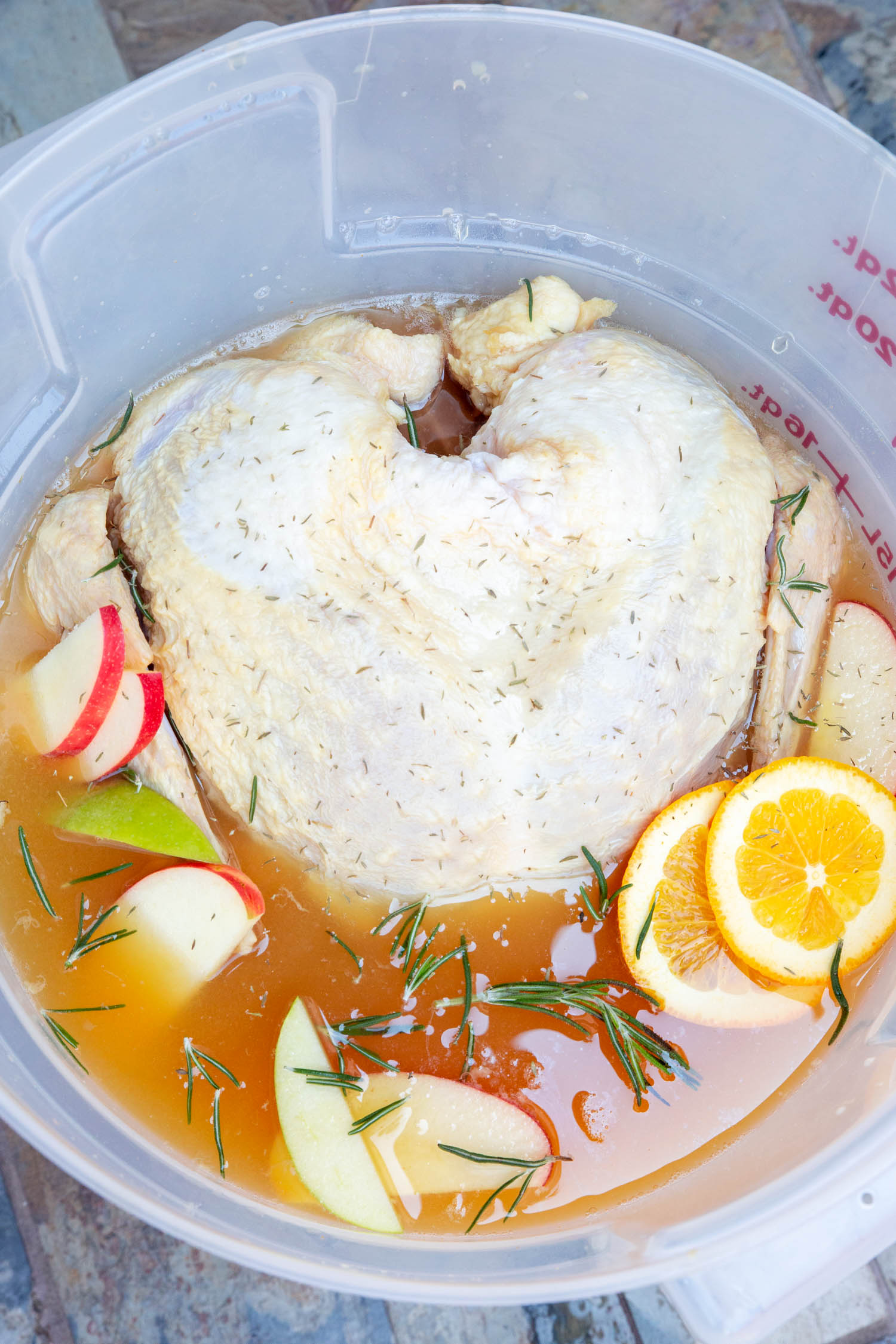 The classic turkey brine formula of 2 gallons of water to 1 cup of kosher salt is the most basic brine.
This is the easiest brine and will always give you good results…
But for those of us who love a little something extra, our kitchen crew has created this apple cider smoked turkey brine for a Thanksgiving turkey with meat that is juicy, succulent, and dripping with the flavors of crisp apple cider and sweet honey.
We think it's the best dang smoked turkey brine recipe on the freakin planet!
For those not interested in a dash of sweetness we've also created this authentic, cajun turkey brine with creole butter slather (you paint it on and it looks super cool). Both are excellent choices to brine your turkey in this year!
(Links are affiliate links to products we think are helpful and we may receive a small commission, at no cost to you, if purchased.)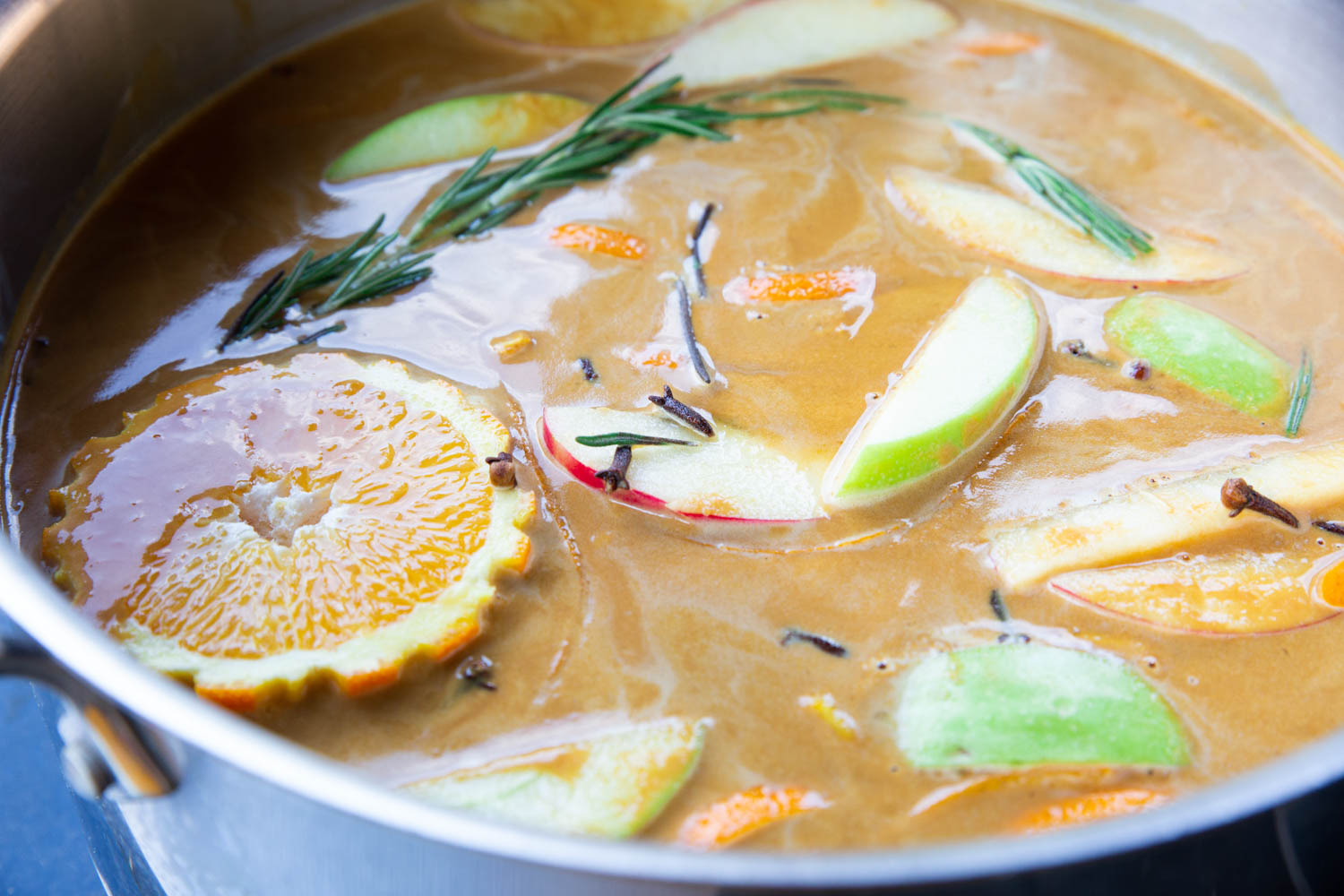 Do You Have To Brine A Turkey To Smoke It?
No, you do not have to brine a turkey to smoke it. Smoked turkeys are ultra juicy and have a whisper of smoke flavor and golden brown skin all on their own.
They are naturally more juicy and succulent than an oven-roasted turkey, even for beginning pitmasters. Also, an added bonus is having the oven available for cooking your casseroles and pies.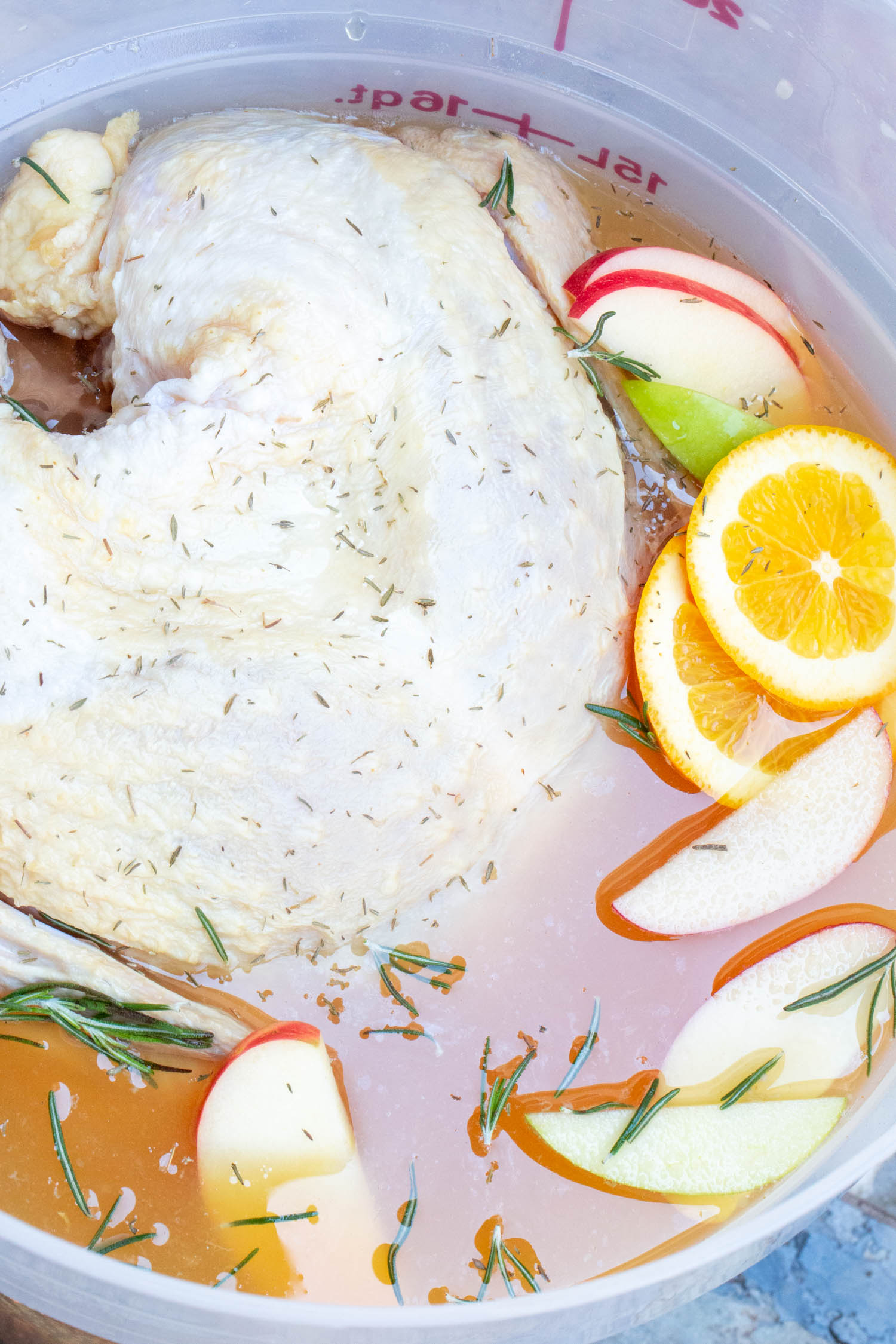 Does Smoked Turkey Taste Different Than Roasted Turkey?
Not really in a noticeable way. The first year we hosted Thanksgiving and announced we would be smoking the turkey some family members grew concerned that the turkey would taste different than the traditional roast turkey of our grandmother.
This led them to roast a turkey at home using her oven method and bring it to our Thanksgiving festivities.
Not only was the juicy, smoked turkey devoured first due to its tastiness, but we also had to continually tell people which platter was smoked and which was roasted. (The roasted one looks dry fam!)
The flavor of smoked turkey is subtle because poultry smokes quickly and is not exposed to the smoke for more than a few hours. Likely, your guests won't notice a huge flavor difference unless you brine the turkey in a fun brine like this one.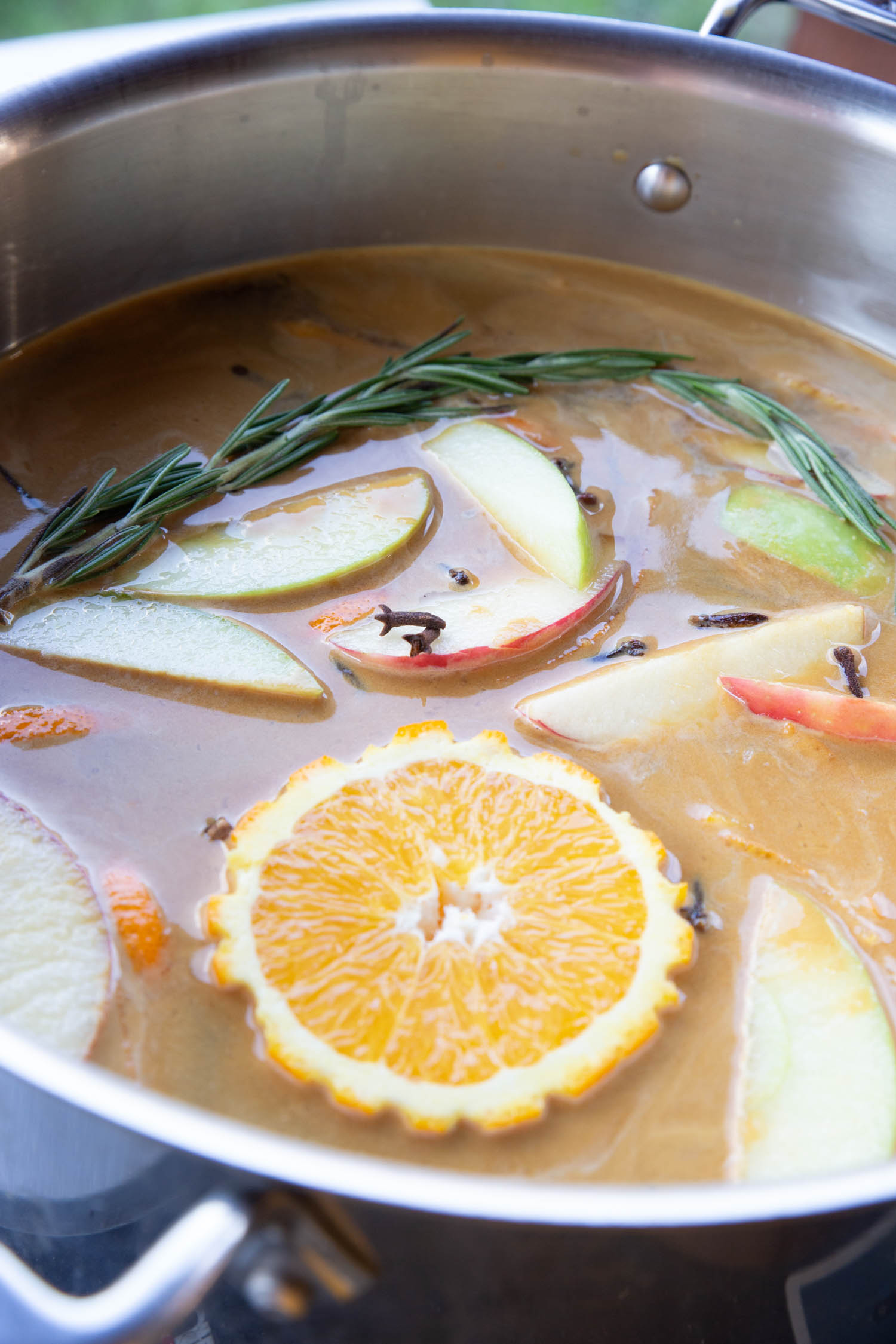 What Size Turkey is Best To Smoke?
The only issues you'll need to consider when choosing the best size of turkey to purchase for your party is…
1) How many people you will be feeding
2) The size of your barbecue smoker
The classic recommendation for how much turkey you'll need is 1.25 pounds per person. If you want plenty of leftovers, we like to say 2 pounds per person.
So, for 20 people a 25-30 pound of turkey is recommended.
That being said, you'll also want to consider the height of your smoking chamber.
We're smoking a 20-pound turkey on a Rec Teq Bull in the photos. A turkey up to 25 lbs. will comfortably fit in this smoker but anything taller may scrape the skin of the turkey when getting it in the chamber.
You'll need to consider the size of your chamber when making your plans to insure there is enough space. Don't forget to take into account if you'll be smoking anything else that day…like smoked baked beans, mac and cheese, etc.
Where Can I Get That Big Turkey Brining Bucket?
This bucket comes from Restaurant Depot and home improvement stores like Lowe's and Home Depot sell clean 5 gallon buckets in the paint department for about $5. For best results, get one with a lid.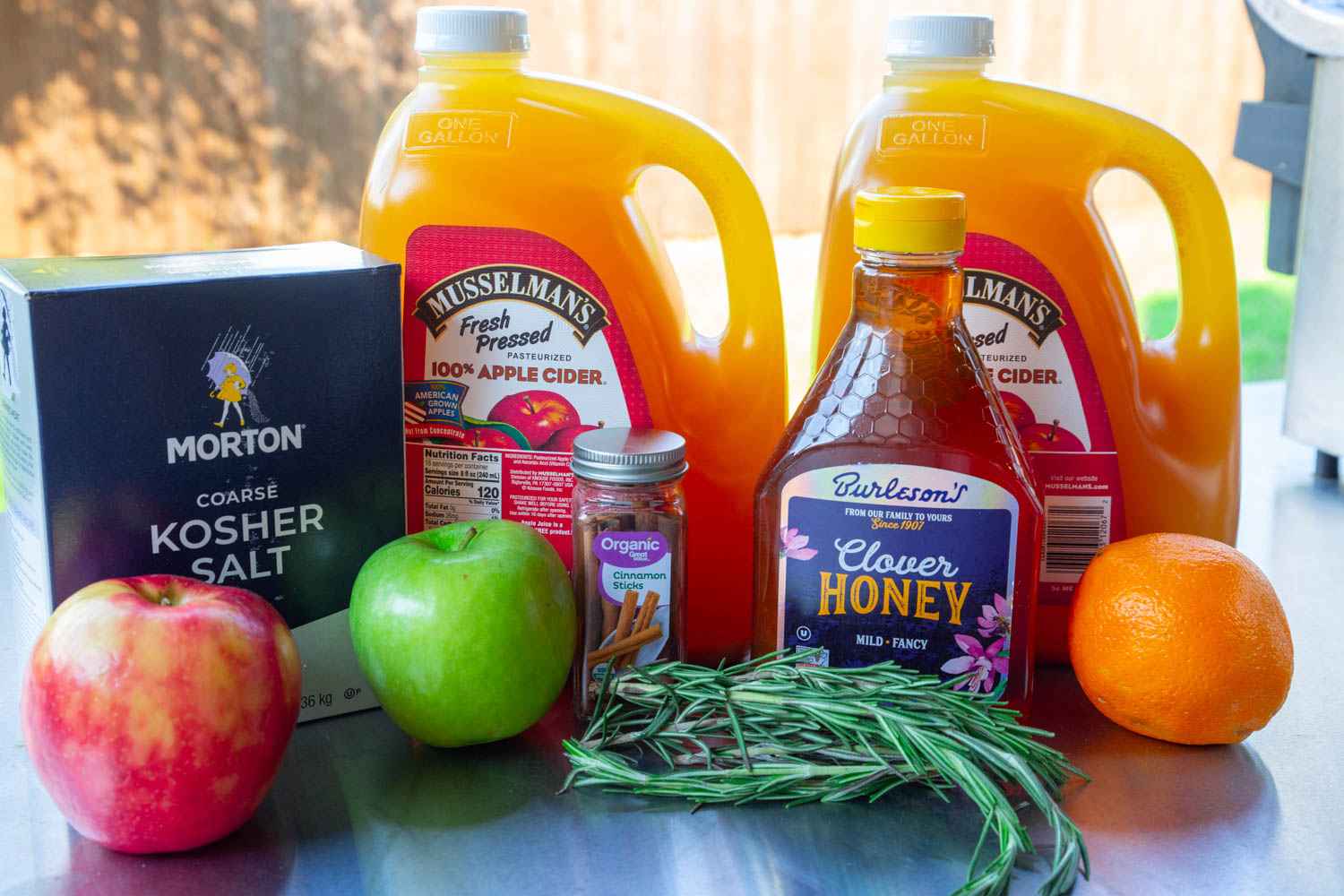 How To Brine A Turkey To Smoke:
Defrost the turkey if frozen
Create the brine
Chill the brine
Brine for 1-2 days
Smoke the turkey
To begin the process we must have access to fresh turkeys. So defrost your frozen turkey or purchase a fresh one. A turkey breast may also be brined and smoked.
To create the turkey brine, 1 gallon of apple cider and kosher salt (table salt may also be used) are heated along with any spices, fresh herbs, and our honey.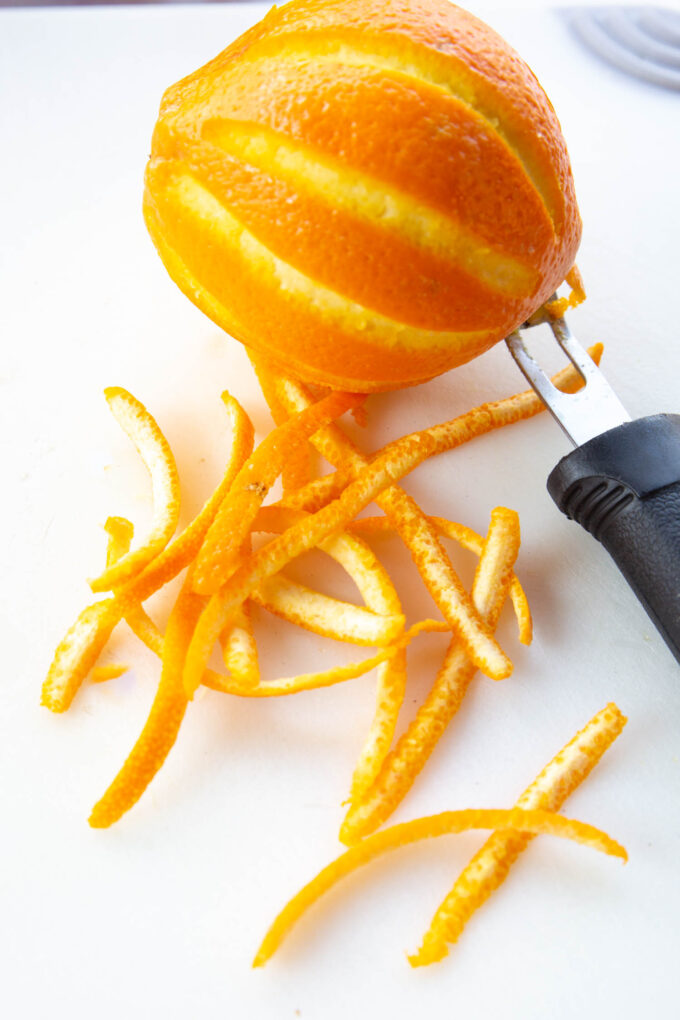 You just need this mixture to come to a boil to dissolve the salt and honey into a solution and bloom the spices. Then, you will cool and chill this mixture. Add the remaining gallon of apple cider and pour the apple cider brine into a 5 gallon bucket.
Do not add hot turkey brine to a fresh turkey!
Place the turkey into the brine breast side down. A larger turkey will need to be flipped once throughout brining.
How Long Do You Leave A Turkey In The Brine:
At least overnight, and up to 2 days. 24 hours seems to be perfect.
Most people wet brine overnight and up to 24 hours before smoking. It's safe to leave it in the brine solution for up to 2 days without issues… In fact, our culinary school textbook says turkeys need 4 days to brine!
While we've never brined that long, a 24-hour brine gave us juicy turkey meat with a soft apple flavor that paired perfectly with the natural taste of smoked turkey.
Anything Different To Know About Flavoring Smoked Turkeys?
We just like to remind you that the brine will flavor the meat while the choice of wood will fragrance the aroma. That's why we love this apple cider turkey brine–it goes along with apple and fruit woods but can stand up to hardier woods like pecan and oak.
A turkey brine recipe for a smoker should take into consideration the wood you'll be using. Simple salt and hot water brines will provide juiciness, but not add additional flavors for interest.
An amazing smoked turkey comes from a combination of a good tasty brine and smoke that compliments the brine flavors.
Check out our Turkey Compound Butter, AKA Turkey Paint for easy and amazingly flavorful golden brown skin.
Yield:

1 Brine
Smoked Turkey Brine Recipe
Total Time:
1 day
20 minutes
This smoked turkey brine recipe pairs crisp apple cider and sweet honey for a juicy melt-in-your-mouth turkey that everyone raves about!
Ingredients
Smoked Turkey Brine Recipe:
2 gallons of apple cider
1 cup of kosher salt
1/2 cup of honey
2 cinnamon sticks
7 whole cloves
1-inch stick of fresh ginger, sliced thin
1 orange
1 red apple
1 green apple
1 raw whole turkey, fresh or defrosted
1 5-gallon bucket (see notes)
Optional: fresh herbs such as fresh rosemary, bay leaves, sage, and thyme may be added
Substitutions: brown sugar or alternative sugars like monk fruit or Splenda may be substituted for the honey if desired
Instructions
How To Prepare the Turkey:
To brine properly, we must be working with a fully defrosted and raw turkey so if you purchased a frozen turkey go ahead and defrost it fully in the refrigerator or under cold running water.

How to Prepare the Turkey Brine:
1. In a large pot pour in 1 gallon of apple cider (reserve the second gallon for cooling the mixture), kosher salt, and the honey.
2. Add in two cinnamon sticks, seven cloves, and sliced fresh ginger.
3. Using a channel knife, cut ribbons of orange peel. You can also use a zester or even a cheese grater to zest the orange and add it to the turkey brine. Slice the orange in half and squeeze the juice into the pot.
4. Slice up the red and green apples and add them to the pot.
5. Bring the pot to a boil and stir well until the salt dissolves.
6. Remove the brine from the heat and allow the brine to cool to at least room temperature before placing it in the refrigerator.

Using the Brine On the Turkey:
7. In a 5-gallon bucket place the whole turkey, breast side down. (You will rotate it once during the burning process.)
8. Add the remaining 1 gallon of Apple cider to the 5-gallon bucket.
9. When the brine is cool it may be added to the 5-gallon bucket. The turkey is officially brining. Place the entire 5-gallon bucket into a garage refrigerator and brine overnight or up to 24 hours. The turkey may be brined for up to two days in this apple cider turkey brine with good results.

**For larger turkeys, we recommend rotating the turkey once during the brining process to ensure that all meat is properly brined.

10. When you're ready to move to the next step of your cooking process remove the turkey from the brine and dry it with a paper towel. Discard the brine down the sink after removing the cinnamon sticks and cloves. Your garbage disposal should be able to take care of the soft fruit.

Rinse the 5-gallon bucket and your sink with hot soap and water quickly to prevent cross-contamination of raw poultry to your other holiday dishes.

Smoking A Brined Turkey:
Prepare your barbecue smoker or pellet grill with wood, pellets, or wood chips. Apply our turkey slather or your favorite turkey rub and insert a probe thermometer into the thickest part of the breast meat.

We recommend smoking at 250 degrees, over indirect heat until the turkey reaches an internal temperature of 165 degrees.

We have full directions for our turkey butter slather and directions for the best way of smoking on a pellet smoker here.