Even though fall is a great season for cooking outdoors it's also a really busy season for families and a time when the crockpot sees a lot of action. So, today we're learning how to make this easy pulled pork recipe in your crockpot or instant pot.
I started making this crockpot-style pulled pork years ago when I was a private chef. I'd cook exquisite fresh food all day for celebrity athletes, come home to my little San Antonio apartment and there was nothing to eat!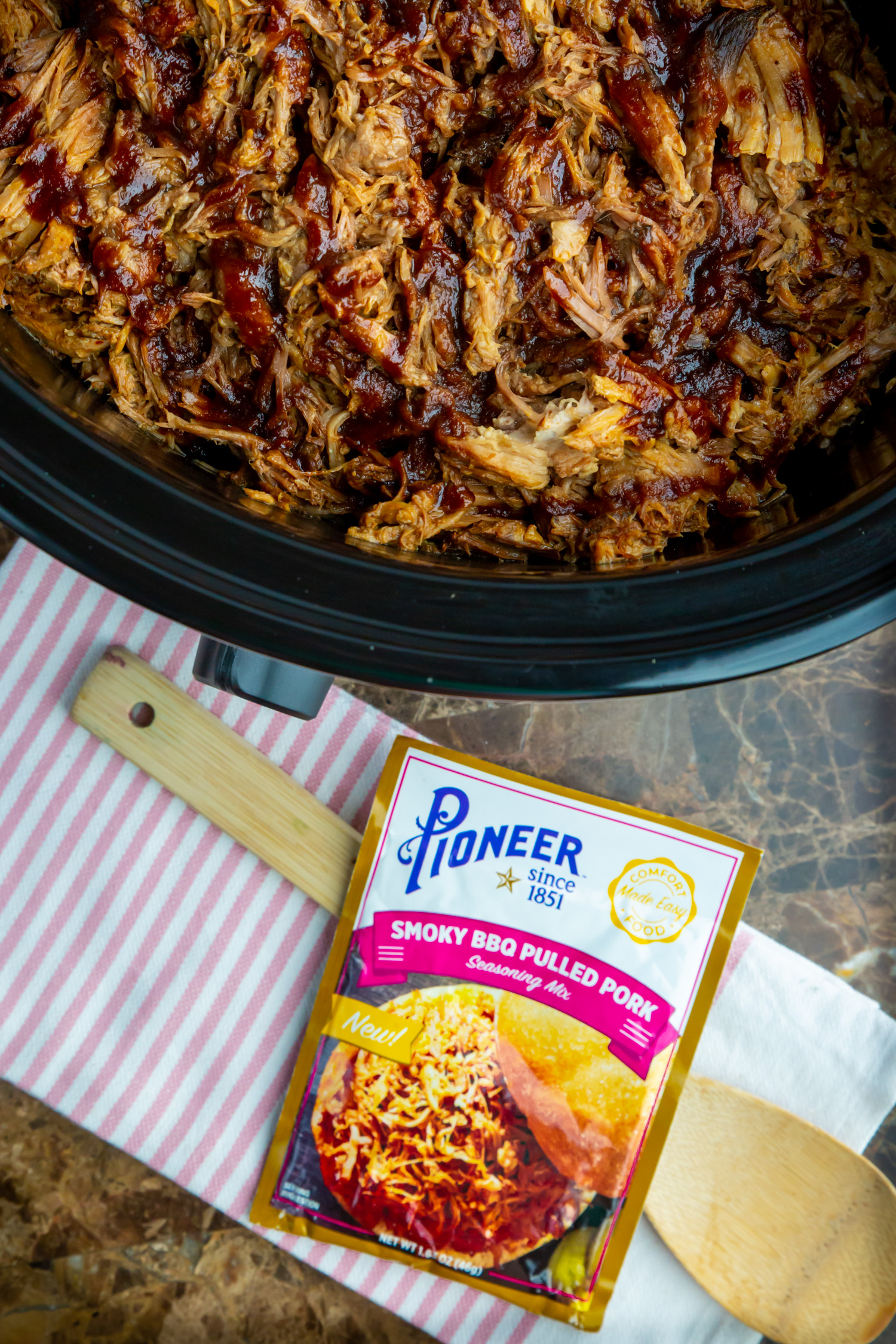 So, I got to tinkering with many of the best slow cooker recipes and this is now a tried and true method that I've used for nearly 15 years.
This no-fuss pork crock pot recipe literally cooks itself, it's kid-friendly, and it's almost as good as the real thing. And I can say that because we smoke a lot of barbecue in this house!
It's one of our favorite slow cooker recipes and leftovers freeze beautifully for making dinner in a pinch. (I have some creative ways you can use all of this pulled pork in the video, like quesadillas and nachos!)
For our pork barbecue rub blend were welcoming a beloved Texas food brand into the kitchen, Pioneer Foods.
I am really impressed by this new pulled pork dry rub because as I have said in many barbecue posts–it's hard to find barbecue rubs in the local grocery store that have really unique and dynamic flavor. I'm happy to find that this option by Pioneer is robust and well-balanced, without a lot of extra salt or sugar.
Just classic barbecue pork spices with a hint of smoke.
Additionally, barbecue rubs from famous pitmasters are not going to have any smoke essence in their dry rub because they rely on you to provide the smoke from your barbecue–this pork rub is specifically engineered for pulled pork in the crock pot.
It's got a whisper of smoke which we thought was a really nice touch and very authentic in taste.
If this Pioneer Pulled Pork Seasoning is not available at your local grocery store, you can use your favorite pork or barbecue rib rub. Good pork rubs should have these essential ingredients…
Brown sugar, paprika, salt, onion powder, garlic powder, chili powder, red pepper, and occasionally cumin, ginger, or black pepper.
How To Make Pulled Pork In A Crock Pot
What cuts of pork should be used in a slow cooker?
I have purchased a boneless pork shoulder or pork butt roast, sometimes labeled boston butt, for this recipe. Despite their names, they both come from the shoulder of the pig– the butt is up high near the neck and the shoulder is lower.
Both cuts are referred to as braising cuts made up of connective tissues that break down over long term slow cooking.
You can buy bone-in or boneless for this method, it doesn't really matter and we are usually at the mercy of what the grocery store is stocking at the moment.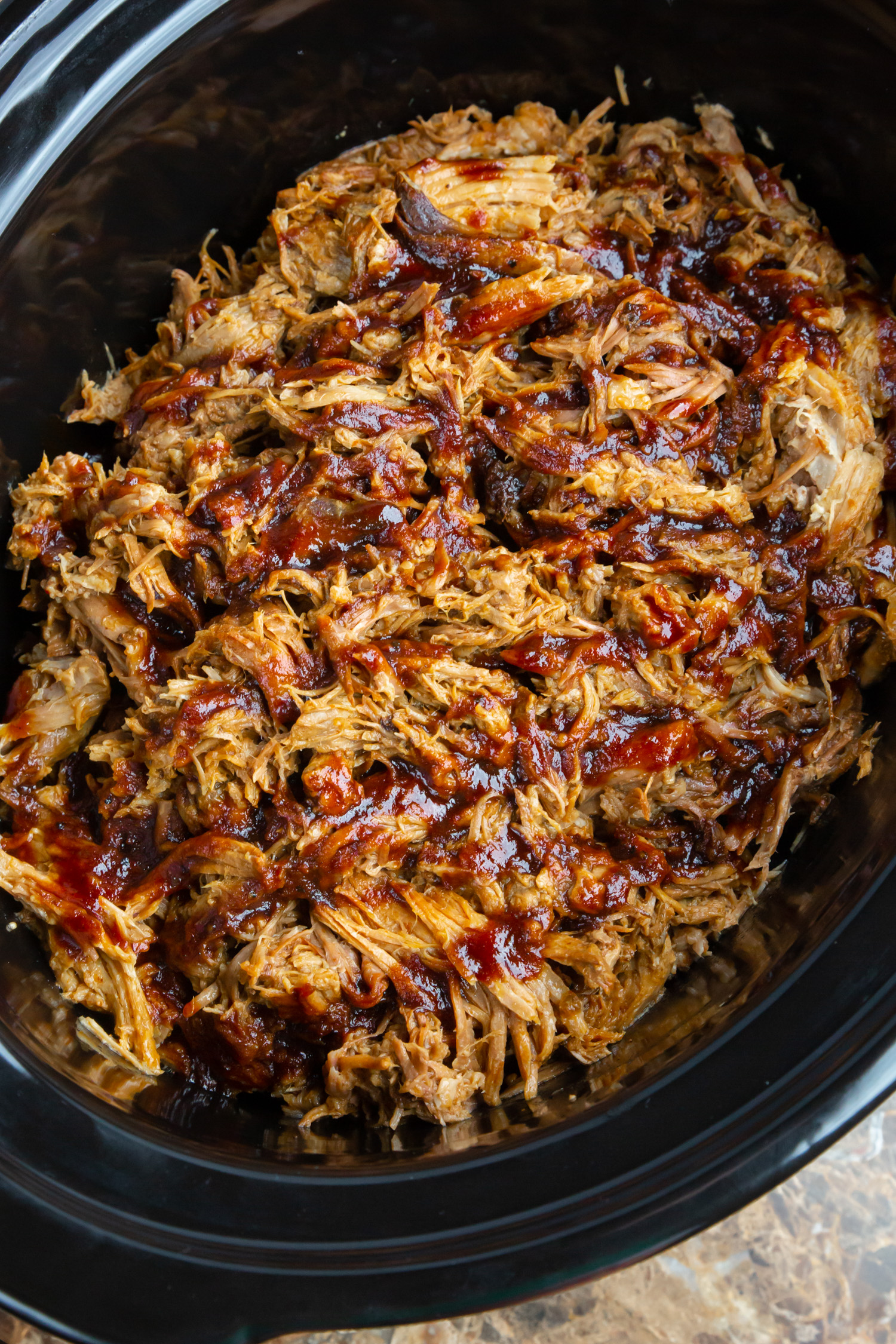 I usually prefer pork butt for smoked pork because it has more fat which makes traditional smoked pulled pork very juicy, but in this instance, you may prefer pork shoulder for less grease in the crockpot.
Regardless, in my method, we will pour off any grease that accumulates after cooking the pork, so there won't be any issues there. Just be aware that you can use either pork shoulder or butt, and that will be the best cut of meat for this method.
Pork butts are 5-6 lbs and can be cut in half for this recipe, cooking one half and freezing the other for a later date if that seems like too much meat for your family. As always, I prefer to go ahead and cook the whole thing and place meal-sized portions in freezer-safe Tupperware, which I can defrost later in the month for an easy dinner.
You will want to avoid leaner cuts of pork like pork tenderloin and pork chops which are more suitable to high heat, rapid cooking like grilling. I have a great grill guide for pork right here that has some terrific ideas for these cuts of meat.
Pulled Pork Recipe Crockpot Instructions:
For this method, we are using a 6-7 quart crock pot, clean and preheated to high. For slow cooker bbq with lots of sticky barbecue sauce, you can use a crockpot liner like this for easy cleanup. (Easy cleanup always makes for a great recipe!)
All we do is place the pork in the crock pot and sprinkle it with the pulled pork rub. Placing the dry rub on top makes the best pulled pork that resembles authentic barbecue bark! It also lets the seasonings continuously drip down over the pork roast throughout cooking.
Go ahead and insure that you can place the lid comfortably on the crock pot before moving forward. If you can't it's perfectly okay to cut the pork with a sharp knife into pieces that fit in the bowl.
Add 2 cups of any cola you like. I've used Dr Pepper, Cherry Coke, Rootbeer, and Cream Soda. If you are concerned about added sugars, chicken broth or water may be substituted for the braising liquid.
Due to the good amount of fat that will be poured off after cooking these sodas will only contribute a small amount of extra flavor; they will however provide tenderness and moisture to the slow-cooked pork.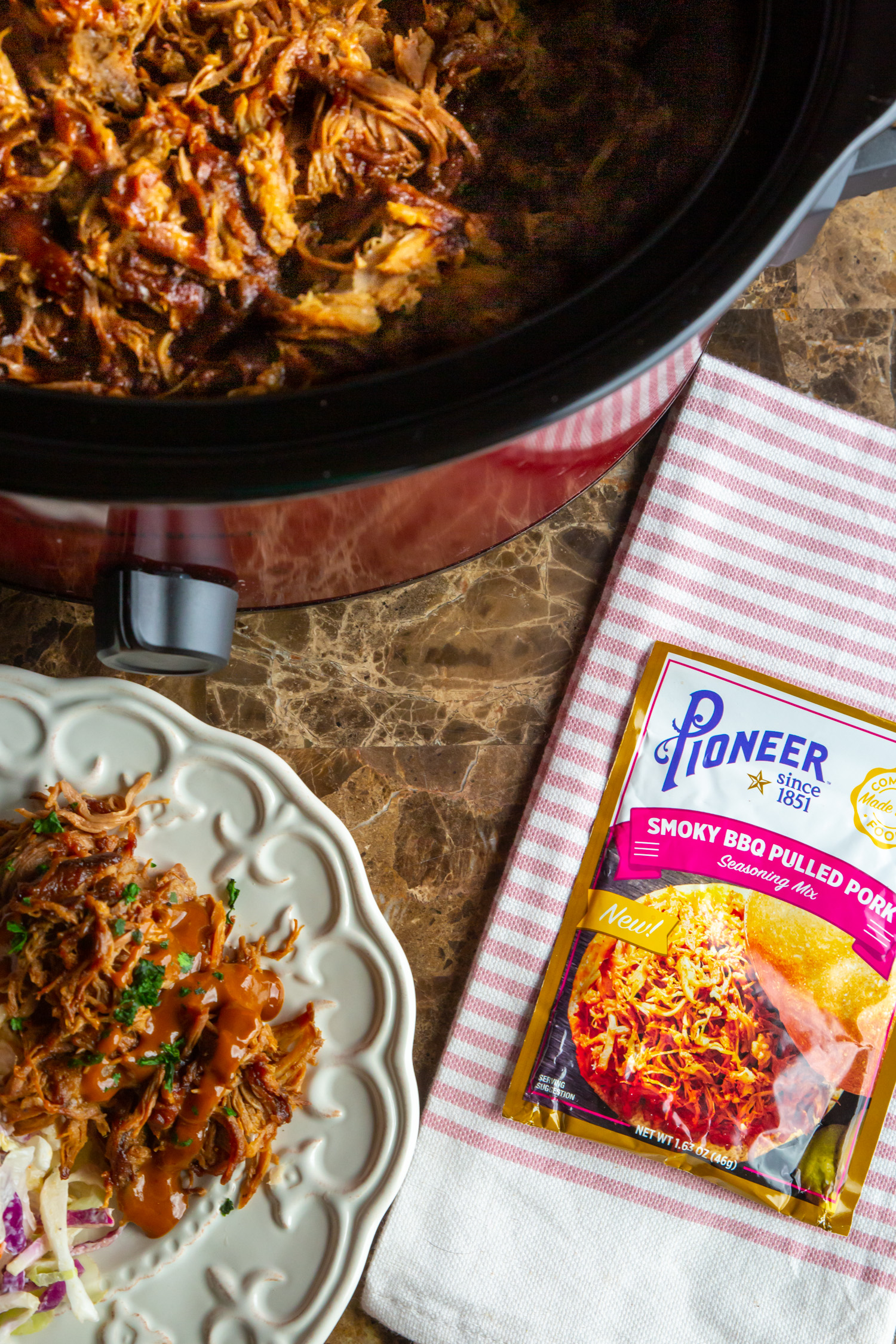 Place the lid on the crockpot and let this cook on high for 6-8 hours. For family gatherings that are early the next day, I put these simple ingredients together right before bed and let them braise in the crockpot overnight.
After cooking were going to pour out the grease which has risen to the top from the excess fat. It's easiest to do this if you haven't begun shredding the pork yet. Just use the lid to drain the liquid off the completed roast.
To finish we'll add 1 cup of your favorite barbecue sauce, and shred the meat using two forks, working back and forth, and pulling it into shredded pork.
From here, you can set the crockpot to the "keep warm" function and serve up pulled pork sandwiches on Hawaiian rolls or hamburger buns, pulled pork quesadillas, pulled pork tacos, pulled pork nachos, or just keep it simple by serving the pork on a plate with coleslaw or potato salad.
You can see how this makes family dinners on busy weeknights effortless for those of us who work all day.
Instant Pot and Pressure Cooker Method
My favorite way to put an amazing dinner on the table with very little notice is by assembling this 'best pulled pork recipe' in my instant pot or pressure cooker, using the exact same method but cooking only 1 1/2 hours.
Allow the appliance to depressurize and then open the lid and drain the grease off. Finish with 1 cup of favorite bbq sauce and shred the pork with two forks.
Leftover Pulled Pork Freezing Instructions
After the pork cooks, you may cool the pork (with or without adding the barbecue sauce) and portion it into an airtight container. The best way is to choose Tupperware that you can fill fully with very little room left for air. Pop the lid and freeze.
Now you have pork shreds available in a snap for all of your favorite recipes or a simple 5 minute pulled pork sandwich.
You can defrost in the refrigerator overnight, or pop the frozen pork into a microwave-safe bowl and microwave in 2-3 minute increments, fluffing with a fork, until hot throughout.
Pulled Pork For The Big Game, Birthday Party or Potluck
This easy recipe is great for a pulled pork station at your next get-together. Friends or family can each be assigned one component of the dish to bring.
You can feed a lot of people with one pulled pork and the best part is they assemble the dish themselves. Some options would be…
Pulled pork nacho station with chips, nacho cheese, jalapenos, pico de gallo, and sour cream
Pulled pork loaded baked potatoes with cooked baked potatoes, cheese, sour cream, green onions, and an assortment of bottled bbq sauces
Pulled pork sandwich station with slider buns, pickles, sweet onions, and classic bbq sides like our blue ribbon potato salad and TikTok viral baked beans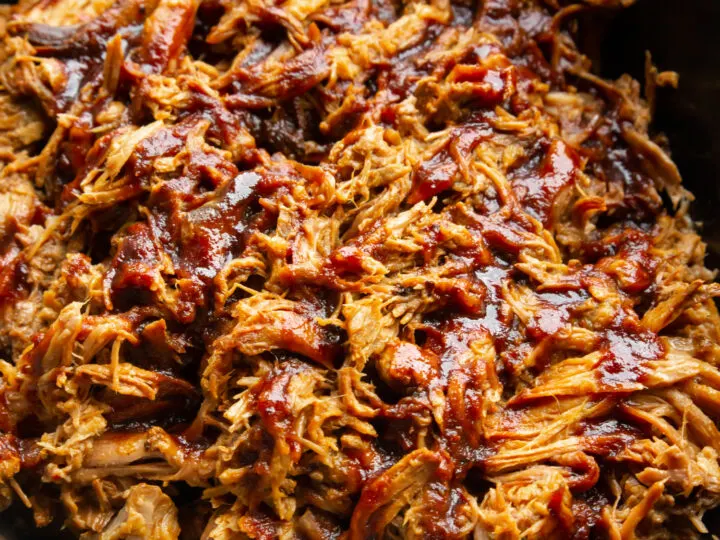 Yield:

3-4 pounds
Crock Pot Pulled Pork Recipe
Total Time:
6 hours
5 minutes
This easy crockpot pulled pork is effortless and only requires dumping in a few ingredients and then going about your day. You'll come home to juicy pulled pork that you can use for baked potatoes, quesadillas, or to serve up for the big game as a build-your-own sandwich station!
Ingredients
1 pork butt, boston butt, or pork shoulder
1 package Pioneer Smoky Pulled Bbq Pork Seasoning Mix or 1/3 cup pork barbecue dry rub
2 c. cola (to be poured out after cooking time)
1 cup favorite barbecue sauce of choice
Instructions
In a large crock pot (6-7 quarts) place pork roast (boston butt, pork butt, or pork shoulder) down in the bottom of the crockpot. If the pork is too large to place the lid back down securely, you will need to cut it with a sharp knife into manageable chunks so that the lid will be in place during cooking.
Sprinkle the pork with the dry rub, pour in the cola of your choice, and cover with the lid. Cook on high for 6-8 hours.
Drain off the liquid in the crockpot (cola and grease) and return the crockpot bowl to the warmer. Shred with two forks and pour 1 cup of barbecue sauce on the pulled pork shreds. Fold the barbecue sauce into the pulled pork.
This dish can be served with the many suggestions in this post such as pulled pork sandwiches, nachos, taco bar, or atop baked potatoes with extra sauce!
Notes
Our favorite barbecue sauces for pulled pork are sweet such as Sweet Baby Ray's Bbq Sauce, Stubb's Sweet Bbq Sauce, or our own recipes such as my Carolina Gold Barbecue Sauce.
Nutrition Information:
Yield:
15
Serving Size:
1
Amount Per Serving:
Calories:

140
Total Fat:

5g
Saturated Fat:

2g
Trans Fat:

0g
Unsaturated Fat:

3g
Cholesterol:

26mg
Sodium:

380mg
Carbohydrates:

15g
Fiber:

0g
Sugar:

13g
Protein:

8g
This nutritional information is provided as a courtesy as an estimate only. Consult with a dietician for precise estimates. This website makes no claims that the nutritional values listed are accurate.