Picture this: Succulent, perfectly seasoned meatballs nestled on a bed of creamy mashed potatoes with a drizzle of brown gravy and a dollop of lingonberry jelly.
Now picture yourself free to walk around with your perfect little appetizer cup, greeting friends, noshing a warm meatball as you go!
I think that's just what IKEA had in mind with this cute and clever Swedish Meatball Sundae that recently hit their snack shops, and reminded us what perfect party food and heavy hors d'oeuvres are trying to accomplish—feeding guests while allowing them to remain social.
(Links are affiliate links to products we think are helpful and we may receive a small commission, at no cost to you, if purchased.)
The Easiest Meatball Appetizer Ever
As someone who cooks from scratch daily, this easy recipe is a much-needed relief around the holidays or anytime you're entertaining. You can grab everything you need and prepare 20 serving cups in less than 30 minutes.
This easy recipe utilizes a bag of frozen meatballs, and a dressed-up boxed mashed potatoes mix (just like IKEA uses), however, you're free to make the mashed potatoes from scratch if you like to give it a semi-homemade feel.
I have also made these using deli mashed potatoes, which cuts down on the labor and can help you get these prepped up in 15 min or less! The preparation is only as intense as you want it to be, or what your schedule allows.
How To Make Swedish Meatball Sundaes
Each Swedish Meatball Cup Is Comprised Of:
Scoop of Mashed Potatoes
3 Meatballs
A Drizzle of Brown Gravy
A Dollop of Lingonberry Jelly or Cranberry Sauce
Sprinkle with Freshly Chopped Chives, Parsley, or Dill
The best way to assemble these simple meatball appetizers are to place the party cups (I used 5 oz. cocktail cups on a baking sheet for easy transport) down and fill assembly-line style.
First, fill with a scoop of mashed potatoes (this is the scoop I used), top with 3 meatballs warm from the pan, and drizzle with a creamy brown gravy.
Assembling all the cups one step at a time…scoop all the mashed potatoes, followed up with all the meatballs, and ladle out gravy on each cup—makes for fast-moving and efficient work.
Top with a small dollop of the lingonberry jelly or cranberry sauce (totally optional, but festive looking!) and sprinkle with a bright green herb for a professional look.
Substitutions For The Meatball Sundae Recipe
Use chicken or veggie meatballs instead of beef or pork meatballs
Lingonberry Jam is traditionally served with Swedish Meatballs, but it can be difficult to find outside of IKEA stores, you can also use cranberry sauce for a similar taste
Use boxed mashed potatoes, deli mashed potatoes, or make your own with fresh boiled potatoes, butter, and cream
Creative Ways To Serve The Appetizer Cups:
These appetizers can be laid near cocktail ingredients with a note for your guests to help themselves to a cup!
These meatball cups look elegant passed on trays or on a silver platter.
Serve them with miniature cocktail forks (already added) so that they're a grab-and-go bite that keeps the partygoers free to visit.
Use the cups and forks as an opportunity to show some holiday spirit with festive color schemes.
How Much Can Be Prepped Before Hand?
The beauty of a recipe this simple is that as written, the recipe is simply warming up store-bought ingredients. Beyond that here are a few tips…
The herbs can be chopped that morning and held in a Tupperware dish in the refrigerator.
If you do choose to make your own homemade mashed potatoes, those can be made 24 hours before and gently reheated in a microwave or on the stovetop over low heat.
The cocktail cups can be placed on a tray or cookie sheet for easy assembly line work when it's go time. This will help with transporting so many heavy hors d'oeuvres to the serving area.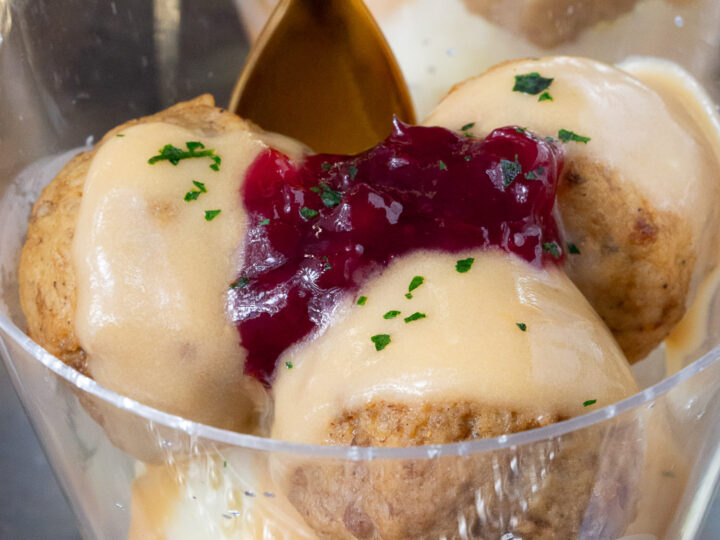 Yield:

20 cups
Swedish Meatball Sundae Recipe (Easy Ikea Copycat)
Additional Time:
5 minutes
Ingredients
1 bag of frozen meatballs (see note)
Mashed Potatoes:
1 13.75 oz. box potato flakes
6 cups water
9 tablespoons butter
2 1/4 tsp salt
3 cups milk
(Dress it up with an extra spoonful of butter and cream if you like!)
Gravy:
2 packages of dry brown gravy mix made according to package instructions.
6 tablespoons heavy cream
Assembly
20 festive cocktail cups
20 disposable cocktail forks
¼ cup lingonberry jelly or cranberry sauce
¼ cup fresh herbs for garnishing such as parsley, chives, or dill
Instructions
For The Meatballs:
In a large skillet with a lid, pour in the bag of frozen meatballs. Add 3 tablespoons of water to the bottom of the pan and heat over medium high heat.

Place the lid on and steam the meatballs for 6-8 minutes, jiggling occasionally to make sure they don't stick to the pan. When the meatballs are hot, turn off the heat and keep warm by covering with the lid while you prepare
the rest.

For The Mashed Potatoes:
Heat the water, milk, butter, and salt in a large saucepan. Bring to a boil.
Remove from the heat and pour in the potato flakes.
Fluff with a fork, combining and letting the potato flakes absorb the moisture.
Dress the potatoes up with extra butter and cream if you like.
For the Brown Gravy:
Follow the package instructions to prepare 2 sleeves of brown gravy.
Keep warm and whisk in the heavy cream until
creamy and light-colored.
Keep warm for assembly.

For Assembly and Serving:
To assemble lay out all the cups and scoop (I used this 1 5/8 ounce scoop) one scoop of mashed potatoes into each cup.
Place 2-3 meatballs on top. 60 meatballs total should be 3 meatballs per serving.
Drizzle with brown gravy, add a dollop of jelly or cranberry sauce. Sprinkle with herbs.
Add I cocktail fork per cup and serve warm.
Notes
I used a bag of IKEA meatballs which contains approximately 60 meatballs. Standard grocery stores sell 3-pound bags of frozen meatballs, which will be slightly more than needed for this recipe, but sizes vary with the manufacturer, so use your best judgment. 2-3 meatballs are the perfect per serving.

With an IKEA nearby, it's easy to buy their meatballs, lingonberry jelly, and gravy mix in the Swedish foods shop, but these items are also available at local grocery stores. If you can't find lingonberry jelly, cranberry jelly is suitable as a substitute.
Nutrition Information:
Yield:
20
Serving Size:
1
Amount Per Serving:
Calories:

636
Total Fat:

8g
Saturated Fat:

5g
Trans Fat:

0g
Unsaturated Fat:

3g
Cholesterol:

22mg
Sodium:

458mg
Carbohydrates:

45g
Fiber:

1g
Sugar:

37g
Protein:

3g
This nutritional information is provided as a courtesy as an estimate only. Consult with a dietician for precise estimates. This website makes no claims that the nutritional values listed are accurate.