Starbucks cold foam was the trending add-on to all coffee drinks in the fall of 2022, and at a whopping $1.25 add-on, you bet your lucky bra it better be good.
Starbucks may have convinced its customers that they had achieved another groundbreaking coffee invention, but professional chefs and baristas take one look at cold foam and know that there is nothing new under the sun.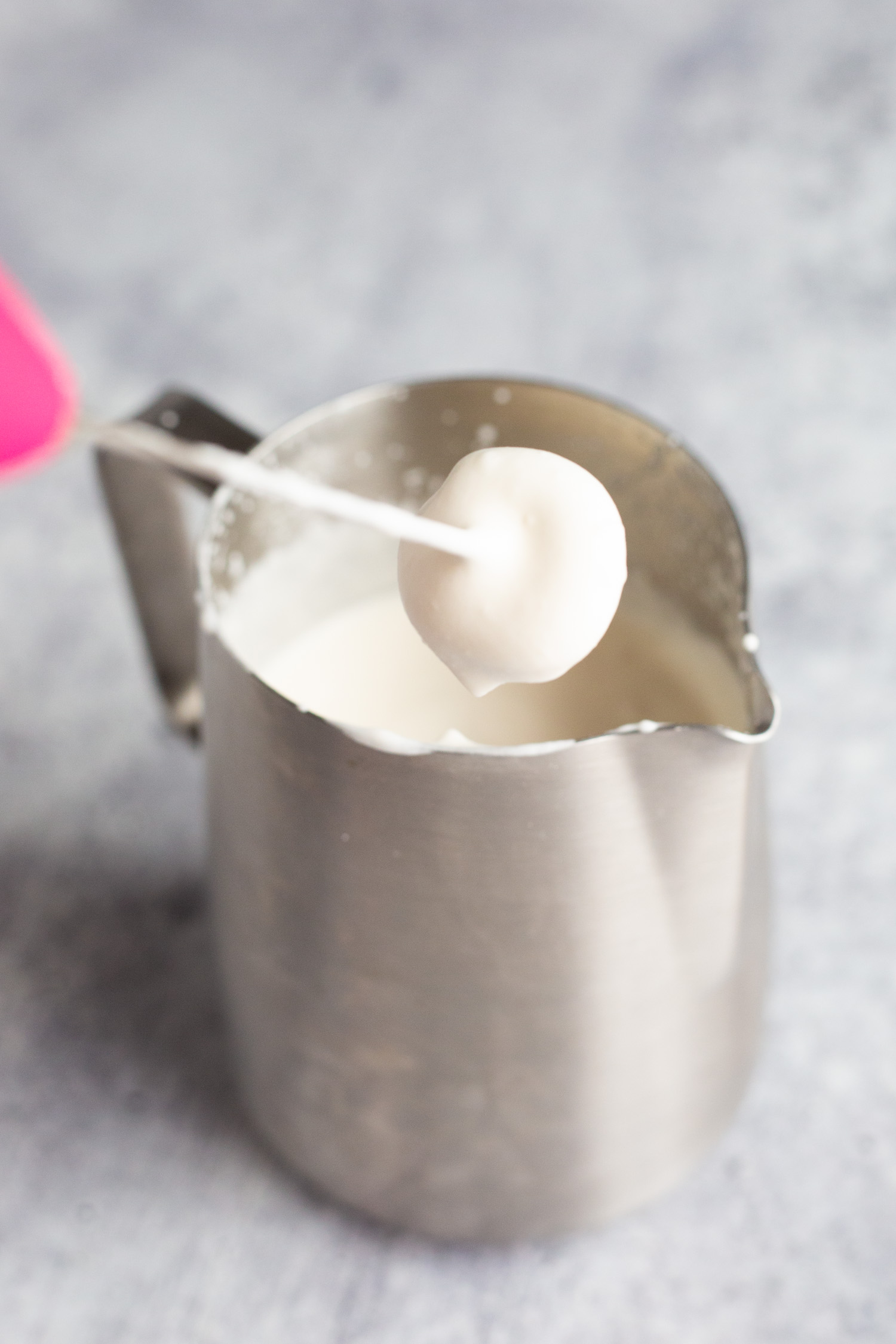 Let's break down exactly how it's done so you can make as much as you want for your home coffee bar, and keep you out of expensive coffee shops!
What is Cold Foam?
Cold foam is nothing more than flavored whipped cream. With cold foam, you are taking the whipped cream to very soft peaks, instead of hard whipped cream as you see on a slice of dessert.
Now for those of you who have made whipped cream (heavy whipping cream and sugar beat with a hand blender until air is incorporated), you may be thinking…yeah but how do they get all the flavors of cold foam??
Every flavored cold foam offered is simply a Starbucks coffee syrup (basically flavored simple syrup) beat with a handheld frother or immersion blender until it thickens to a soft whipped cream.
These flavored syrups really take the cold foam flavor to the next level and help command such a high price tag, but the best part is they're easy to make and the different flavors may inspire you to create your own kitchen espresso drink recipes.
Today, we're going to learn step by step how you can take heavy cream and coffee syrups with an electric milk frother and turn these simple ingredients into any cold foam recipe you like in your own home.
How To Make Cold Foam At Home
Cold Foam Ingredients and Tools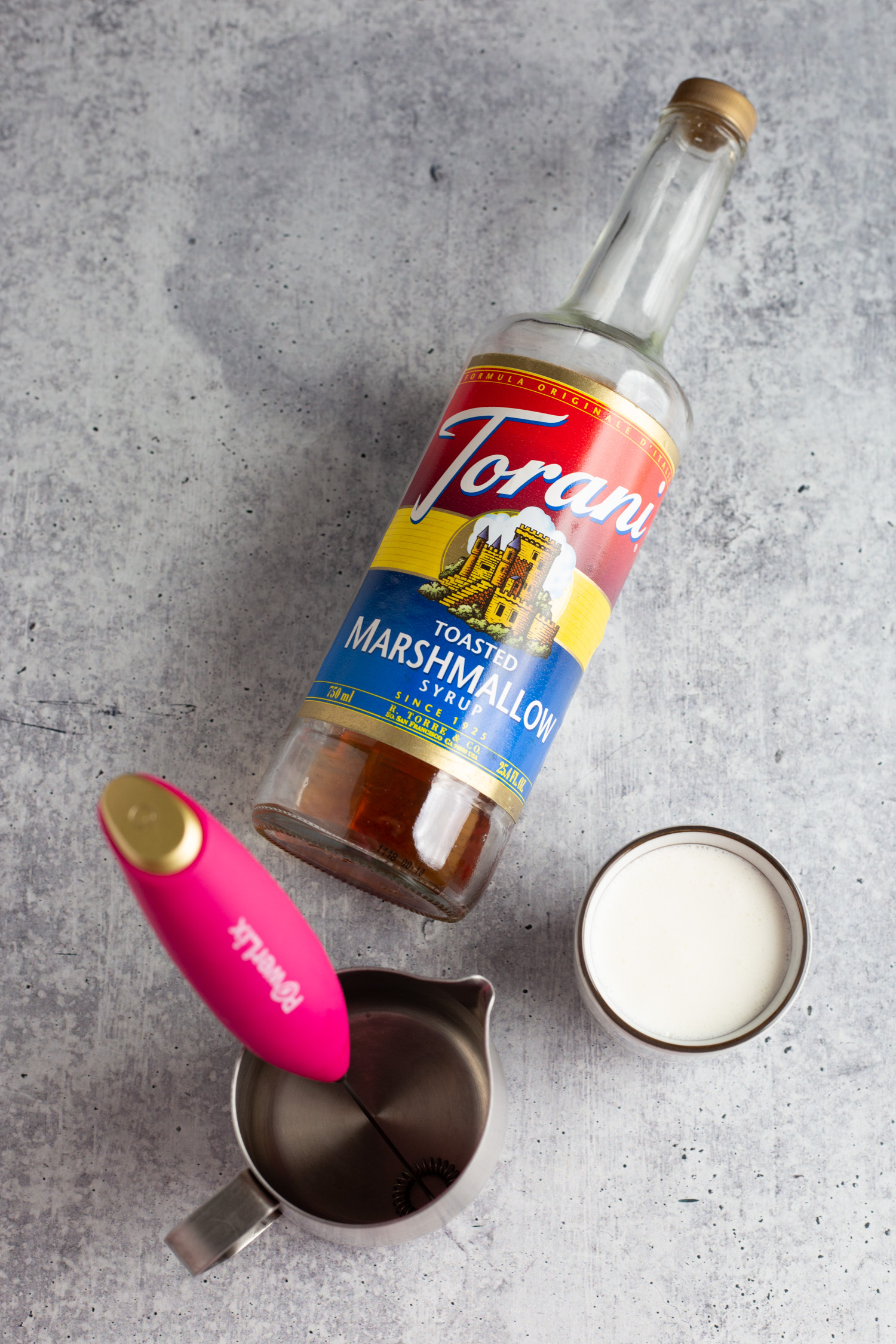 Procedure
Cold foam is one part coffee syrup to 2 parts heavy whipping cream. I'll have a full printable recipe below, but all you need to know to make different amounts of cold foam is to fill your milk frothing pitcher (or other small vessel with a pouring spout) up with flavored coffee syrup and then twice as much heavy cream. You don't even have to measure this, just eyeballing it is fine.
Next, you're going to insert your handheld milk frother (you can get one here for cheap) in and buzz buzz buzz on high speed. Eventually, it will get thick. For best results, baristas move the electric frother up and down in the mixture to make sure they are incorporating air into the whole thing.
When the consistency is a creamy foam you'll pour as much as you like over cold coffee drinks! That's it, it's really that easy.
How To Make Sweet Cream Cold Foam (Their Signature Flavor)
Their signature flavor is called Starbucks Sweet Cream Cold Foam and it's made with their signature Starbucks Vanilla Syrup. If you don't ask for a specific flavor this is what you will be given.
Same ratio, about 2:1 heavy cream to syrup. Starbucks doesn't sell their syrups to the public (although occasionally you can find them on eBay) but we've done some testing and any of these cheap and easy-to-find, available-to-the-public syrups… taste identical.
How To Make Homemade Vanilla Coffee Syrup (if you don't want to buy it)
Some recipes use vanilla extract along with simple syrup to create sweet cream foam, which I don't recommend…vanilla extract is a baking product meant to infuse baked goods with a whisper of vanilla, but it's never as good in drink recipes.
You would be much better off using a vanilla bean or vanilla bean paste in homemade simple syrup if you are interested in different ways of making homemade, natural vanilla syrup. You can use 2 parts sugar to 1 part water to make simple syrup, and add in the inside of 1 vanilla bean as it's cooling to add vanilla flavor.
I have a recipe for homemade erythritol simple syrup if you need a sugar-free option, and I would add the insides of one vanilla bean to make it taste like vanilla.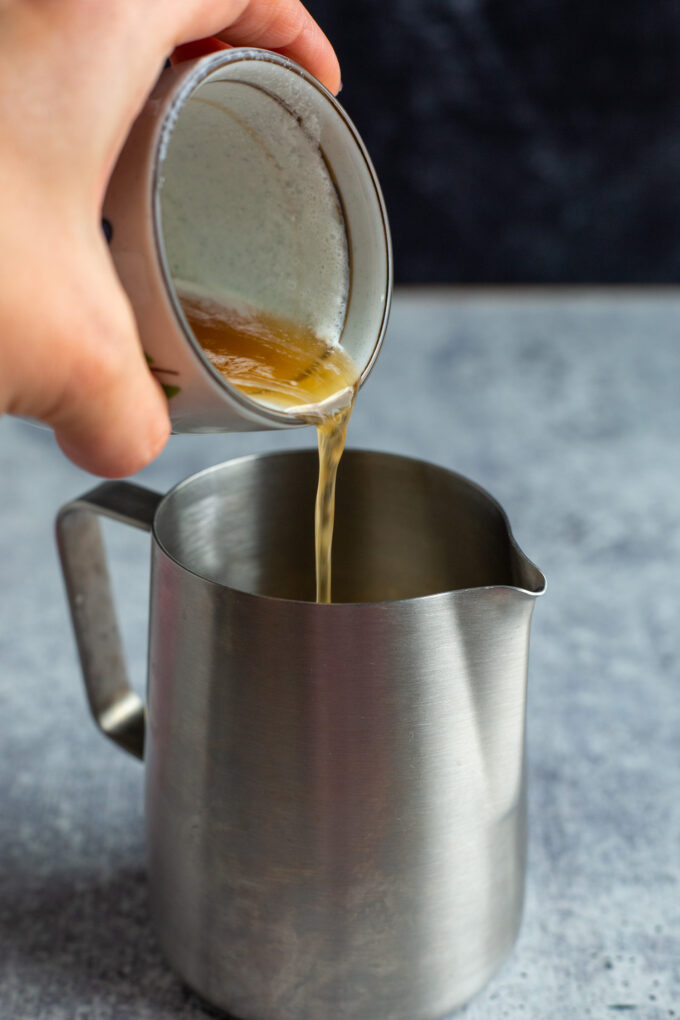 Common Questions About Making Cold Foam
How Can I Make Cold Foam Without A Frother?
Using a milk frother is the easiest method, but if you want to make cold foam without a milk frother you have two options: the traditional whipped cream method and the mason jar method.
You can make it in a bowl with handheld beaters like you would if making a cake batter or whipped cream. This method will mean you have to make a larger quantity of cold foam to fill up the bowl you are working with and allow the beaters to be submerged in the cream. It can be done though and you can store the cold foam in the refrigerator. For tips see below.
The mason jar method is similar to how elementary school children may learn to make butter on pioneer day. You shake cream in a jar with a lid until butter forms. You can shake the cream and syrup until enough air is beaten in to have a creamy texture like cold foam.
It takes longer but you probably already have everything you need to play with the recipe right now. Try substituting maple syrup for coffee syrup if you don't have any on hand, and next time try your favorite Torani syrup. My favorite is pumpkin spice for a pumpkin cream topped iced beverage.
Can You Use Regular Milk To Make Cold Foam?
No, you cannot make cold foam with regular milk or whole milk…you can only make frothed milk.
You can't make cold foam with regular milk, skim milk, or nonfat milk because the fat solids in heavy cream are what allow you to capture air and create the texture of cold foam–a whipped, light fluffy texture.
You can make frothed milk from cold milk but it will not be the same texture as authentic Starbucks Cold Foam
Non-fat milk is what is left when all of the fat solids are removed from cream. You also cannot make cold foam with oat milk, almond milk, or any nut milk… Nut milks are simply water and nuts blended at high speeds and strained, so not enough fat exists in this product to create true cold foam.
You CAN make sweet foam with coconut cream which is the dense white cream at the top of a can of coconut milk. You can even purchase cans of coconut cream now. (Instructions below.)
The take-away: You can not make cold foam out of low-fat milk but you can make it from cans of coconut cream.
Can You Add Sweet Cold Foam To Hot Coffee Drinks?
If you pour cold foam on to hot coffee drinks such as cappuccinos, french press coffee, or even hot chocolate it will immediately melt within seconds into the hot mixture. The best way to use cold foam is on fruity cold drinks like red bull, and on your favorite iced coffee beverage.
How Can You Make Sugar Free Cold Foam
You can make your own cold foam sugar free by using a sugar free coffee syrup. My favorite is skinny syrups because they come out with seasonal flavors like sugar-cookie, gingerbread, or even blueberry (which is awesome poured over sugar-free red bull).
Do Any Alternative or Vegan Milks Work For Cold Foam?
Coconut cream may be used to make cold foam and I know this because I made a recipe for it in my cookbook 5 years ago.
Take a can of coconut milk or coconut cream and refrigerate it until ice cold (2 hours should do it). Open the can and drain any loose liquid into a bowl for another use. The thick white cream that collects on one side of the can is the fat of the coconut milk (when using coconut cream the entire can will be made up of this delicious substance).
This cream can be beaten just like heavy cream in order to make a plant based, vegan cold foam. Plus it tastes like coconut! Delish!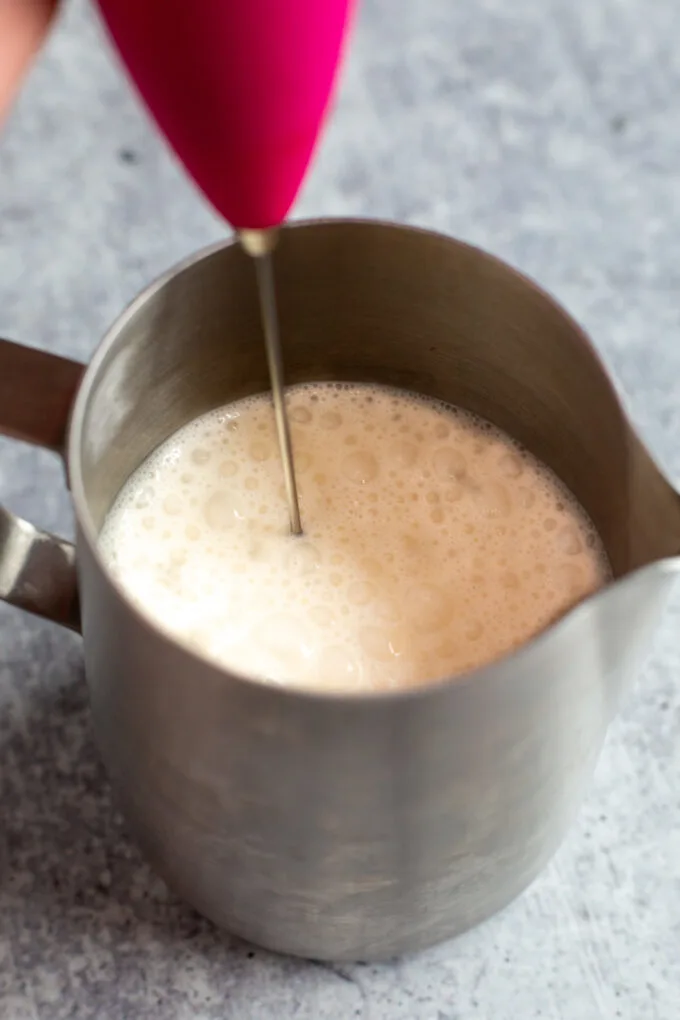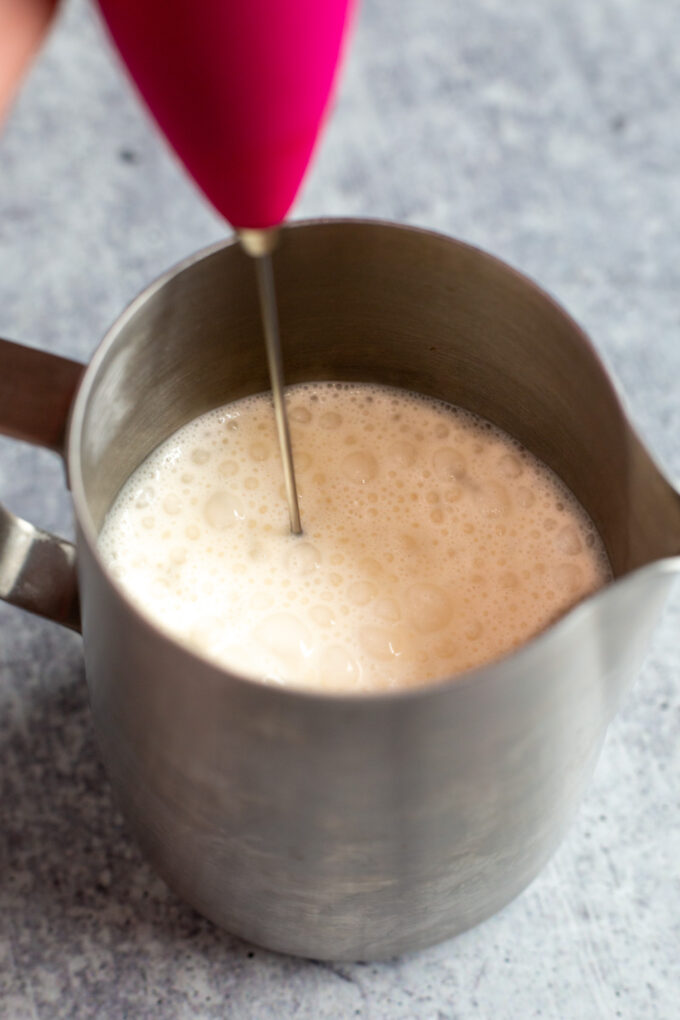 How To Store Cold Foam
Cold foam, like traditional whipped cream, can be stored in an airtight container for several days in the refrigerator. This is a great way to prolong the use of this easy recipe.
If I'm just storing a bit of leftover cold foam I will just place plastic wrap or aluminum foil over the cold foam pitcher and refrigerate until I'm ready to make another iced drink.
We hope you try out some of these great options for making your own cold foams or trying the Starbucks vanilla sweet cream cold foam at home using the different methods discussed.
If you need any more help, I'll always be available in the comments below.
Yield:

1 cup
How To Make Cold Foam (Starbucks Secrets Revealed)
You can make cold foam just like Starbucks in any flavor you like, from sweet cream to pumpkin spice, using a few common coffee tools and easy to find ingredients.
Ingredients
1/2 cup heavy cream
1/4 cup coffee syrup (such as Torani or any simple syrup based flavoring liquid
Instructions
How To Make Cold Foam
Combine the cream and coffee syrup in a stainless steel milk frothing pitcher or other tall vessel (like a glass jar) and pulse on high with a handheld milk frother until the desired thickness is reached.
Perfect cold foam is a soft whipped cream so keep that in mind. There are other methods for whipping the cream discussed above but the milk frother is the easy way. This is the perfect addition to iced coffee drinks at home. This creamy topping is also good made with fruity flavors and poured over energy drinks.
Make sure to try other flavors like ice cream or pumpkin to create new recipes for great cold foam for every occasion.
Recommended Products
As an Amazon Associate and member of other affiliate programs, I earn from qualifying purchases.
Nutrition Information:
Yield:
4
Serving Size:
1
Amount Per Serving:
Calories:

294
Total Fat:

11g
Saturated Fat:

7g
Trans Fat:

0g
Unsaturated Fat:

3g
Cholesterol:

34mg
Sodium:

11mg
Carbohydrates:

51g
Fiber:

0g
Sugar:

51g
Protein:

1g
This nutritional information is provided as a courtesy as an estimate only. Consult with a dietician for precise estimates. This website makes no claims that the nutritional values listed are accurate.