Dutch Bros Soft Top Recipe
Regardless of whether you call it soft top like the Dutch Bros baristas, or cold foam like their Starbucks competitors, soft top is quickly becoming the most popular add-on at coffee shops this year.
Soft top is a soft, lightly whipped sweet cream poured atop hot or cold coffee drinks, and it gets really interesting when baristas add different flavorings: pumpkin soft top for fall or sugar cookie soft top for the holiday season.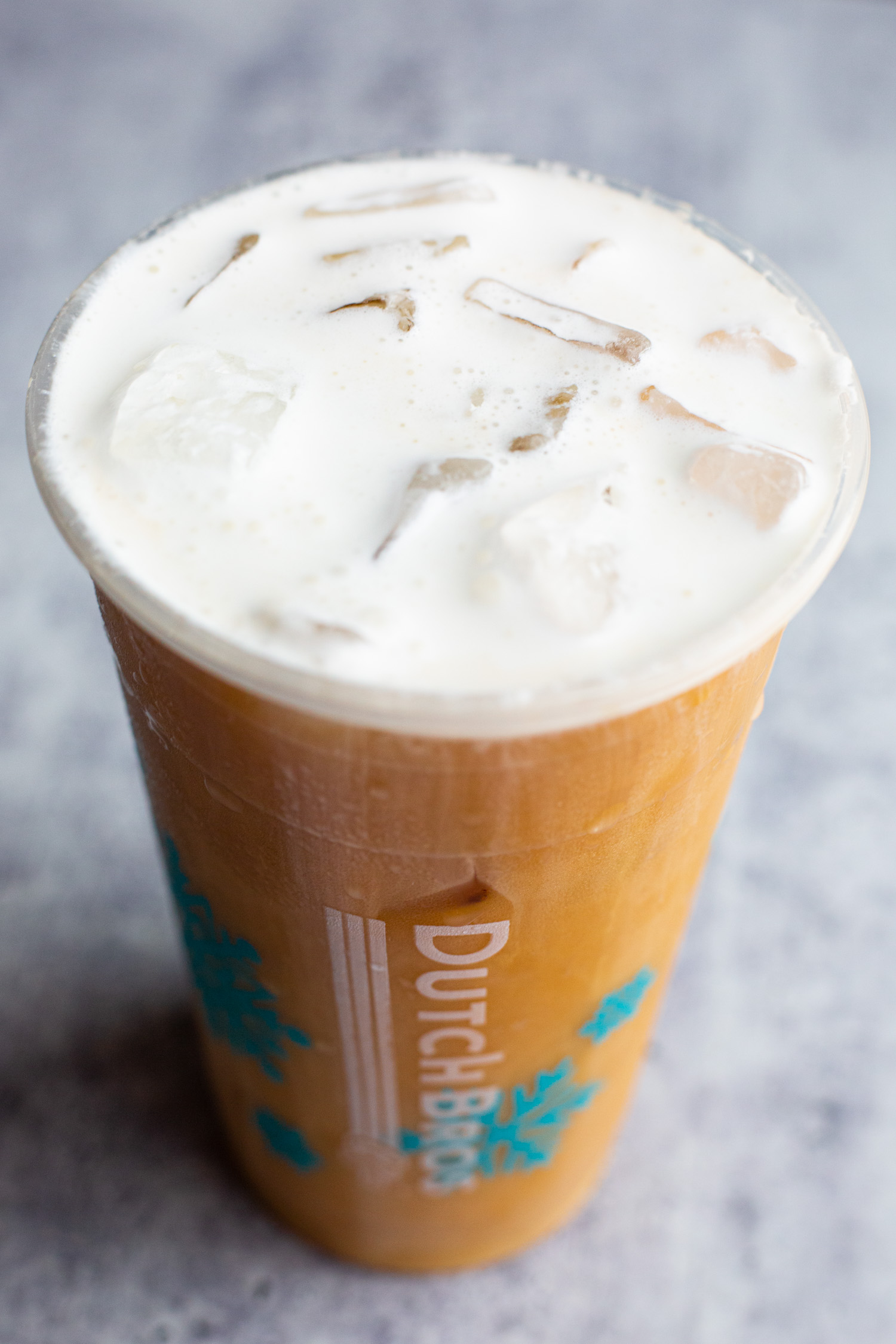 You've probably noticed on your receipt that it's a significantly priced upgrade, so after we built our own coffee bar we decided we would try making a dupe of the recipe to eliminate some of those costly trips to the coffee shop.
(Links are affiliate links to products we think are helpful and we may receive a small commission, at no cost to you, if purchased.)
How Do You Make Dutch Bros Soft Top?
The secret to these flavored soft tops is in Dutch Bros favorite brand of Torani syrups lining the wall of the kitchen. Soft top can be made with any of these syrups for a twist on the flavor…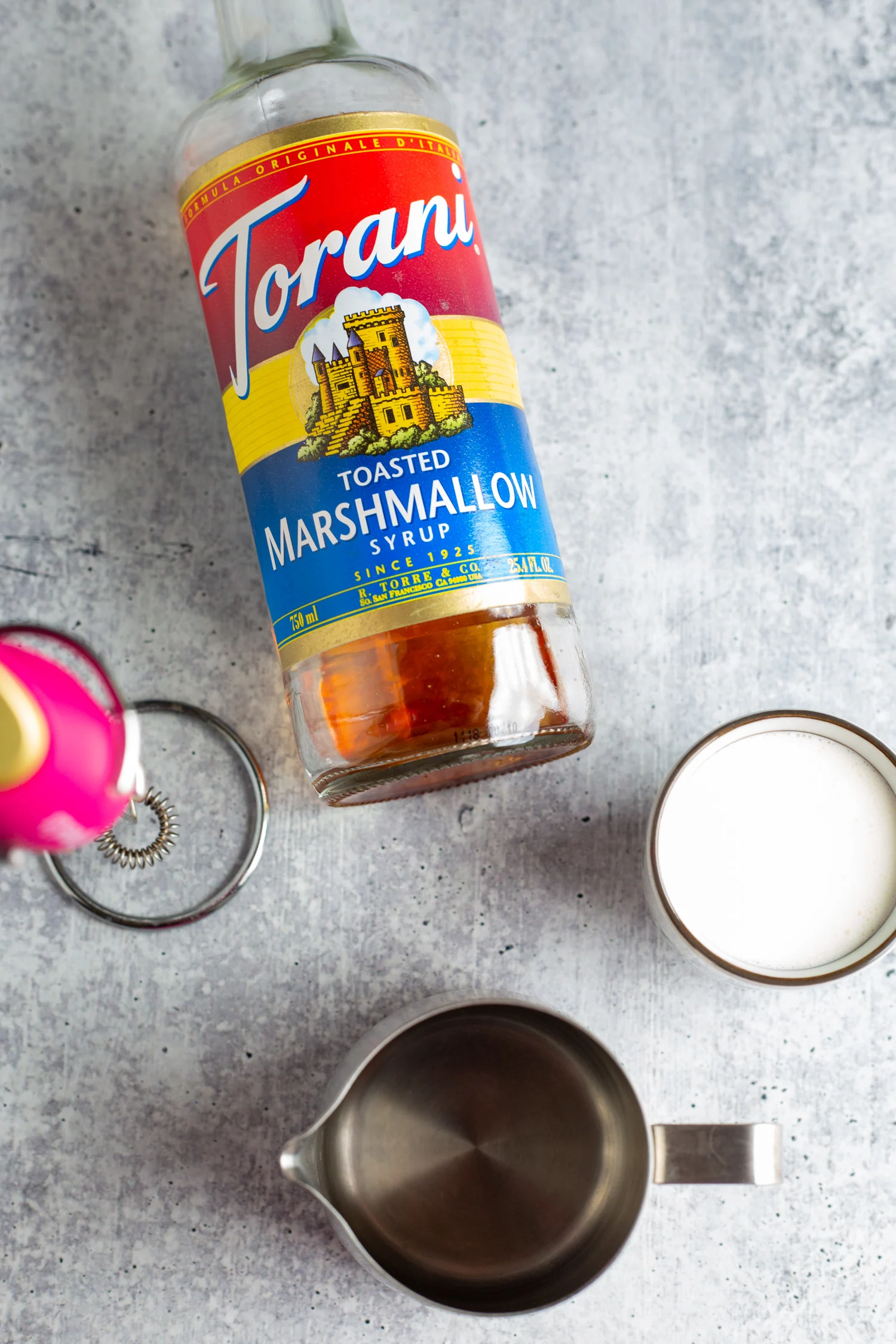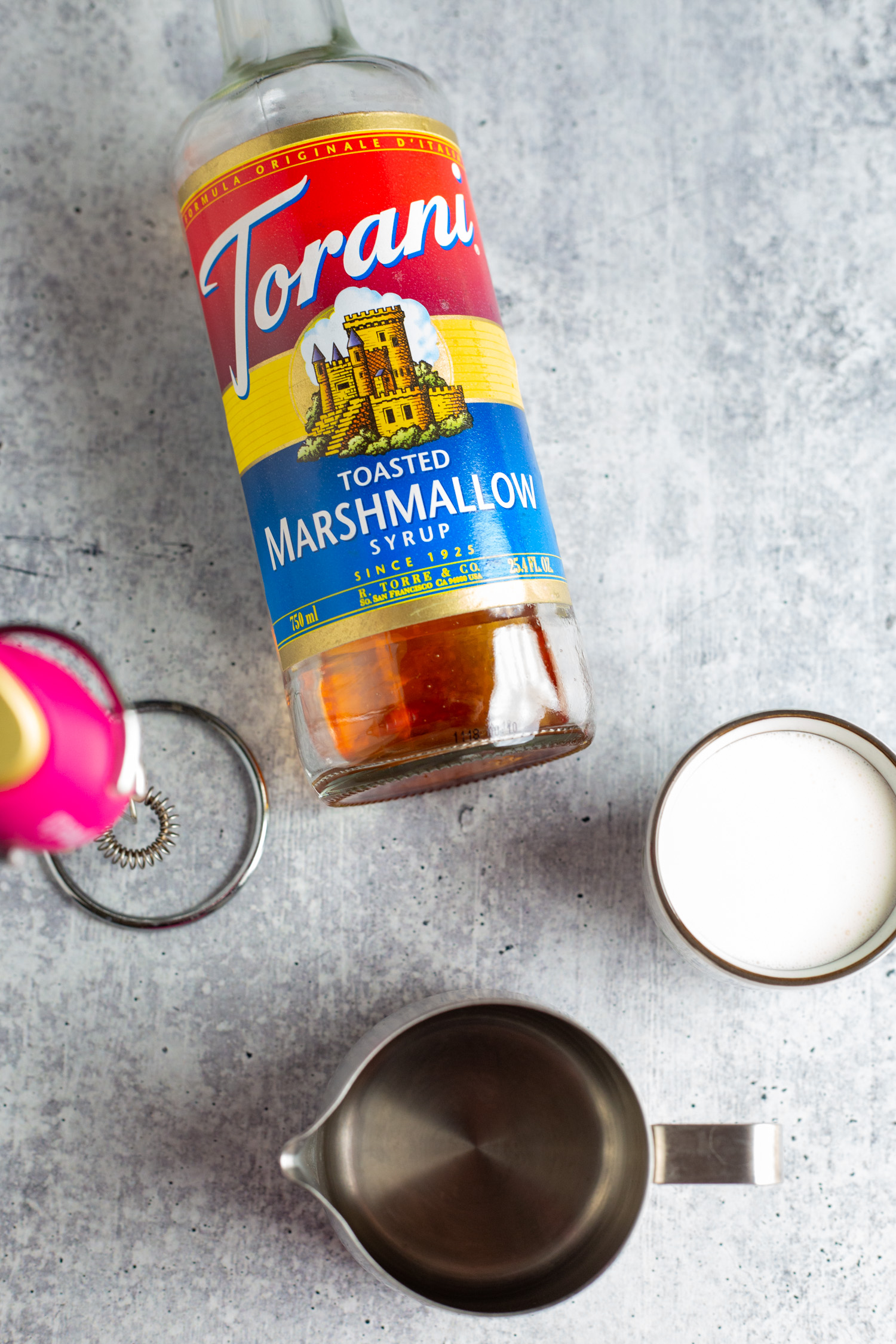 Their signature soft top is made with the Toasted Marshmallow syrup in my area of Texas. (I say this because other stores could potentially use another flavor for their basic soft top, such as vanilla or hazelnut syrup.)
The soft top we created is a 2:1 ratio of heavy cream to syrup, which maintains a creamy texture that is positively loaded with flavor.
This means you can make any increment that you want by using 2 parts cream to 1 part syrup of your choice.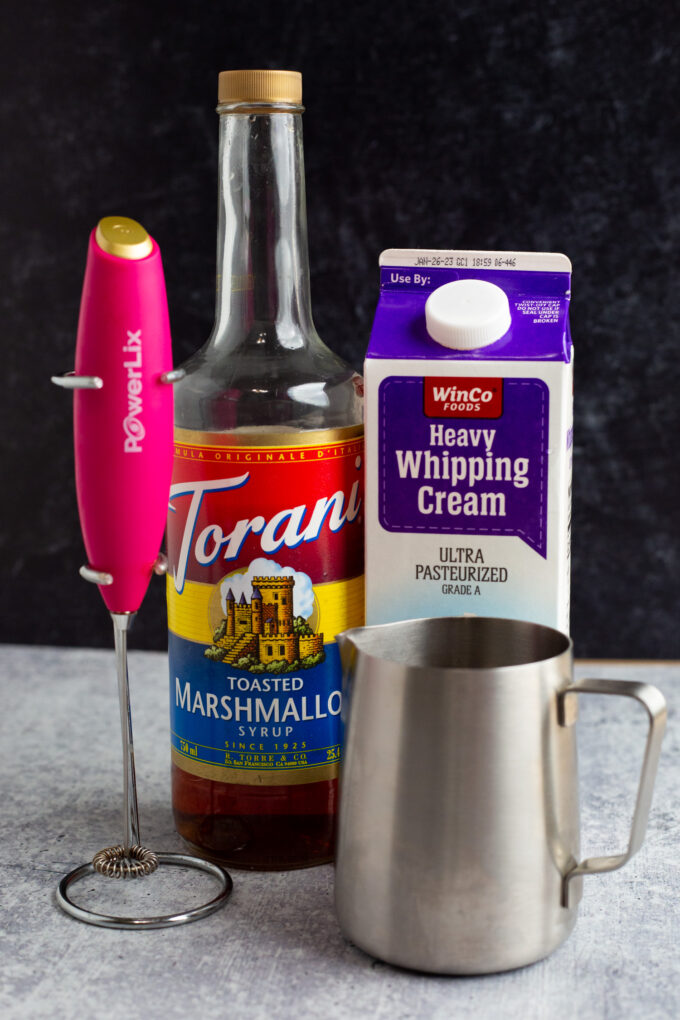 You can even use other syrups that are not the Torani brand, such as Skinny Syrups which are sugar-free, or grocery store caramel sauce, both of which make delicious drinks using the soft top formula.
What Do You Need To Make Soft Top or Cold Foam?
Heavy Cream
Clear Flavored Syrup
Stainless Steel Milk Frothing Pitcher
Handheld Milk Frother
To make soft top you'll pour 2 parts heavy cream and 1 part syrup into the pitcher and insert the milk frother. Froth this mixture of heavy cream for 30 seconds or until you reach your desired thickness.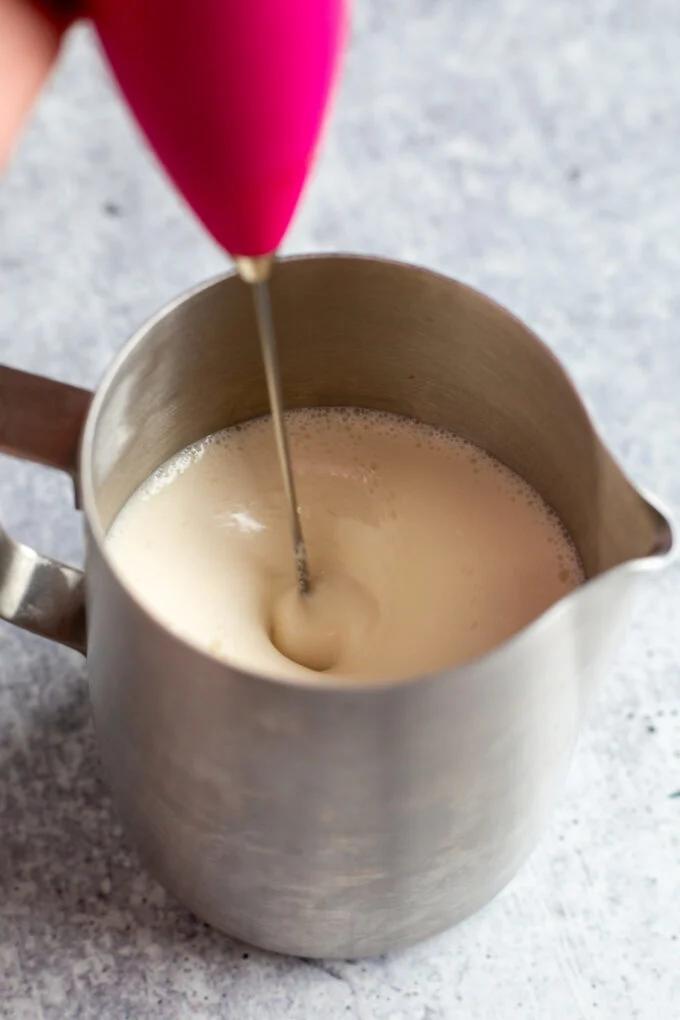 What Does Soft Top Go Best With?
Some of the best dutch bros drinks to try at home with your soft top are…
Cold drinks like:
Cold Brew Coffee
Iced Coffee
Iced Americanos
Hot drinks like:
Hot Coffee
Shots of Espresso
Hot Chocolate
Cappuccino with Irish Cream Syrup Soft Top
Hot Black Tea can be paired with Cinnamon Syrup Soft Top
Green Tea can be paired with Vanilla or Coconut Syrups
Earl Grey or Hot Cinnamon Spice Tea with Caramel Sauce used in place of the Basic Syrup (Yes, Caramel Drizzle Sauce works too in this soft top recipe)
Hot Coffee paired with a White Chocolate Sauce based Soft Top
One of the best drinks I like to make at home is a dupe of the Dutch Bros iced coffee with Toasted Marshmallow Soft Top, which is the signature flavor on the Dutch Bros Menu.
This iced coffee drink is simple to make and refreshing all year round.
I use Stok Iced Coffee over ice balls and top with copycat dutch bros soft top made with pumpkin spice or peppermint bark syrup and cream.
All of the items I use to make my home coffee bar are linked here in my Amazon Shop.
As you can imagine with this many flavors of syrup available, the flavor combinations using this sweet drink topper create a variety of drinks!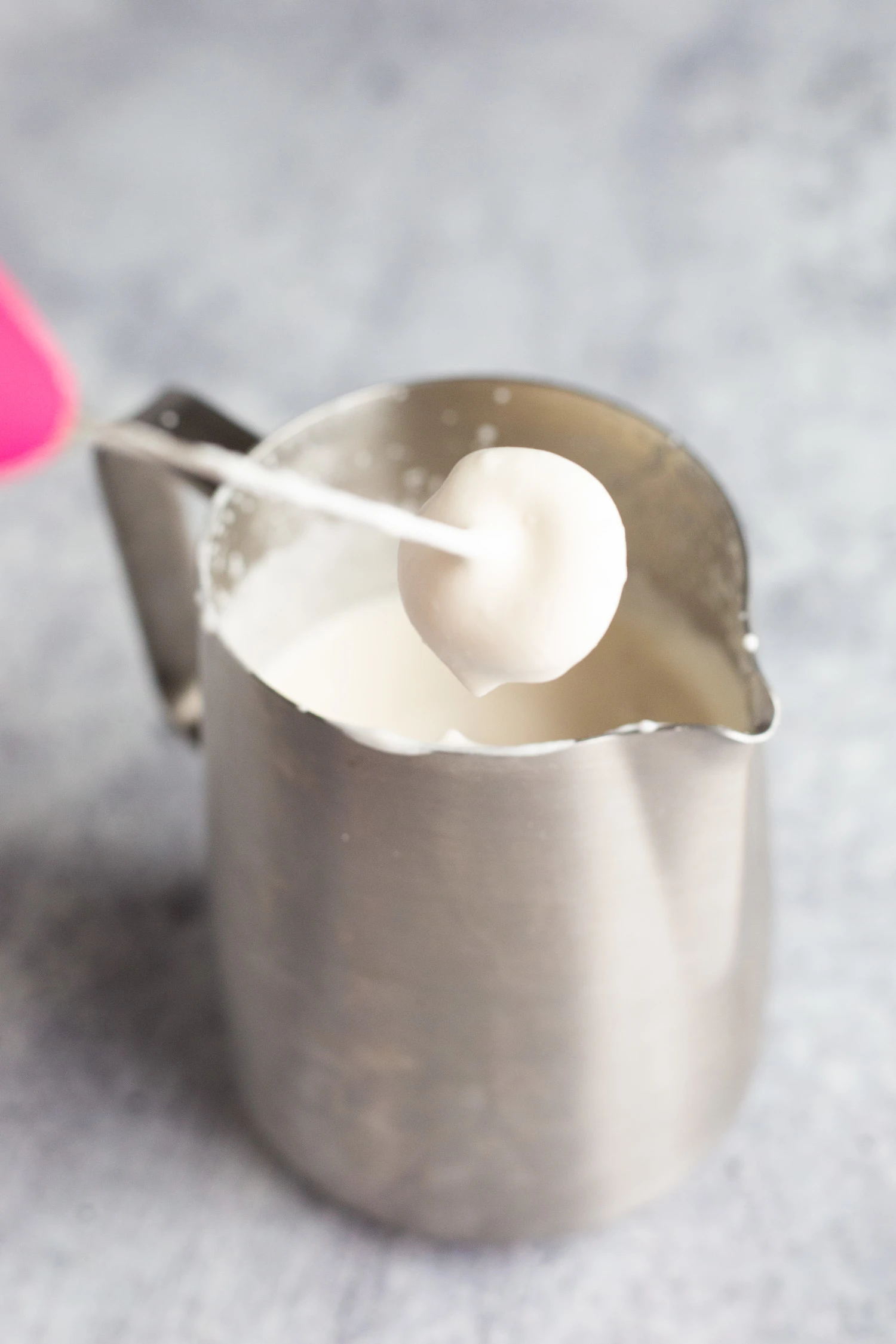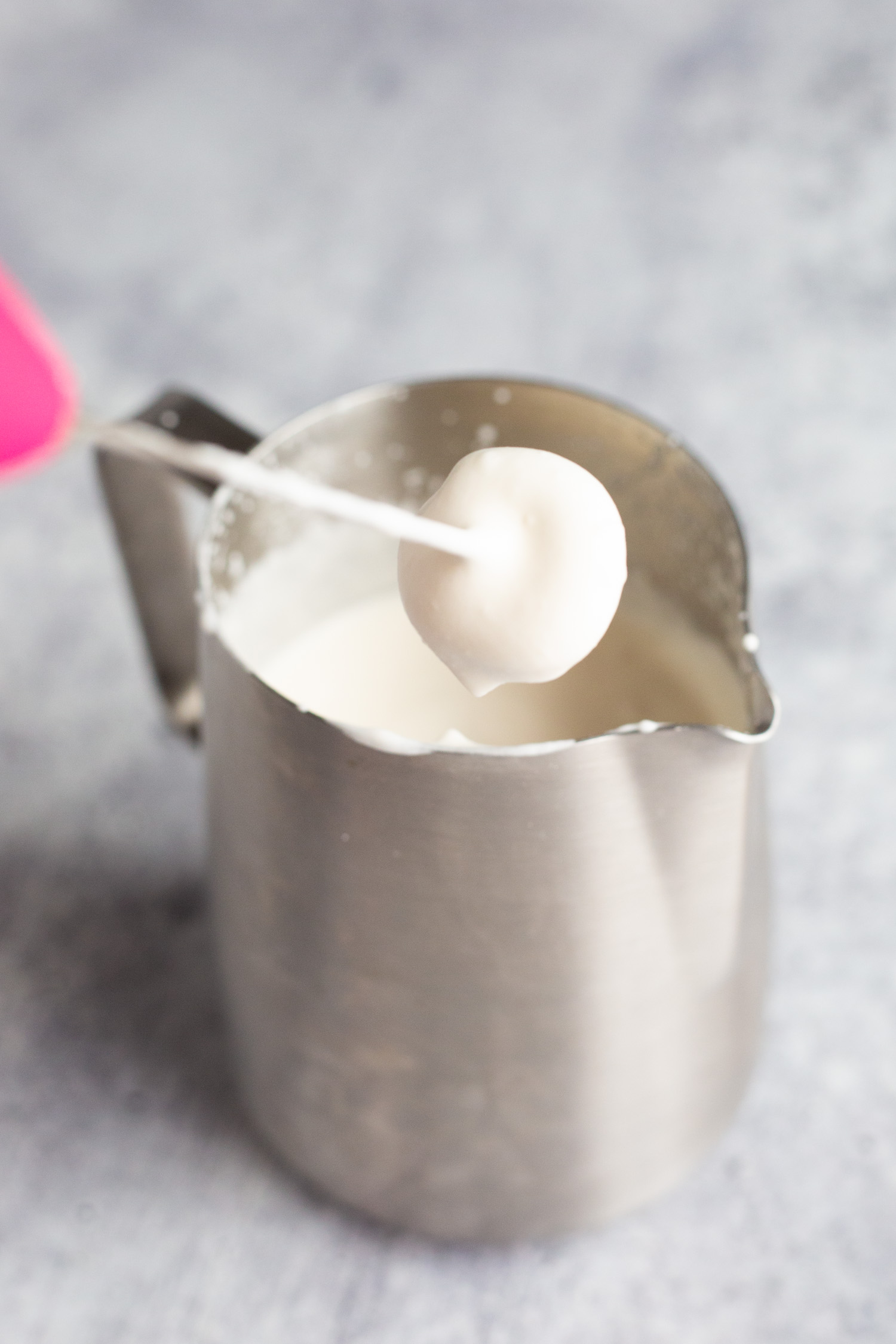 It will be easy for you to invent your perfect drink and bring a little Dutch Bros. into your own home kitchen.
Dutch Bros Soft Top Recipe
This recipe is a perfect dupe of Dutch Bros. Soft Top Recipe perfect for at-home coffee baristas! A creamy blend of Torani Syrup and Heavy Cream, this recipe is customizable to your favorite coffee flavors.
Print
Pin
Rate
Ingredients
1/2

cup

heavy whipping cream

1/4

Torani Toasted Marshmallow Syrup
You will also need
stainless steel milk frothing pitcher

handheld milk frother
Instructions
1. Pour cold whipping cream and Torani syrup into the milk-frothing pitcher.

2. Insert the milk frother and froth moving up and down under the surface of the liquid. The soft top will get increasingly thicker until it looks like actual whipped cream.

3. Soft top is beaten to about soft peaks, or when the milk frother is pulled vertically up out of the whipped cream and the tip of the whipped cream curls over itself in a soft curl.
Notes
**This recipe can be created with any Torani Syrup, or even sugar-free syrups like Skinny Syrups. You can substitute other flavors such as pumpkin, vanilla syrup, or sugar cookie syrup to create other recipes for flavored soft tops.
Nutrition
Serving:
1
g
|
Calories:
371
kcal
|
Carbohydrates:
36
g
|
Protein:
15
g
|
Fat:
19
g
|
Saturated Fat:
12
g
|
Polyunsaturated Fat:
6
g
|
Trans Fat:
1
g
|
Cholesterol:
68
mg
|
Sodium:
222
mg
|
Sugar:
31
g