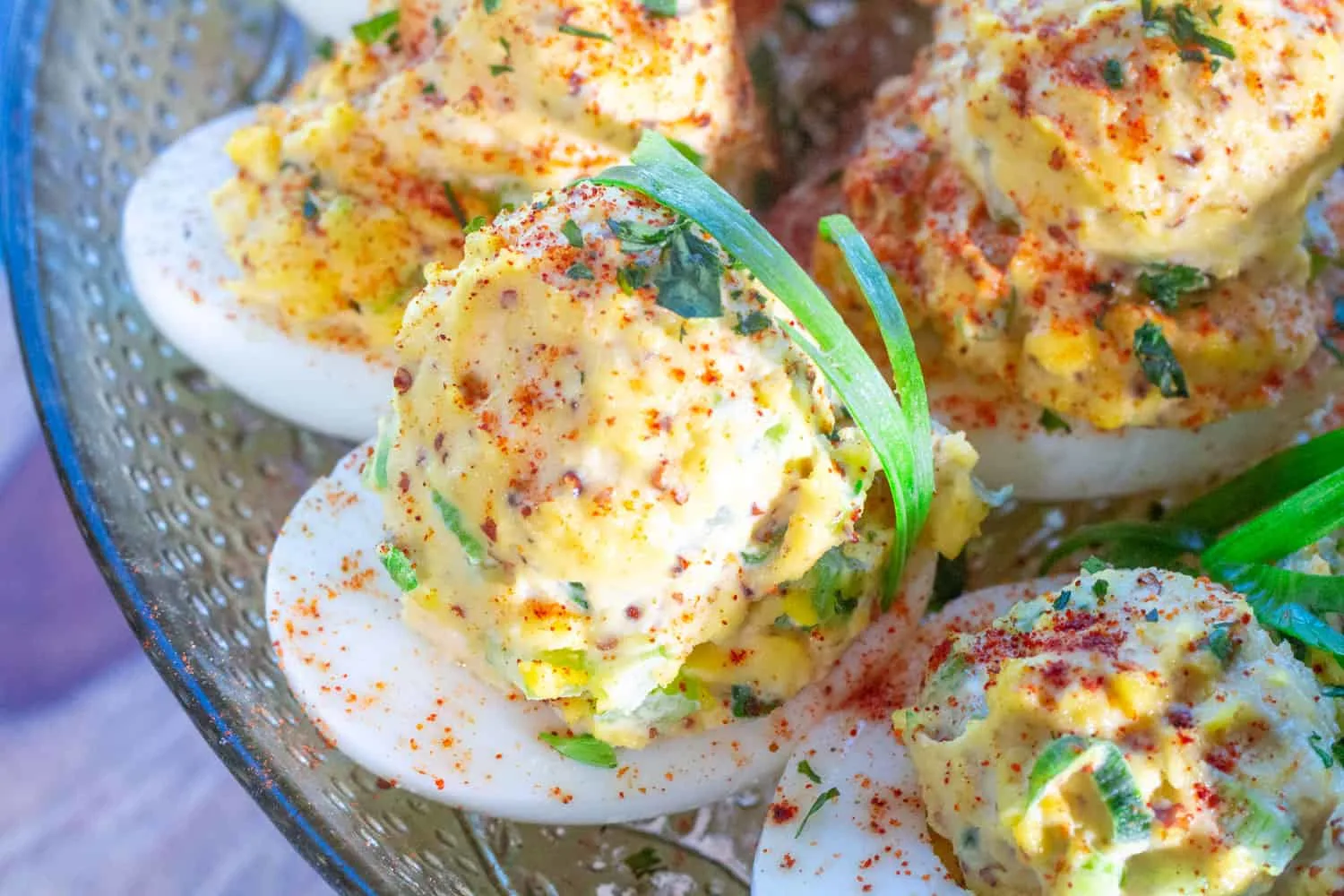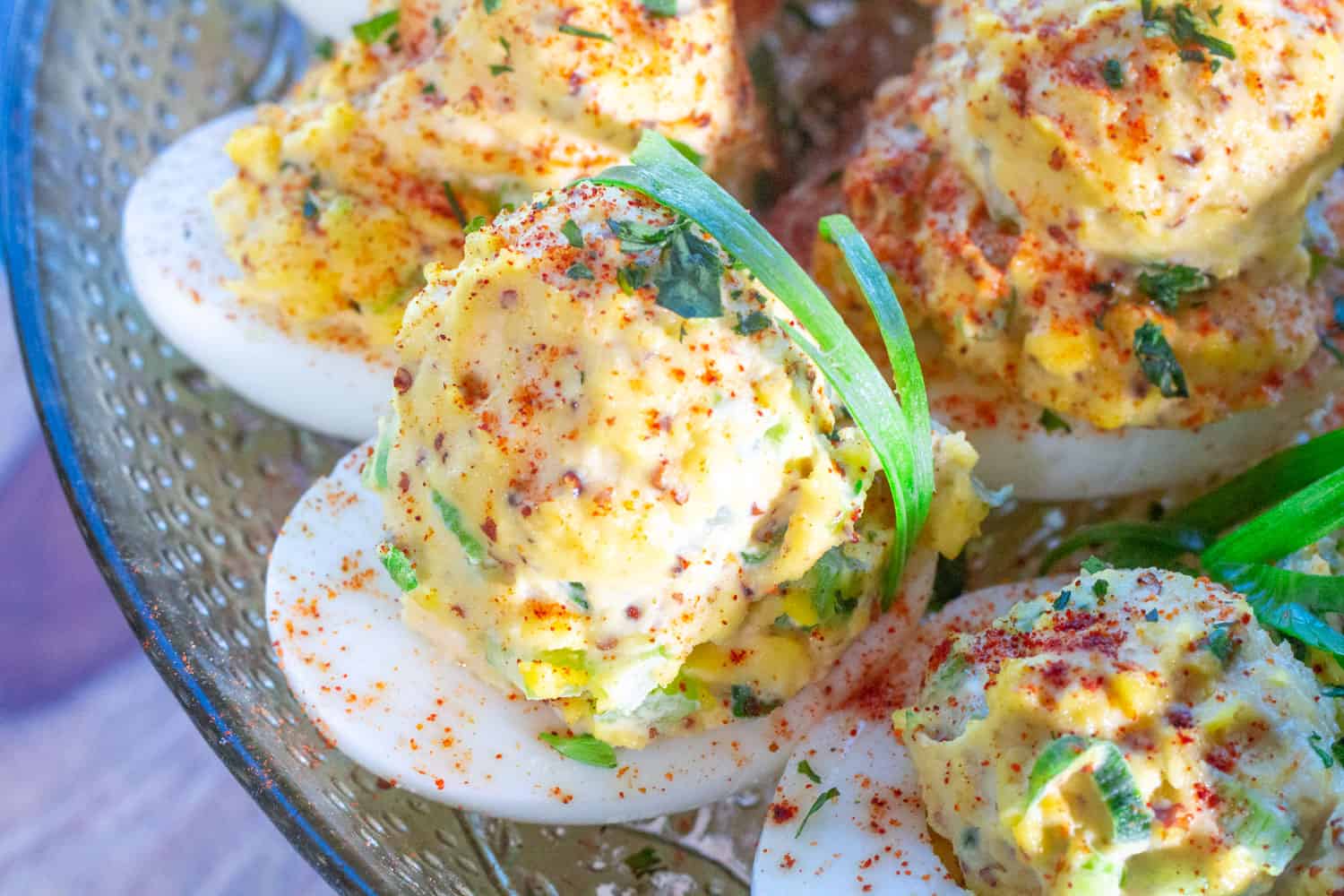 Let's make my Cajun Deviled Eggs Recipe!! Welcome back, friends. Ever since we had our glorious 48 hours of eating through New Orleans, Louisianna (watch the video here), all I want to do is make everything CAJUN!!
Today, it's deviled eggs and the recipe couldn't be easier. This appetizer is great for all the usual occasions like Mardi Gras, barbecues, the big game, or just getting together with friends because everyone loves deviled eggs and by substituting ordinary ingredients for authentic Louisianan ingredients, you quickly have a deviled egg that's familiar but sassy!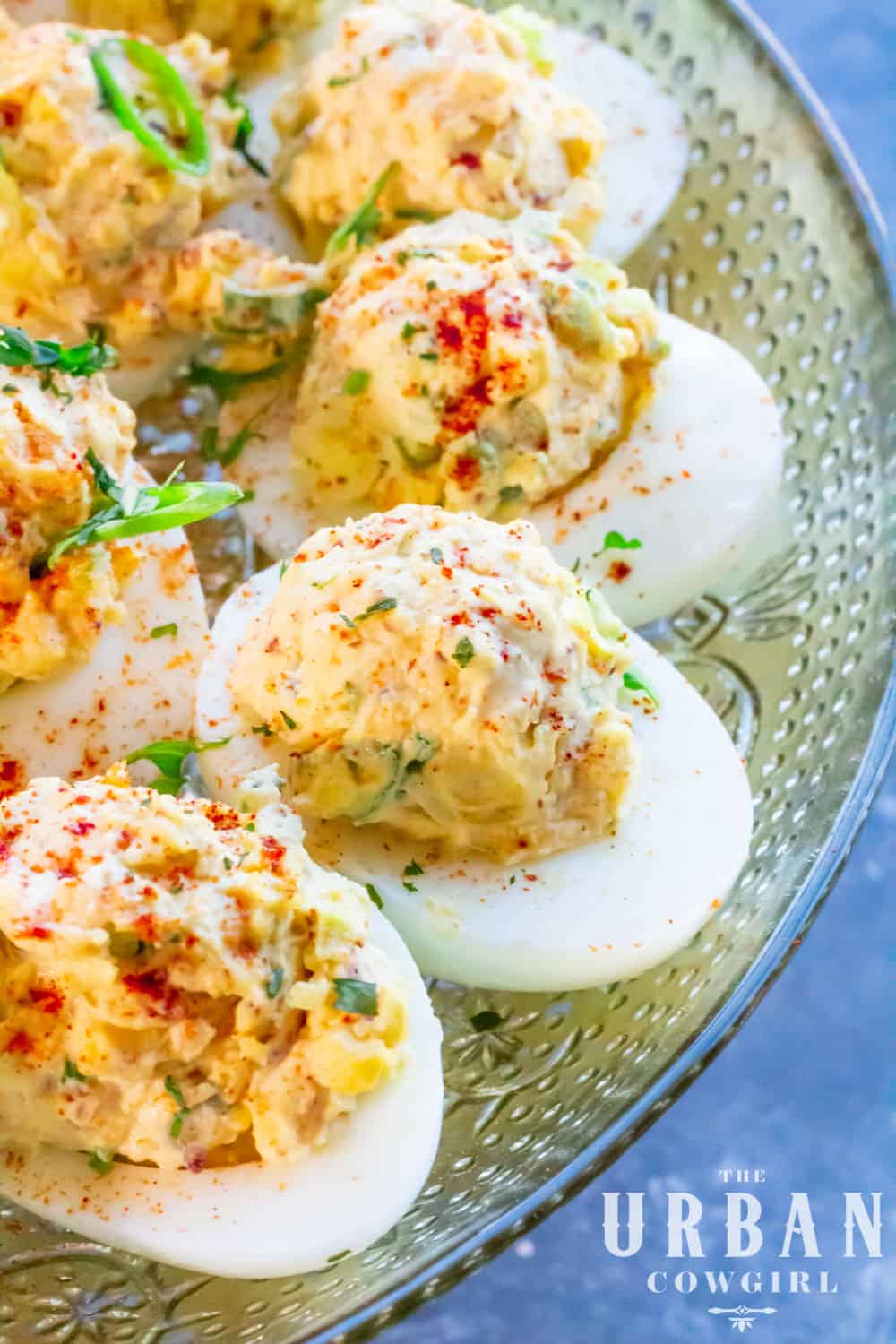 What are Cajun Deviled Eggs?
Cajun deviled eggs are made by substituting ordinary deviled egg ingredients for their Louisianan counterparts. I used the iconic brand of crystal hot sauce to give the filling some brightness, Zatarain's creole mustard in substitution for simple yellow mustard, and green onions and celery for crunch– a wink towards the "holy trinity" of cajun and creole cuisine.
The cajun seasoning gives a pop of zip without blowing you away, so don't be worried these will be too spicy! My kid shotgunned 4 deviled eggs before I even got to take a picture for you!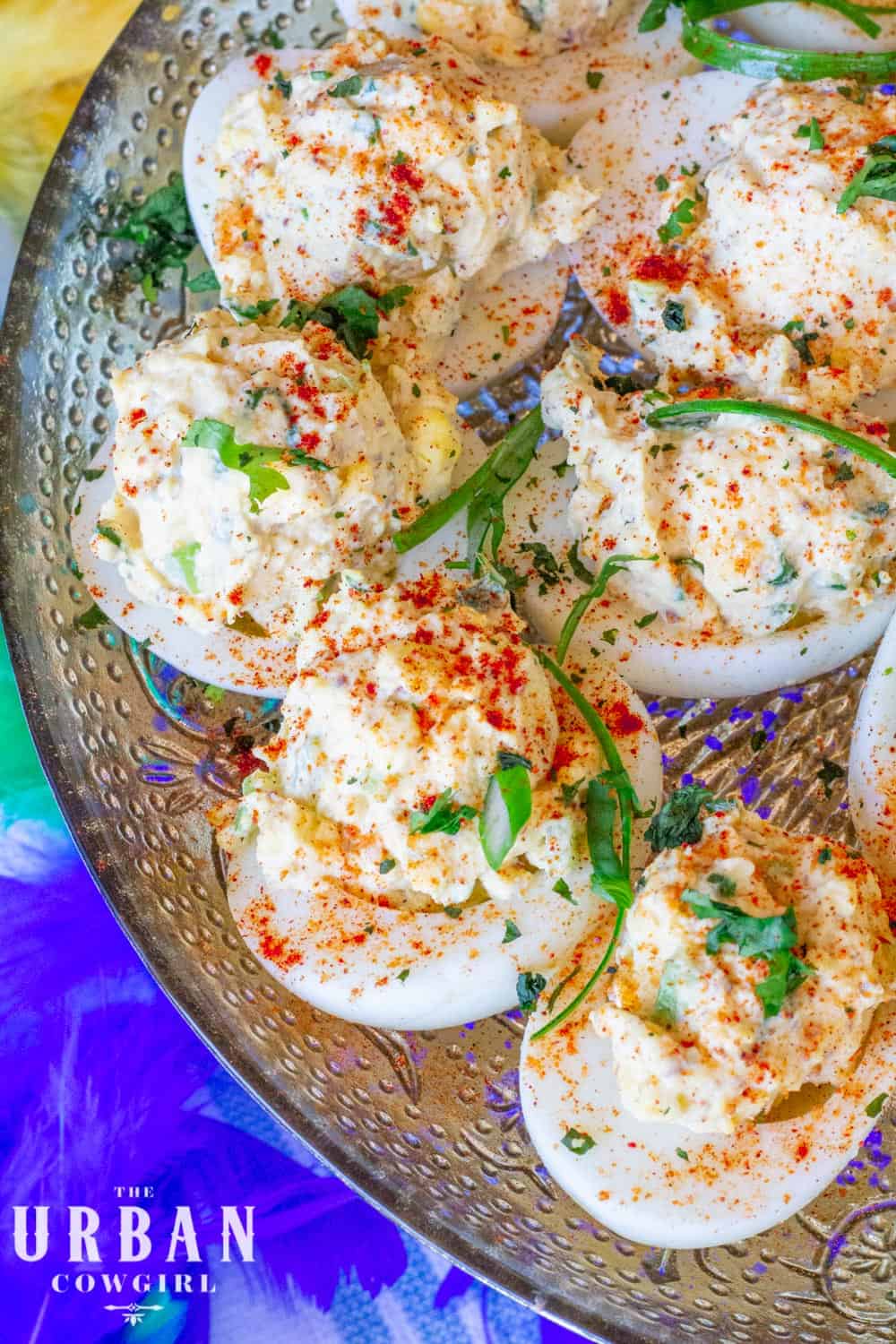 Where can I get cajun ingredients if I don't live in Louisiana?
I found everything on Amazon, but many gourmet grocery stores will carry these ingredients for foodies because they are crucial to cooking Louisiana Cuisine.
Here is links to the products I used:
(Links are affiliate links to products we think are helpful and we may receive a small commission, at no cost to you, if purchased.)
How to Make Cajun Deviled Eggs
My full proof method for boiling easy to peels eggs is below in the recipe card. Then we just add those classic cajun ingredients in a bowl and mash with a fork until smooth.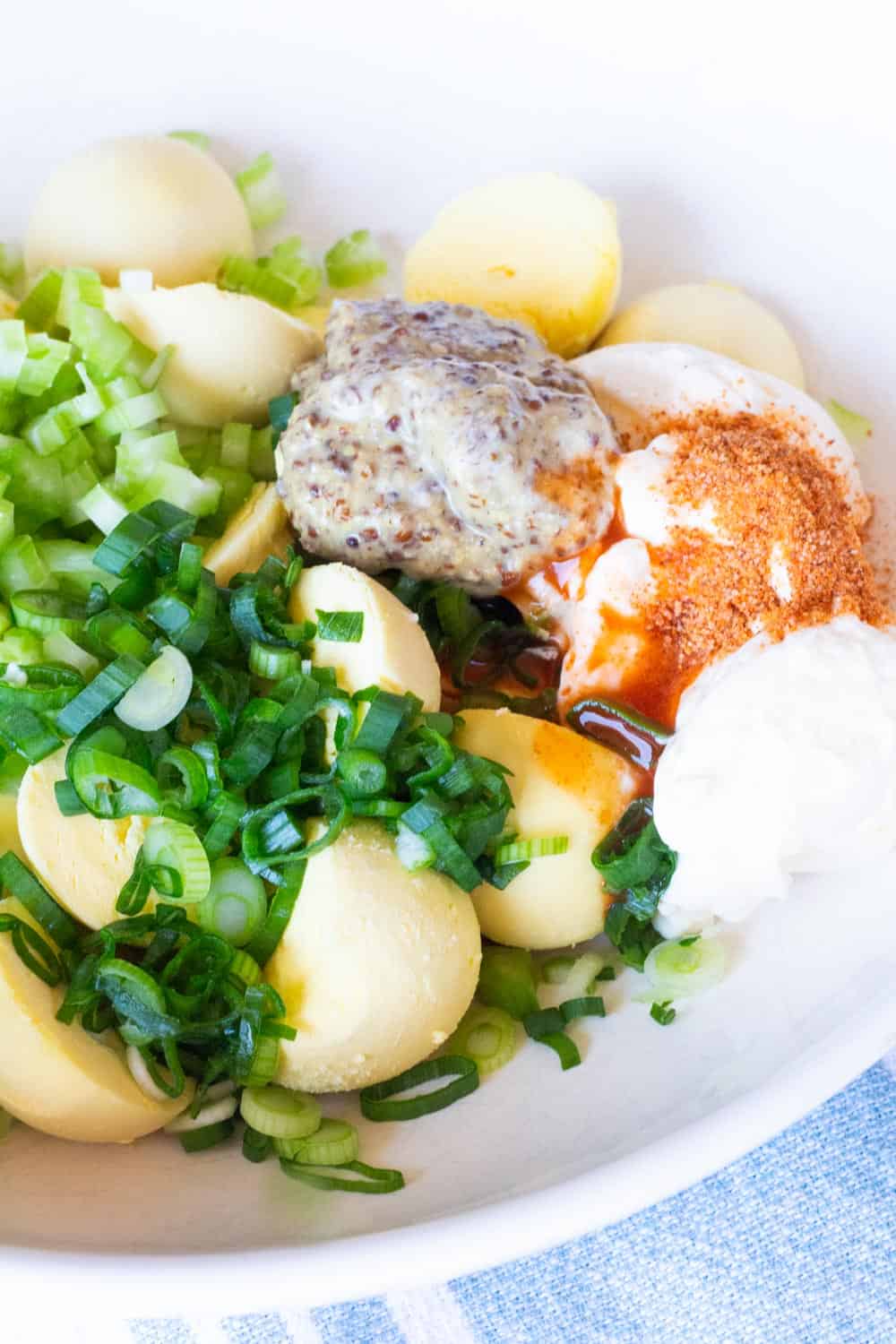 We've added just enough fresh celery and green onion to give maximum flavor and a bit of crunch while keeping the filling silky smooth and focused on creaminess.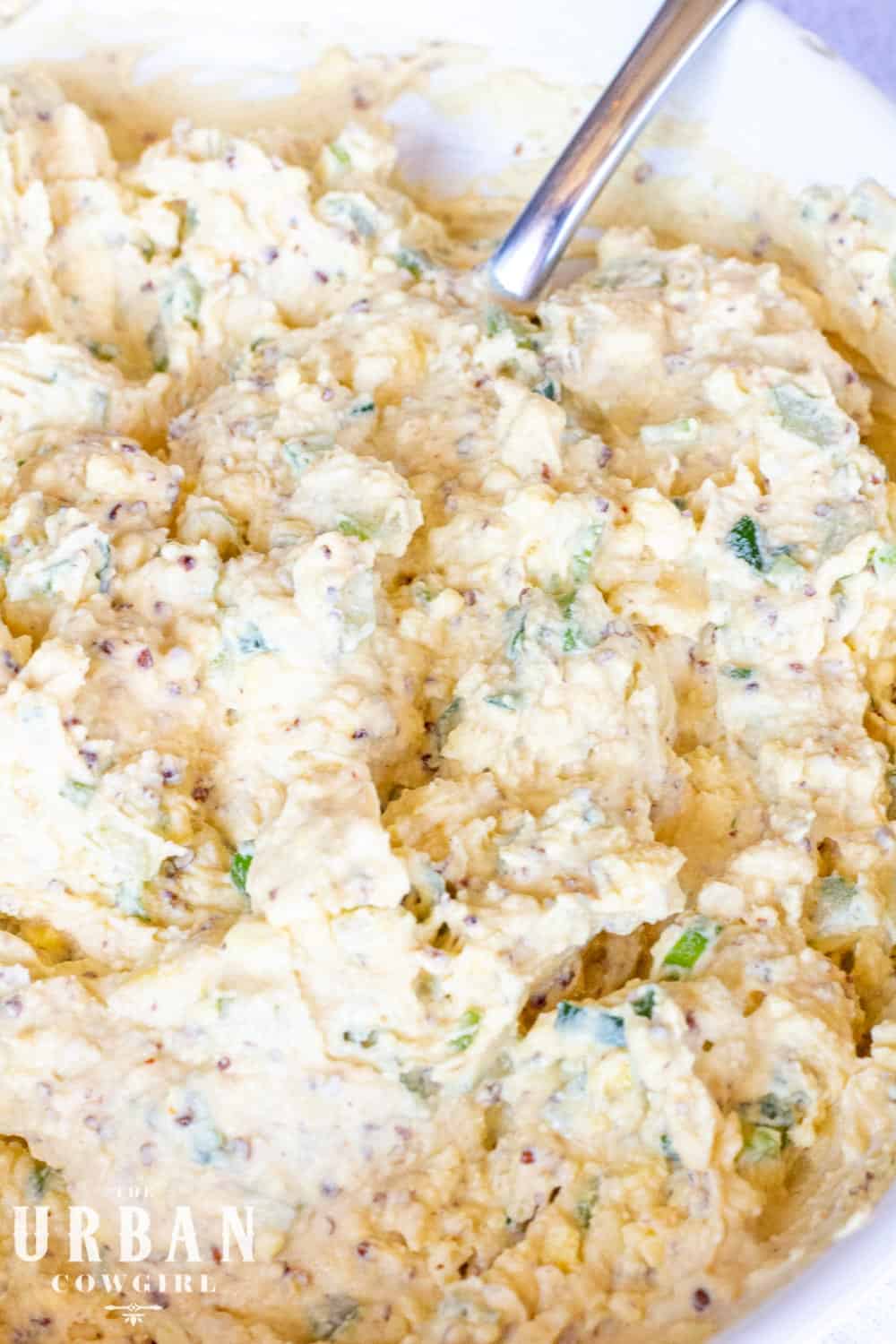 After the filling chills and the egg whites have cooled, it's time to fill the eggs and garnish them.
I know many food bloggers pipe beautiful, perfect deviled eggs, but I actually prefer a meatball scoop. ( I don't have a lot of time in my life for piping bags. 😛 ) This is the pro-chef scoop I use and it makes quick work of filling the eggs. They look pretty but aren't overdressed as I feel deviled eggs should be presented.
This Volrath 1 oz. scoop also works great for cookies, meatballs, etc. I literally use it all the time and I've had the same scoop for 12 years. (Always buy pro tools.)
I plate the deviled eggs on a cupcake stand or a large plate in concentric circles and then sprinkle them with additional cajun seasoning, green onions, or fresh herbs.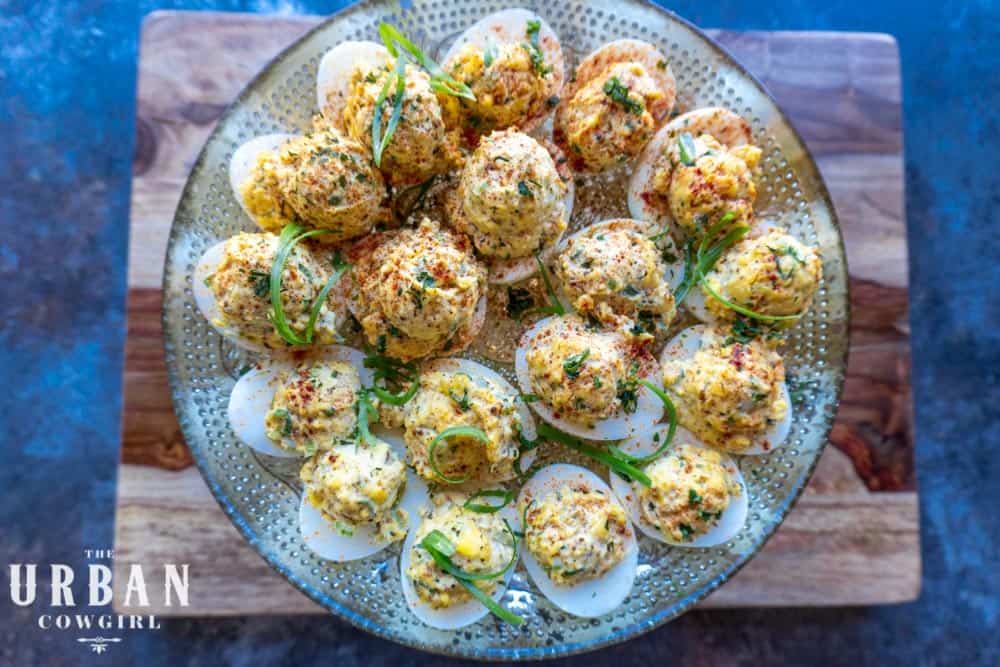 If you're looking for more deviled egg or Cajun or Louisiana-inspired recipes here are a few that we love!
Yield:

24 halves
Cajun Deviled Eggs Recipe
Additional Time:
10 minutes
These cajun deviled eggs are a kicked-up appetizer recipe using classic Louisianan ingredients! The creole mustard gives a bite of zip to the creamy filling.
Ingredients
12 eggs
1 stalk of celery, rinsed
1 green onion, rinsed
4 T. Hellman's Mayonnaise
2 T. Creole Mustard (I used Zatarain's)
¼ t. Slap Ya Mama Cajun Seasoning (white pepper blend is my favorite)
1 t. Crystal Hot Sauce
Instructions
To hard-boil the eggs:
Place all the eggs in a medium pot
and cover with water. Set over high heat and cook until the water comes to a gentle
boil. Boil for 2 minutes, then shut off the heat and cover the hot eggs and start
a timer for 11 minutes. Place a colander in the sink to prepare for deshelling
the eggs. As soon as the timer goes off, drain the eggs into the colander.
Under warm running water crack the eggs and remove their shell. Place all of
the boiled eggs into a bowl.
To prep the eggs:
Cut each egg in half and remove the yellow yolk to a small
bowl. Place each egg white half on a plate and chill while preparing the filling.
For the deviled egg filling:
Finely dice the celery and green onion and add to the bowl of cooked egg yolks. Add all of the remaining ingredients and mash well with a fork until no lumps remain. Taste for seasoning. Chill for 15-30 minutes.
Fill each egg half with a generous amount of deviled egg filling. Chill the deviled eggs or serve immediately. Garnish with a sprinkling of additional cajun seasoning if desired.
Notes
Buy your eggs a week before you intend to cook deviled eggs for eggs that are easy to peel!
Nutrition Information:
Yield:
12
Serving Size:
1
Amount Per Serving:
Calories:

108
Total Fat:

9g
Saturated Fat:

2g
Trans Fat:

0g
Unsaturated Fat:

6g
Cholesterol:

189mg
Sodium:

234mg
Carbohydrates:

1g
Fiber:

0g
Sugar:

0g
Protein:

6g
This nutritional information is provided as a courtesy as an estimate only. Consult with a dietician for precise estimates. This website makes no claims that the nutritional values listed are accurate.