My new Blackstone Griddle has turned out to be one of my favorite things, and these perfect smash burgers bring the ultra deliciousness of seared meat from a flat top grill, out of the restaurant and into the comfort of your own backyard.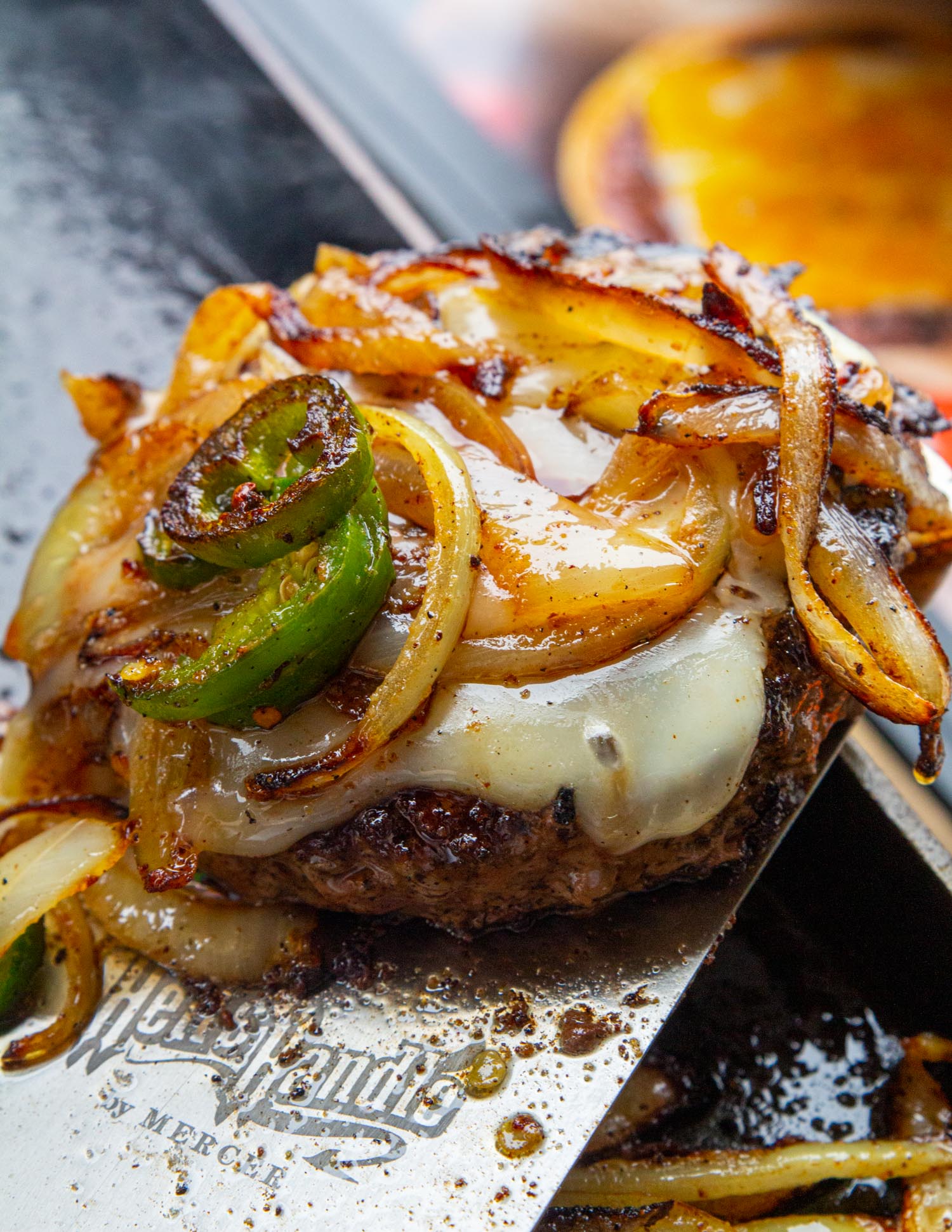 Anyone who flipped a fast-food burger pattie in their youth knows that a flat top griddle makes for excellent, juicy burgers! Pretty much an entire industry was built on how fast you can cook tasty burgers on a super hot griddle– but it was never available to the home cooking crowd.
While home cooks have had to settle for grilled burgers or even cast iron skillet seared burgers, now there is a new option on the block! The Blackstone Griddle is showing home chefs how they can cook just like their favorite restaurant.
(As an Amazon Affiliate we earn when readers click on affiliate links)
We took the Blackstone for a test run and came up with these ultra juicy smash burgers that our Instagram followers went nuts for! If you already own a Blackstone Grill, or you're thinking of purchasing one, this is sure to be one of your favorite Blackstone griddle recipes.
Check out the griddle here on Amazon.
How is a Smash Burger Different from a Regular Burger?
A smash burger can only be done on a griddle or a cast-iron skillet as opposed to a grill. The thin burger patties are smashed with a griddle spatula very thin, which allows for more searing and a faster cook time. You can easily get 2 patties on one hamburger bun, with maximum searing on all 4 sides, which means you're bumping the flavor and still making a really juicy burger.
How To Make Smash Burgers on the Blackstone Griddle
The first time we made this recipe for Instagram, we went with pre-made burger patties from Snake River Farms, because we love their Wagyu patties.
The second time we used 1.5 pounds of ground chuck and formed 4 balls of raw meat.
Using our burger press, we smashed the burger balls in between a piece of parchment paper to create our perfect-sized burger patties. Later we will smash them with our big griddle spatula (we use the Hell's Handle) to get the smashed burger effect.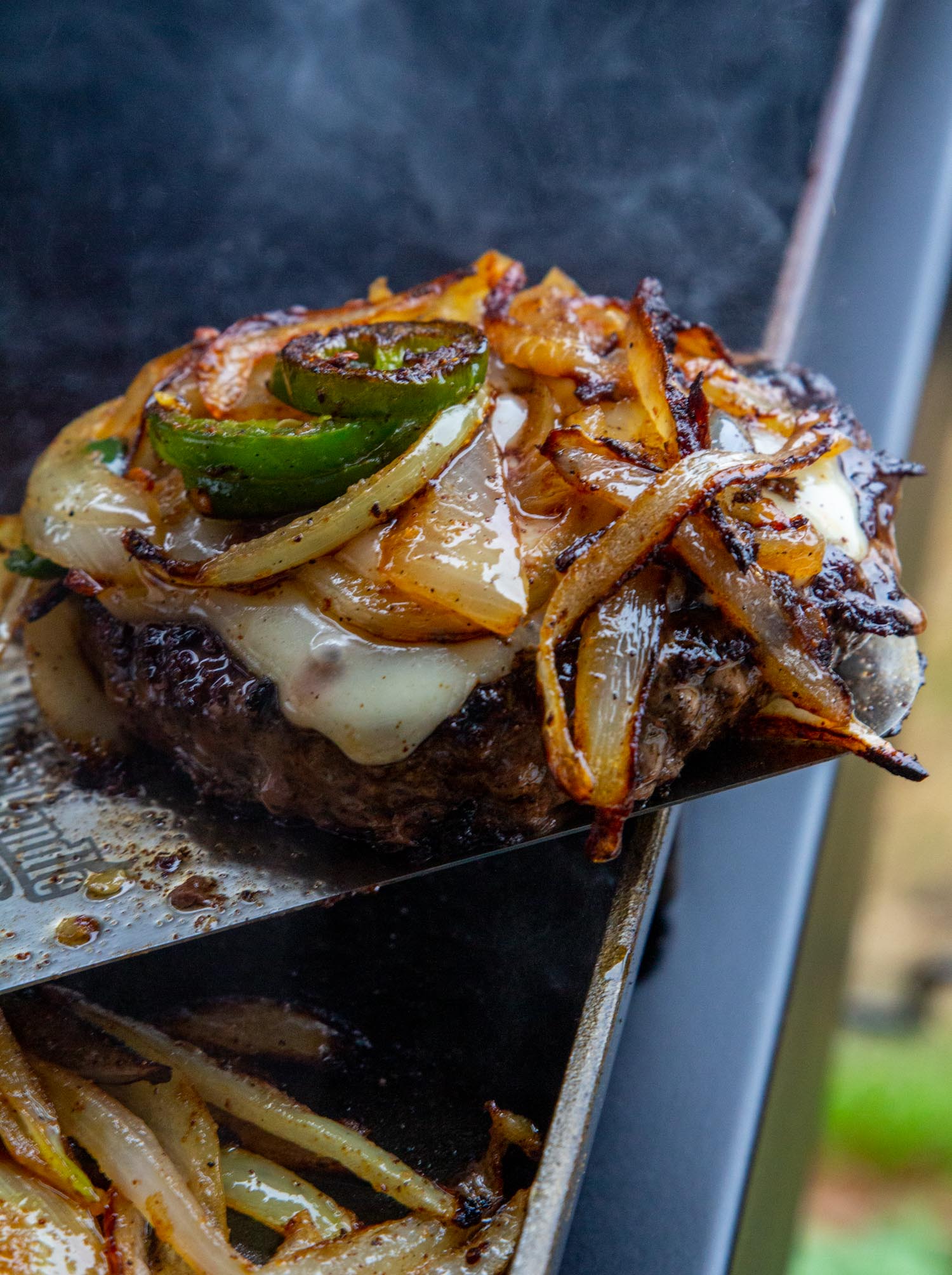 What Temperature To Cook Smash Burgers On The Blackstone Griddle
The temperature to cook smash burgers on the Blackstone is medium high heat, on all 4 burners. Towards the end of grilling, you can switch one burner to low and use this area to keep the burger patties, caramelized onions, or buns, warm while you build the burgers on each plate.
How Long to Cook Smash Burgers On The Blackstone Griddle
We cook our Smash Burgers on the Blackstone for 3-5 minutes per side, for maximum crust. The best way is to smash the burger patty with your spatula, cover briefly, then flip and add cheese. Our Blackstone Griddle has a swinging lid like this one. It helps to cook the burgers faster by trapping heat inside when it is closed, but you can also use a disposable aluminum pan atop anything that you want to cook hotter or faster.
The Blackstone Smash Burger Recipe
This recipe is highly customizable. Some burger aficionados who love the Five Guys Burger Chain will make double smash burgers with two patties per burger for a double stack experience!
You can use standard burger buns, brioche, or a potato bun. You can try our awesome recipe for herb truffle mayonnaise or use your favorite toppings. The process stays the same, but the ingredients are unique to your family.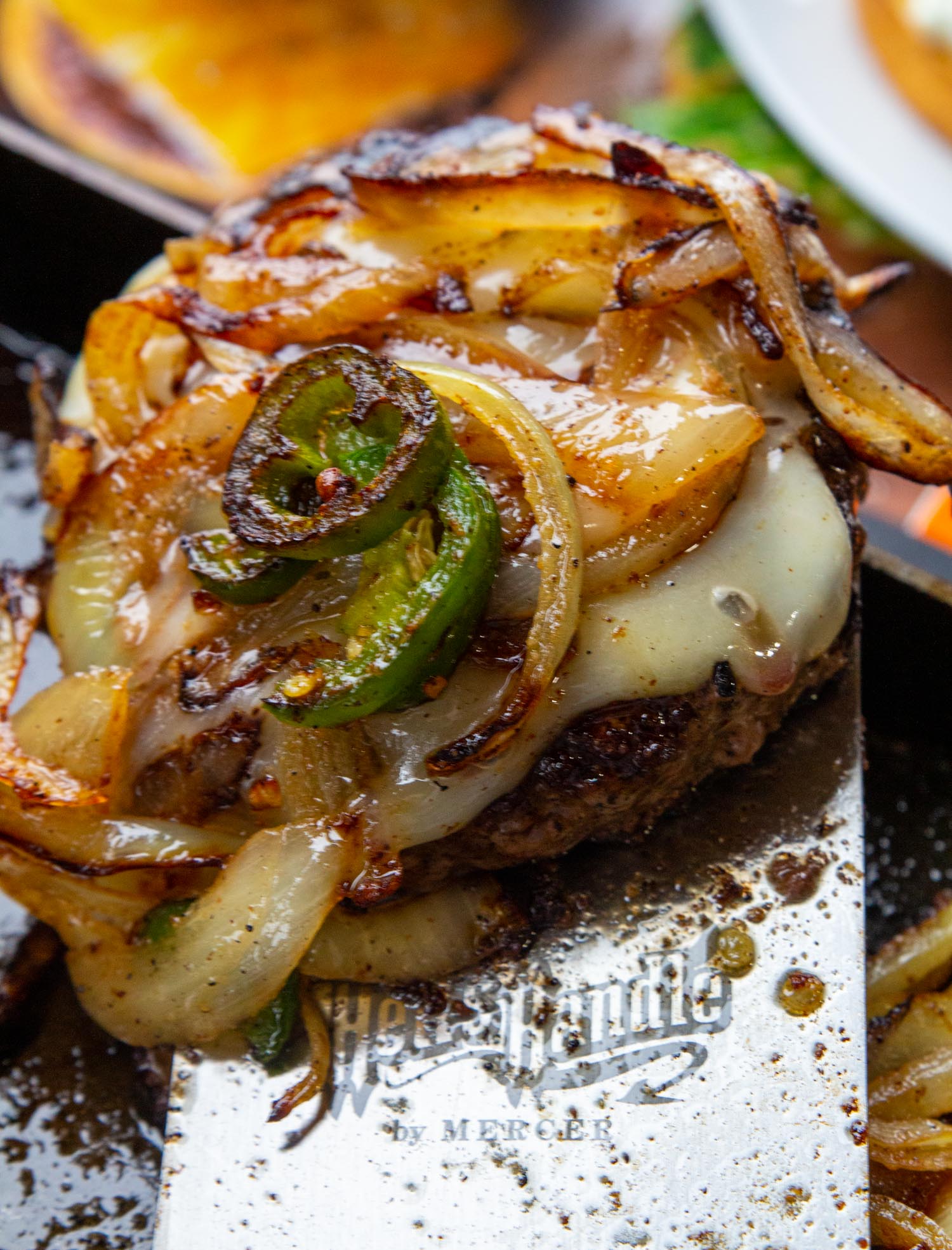 What To Serve With This Juicy Smash Burger Recipe
With Blackstone Smashburgers, you gotta gave french fries. We use our Delonghi Fryer alongside our griddle to fry fresh hot french fries. They're AMAZING dipped in truffle mayonnaise. We also recommend…
Yield:

4 burgers
Ultra Juicy Smash Burgers On The Blackstone Griddle Recipe
A guide to ultra juicy smash burgers with plenty of seared crust, ooey gooey cheese, caramelized onions, and peppers, made on the Blackstone Griddle.
Ingredients
1.5 pounds (80/20) ground beef formed into patties, or 4 premade burger patties
1 white onion
2 fresh jalapenos, sliced
4 thick slices monterey jack cheese (can also use American cheese)
4 burger buns (we used brioche buns), slathered with butter
½ stick butter, plus extra butter for buttering the hamburger buns
2 Tablespoons avocado oil (or other high heat oil) for greasing the griddle
Herb Mayonnaise:
2 c. mayonnaise
2 scallions, finely sliced
1 clove garlic, pressed through a garlic press
1 T. fresh lemon juice
¼ c. fresh parsley, chopped
Salt and black pepper to taste
Instructions
Smash Burgers On The Blackstone Recipe:
Preheat your Blackstone Griddle to medium-high heat, pour a little avocado oil on the griddle surface and smear around the flat top to get a fresh coat of oil while it heats up.
Assemble all of the ingredients, herbed mayo should be prepared first and allowed to chill in the refrigerator while cooking.
How To Make The Herb Truffle Mayonnaise:
To make the herb mayonnaise chop the scallions and fresh parsley, and press the garlic through a garlic press. Add to a small bowl.
Combine the mayonnaise with these fresh herbs and add lemon juice and the optional white truffle oil (it's not necessary but a fun addition to this herb mayonnaise recipe). Season with salt and pepper and place in the refrigerator to chill.
How To Caramelize Onions On The Blackstone:
To make caramelized onions on the Blackstone Griddle, slice the onion, on a cutting board slice off the root and the tip of the onion. Balance it on one of these flat sides and slice it down the middle. Now take each side of the onion and slice from root to tip into thin ¼ inch ribbons. Place these slices into a bowl.
Melt 4 tablespoons of butter in the middle of the Blackstone Griddle and add the sliced onions onto the cooking surface. The burners should be on medium high heat.
Sprinkle the onions with the steakhouse seasoning or any seasoning salt that you like. Toss well in the butter. Cook for 15 minutes, tossing every once in a while with your spatula. I move the onions to the back while cooking the burgers so that they can continue to caramelize and develop rich flavors.
How To Griddle Jalapenos on the Blackstone:
To slice the jalapenos, first cut off the stem. Then slice them in half down the middle. Line them up and slice them again into half-moons. I left the ribs and seeds in for spice but ribs and seeds can be removed BEFORE slicing if you prefer a milder burger. Or simply leave the jalapenos out if you like.
Melt 4 tablespoons of butter on an area of the griddle. Add your sliced jalapenos to the butter and toss well in the butter. Season with the steakhouse seasoning, or any seasoning salt you like. Cook 5-10 minutes over medium heat, tossing occasionally. Move to the front of the griddle, or off to the side while you sear the burgers.
How To Make Smash Burgers On The Blackstone:
For the burger patties, I used 4 pre-made burger patties. You can form your own burger patties using hamburger meat with your hands or with a burger press like this one.
Season the raw patties well on the outside with steakhouse seasoning or any seasoning salt you like. My steakhouse seasoning contains salt, pepper, garlic powder, and onion powder. I use about a teaspoon on each side of each burger. You can also sprinkle each of these spices on separately if you like, don't overthink it.
On the freshly greased Blackstone, place the burger patties down onto the middle of the griddle, which I find to be the hottest area.
You can use the high-temperature oil or butter to grease the griddle lightly, just make sure it is nice and slick. Place the patty down and smash with a large spatula into a thin patty. I close my griddle and let this side cook for 4-5 minutes. If you don't have a lid on your Blackstone, simply use a disposable aluminum pan placed over the meat to help it cook.
After 5 minutes, flip the burgers. Cook an additional 2-3 minutes. Top with one slice of cheese and place the lid back down to help the cheese melt.
Last, place the buttered buns down on the griddle surface to toast them lightly. This only takes about 1 minute. Remove and place each toasted bun on a plate. Slather with the herb mayonnaise.
Top each cheesy burger patty with caramelized onions and jalapenos if desired. Place on top of each bun. Top with the other half of the hamburger bun. Congratulations you've made the best burger on the internet! Serve immediately.
Nutrition Information:
Yield:
4
Serving Size:
1
Amount Per Serving:
Calories:

1939
Total Fat:

157g
Saturated Fat:

44g
Trans Fat:

1g
Unsaturated Fat:

105g
Cholesterol:

267mg
Sodium:

2345mg
Carbohydrates:

75g
Fiber:

3g
Sugar:

6g
Protein:

57g
This nutritional information is provided as a courtesy as an estimate only. Consult with a dietician for precise estimates. This website makes no claims that the nutritional values listed are accurate.