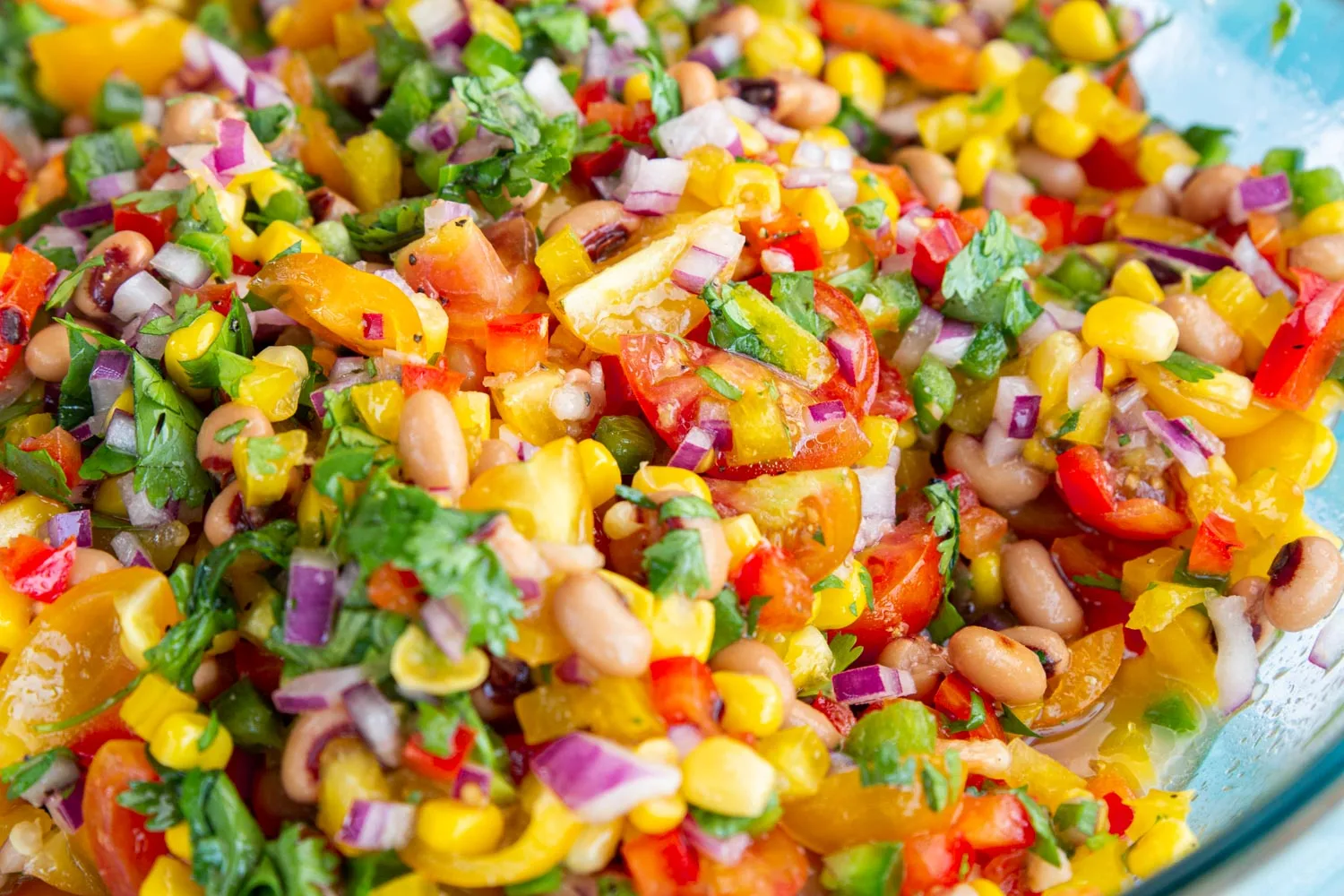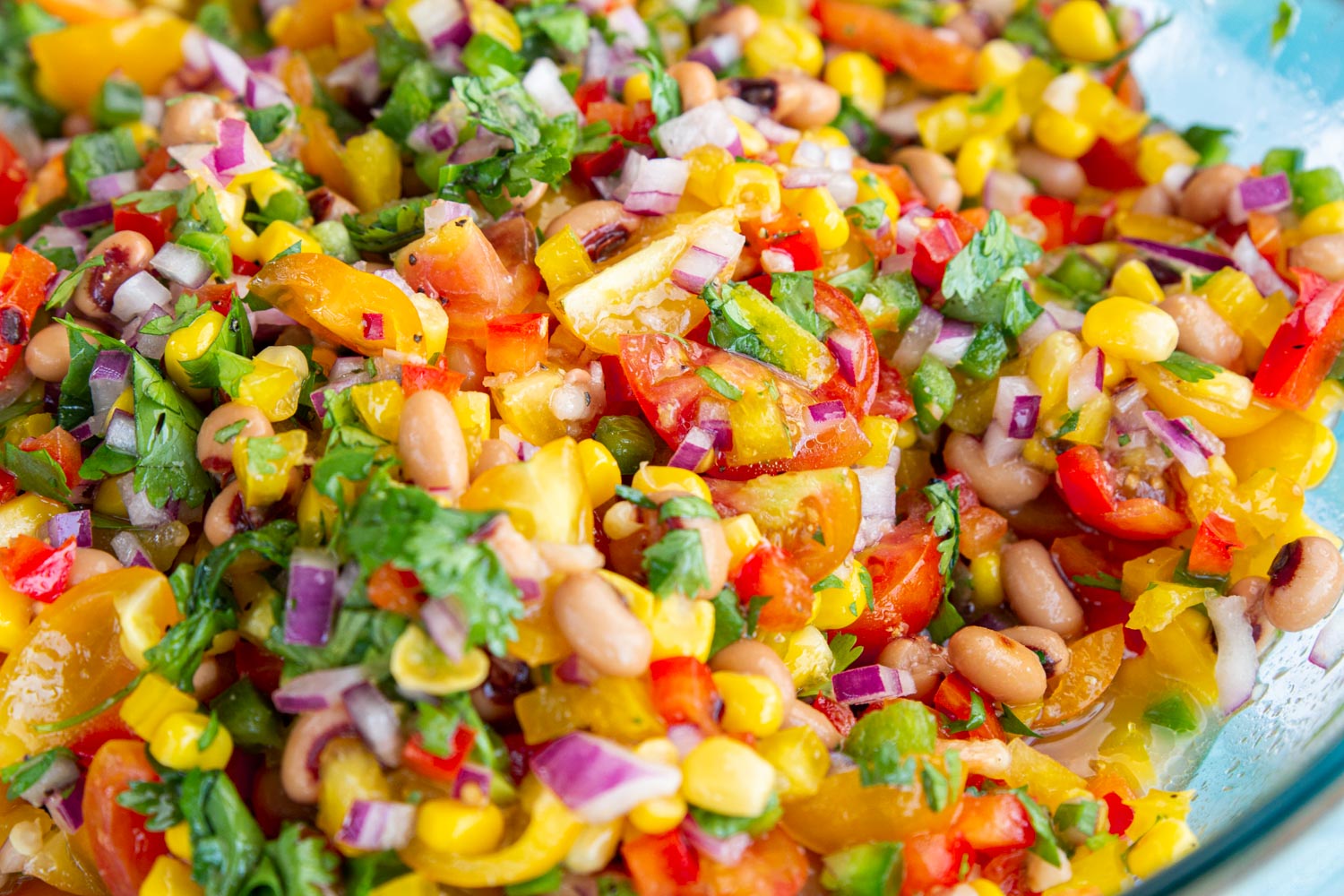 Texas Cowboy Caviar ranks as a favorite among southerners as a tasty (and kinda healthy!) recipe, served with tortilla chips as a dip, or in place of a side dish as a cold marinated salad.
Also known as "redneck caviar" "hillbilly caviar" or "southern caviar", the dish is made up of tiny bites of sweet corn, black-eyed peas or black beans, red onion, jalapeno peppers, tomatoes, fresh cilantro, and bell pepper bathed in a red wine vinegar dressing, just perfect for a tailgate or a potluck!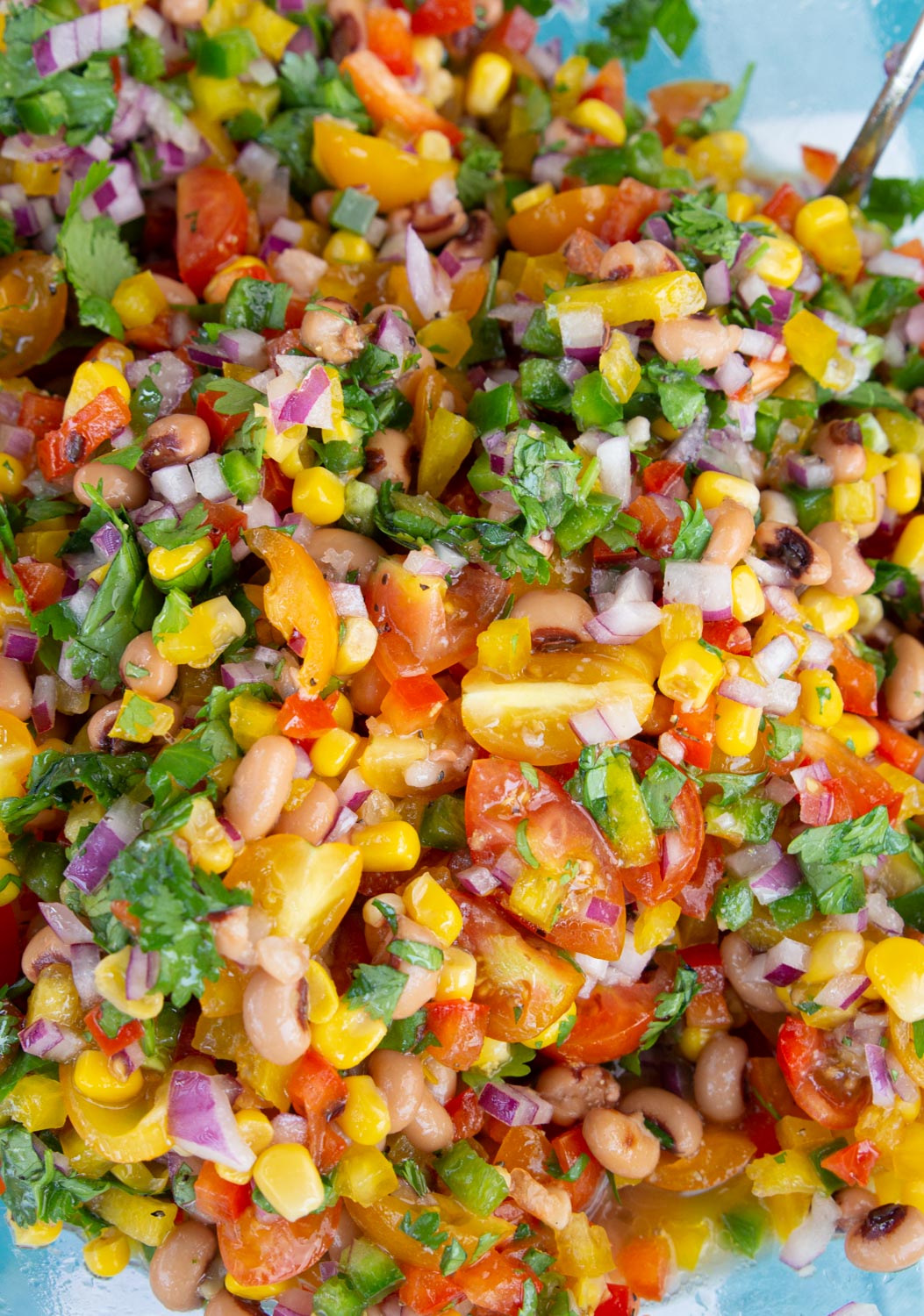 What is Texas Caviar (aka Cowboy Caviar or Red Neck Caviar)?
Obviously, Texas Caviar contains no caviar. It's a playful name for the small diced look of the vegetables in the dish and the way it's served atop crackers, tortilla chips, etc. It is common to see in the southern Unites States served at church potlucks, barbecues, holiday get-togethers, and tailgate parties.
It's an easy recipe that anyone can make and is good for beginners or when you are in need of an easy appetizer that travels well.
You can also serve it as a cold marinated side dish, as a salad, with hamburgers and hot dogs, smoked brisket, and even tex mex fare.
(Links are affiliate links to products we think are helpful and we may receive a small commission, at no cost to you, if purchased.)
How Do You Make Texas Caviar?
For this dish, all you'll need is a sharp knife and cutting board, or one of these handy dandy food choppers we use in our videos for perfectly square cubes. You can get one here for cheap and you'll never cut another vegetable again!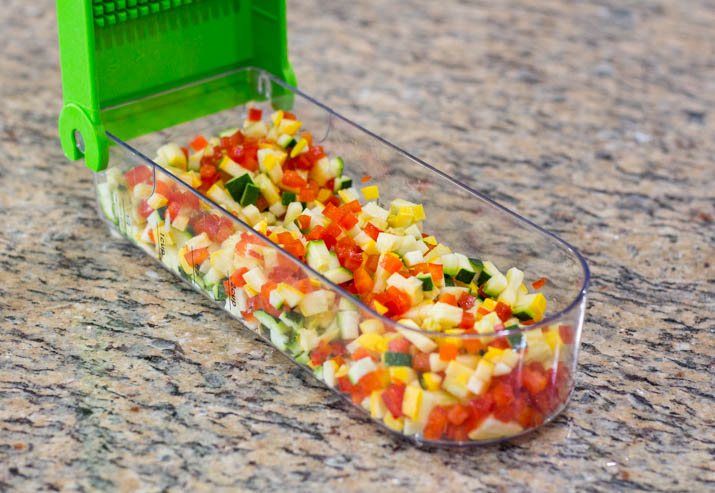 We start with the cherry tomatoes, washing them well, and then cutting them in half and then again into quarters. I like to use a pint of red and yellow tomatoes for the pretty colors! Place them into a big bowl with lots of room for the rest of the veggies and the red wine dressing.
Next, we chop the red onion, jalapeno pepper, and bell peppers. Again, I use one yellow bell pepper and one red bell pepper for maximum beauty! You can substitute green bell peppers if that's how you are used to enjoying it. All of the ingredients should be very small dice and placed into a large bowl.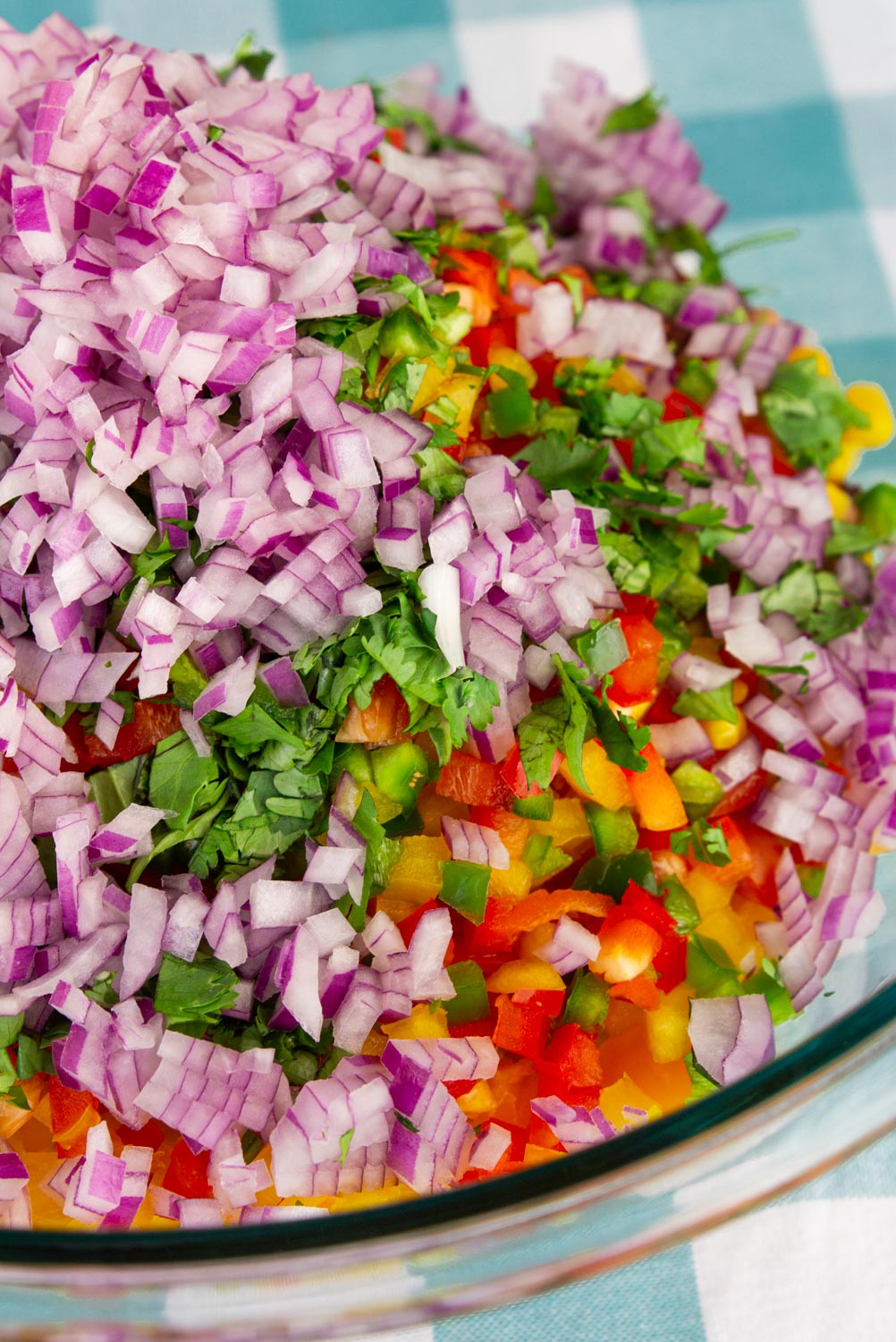 Now, we open our black-eyed peas or black beans (this is a matter of personal choice and either tastes terrific) and drain the beans and rinse very well. Add them to the large bowl.
For the corn, you can either use 1 can of yellow sweet corn, or 3 fresh corn cobs with the kernels sliced off with a sharp knife. If using fresh corn during the summertime, you do not have to cook the corn, just slice the kernels off and add to the big bowl. I used a can of corn because, in my opinion, Texas caviar should be an easy dish that you can whip up in a few minutes.
If using canned corn drain all of the juice from the can and rinse the corn well before adding to the bowl.
For the fresh cilantro, I purchase 1 bunch and chop well. We usually only use 1/4-1/2 c. depending on how much you like cilantro. If your family doesn't care for cilantro, just skip it. There isn't a good substitute for cilantro but the dish works fine without it.
When all of the veggies are chopped fine and placed in the bowl we can begin on the red wine dressing!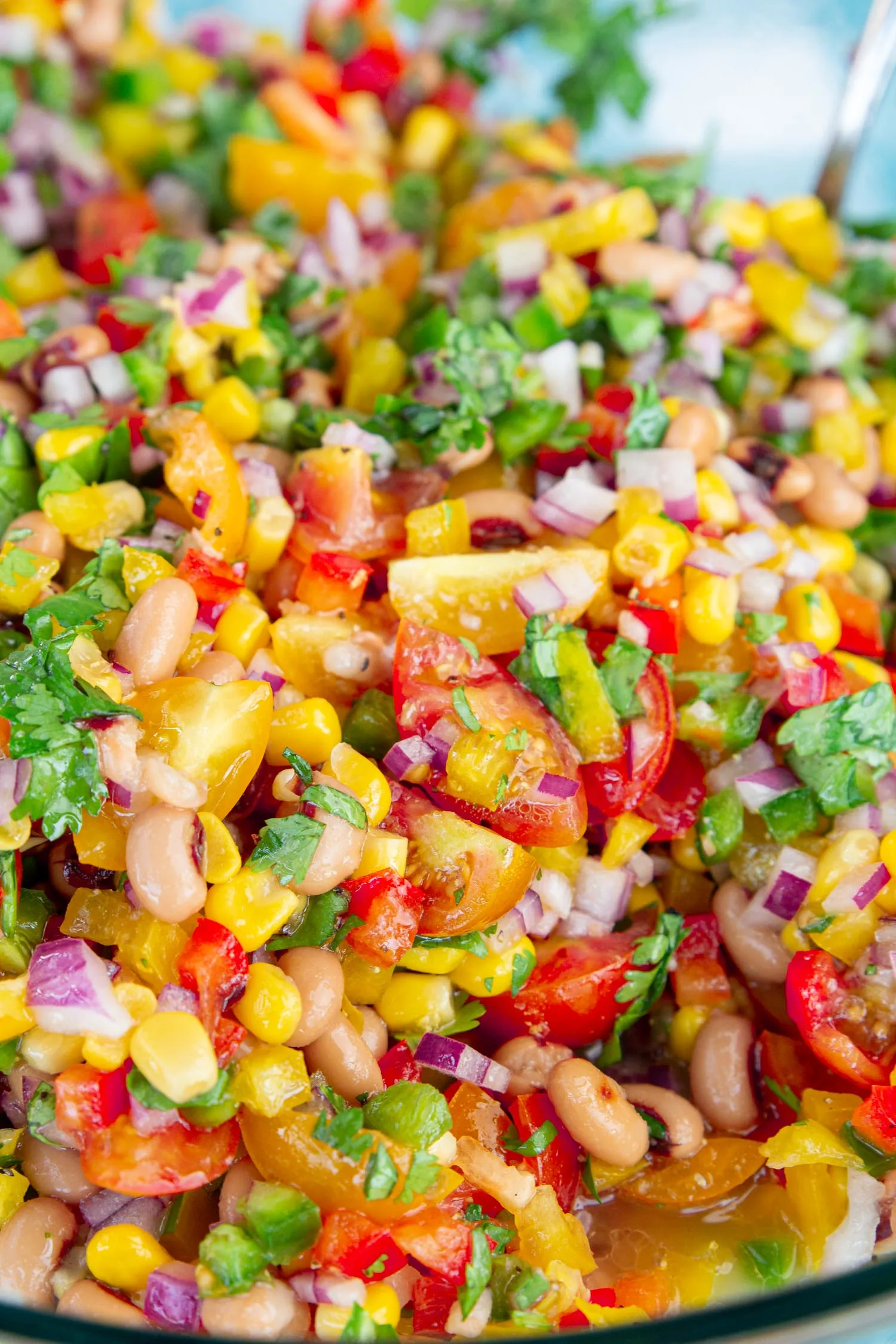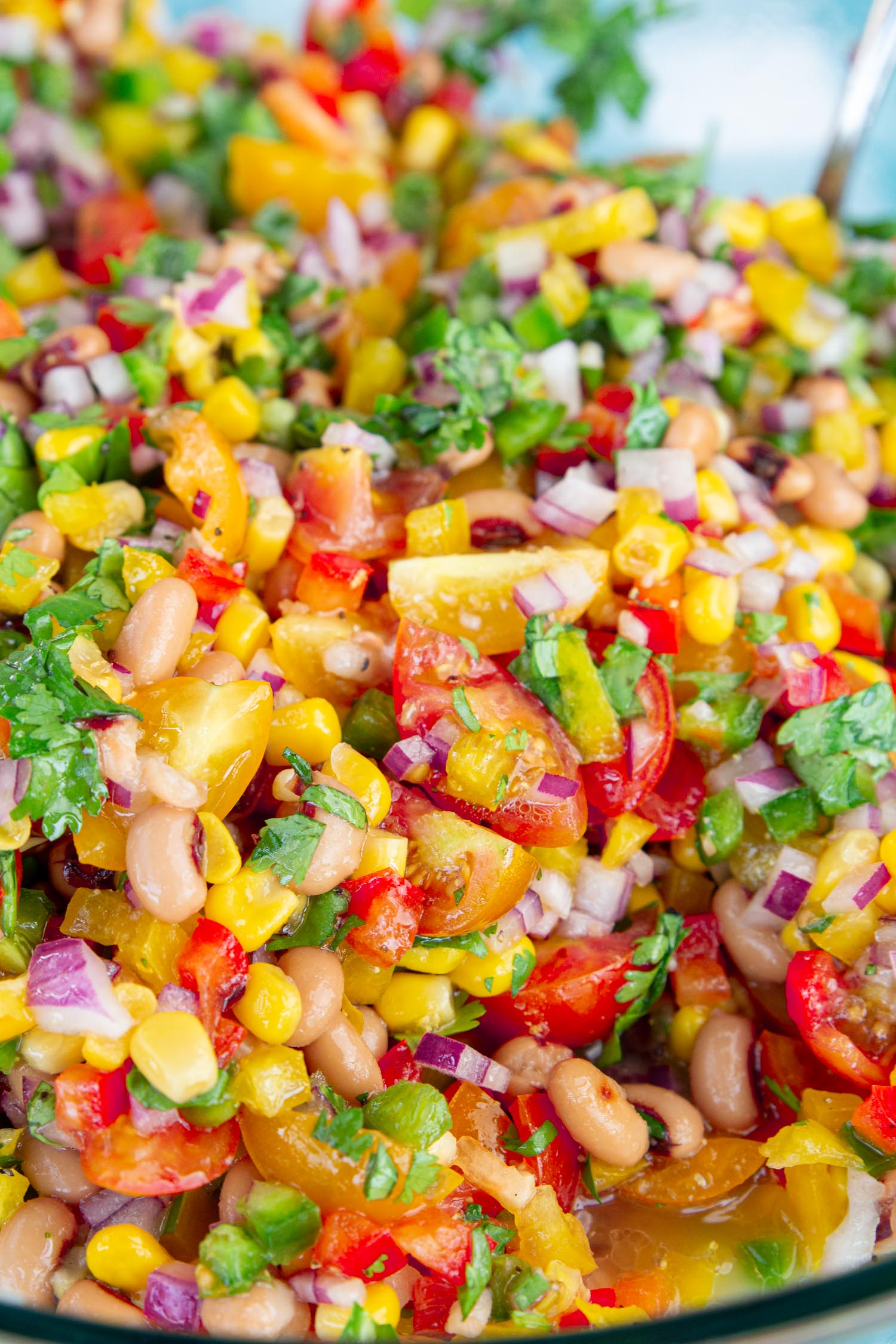 How To Make The Cowboy Caviar Red Wine Vinegar Dressing
For the vinaigrette, we will add all of the ingredients to the bowl and whisk well. I also enjoy making vinaigrettes in a mason jar with a lid. All you have to do is add the ingredients and shake well.
This recipe uses red wine vinegar, the juice of 1 lime, a fresh salad oil such as avocado oil or sunflower oil, sugar, garlic, and seasonings. This is a tasty vinaigrette which also goes well with a simple green salad! You'll want to prepare the vinegar dressing and just pour over the big bowl of veggies.
If you like, you can make the dressing have a little kick by adding a teaspoon of sriracha sauce!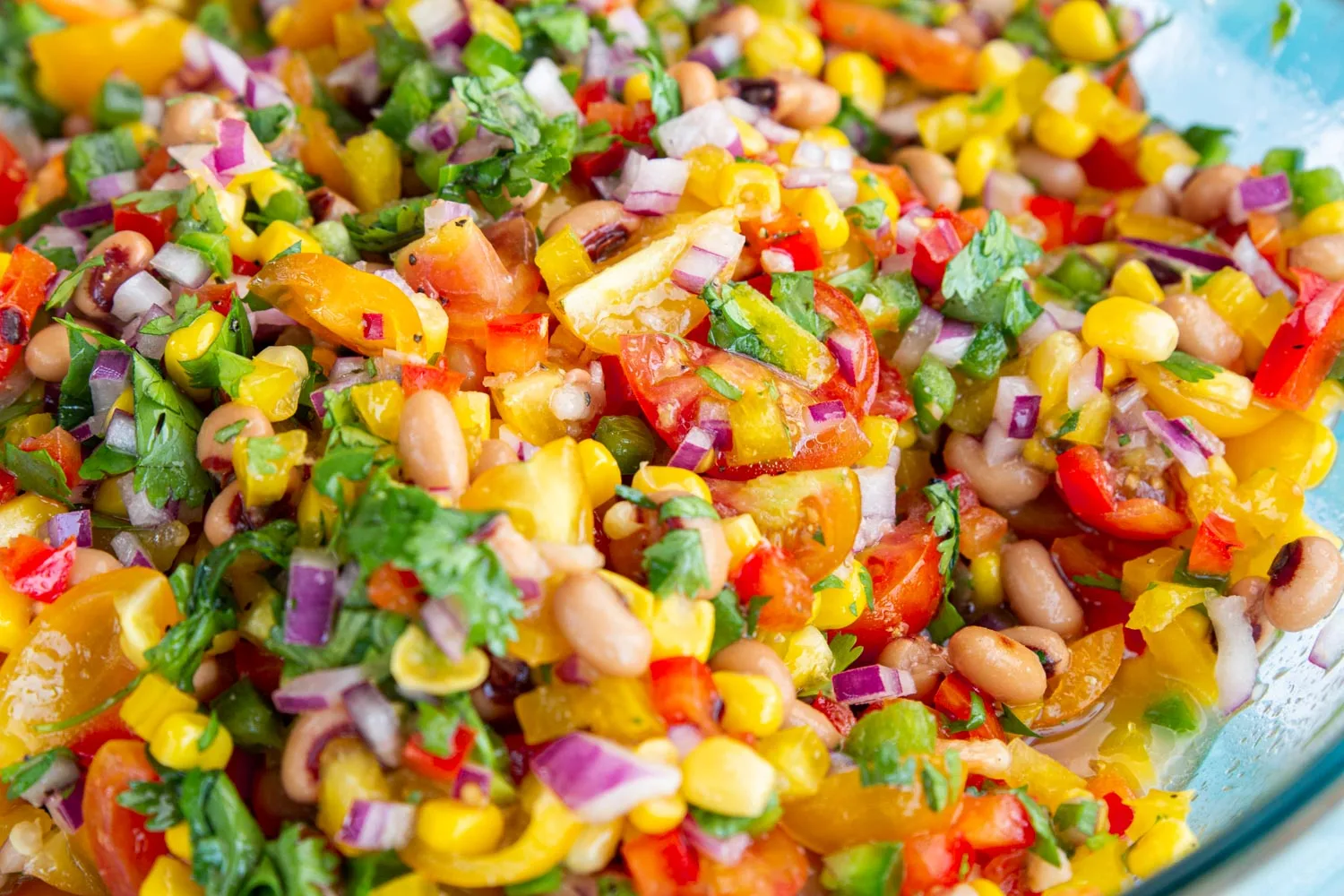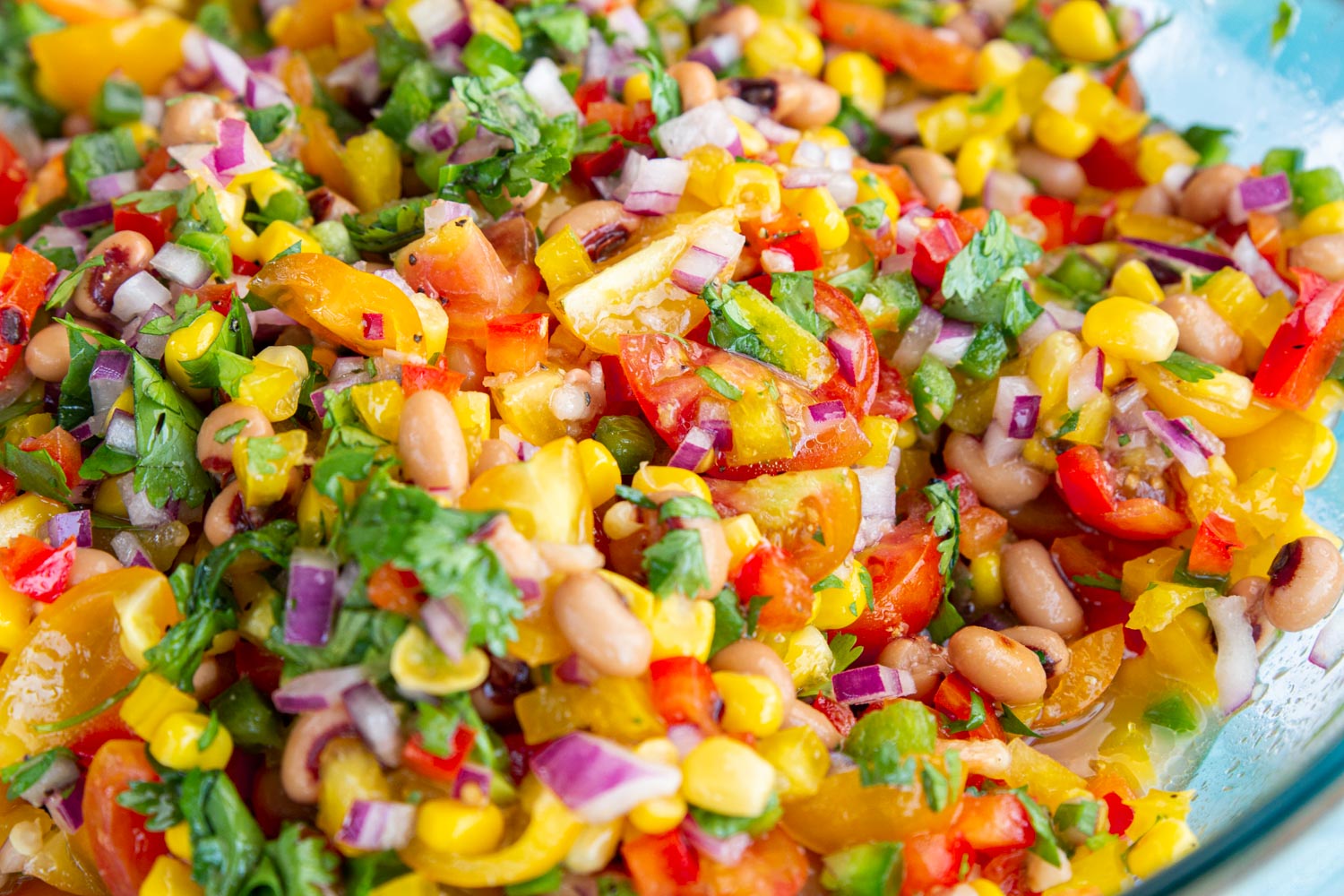 How To Serve Texas Caviar
Pour the red wine dressing on top of the vegetables and toss well. Season to taste with kosher salt and black pepper. This dish can be served immediately or it can be marinated for several hours and served chilled. We love to serve it with corn chips outside around the grill or barbecue!
Cowboy Caviar is also an easy make-ahead dish which is why it's the obvious choice for a potluck. Just pour it into an air-tight container and chill well. It travels well alongside a bag of tortilla chips. Instant Party!
What Substitutions Can I Make In My Texas Caviar?
This is my favorite, classic, Texas caviar recipe, but many versions will vary slightly from family to family.
Some dishes substitute green onions for the red onion, you can use black-eyed peas or black beans, you can use green bell pepper in place of the red and yellow bell pepper, and you can make it more or less spicy by removing or adding to the fresh jalapeno. Some folks skip the red wine vinegar dressing and simply use bottled Italian dressing.
The recipe isn't rigid, it can be fine-tuned to what ingredients you have handy or what is available seasonally.
How To Store Texas Caviar?
Leftovers should be stored in an air-tight container, refrigerated, for 2-3 days.
After several days the vegetables will wilt and be less colorful. I recommend making this dish the night before you intend to serve it, or serving immediately after making it. Any longer and the final dish won't be as crisp and fresh which takes away from the overall appeal.
What Other Appetizers Would Go Well With Texas Caviar?
When I see Texas Caviar on the menu I know we're having a party! Here are some other recipes we have that pair well with party and holiday celebrations…
Red Pepper Jelly Chicken Salad Wonton Cups
Yield:

1 quart
Texas Cowboy Caviar Recipe (with Red Wine Vinegar)
Texas Caviar is a playful name for this colorful southern appetizer which is served at parties and get-togethers. Corn, Beans, Tomatoes, and Peppers are marinated in a zesty red wine vinaigrette and go well with corn tortilla chips for dipping!
Ingredients
1 can corn (you can also use 3 ears of fresh corn if you prefer), drained
1 can black-eyed peas (can also use black beans), drained and rinsed
2 jalapenos, small diced with seeds removed
1 red onion, small diced
1 pint cherry tomatoes, quartered (I used yellow and red)
1 red bell pepper, small diced
1 yellow bell pepper, small diced
1 bunch of cilantro, chopped fine
RED WINE VINEGAR DRESSING:
3/4 c. oil (such as safflower, avocado oil, etc.)
1/3 c. red wine vinegar
1 lime, juiced
1 T. sugar
1 garlic clove, pressed through a garlic press
1/2 t. each salt and pepper
Instructions
In a large bowl, add the corn and black-eyed peas (drained and rinsed).
Small dice the red onion, bell peppers, and jalapeno. I use this kitchen vegetable chopper available here Add to the bowl.
Rinse the tomatoes and quarter them. Add to the bowl. Chop the leaves of the cilantro well and add to the bowl.
For the dressing: Add all of the ingredients to a bowl and whisk to combine. Pour over the vegetables. Toss well and taste for seasoning as you may need a pinch more salt.
This mixture can be marinated for several hours or served immediately. If marinating stir well throughout marinating, Serve with corn chips or as a cold vegetable salad side dish.
Notes
Add 1 t. sriracha sauce to give this redneck caviar a kick!
Recommended Products
As an Amazon Associate and member of other affiliate programs, I earn from qualifying purchases.