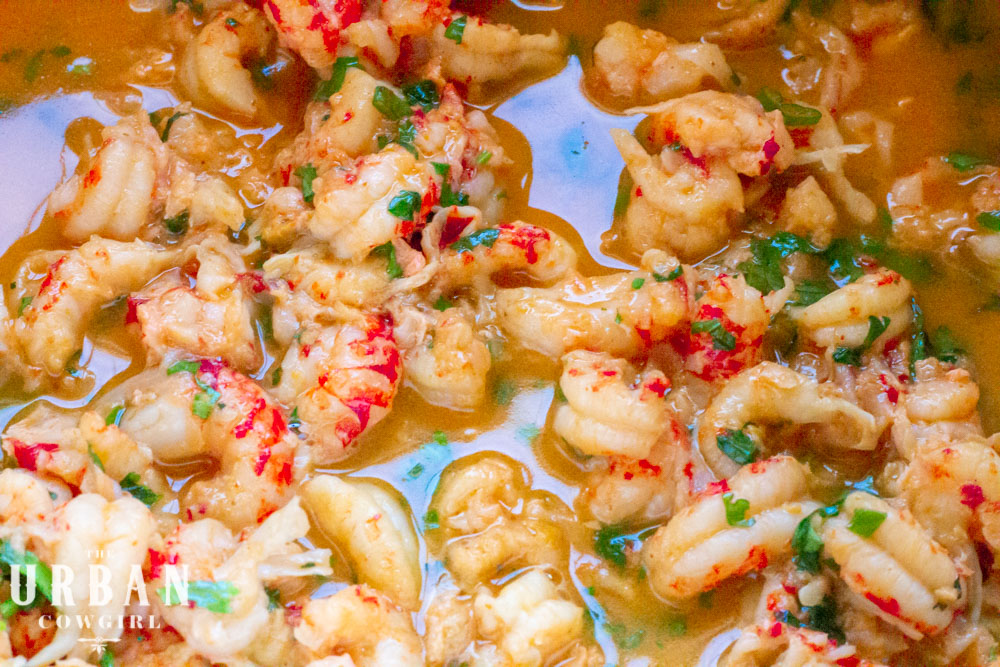 Crawfish lovers know that good-quality Louisiana crawfish tails are a celebrated delicacy and need only a few ingredients to help them shine. Too many loud ingredients overshine their delicate yet complex flavor, and serving them properly requires a buttery base for all that delicious crawfish fat to melt into.
In this crawfish scampi recipe, you can have it all! Plus dinner on the table in about 12 minutes. 😉
How To Select Crawfish Tails
The secret to this simple and satisfying dish is impeccable quality, real Louisiana crawfish tails.
They aren't cheap! They're not really expensive either but beware of cheap bags of crawfish tails which are not farmed in Louisiana. The flavor and aroma of cheap crawfish tails, usually coming from abroad, is nothing like real Louisiana crawfish.
Upon opening a defrosted bag of poor quality crawfish tails they will smell fishy and have little flavor. When coming from cheap companies they are seldom deveined, which the vein must be removed before cooking, and is a hassle to do on your own. Most upsetting, they do not come with as much of the rich and delicious fat that is found in bags of Louisiana crawfish.
Instead, look for frozen bags of crawfish tails, deveined and sourced in Louisiana. I love to find products that are certified cajun.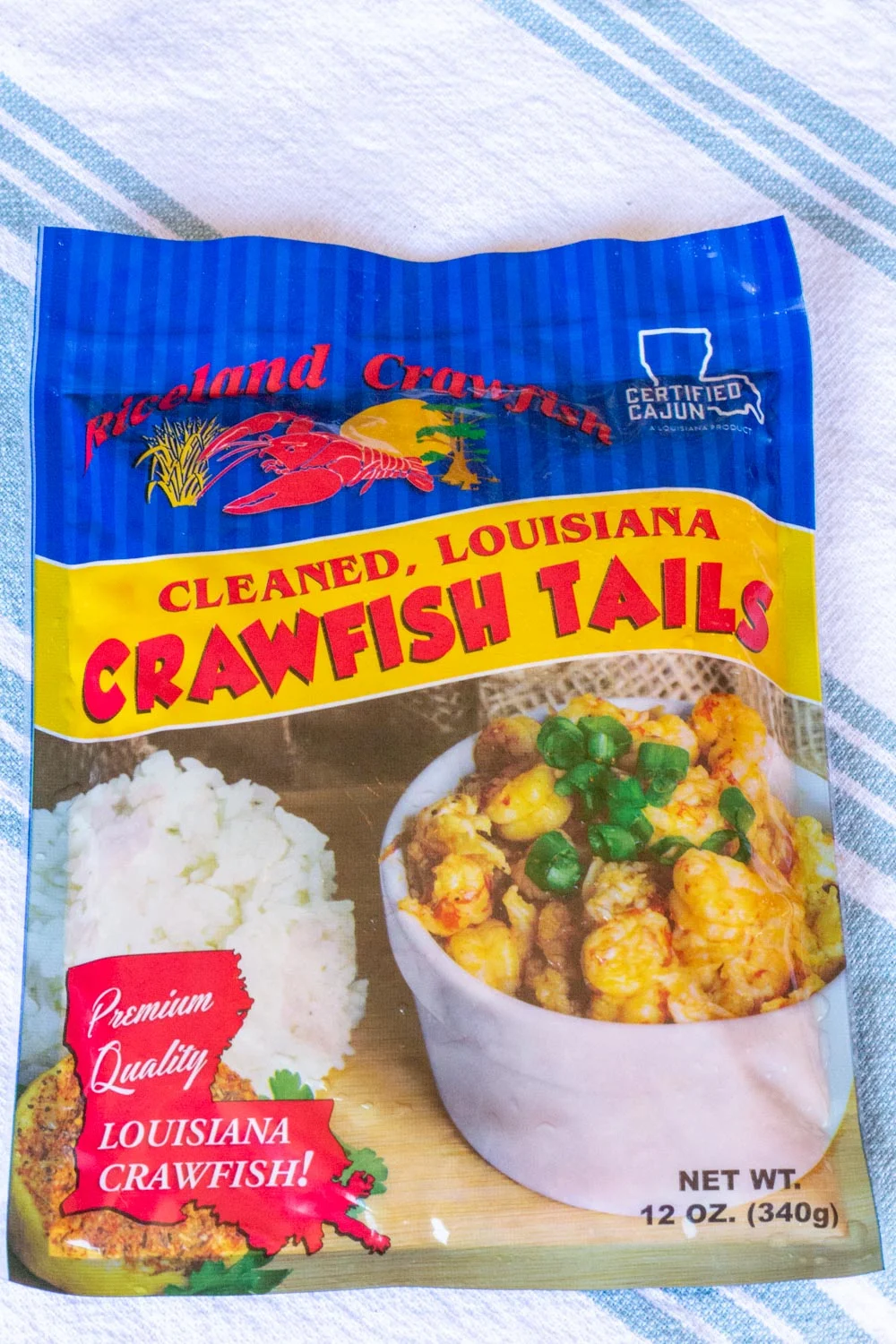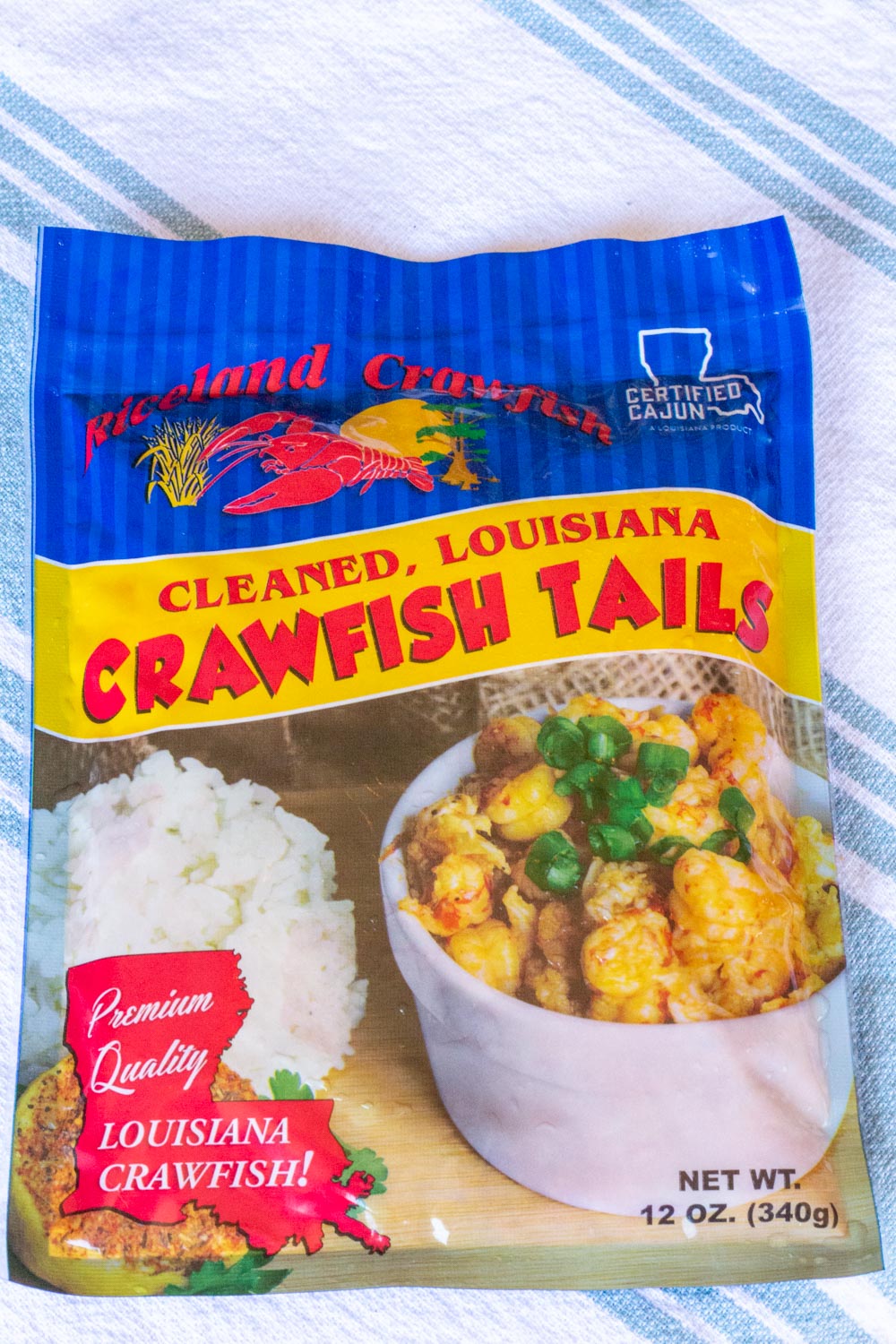 Defrost the crawfish fully, preferably in the refrigerator, and place in a bowl making sure to include any of that precious fat, which looks like an orange-red butter.
This recipe can be made in a large saute or saucepan which allows the crawfish tails to spread out and baste in the garlic butter.
I recommend only using fresh herbs and fresh lemon juice for maximum flavor. When it comes to simple recipes like this one which have very few ingredients, it's best to use the best quality products available– excellent butter, herbs, and fresh citrus juice.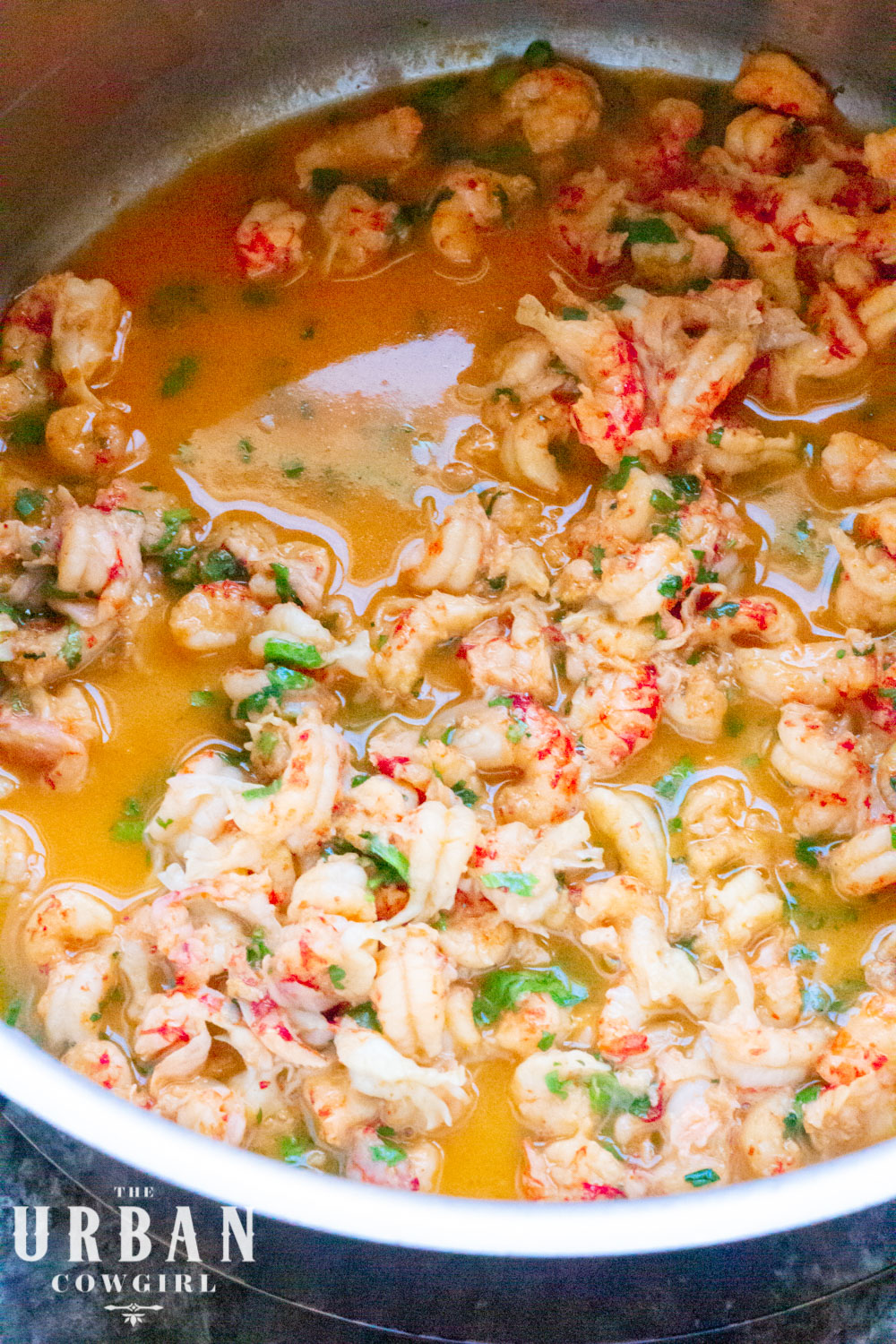 Serving the crawfish tails is entirely up to you! These can be served with fresh angel hair pasta, cooked white rice, or in little bowls with a hearty slice of toasted sourdough bread.
Alongside a steak or grilled chicken breast, you can serve the crawfish in gratin bowls as a surf and turf option for special occasion meals.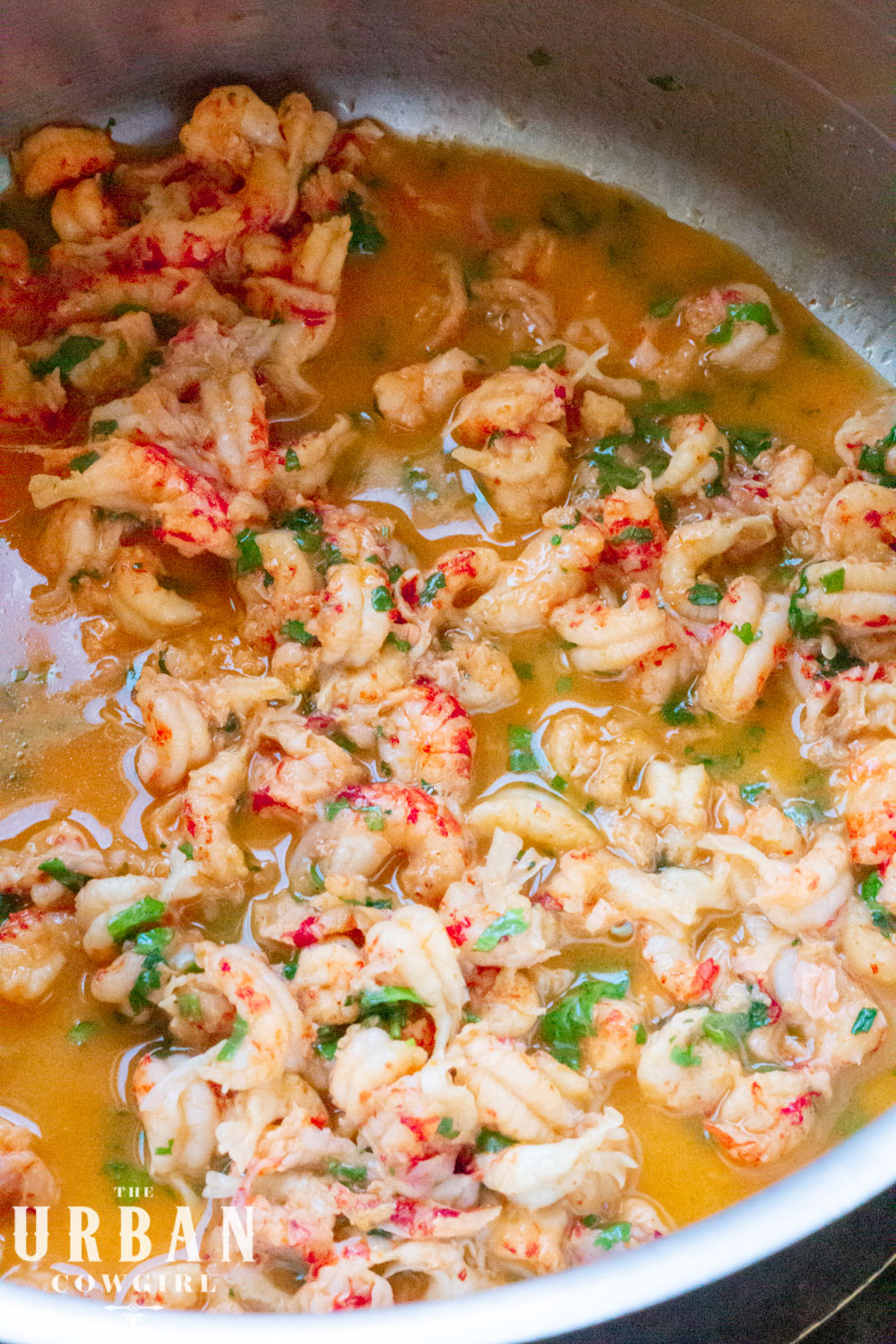 To store the garlic butter crawfish tails, place it in a standard Tupperware dish with a secure lid. I would recommend only keeping this dish for 1-2 days refrigerated. To serve again, gently warm them in a microwave or small saucepan until hot.
Yield:

2-3 cups
Crawfish Scampi Recipe (Garlic Butter Crawfish Tails)
These garlic butter crawfish tails can be prepared in 12 minutes and are a decadent seafood recipe to enjoy during crawfish season with rice, angel hair pasta, or crusty french bread!
Ingredients
2 12 oz. packages of Louisiana crawfish tails, defrosted if frozen
2 sticks butter (1 c.)
2 t. fresh garlic, minced or pressed through a garlic press (about 2 cloves)
1 T. green onions, chopped finely
1 T. fresh chopped parsley
1 t. fresh lemon juice, more to taste
1 t. Louisianna hot sauce
1/4 t. cajun or creole seasoning salt
1/4 t. freshly cracked black pepper
Instructions
If frozen, defrost the packages of crawfish tails. Empty into a bowl and check for any pieces of crawfish that were not properly deveined (devein them by removing the brown band along the tail if visible) or look for any pieces of shell. When you're pleased with the crawfish tails reserve them for cooking.
In a sauté pan, melt the butter over low to medium heat. Add the minced garlic in and stir until fragrant. Add the green onions and cook 30 seconds. Add all of the crawfish tails and fold them into the butter mixture.
Heat the crawfish 1-2 minutes, just until hot. Finish with the cajun seasoning, fresh parsley, Louisianna hot sauce, and lemon juice. Add pepper. Taste for seasoning.
Remove from heat and serve in small bowls with rice, pasta, or crusty garlic bread.
Nutrition Information:
Yield:
4
Serving Size:
1
Amount Per Serving:
Calories:

541
Total Fat:

48g
Saturated Fat:

29g
Trans Fat:

2g
Unsaturated Fat:

14g
Cholesterol:

315mg
Sodium:

676mg
Carbohydrates:

1g
Fiber:

0g
Sugar:

0g
Protein:

28g
This nutritional information is provided as a courtesy as an estimate only. Consult with a dietician for precise estimates. This website makes no claims that the nutritional values listed are accurate.