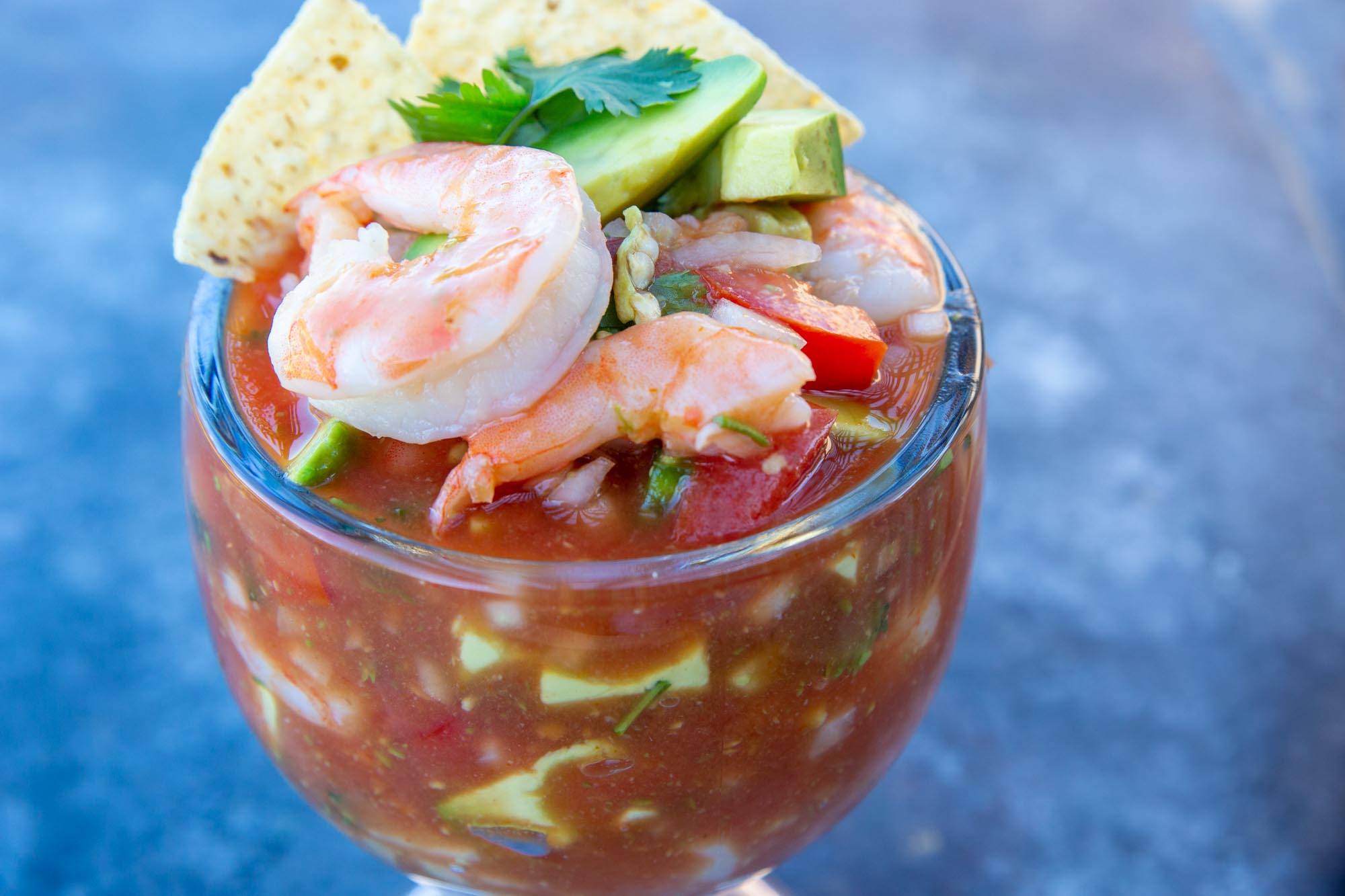 If you follow Urban Cowgirl on YouTube you know I spend a lot of time in coastal Mexico, mostly the Yucatan, and I can never stop talking about these Mexican Shrimp Cocktails (also called Campechana), which are available at every beach club and seaside snackeria.
I find that this dish always tastes a little bit better in that part of the world, so I asked my favorite cooks to share what they think makes their mexican shrimp cocktail recipe (or as they say in Mexico, cocktail de camerones) taste so beautifully refreshing, and today I am sharing a secret ingredient with you!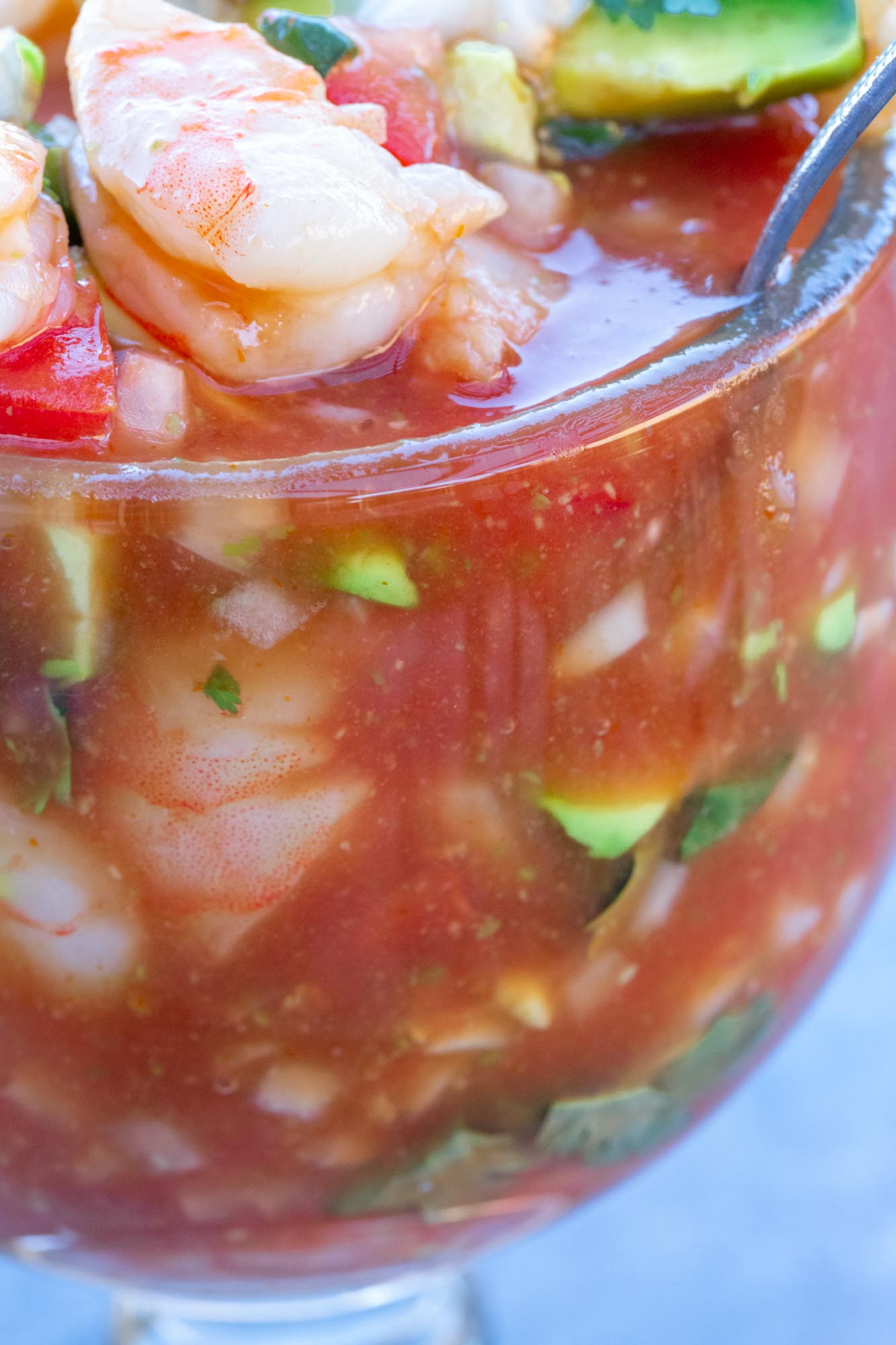 Want to see some of our foodie travels? Here is a post on my best eats in Riviera Maya where you'll see these Mexican Shrimp Cocktails featured, and lots of other delicious Mexican eats to discover!
(Some Mexican Shrimp Cocktails and other eats from my training in Mexico!!)
What is a Mexican Shrimp Cocktail?
A mexican shrimp cocktail is a dish comprised of very fresh poached shrimp, diced tomatoes, onion, jalapeno, cilantro, and occasionally avocado (served within it or on top) bathed in a sweet tomato and lime juice. It's eaten with a long spoon and freshly fried corn tortillas. This can be served as an appetizer or a light dinner.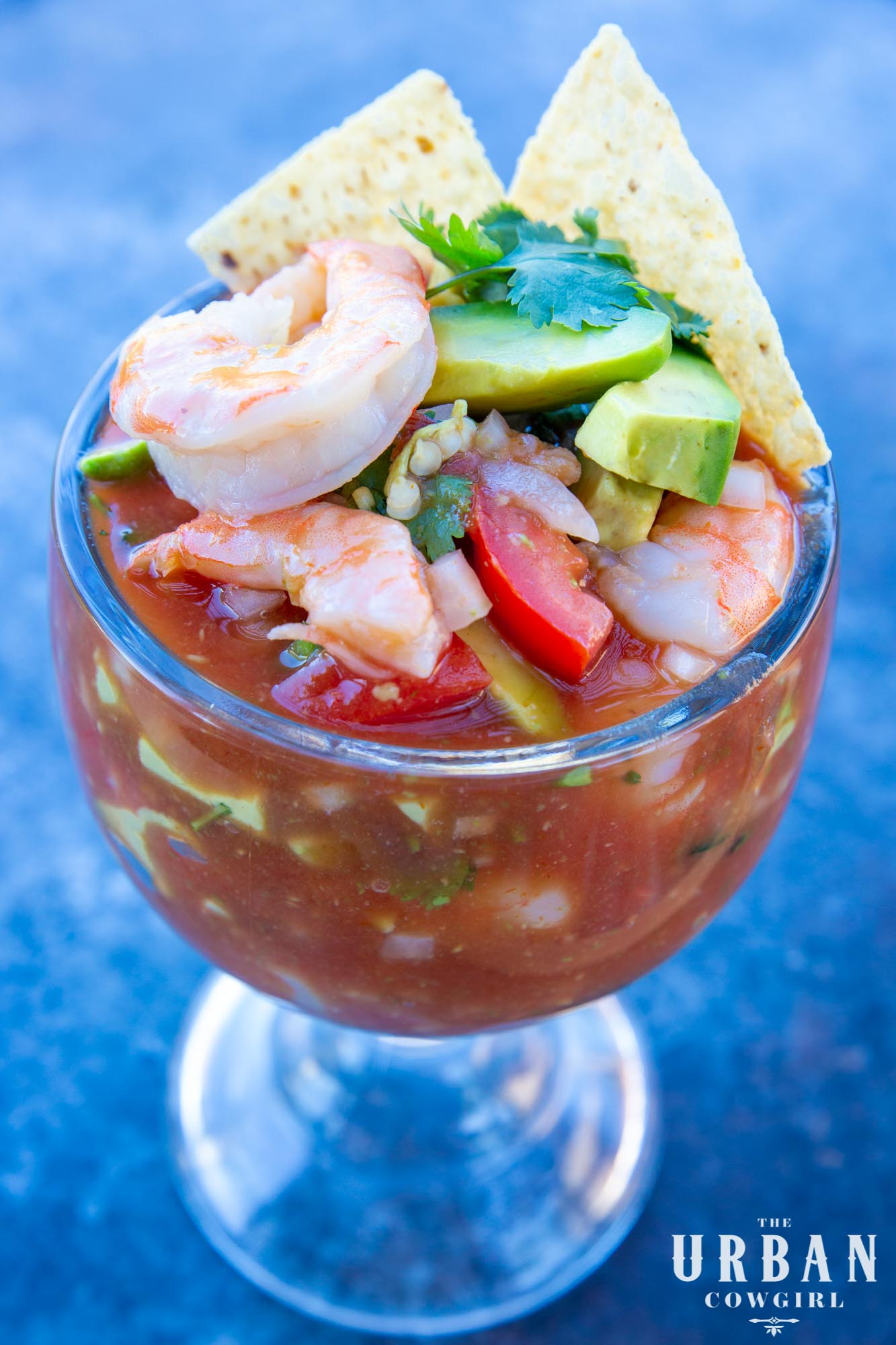 This recipe has many colloquial names including campechana, cocktail de camerones, or mexican shrimp cocktail, and many versions include additional seafood such as fresh oysters, grilled octopus, fish, and crab meat.
It's similar to another mexican dish, aguachiles, which is also shrimp submerged in a flavorful liquid marinade.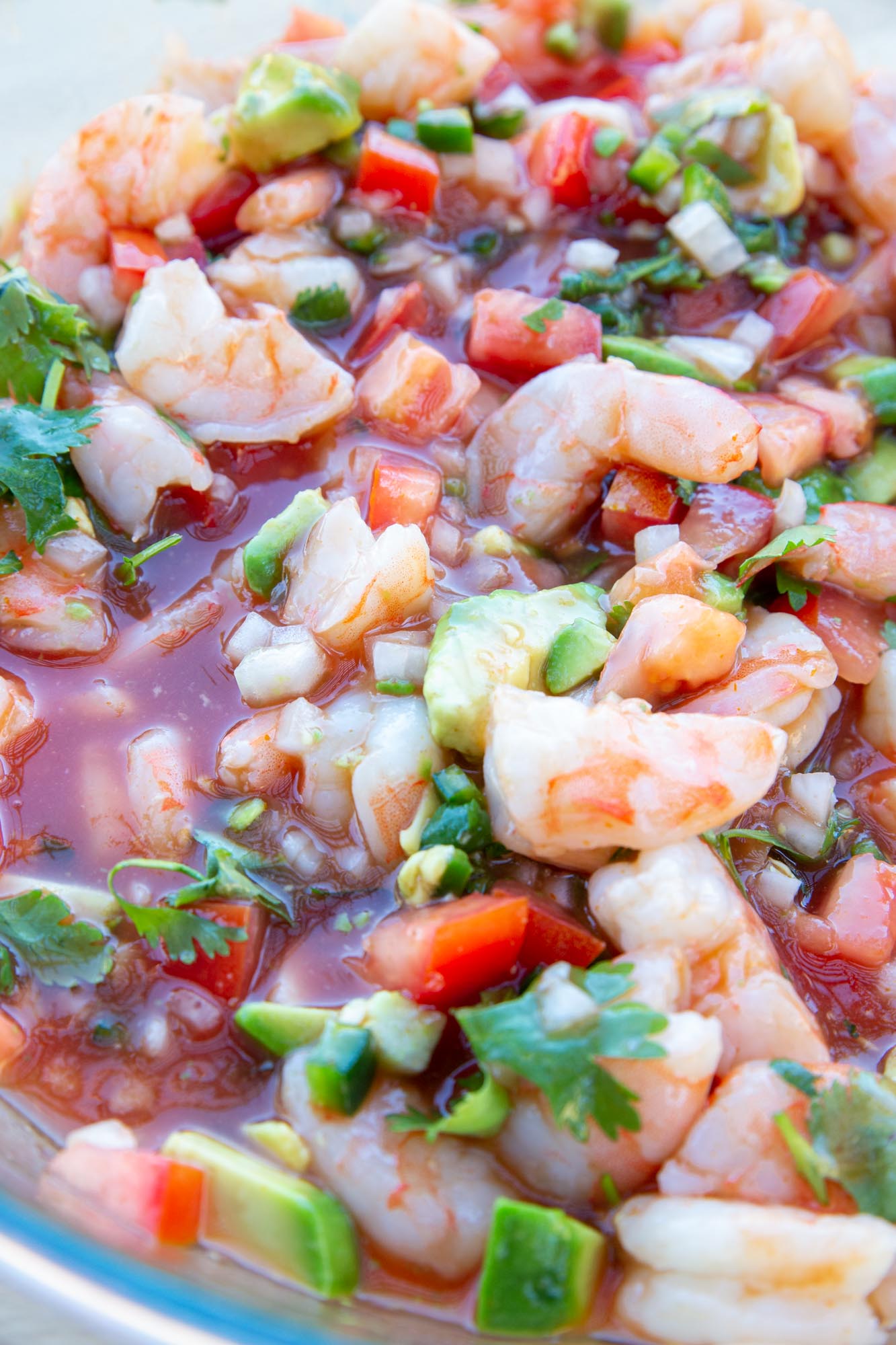 How To Make Authentic Mexican Shrimp Cocktail (Campechana)
The foundation of this dish is ultra-fresh, juicy shrimp. I have poached these shrimp with my signature method which we use in my catering and private chef business. I keep that poached shrimp recipe right here if you would like to review it. It's good for a variety of recipes where perfectly seasoned, juicy shrimp are an ingredient.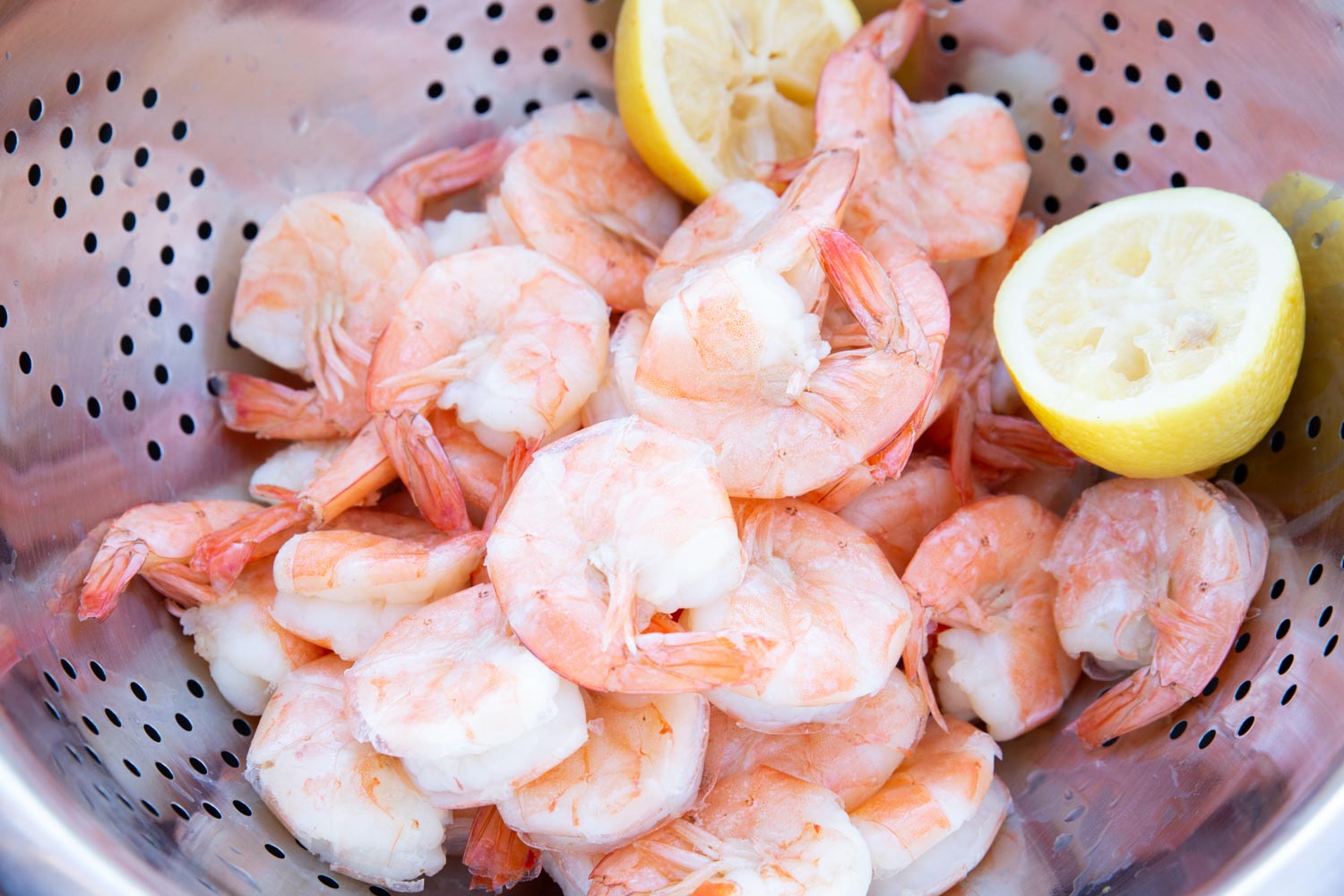 All we need to do is chill the shrimp for 15 minutes, peel, and depending on the size of the shrimp, dice into bite-sized pieces.
I like to eat my campechana with corn chips so I dice the shrimp small enough to fit on my chip! If you like to eat yours with a spoon you might want slightly larger pieces, that's totally up to you.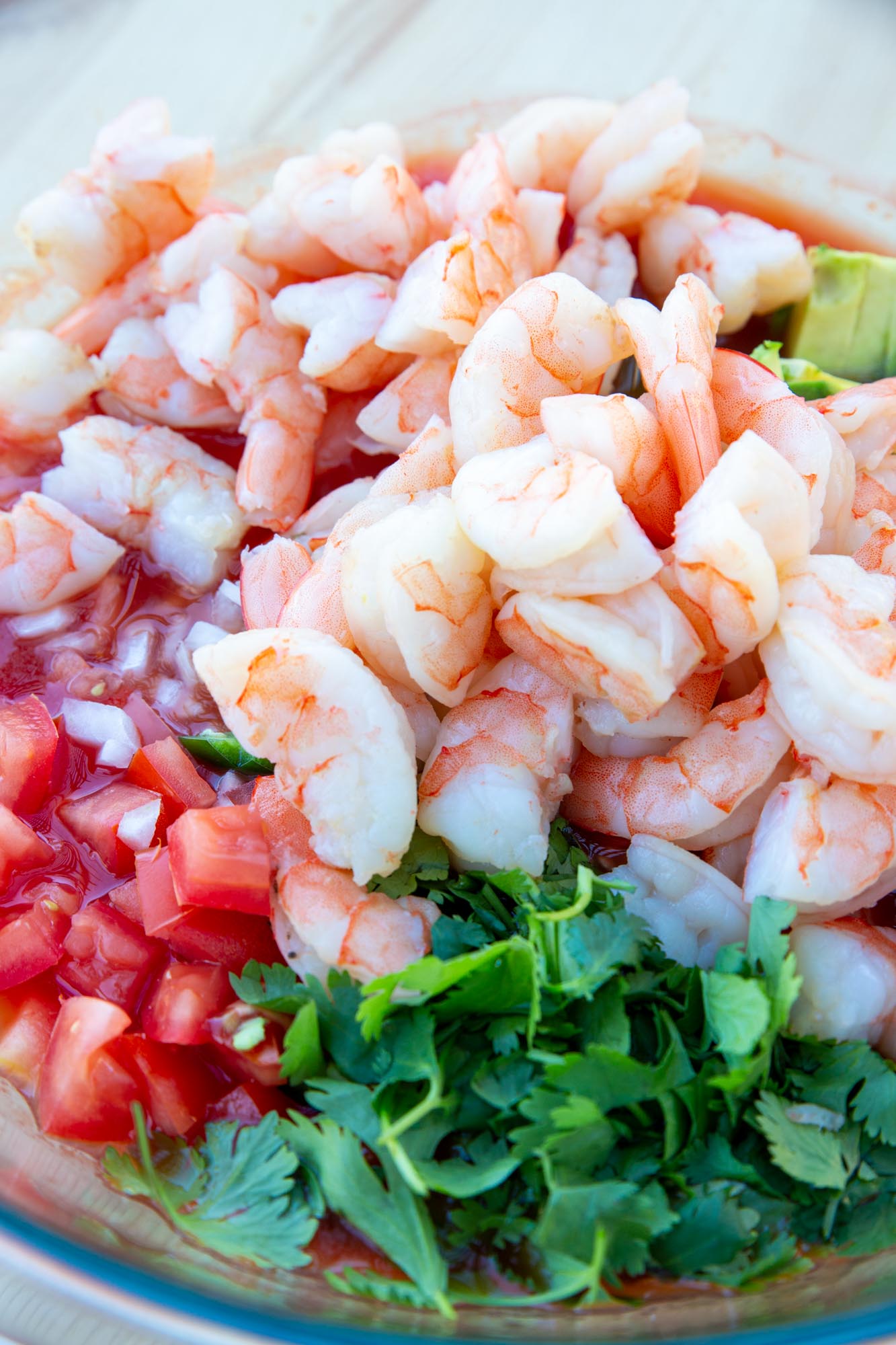 The Secret Ingredient for Yucatanian Style Mexican Shrimp Cocktails
Although this mexican shrimp cocktail recipe is served in Texas (where I am from) it tastes frustratingly different here!! That's because most recipes call for clamato, V8, or lime brightened tomato juice. The authentic recipe in coastal Mexico is sweetened with Jarritos mandarin soda!!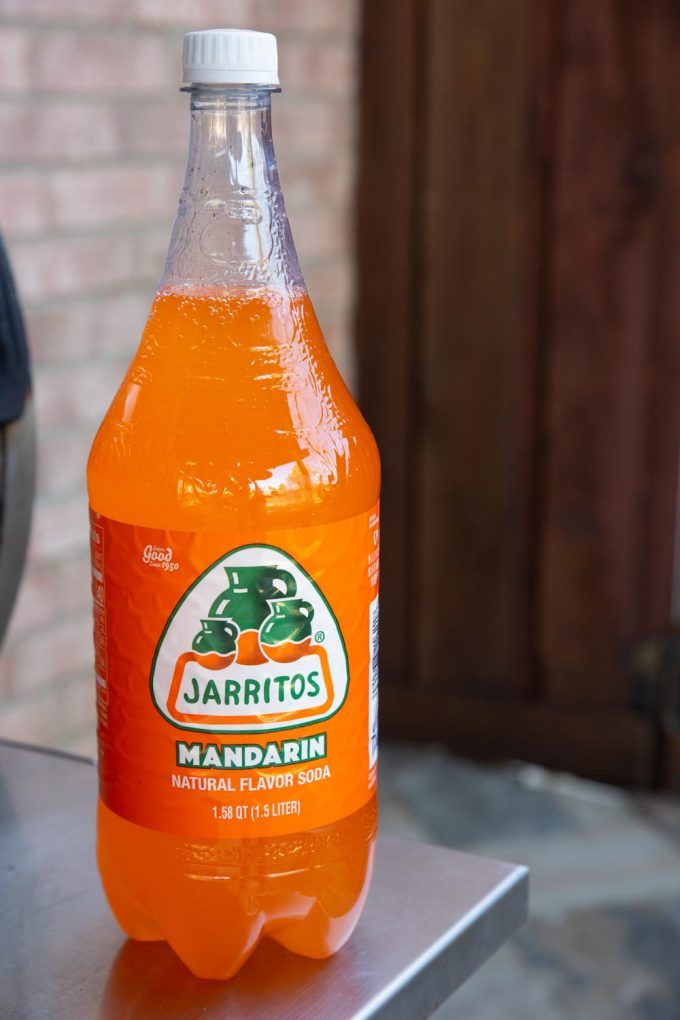 My shrimp cocktail "juice" is comprised of bottled tomato juice, fresh lime juice for brightness, mandarin soda for sweetness, and a dash of ketchup for body. I wrote the recipe separately for the juice so you can make as much as you need if you are serving enough for a party.
It is good to let the onion, jalapeno, and cilantro seep into the sauce and infuse it with that pico de gallo essence.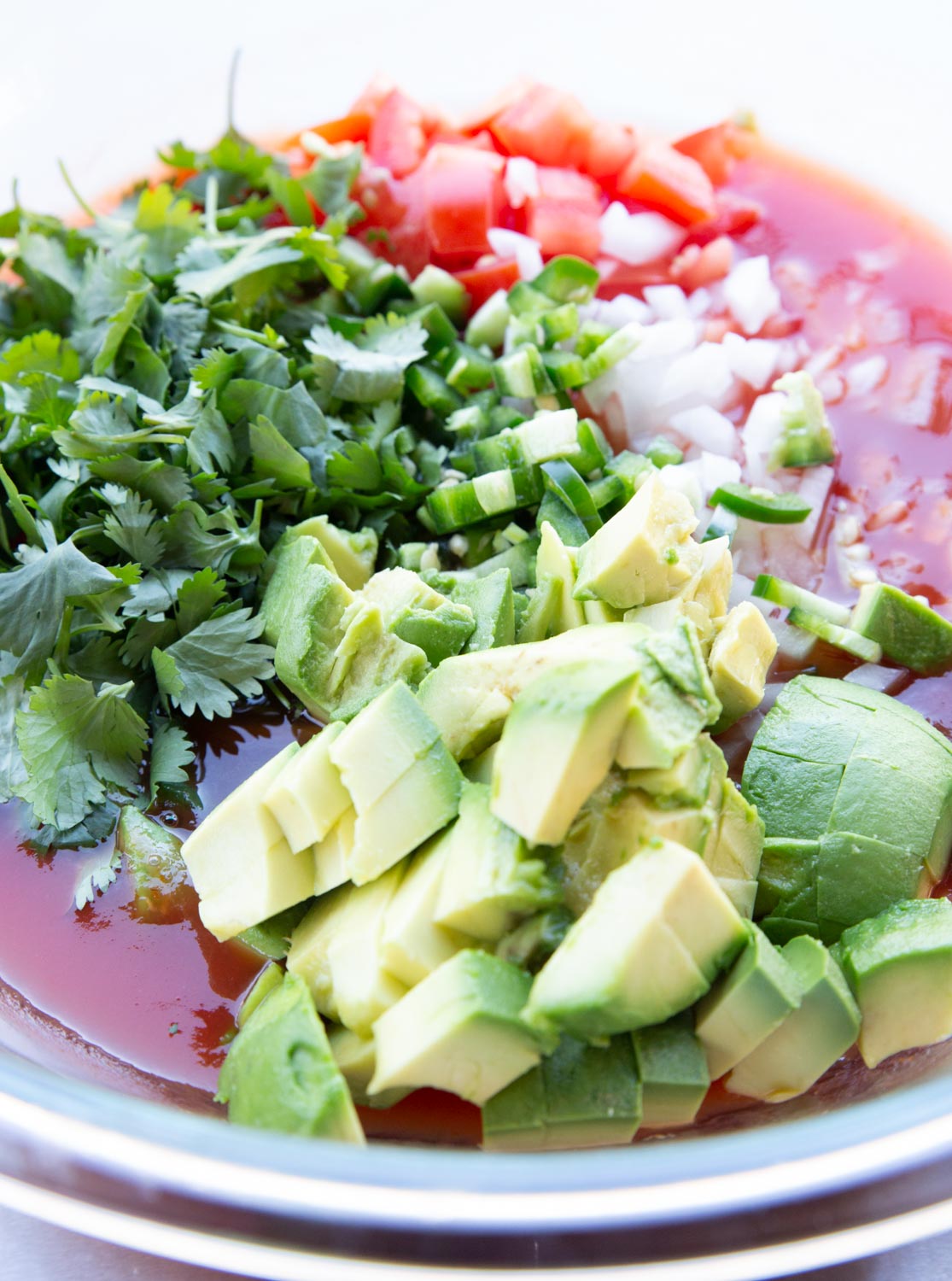 The avocado can be added right before serving if you want the sauce to stay bright red, or you can add it to the marinade and the lime juice will protect the avocado from turning brown.
The avocado will make the sauce look a little muddy instead of bright red, but I didn't mind one bit.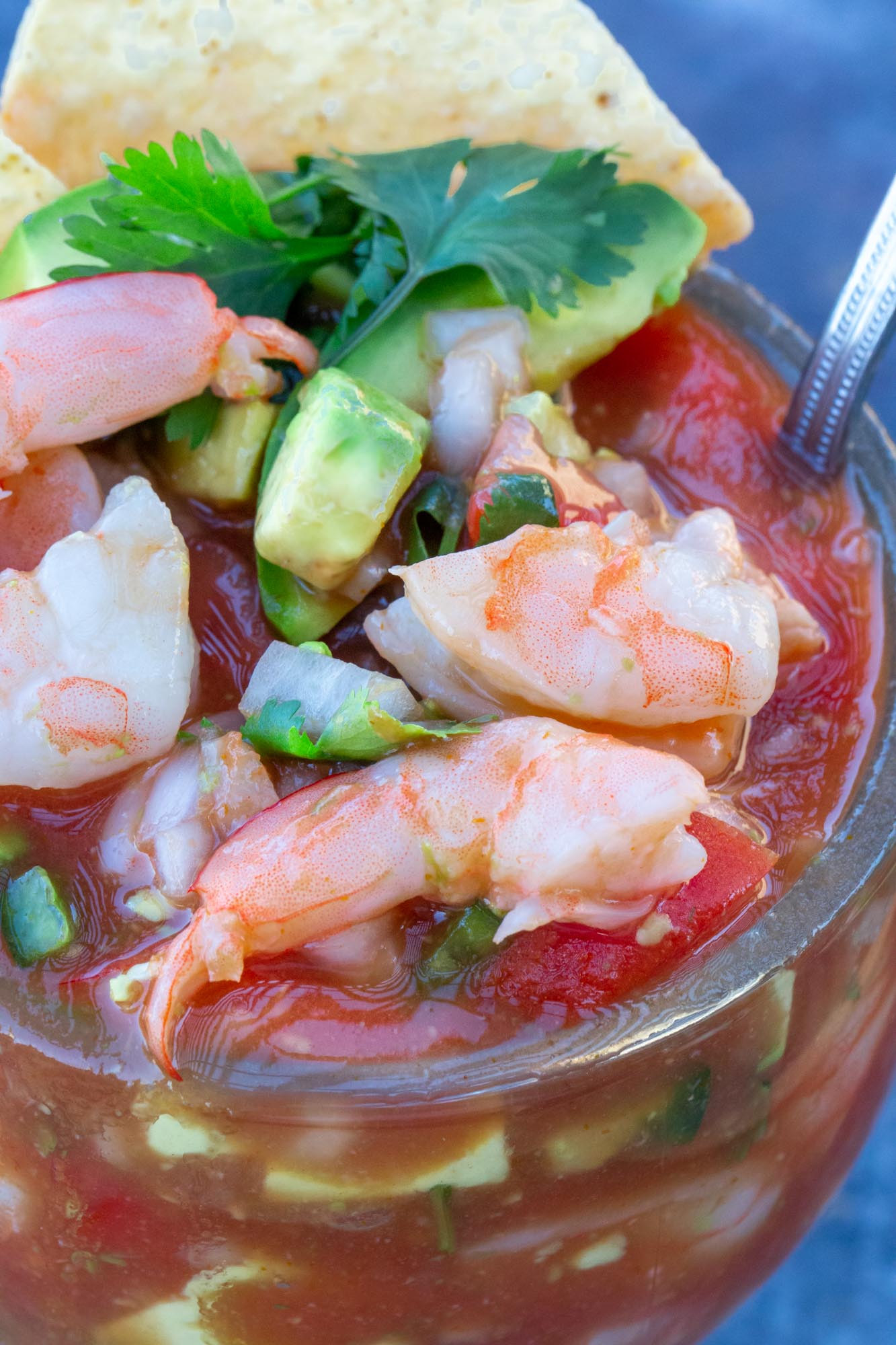 (Links are affiliate links to products we think are helpful and we may receive a small commission, at no cost to you, if purchased.)
How To Serve Campechana or Mexican Style Shrimp Cocktails
The traditional way to serve is in tall or large glasses. Here are some links to the different glasses I have seen mexican shrimp cocktails served in, and if you are a cooking enthusiast you will also likely need these for other projects…
Link to Schooner Glasses (the big beer goblets), also good for cocktail drinks
Vintage Soda Glasses (sundae-style glasses, rootbeer floats, etc.)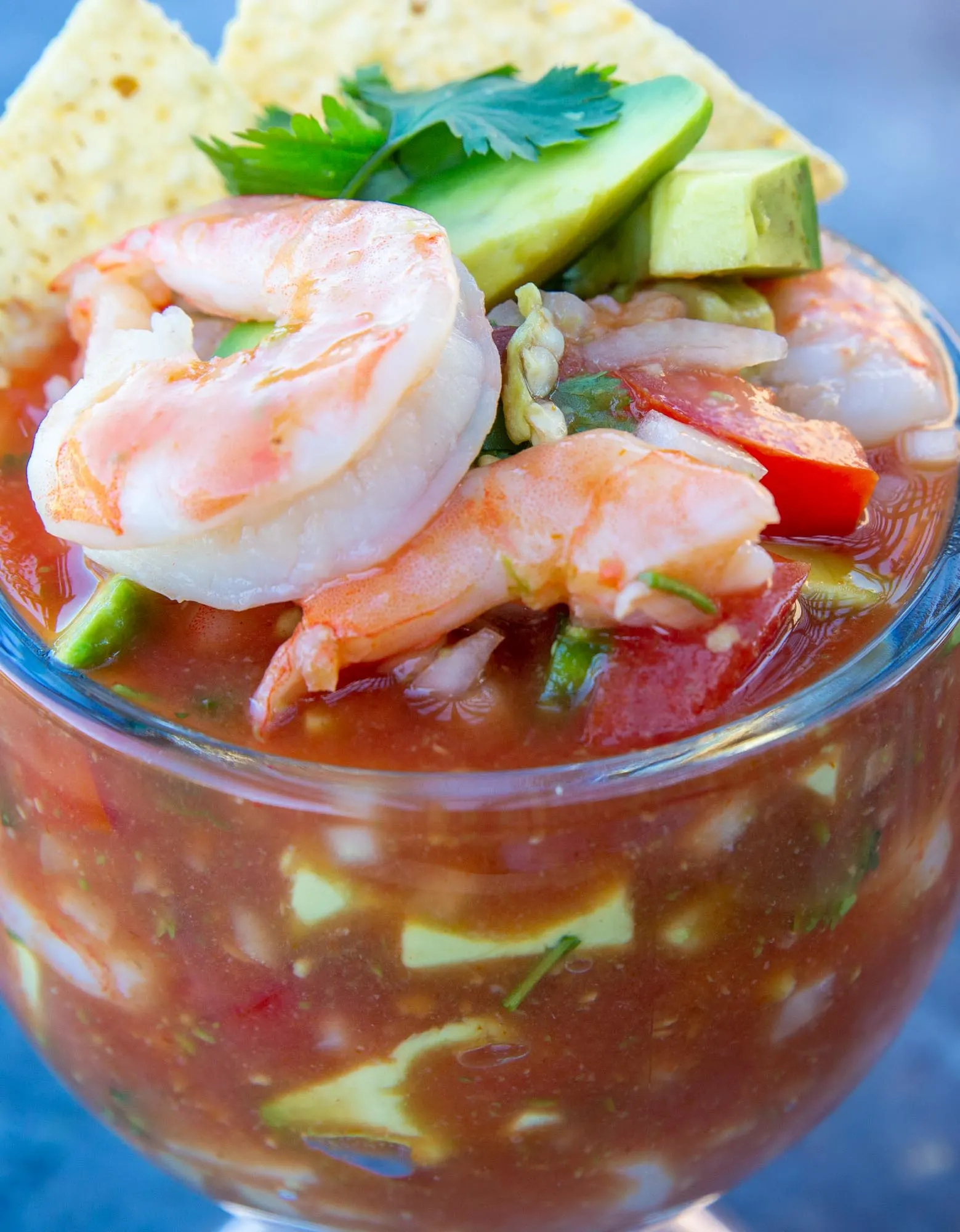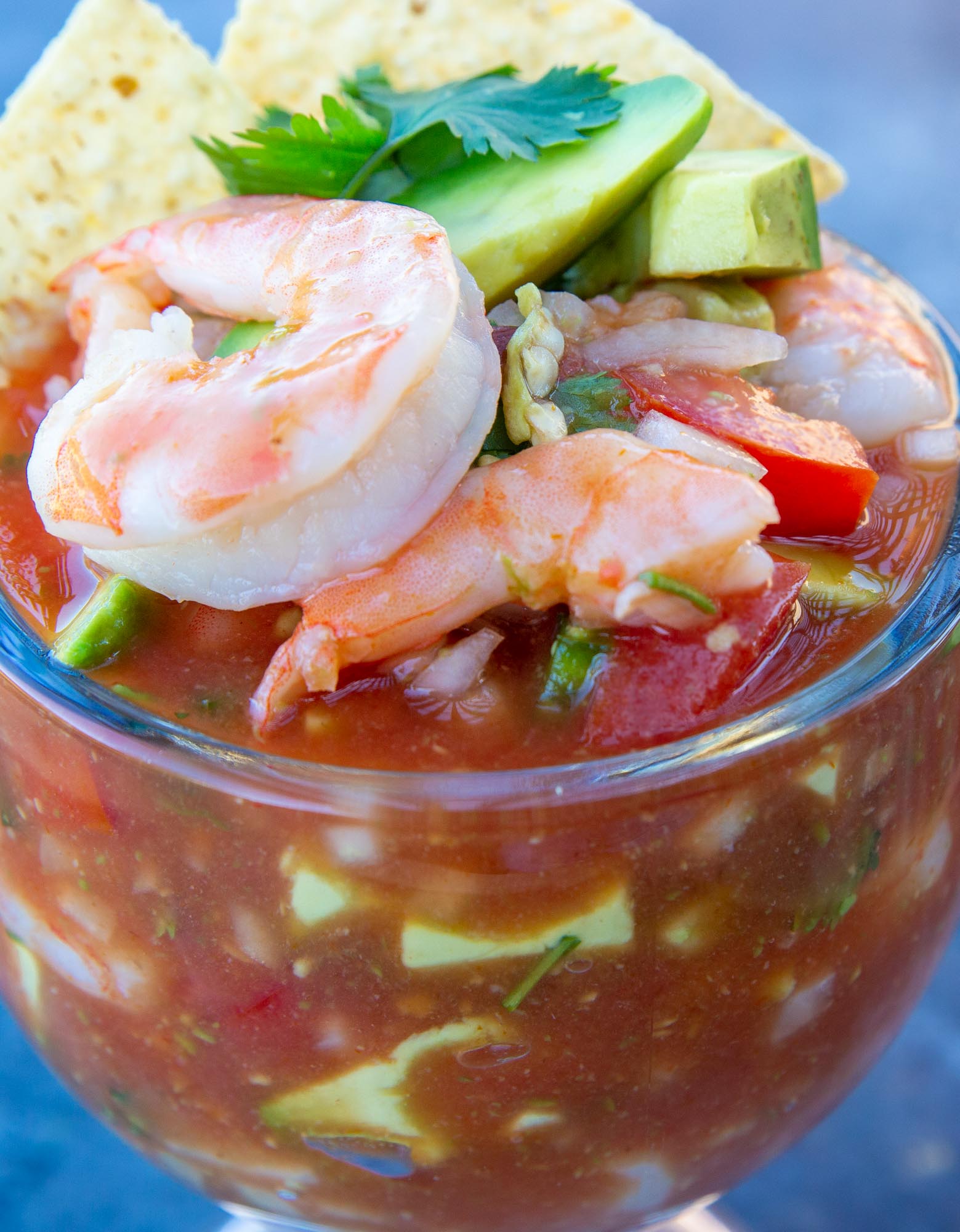 This Mexican Shrimp Cocktail Recipe goes great with these other festive recipes…
Yield:

1 quart
Mexican Shrimp Cocktail (Campechana)
This Mexican Shrimp Cocktail takes freshly poached shrimp, avocado, and pico de gallo and bathes them in an authentic Mexican tomato sauce with a SECRET INGREDIENT we learned from our travels in the Yucatan!
Ingredients
2 pounds fresh gulf shrimp, shell on, deveined if possible
4 oz. shrimp boil
1/4 c. kosher salt
Shrimp Cocktail Juice:
1/2 c. orange Jarritos soda (mandarin flavored mexican cola)
3/4 c. tomato juice
1/2 c. ketchup
1/2 c. - 3/4 c. fresh lime juice (3-5 juicy limes)
3/4 c. white onion, finely diced
2 roma tomatoes, small diced
1 jalapeno, small diced
1 large avocado (or two small)
1 bunch of fresh cilantro
Thick corn tortilla chips
Instructions
How To Poach The Shrimp:
Bring a large stockpot halfway filled with water to a boil. Add in the shrimp boil and the kosher salt. Lower the heat to a gentle simmer and add the shrimp. Poach 4-5 minutes or until shrimp is opaque and curls into a soft "c" shape.
Remove the shrimp from the poaching liquid and spread it out on a baking sheet. Chill while you prepare the other ingredients.
Mexican Shrimp Cocktail Tomato Sauce:

In a large bowl, whisk together the orange Jalitos soda, ketchup, tomato juice, and fresh lime juice. This will create the base of the shrimp cocktail and allow you to make more juice, if you like more. Taste for seasoning.
To this juice, add the finely diced white onion, diced roma tomato, small diced jalapeno (seeded if you prefer less spicy), and avocado. For the fresh cilantro, just add as much freshly chopped cilantro as you prefer (usually 1/4 c. for us), or leave it out entirely if you do not like cilantro. There is no substiute for cilantro. (Watch the video if you have any questions about how to dice these veggies.)
When the shrimp is chilled, peel the shrimp and devein it (if it has not been deveined) by cutting into the back of the tail just slightly until you see a black band running along the shrimps body. Discard this down the drain.
You may prefer to chop the shrimp into smaller bites depending on how large of shrimp you were able to acquire for this recipe. When the shrimp is chopped add it into the tomato sauce and fold it into the fresh veggies. Then taste for seasoning as the final shrimp cocktail may need more salt or lime, if so desired. This can marinate in the refrigerator overnight or you can serve it immediately.
This dish is best served chilled with tortilla chips. You can eat it with a spoon or scoop up hearty bites of it with tortilla chips. In the Yucatan, they use only very crisp, thick corn tortilla chips which are sold at many Mexican grocery stores. The dish looks beautiful in tall glasses where you can see all the pretty colors. Enjoy!
Nutrition Information:
Yield:
6
Serving Size:
1
Amount Per Serving:
Calories:

359
Total Fat:

8g
Saturated Fat:

2g
Trans Fat:

0g
Unsaturated Fat:

6g
Cholesterol:

361mg
Sodium:

4268mg
Carbohydrates:

30g
Fiber:

4g
Sugar:

13g
Protein:

42g
This nutritional information is provided as a courtesy as an estimate only. Consult with a dietician for precise estimates. This website makes no claims that the nutritional values listed are accurate.