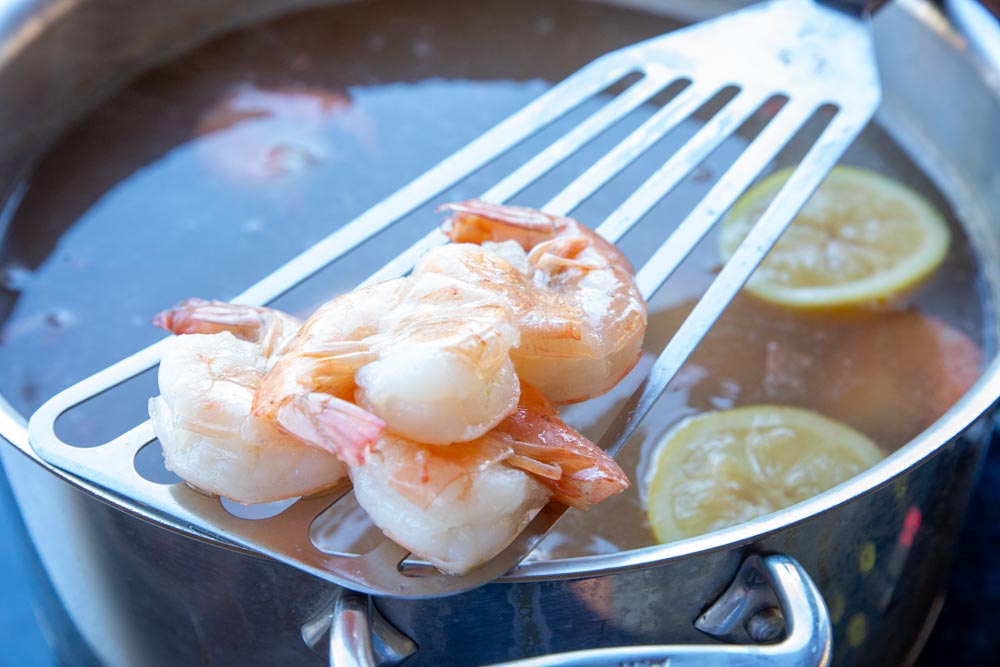 In my catering business, we are obsessed with tender, perfectly seasoned, and poached shrimp. We use them in so many southern recipes that we really had to master the process and after a hundred batches, I'm ready to share the process with you!
This poached shrimp recipe is the proper way to "boil shrimp" (if you are used to seeing it described that way on cajun and seafood menus) because shrimp is delicate and easy to overcook.
With the proper gentle cooking method, shrimp can be as sweet and tender as lobster, so let's learn how to do poach shrimp correctly.
Why Should We Poach Shrimp Over Boiling?
While boiling temperatures are around 212 degrees (a rapid boil), a poaching temperature is 160-180 degrees. Cooking a delicate meat like shrimp at 50 degrees hotter than necessary is bound to cause some issues, and it does!
The shell is extremely hard to remove, the meat is tougher than a properly cooked shrimp, and the flavor of the simmering broth will not have as long to season the shrimp meat. You'll come out with something like all-you-can-eat buffet shrimp, which can be mushy or overcooked, and terrible to try and peel.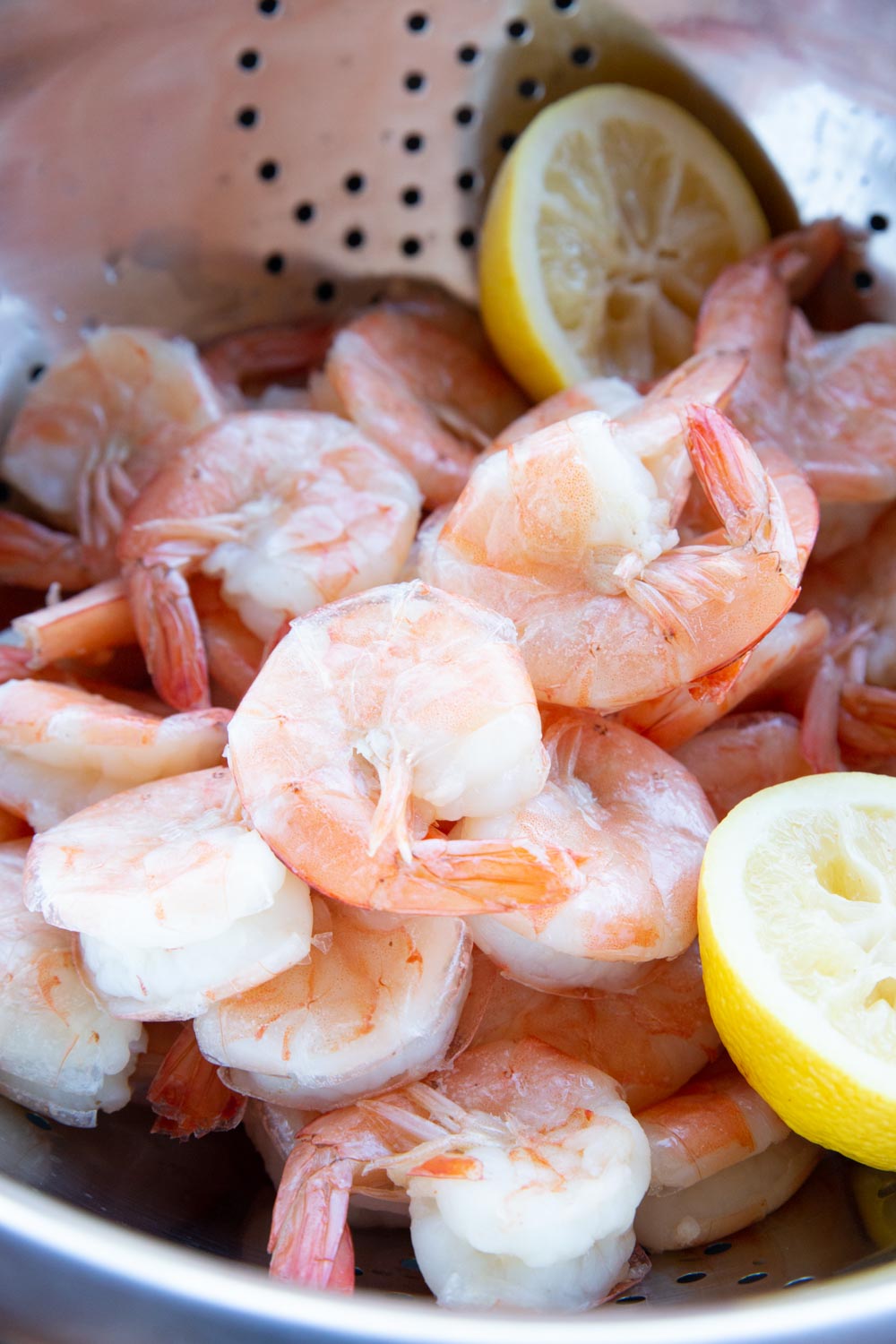 Although we may call the popular American dish a "shrimp boil", there is no reason to ever cook a shrimp at actual boiling temperatures because the delicate meat becomes chewy before you can get it out of the simmering broth and cooled down.
Even at poaching temperatures, an entire 2 lb. bag of frozen shrimp will be properly poached in about 5 minutes and you'll have the ability to watch and distinguish when they are a perfectly curled "c" shape and immediately remove them from the broth to cool or serve.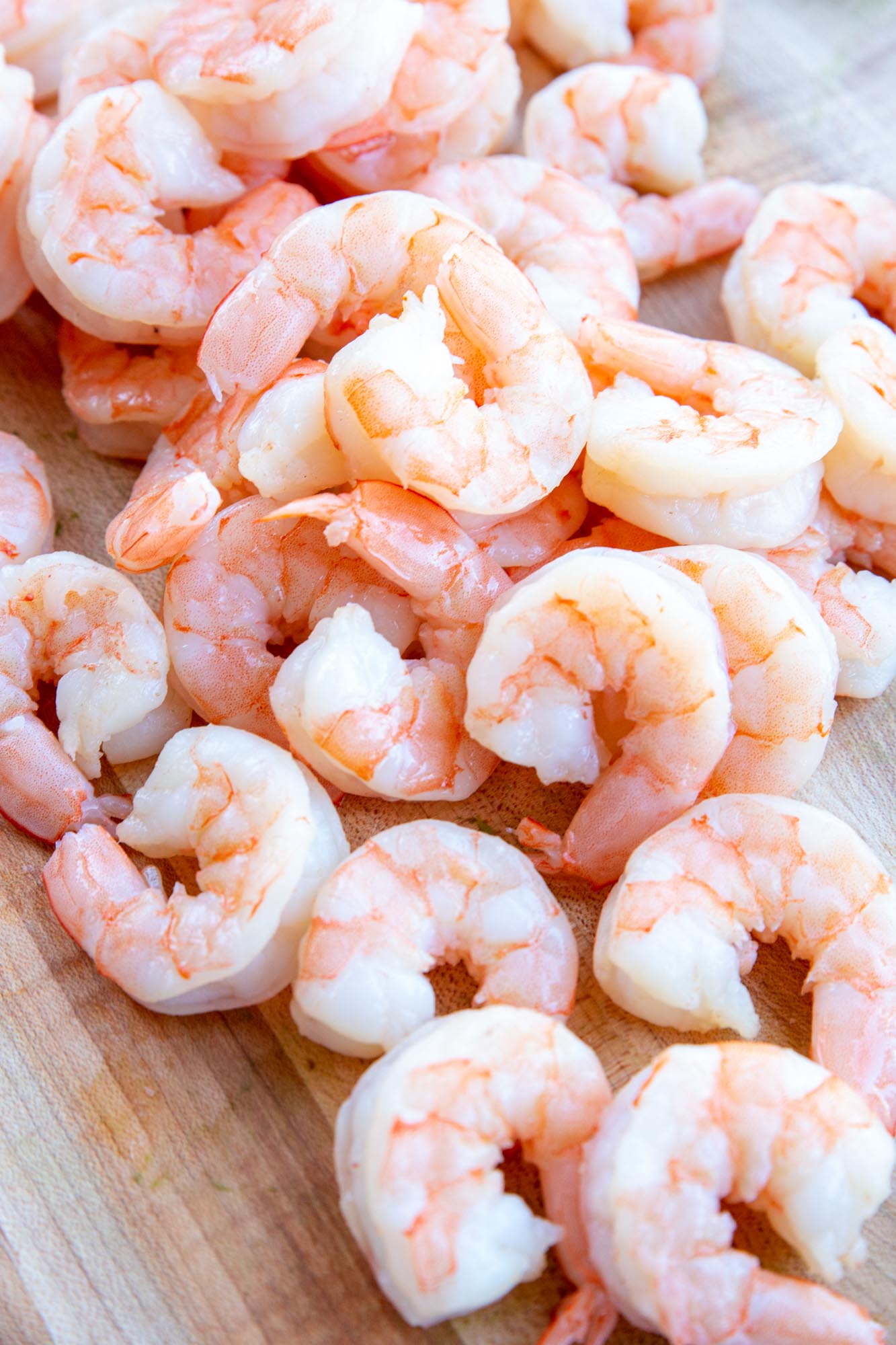 (Links are affiliate links to products we think are helpful and we may receive a small commission, at no cost to you, if purchased.)
How to Prepare the Shrimp Poaching Broth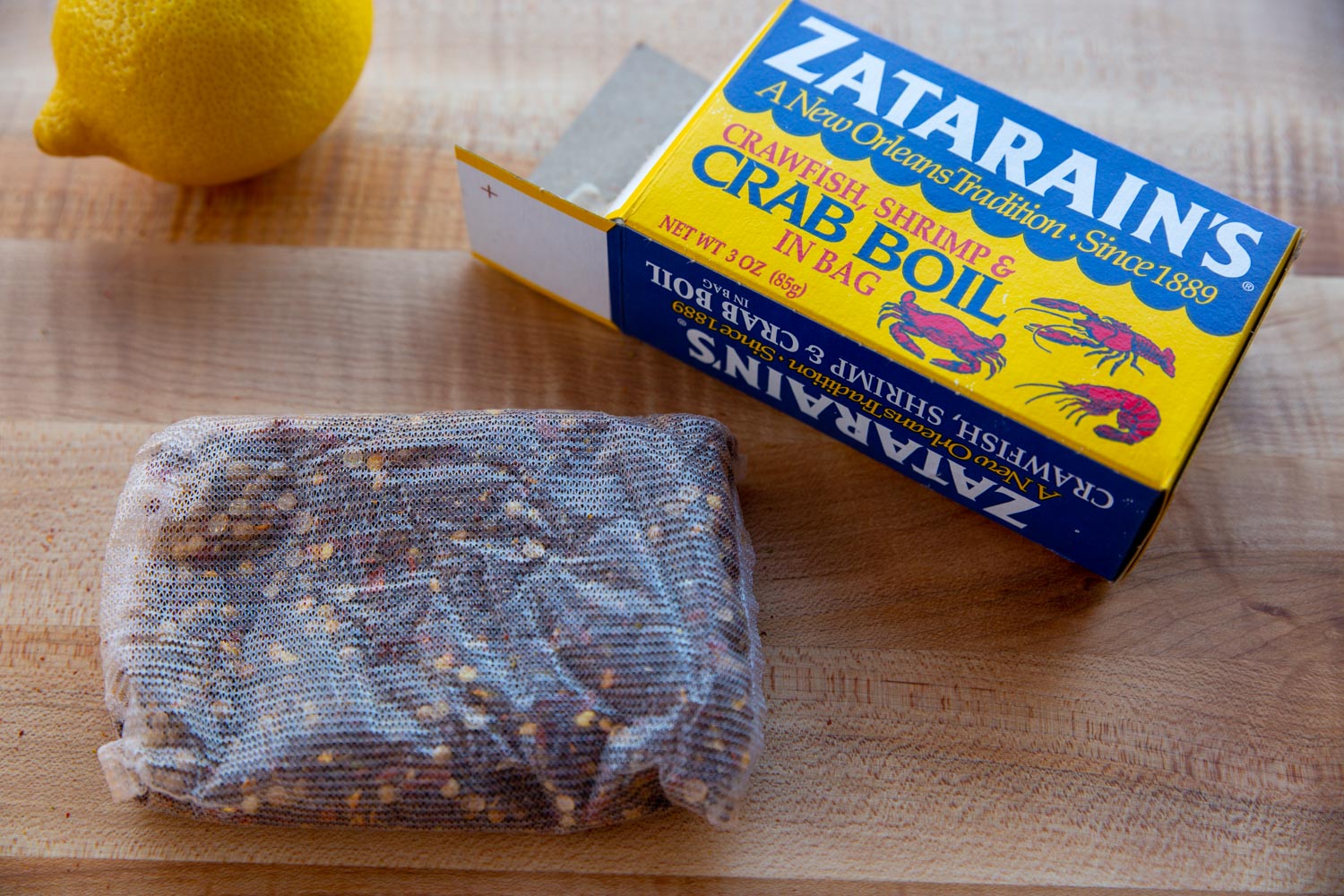 In culinary school, we learn to make all sorts of court bouillon recipes from scratch with fresh herbs, spices, and aromatics.
I've tried them all and found that I simply prefer a good ole' box of Zatarain's Shrimp Boil.
In the south, these sachets of herbs and spices are available at all grocery stores. They are cheap and have good turn over which means they are fresh. Use them. If you don't have them available where you live, here is a link to buy them on Amazon. Get a few boxes, you won't regret it.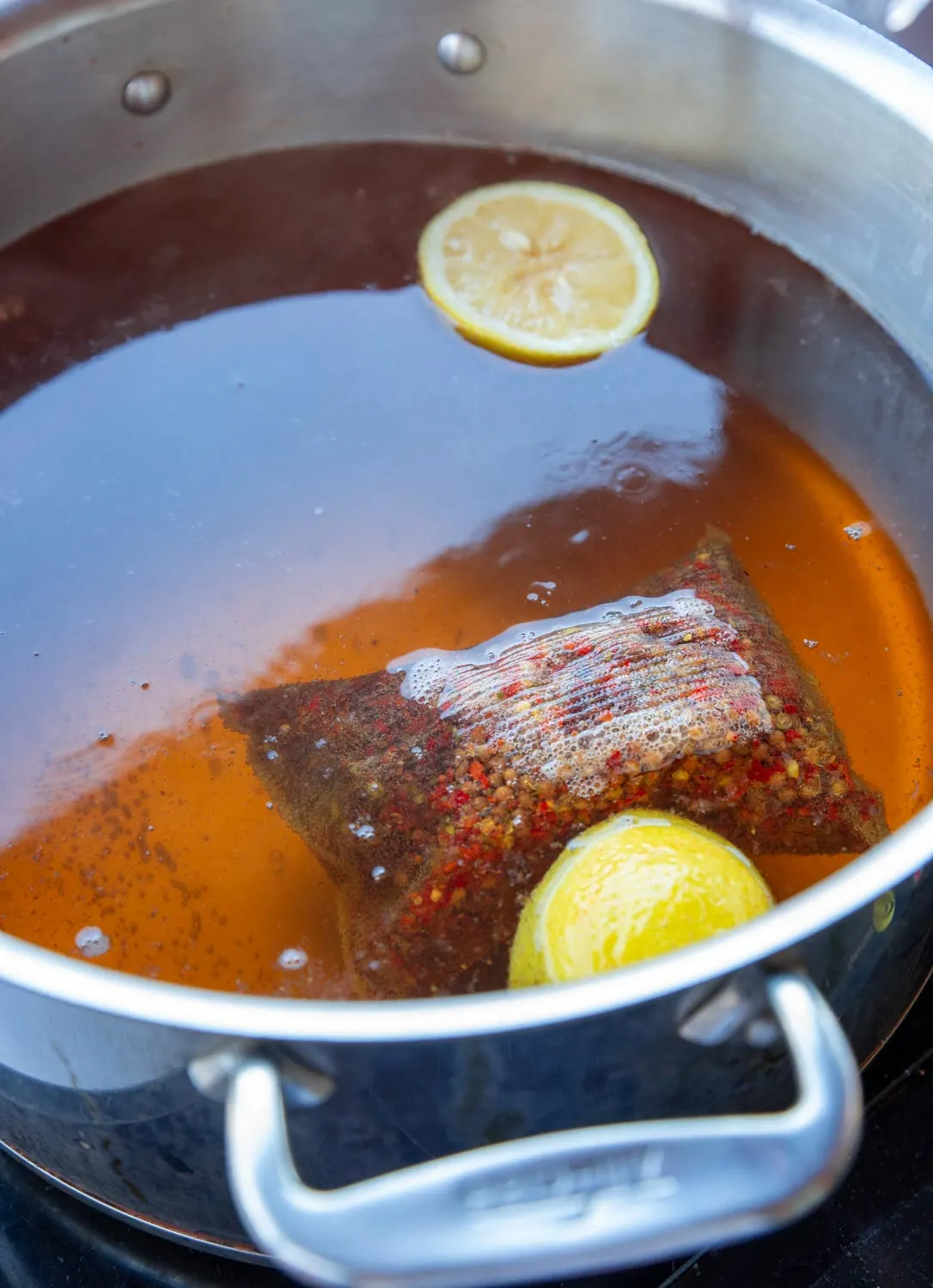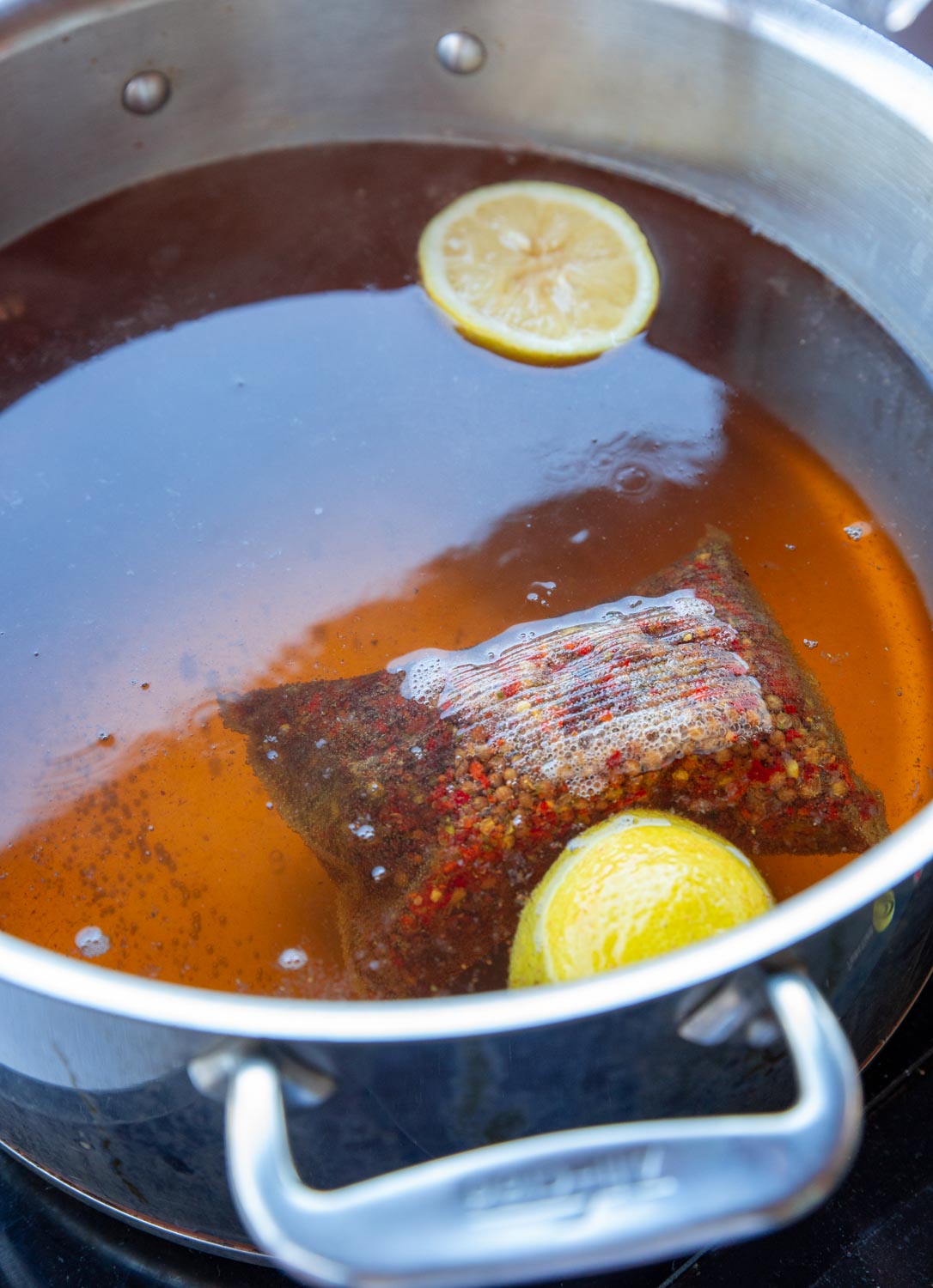 In my poaching liquid, we also use kosher salt and a juiced lemon. The shrimp will be fully seasoned with a POP of flavor when they are cooked but if you like it spicy add 1 t. cayenne pepper to my poaching liquid recipe.
Keep the temperature consistently at 160-180 degrees. That means little baby bubbles gently breaking the surface of the water or use my favorite tool, an infrared thermometer, to let you know what temperature your broth is at throughout the cooking process.
How To Choose Shrimp For Poached Shrimp
Every chef will tell you that freshly caught shrimp is the best and growing up in Galveston, Texas I am not going to disagree with that.
If you live on the coast you will want to buy your shrimp fresh, and if you're visiting the coast and have access to a kitchen, I would highly recommend trying this recipe with shrimp caught THAT DAY. Fresh shrimp that have been out of the water for a few hours are like VELVET in your mouth and are on another planet compared to the flavor and texture of frozen shrimp.
A simple preparation like this poached shrimp recipe is perfect for showcasing really fresh, beautiful jumbo shrimp when you find yourself on the ocean.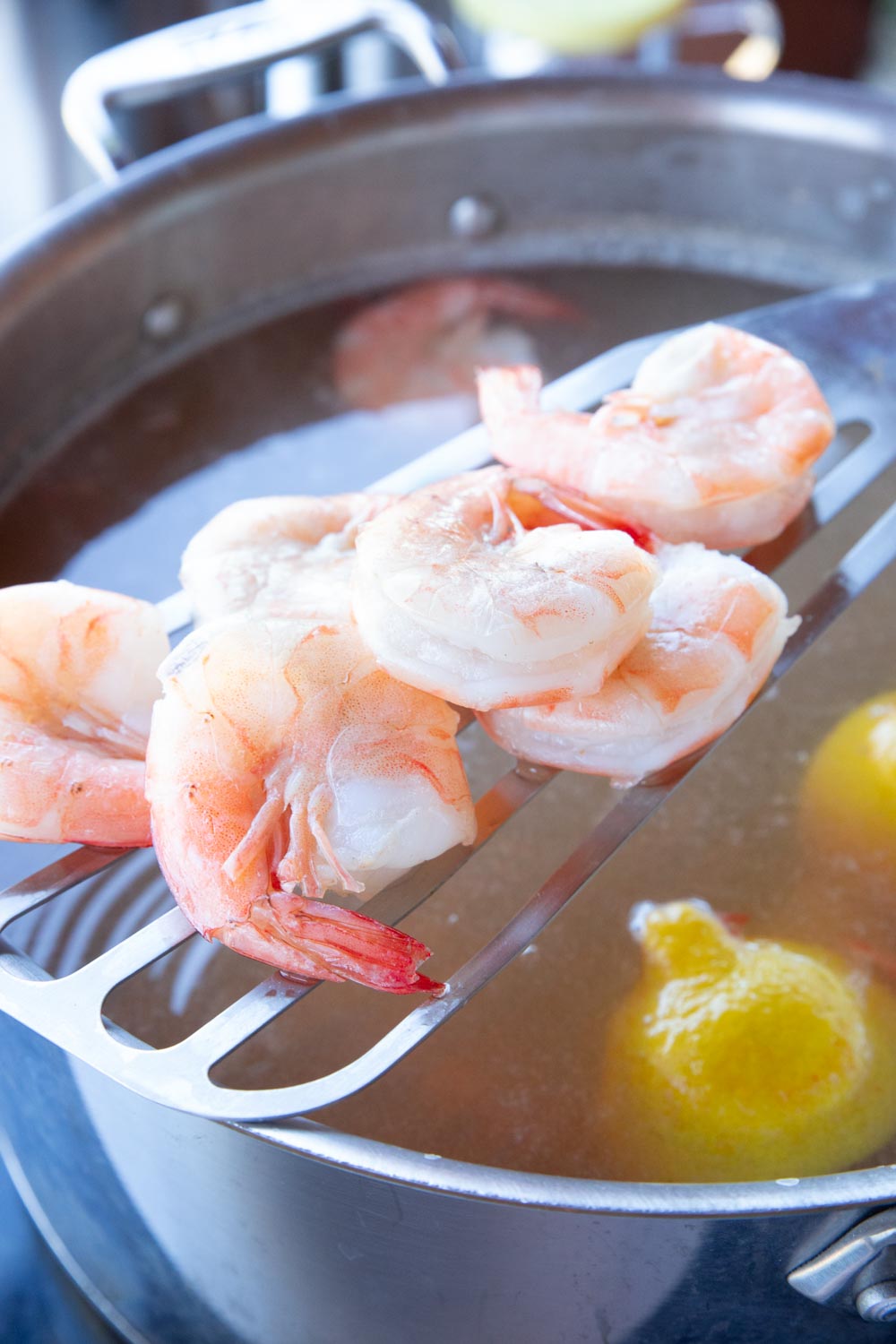 Alas, I don't live on the coast anymore so we will have to figure out a workaround. Sometimes, I drive to a specialty grocery store like whole foods or central market (fancy grocery stores where I live) and buy fresh gulf shrimp, expensive but usually worth it.
I also have had great success with frozen jumbo raw shrimp, buying from American waters when at all possible. (It's a personal choice, I like the flavor better.) Whatever shrimp you choose, get the largest size you are comfortable paying for because ultimately it cuts down on labor. (Deshelling your shrimp.)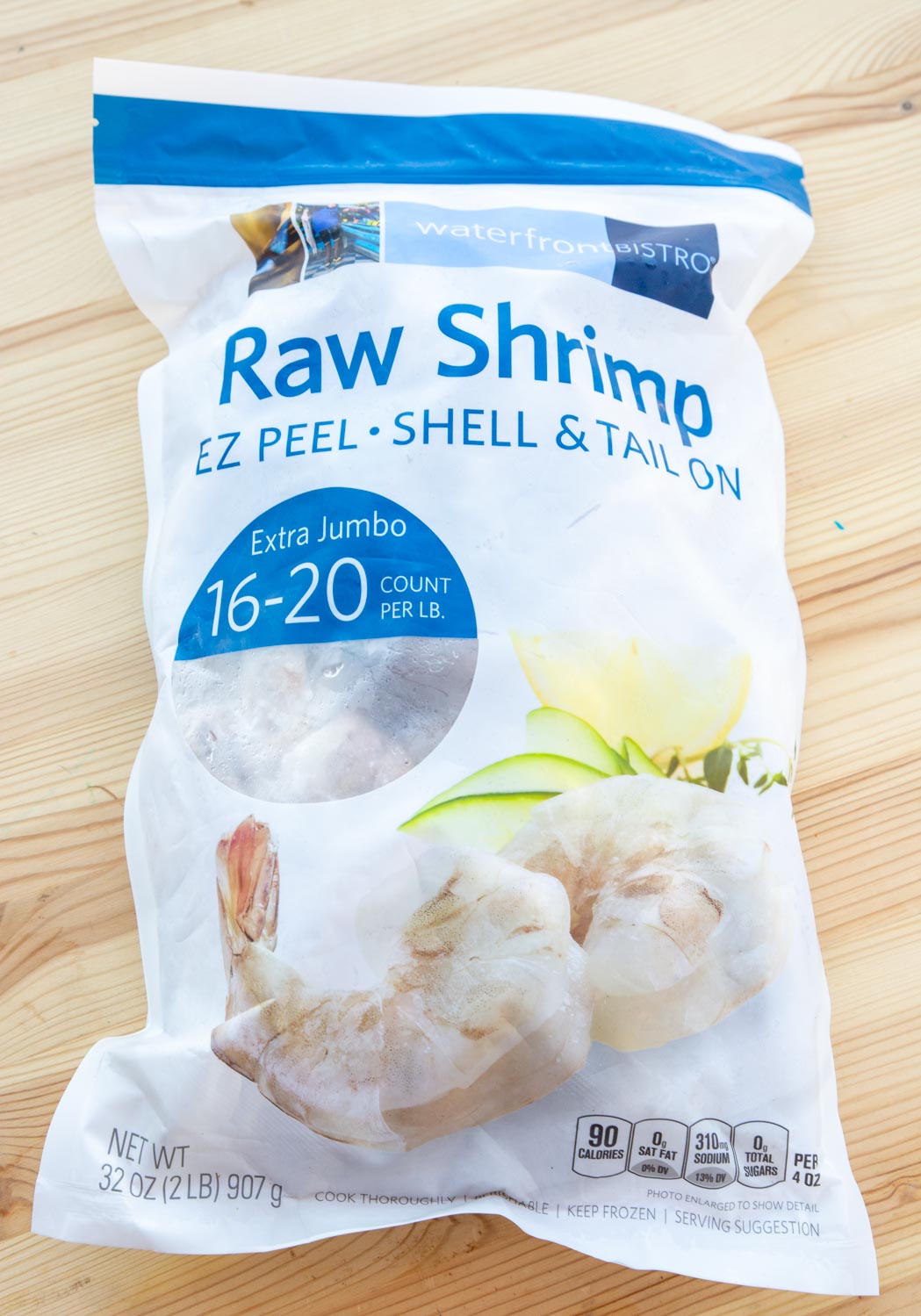 A 2 lb bag of flash-frozen shrimp like these are a great substitute for fresh shrimp and they can go directly into the poaching liquid frozen.
How Long To Poach Shrimp
Poach shrimp 5-7 min, removing the shrimp when the meat turns opaque and are shaped like soft "C's".
I know this sounds juvenile but this is exactly how we are taught in culinary school. Cooked shrimp should look like the letter C, not the letter O. 🙂 Pull at the visual cue rather than a specific time.
Keep in mind when you remove the shrimp to a baking sheet to cool, they will continue cooking for several minutes. Cooking to soft C's ensures delicate, soft, shrimp meat.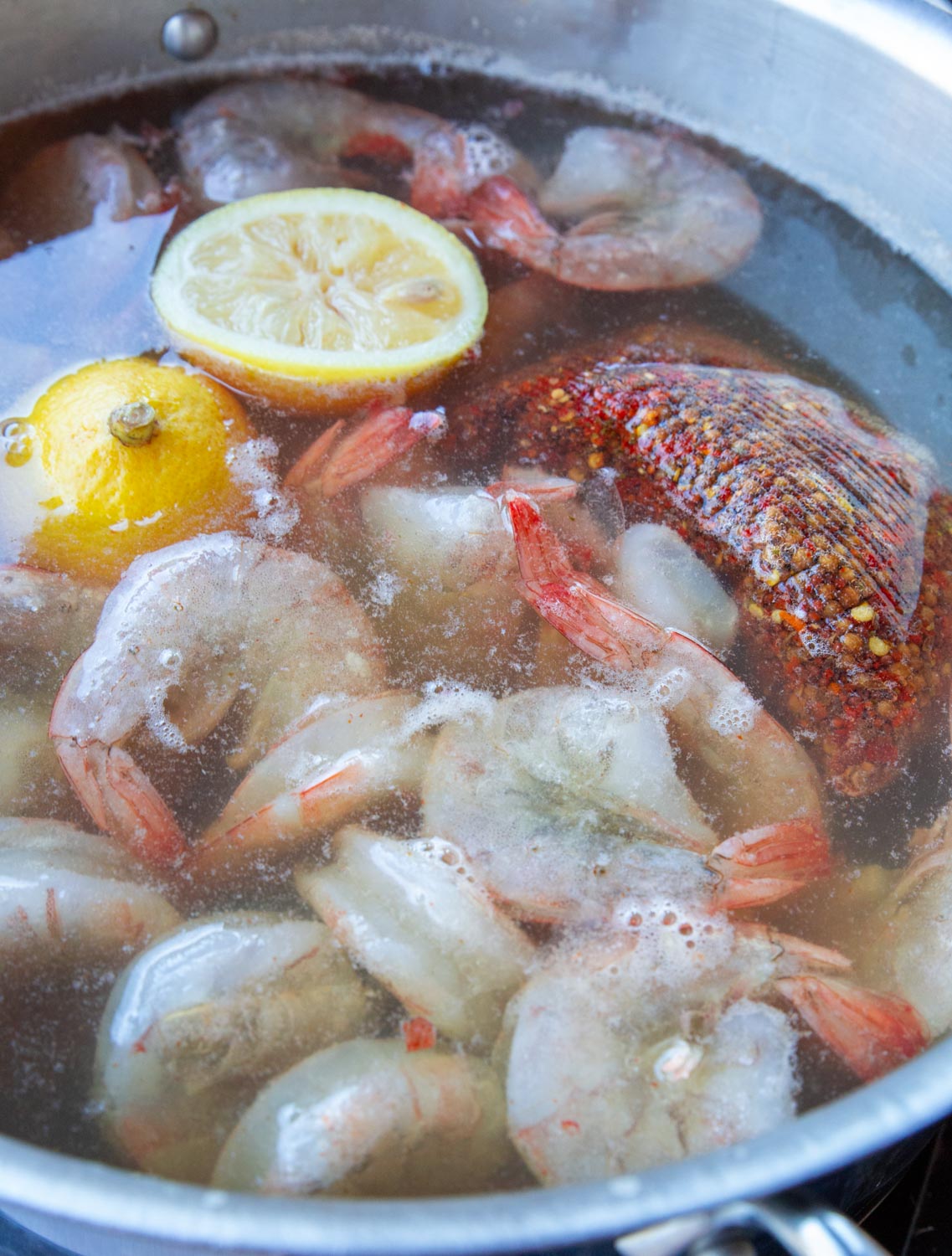 Can I Cook More Than 2 Pounds of Shrimp?
Yes, you can. Work in batches of 2 lbs letting the poaching broth come back up to temp each time before adding another batch.
This recipe for poached shrimp works great in these recipes
Yield:

2 pounds shrimp (or more)
How To Poach Shrimp
Properly poached shrimp are delicate and popping with flavor. Gentle poaching produces a shell that easily falls off and is a breeze to peel.
Ingredients
1 gallon water
1/2 c. kosher salt
Zatarain's Shrimp Boil Bag (3 oz. size)
1 lemon
2 lbs. shrimp (or more if desired)
Instructions
In a large stockpot filled with 1 gallon of water add 1/2 c. kosher salt and 1 3 oz. bag of Zatarain's shrimp boil. Cut a lemon in half and squeeze all of the juice into the pot. Also, place the lemons in the pot with the water.
Bring the poaching liquid to a boil. (This happens faster if you cover the pan with a lid.) Simmer the spice bag for about 15-20 minutes to flavor the broth.
Lower the broth to a gentle simmer. Only tiny bubbles should float to the surface of the broth, or use a thermometer to confirm that the poaching liquid is 160-180 degrees.
Pour the shrimp into the poaching liquid. Poaching shrimp should take about 5-7 minutes regardless of if they are frozen or not. (Frozen shrimp take 1-2 min longer on average.) Remove the shrimp when they are in the shape of soft "C's". (As in the letter C in the alphabet.)
Immediately remove with a slotted spoon or spatula to a baking sheet. Spread out the shrimp so that they can rapidly cool. You can also place them into a refrigerator to stop the cooking process.
Peel and enjoy or use them in a variety of recipes.