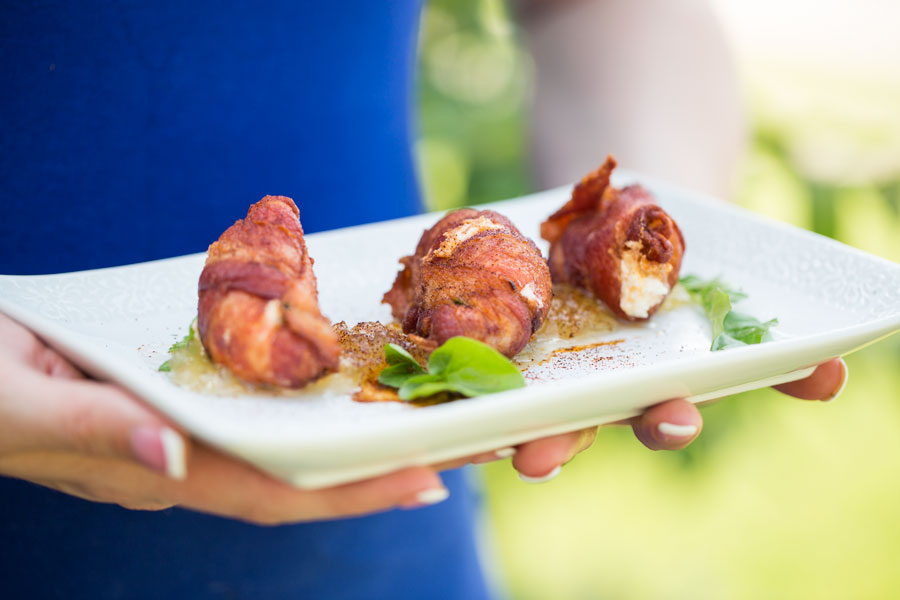 When I was 22 , I moved to Galveston Island and spent my summer bartending on the beach where I met a guy that would one day become my husband. 🙂 We spent that month eating and drinking in every Irish Pub, Fish Shack, and Seafood House on the Island, becoming Islanders the only way we knew how. Through food.
We fell in love with Galveston's signature dish, Shrimp Kisses—and we fell in love with each other too. 😉
You guys gotta try em'! This recipe has now won several 1st place awards on the competition barbecue circuit in the category of open food and appetizers!
My secret recipe is the best cream cheese stuffed shrimp recipe you'll ever taste—the bacon stays intact and the cheese doesn't leak out until you bite into one!
⇓ Watch The Video Below ⇓
What are Shrimp Kisses?
Shrimp Kisses are basically a shrimp enbrochette­ – a bacon wrapped shrimp stuffed with cream cheese, shredded cheese, a slice of jalapeno, and personalized by each restaurant with an original sauce. From bourbon glazes to barbecue drizzles, every restaurant on the Island has a different twist on the recipe. So, I made my own!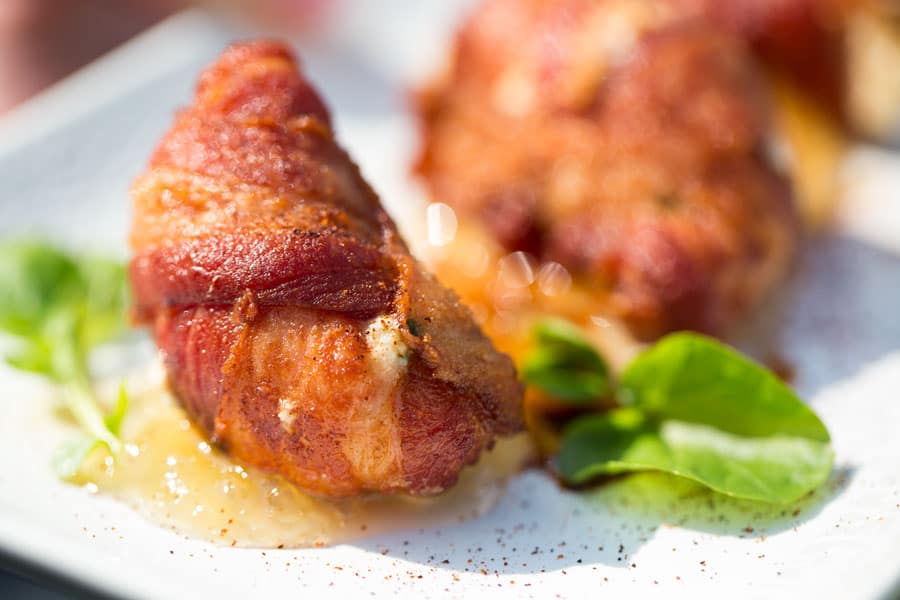 To complement the velvety cream cheese filling, I pair the shrimp with a sweet caramelized pineapple sauce. The caramelization adds complexity to the flavor, and the pineapple makes you feel like you are on the Island enjoying a daiquiri. 😉
Ready to give it a try? Let's make Shrimp Kisses.
How to Make Shrimp Kisses:
Tip #1
To make shrimp kisses, or any cheese stuffed bacon wrapped shrimp, get as large of shrimp as possible. This may mean visiting your favorite specialty grocery store. 31-40 sized shrimp are the smallest I would go for this recipe. This cuts down on labor and gives you a nice big space to fill with stuffing ingredients.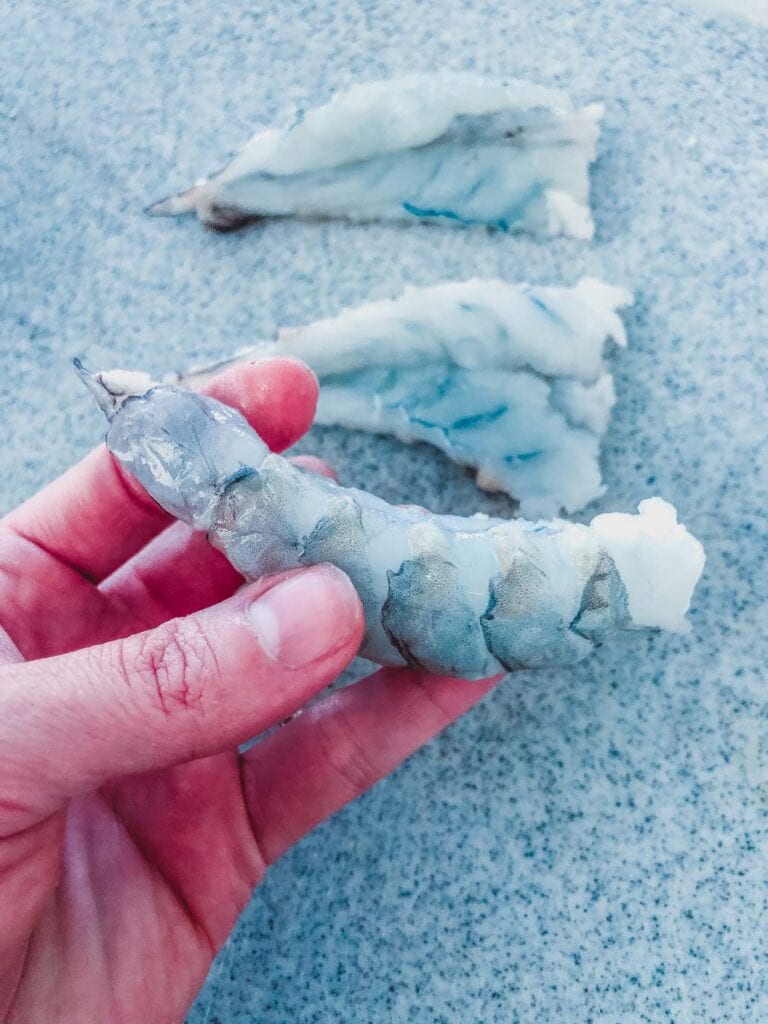 Tip #2
Instead of cutting the shrimp up the back, cut it through the belly! This is the best way to stuff shrimp because the shrimp meat will cradle the filling, and prevent the cheese from oozing out.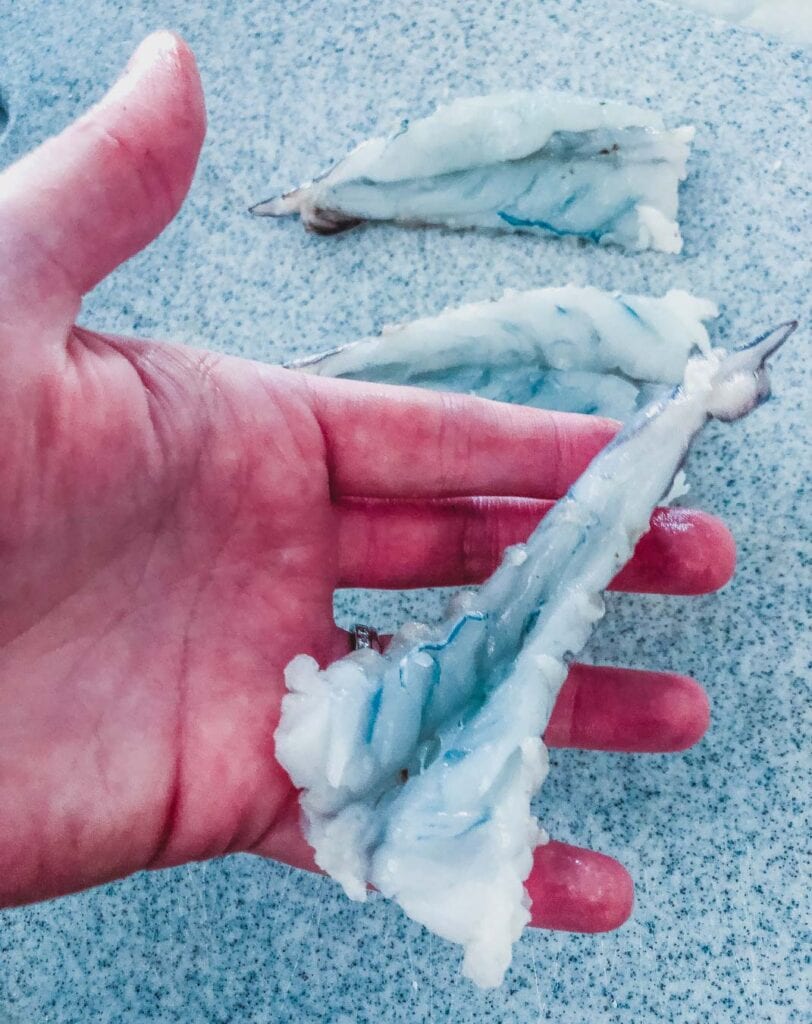 This is shown step by step in my, how to make stuffed shrimp YouTube video, which is linked at the top of this post. You can still devein the shrimp, you will just be pulling the vein out through the front. (This tip only works when buying whole raw shrimp that is not yet deveined traditionally through the back.)
This filling is pretty much blow your mind delicious. 😀 In fact, I've had several gentlemen who bought my cookbook email me that they have won 1st place in the category of open food, on the competition barbecue circuit, with this Shrimp Kisses Recipe because the filling is total perfection!
It's all about using a mix of cream cheese and freshly grated melting cheeses. I add thinly sliced green onion for aroma.
In some high end Shrimp Kisses Recipes, fresh crab meat is folded into the cheese mixture, so you might consider trying that for special occasions. 🙂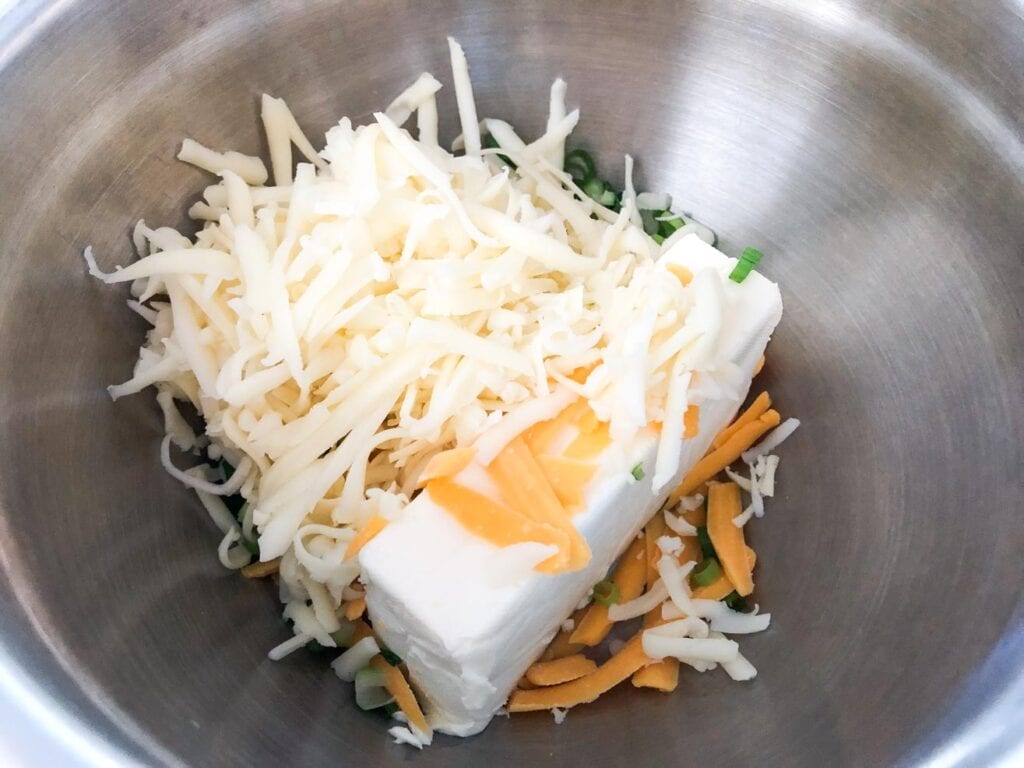 If the cream cheese for the stuffed shrimp is already softened, you can easily mash it together with a fork.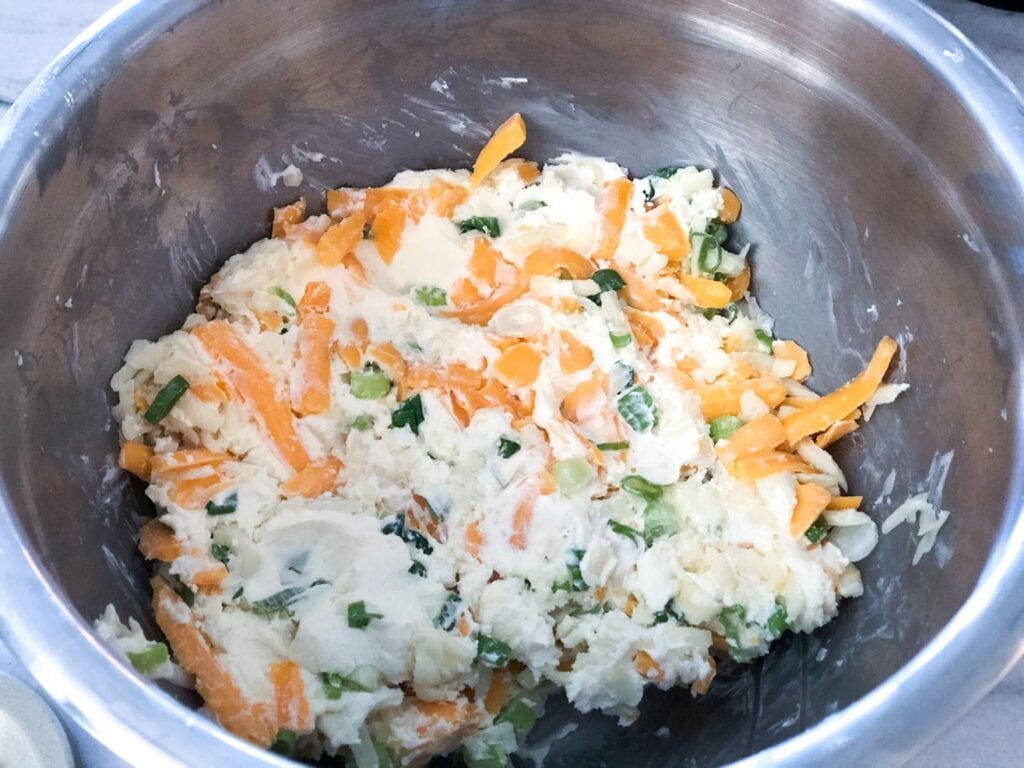 I use a teaspoon to make little balls of cheese filling, and place them atop the raw shrimp. If using a strip of jalapeno, that will go down first, between the shrimp and the cheese ball.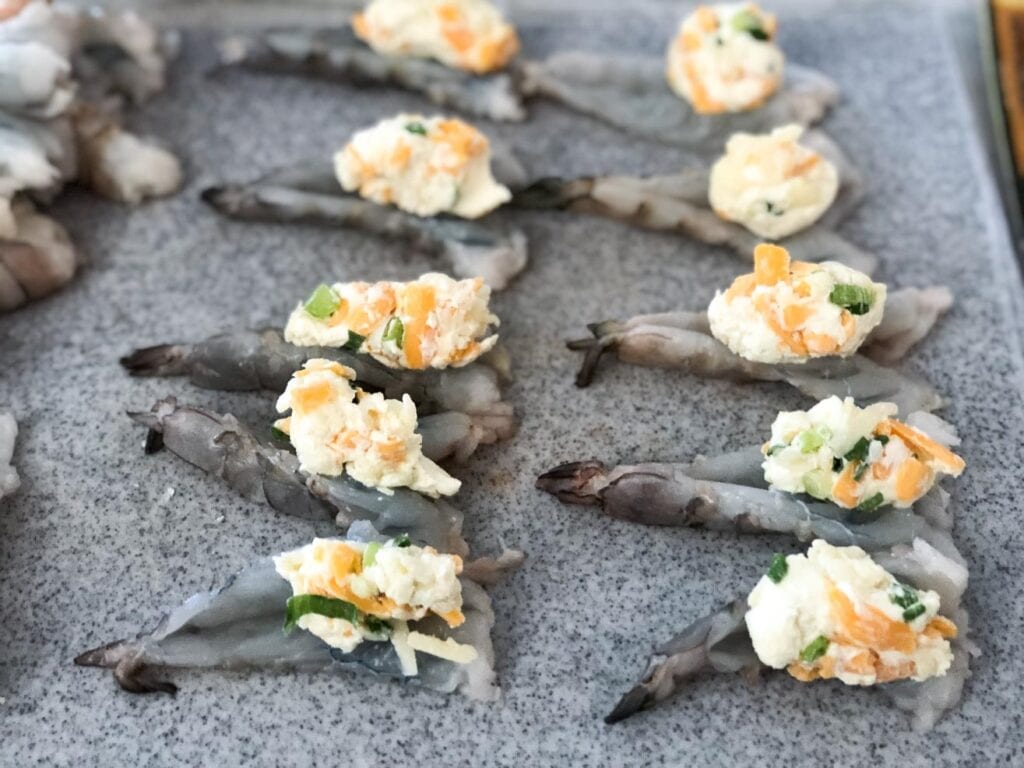 Get all of your ingredients together first, and the cream cheese stuffed shrimp will come together assembly line style!!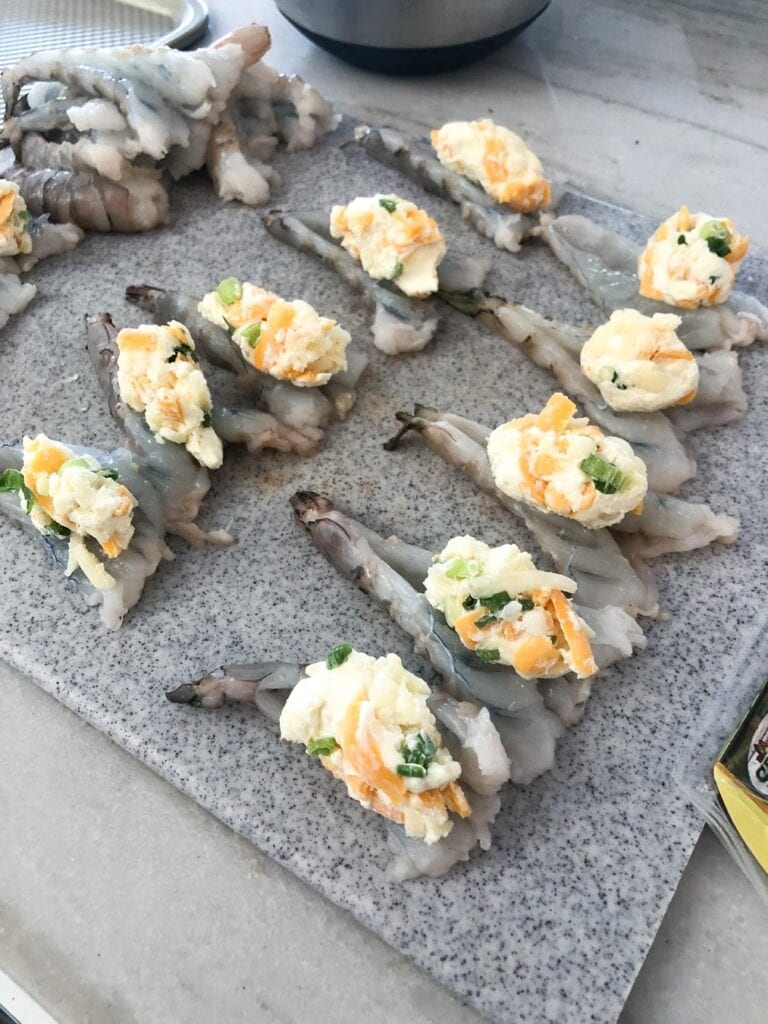 Begin by placing a shrimp kiss down on a slice of bacon. (In this photograph, I am using turkey bacon to wrap the shrimp for a pro athlete I private chef for, but I highly recommend using real bacon.)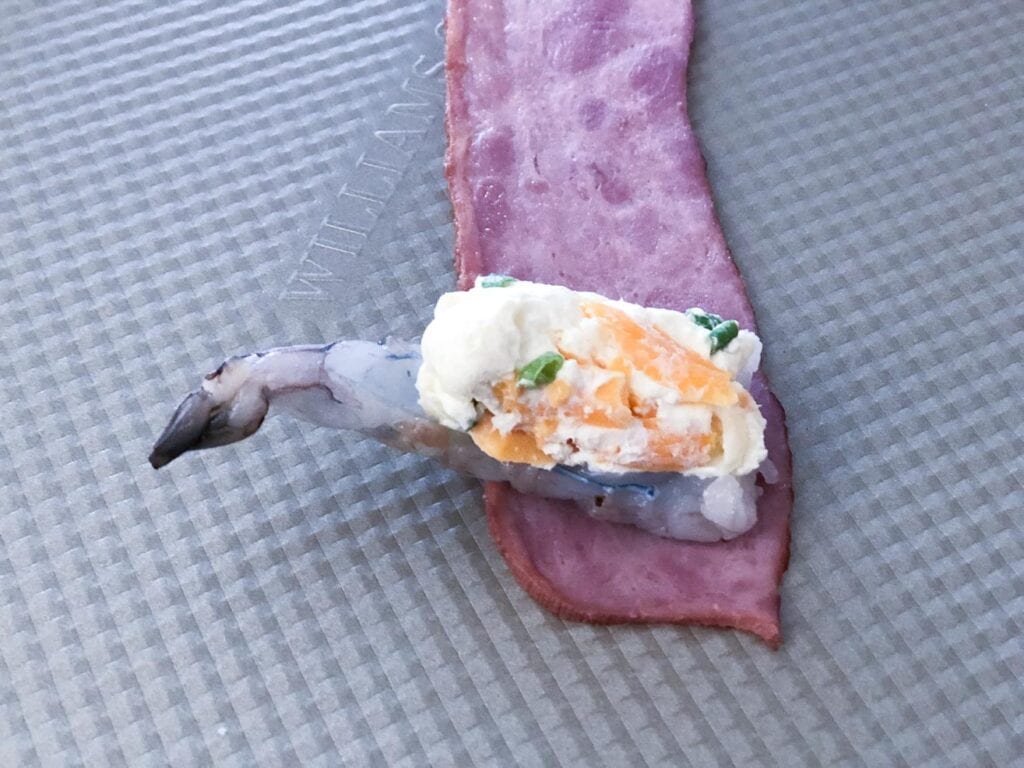 Roll forward and secure with toothpicks. (Watch this YouTube video for a video tutorial.)
Now just chill, and fry in hot oil at 385 degrees until crispy. I use this infrared thermometer in the video to check the temperature of my oil and it has become one of my favorite pro cooking essentials.
The best thing about these Shrimp Kisses is that they actually hold well. You can make this recipe an hour or two in advance and the filling will not seep out!
Make sure you try my caramelized pineapple sauce for dipping! Enjoy!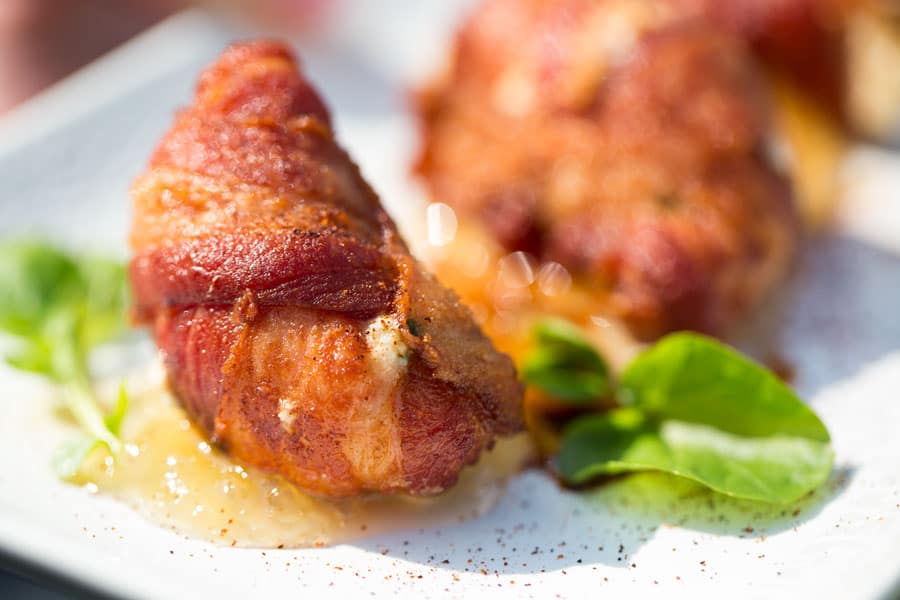 Here is the recipe for Shrimp Kisses with Caramelized Pineapple Sauce!
If you make it, tag @UrbanCowgirl on Instagram and Facebook. We love to see your creations!
(Check out the video for a complete tutorial on sealing the shrimp kisses— it will work with any stuffed shrimp recipe you want to try!)
Yield:

18 Shrimp Kisses
Galveston Shrimp Kisses with Caramelized Pineapple Coulis
These shrimp kisses are an appetizer that the whole family will go nuts over! Originally made popular on Galveston Island, these cheese-stuffed, bacon-wrapped shrimp are a Texas favorite. Learn to make them at home with our step by step guide!
Ingredients
18 XL Raw Gulf Shrimp, preferably local and brought in that day
1 pack of center cut bacon
1 Liter of canola oil for filling a cast iron skillet and frying
A box of toothpicks
Filling:
1 8 oz. Package cream cheese (room temp)
2 Green onions, sliced razor-thin, the green and white parts
1 c. Cheddar (About a 4 oz. block)
1 c. Monterey jack (about a 4 oz. block)
Note: This cheese should be purchased in the block and grated on a grater.
10 chunks of pineapple cut into about 1"X1" cubes (Pre-cut fresh pineapple at the store from the produce section is fine. Avoid the canned pineapple)
1/4 c. butter
1/4 c. cream
Squeeze of lemon
Garnish:
Chipotle Chile Powder (Optional)
Cilantro (Optional)
Instructions
Peel all of the raw shrimp. One at a time, use a sharp paring knife to slice halfway through the shrimp, butterflying it through the belly side, and creating a place to stuff with the cheese filling. Do not cut all the way through the shrimp, only butterfly it. The shrimp should open up slightly, like a book. (The shrimp can be butterflied through the back, but the stuffing holds up better when it is cradled inside the shrimp by butterflying it through the belly.)
Make the filling by grating the cheese, and adding it to a bowl with the sliced green onions, and the room-temp cream cheese (microwave in 10-second bursts if you need to soften it) mash it with a fork mixing it all together until you get a mixture that you can make soft cheese balls from.
Open and lay out your bacon in front of you. Scoop up a small ball of cheese and roll it in your palm (about 1/2" diameter). Take a shrimp and the cheese ball and push the cheese into the butterflied belly. Mash it gently into the opening so that it fills up the space.
Take your bacon and holding the shrimp in 1 hand, wrap the bacon around the shrimp starting at the top and wrapping over and over towards the bottom until you have covered the cheese and shrimp, secure with toothpicks. The shrimp and cheese should be fully encased in bacon.
Repeat with the remaining shrimp. When they're all done, place them in the freezer where they won't get smashed. We just want to chill and firm them up since they have been melting in your warm hands. Freeze 30 min while you complete the pineapple sauce.
For the pineapple: Take the chunks and place them on a foil-lined baking sheet. Spray them with a little cooking spray or oil. Place them in a 400-degree oven for about 20 minutes or until brown. Try not to let many black areas develop. Brown is good, black is burnt! You can also use your oven's broiler but I would not recommend walking away from them. I would stand and watch as the color develops because it tends to happen very quickly.
Take the brown pineapple pieces and place them in a blender. Blend them into a puree, adding a little water if necessary. Place the puree in a saucepan and add the 1/4 c. butter, a pinch of salt, and a squeeze of lemon. Let the butter melt and stir in the cream. Heat the mixture gradually until it comes to a boil. Let simmer just until it thickens slightly. Taste and add additional salt or lemon juice if necessary. Keep warm while you cook the shrimp.
Heat a medium-sized saucepan over medium-high heat and fill it half of the way up with canola oil. Heat oil to about 385 degrees. Place 2-4 freezer-chilled shrimp at a time into the hot oil and let them fry until the bacon is crisp and the cheese inside is hot and melty. Dry them off on a cooling rack or on paper towels. Remove the toothpicks before serving.
To plate, place a bit of sauce on a plate, top with the shrimp, and sprinkle with cilantro and chipotle pepper powder.
Notes
Pro Tip: It's important to use center cut bacon in this dish to insure full even coverage of the shrimp. Bargain bacon is mostly fat and will melt off and into the grease allowing the cheese to melt out.
Nutrition Information:
Yield:
18
Serving Size:
2
Amount Per Serving:
Calories:

645
Total Fat:

65g
Saturated Fat:

12g
Trans Fat:

0g
Unsaturated Fat:

51g
Cholesterol:

39mg
Sodium:

171mg
Carbohydrates:

14g
Fiber:

2g
Sugar:

10g
Protein:

5g
These nutritional values are an estimate only and provided as a courtesy. Different brands of ingredients may result in different calorie counts, and the software does not account for these differences. Consult with your dietician or doctor for precise nutritional values.