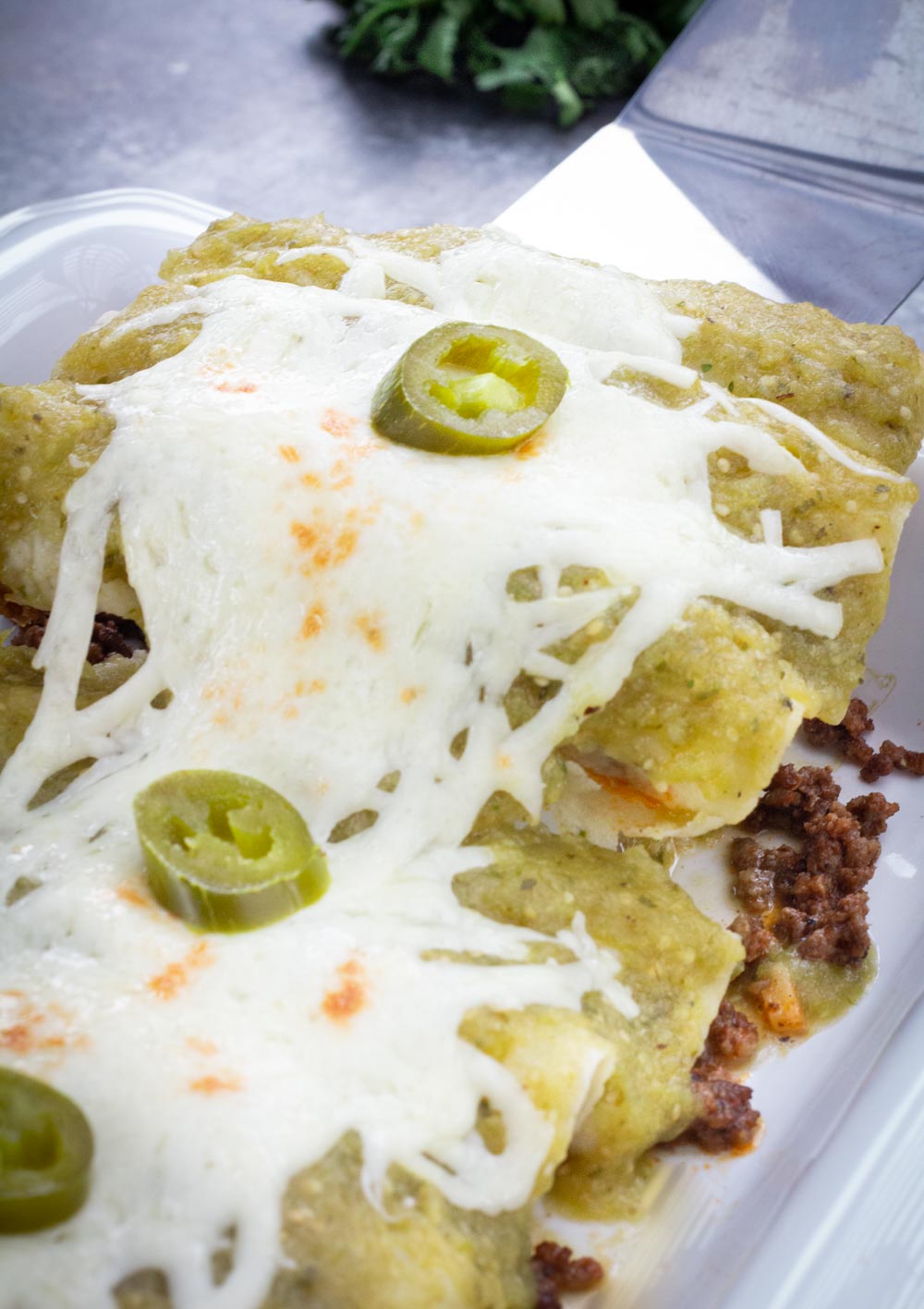 After a long week, Tex Mex is always my favorite comfort food, and these ground beef enchiladas with green sauce will liven up any home taco night and have the whole family cleaning their plates! I use our famous (and easy) green enchilada sauce on beef as well as chicken enchiladas, and this homemade beef enchilada filling is tender and fragrant, pleasing adults and kids alike!
Served with my easy crock-pit pinto beans, Mexican fried rice, or our mexi-corn salad, these enchiladas are a make-ahead dish that can be given to a family member or loved one for heating later, or savored at home for a special weeknight meal.
How To Make Ground Beef Enchilada Filling:
I have found the best meat for beef enchiladas is 80/20 ground beef which provides just enough fat for a mild, creamy enchilada filling full of flavor. After browning well, we'll add diced white onion and garlic which cooks down and makes the foundation of an authentic, Texas enchilada filling.
For flavor, I add Texas chili powder (such as Gebhardt's or Mexene brand), onion powder, garlic powder, salt, and black pepper. This spice blend gives the bold flavor of Tex Mex, without a taco meat seasoning package, which never tastes like the restaurants and comes out salty and overpowering.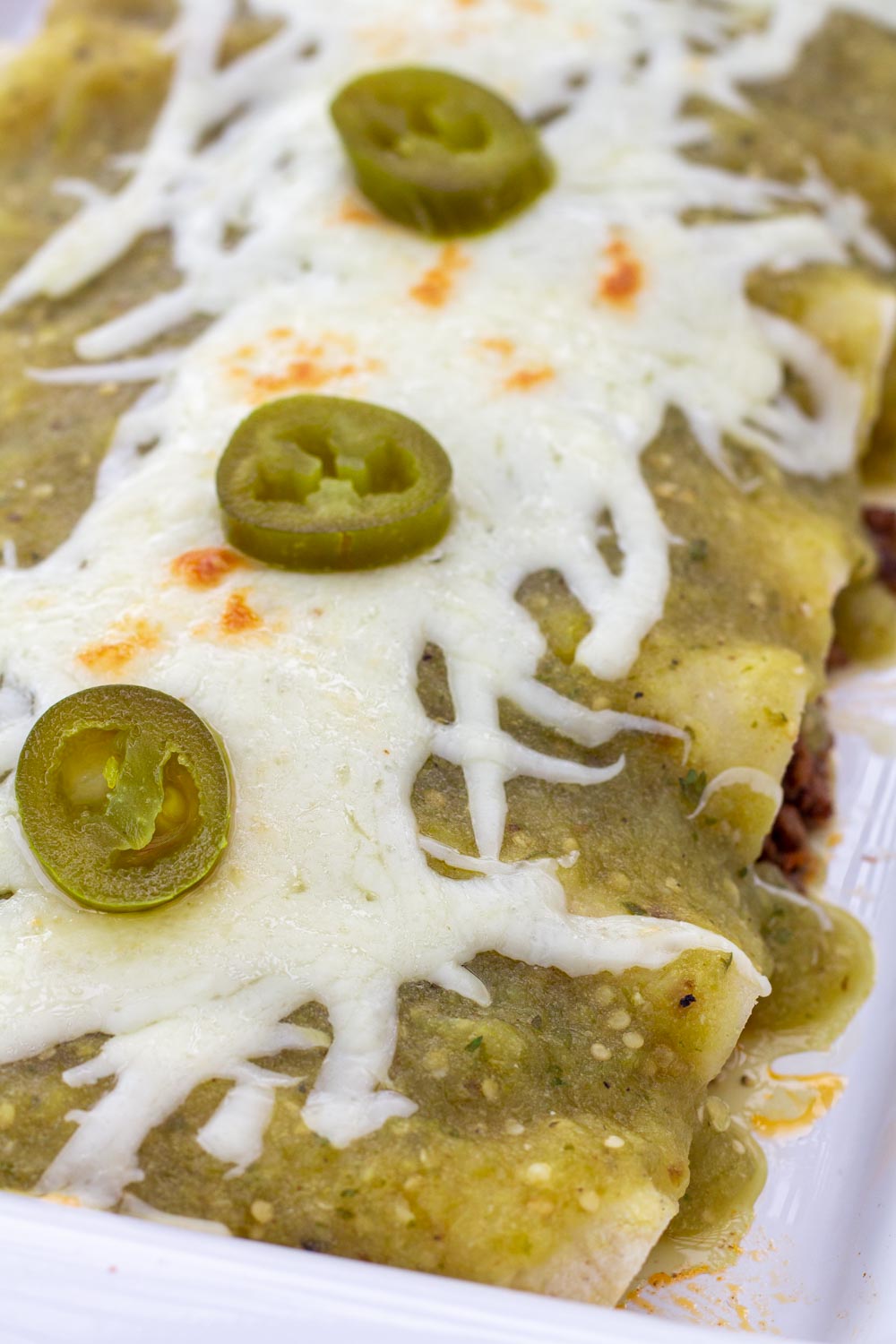 To keep the filling from being dry and crumbly, I like to use just a small bit of tomato sauce which adds richness and holds the filling together nicely. If you don't have tomato sauce just use a couple tablespoons of water with a squirt of ketchup–with the richness of the ground beef and bold spices you'll never taste the ketchup and you'll come out with a beefy filling, rich in flavor and easy to work with.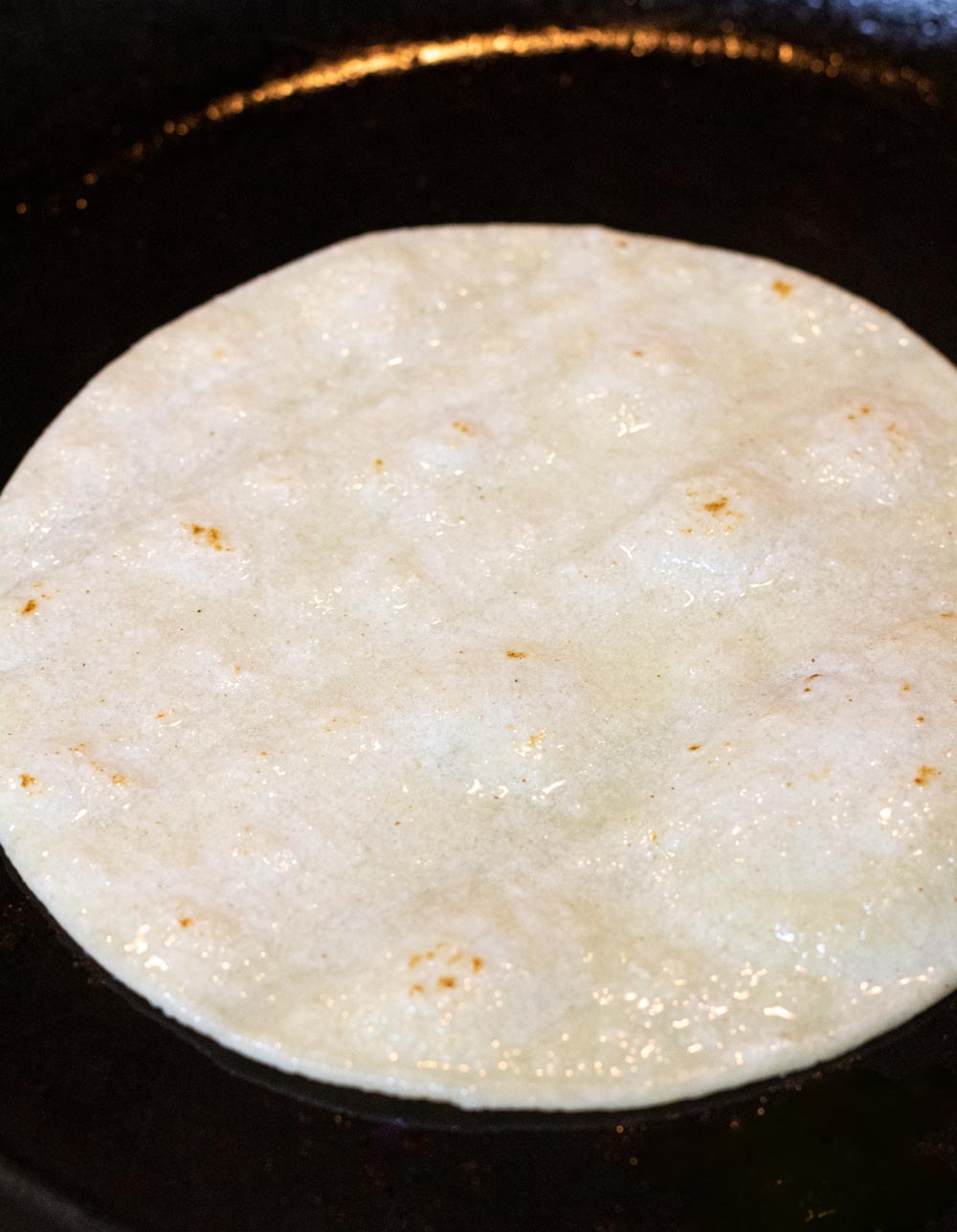 How to Prepare Corn Tortillas for Rolling Up into Enchiladas:
If you try and make enchiladas without preparing your corn tortillas first, you'll quickly find that the tortillas break around the filling or become glued together while baking. There are several methods for preparing corn tortillas to roll into enchiladas, but I find the tried and true method remains my favorite.
In a small nonstick pan, pour in a little flavorless oil and place it over low-medium heat. Fry the tortillas 8-10 seconds on each side, and transfer to a plate. Repeat this method with all of the tortillas and keep them warm and covered before starting to fill and roll them. This method always delivers the best results without any tortillas breaking.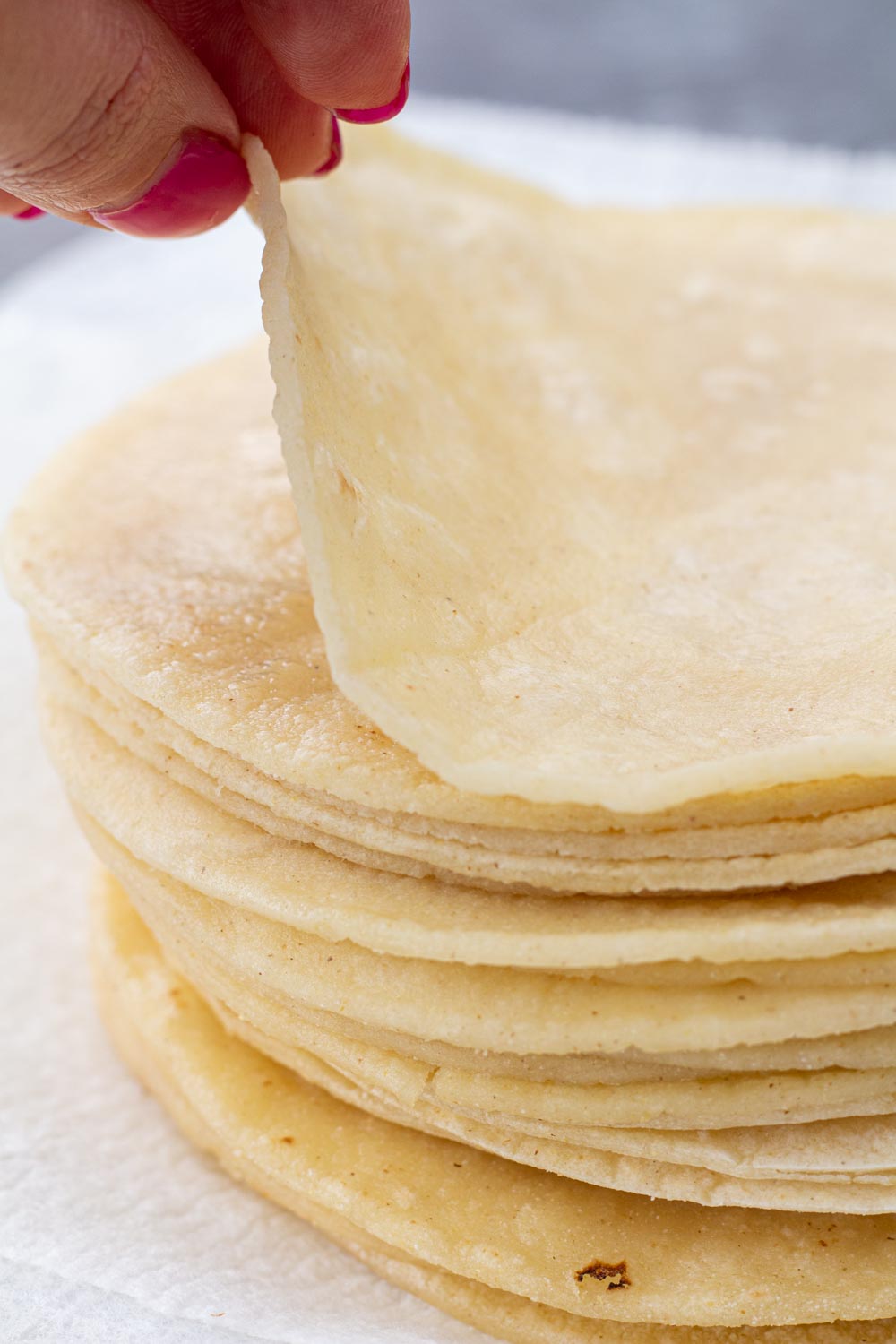 How Much Filling Should I Place Inside an Enchilada?
In a standard corn tortilla, 2-3 Tablespoons is perfect. This allows for easy handling of the cooked enchiladas and keeps the seams in place during cooking.
Some cooks like to place the beef inside and add a sprinkling of their favorite mexican cheese on top of the enchilada filling before rolling up. The melted cheese adds an ooey-gooey cheese factor and also acts as a kind of glue to hold the rolled tortillas in place.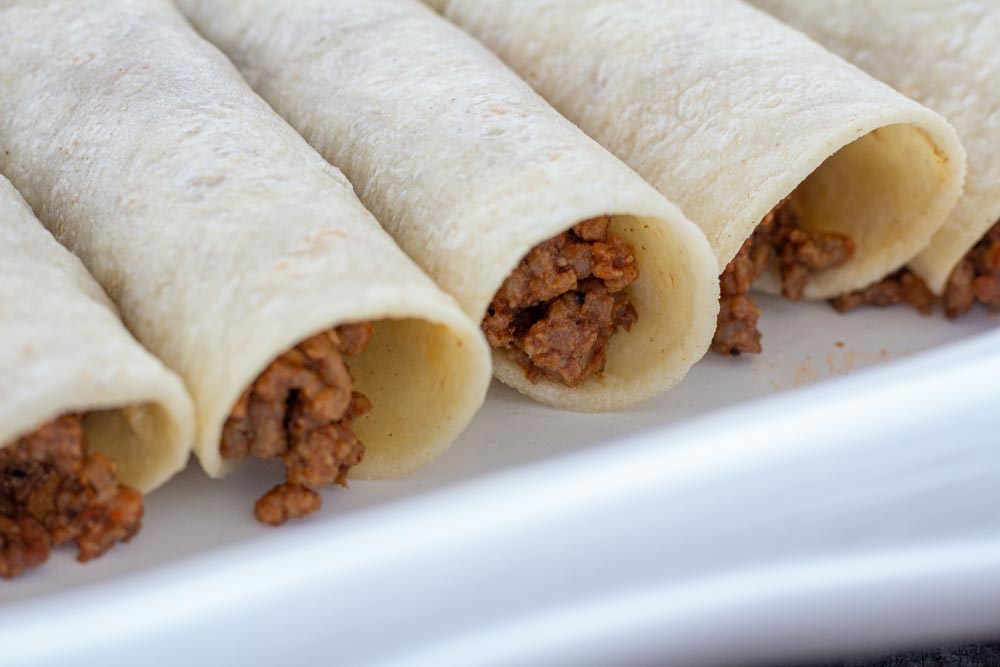 Cook the enchiladas at 350 degrees, smothered with homemade green enchilada sauce and topped with cheese. For an extra kick, pickled jalapenos and cilantro make a festive garnish.
Don't forget to get the Green Enchilada Sauce Recipe here! I wrote a separate recipe with step-by-step pictures for ya!
If you would like to use canned green enchilada sauce, I recommend Las Palmas Green Enchilada Sauce available here, or Old El Paso Green Enchilada Sauce available here. They're not quite as delicious as homemade but they're great for busy people. 🙂
This green enchilada recipe is delicious with these recipes from the blog…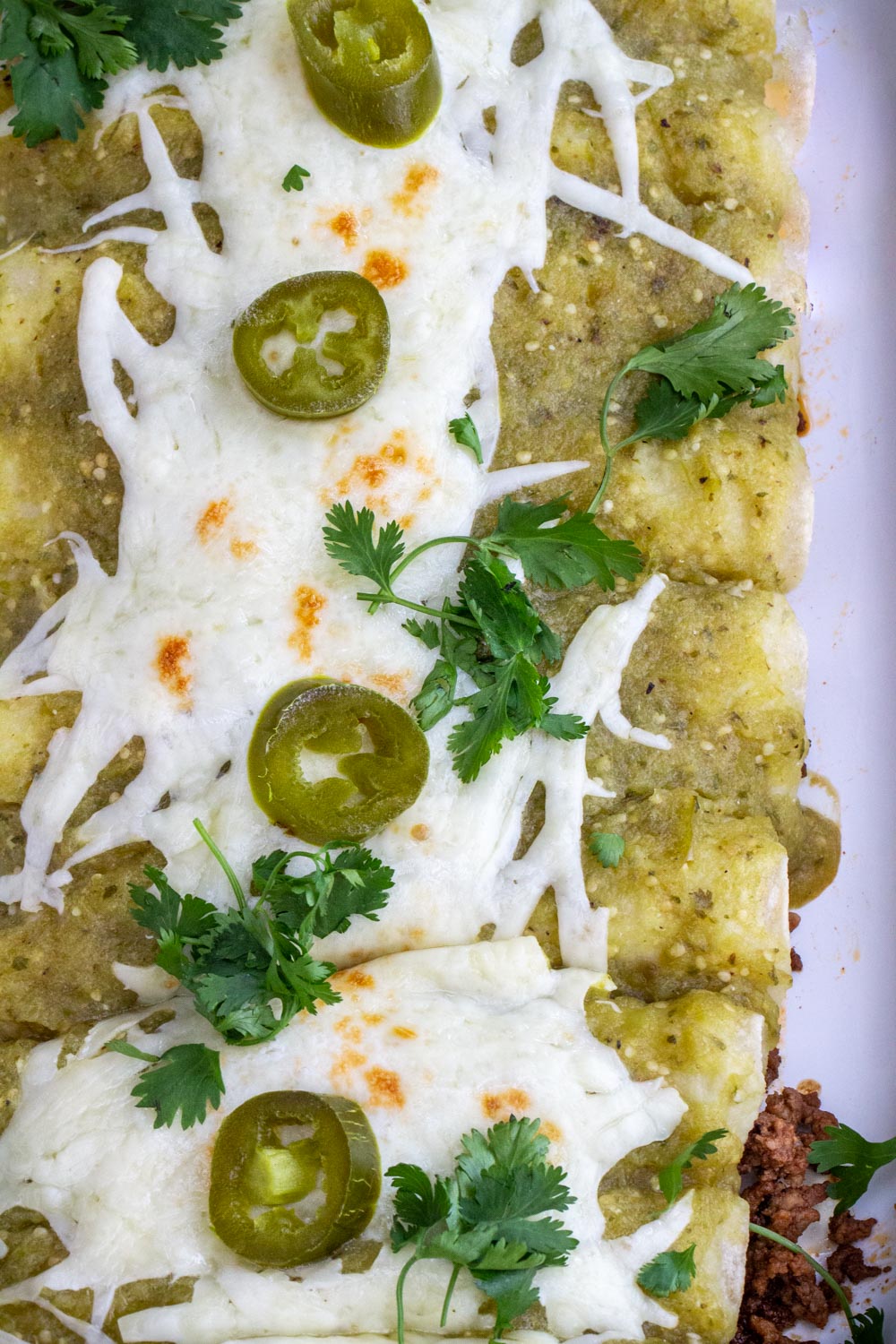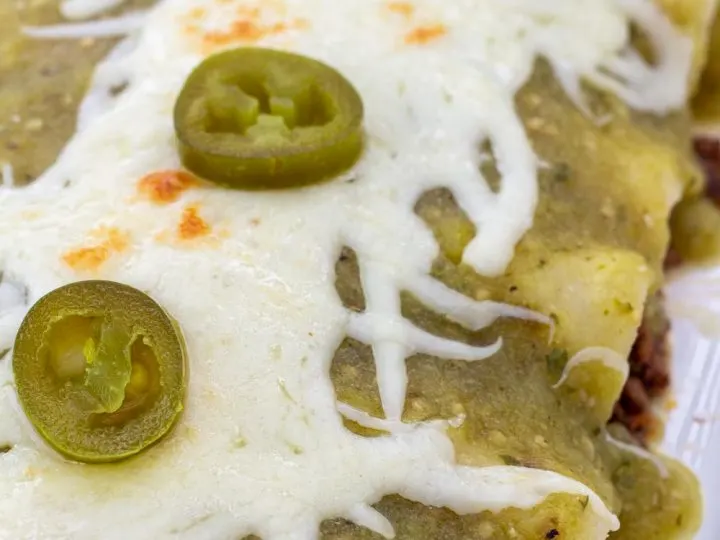 Yield:

8
Beef Enchiladas with Green Sauce Recipe
Cook Time:
25 minutes
20 seconds
Total Time:
55 minutes
20 seconds
These comforting, authentic ground beef enchiladas are smothered in green enchilada sauce and baked to cheesy tex mex goodness!
Ingredients
2 pounds ground beef, 80/20 blend
1 t. kosher salt
1/2 onion, small dice
2 garlic cloves, minced or pressed through a garlic press
1/2 t. onion powder
1 t. black pepper
1 t. Texas chili powder
1/2 t. garlic powder
3 T. water
1/2 c. tomato sauce (4 oz. can)
25-10 corn tortillas
1/4 c. oil for heating the tortillas
1 c. shredded Monterrey Jack or Quesadilla or Oaxaca cheese
Instructions
Prepare the Green Enchilada Sauce according to the instructions found here.
For the enchilada filling: Place the ground beef in a saute pan over medium-high heat and sprinkle with kosher salt. Sear the meat well, drain, and then add in the diced onion and garlic. Add the spices. Cook 2 minutes to soften the vegetables. Add in water and cook 5-10 minutes to a saucy consistency. The beef filling should be moist but not runny with water. Continue simmering if you need to evaporate excess water. Add the tomato sauce. Simmer 5 minutes or so and season to taste. Remove from the heat and cool.
In a saute pan, add a little oil and fry each corn tortilla for several seconds on both sides. Remove the tortilla to a plate lined with paper towels and repeat with the remaining corn tortillas. This warms them for the filling and makes them rollable.
Place about 1/4 c. of green enchilada sauce in a large casserole dish. Lay a tortilla flat and fill with about 2-3 T. of filling. Roll up and place into the casserole dish, seam side down. Repeat with the remaining tortillas until your casserole dish is full.
Pour the green enchilada sauce over the enchiladas and cover with cheese of your choice.
Bake at 350 degrees for 25 minutes. Remove and top with pickled jalapenos, sour cream, cilantro, or your favorite toppings! Serve hot with beans and rice!