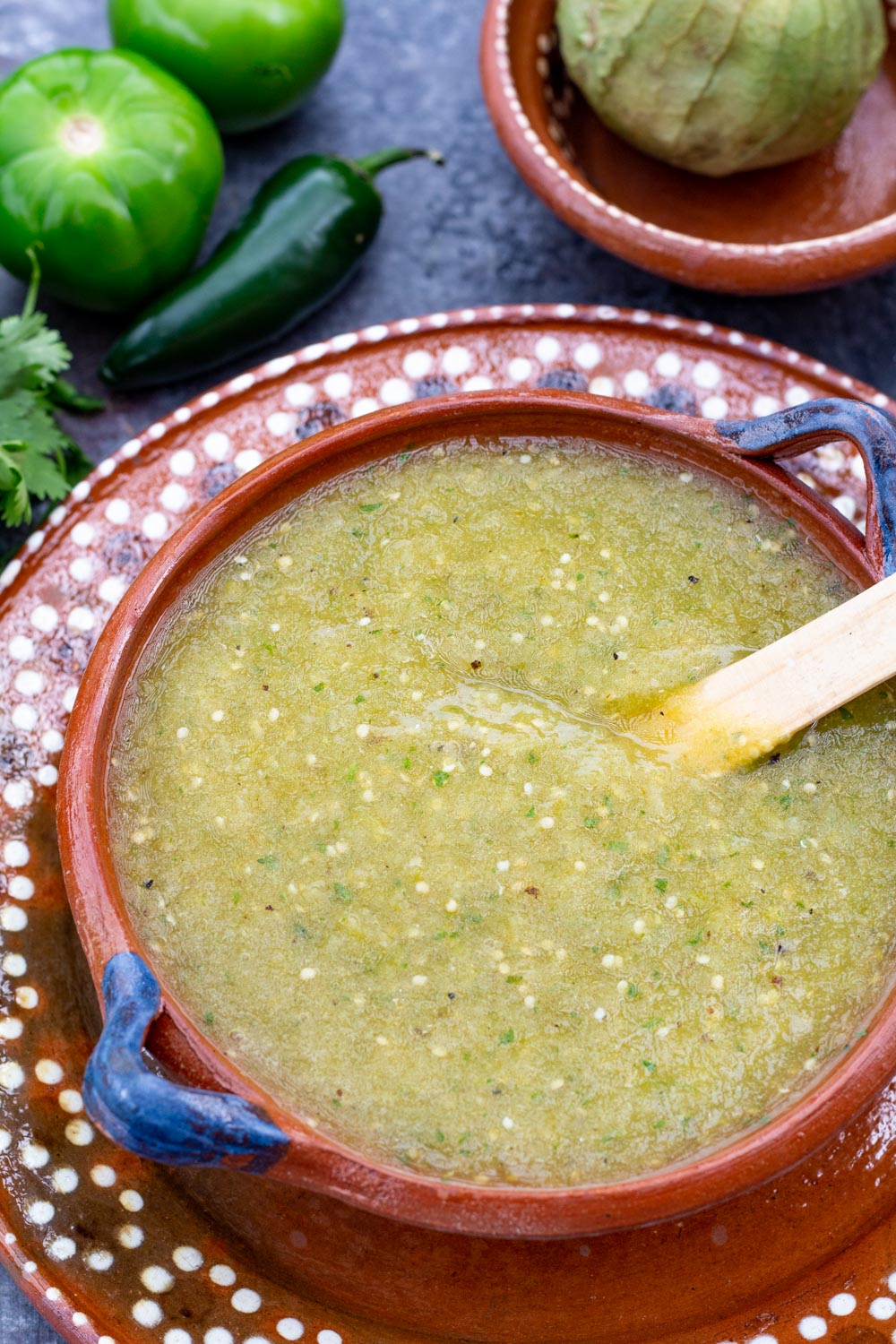 Homemade green enchilada sauce is a staple in Tex Mex cooking for smothering warm corn tortillas filled with roasted chicken or simmered ground beef. Rather than purchasing canned enchilada sauce, try this authentic recipe, handmade by roasting tomatillos, onion, and chiles in the oven and blending to a smooth puree.
Green Enchilada Sauce is all about the tomatillos, so let's meet them.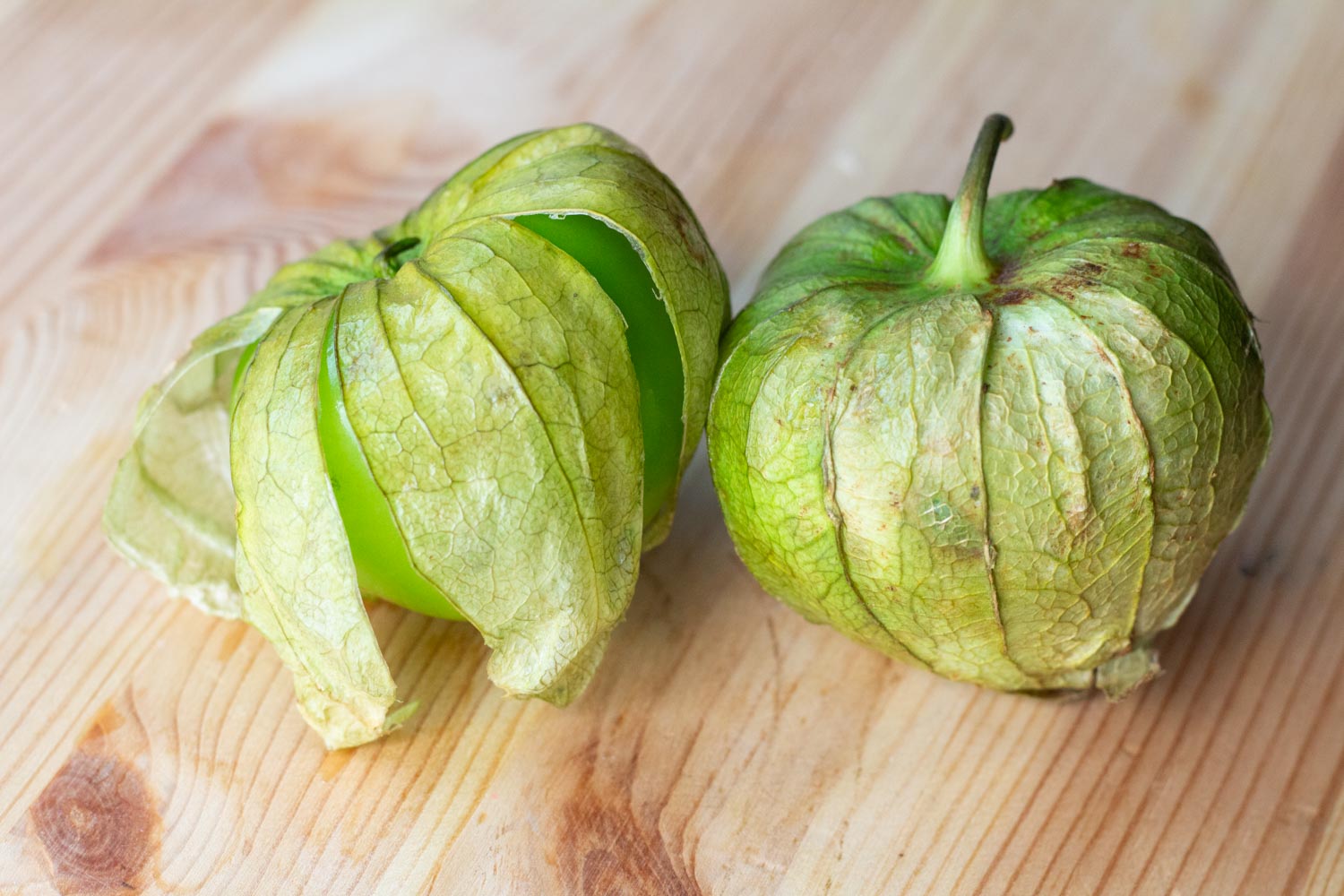 Ingredients for Green Enchilada Sauce
The most important ingredient for homemade green sauce is the tomatillo. Tomatillos are available at grocery stores throughout Texas, and can be found at Mexican grocery stores throughout the southwest.
Tomatillos are not actually a member of the tomato family but the gooseberry family, and grow wild in south Texas and northern Mexico.
They are tart and acidic and must be roasted or boiled to create a mild, silky enchilada sauce. To try them raw in a great dish, check out my recipe for the Famous Guacamole Salad at a beloved 60-year-old tex mex restaurant in my parent's hometown.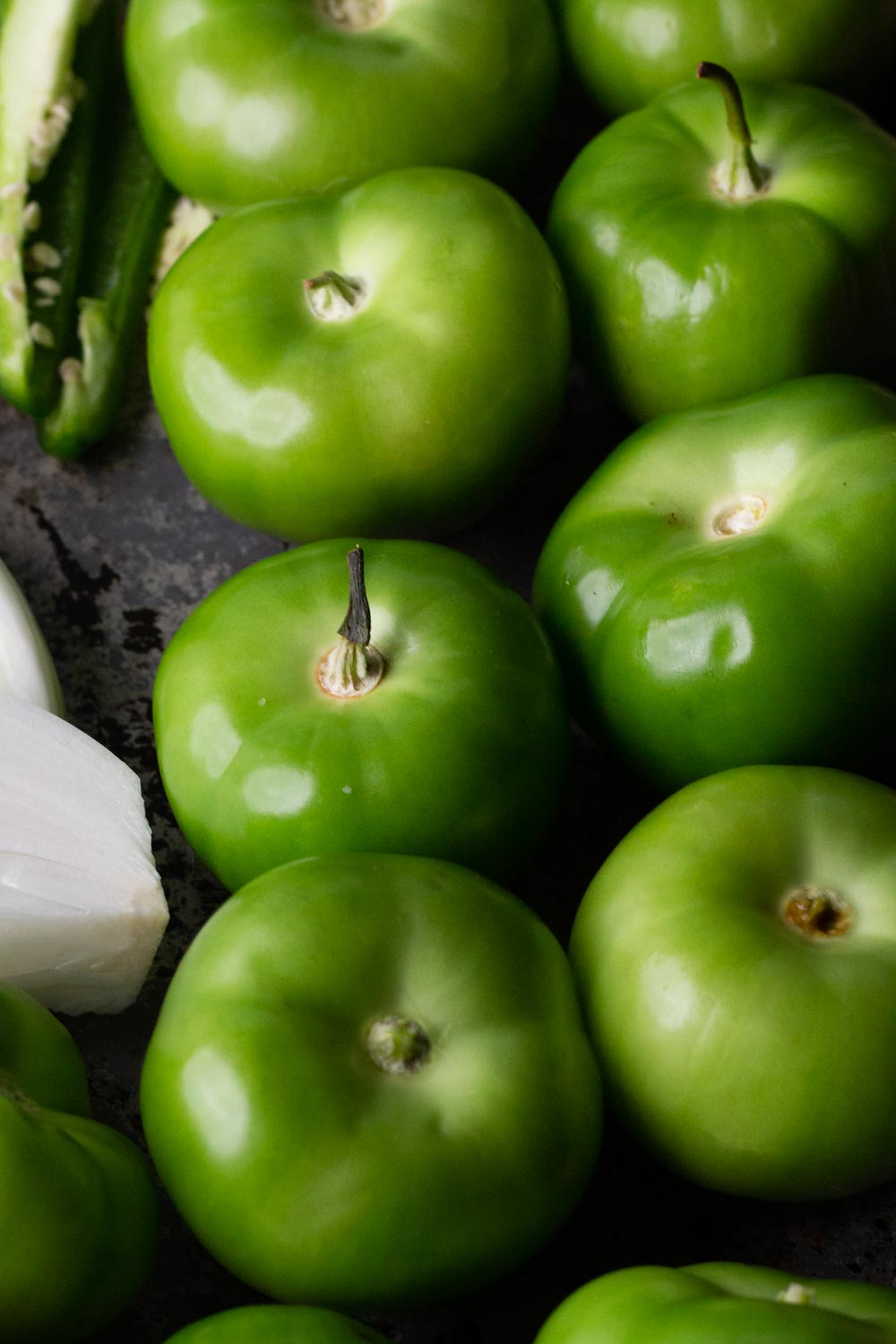 How To Prepare Tomatillos for Roasting
As you can see tomatillos are sold wrapped snug in a papery husk. The first step in working with them is to pull this husk off and discard them. The little green globes will probably be a bit sticky. Wash them well.
You will see a fleshy little stem coming out of the top of the tomatillo. I don't bother to remove this because it breaks down during cooking and seems unnecessary. If you want to remove it you can but it's not required. Now the tomatillos are ready to work with in a recipe.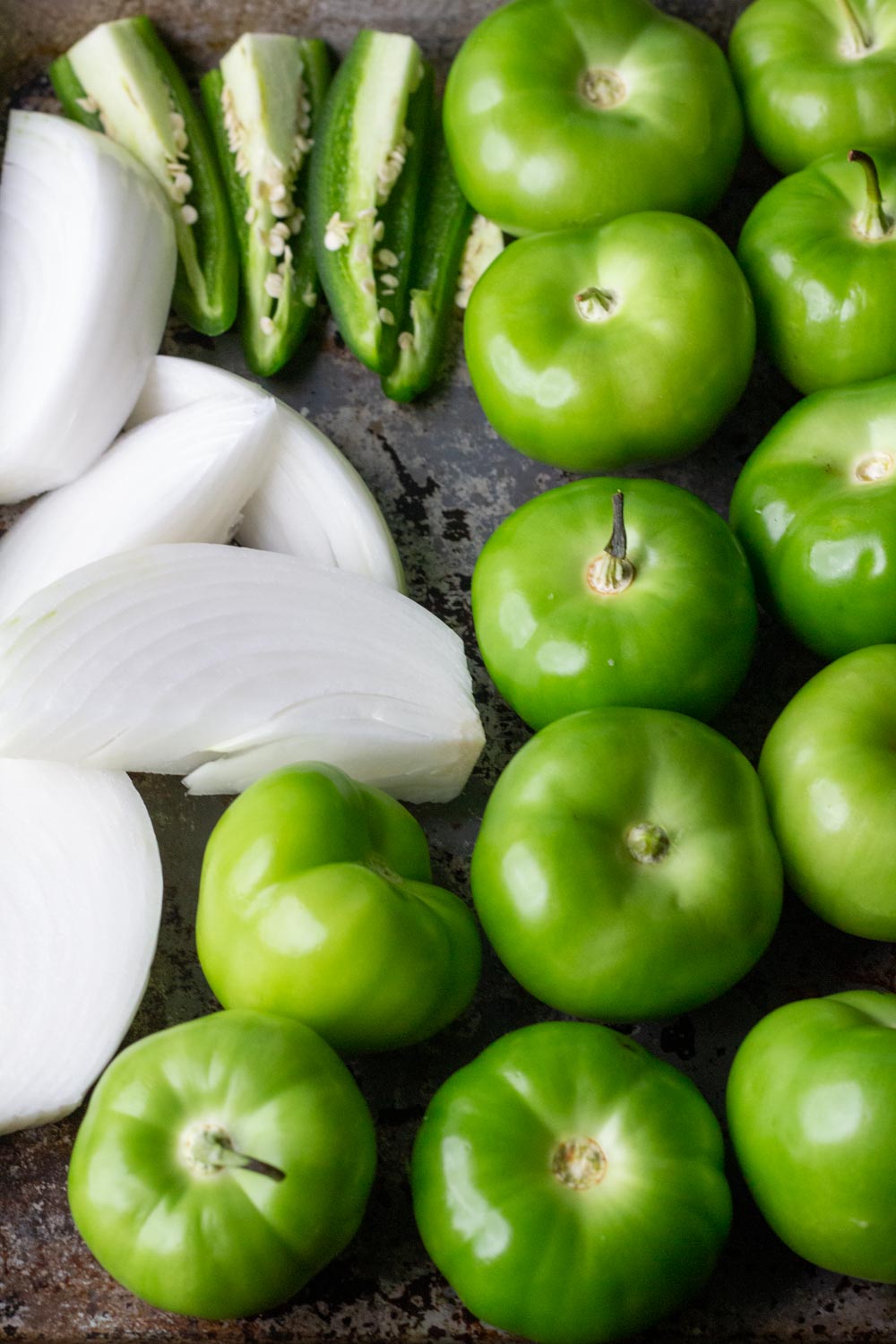 For the onion and jalapeno, slice into slightly smaller pieces. I quarter both the onion and the jalapeno and place on a baking sheet. Then pop it in the preheated oven. You can coat the baking sheet with foil for easier clean-up if you like.
Roast for 20-30 minutes until soft and slightly golden.
(Links are affiliate links to products we think are helpful and we may receive a small commission, at no cost to you, if purchased.)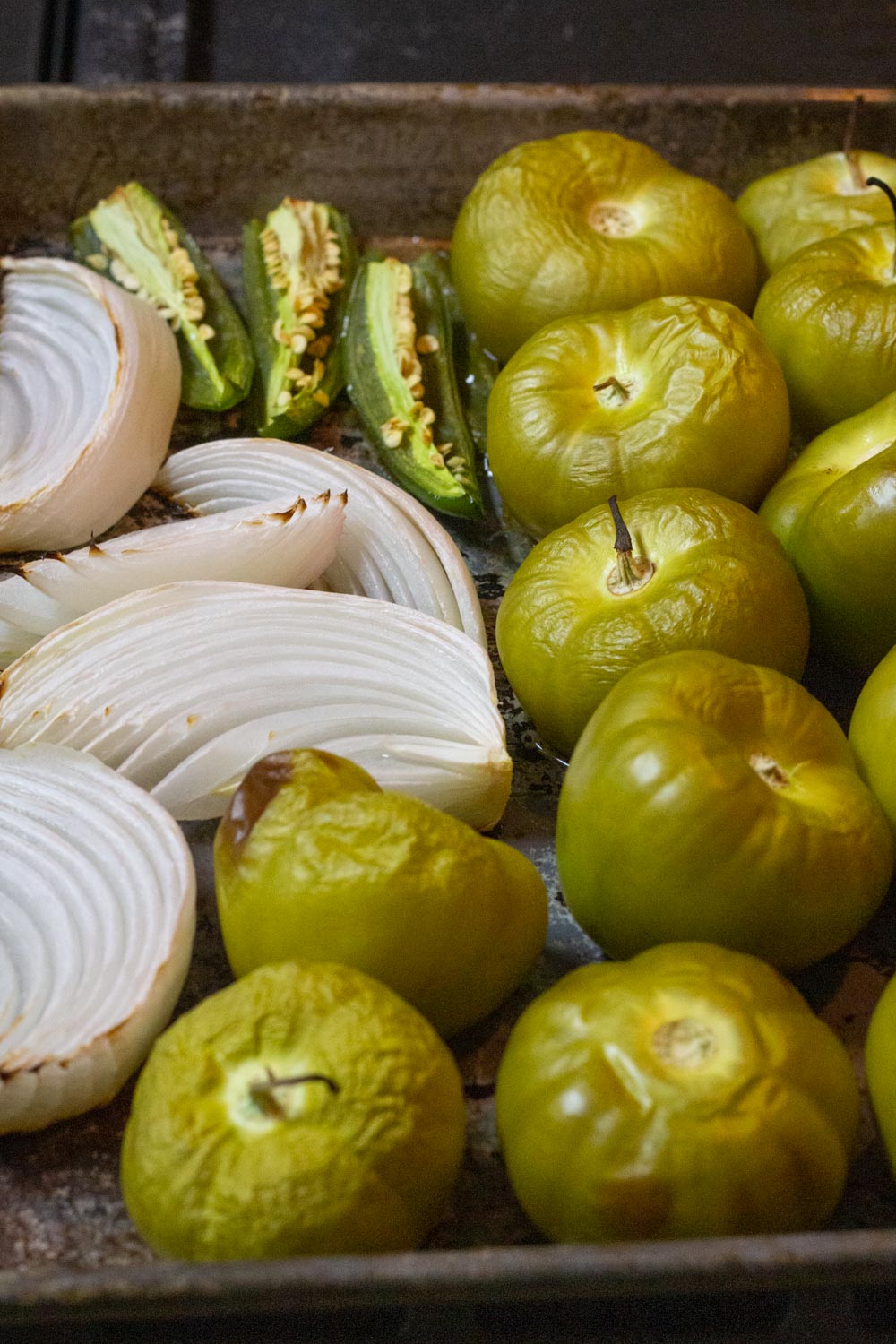 How to Make Green Enchilada Sauce
Once we've roasted the tomatillos and other vegetables it's time to puree in the blender.
Add 1 clove of garlic chopped and a teaspoon of kosher salt and blend well. I also add 2 T. chopped cilantro for the beautiful specks of bright green in my version of this sauce but it is purely optional and varies from cook to cook.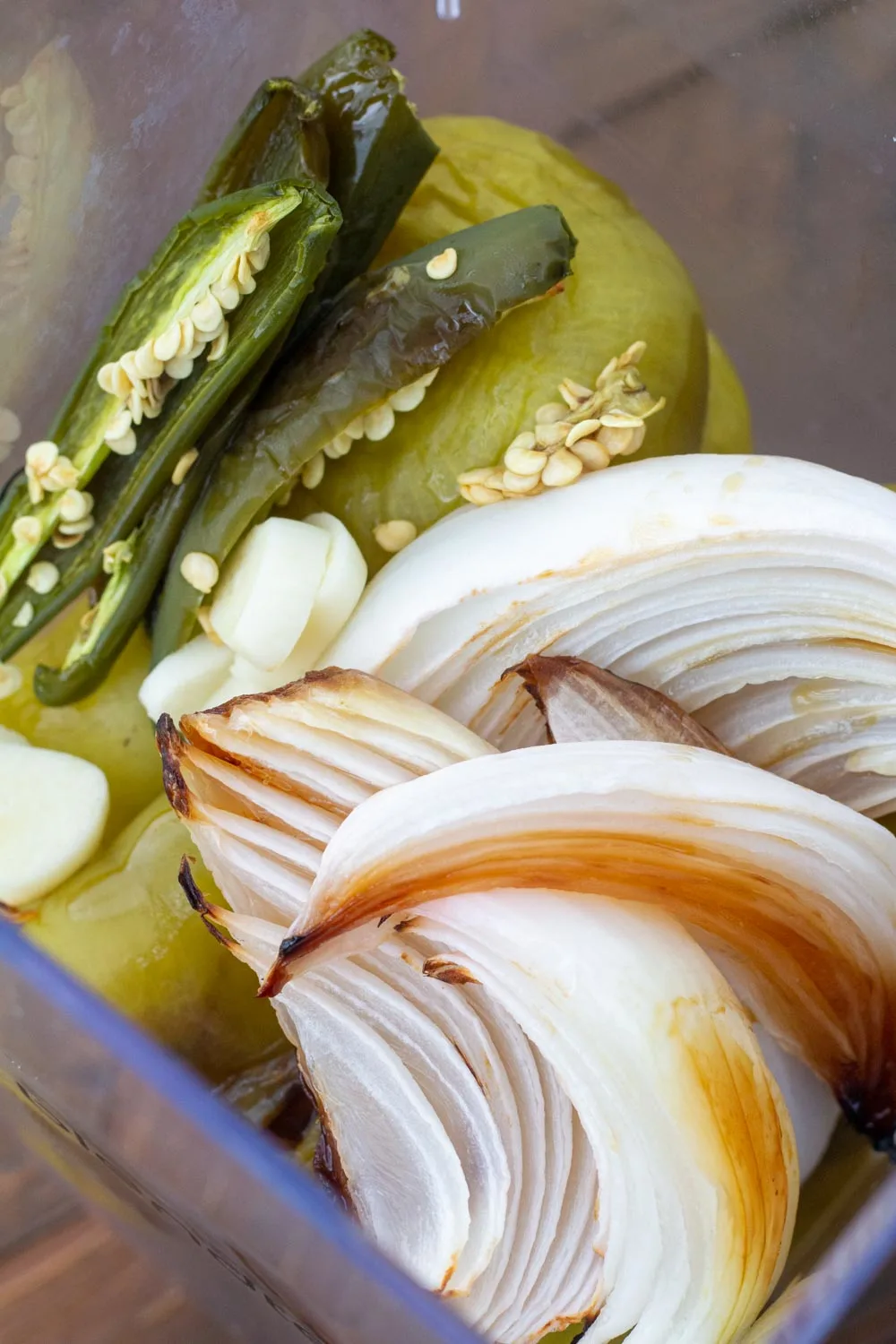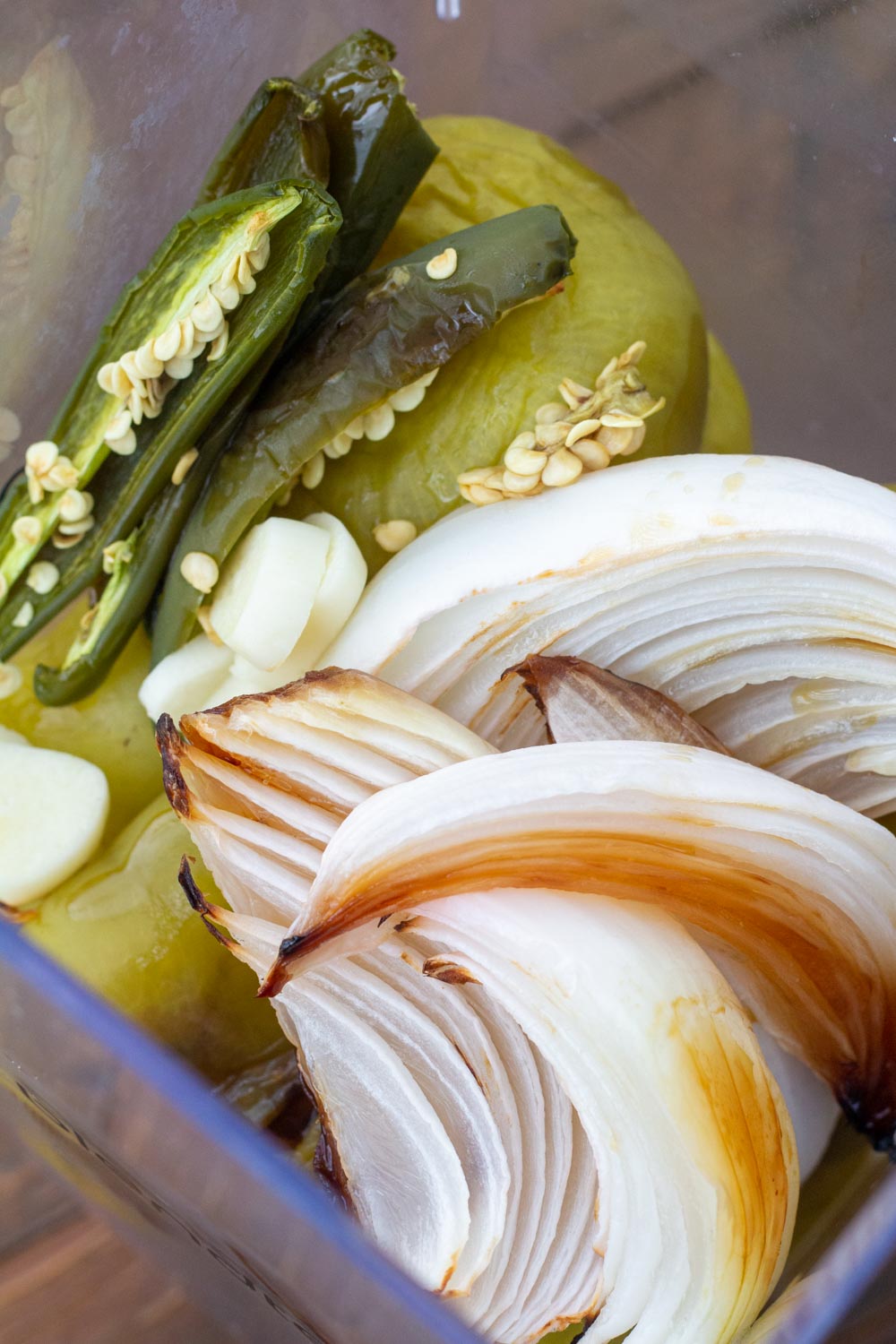 How to Store the Homemade Green Enchilada Sauce Recipe
The final sauce can be used immediately in chicken or beef enchiladas by pouring over the rolled and filled corn tortillas. It can be stored by placing in standard Tupperware with a lid in the refrigerator for about 5-7 days or frozen for 2 months. This sauce does pleasantly develop in flavor over several days, as most sauces do.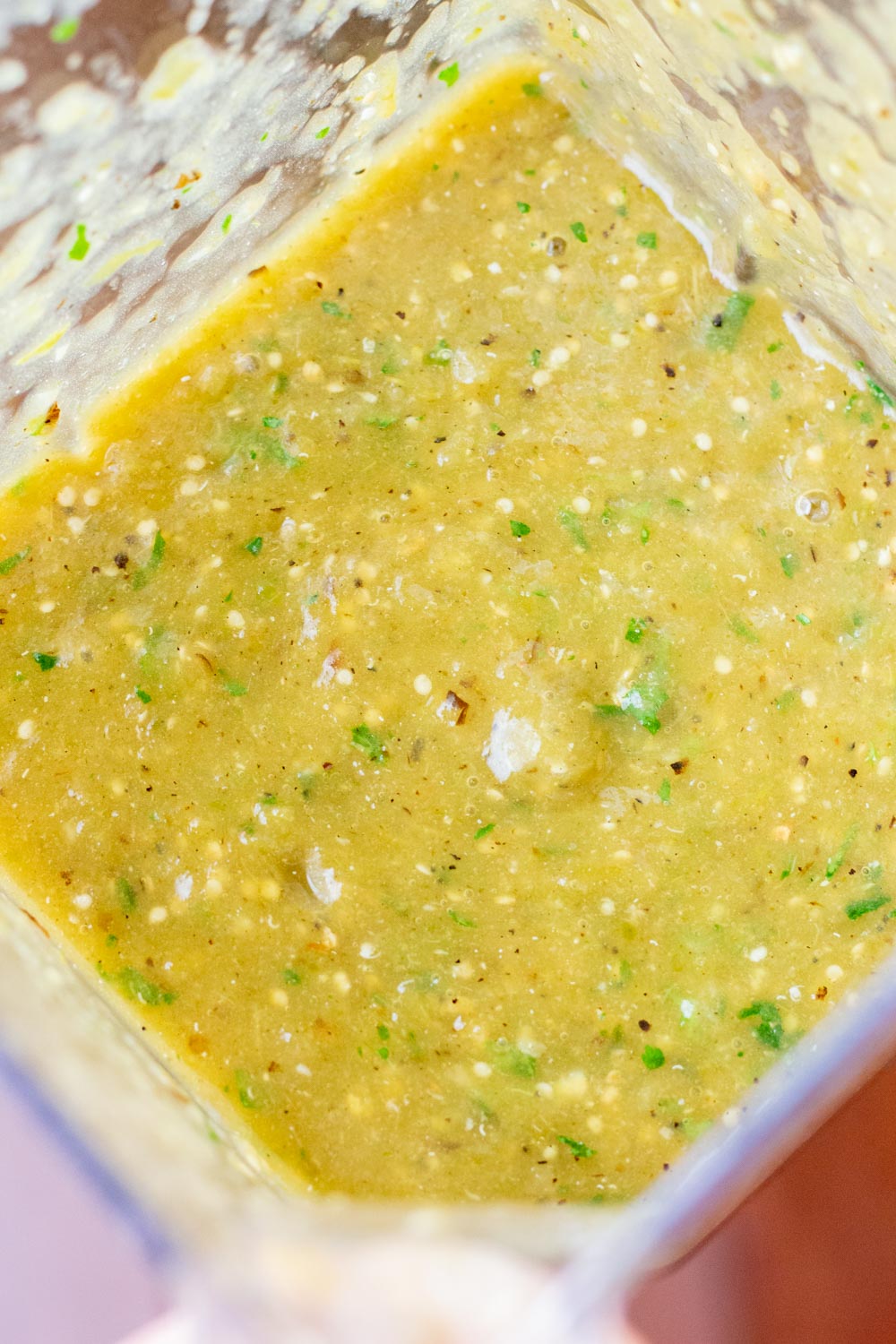 What is the Difference between Green Enchilada Sauce and Salsa Verde
As most recipes vary in names from place to place, I do not believe there is a difference between true homemade green enchilada sauce and salsa verde. I have chatted with several other chefs and Hispanic home cooks and here is what we have agreed upon…
Occasionally, salsa verde will refer to a sauce made with the same roasted tomatillo puree in this recipe, and fresh white onion and cilantro added for crunch and texture. This dip is served alongside corn tortilla chips or drizzled on steak street tacos. You will occasionally see this dip in Texas and in Mexico, and this salsa may be referred to as salsa verde in some regions.
However, you can make this recipe and call it salsa verde and no one will think twice about it.
What I actually think is going on is that very good quality canned enchilada sauce such as Las Palmas Green Enchilada Sauce, or Old El Paso Green Enchilada Sauce, are being referred to as "Green Enchilada Sauce", while fresh, homemade green enchilada sauce, (like the one displayed in this blog post), are being referred to colloquially as Salsa Verde (in some regions).
So, that's probably more than you ever needed to know about Salsa Verde, and while we are at it, here is the recipe for mine. As you will see, it's basically identical but intended to be served with chips.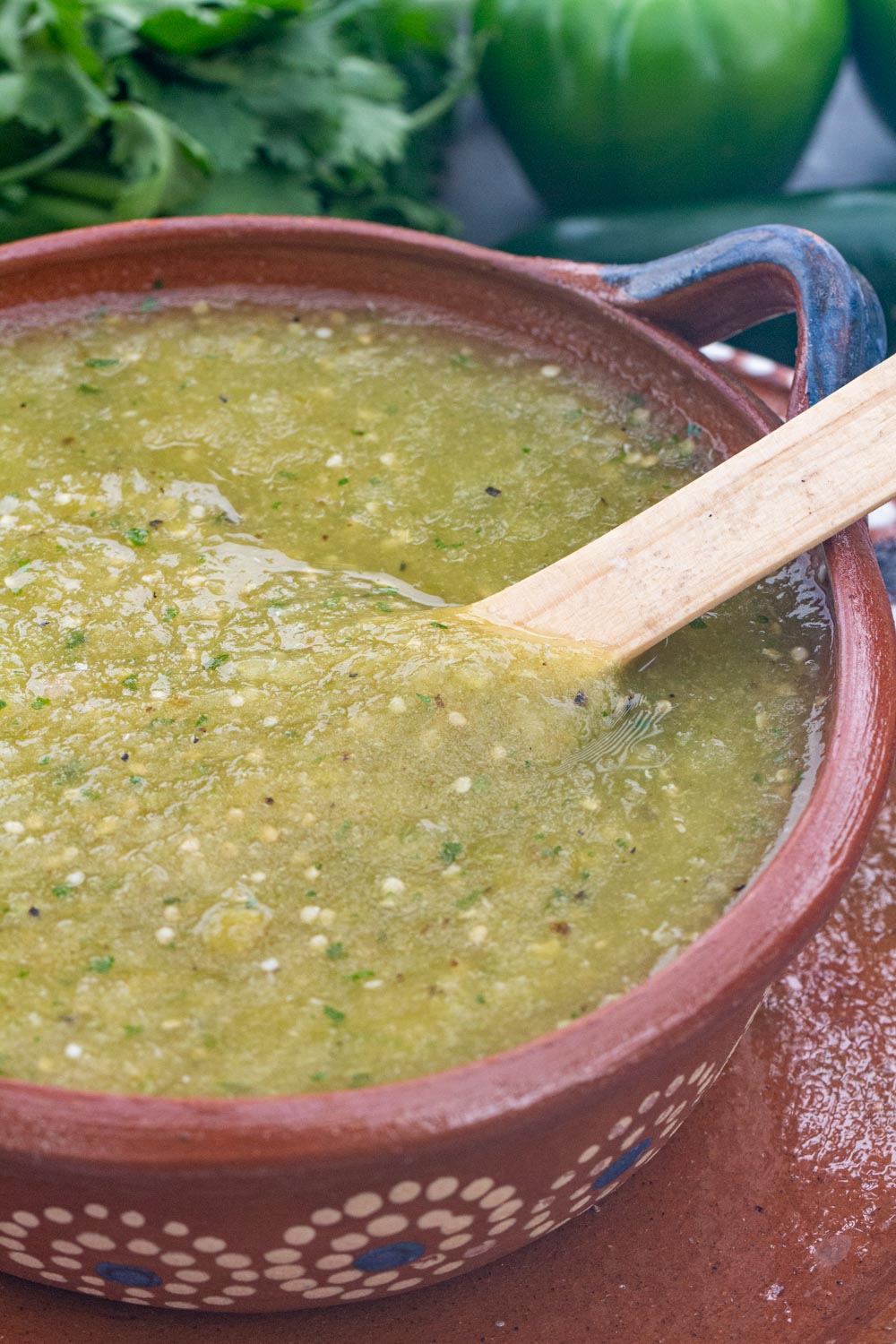 Yield:

1 quart
Green Enchilada Sauce Recipe
Additional Time:
5 minutes
This homemade green enchilada sauce is made with tangy tomatillos, garlic, and fresh herbs roasted to perfection and blended to a smooth puree. It's the traditional sauce for green enchiladas with roasted chicken or tex mex simmered ground beef.
Ingredients
12 large tomatillos, (should be 2 pounds before roasting)
1/2 onion, cut into pieces as shown in the photos
1 jalapeno pepper, quartered
1 garlic clove
1 t. kosher salt
2-inch bunch of cilantro (about 2 T. chopped) *optional see notes*
Instructions
Preheat the oven to 425 degrees.
Tear the paper husk off all of the tomatillos and discard the husk. Wash the tomatillos as they will be sticky. Take the white onion and cut it into 4 pieces. For the jalapeno, cut off the step and then quarter the jalapeno as shown in the photos.
On a cookie sheet, place the tomatillos, onion, and jalapeno pepper. Place in the oven at 425 degrees for 20 to 30 min. The vegetables should be roasted and soft. (See photo for more.)
Remove the roasted vegetables and cool, about 10 minutes. Transfer all of the vegetables to a blender. Add 1 chopped garlic clove, and the salt. Blend on high for 1 minute or until smooth. Add in the fresh chopped cilantro and blend well into the sauce. (This is optional for people who don't enjoy cilantro.)
Taste for seasoning and add additional salt if you like.
Store in Tupperware in the refrigerator until ready to use. The sauce will stay fresh for 5 days in the refrigerator and can also be frozen for 2 months. It's enough to make 1 large batch of our chicken or beef green enchiladas, which can be found on the blog.
Notes
The 2-inch bunch of cilantro adds green flecks of color for beauty and extra flavor. It can be removed for those who don't enjoy cilantro. You could also experiment with using a few pieces of fresh spinach to achieve the beautiful little flecks.
Nutrition Information:
Yield:
6
Serving Size:
1
Amount Per Serving:
Calories:

28
Total Fat:

1g
Saturated Fat:

0g
Trans Fat:

0g
Unsaturated Fat:

0g
Cholesterol:

0mg
Sodium:

213mg
Carbohydrates:

5g
Fiber:

2g
Sugar:

3g
Protein:

1g
This nutritional information is provided as a courtesy as an estimate only. Consult with a dietician for precise estimates. This website makes no claims that the nutritional values listed are accurate.