This award-winning smoked baked beans recipe was given to me by the wife of an uber-famous pitmaster who came to my book signing near Lake Austin and traded secrets with me all night long!!
Now, I can't seem to start the pellet smoker without preparing this perfect side dish, full of rich smoky flavor, so today I'm sharing the dang thing! Get ready for a barbecue side dish that friends will beg you to make over and over again.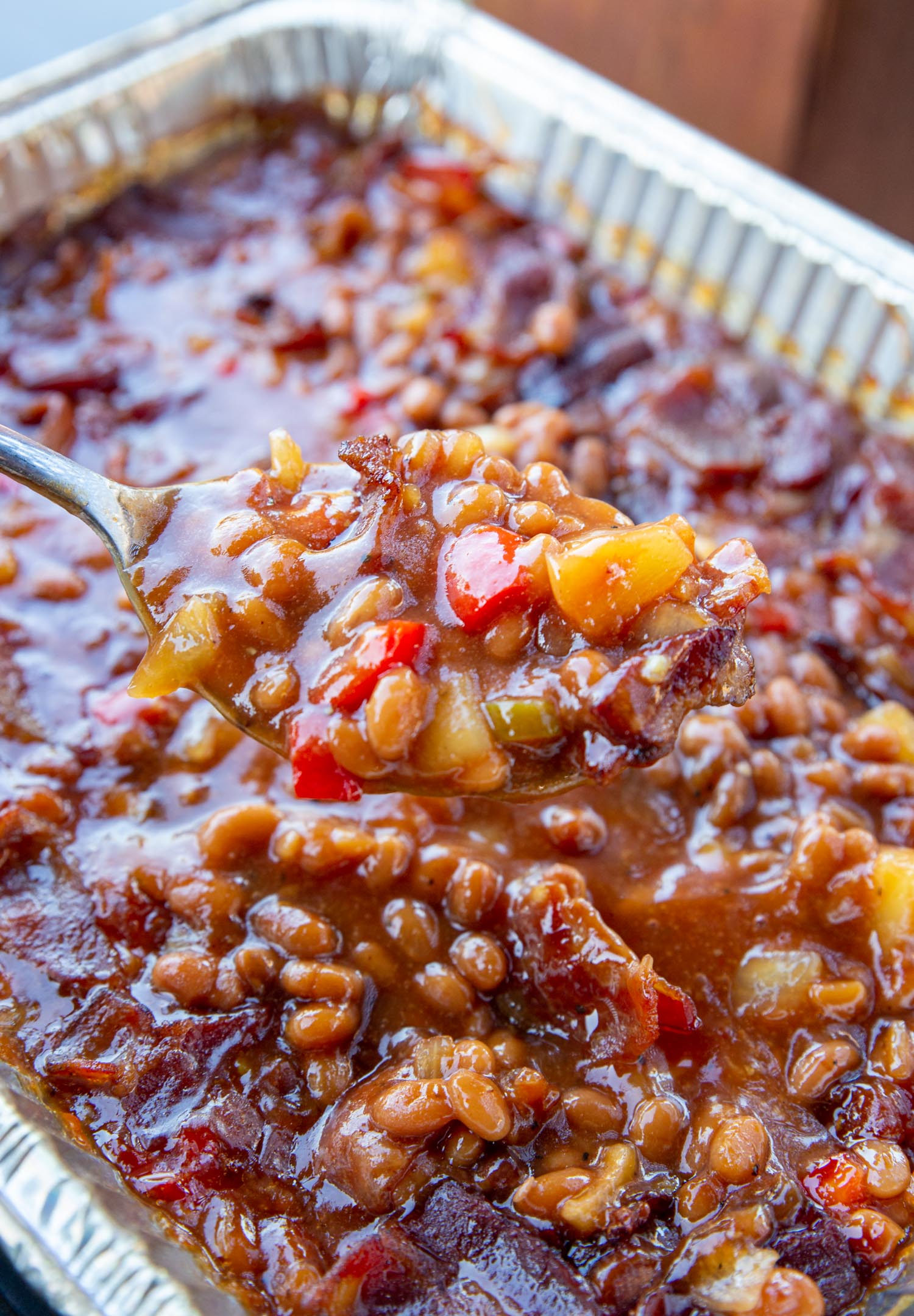 While this classic recipe may seem like simple ingredients, it's the secret ingredient that really makes it stand out among other bbq bean recipes–pineapple, which adds sweetness while melting into this lovely mixture of sweet and spicy goodness, is balanced with jalapeno peppers for a complex side dish with sass.
If a little bit of spice isn't your thing, just remove the seeds and ribs of the jalapeno, leaving great flavor with very little heat.
Table of Contents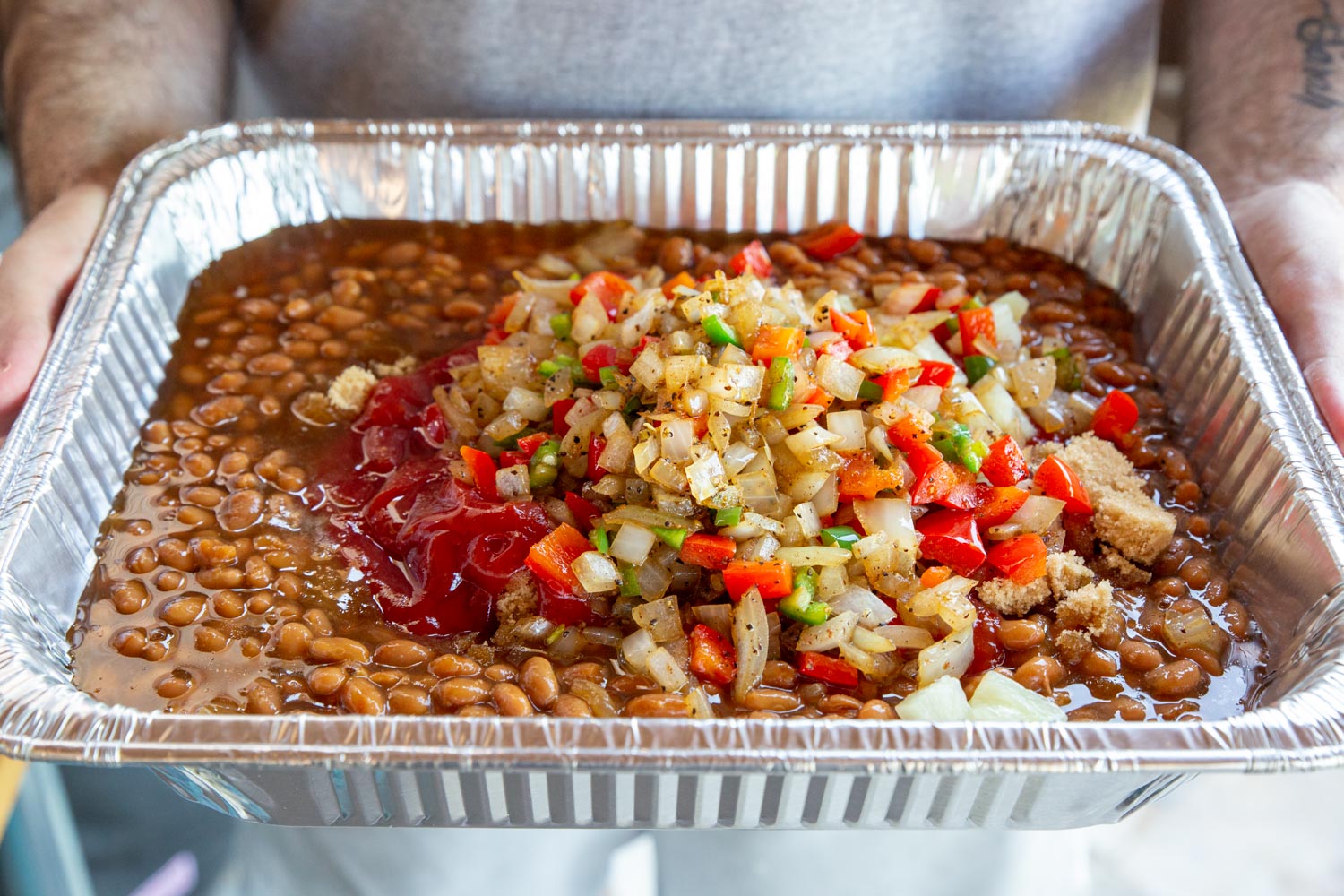 How to Smoke Beans
We start out with chunks of bacon, sliced into squares, cooked just enough to begin crisping up. We want the bacon to go on top of the beans crispy while utilizing all of the rich flavor in the bacon fat to saute our veggies.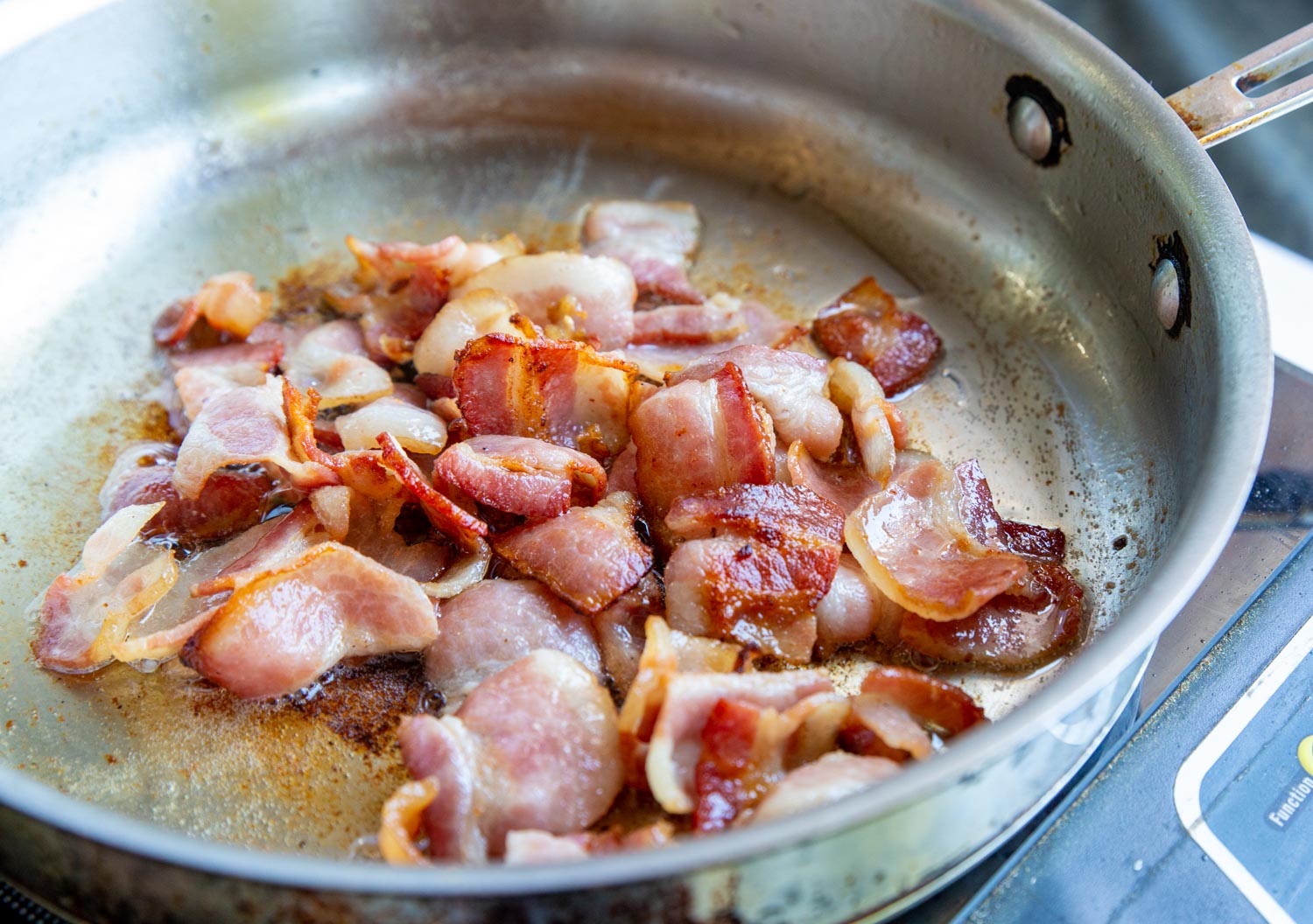 I start my pellet grill and fill it with wood chips while cooking the smoked bacon. If you are using an electric smoker you should do that as well so that you have plenty of time to warm up the smoker.
What Wood is Used to Smoke Beans?
The type of wood I choose is usually based on whatever else I am smoking but if it's beef brisket I will be using live oak, hickory or pecan. If I'm smoking a pork butt it's usually cherry wood. This recipe is such an easy side dish because it's versatile.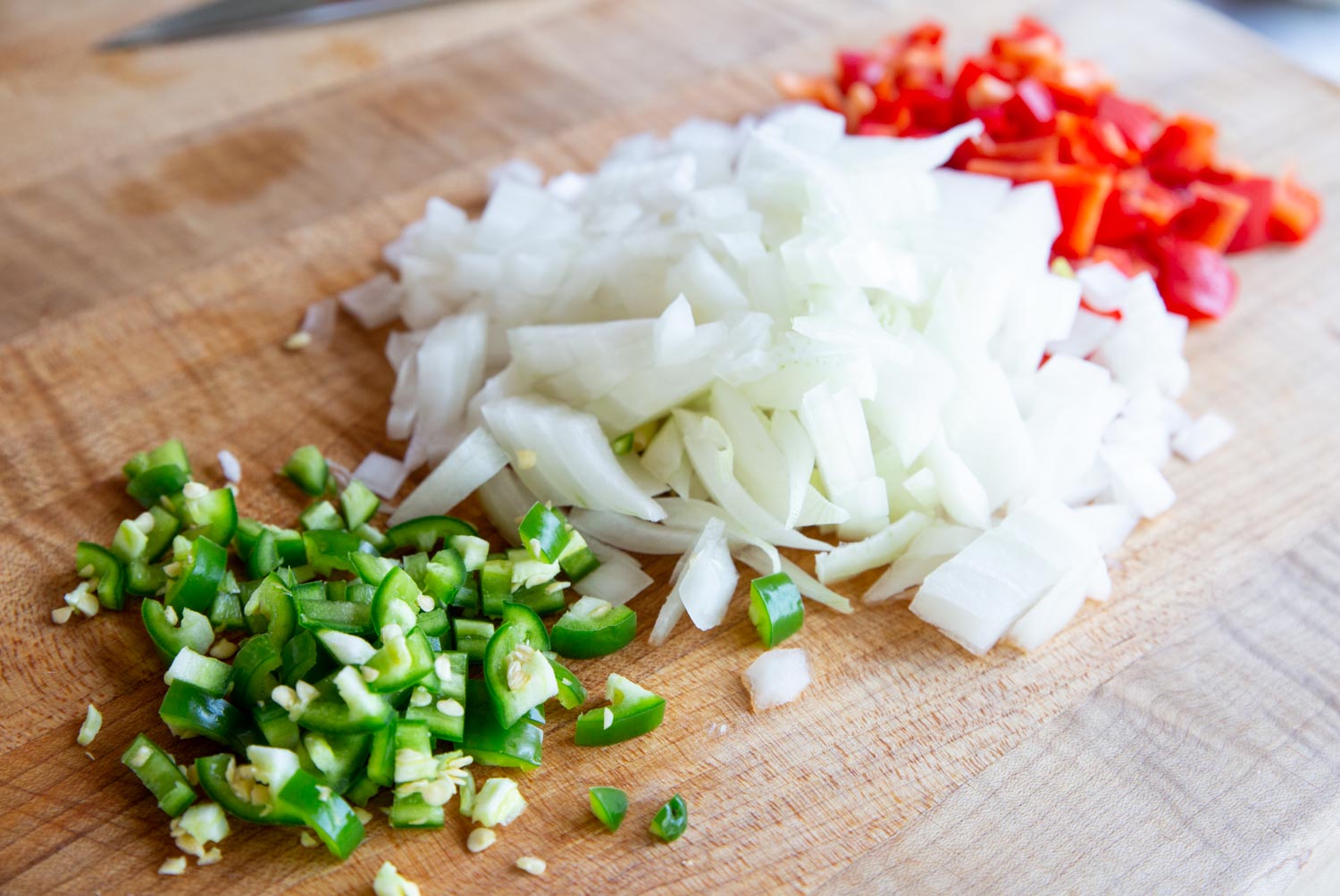 How To Make Easy Baked Beans
This is one of the best side dishes because it's so easy–it's really just a can of baked beans loaded full of ingredients you probably already have in your pantry. Since dry beans are a long process, we love this recipe for its speed and flexibility.
This dish is made with ketchup, brown sugar, and yellow mustard powder, which are classic bbq sauce ingredients so it's semi-homemade without going overboard.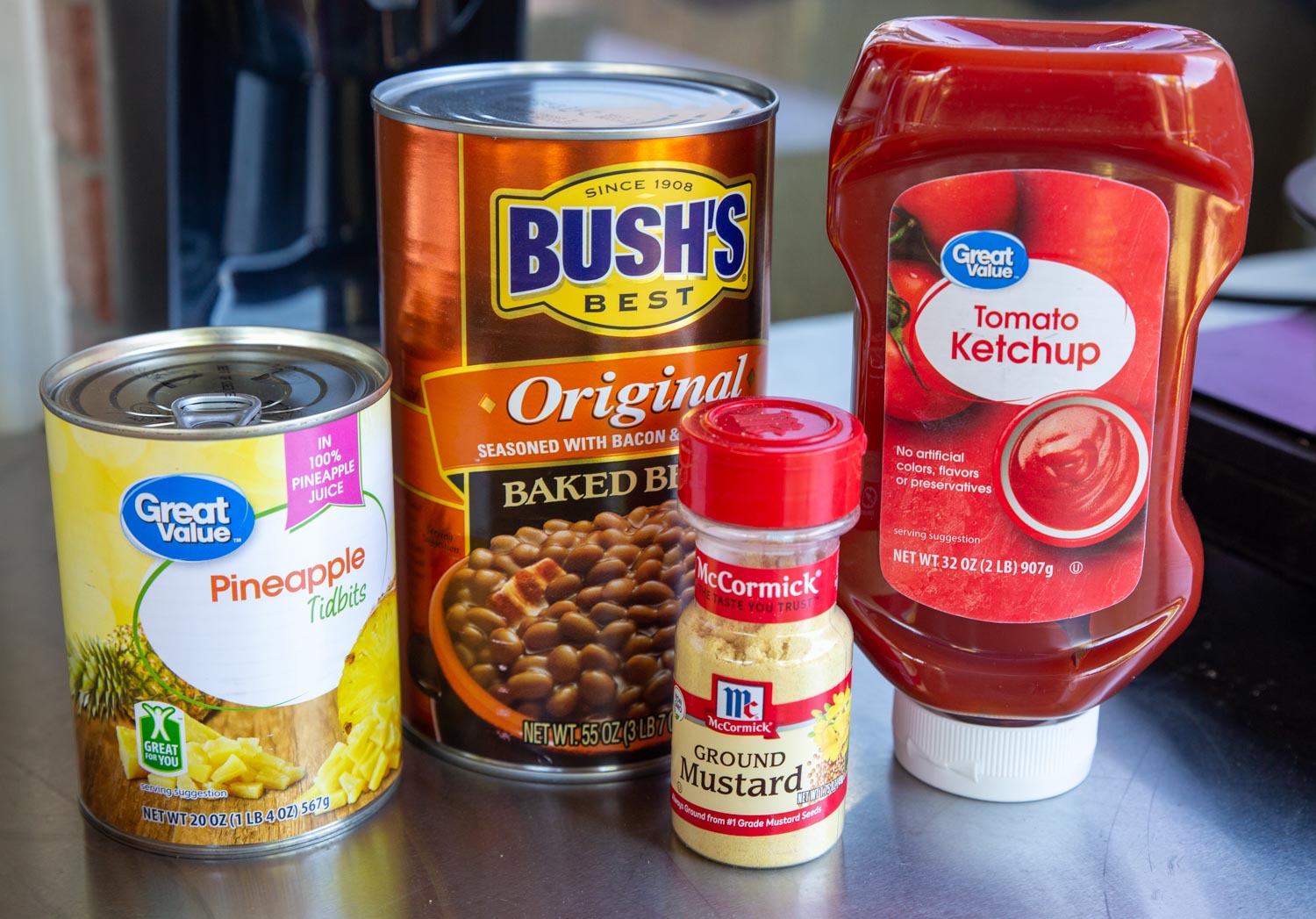 How To Make Baked Beans a Main Dish
Sweet barbecue baked beans are practically a main dish in themselves, but the classic addition of seared hot dogs (aka frank and beans) started sometime around the civil war. We like to add 5 sliced hot dogs, seared well in a large cast iron skillet to the beans to make them more substantial.
Also, leftover chopped brisket and smoked pork butt are a perfect addition to the bean mixture if you plan on serving it for dinner.
What Can I Add To Canned Beans For Flavor?
Along with the bacon, jalapeno, brown sugar, ketchup, and pineapple in this recipe, I recommend experimenting with adding apple cider vinegar, maple syrup, barbecue sauce, garlic, red onion, Worcestershire sauce, or a teaspoon of liquid smoke to canned beans for a quick zip of flavor.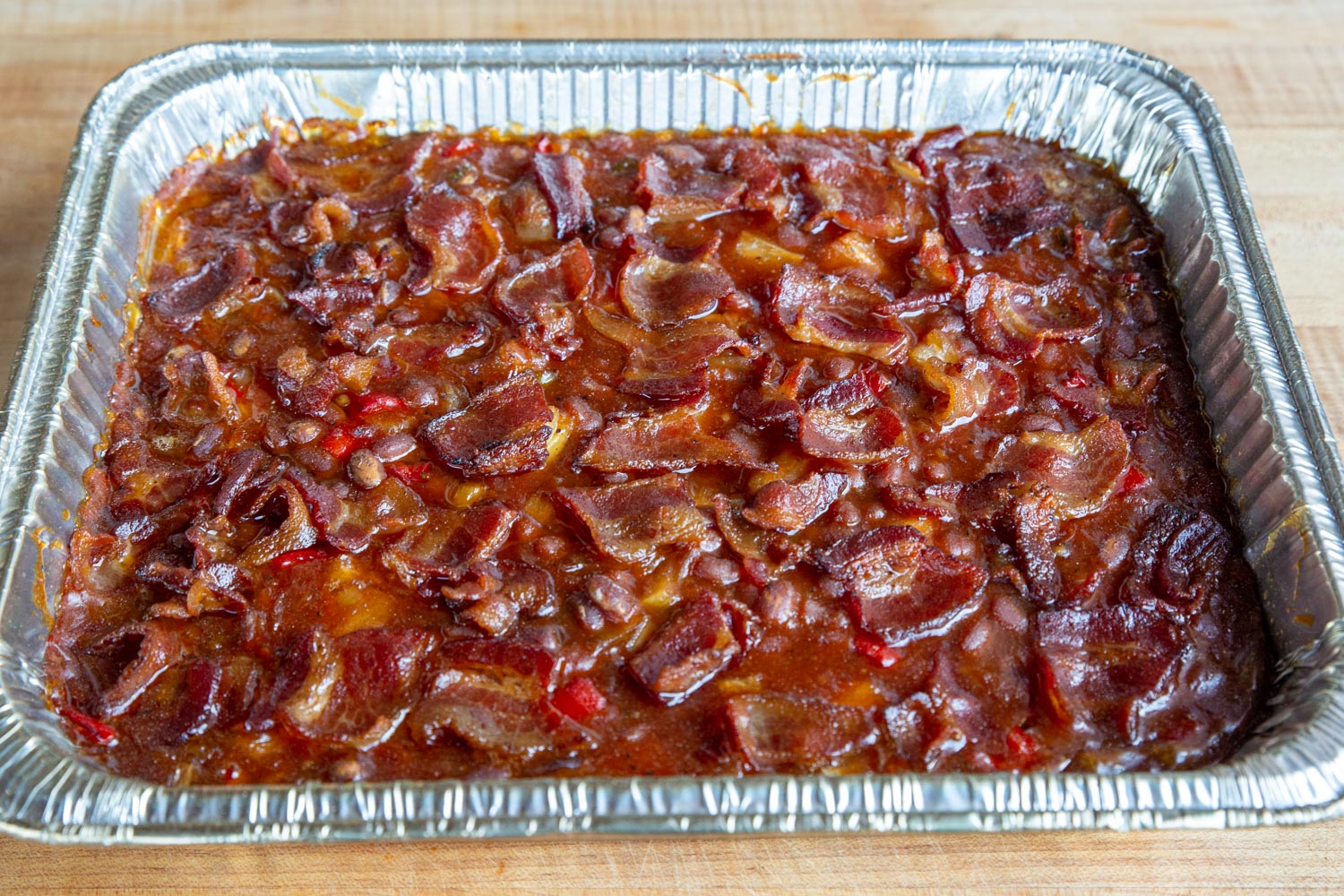 What Goes With Baked Beans?
Baked beans are a great cookout side dish and go with everything you cook outside! Baked beans go with hotdogs and hamburgers, pulled pork, barbecue sandwiches, smoked brisket, barbecue ribs, pork belly, and sausage just to name a few.
Here are some of our favorite recipes with savory flavors to pair with sweet bbq beans.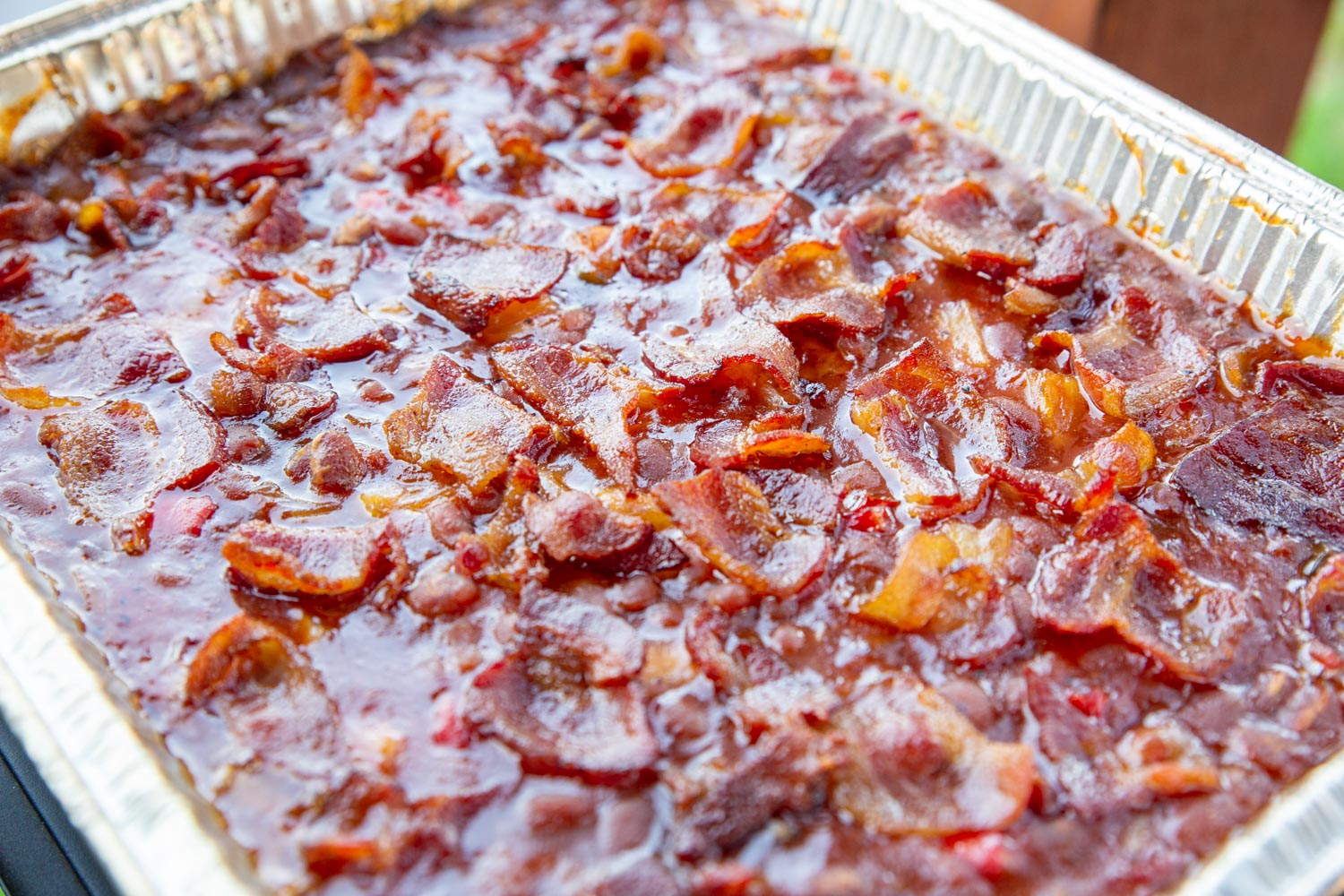 Yield:

2.5 quarts
Award-Winning Smoked Baked Beans Recipe
Total Time:
3 hours
15 minutes
These are the best smoked baked beans recipe ever! Serve them with barbecue and grilled hamburgers and hotdogs, throw them on the smoker and get ready to chow down. With this secret ingredient, there won't be any leftovers!
Ingredients
8 slices of bacon, cut into ½ inch squares
½ cup white onion, small diced
½ red bell pepper, small diced
1 serrano or jalapeno pepper, diced (leave seeds in for spicy)
55oz. can Bush's Baked Beans
8 oz. can pineapple tidbits, drained, but reserve the juice
1 c. brown sugar
1 c. ketchup
½ Tablespoon dry ground mustard (yellow)
Salt and black pepper, to taste
Optional: 1 c. chopped brisket or any other favorite smoked barbecue meat, chopped fine, 5 hotdogs, sliced and seared before adding.
Instructions
In a cast iron skillet or saute pan, pour in the chopped bacon pieces and turn the heat to medium. Saute until the bacon is crispy and remove from the pan with a slotted spoon to a plate lined with a paper towel to drain.
In the same skillet leave the bacon fat and add the diced onion, bell pepper, and jalapeno. Cook for 3-4 minutes or until tender.
In a disposable pan (or this can be made in the cast iron skillet), add the cooked peppers and onions cooked in the bacon grease, the canned baked beans, pineapple chunks, ketchup, brown sugar, and dry mustard.
Stir well incorporating all of the ingredients, if it needs thinning add the reserved pineapple juice.
Place the cooked bacon squares on top of the baked beans.
Smoke the beans at 225° to 250° for 2 ½ to 3 hours over indirect heat. (This recipe can also be made by baking in a 350° oven for 1 hour.)
Notes
If adding the optional meat, add with the other ingredients before placing the bacon on top. Then place in the barbecue smoker.
I love this recipe with 1 serrano pepper which is a more consistent heat than jalapeno peppers. The ribs and seeds can be removed for less spice.
Nutrition Information:
Yield:
15
Serving Size:
1
Amount Per Serving:
Calories:

346
Total Fat:

12g
Saturated Fat:

4g
Trans Fat:

0g
Unsaturated Fat:

6g
Cholesterol:

44mg
Sodium:

926mg
Carbohydrates:

46g
Fiber:

5g
Sugar:

29g
Protein:

18g
This nutritional information is provided as a courtesy as an estimate only. Consult with a dietician for precise estimates. This website makes no claims that the nutritional values listed are accurate.