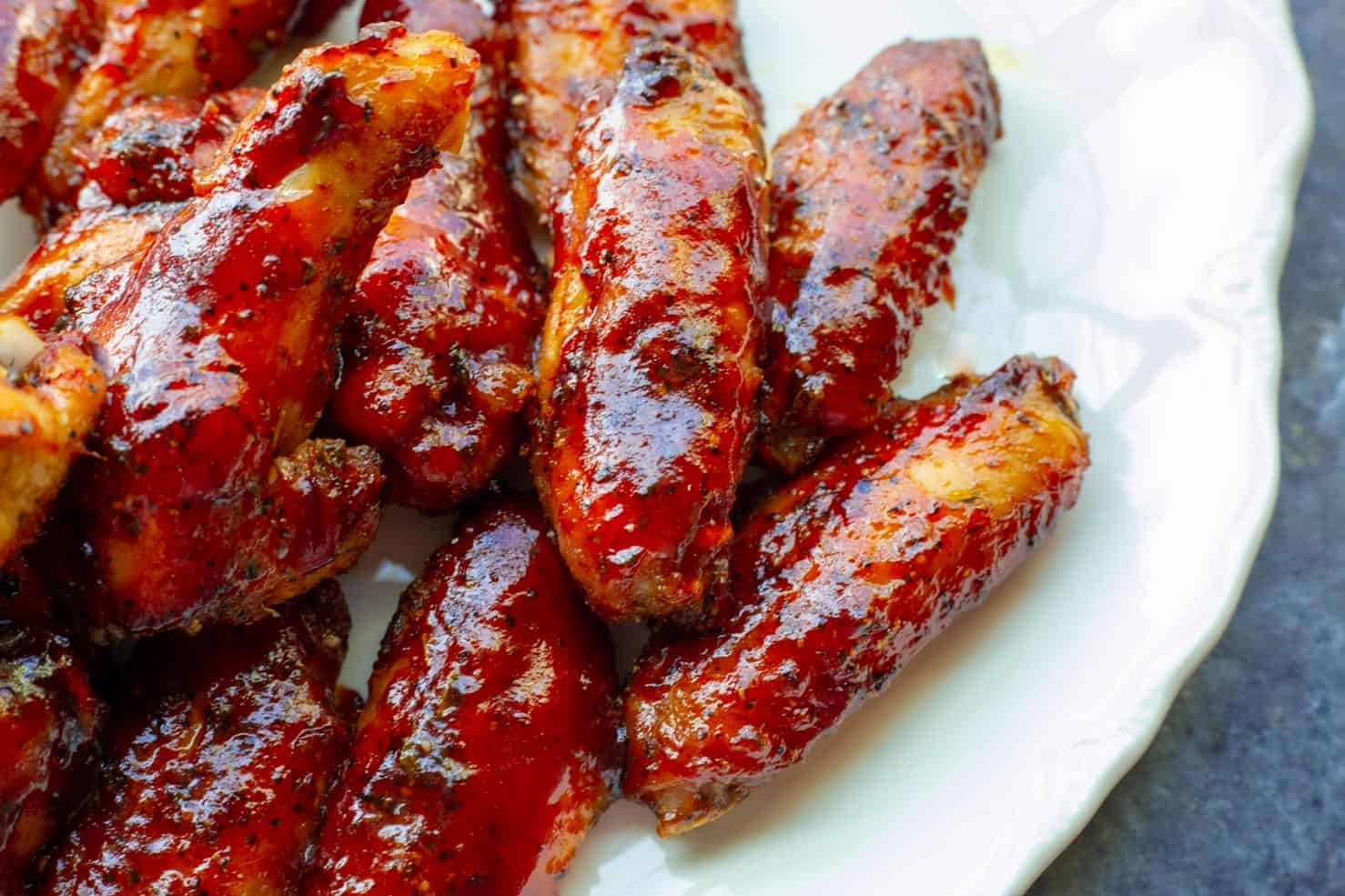 (Links are affiliate links to products we think are helpful and we may receive a small commission, at no cost to you, if purchased.)
Barbecue Season is here and I. AM. EXCITED! I have been making these Strawberry Barbecue Wings for over a decade and today I am sharing this super simple, authentic Texas recipe with you! All you need is a barbecue smoker, a couple of friends, and chilly evening. 🙂
I made this recipe on Instagram live right here, and the comments really blew up. I'm guessing you are about as excited as I am to get those hoodies on and get the smoke rollin!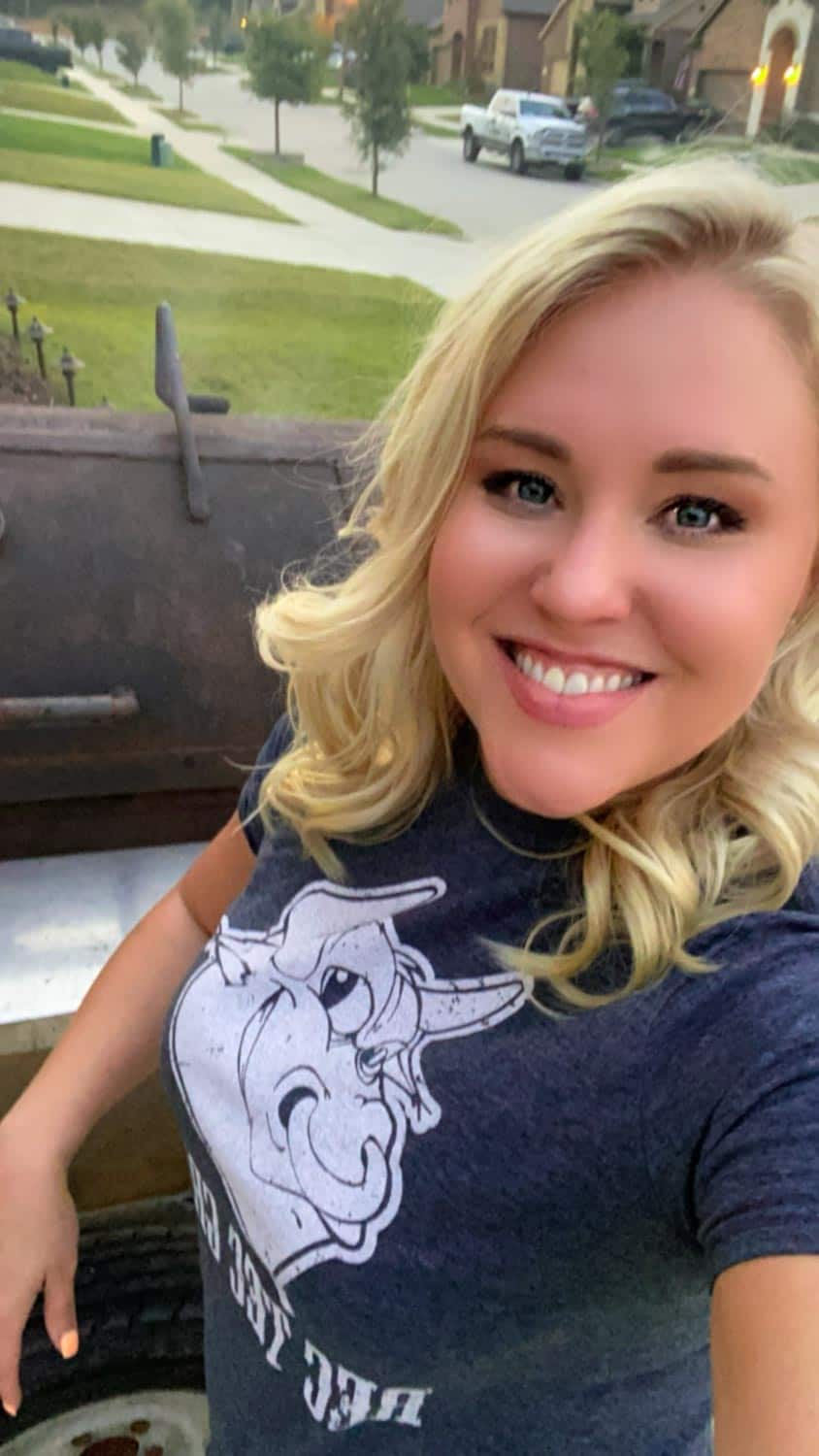 How to Prepare Chicken Wings for the Barbecue Smoker
When purchasing my chicken wings I like a mix of drumettes and wings. You can make this recipe with either type of wing, though I find that kids prefer drumettes if you are cooking for the family.
I shop around to find stores that have the meatiest wing. I always buy fresh chicken as frozen wings, in my experience, don't have as much meat on them. This obviously will vary according to where you live in the world and the grocery stores you shop at.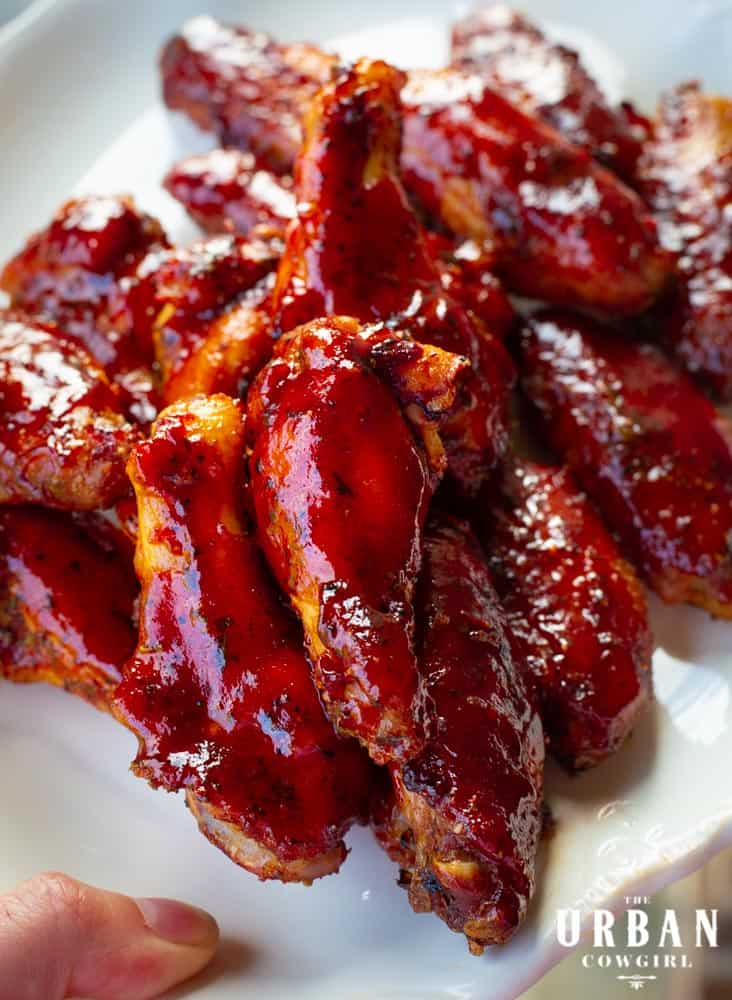 I first give the wings a good rinse and then pat dry with paper towels. Then I place them into a bowl or disposable barbecue pan.
I use several generous squirts of yellow mustard to use as a glue for binding my rub to the wings. The final taste doesn't really taste anything like mustard, it just gives the barbecue rub some sticking power.
Then I will coat liberally in my favorite barbecue rubs. For this recipe, I am using Sucklebuster's Clucker Dust available here. This is a good all-purpose chicken rub that is deliciously tasty and minimal on the heat. (I have tiny Texans that don't like hot rubs.)
I also LOVE Meat Church's Honey Hog Rub, and Harry Soo's Jailbird Chicken Rub. If you are into a little spice, all of these super-premium rub makers offer spicy blends which you can find by searching on Amazon.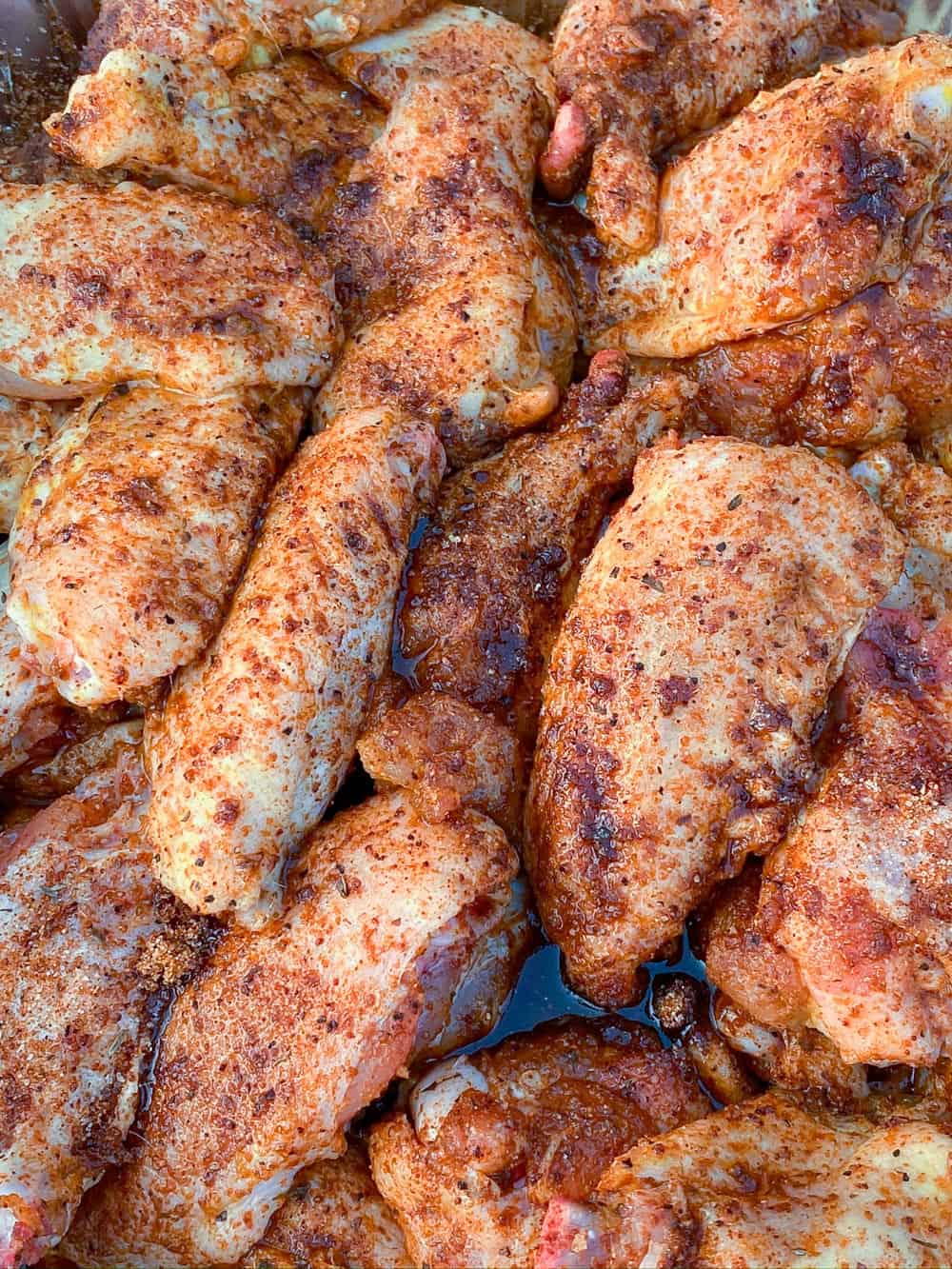 Toss the chicken well in rub and coat it all over. I like to chill this in the refrigerator for 2-3 hours, or overnight if I'm planning ahead. It's not absolutely necessary but it will season the chicken meat more deeply if you have the time.
How to Smoke Chicken Wings on a Barbecue Pit
Next, bring the smoker to 225-250 degrees. Place the chicken wings on clean grates and close the pit.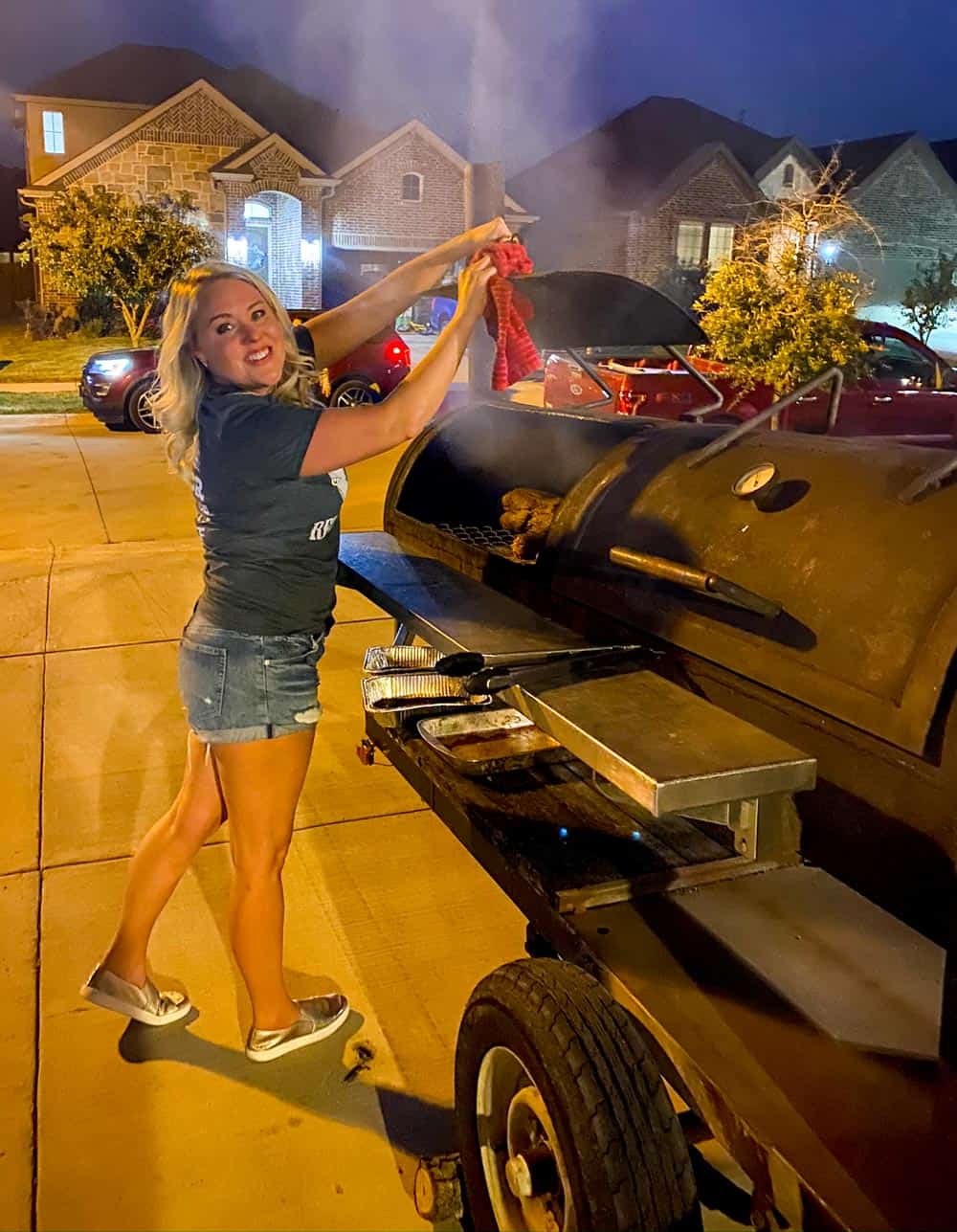 I smoke my wings for 1.5 – 2 hours before checking them, and perhaps longer if there is lots of other meat on the pit, or if the temperature of the pit has dropped while placing other items on. Then, at 155 degrees we will sauce the wings with a brush and continue cooking them fully by bringing them up to 165 degrees.
How To Check the Chicken Wings for Temperature
You'll need a probe thermometer to check the internal temperature of the chicken wings. I use this one from Lavatools and its held up very well. With meat thermometers, I find you get what you pay for so I try to buy it for life.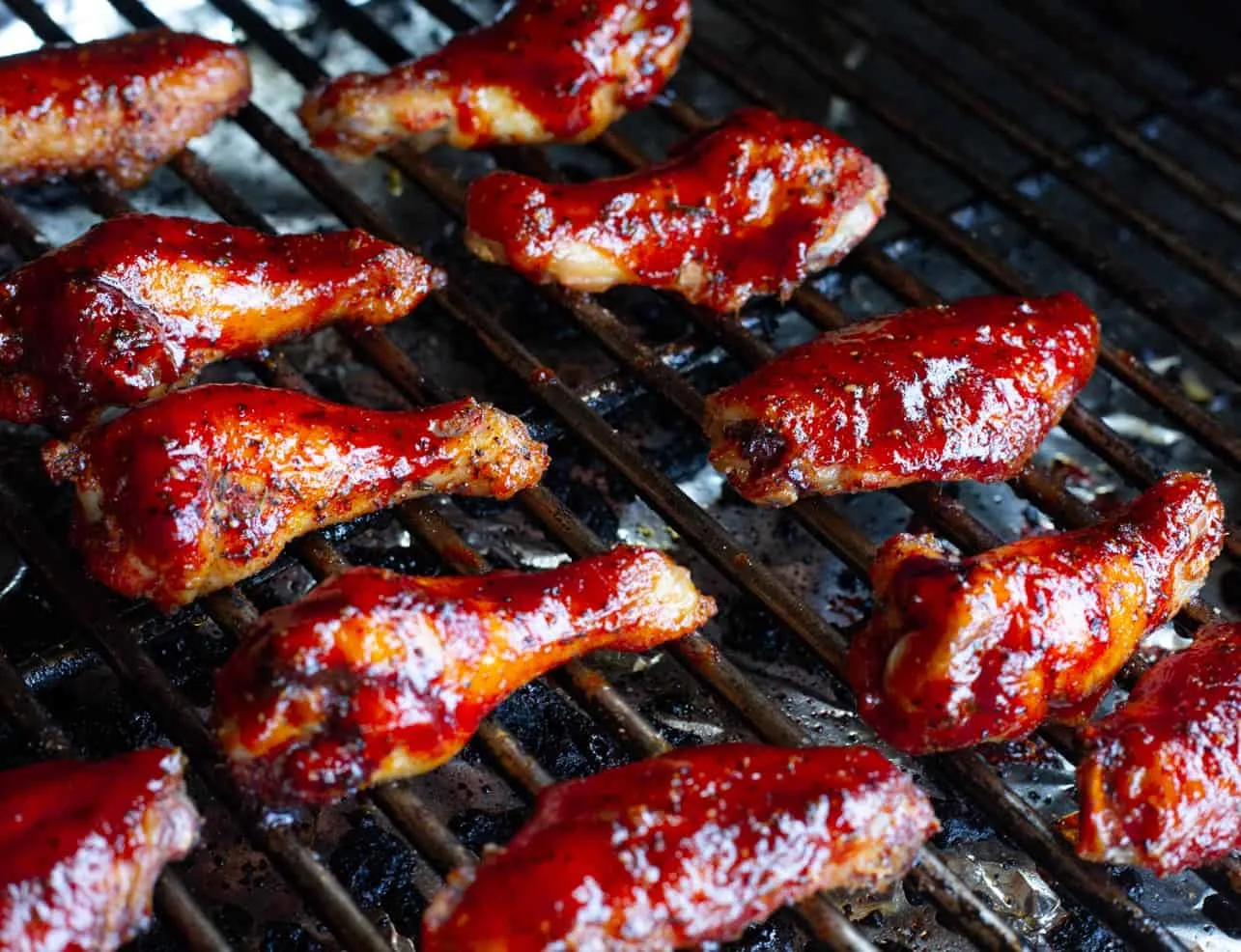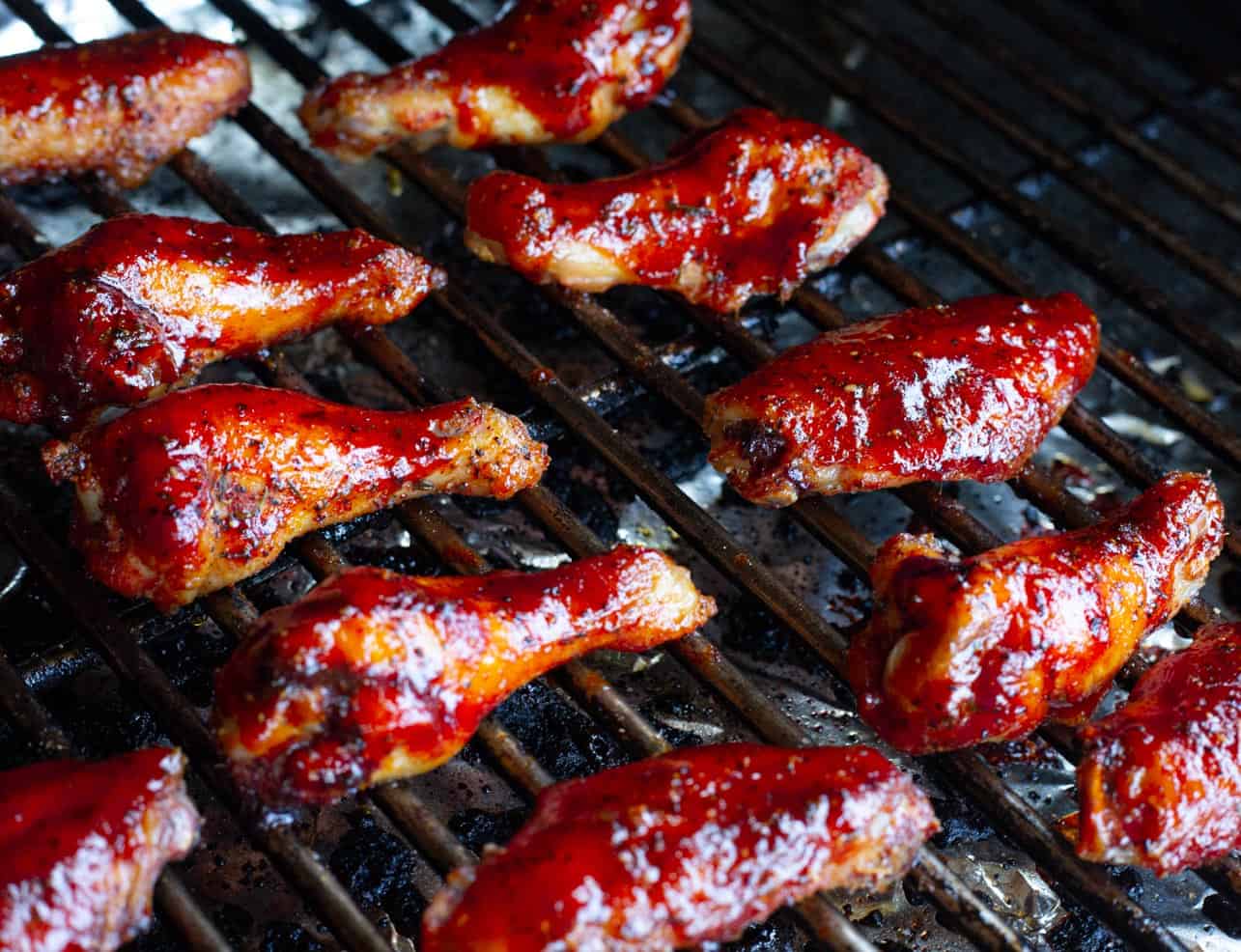 To get an accurate reading for chicken wings insert the thermometer into several wings to confirm your reading. Since the smoker is hotter the closer it is to the firebox, wings further away may not be ready yet.
Try to probe in the meat of the chicken without hitting the bone. In all bone-in meats, the bone heats up faster and hotter than the meat surrounding it, so when the thermometer touches the bone, you receive an inaccurate reading that is much hotter than the meat surrounding it.
Checking several wings will ensure that you receive a more complete picture of your barbecue efforts and let you make more informed decisions.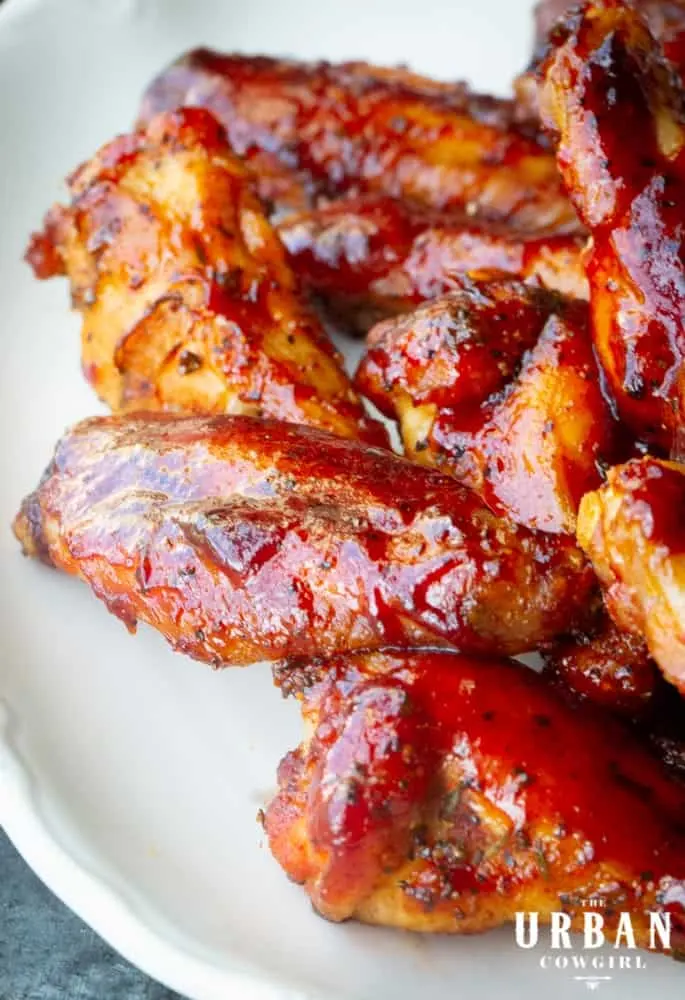 To finish the wings, brush them with my Easy Strawberry Barbecue Sauce recipe which is right here. It's good to let the sauce set into a glaze for 10-15 minutes on the smoker. You can even give it a double coat of sauce if you like.
The chicken wings are ready when they are at least 165 degrees, but I find you can smoke chicken wings up to 180 degrees and they are still moist and delicious. (So, if you overshoot your target temperature, don't worry about it!)
Yield:

2.5-3lbs wings
Strawberry Barbecue Wings
Total Time:
3 hours
10 minutes
The smoked strawberry barbecue wings are a sweet, smoky, and delicious treat for your next barbecue or tailgate!
Ingredients
2.5-3 lbs. chicken wings or drumettes
2-3 squirts of yellow mustard to coat the wings
1/3 c. of your favorite rub, I used Sucklebuster's Clucker Dust
1 batch of Easy Strawberry Barbecue Sauce, linked below.
Instructions
Wash the chicken wings and dry well with a paper towel. Add the wings to a large bowl, and toss well with yellow mustard to use as a binder. Sprinkle rubs liberally on the chicken, tossing well. You may need additional rub depending on how many wings you have prepared.
Heat your smoker to 225-250 degrees. Place the wings on the smoker and close.
After 1.5-2 hrs, check the wings. Internal temperature should be approaching 140-165 degrees depending on your particular smoker.
When the wings are about 160 degrees, coat well with the strawberry barbecue sauce.
Let the wings continue to cook until the sauce is set, and the internal temperature reaches 165 degrees.
(Chicken wings can continue to cook to 180 degrees and still be very tender. I prefer to sauce the wings right before pulling them off the smoker so that the sauce does not absorb smoke, which can make the coating taste bitter.)