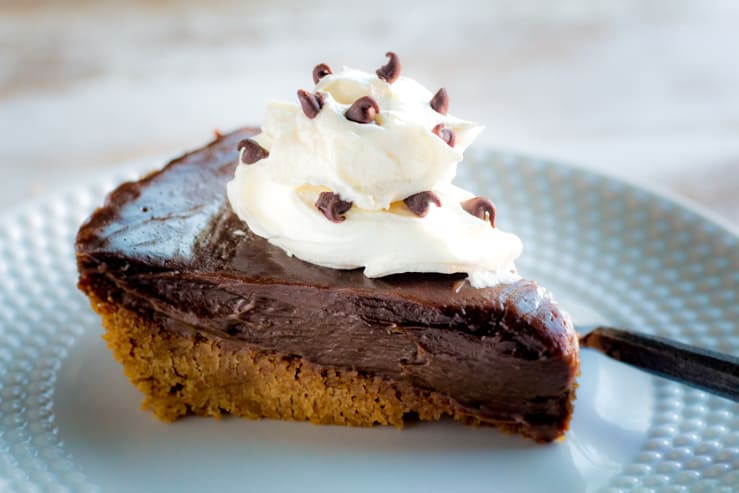 This Mexican Chocolate Pie is so dense and luscious it will have you rethinking using Grandma's recipe for your next get together! Which just a couple simple ingredients, this chocolate pie is a stress-free option for bake sales and potlucks.
We're all about the Mexican Chocolate for this gorgeous dessert. Mexican chocolate infused with canela, a delicate candy-like cinnamon, will blow your chocolate loving socks off!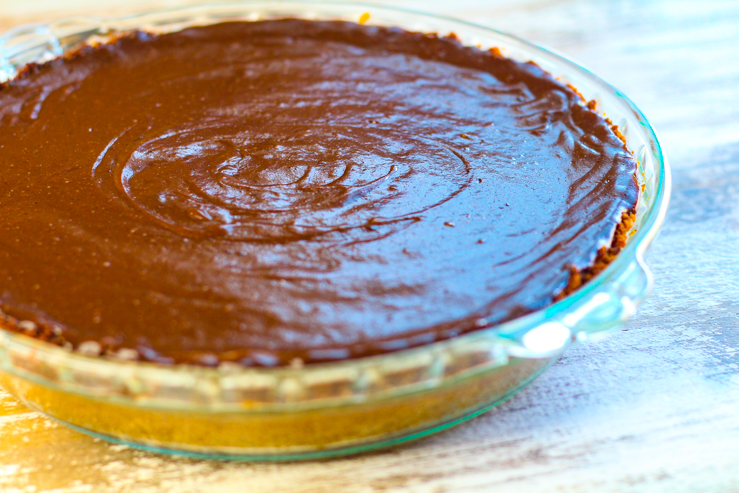 Mexican Chocolate comes in many delicious brands! Taza Chocolate is an artisanal brand I found at whole foods, and the video below features the classic brand, Ibarra. Use what you like! Milk Chocolate is my favorite for this recipe. As you will notice, Mexican chocolate always comes in wheels….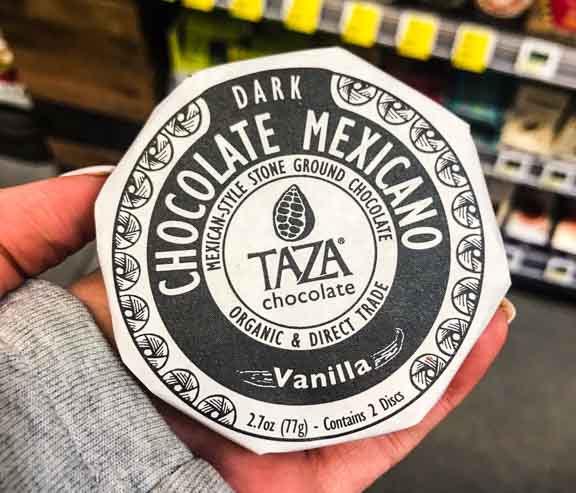 ---
Here is an easy to follow and super brief video that will walk you through the recipe…
Here is the Mexican Chocolate Pie Recipe!
Yield:

10 slices
Mexican Chocolate Pie with Coconut Cream Recipe
Inactive Time:
4 hours
3 seconds
Total Time:
4 hours
38 minutes
3 seconds
Chocolate pie is great-- but mexican chocolate pie brings more to the party! Scented with the fragrance of mexican cinnamon, this pie recipe is rich, chocolaty, and decadent with a unique twist! For a lightly whipped topping, we serve ours with simple coconut cream. Substitute traditional whipped cream or cool whip if you'd like to skip this step.
Ingredients
Crust:
2 cups graham crackers
3 T. sugar
1/3 c. butter
Filling:
3 c. whole milk
4 T. cornstarch
1 1/3 c. sugar
4 egg yolks
2 t. good vanilla extract
1/4 t. salt
6 oz. mexican chocolate (should be one large tablet or 3 smaller tablets, this depends on the brand used)
2 T. butter
good pinch of cinnamon
Coconut Cream:
2 cans coconut cream (refrigerated 10 hours)
3 T powdered sugar
pinch salt
Instructions
Preheat your oven to 375 degrees.
In a large glass bowl, melt butter in the microwave just until liquid. Remove and add sugar and crushed graham cracker crumbs. Stir with a fork to combine.
Press into a 9-inch pie pan. Bake 6-8 minutes, until golden brown. Remove from the oven and leave on the countertop to cool while you prepare the filling.
For the filling: Chop the mexican chocolate into "shards" with a sharp knife and reserve.
Into a saucepan, add the milk, sugar, cornstarch, and eggs and mix well with a whisk. Bring to a low simmer, whisking constantly to prevent lumps.
As it begins to thicken and approach the consistency of pudding, add vanilla, salt, and stir in the mexican chocolate. Whisk until the chocolate melts into the mixture.
Stir in the butter and extra cinnamon. Stir well, taste for seasoning. (If it needs to be thicker you can continue cooking on low.) Remove from heat, cool 10 minutes, and pour into the pie crust.
Transfer the pie to a refrigerator to chill for several hours. When ready to serve, top with coconut cream and sprinkle on chocolate chips.
For the coconut cream: Remove the chilled can of coconut milk from the refrigerator and open gently. In a medium bowl spoon the coconut butter off of the top and into your bowl. The coconut butter will have separated from the coconut water and will be floating on the top. Scoop only the butter into the bowl, avoiding the water as much as possible.
Beat the coconut butter with electric beaters for about a minute just until it starts to look like thin whipped cream. Sprinkle in the sugar and continue beating until it gets thick. It is done when it looks like fluffy whipped cream. Refrigerate until chilled and serve atop pie slices.
Nutrition Information:
Yield:
10
Serving Size:
1
Amount Per Serving:
Calories:

498
Total Fat:

22g
Saturated Fat:

14g
Trans Fat:

0g
Unsaturated Fat:

7g
Cholesterol:

107mg
Sodium:

289mg
Carbohydrates:

69g
Fiber:

2g
Sugar:

55g
Protein:

6g
These nutritional values are an estimate only and provided as a courtesy. Different brands of ingredients may result in different calorie counts, and the software does not account for these differences. Consult with your dietician or doctor for precise nutritional values.