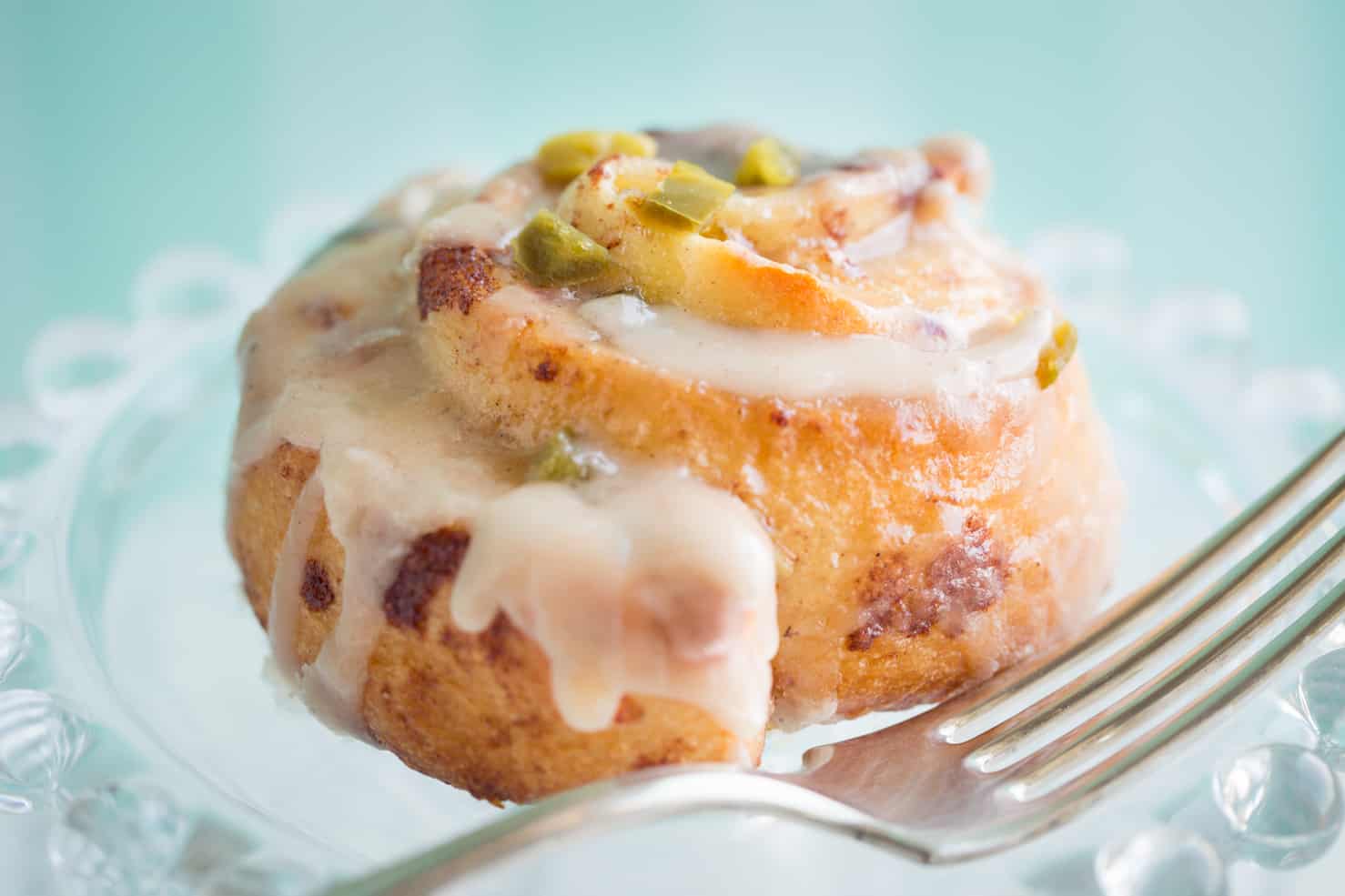 So, I know you heard me on Kid Kraddick Morning Show talking about my Jalapeno Cinnamon Rolls Recipe, right? 🙂
Well great, cause today I decided it's time to share this Tex-a-fide recipe with the world.
First off (cause I know you're think it)— No, they aren't spicy. They are insanely delicious and wonderfully peculiar, with little knobs of tiny pickled jalapeno, drowned in brown butter frosting. It's what we serve at outdoor festivals, the state fair, Christmas morning, bbq joints for breakfast, brunch on the riverwalk, just about any time you feel like livin out your Texas pride.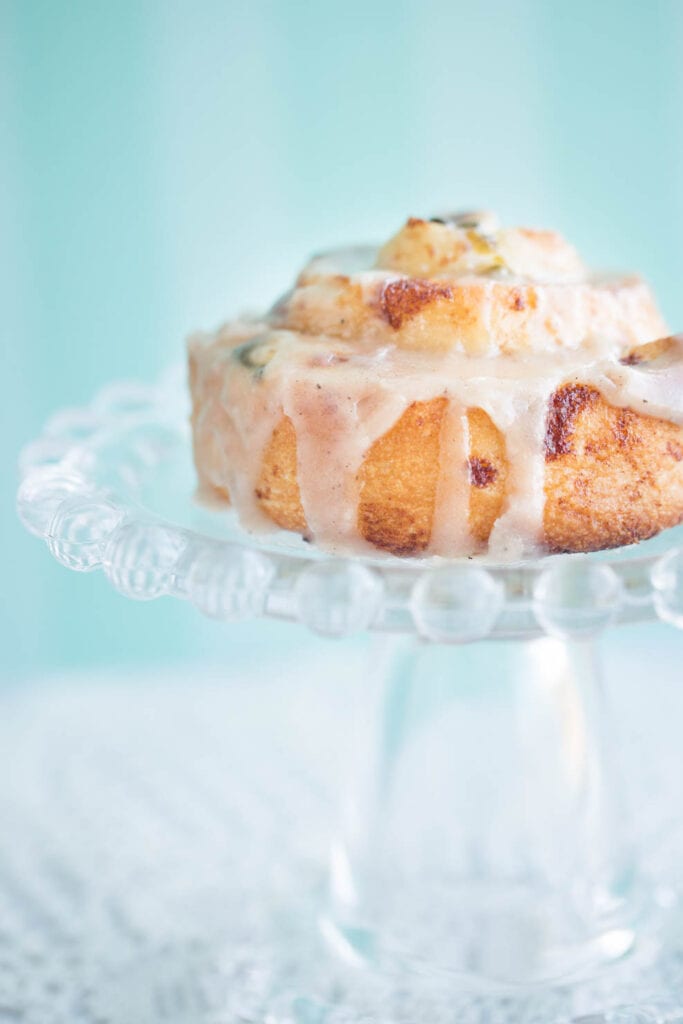 No, I did not invent them. I don't know how that rumor got started. But I wish I had!!!
Jalapeno Cinnamon Rolls have been around the Fort Worth Stockyards since I was in my early twenties, and probably much longer, but I will show you how to make them in this handy dandy Youtube video…
Jalapeno Cinnamon Roll Dough needs a double rise, and this is about how large they should be before baking. These are best started the night before so you can allow plenty of time for your rise. (This also makes it more convenient in the morning, just bake and eat.)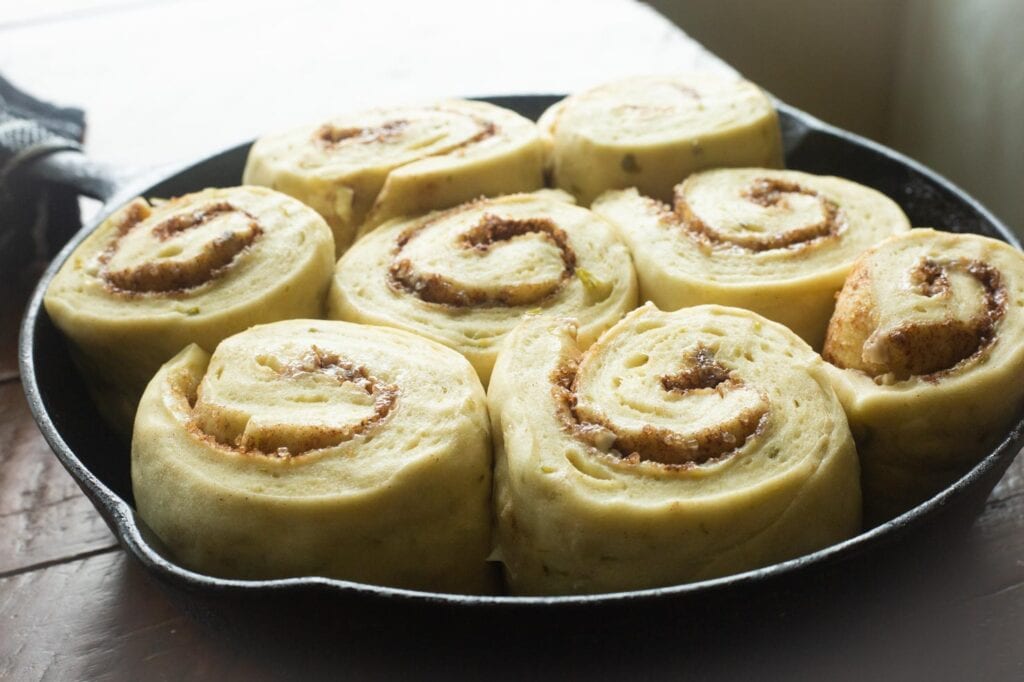 The brown butter frosting is my signature addition to this iconic dish. The butter is browned in a pan before it's made into icing and DEAR GOD ALMIGHTY, YOU'RE GONNA DIG IT. (Yes, you can do this with all your icing recipes.)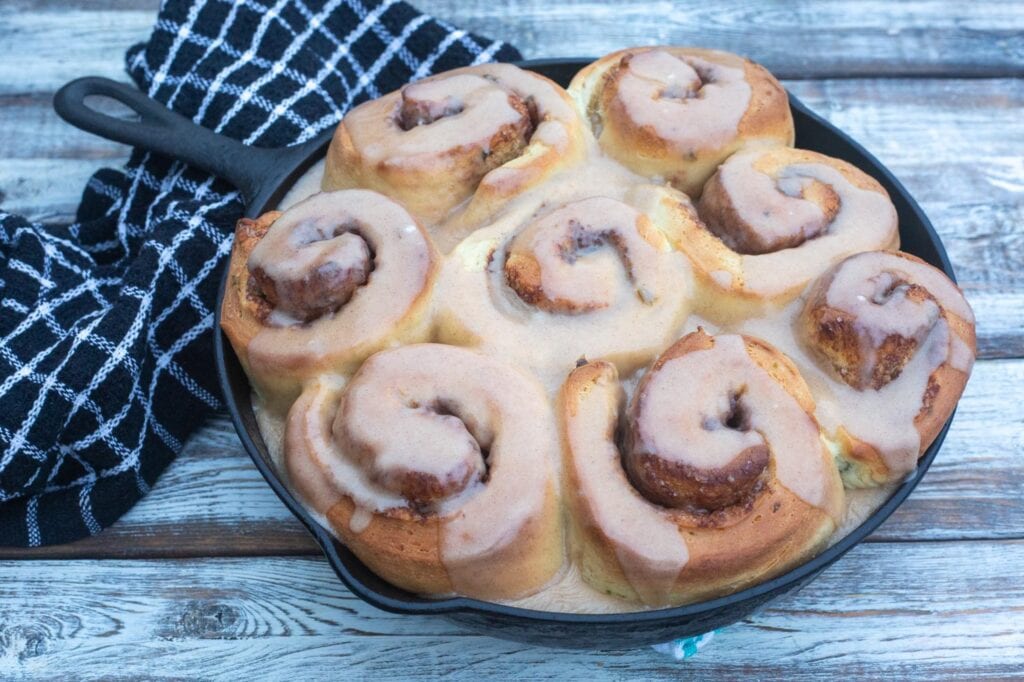 Jalapeno Cinnamon Rolls are a fantastic surprise for out of town guests waking up in the Lonestar state, or if you're the one far from home, reconnecting with your favorite place! I hope you love the recipe…
Interested in more iconic Texas recipes? Make sure to check out my recipes for the famous Torchy's Green Chile Queso Dip here, and the Torchy's Guacamole here.
I also have recipes for Candlelite Inn Guacamole Salads, Galveston Shrimp Kisses, Houston Rodeo Blue Ribbon Potato Salad, and Texas State Fair Blue Ribbon Brisket Chili.
If you've been to the Gulf Coast or seen Diner's Drive-In's and Dive's you'll recognize the T-bone Tom's Shark Eggs Recipe, and my 3 part tutorial on Aaron Franklin's Brisket Process here!
Here is the instructions for the…
Jalapeno Cinnamon Rolls Recipe
If you make the recipe, TAG @UrbanCowgirl! We'd love to see! 🙂
Yield:

12 rolls
Jalapeno Cinnamon Rolls Recipe
Inactive Time:
30 minutes
Total Time:
1 hour
5 minutes
These jalapeno cinnamon rolls with brown butter frosting are a classic Texas recipe and my favorite way to share a delicious morning with out of town guests.
Ingredients
Sweet Dough:
1 c. milk
½ c. butter
1 T. instant yeast
½ c. sugar
1 t. salt
1 large egg
¼ c. diced, pickled jalapeno peppers from a jar
4 ½ c. All-purpose Flour
Filling:
1 c. brown sugar
3 T. cinnamon
1/3 c. butter, softened
Icing:
1 stick butter
2 c. powdered sugar
¼ c. milk
1 t. vanilla
1/8 t. kosher salt
Instructions
For the dough, set up your standing mixer with the dough hook or prepare your bread machine to knead dough. In a microwave-safe bowl combine the milk and ½ c. butter. Microwave in 30-sec bursts until the butter is melted into the milk. Pour the mixture into the bowl of the bread maker or standing mixer and allow it to cool while you gather and measure the dry ingredients.
When the milk and butter mixture is just warm to the touch add the instant yeast, sugar, egg, salt, and ¼ c. diced, pickled jalapenos. Turn the machine on to begin to mix the wet ingredients. A cup at a time, add in the flour until it forms a solid ball of dough and pulls away from the bowl. (If you're using a bread machine you can follow the manufacturer's instructions with this recipe.)
When the dough is formed, detach it from the dough hook and cover the bowl with plastic wrap or a kitchen towel and put it in a warm location to rise. Allow the dough to double in size before proceeding, about 4-6 hours or longer in cool weather.
When the dough has doubled in size, place it onto a lightly floured surface and roll it out into a large rectangle about 14 x 24 inches. For the filling spread the 1/3 c. softened butter over the surface of the dough and sprinkle with brown sugar and cinnamon. Peel up the edge of the dough closest to you and roll it jelly-roll style into a little log. Cut the dough into 12 rolls. (Watch the video for more direction.)
Grease a 9x 13-inch baking pan with butter or coconut oil and place the rolls inside. It is fine if they are lightly spaced out because they will continue to rise. Cover and let rise a second time until they fill the baking pan, about 30 minutes. Meanwhile, preheat the oven to 400 degrees.
When the rolls have doubled in size remove the cover and bake at 400 degrees for 20-25 minutes. While they are baking prepare the brown butter icing.
For the icing, In a saucepan, melt the stick of butter and cook on low heat until the milk solids foam, then they will turn dark and fall to the bottom (they will look like little specks). After this occurs the scent of the butter will turn nutty and the color will begin to turn golden brown. The entire process takes 3-4 minutes.
Transfer the butter to a bowl and either whisk in the other icing ingredients or beat them in using electric beaters for a fluffier consistency. Finish with just enough kosher salt to enhance the roasted flavors of the brown butter, about 1/8 to ¼ of a teaspoon. Set aside while the rolls finish.
To finish the rolls remove them from the oven and smear them with the brown butter icing. The rolls will keep for a day on the countertop or longer if refrigerated.
Notes
The rolls can be prepared and placed into a pan, then held overnight in the refrigerator for baking off in the morning. Bring to room temperature before baking, about 15 minutes out of the refrigerator.
Nutrition Information:
Yield:
12
Serving Size:
1
Amount Per Serving:
Calories:

544
Total Fat:

22g
Saturated Fat:

13g
Trans Fat:

1g
Unsaturated Fat:

7g
Cholesterol:

72mg
Sodium:

446mg
Carbohydrates:

81g
Fiber:

3g
Sugar:

42g
Protein:

7g
This nutritional information is provided as a courtesy as an estimate only. Consult with a dietician for precise estimates.