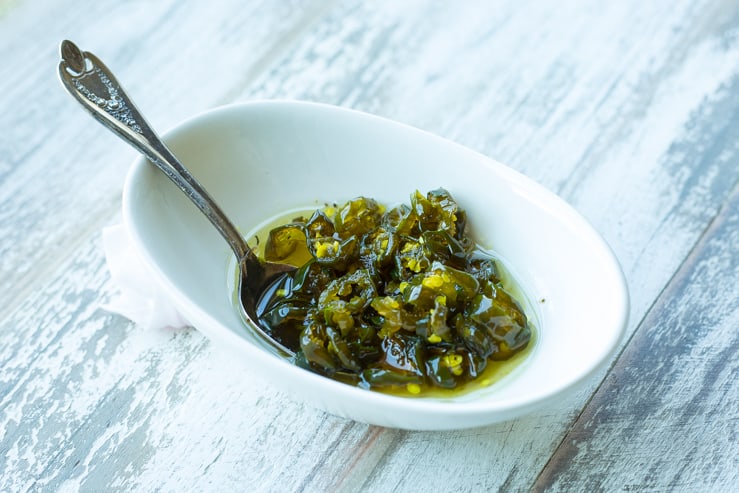 Meet your new obsession! Cowboy Candy (AKA Candied Jalapenos) is sweet, hot, and melt in your mouth delish!
Traveling the great state of Texas is an all day affair punctuated with stops at little roadside cafes and truck stops, laden with shelves of goodies to tempt weary travelers. You'll find shiny mason jars of gooseberry jam, sweet candied pecans, local honey, jalapeno mustard, peach preserves, and my favorite… Cowboy Candy!
Cowboy candy is made by boiling fresh jalapeno coins in what the french call an aigre-doux, or sweet and sour sauce. Though not really sour by my standards, the combination is referring to the flavor profile of equal parts sugar and vinegar. The vinegar balances out the sweetness and creates a tart, bright syrup which is delicious and highly addictive. Not to be out done, Texans decided to throw a whole batch of jalapenos in their aigre-doux and that's how the first batch of cowboy candy was born. 😀
In the big cities, cowboy candy is surprisingly hard to come by (as it's not sold at the big chain grocery stores), so I whipped us up a batch just in time for the summer jalapeno harvest.
First, we will start of with fresh jalapeno coins that I have cut into 1/4 inch slices…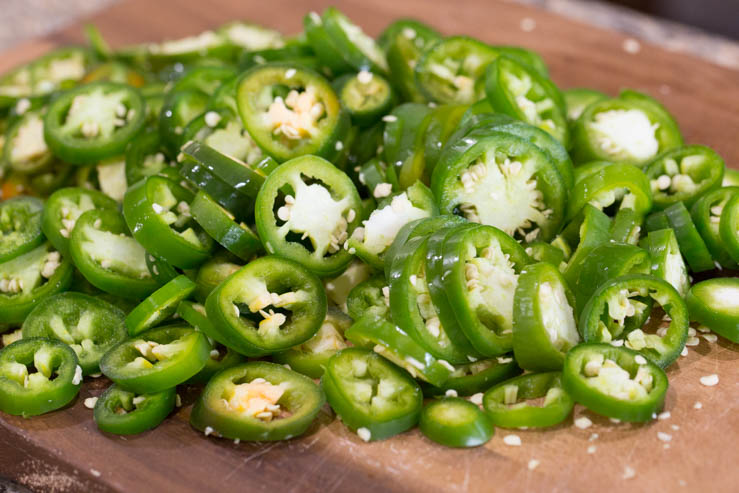 Add the jalapenos to a sauce or stock pan depending on how much you're making…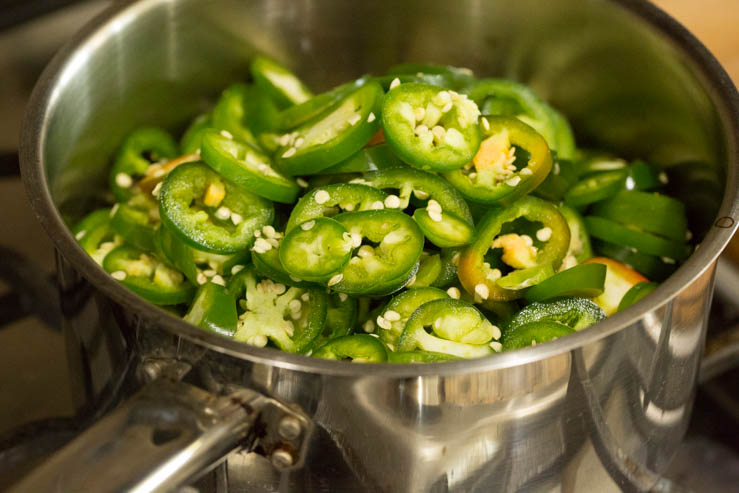 Add sugar, a combination of vinegar, spices, and turmeric for color…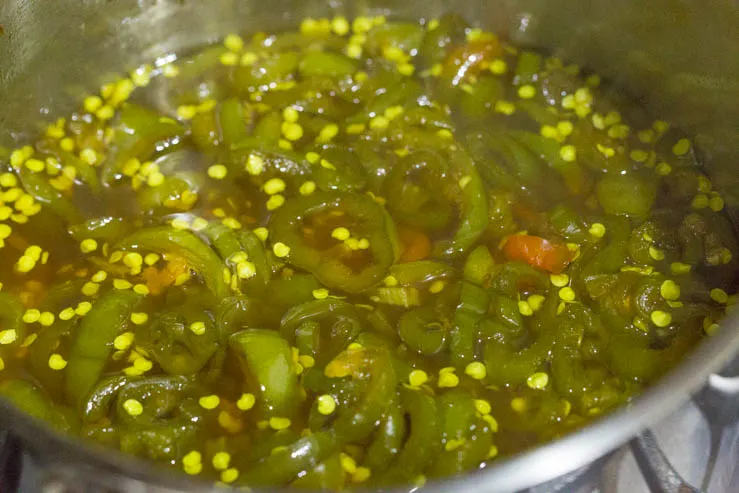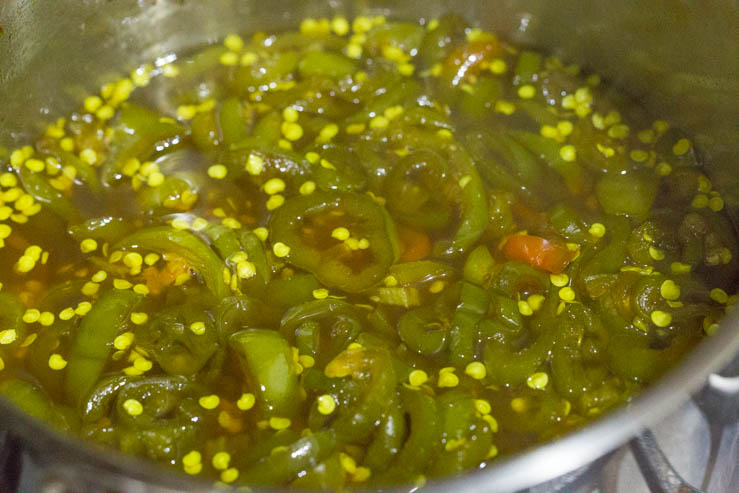 Cool, and pour the Cowboy Candy into mason jars. I keep mine in the refrigerator and top everything from my Brisket Deviled Eggs, to hotdogs, and cream cheese with crackers!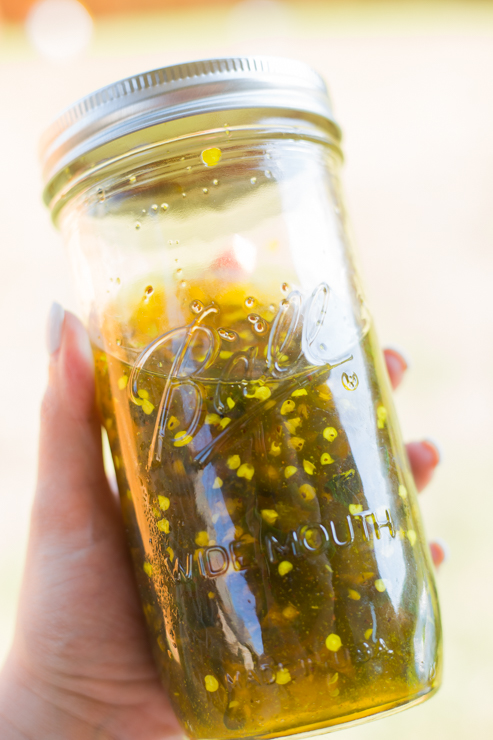 Here is the recipe for the Texas Cowboy Candy…
If you make the recipe, post it to social media and tag Urban Cowgirl!
I'd love to see how it turns out!
Yield:

2 cups, with juice
Cowboy Candy AKA Candied Jalapenos
Cowboy Candy is a colloquial term for candied jalapenos, which has been used for nearly 100 years in vintage Texas cookbooks! We use these candied jalapenos to top our brisket deviled eggs but they're also wonderful atop cream cheese served with crackers, as a condiment with barbecue, or served within sliced brisket sandwiches!
Ingredients
3 lbs. green and red jalapenos
1 c. apple cider vinegar
1 c. red wine vinegar
4 c. sugar
1/2 t. turmeric
1/2 t. celery seed
1 T. granulated garlic
1 t. cayenne pepper
Pinch allspice
Instructions
Prepare the jalapenos by slicing off the stem and then slicing 1/4-1/8 inch coins. This is made easier by wearing disposable gloves! Reserve jalapenos.
In a large stockpot, add all of the other ingredients and bring to a boil. Add the jalapenos and simmer in the syrup for 5 minutes.
If you are canning, transfer peppers into sterile canning jars with a slotted spoon. Leave 1/4 inch headroom.
Bring the heat up on the syrup to a full rolling boil. Boil 6 minutes.
Use a ladle to ladle the syrup over the jalapeno slices. Wipe the rims of the jars clean, add lid and ring, and secure tightly.
Place the jars in hot water canner, covered by 1-2 inches of water, and boil 12 minutes. Remove the jars and place carefully on a towel on the counter-top. You may hear popping noises as they seal. Let cool for 10-12 hours. Tighten rims and store.
The candied jalapenos can also be boiled and transferred to a jar and kept in the refrigerator without processing in the water bath. Keep refrigerated.
Nutrition Information:
Yield:
40
Serving Size:
1
Amount Per Serving:
Calories:

91
Total Fat:

0g
Saturated Fat:

0g
Trans Fat:

0g
Unsaturated Fat:

0g
Cholesterol:

0mg
Sodium:

2mg
Carbohydrates:

23g
Fiber:

1g
Sugar:

21g
Protein:

0g
These nutritional values are an estimate only and provided as a courtesy. Different brands of ingredients may result in different calorie counts, and the software does not account for these differences. Consult with your dietician or doctor for precise nutritional values.