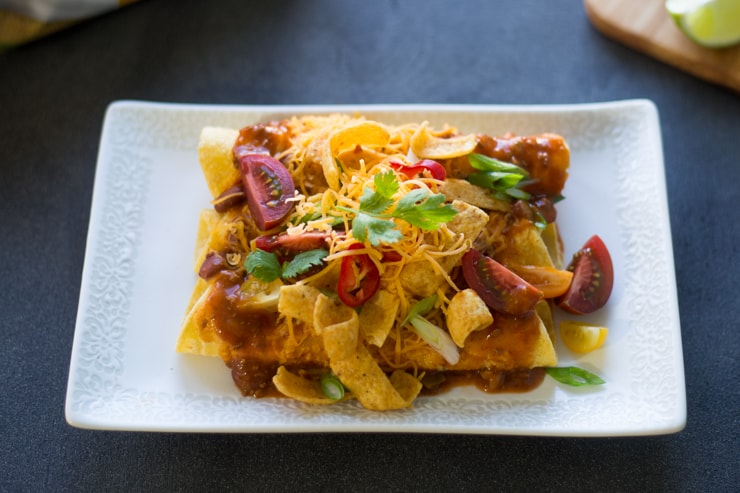 "The Frito Pie Enchiladas aren't fancy enough for my next cookbook", I said to my husband, Dereck, as we lay in our black vintage bed sharing a box of thin mints, and shamelessly pretending that we hadn't just gotten back from the gym.
"Not every day can be fancy when you're a parent", he smiled at me. I smiled back. There is truth in that— and the Urban Cowgirl blog is a shame free zone.
We are busy mothers and career women, we are business people hustling to meetings, artists, weekend adventurers, and lovers of life. Somedays you do smoke a brisket for 18 hours, pampering it all night long, but some days you need a quick fix that will keep you out of the taco bell drive through. (No offense taco bell.)
Frito Pie Enchiladas are like a warm Texas hug after a hard day. These enchiladas were inspired by the Chuy's creation (which we still nosh on as frequently as we can).
Though we do end up missing their gigantour frozen strawberry margaritas and tejano music on the outdoor patio, there is something comforting about having a whole platter of these babies to serve up to the gang on Friday night.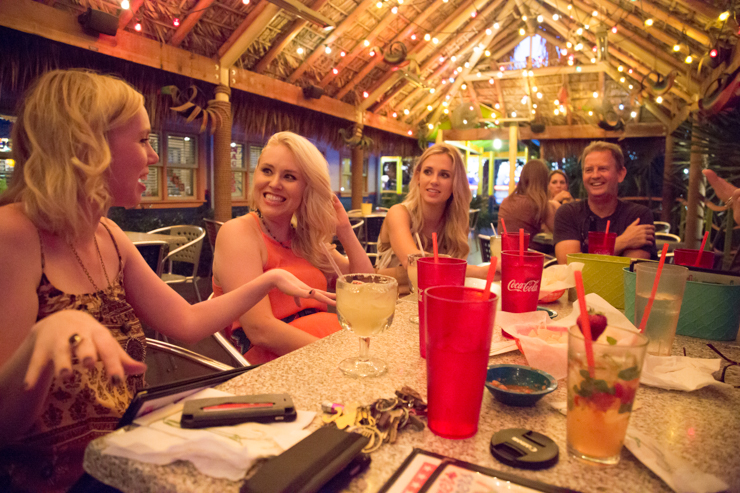 The setup is easy enough. Like tacos, you'll just put the fixins out letting everyone decorate their own frito pie. How fun is that?
And one day soon I will make you guys a homemade chile con carne with dried chiles and stock for this recipe. I MIGHT even take you guys on a tour of the Mexican butcher shop, here in my hometown of little D. It might even appear on my new youtube channel. Wink Wink. But until then, enjoy these lazy day frito pie enchiladas! 🙂
Let us know how they turn out and what fixins you prefer below!
Yield:

6
Frito Pie Enchiladas Recipe
These Frito Pie Enchiladas are my attempt at an easy, at-home version of Chuy's Frito Pie Enchiladas. To keep them simple the sauce is made with canned enchiladas sauce and good quality chili. It goes from prep to plate in just 30 minutes!
Ingredients
1.5 pounds ground beef (85/15 is best)
1/2 white onion, very finely chopped
1 jalapeno, deseeded and finely chopped
2 garlic cloves, pressed
1 t. salt
1 1/2 t. cumin
1 t. black pepper
1 t. granulated onion
1 t. paprika
1 t. mexican oregano
1/3 c. water
1 can red enchilada sauce
1 can Amy's organic medium chili
20 corn tortillas
1 large bag of Fritos
8 oz. medium cheddar, freshly grated
Toppings of choice- diced tomato, cilantro, finely minced white onion, jalapeno relish, freshly sliced red jalapenos, sliced lettuce, sour cream.
Instructions
In a large skillet, add the ground beef and bring up to medium-high heat. Brown the meat trying to get a little bit of sear on the meat if you can.
After the meat is cooked, add in the onion, jalapeno, and pressed garlic. Cook 4-5 minutes lowering the heat if necessary to sweat the vegetables.
Add the spices and 1/3 c. water. Cook an additional 3-4 minutes until some of the water cooks off and the meat appears moist and coated in "sauce". Reserve.
In another small pan add 1 can of red enchilada sauce and one can of good quality chili. (Amy's organic brand recommended).
Bring to a simmer and stir well. Reserve.
Prepare corn tortillas by one of two ways. Either microwave a stack of tortillas wrapped in moist paper towels for 40 seconds (this makes them pliable), or if you prefer heat a small saute pan over medium heat. Add 1/2 inch of flavorless oil and fry each tortilla for 10-20 seconds. Remove cooked tortillas to a plate and keep warm.
Fill each tortilla with meat and place in a 9x13 inch glass casserole dish. Pour the chili sauce on top of the enchiladas. Top with the freshly grated cheddar cheese and Fritos.
Bake at 350 degrees for 20-30 minutes. Remove from the oven and serve individual portions.
Let each guest top their enchiladas with their favorite Frito pie fixins!
Notes
Some Frito Pie fixins include shredded cheddar cheese, Fritos, chopped white onion, pickled jalapenos, chopped tomato, cilantro, salsa, etc.
Nutrition Information:
Yield:
6
Serving Size:
1
Amount Per Serving:
Calories:

793
Total Fat:

43g
Saturated Fat:

17g
Trans Fat:

1g
Unsaturated Fat:

19g
Cholesterol:

156mg
Sodium:

1240mg
Carbohydrates:

52g
Fiber:

7g
Sugar:

5g
Protein:

51g
These nutritional values are an estimate only and provided as a courtesy. Different brands of ingredients may result in different calorie counts, and the software does not account for these differences. Consult with your dietician or doctor for precise nutritional values.