Craving something delicious and light for your Mexican food cravings? Try this Low Carb Chicken Fajita Casserole!
An easy-to-make dish that's perfect for lunch or dinner, it's packed with flavor but light on the carbs– thanks to low carb tortillas. (Also, super filling and satisfying!)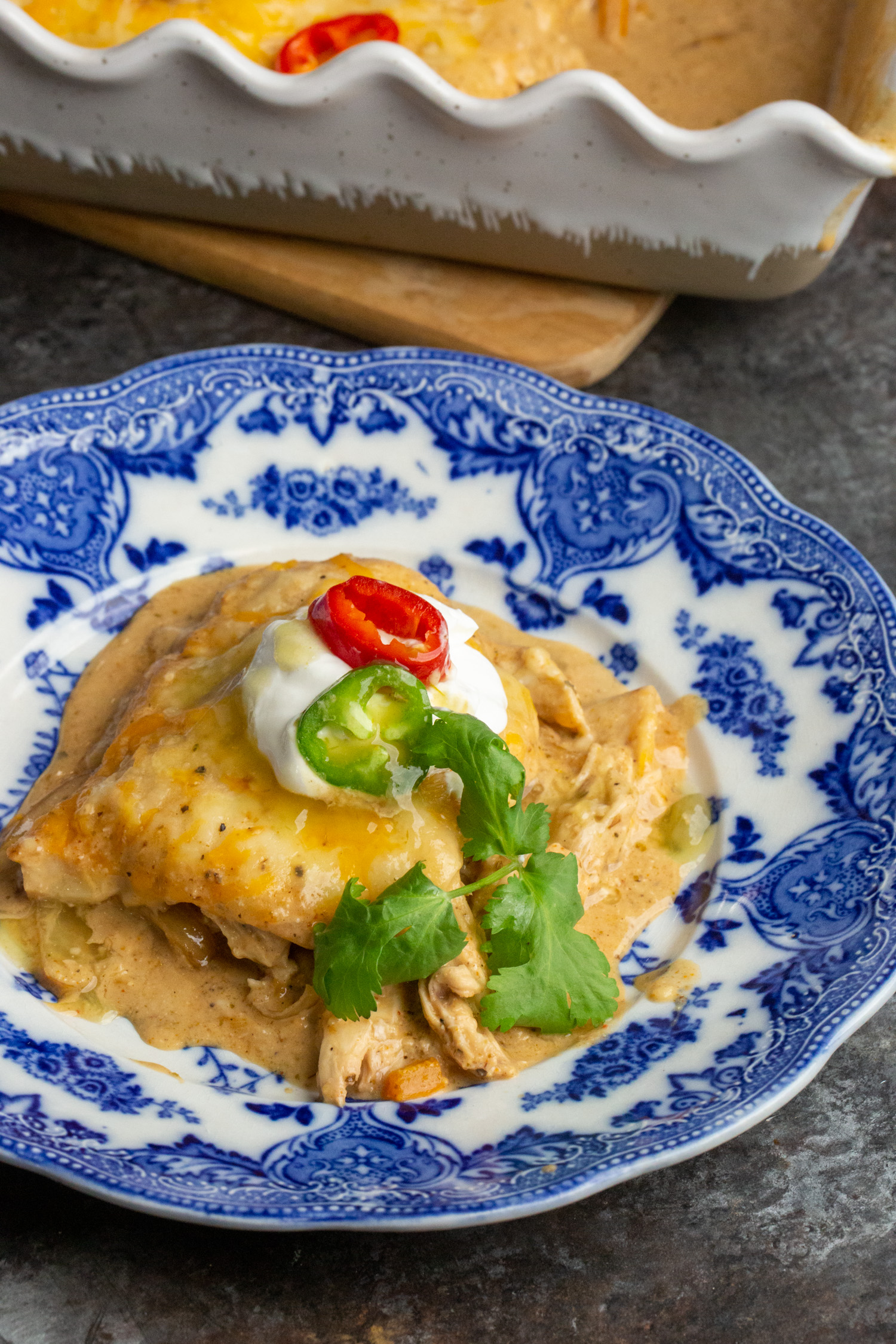 With a combination of juicy chicken, bell peppers and red onion in a fajita flavored creamy sauce, this casserole is sure to satisfy and delight. Enjoy guilt-free while staying on track with your low carb diet!
Skip your favorite Mexican restaurant and make this Easy Chicken Fajita Casserole right at home.
Why You'll Love Keto Chicken Casserole
Low carb chicken fajita casserole is an easy and flavorful meal that packs a punch with its bold Mexican flavors. Casserole recipes are the best for feeding the whole family.
This delicious casserole is also a great way to get in your daily protein, as it's full of lean chicken breast, peppers, and onions. These ingredients help to keep the net carbs low.
With just 20 minutes to prepare, this healthy meal can be ready for dinner in no time! Low carb diets don't have to be a punishment, fajita chicken casserole is proof!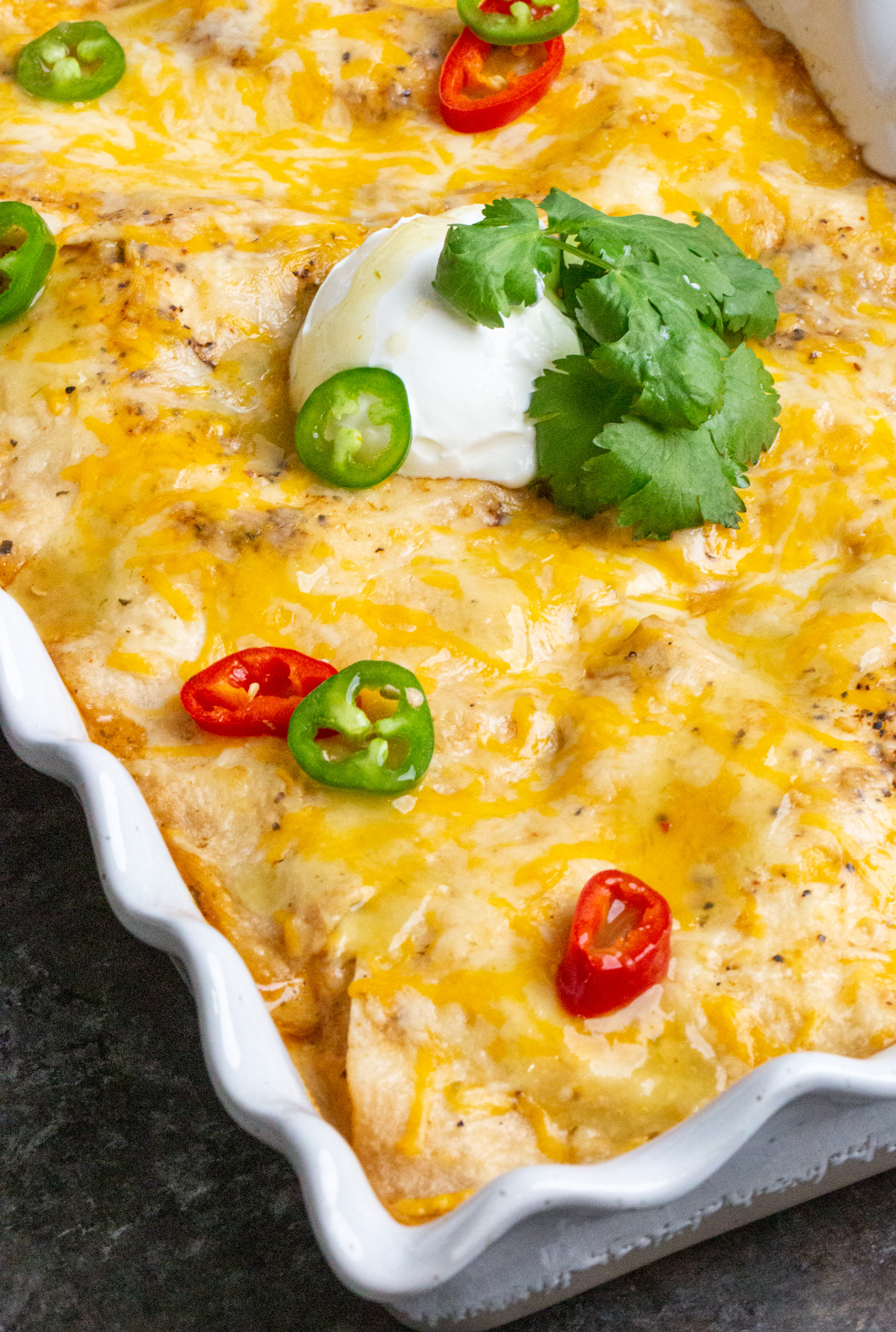 FAQs for Low-Carb Chicken Fajita Casserole
What makes Low Carb Chicken Fajita Casserole a healthy meal?
Low carb chicken fajita casserole is a nutritious and low-calorie dish that provides a good source of protein in the form of lean chicken breast. It's also loaded with colorful peppers and onions, making it a great source of vitamins like vitamin C.
How long does it take to make this recipe?
The prep time for this dish is just 20 minutes, so you can have dinner ready in no time!
Is this dish spicy?
This dish has bold Mexican flavors, but it's not overly spicy. You can adjust the seasonings to your taste if desired. If you want it to be spicy, add a couple of dashes of cayenne pepper to taste.
Is Low Carb Chicken Fajita Casserole gluten-free?
No, but it can be… this recipe can also be made with Mission's Gluten-free tortillas or the many varieties of plant-based tortillas at healthy grocery stores. This may change the carb counts per serving, so make sure to run the nutritional facts again using your substitutions. Carb Manager App or My Fitness Pal app have these capabilities.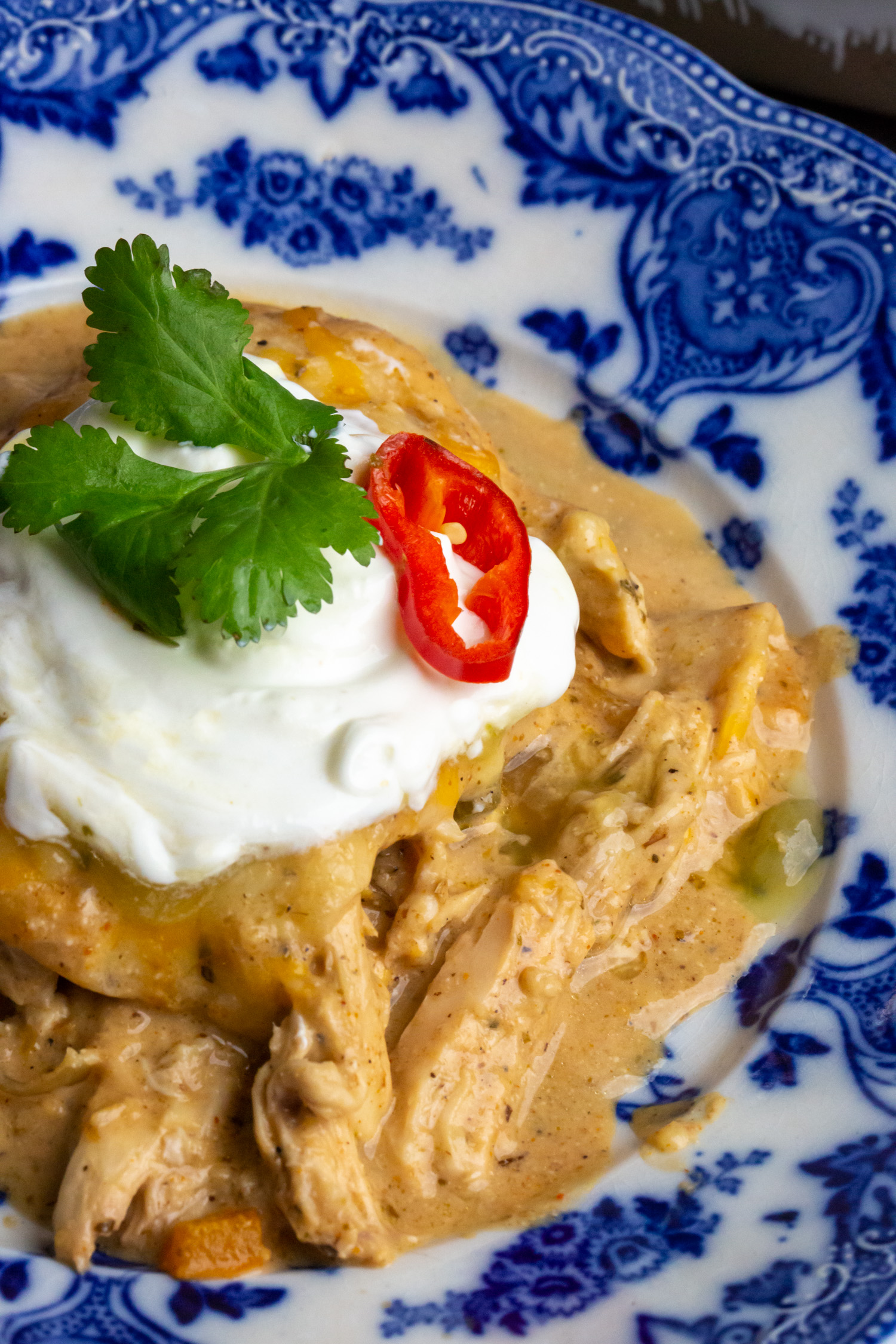 Is it hard to make Low Carb Chicken Fajita Casserole?
No, this dish is not hard to make at all! It requires just 20 minutes of preparation time, then it bakes in the oven while you prepare the rest of your meal. The result is a delicious and flavorful dinner that the entire family can enjoy.
Can I freeze Low Carb Chicken Fajita Casserole?
Yes, this dish can be frozen for up to three months. To freeze, let the cooked casserole cool completely before transferring it to an airtight container (like Pyrex glass dishes with lids) or wrap it several times with saran wrap and foil. Additionally, you can cut your cooked fajita bake into squares and freeze individual portions. Reheat individual squares in the microwave for about 2 minutes. If you like to meal prep your lunches and take them to work, then this is a great low carb dish for you!
How Many Carbs Does the Low Carb Chicken Fajita Bake Contain?
Cutting 8 slices renders you about 8 grams of carbs, and 10 slices renders you about 6 grams of carbs per slice. Full macros are given in the notes section of the recipe card below.
How Can I Make and Deliver As a Gift For A Meal Train?
I recommend assembling the dish, covering securely with foil or pyrex lids, and cooling fully in the refrigerator. Then let your loved one know to bake at 350 degrees for approximately 25 minutes.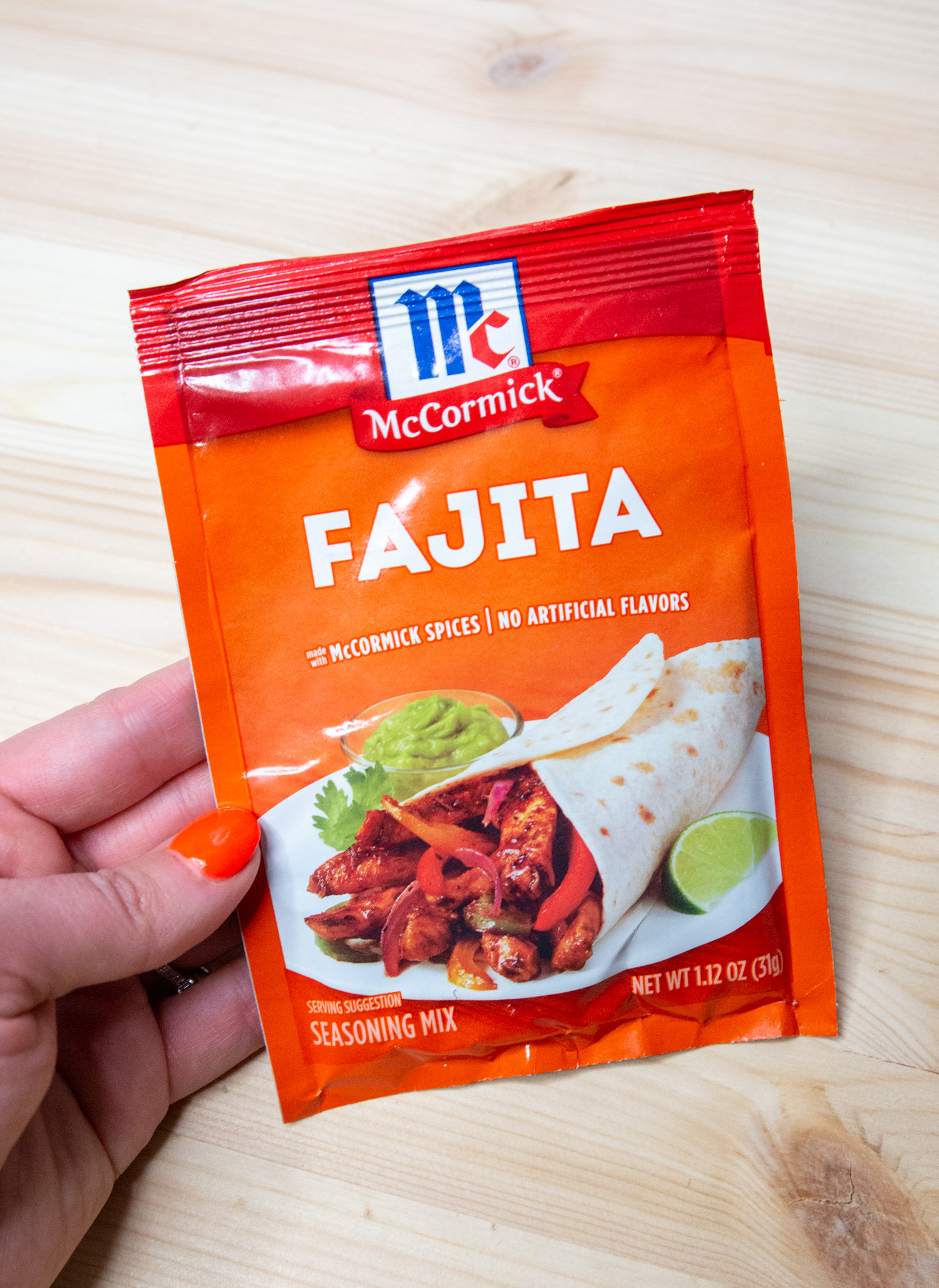 How to Store Keto Chicken Fajita Casserole
Keep in mind that this recipe is a great way to use a rotisserie chicken or use my recipe for simmering chicken for enchiladas right here. Storing low carb chicken fajita casserole is easy – just follow a few simple steps. Here's how:
Cool the casserole completely before storing it. Do not store hot food as this can promote bacterial growth.
Place the cooled casserole in an airtight container or wrap it tightly in plastic wrap or aluminum foil.
Label the container with the date your dish was made and store it in the fridge for up to four days. It's even better the next day!
For more extended storage, place the foil-wrapped casserole dish into the freezer for up to three months. I find that freezing glass baking dishes with Pyrex style lids works best for longer storage times. (Former personal chef here and this method is what I used for my clients.)
To reheat, simply thaw it overnight in the refrigerator and then bake at 350°F until hot and bubbly on top – about 30 minutes. Fully frozen casseroles can take up to 50 minutes of cooking time to heat throughout. I recommend thawing the night before.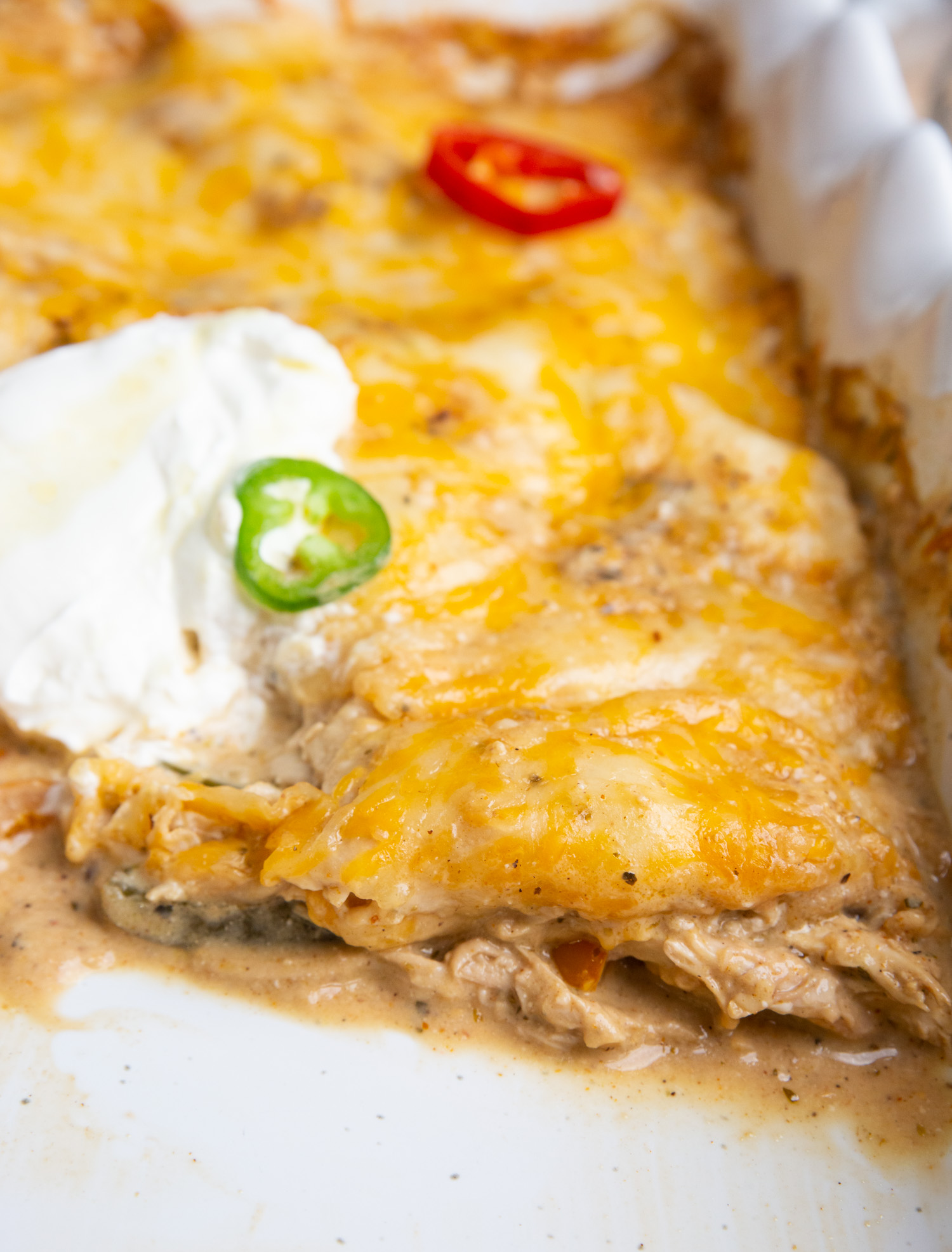 Variation Options for Super Delicious Chicken Casserole Recipe
Low carb chicken fajita casserole is a great addition to your recipe collection and can be customized with different ingredients. Here are some variations you can try:
Cheese: Add your favorite cheese to give the dish an extra creamy layer of flavor. Try shredded pepper jack, monterey jack, or shredded cheddar cheese. You can add half of the shredded cheese to the dish while it bakes and the other half when it's done.
Protein: Sub in ground beef, pork, or turkey for the chicken. You can also add beans or lentils for an even more hearty meal. You could also use a vegetarian alternative if you don't want to use regular cooked chicken or other meat.
Veggies: Mix and match any vegetables on hand such as bell peppers, onions, zucchini, or squash.
Spice it up: Get creative with herbs and spices like chili powder, garlic powder, cumin, oregano, and paprika for a burst of flavor.
Topping and Side Options
Toppings can include a dollop of sour cream, green chilies, green onions, gooey cheese, onion powder, or mozzarella cheese. One of the best things is to add a splash of lime juice.
Side dishes can include cauliflower rice, green salad, roasted green chiles, black beans, or whatever else you'd like!
Low carb chicken fajita casserole is an easy weeknight dinner that can be customized with different ingredients to suit your tastes.
With a few simple steps, it can be stored in the fridge or freezer so you can enjoy it whenever you'd like! Pick out your favorite casserole dish for these chicken fajitas because it's about to become a family favorite!
Yield:

8 pieces
Low Carb Chicken Fajita Casserole
It's delicious and filling but it's also low-carb at 8 grams per slice! This chicken fajita casserole is a winner with everyone in the family and makes meal prep a breeze!
Ingredients
1 green bell pepper (you can substitute a poblano pepper for spice)
1 yellow bell pepper
½ white onion
1 tsp. butter
¼ t. kosher salt and pepper
½ t. garlic powder
½ t. Worcestershire
Juice of 1 lime
1 T. water
2 c. pulled chicken (from a rotisserie chicken or use this recipe)
1 cup shredded mexi cheese blend
4 ½ large low carb tortillas
Sauce:
2 tablespoons fajita seasoning (see note)
1 ½ c. unsalted chicken stock
4 oz. cream cheese
Optional Toppings: Cilantro, Green Onion, pickled or fresh jalapeno, green salsa
Instructions
How To Make Chicken Fajita Casserole Bake
1. Preheat the oven to 350°
2. Cut 2 tortillas in half. In an 8x12 inch baking dish, lay the tortillas down to cover the bottom of the dish. Use thin strips from an additional tortilla to cover any holes.
3. Wash and slice the yellow and green peppers into strips and then slice those strips in half for easy to manage bites. Cut the onion into thin slices and reserve in a small bowl.
4. In a medium saute pan, melt the butter and add the bell peppers and onions. Season with salt, pepper, and garlic powder. Saute for 3-4 minutes over medium heat, until wilted.
5. In a separate bowl, combine the juice of one lime, Worcestershire, and water. Pour over the bell peppers and stir well. Cook an additional 2 minutes and then spoon the onions and bell peppers evenly over the tortilla pieces and into the casserole dish.
6. Sprinkle ½ cup of shredded mexi cheese over the bell peppers.
7. Sprinkle all 2 cups of pulled tender chicken into the casserole dish.
8. Cut 2 more tortillas in half and gently place them over the chicken as the final layer of the casserole.
9. In the same saute pan, add 1 ½ cups unsalted chicken stock, 4 oz. cream cheese, and 2 T. of fajita seasoning. (I used the McCormick brand 1.12 oz. fajita seasoning mix, if you use a different brand add the fajita seasoning in to taste, as different brands may contain more salt).
10. Melt this mixture into a fajita flavored sauce and pour over the casserole. Top with the other ½ cup of Mexican blend cheese. Bake at 350 for 15-20 minutes.
Notes
Low Carb Chicken Fajita Bake Macro Counts as per WellFit Calorie Counter:
Cutting into 8 slices:
296 calories per slice, 8 grams carbs, 15 grams fat, 23.7 grams protein, 3.3 grams sugar.
Cutting into 10 slices: 236 calories per slice, 6 grams carbs, 12.5 grams fat, 19 grams protein, 2.6 grams sugar.
These calorie counts are offered as a convenience and should not be taken as health advice. Please run your own calculations and carefully monitor all changes you make to the recipe.
Top this chicken fajita bake with your favorite fajita toppings like sour cream, avocado, pickled jalapenos, green onions, and salsa verde (salsa verde has less carbs than red salsa if you're on a strict keto diet.)
Nutrition Information:
Yield:
8
Amount Per Serving:
Calories:

296
Total Fat:

15 gramsg
Carbohydrates:

8 gramsg
Sugar:

3.3g
Protein:

23.7 gramsg