As a private chef to the rich and famous, my business is coming up with insanely delicious recipes I can make ahead and leave for my clients on important holidays like Christmas morning.
This cheesy breakfast casserole with sausage is an all-time client favorite and I think it's because the secret is in THE SAUCE…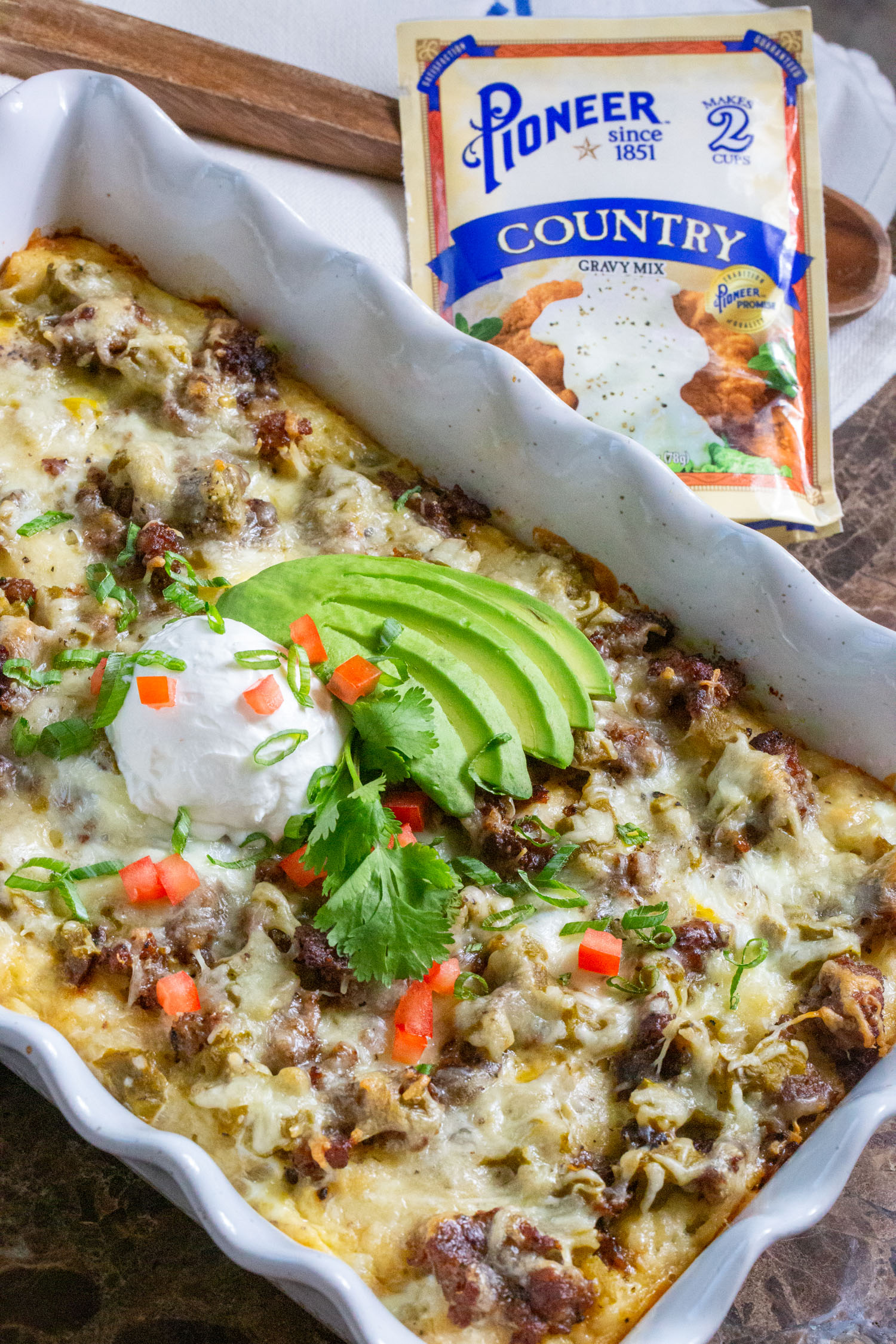 You see, most breakfast casseroles are just simple ingredients like breakfast potatoes or bread cubes with sauteed onions and bell peppers with a favorite breakfast meat, smothered with eggs and baked.
These never had enough FLAVOR for my tastes because eggs aren't that flavorful– so I set out to create a recipe that popped.
What's The Secret To This Breakfast Casserole?
My idea was to use a package of buttery white gravy, whisked in with the eggs, to infuse the whole dish with the kind of flavor that knocks your socks off…and for best results, I'm using my favorite gravy in the world, Pioneer Country Gravy Mix.
Good country gravy enhances all of these classic breakfast foods and punches up the flavor in the ordinary egg pour-over.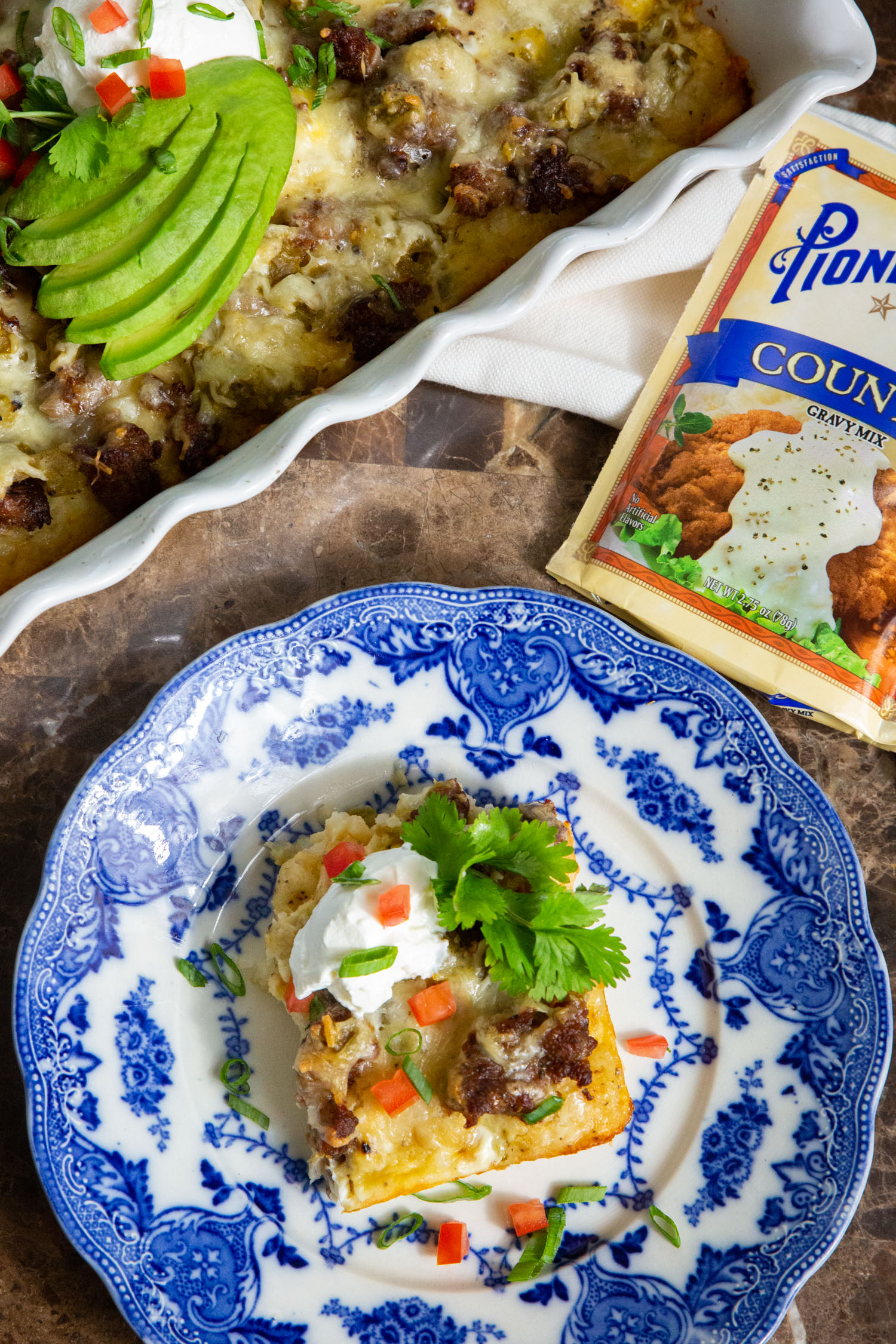 (Links are affiliate links to products we think are helpful and we may receive a small commission, at no cost to you, if purchased.)
Why You Will Love Breakfast Casseroles
Breakfast casseroles are easier to make than breakfast. Breakfast is one of the most labor-intensive meals…hash browns, eggs, bacon–it's a lot to cook and it takes time.
This breakfast casserole is prepped up in 10 minutes. Besides browning the sausage this is a "dump" recipe (you're just dumping the main ingredients in).
In this easy sausage breakfast casserole, there are no knives and no chopping!
This casserole can be made the night before and refrigerated. Just cook when you are ready! Make ahead breakfast anyone? How about a great recipe for camping or the RV?
How To Make A Breakfast Casserole With Sausage
This recipe is so easy anyone can do it. The only active cooking is to brown a pound of sausage (you can use turkey sausage if preferred) and drain any excess fat.
In a 10×6 inch baking dish, grease the interior with butter or olive oil. Then begin by pouring out the tater tots. (I've never tried it but this might be fun with sweet potato tots!)
Next, pour the browned breakfast sausage, followed by the roasted green chiles, and last the layer of monterey jack cheese. You can substitute pepper jack cheese if you like spice!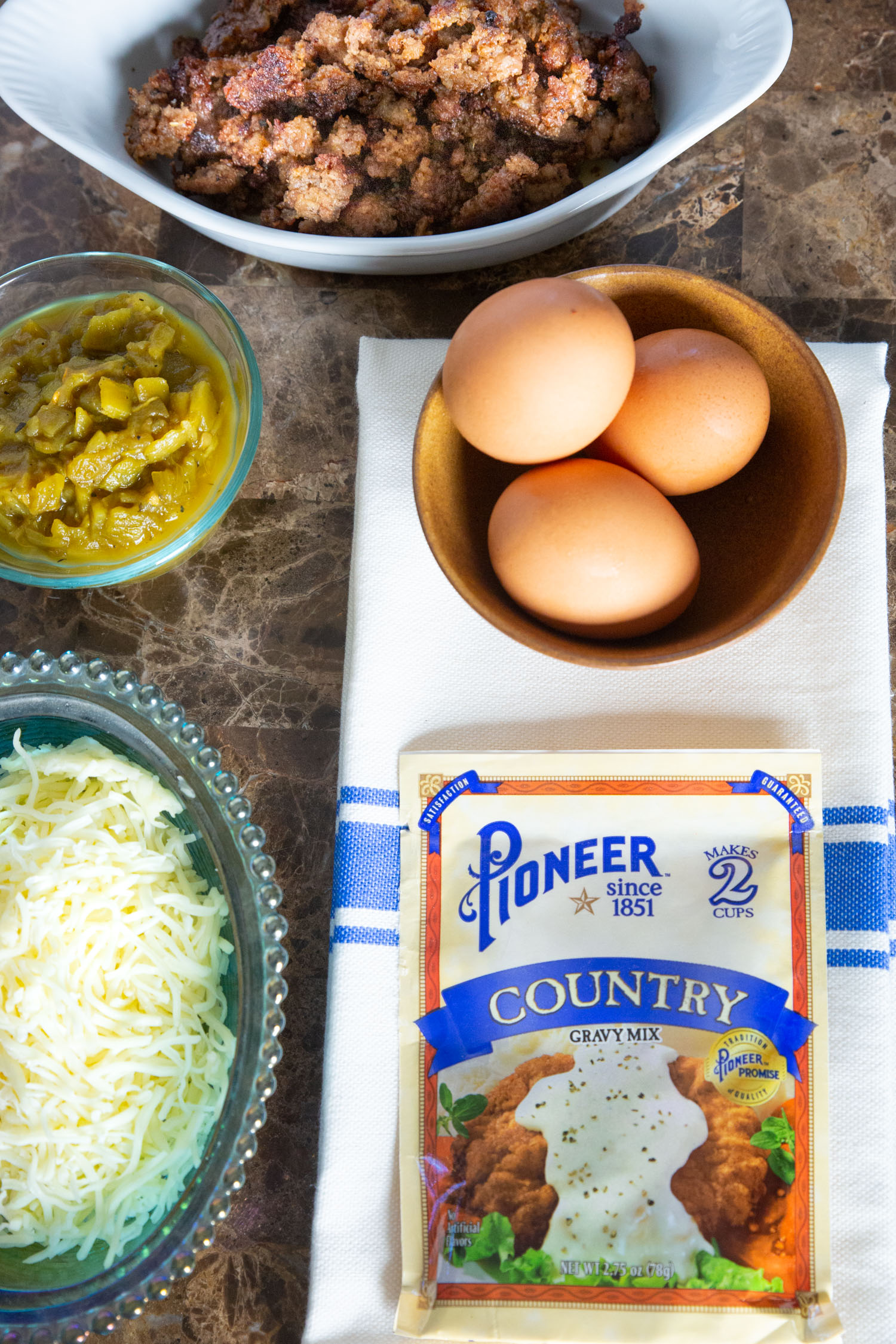 Now for the weird part and my super secret technique…combine the water, gravy mixture, and 3 eggs and whisk well. Pour this milk mixture over the sausage casserole.
Now we can cover with plastic wrap or foil and refrigerate until we are ready to bake–that will be 350 degrees F for 25-35 minutes. Add an extra 8 minutes if the casserole has been refrigerated.
How Can I Modify This Recipe Into The Perfect Breakfast Casserole For My Family?
The great thing about this easy recipe is how much you can fine-tune to your family's tastes. Here are some ideas…
The can of roasted green chiles can really be any vegetable you like. You can use freshly roasted green chile, or you can saute a red bell pepper and add that instead.
Switch the monterey jack out for sharp cheddar cheese or a combination of several cheeses, such as smoked gouda or parmesan cheese.
You can season the gravy and egg mixture with garlic powder, Italian seasoning, or even substitute the breakfast sausage for Italian sausage or ground beef.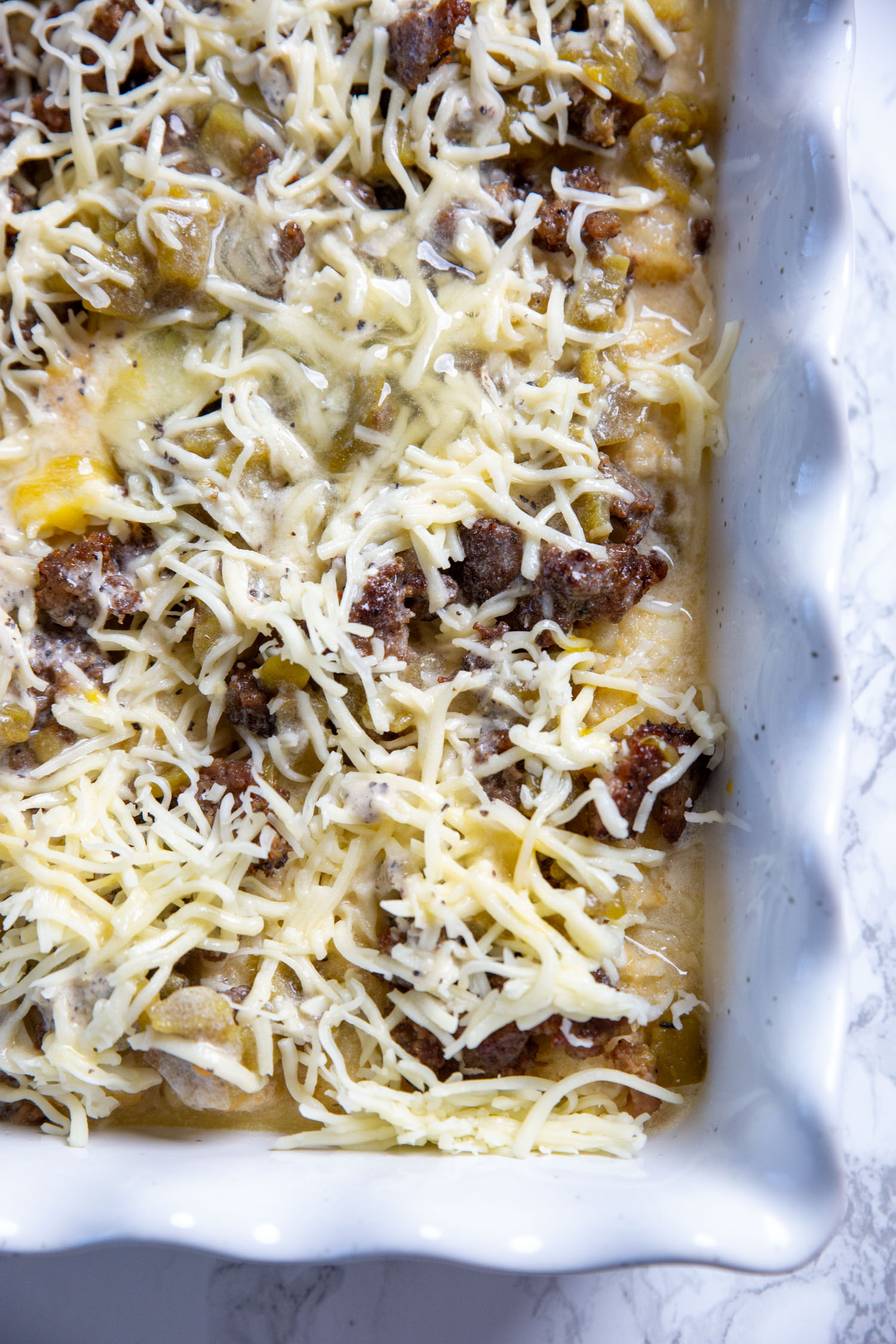 How To Make This An Overnight Breakfast Casserole?
During special events like Christmas, this is a solution for a delicious holiday breakfast that requires very little effort. Make it the night before and refrigerate it instead of baking it!
My favorite thing is that it tastes even better the next day when the flavors have married and developed overnight. (This is a pro chef secret for BIG FLAVOR.)
We will use the exact same baking temperature and just add about 8 minutes to compensate for the cold dish.
The next morning, pull it out of the refrigerator and remove the plastic wrap or aluminum foil. Set it on the countertop at room temperature for about 15 minutes, while the oven preheats.
Cook for 25-35 minutes, or until the center is set.
When you tap the casserole, it shouldn't jiggle as fresh eggs tend to do. If it does, continue cooking for 3-5 minutes or until set.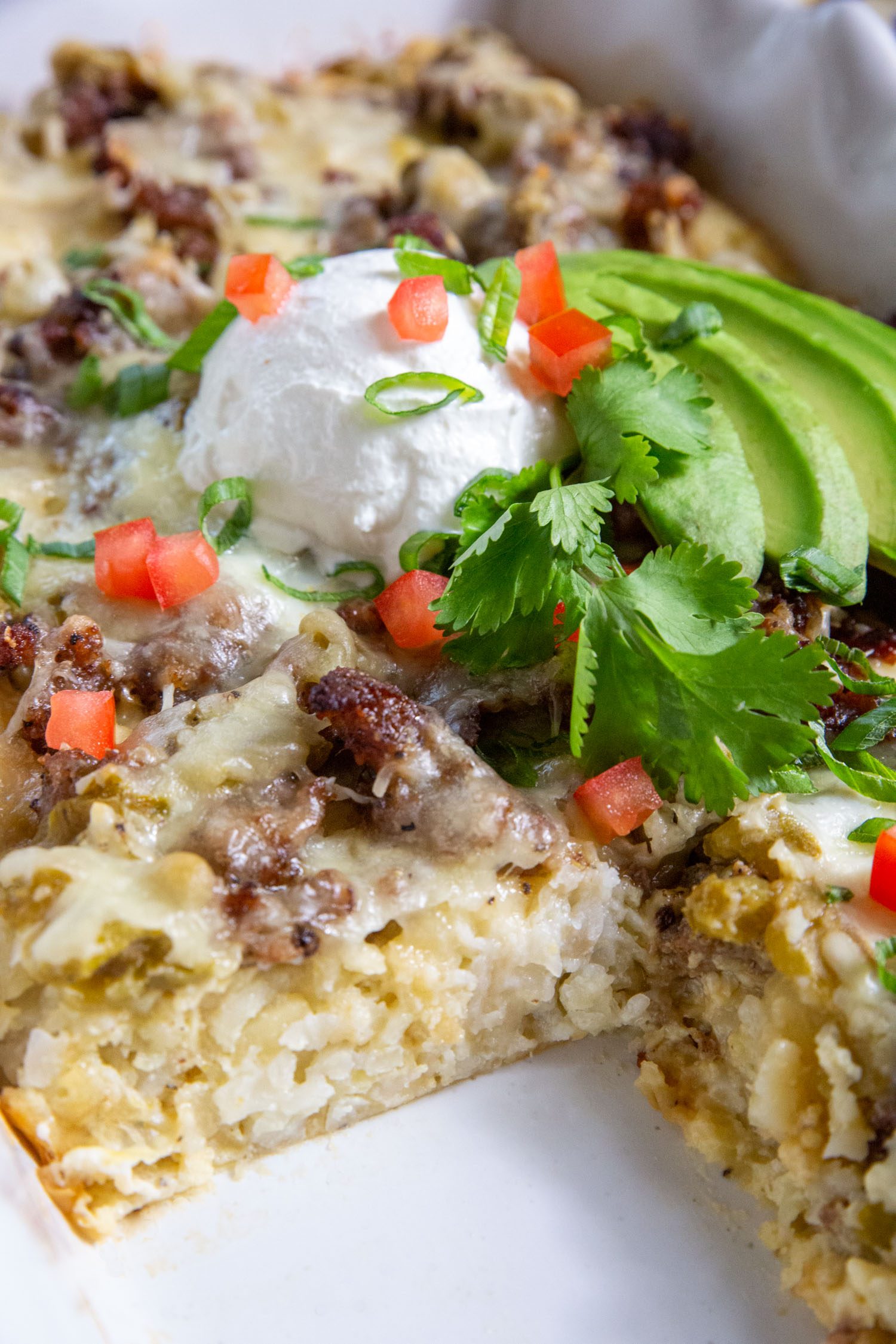 What To Serve With Breakfast Sausage Casserole?
This dish is a symphony of all of your favorite breakfast flavors, so the best part is the side dishes are easy to plan.
We serve this easy breakfast recipe with other easy-to-grab things…
Orange Juice, Milk, Coffee & Mimosas (for our special Christmas breakfasts)
Doughnuts or pastries bought the night before
A bowl of fruit or a fruit tray with dipping sauce
A blender full of a frozen smoothie drink that the whole family can share
On busy mornings, you don't even have to worry about side dishes because this hearty sausage breakfast casserole will keep your family full for hours.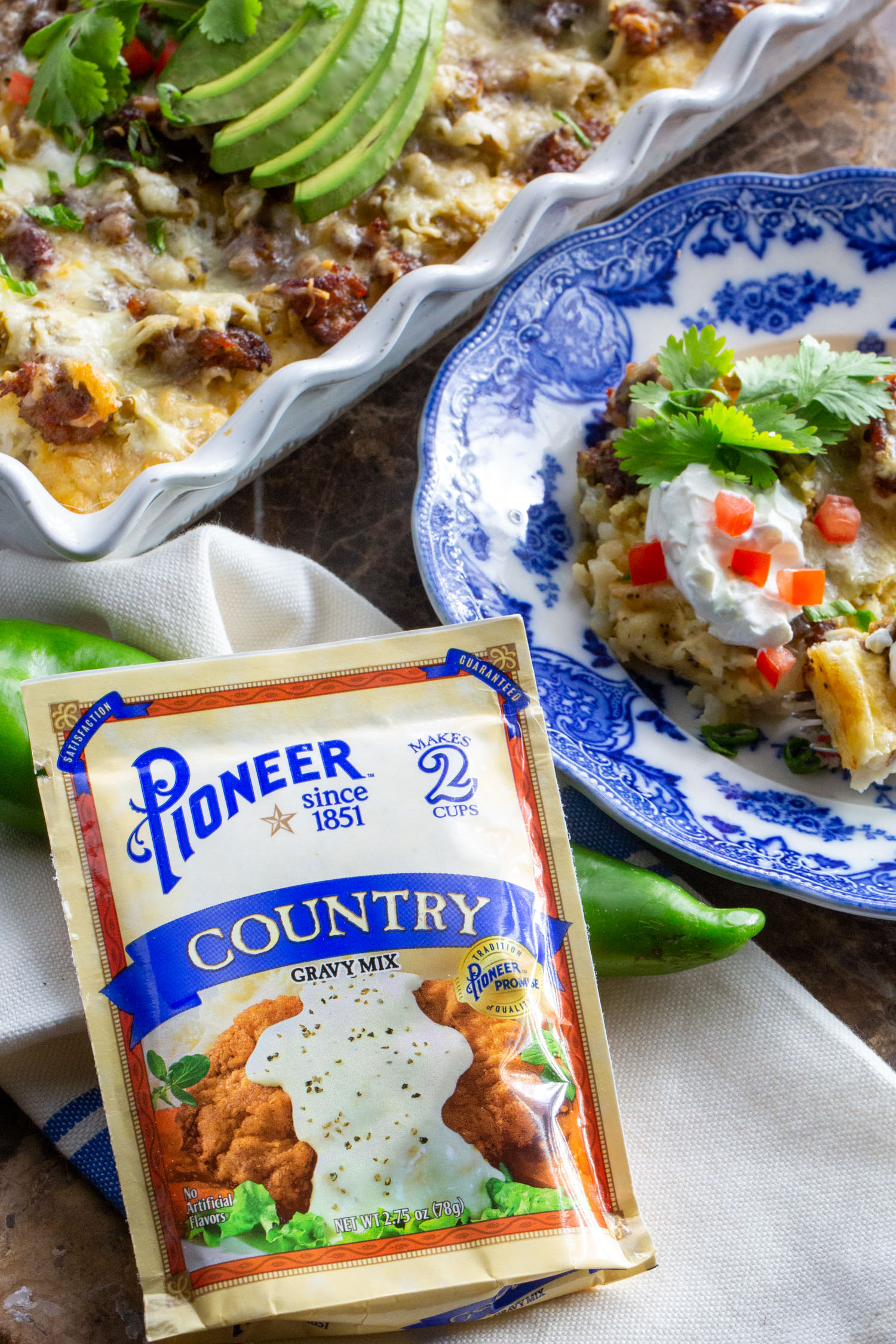 Make sure to check out Pioneer Country Gravy Mix and here on the web you'll find their simple store locator tool, where you can find grocery stores near you that carry all of their delicious mixes!
Yield:

12 Servings
Sausage Breakfast Casserole Recipe
Get ready for this delicious sausage breakfast casserole with green chiles and our secret ingredient! Yum! Breakfast casseroles are ready in a pinch and can be prepped up the night before. They are awesome for big mornings like Christmas morning, or Thanksgiving, plus family events like bridal and baby showers, gifts for new parents, or for the first day of school!
Ingredients
1 lb. bag frozen tater tots (about 3 cups)
1 lb. breakfast sausage
7 oz. can mild diced green chiles
1 c. Monterey Jack Cheese
3 Large Eggs
1 ½ c. water
Optional Garnish Ideas: Reserved green chiles, sour cream, pico de gallo, avocado slices, green onion, hot sauce
Instructions
Preheat the oven to 350°.
In a large skillet or saute pan, brown the breakfast sausage over medium heat, breaking it up with a spatula into smaller pieces. Drain all of the grease off of the sausage mixture and reserve this cooked sausage for the egg casserole.
Grease a 10x6 inch casserole dish with a little nonstick cooking spray or butter and pour in the tater tots.
Sprinkle the cooked ground sausage on top of the tater tots evenly.
Open the can of green chiles and sprinkle them over the casserole. Reserve 2 spoonfuls for the top of the casserole, if desired.
Sprinkle the shredded cheese over the entire casserole last.
In a small bowl add the water and gravy mix and whisk well. Crack 3 eggs into the bowl and whisk them into the gravy. Gently pour this egg mixture over the entire casserole.
Place in the oven and cook for 25-35 minutes, or until set. Remove the whole thing from the oven and place on the stovetop to cool slightly. Using a spatula cut squares and serve with hot sauce and extra black pepper!
Nutrition Information:
Yield:
12
Serving Size:
1
Amount Per Serving:
Calories:

299
Total Fat:

21g
Saturated Fat:

7g
Trans Fat:

0g
Unsaturated Fat:

13g
Cholesterol:

90mg
Sodium:

611mg
Carbohydrates:

15g
Fiber:

2g
Sugar:

2g
Protein:

13g
This nutritional information is provided as a courtesy as an estimate only. Consult with a dietician for precise estimates. This website makes no claims that the nutritional values listed are accurate.