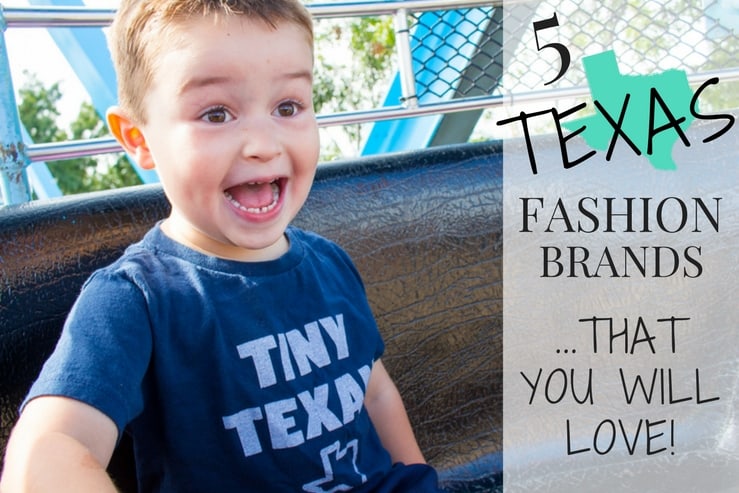 Can we please talk about how Texas pride fashion has suddenly become such a big deal?!
Whether I'm signing cookbooks in Abilene or College Station, shopping at HEB, or lugging all my cooking gear into the Good Morning Texas studio —I cannot go 5 min without seeing someone in a Buckee's t-shirt or a Texas Forever hat…
Exhibit A: Here is my son, who at the wee age of three — cannot hide his Texas pride.
So today, I'm going to share a couple of my favorite brands that I use to Texify my closet! I know you'll adore them as much as I do.
(And for the love of God, make sure to let me know who I've missed so I can check them out!)
---
5 Texas Fashion Brands You Will Love:
Texas Edge Jewelry
I found Texas Edge on Instagram, experienced legit heart flutters, and raced to the computer to request jewelry for my cover shoot for Urban Cowgirl!
(Boom! On my cookbook cover I'm wearing The Texas Edge's small, Texas choker, layered with the longer, Texas-shaped lariat.)
This small business produces unique, and edgy Texas jewelry like wrap bracelets and rings, Texas chokers, and even hair jewelry!
The owner Yvette, is always working on new designs and you can feel good about supporting a small, Texas business owner. ???? The Texas Edge Jewelry is headquartered in Plano, so shipping is lightning fast, and she's super committed to customer satisfaction. (I mean she is a Texan after all!)
Visit Texas Edge Jewelry Here!
The Purple Chickadee
This small business understands that as Texas women, we WANT glitter and glam!
Purple chickadee hand-creates Texas and Southwestern inspired jewelry in the cutest designs.
Cacti, Texas shapes, longhorns, and even seasonal earrings like little glittering pumpkins, are all available for less than $10!
The artist, Danielle, also frequently hosts ridiculous sales on Instagram like earring sets for $5! Check out her adorable green glitter, cactus earrings in my Hatch Green Chile Youtube Video!
(I get compliments on them everywhere I go.)
Last night, for the good of humanity, I asked her to bring back the gold cactus earrings, and here's hopin she will!
Visit The Purple Chickadee Here!
Texas Humor
If you haven't heard of Texas humor before you must live under a social media rock, because these guys are HILARIOUS.
From their punchy Texas twitter jokes, to their Whataburger Instagram memes, to their newsletter emails coming from Davy Crockett and Sam Houston, this clever clothing company appeals to the humorous side of being born Texan.
I have a closet full of their shirts, but my favorite is the "Super Texan" from my Mayan Margaritas Youtube video, and my oversized "YALL University" shirt… for cozy days when I'm just chillin.
Next on my list is their "TRUST ME I'M TEXAN" tees – for obvious reasons.
*Sips sweet tea*
Elle Lain
Every time Elle Lain posts Instagram photos of a new shipment of clothes, I will, without fail, receive 3 screen shots from various family members showing me what they just purchased.
The owner, Lauren, a former Dallas Cowboy's cheerleader and friend of the family, started a small online boutique in 2015, and we haven't stopped shopping since.
The style at Elle Lain ranges from flirtatious, modern country girl, to laidback, sophisticated modern Texan… with my most favorite finds being the fluffy, chambray peasant top in this photo…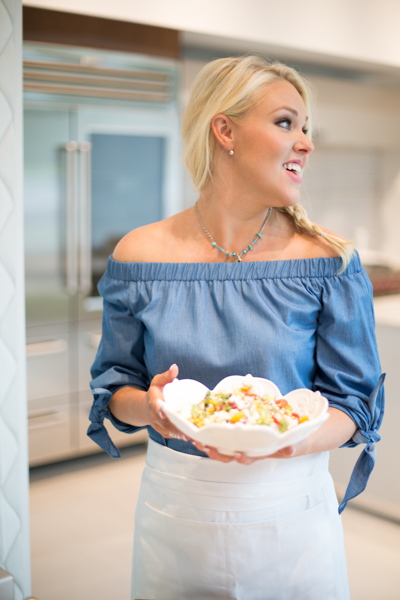 …to the Mexican pancho blouse that I wore in this youtube cooking video.
I own a closet full of Lauren's clothes for two reasons…
1. She tends to offer the entire styled outfit, so I can shop the whole look.
2. She offers FREE SHIPPING and ships from Dallas, so you're looking at 2-3 days MAX.
Aggieland Outfitters
I know, we're not all Aggies, but the moment I stepped into Aggieland Outfitters in College Station, I kinda wanted to be.
This upscale store offers everything from Texas t-shirts and Aggie's jerseys, to gorgeous country chic clothing for men and women (and babies, and housewares, and cookbooks). Guess who's cookbook? ????
A lot of their clothing is maroon, but not all of it…
The shop hand selects boutique items at Dallas Market, and curates it into an impressive who's who, of artisan Texas fashion designers.
If Urban Cowgirl had a clothing shop, I feel like it would most closely resemble the ladies fashion area of this shop — and you don't have to travel to College Station to shop their looks! They keep a beautifully designed website that ships quickly, and painlessly to all of Texas.
Make sure to check out their geode jewelry, real leather choker necklaces, and upscale country chic fashion!
Visit Aggieland Outfitters Here!
Did we miss anybody? Let me know in the comments and I'll feature them on a future post!
Enjoy this post? Come check out the Urban Cowgirl's Texas Cooking Youtube Channel Right here!