Are you craving a crowd-pleasing snack that's easy to make and always delicious? Look no further than this simple corn dip recipe for your next party!
This hearty and flavorful dip is sure to be a hit at any dinner or gathering, and you'll be surprised by how quickly it comes together.
All you need is a handful of ingredients, some simple prep work and a few moments in the refrigerator to create an irresistible appetizer that's sure to have your guests begging for more.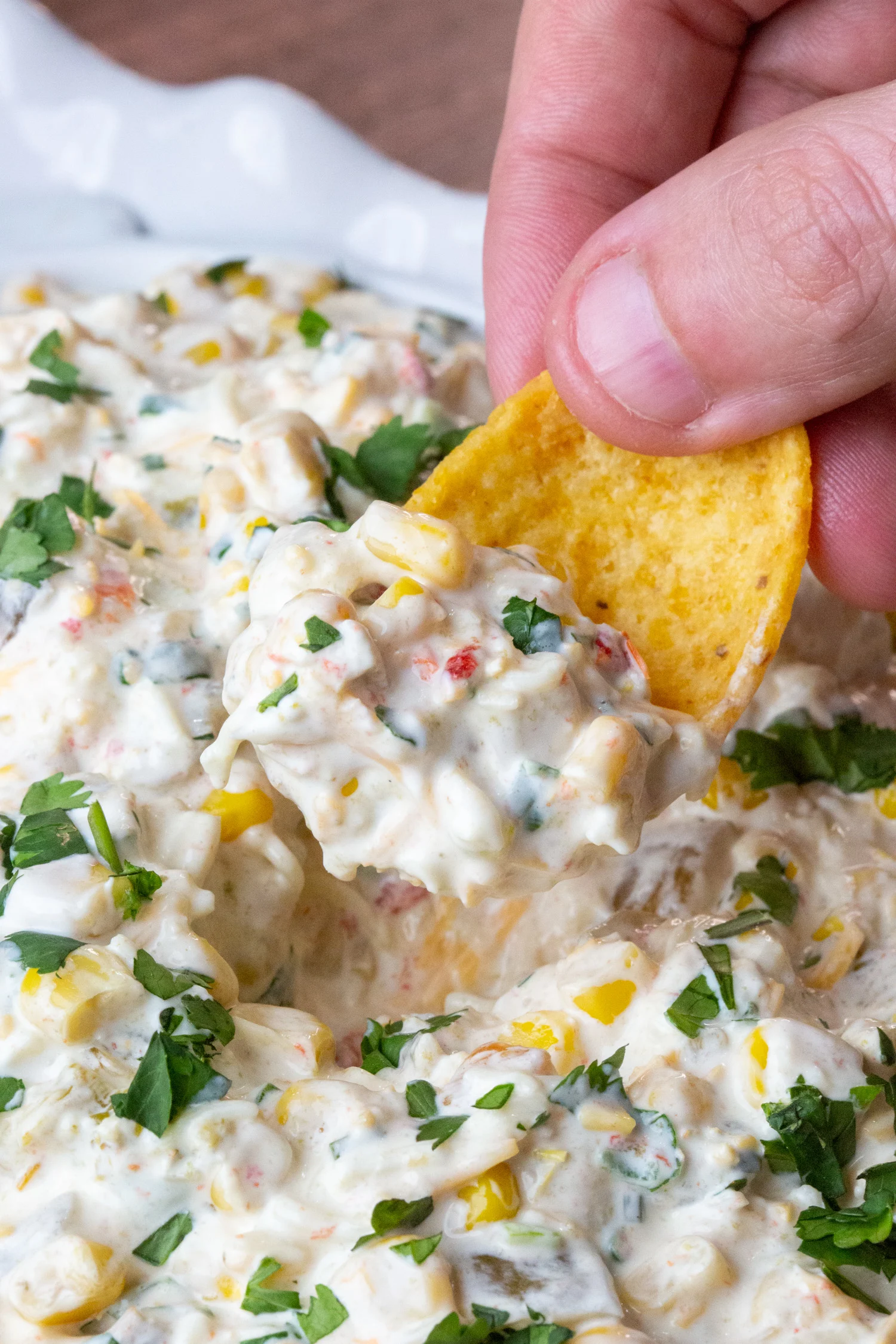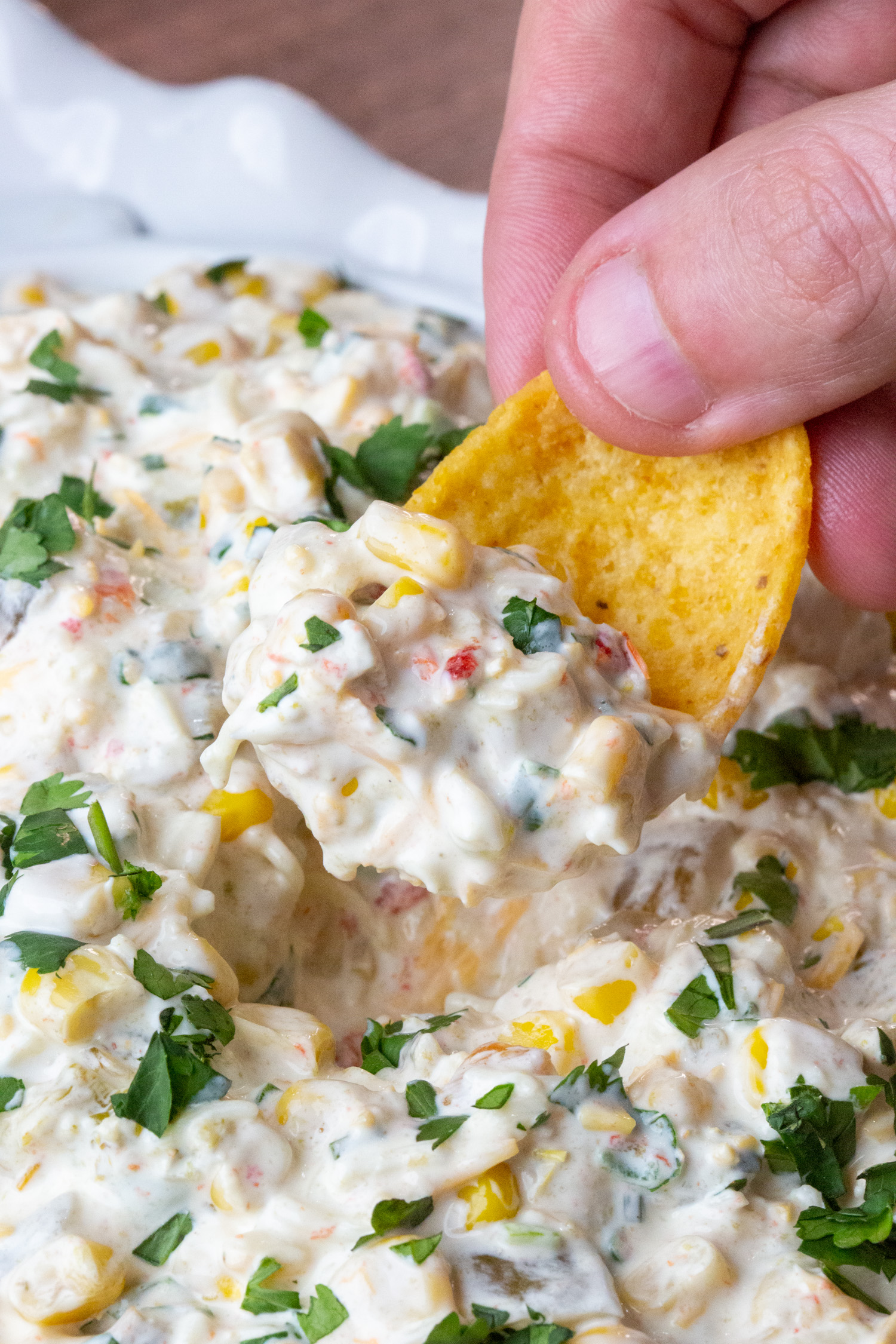 What is Mexicorn or Southwest corn?
Mexicorn is a popular snack food that combines flavors of Mexico and the United States. It is made with a combination of corn, red and green peppers, jalapenos, onions and Mexican-style spices.
The origins of mexicorn are not entirely clear but it has become increasingly popular in recent years.
The earliest known reference to mexicorn dates back to the late 1960s. This suggests that it may have been created in the United States as a fusion dish that combined traditional Mexican ingredients with American-style corn snacks.
The popularity of mexicorn began to take off in the early 2000s as more people became aware of its unique flavor combination.
Today, mexicorn, or southwest corn, is enjoyed all over the world and can be found pre-packaged or freshly made at many restaurants and stores.
Similar to cowboy caviar, it's spicy yet sweet, and perfect as a side dish or an appetizer to your favorite Mexican recipes.
As its name implies, Mexicorn consists of corn – usually canned or frozen – mixed with green bell peppers and jalapeños for heat. Onions, tomatoes and black pepper are also added to the mix for more flavor.
While the ingredients of the easy corn dip recipe might vary slightly depending on the recipe, it's usually served as a dip with tortilla chips or over tacos.
This go-to appetizer is perfect for your favorite Mexican food nights!
Recipe For Corn Dip
Now that we've talked about what Mexican corn dip comes from, it's time to gather everything you'll need for this spicy Mexican street corn dip.
You'll need a few simple ingredients you can easily find at the grocery store like mayo, sour cream, southwestern corn, Mexican cheese blend, green chilies & pickled jalapeños for heat, and chopped green onions & fresh cilantro.
And, of course, no dip would be complete without chips. We use Frito chips for an extra kick that pairs nicely with this cowboy corn dip!
How To Make Corn Dip
To get started with this easy recipe, combine the mayonnaise and sour cream in a large mixing bowl and whisk them well. Drain the southwestern corn and pour it into the bowl. Add the chopped green onions, Mexican cheese, chopped cilantro, and pickled jalapeños.
Fold together and chill in an airtight container for 1 hour for the best flavor.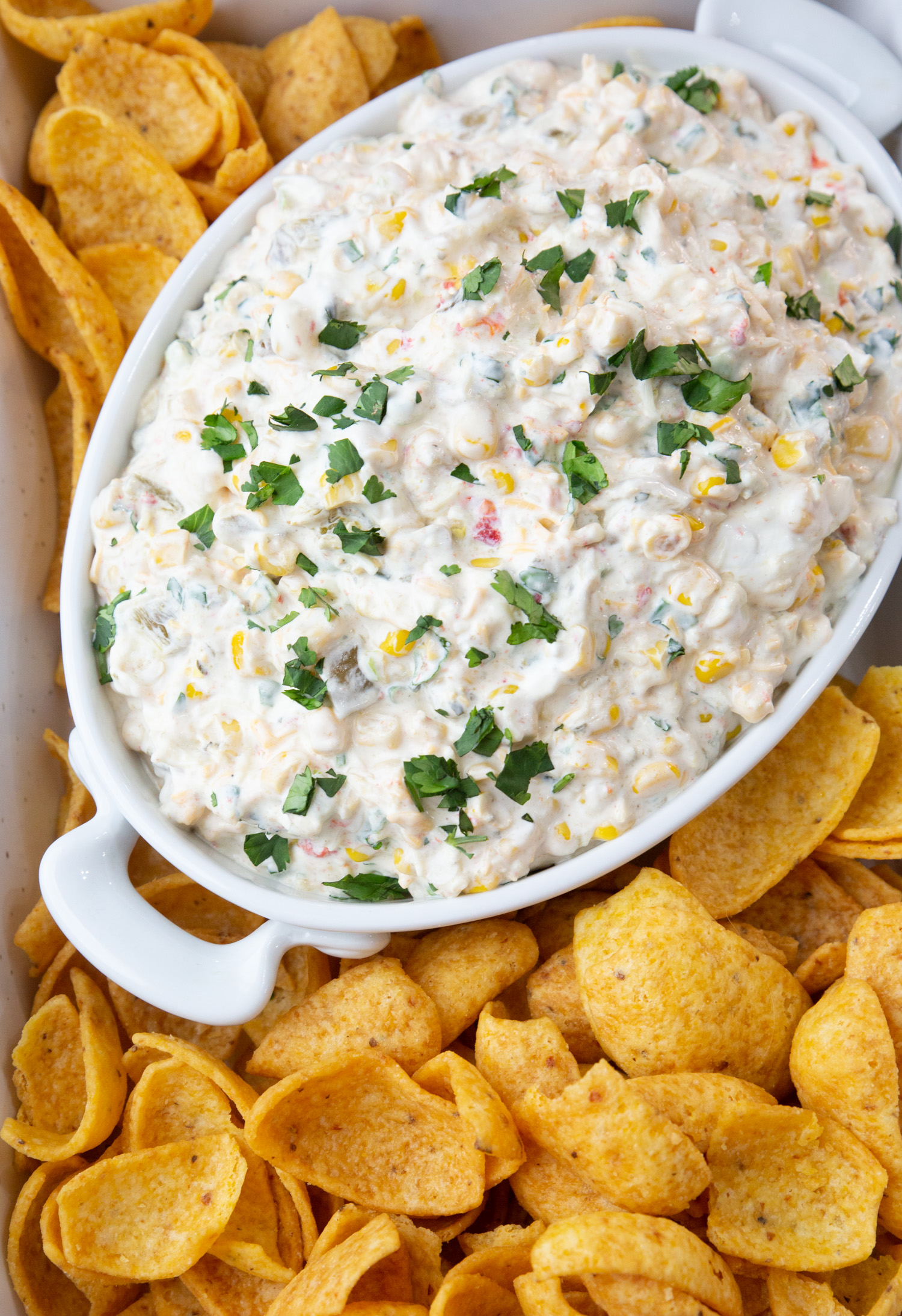 While it's cooling the flavors have a chance to meld together into a super flavorful and easy corn dip. Serve the Texas corn dip cold with Fritos for scooping.
The result is an irresistible combination of a spicy little kick and sweet flavors that everyone loves! It's incredibly addicting!
Common Questions
Mexicorn dip is a delicious and popular dish that combines Mexican and corn flavors into one creamy, cheesy dip. This versatile appetizer can be served warm or cold and is often the star of any get-together.
If you're new to this classic snack, here are some common questions about mexicorn dip that will help you understand it better:
Can I use a different cheese? If you are in a pinch, different types of cheeses work well in the recipe. Use whichever shredded cheese you have on hand. Pepper jack, Cheddar cheese, or Monterey jack cheese are a great option that tastes terrific in this easy appetizer.
Do I have to use corn chips? Absolutely not. You can use tortilla chips with a yummy spread of guacamole and salsa to take snacking to the next level.
How should I store leftovers? This cheesy corn dip does best when it's refrigerated. Make sure to store it in an air-tight container for no more than 3-4 days. After that, the dip tends to get watery from the corn and cheese combo. If you plan to serve the dip in a few hours, plastic wrap will do the trick over a cute serving bowl in the fridge.
Can I make this recipe ahead of time? Yes! The delicious dip is perfect to make the day before or several hours before you need to serve it. Time in the fridge actually enhances the creamy dip and its spice level. For best results, let the dip chill for at least an hour.
What about fresh jalapeños? You can certainly use fresh ingredients like jalapeños and even fresh corn for the Mexican corn dip recipe. The flavors are amazing, but be aware that the consistency may be a bit different with fresh sweet corn and other ingredients.
How do you serve mexicorn dip? Mexicorn dip can be served as a topping for a Mexican dish, as an appetizer, or on a Mexican food charcuterie spread—depending on your preference and when you're serving the dish. No matter how you serve this, it is a crowd-pleaser!
Can this corn dip be served hot? You can make a hot corn dip by baking it in a small baking dish or cast iron skillet at 350 for 20-30 minutes. It can also be smoked on the barbecue (similar to our viral smoked queso recipe) for about an hour or until hot throughout.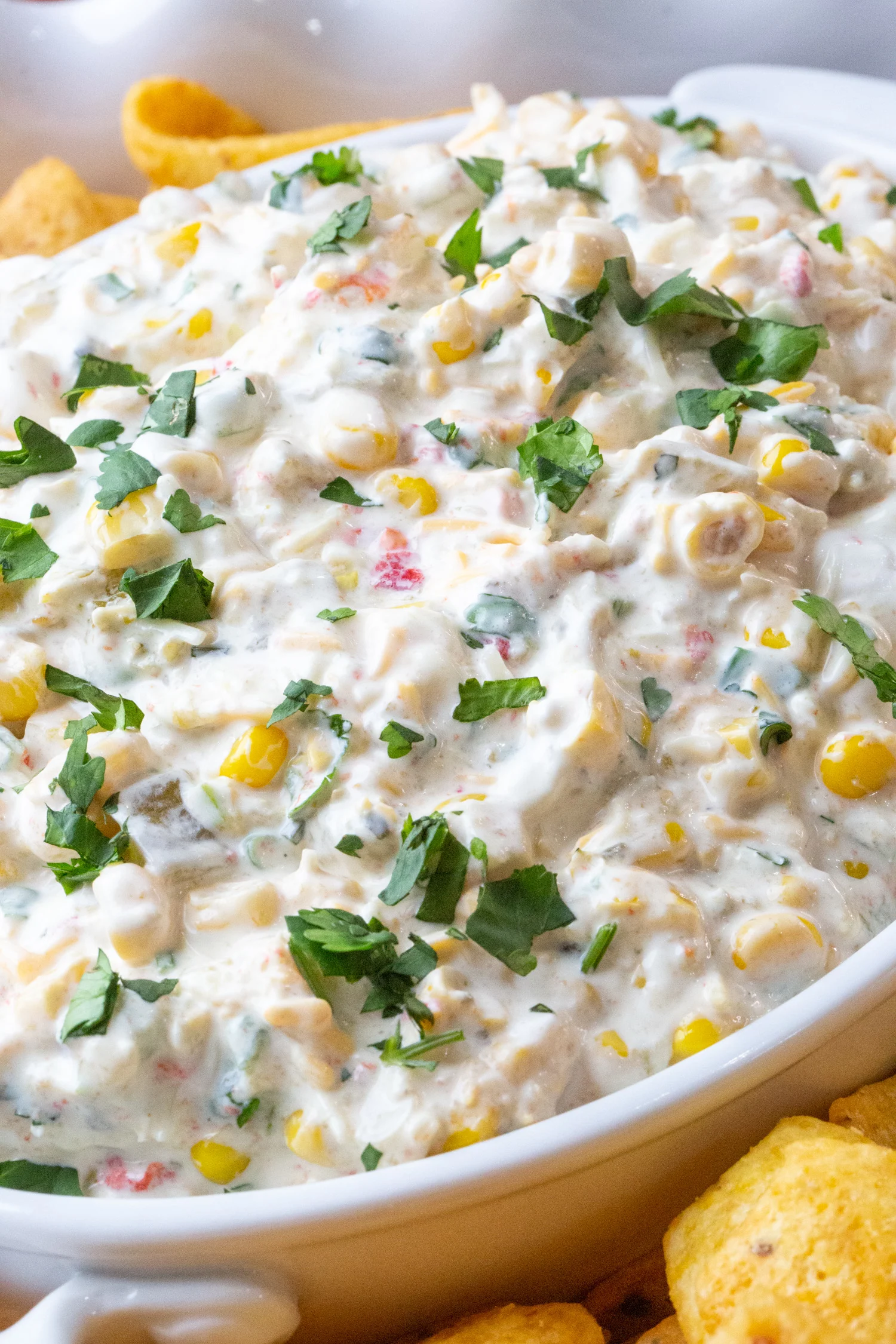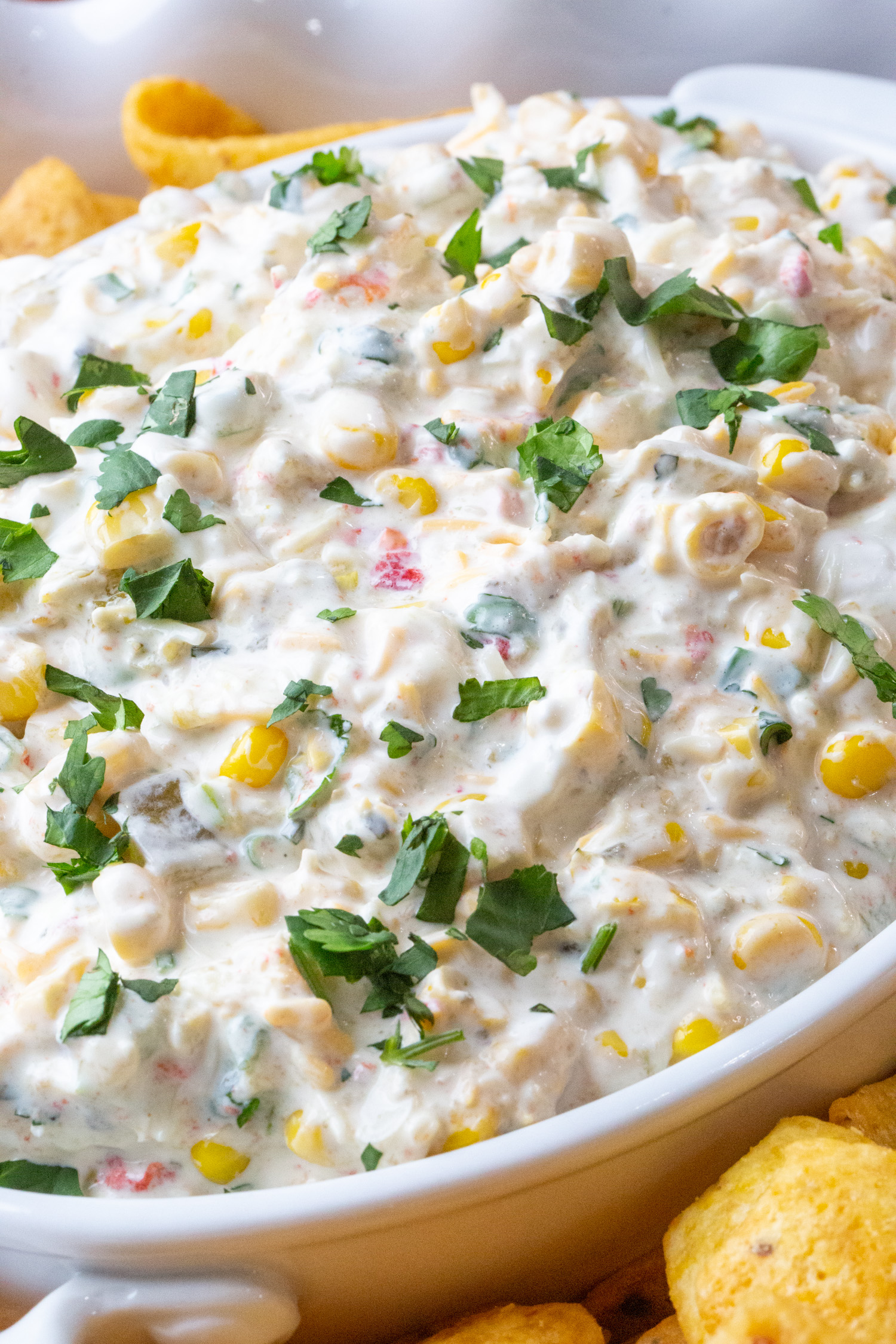 Delicious any time of year, this recipe is a great way to enjoy some down time on the back porch. Whip up a batch of margaritas and you have the makings of some super fun summer parties that will have all your friends talking for weeks to come.
Ingredients
1

c.

mayo

1

c.

sour cream

2

cans southwestern corn

also called mexicorn, drained

8

oz.

bag of Mexican cheese blend

3

green onions

chopped

3

T.

Cilantro

chopped

½

c.

roasted green chiles

from a can or jar

¼

c.

diced pickled jalapenos

drained

1

t.

kosher salt

if needed – taste first

1-2

bags Frito chips
Instructions
Procedure For Making Corn Dip:
In a large bowl, combine the 1 cup mayonnaise and 1 cup sour cream, and whisk well.

Drain the southwestern canned corn and pour the corn kernels into the bowl. Pour in the roasted green chiles.

Add the chopped green onions, the bag of Mexican cheese, chopped cilantro, and pickled jalapenos.

Fold together and chill for 1 hour.

Serve cold with frito chips for dipping.
Notes
My cans of southwestern corn are 15.2 oz. but various brands will vary in can size slightly. This does not affect the final results as long as it's close to the standard can size.
Nutrition
Serving:
1
g
|
Calories:
699
kcal
|
Carbohydrates:
33
g
|
Protein:
14
g
|
Fat:
58
g
|
Saturated Fat:
16
g
|
Polyunsaturated Fat:
38
g
|
Cholesterol:
72
mg
|
Sodium:
861
mg
|
Fiber:
3
g
|
Sugar:
4
g