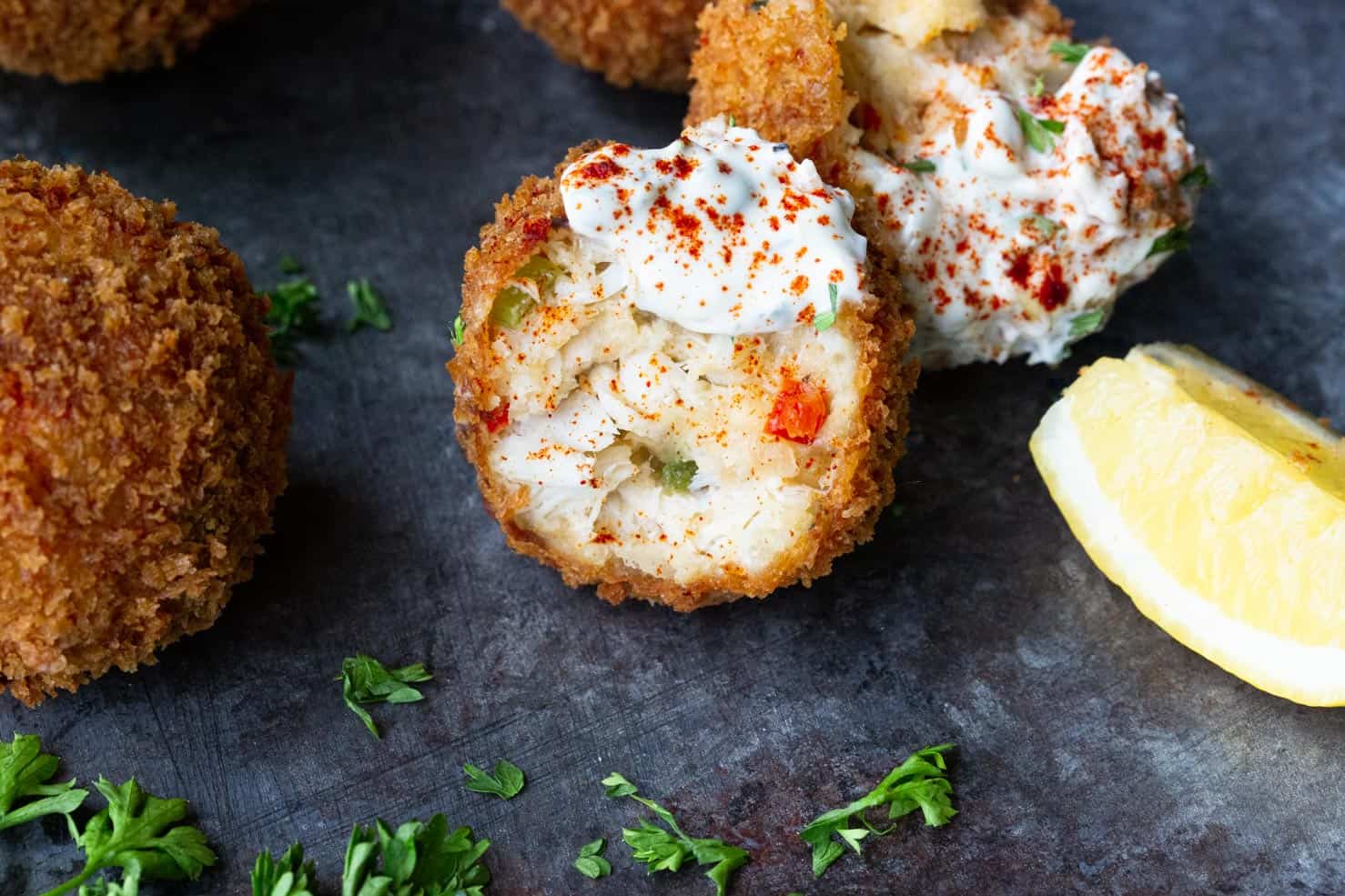 It is an unspoken rule that every Texan, young and old, transplant or native, will eventually find themselves spending Spring Break, Mardi Gras, or a long weekend, in the sun-soaked beach town of Galveston, Texas.
While there are many famous seafood houses on the island, a cozy, corner side café with a charming tree covered patio has become the local favorite, and for good reason.
Shrimp n' Stuff features insanely delicious, made from scratch seafood platters, fried crab balls, and po-boys for an excellent price, using local seafood caught daily from Galveston Bay.
You can't go wrong with anything on the menu but there is one favorite that keeps people talking for months after their vacation, and that is their crispy on the outside, creamy on the inside, blue crab balls.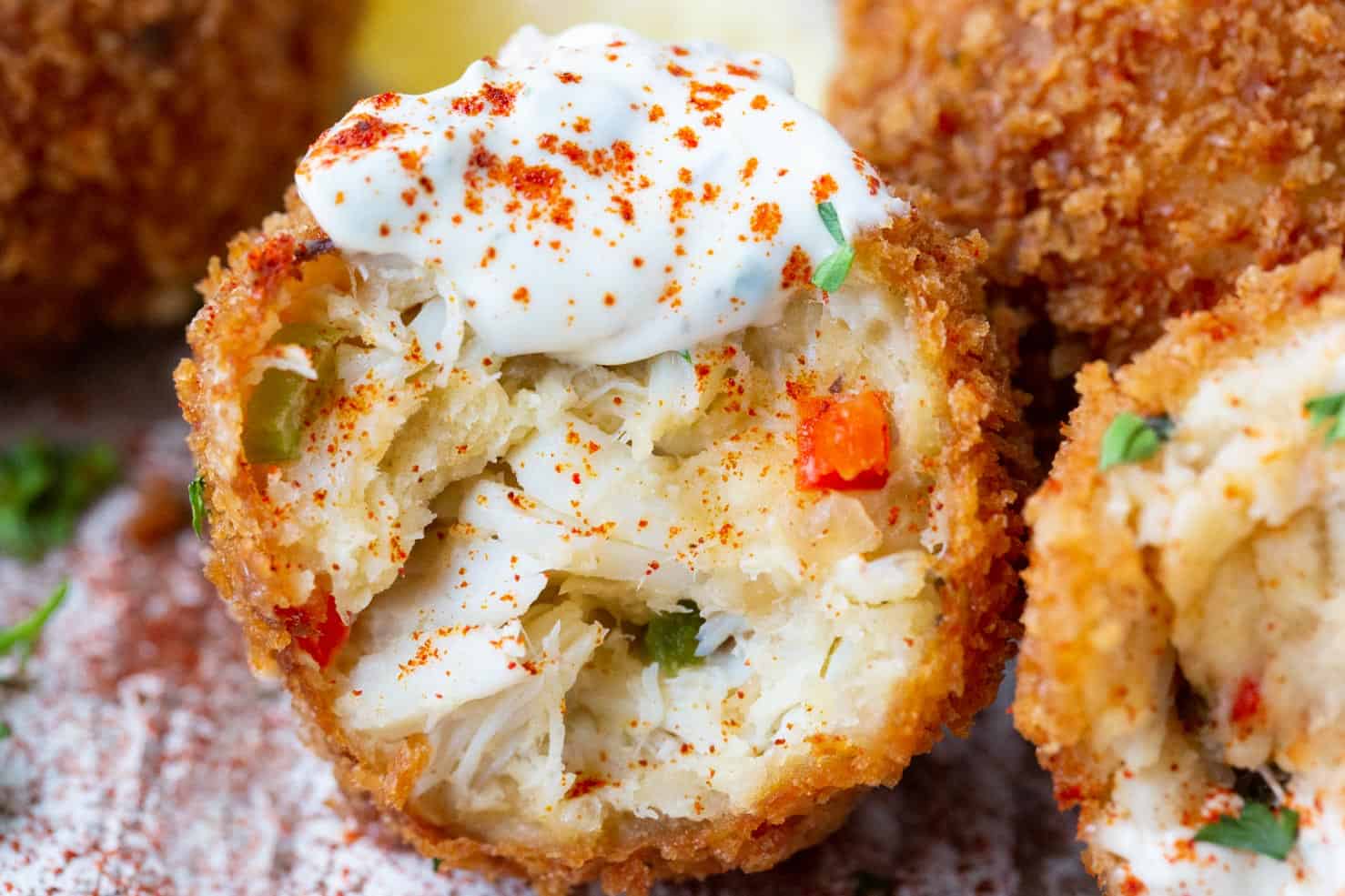 I like to describe fried crab balls as the southern version of crab cakes, and they start with the same classic mixture of fresh blue crab, bell peppers, onions, and cracker crumbs, held together with egg and cream.
In the southern United States, the mixture is rolled into ball shapes and breaded with panko breadcrumbs, fried crispy, and served with tartar sauce. So, kind of the same flavor as a crab cake but a different experience in the eating.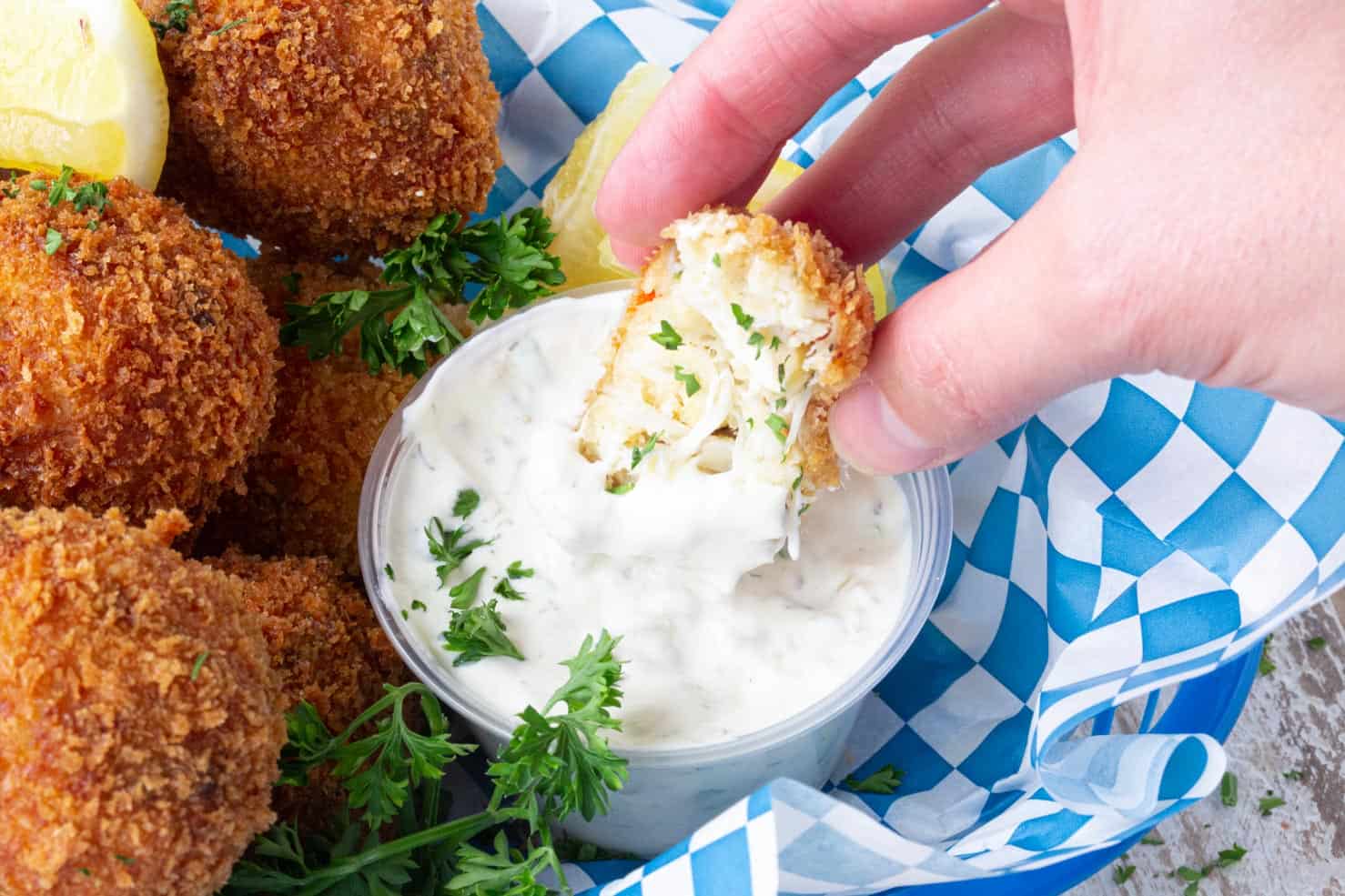 If you have my cookbook, The Urban Cowgirl, you may remember reading about how I chose a 100-year-old, teeny tiny, fixer upper home on Avenue P, as our first home in Galveston, just to be close to Shrimp n Stuff. (Give me a break, I was pregnant and the whole street smelled like french fries and beignets.)
My copycat Shrimp n' Stuff crab balls recipe appeared in my cookbook first, and today I'm sharing it with you!
So, let's get started with the main ingredient, the crab meat.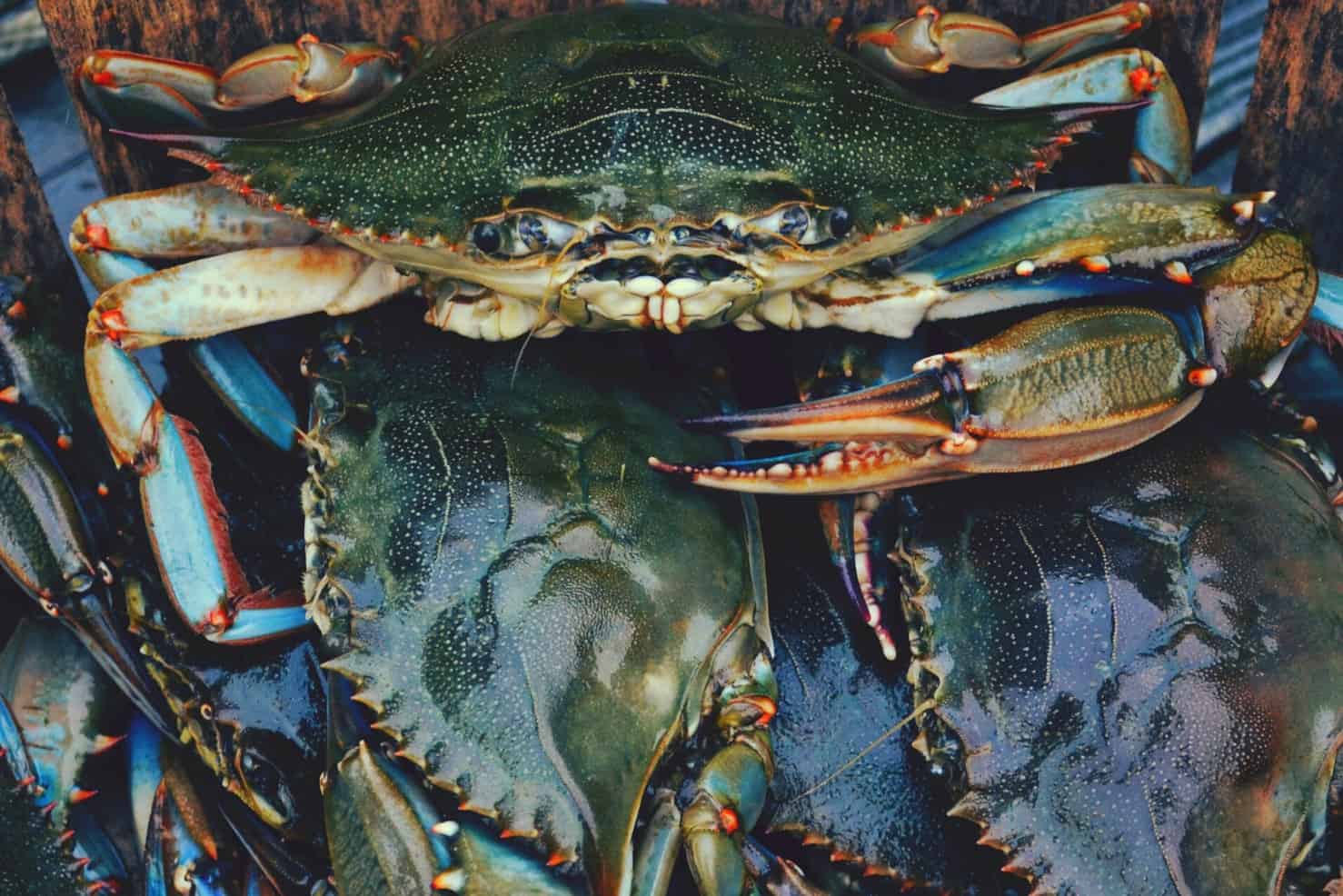 What crab meat should I use in crab balls?
It's likely that all of the restaurants in Galveston that source seafood locally are using blue crab.
Blue crab is found in the Gulf of Mexico and all along the east coast of the United States. Crab meat comes in 3 options– jumbo lump, backfin, and claw meat. Jumbo is the most expensive, followed by backfin, and then claw meat. I use a combination of backfin and claw meat when I can, but you can use whatever crab meat combination that you can find that fits your budget.
You will need a full pound—16 oz. for this recipe.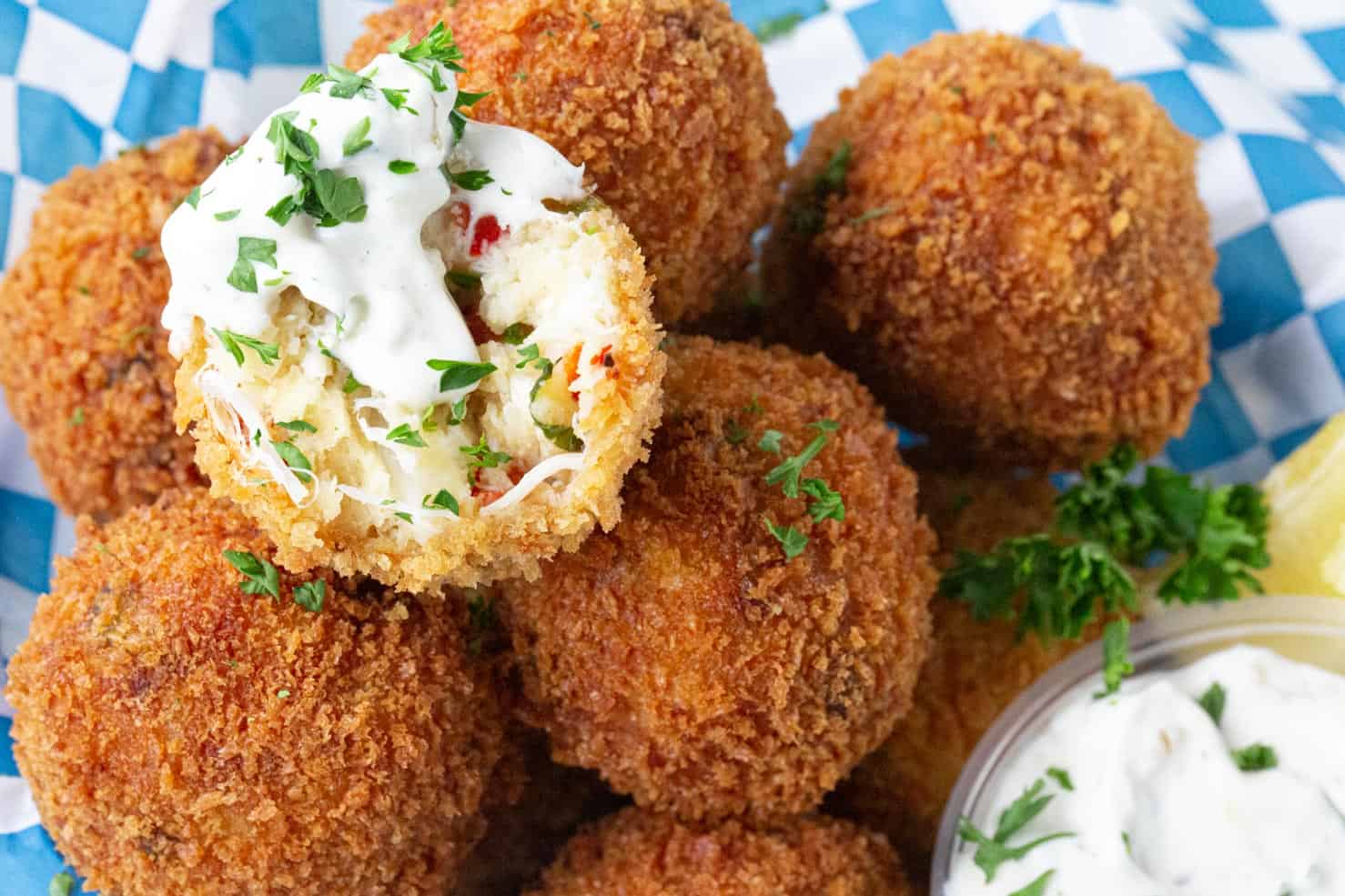 How to Make Crab Balls:
To make the crab filling we'll start with the crab meat and the binder, a classic combination of saltine cracker crumbs, milk, and egg.
Mix that well with your fingers.
To a saute pan, add all the veggies, and sweat them…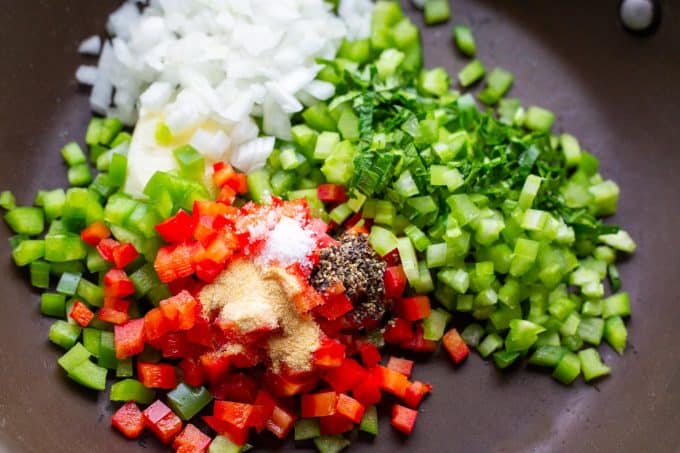 They just need a quick warm up in the butter, cool, and add them to the crab mixture.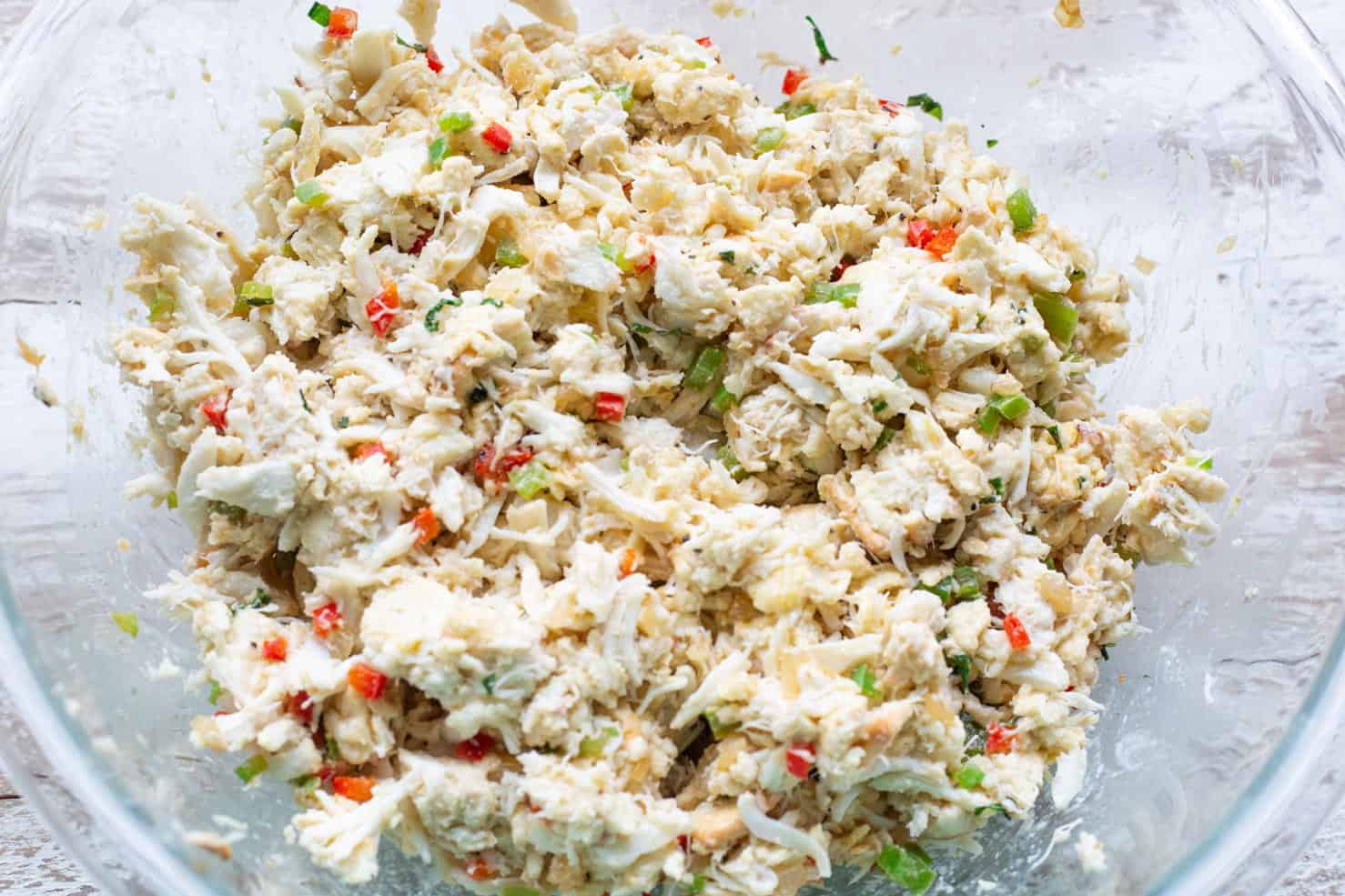 For my 1 oz. balls I use my 1 oz. ball scoop. This tool works perfectly for everything from meatballs, to fat bombs, to cookie dough. I portion out the scoops and form the balls by rolling in my hands like this. Then I freeze while I prepare my fryer. They don't need to freeze solid, they just may be warm from rolling around in your hands and this helps firm them up.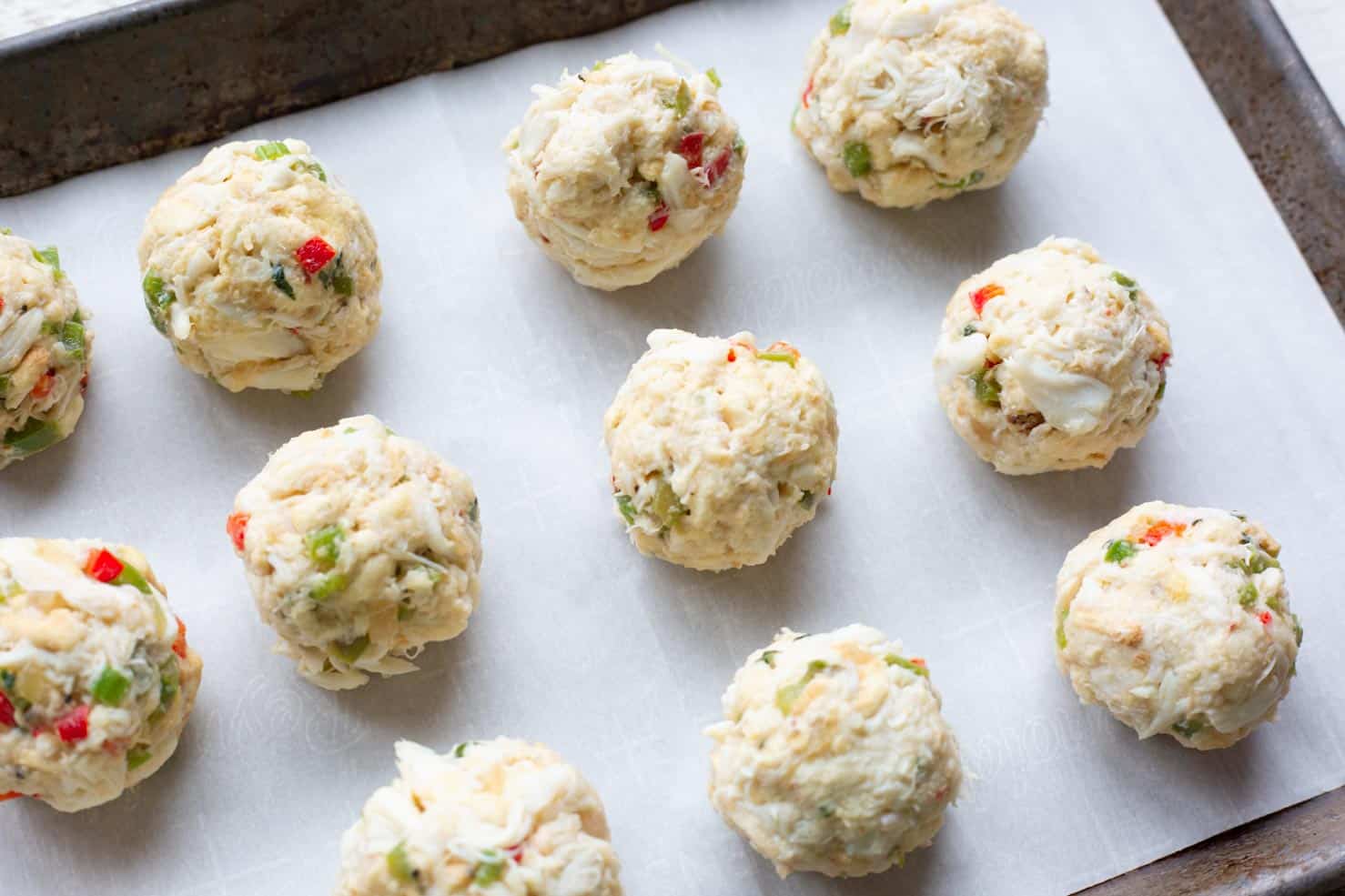 How to Make Fried Crab Balls
For the breading and frying portion, you will want to set up the standard breading procedure of 1 dish of all-purpose flour, 1 bowl of eggs thinned with a little water or milk, and 1 dish of panko bread crumbs.
The crab balls should be dusted in flour, rolled in the egg wash, and then dredged in panko bread crumbs. Afterwards, transfer breaded crab balls to a sheet pan until all of the crab balls have been breaded. I place them in the freezer anytime I am not working with them to keep them firm.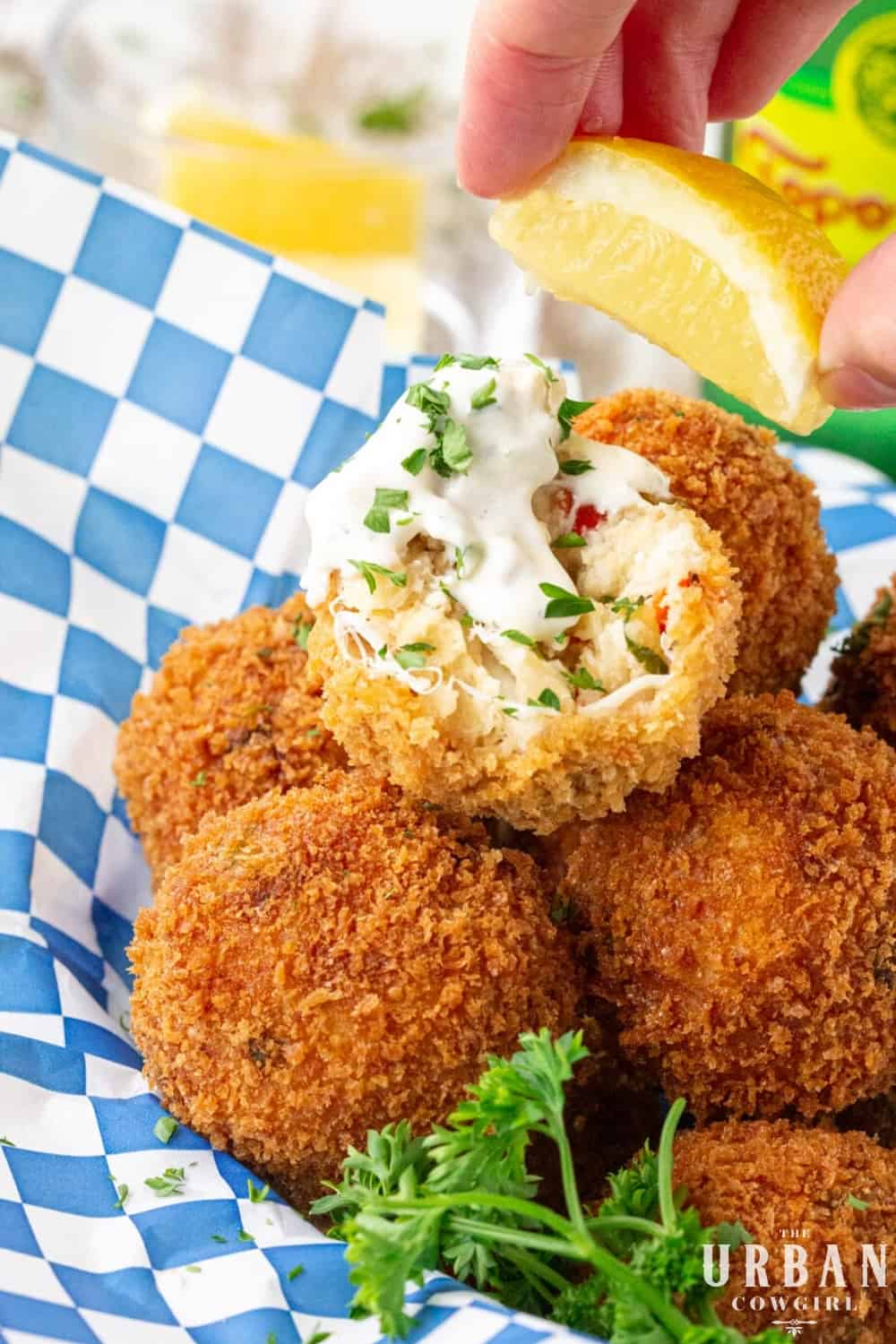 To fry the crab balls, I am using my Delonghi Deep Fryer.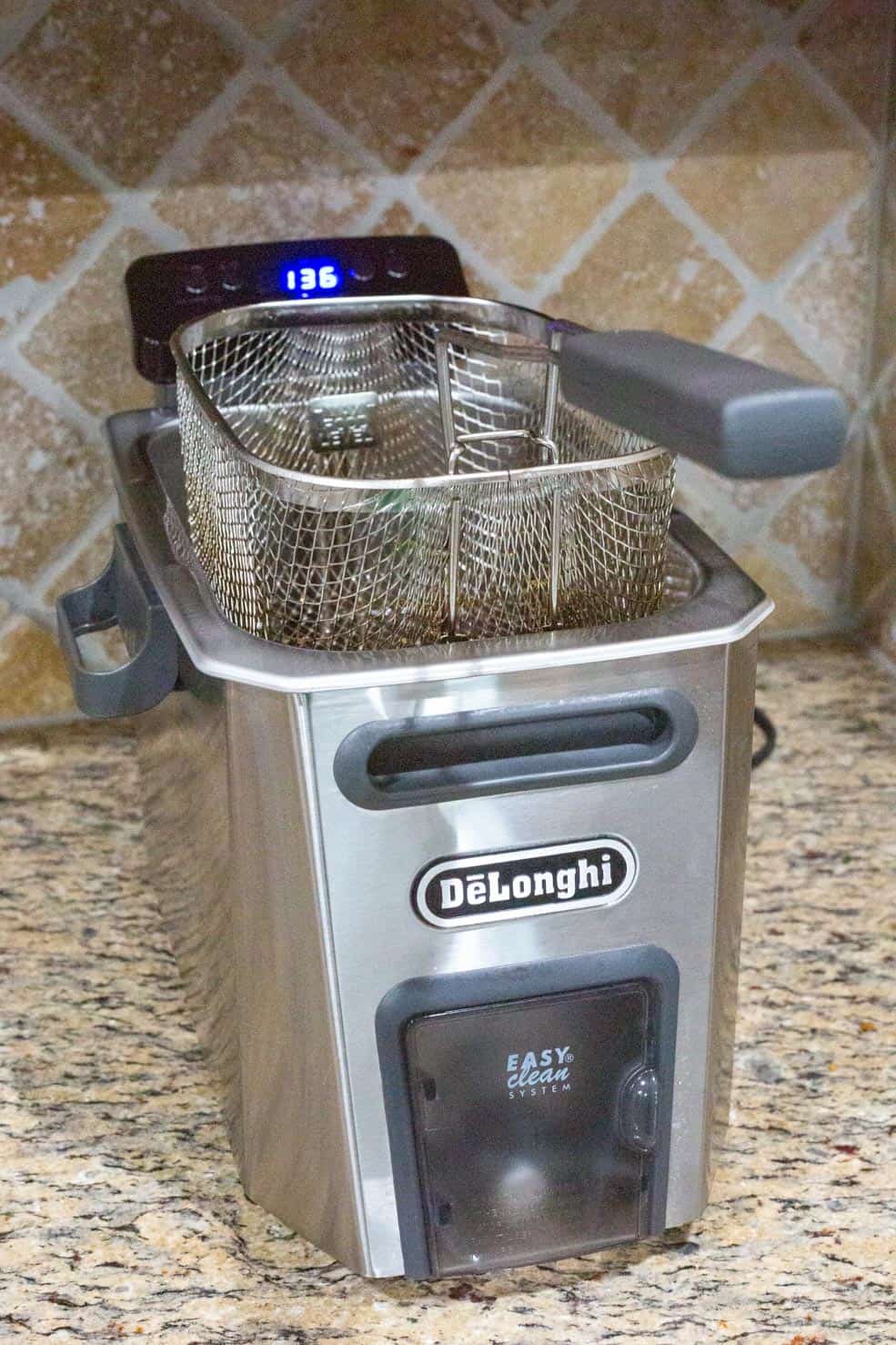 I bought this "used" on Amazon from a reseller but it arrived in mint condition–obviously never before used. I can't say that will always happen but it was a pleasant surprise. Before the deep fryer, I fried my crab balls in a saucepan filled halfway with high smoke point oil (such as sunflower, canola, etc.) and this is a perfectly fine method. If you are using the saucepan method you will love this inexpensive infrared thermometer which gives you a reading on the oil with just the click of a button.
I like the Delonghi fryer because I used to be constantly running out the door to get my kids Wendy's or Chik-Fila, and now the chicken nuggets and tater tots in the frozen food section of the supermarket come out tasting just like fresh fast food. It's very convenient and only cost me $50 which it has easily paid for by eliminating trips to eat out. (It also makes restaurant-quality flautas!)
So, I will fire mine up and bring it to 325-350 degrees. When it achieves that temperature, fry several balls until golden brown. If using the saucepan method you may want to fry only 2 balls at a time.
It's that easy! Drain the oil well.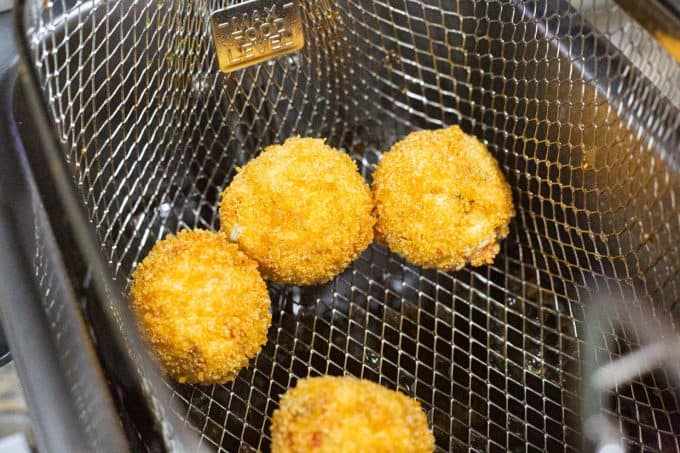 Serve hot and fresh with lemons and homemade tartar sauce!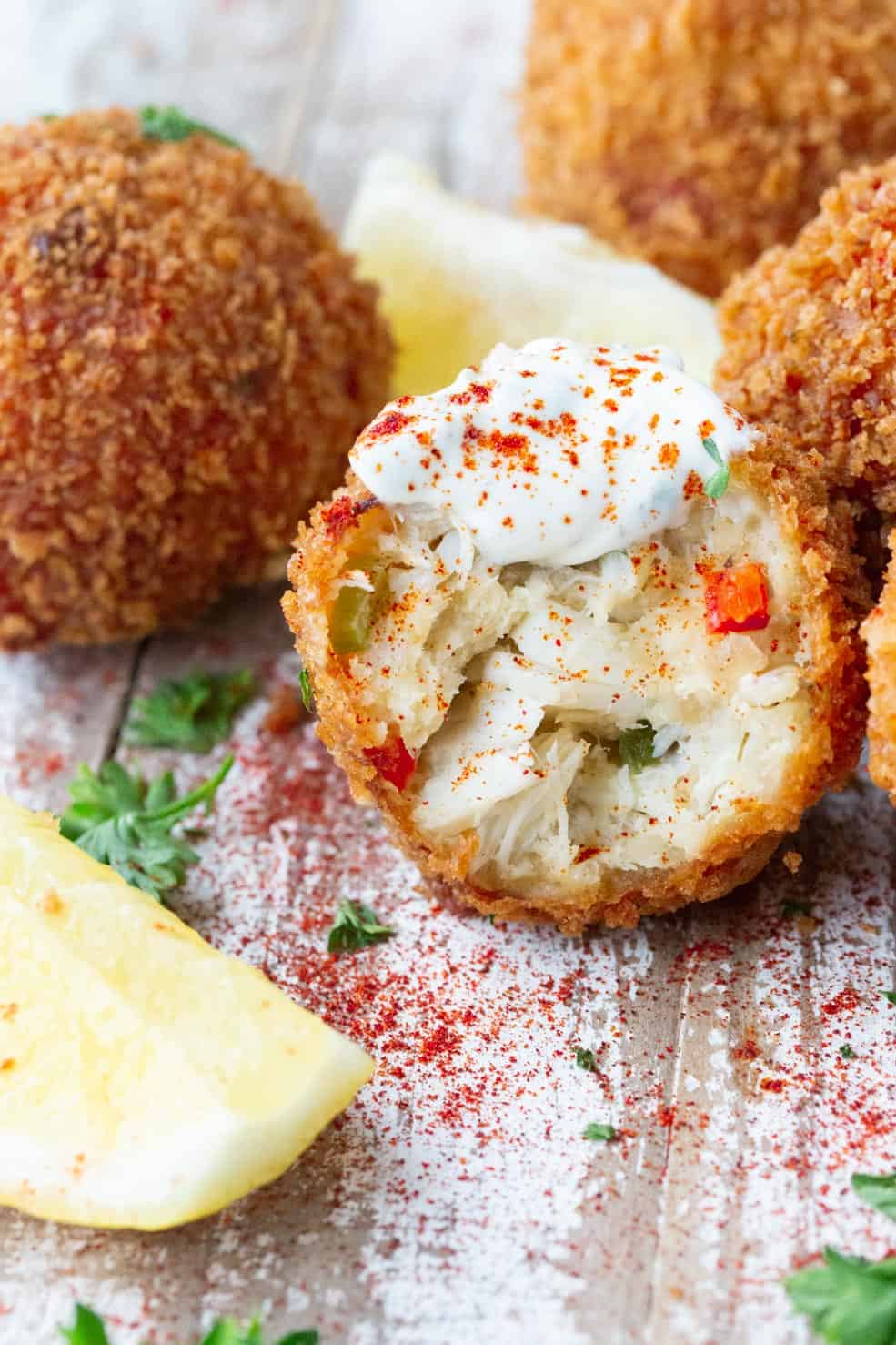 Yield:

20-24, 1 oz. balls
Galveston Crab Balls Recipe
These crispy, fried crab balls are my favorite bite in Galveston, Texas. Although they are a favorite seafood recipe throughout the gulf coast, this recipe is based on Shrimp n' Stuff Restaurant's version.
Ingredients
1 lb. crab meat (8 oz. claw meat, 8 oz. back-fin)
1 egg
2 c. crushed saltine cracker crumbs
¾ c. cream
1/4 t. salt or Old Bay Seasoning
1 T. butter
1/3 c. white onion, very fine dice
¼ c. green bell pepper, very fine dice
¼ c. red bell pepper, very fine dice
¼ c. celery (about 1 stalk), very fine dice
¼ t. kosher salt
¼ t. black pepper
½ t. garlic powder
1 T. fresh parsley
Egg Wash:
1 egg
¼ c. water
Batter:
½ c. flour
2 c. panko bread crumbs
1-quart fresh oil for frying
Instructions
In a large bowl combine the whisked egg, crab meat, cream, and crushed saltine cracker crumbs. Season with 1/4 t. of salt or Old Bay seasoning, if desired.
Finely dice all of the veggies and heat 1 T. butter in a small saute pan. Add the onion, bell peppers and celery and cook over medium heat 4-5 minutes. Add the salt, pepper and garlic powder. Continue to cook the veggies until they are soft and wilted. Turn off the heat and set them aside to cool slightly.
Mince 1 T. fresh parsley and add to the bowl of crab mixture along with the vegetables. Use your hands to mix and fold the mixture together. Using a 1 oz. meatball scoop or your hands scoop out balls of the mixture, roll between your palms until it is firm, and place on a lightly greased baking sheet. You should have 22-24 balls. Freeze for 30 minutes to 1 hour.
Meanwhile pour the flour onto a plate, whisk the egg with the water in a bowl, and pour the breadcrumbs onto another plate, creating a breading station for the crab balls. Pour the oil into a medium sauce pan and heat to 350 degrees.
Slice any lemons and pour tartar or cocktail sauce into small bowls.
When the balls are firm, remove them from the freezer. They should be chilled to a more solid-state, but not frozen. Take a crab ball and roll it first in flour, then dunk it in egg wash, then roll it in panko bread crumbs. Set aside and repeat with the remaining balls.
Fry the balls, several at a time for about 4 to 5 minutes at approximately 350 degrees. Remove the balls with tongs when they are golden brown. Drain over a cooling rack or on paper towels. Salt and serve immediately.