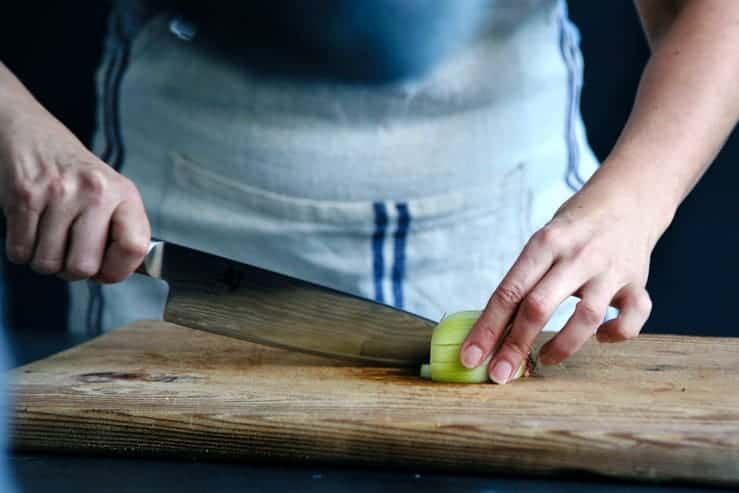 As a blogger who is also a professional chef, I'm often asked, "What kitchen tools, knives, and appliances do you use in your own kitchen?"
So, I am finally going to answer that question in a series of blogs that are going to detail exactly what kitchen tools I use, why I use them, and where you can find them.
Of course, with any type of recommendation, it is subjective, which means there will be people out there that will not agree with me; but I have spent the better part of my life in professional kitchens discussing equipment with my peers, and these are the exact models and brands that we choose to build our career on.
I am going to start off with what I and many other chefs believe is the most essential kitchen tool you will own, your chef knife!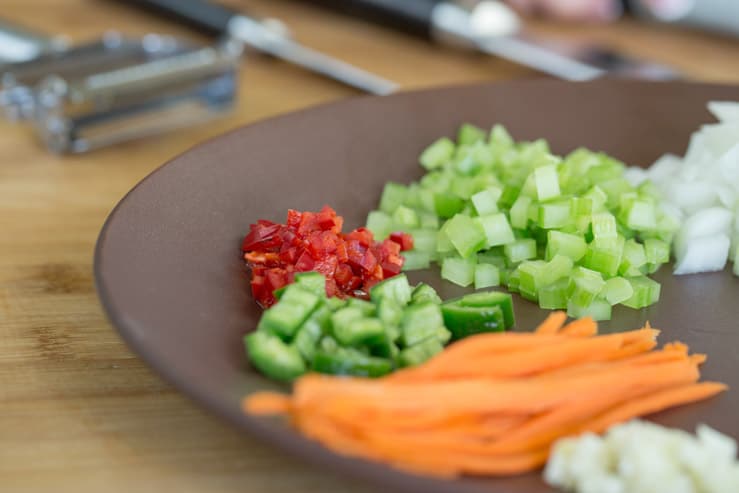 How Much Should A Good Kitchen Knife Cost?
There is nothing more uncomfortable for a cooking expert than walking into a friend's house to enjoy a party and watching them chop vegetables with a dull, cheap chef knife.
To make matters worse, some salesman, at some mall kiosk, has usually already brainwashed them into thinking, this IS A REAL CHEF KNIFE! —and God only knows how much they paid for it.
I'm instantly torn. Should I tell them how perfectly my knife slices through carrots? (Like a hot knife through butter.) Should I confess I paid less than $125 bucks for it, and I will own it my entire life, sharpening it monthly to bring it back to its razor-sharp glory?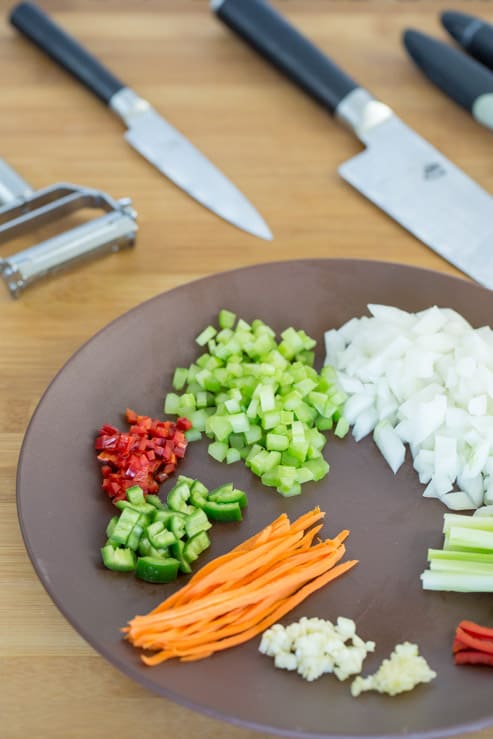 I don't want to make them feel bad, but how could anyone actually enjoy cooking with something that takes that much effort to use? All chef knives are NOT created equal.
The bottom line is, you should be able to get an excellent quality kitchen knife that will last you your entire life for $75-$150.
If you want to buy brand new you can expect to pay $100-$150.
If you buy used at a good knife shop you will pay $75 to $125, and they will have already sharpened it back to its original, razor-sharp glory.
The critical thing to realize is chefs know what to look for in a chef knife, and to save you the trouble of learning all those things, it's smart to stick to a few of our favorite brands.
In my humble opinion, there are 2 styles of chef knives to consider, German and Japanese, either style only within the boundaries of professional chef brands.
Let's look at the difference between German and Japanese styles…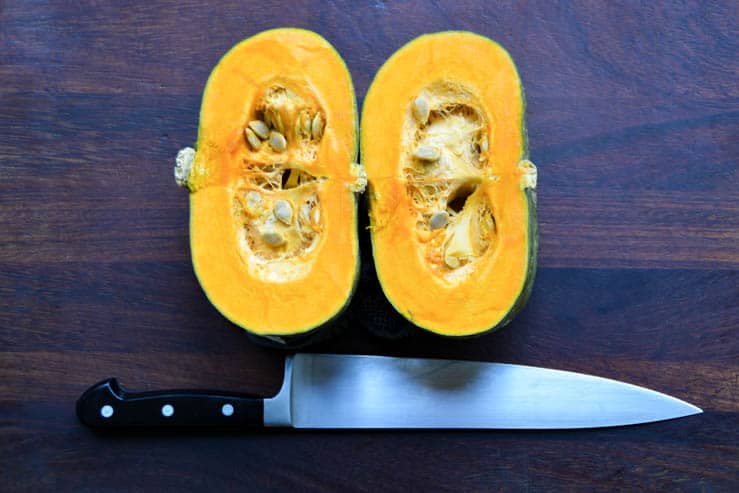 German Chef Knives – Heavy & Substantial
If you do a Google search of, "What is the best chef knife?", you will be treated to an array of German heavy hitters such as Wüsthof, Henckels, and Messermeister. There is a reason I call them "heavy hitters" and it is not just because they are well regarded. It's because they are HEAVY!
And weight matters when you're talking about a tool that you operate with the power of your wrist.
Being heavy gives them some advantages though—the weight of a heavy knife makes it easier to chop hard vegetables like kabocha squash, or cut through bone when you're deboning the Thanksgiving turkey. On the flip side, a heavy knife makes my hand and arm tire quickly during marathon cooking sessions.
German knives also have a wider angle at the edge, which helps them keep the blade sharp for longer; and that is good if you aren't ready to invest in the knife sharpener of my dreams that I plan on sharing with you in my next post.
German knives are strong, sturdy, and substantial. They feel like they should cost what they do. They are powerful and resist getting nicked and damaged if you accidentally drop them or put them through the dishwasher. (That's a big no-no.)
Also, at the time of writing this, as far as I know every single culinary school in the country sets its students up with German knives. These brands are classics, and you cannot go wrong with Wüsthof, Henckels, and Messermeister. (My favorites are linked below.)
I strongly suggest Wüsthof knives. My first knife was a Wüsthof and it was my favorite—until I met Japanese samurai steel.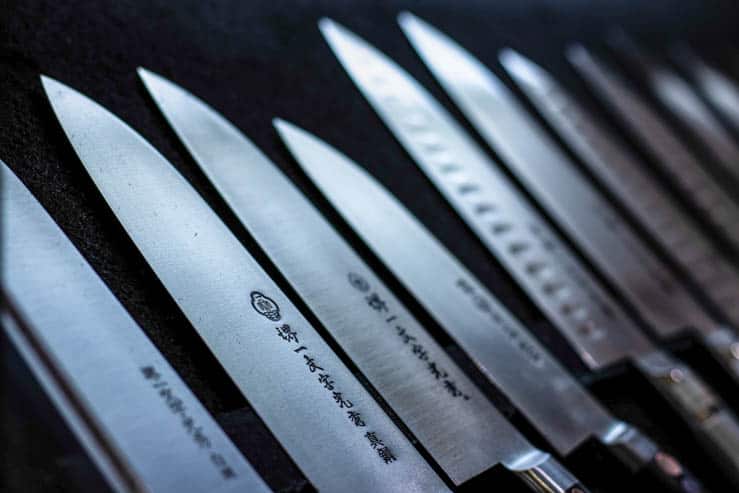 Japanese Knives – Razor Sharp & Light Weight
Have you ever wondered why chefs on TV can make all of those precise and uniform cuts, making everything look artsy and professional? And all the while you're sitting there thinking, "I do the exact same thing and mine look like the Leaning Tower of Pisa!"
Well, you're not alone, and the majority of the reason for their amazing looking knife cuts is the knife they've chosen.
It's a lightweight, unfathomably sharp cooking version of the samurai sword made of carbon steel called, hagane.
Now don't get me wrong, some of it is technique, but you too can achieve gorgeous knife cuts with a decent Japanese blade and a bit of practice.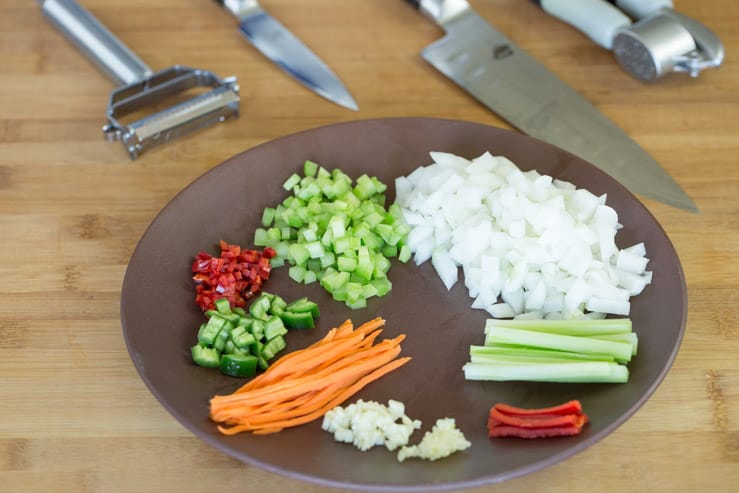 This is just one of the reasons I love my Shun 8-inch Chef Knife. Japanese knives have an extremely sharp edge, because unlike the wider-angle German knives, they have a narrower angle and consequently a thinner blade. This thinner blade allows for the more precise and uniform cuts that you've been admiring for so many years.
The thinner blade also makes the knife lighter and that makes me happy. I cook so much that anything that makes my hands less tired is much appreciated! 🙂
Japanese-style knives aren't without their cons though, and the main issue is that they must be sharpened more often. Don't forget to sharpen your knives!—that is one of the most overlooked steps in many home kitchens that I've seen. You can use the knife sharpener I recommend, or take the knife to a knife shop or fancy kitchen store to be sharpened by a professional.
The Shun 8 inch Chef Knife really is just a thing of beauty to behold. The Damascus pattern of this knife is as pleasing to the eye as the cuts you're going to make with it.
Shun brand is a Japanese knifemaker that zealously follows traditions from 100s of years ago, when knifemaking was an art. They even boast that each knife, to this day, goes through 100 handcrafted steps before its finished. Now that is the kind of dedication I love to see in buy-it-for-life items.
So, now it's time for you to choose your chef knife…
Here are some links to my favorite knives. I usually recommend to my friends and family to buy a chef knife and paring knife, (a little version of the big guy), to get started.
Please avoid anyone who tries to sell you a "whole set" of kitchen knives—quality over quantity is the best approach.
If you have questions, let me know in the comments section below.