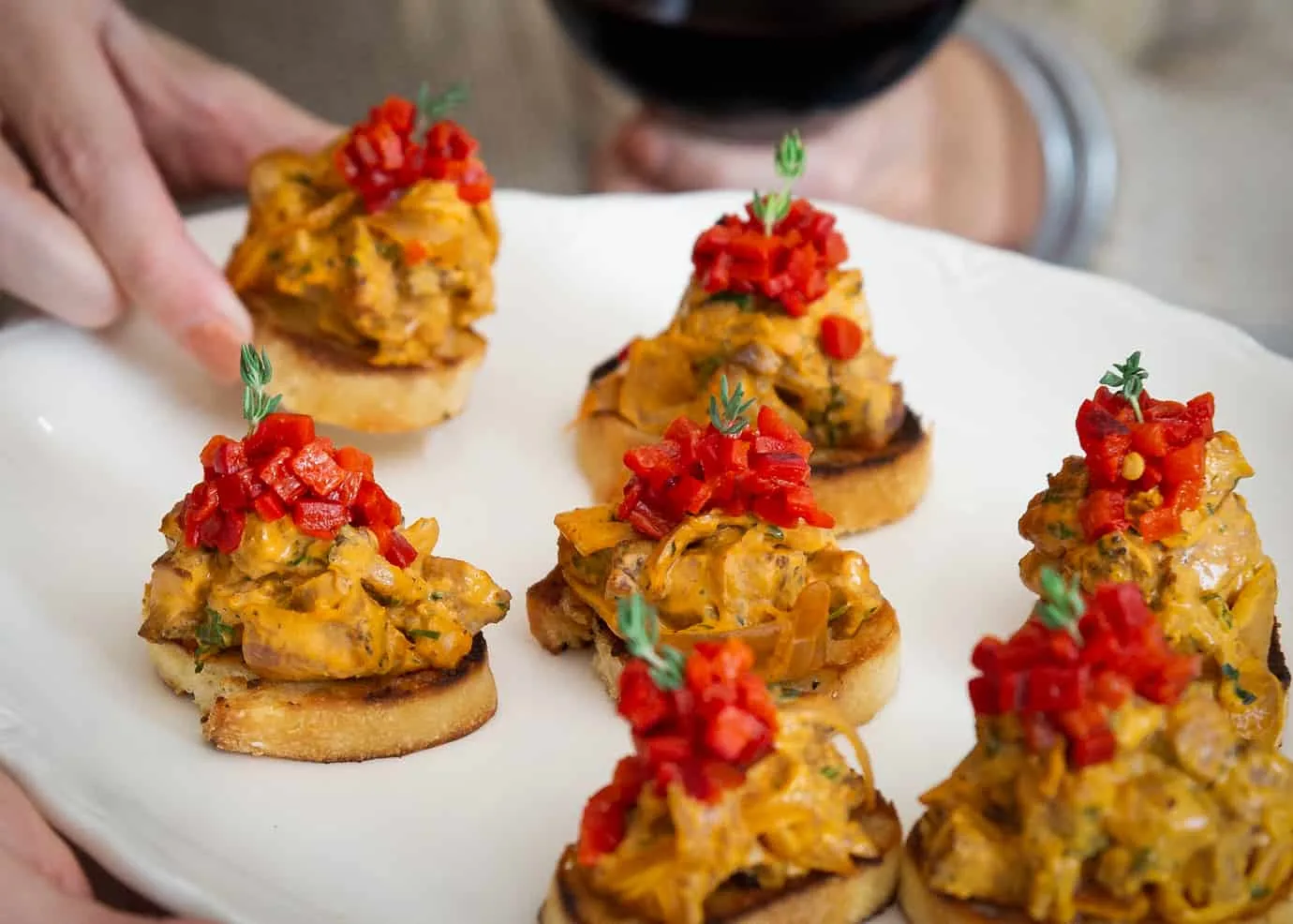 A couple weekends back I planned a reconnect day for a couple friends, and we got together to relax over wine and snacks, which is when I got the idea for this Steak Bruschetta appetizer that y'all won't quit Instagram-messaging me about!
So, today I'm sharing how I made the sweet and smoky roasted piquillo pepper sauce (way easier than you think because I just use a jar of roasted piquillo peppers), how I designed it to be held for hours before a party, and how we can make it look fun and festive for holidays and gatherings!
I think we all know by now that Texans like me love beef, and a dish that I am bonkers over and try to hunt down on high-end restaurant appetizer menus is steak tartare! (Stay with me, this recipe isn't for steak tartare, but it helps understand why this steak bruschetta recipe works.) 😛
When I was a professional chef, tartare was a dish I was in charge of at La Mansion Del Rio in San Antonio and I adored developing new tartare experiences. In all of it's forms beef pairs well with onion, garlic, rich and creamy sauces, roasted peppers, herbs, a bit of crunch, a pop of acidity from vinegar or lemon, and of course a little toasted baguette never hurts.
Unfortunately, it's hard to find tartare outside of 4 star steakhouses, so when I get a craving for it it often goes unfulfilled. That's why I put this dish together—only here we will be using seared medium-rare filet mignon bathed in a creamy piquillo pepper aioli, for a more approachable bruschetta topping that everyone will be happy to try.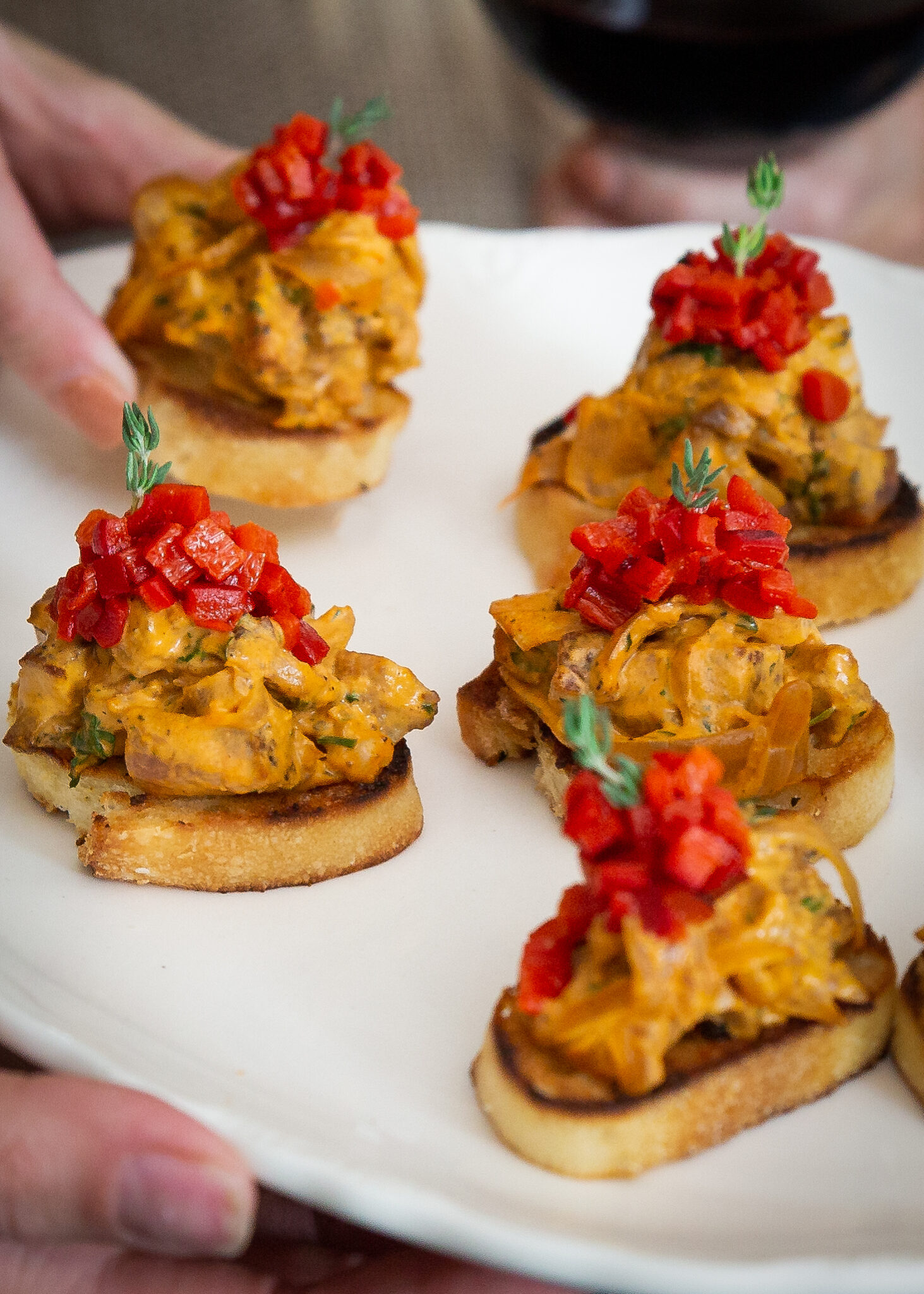 Because it's cold and rainy outside, I am pan-searing my thick-cut filet mignon steaks, but this dish would be delicious made with grilled steak as well. If filet mignon is unavailable or too expensive, sirloin steak is an excellent substitute. The best approach to a hard and crusty sear on your steaks is always to season liberally with salt and pepper, garlic powder, and onion powder.
Sear in a heavy bottomed pan with a high-smoke point oil such as avocado oil, sunflower oil, safflower oil, etc, over medium high heat.
This 12-Inch All-Clad Skillet really helps the beef develop a perfect crust for all my recipes. Because they are expensive, I encourage people to just buy one that you can use when searing meat and chicken for all of your favorite dishes, but if that still out of your price range you can't beat a good quality cast-iron skillet.
Cook for 3-4 minutes on each side. The sear should be beautifully golden brown and the inside should remain hot pink.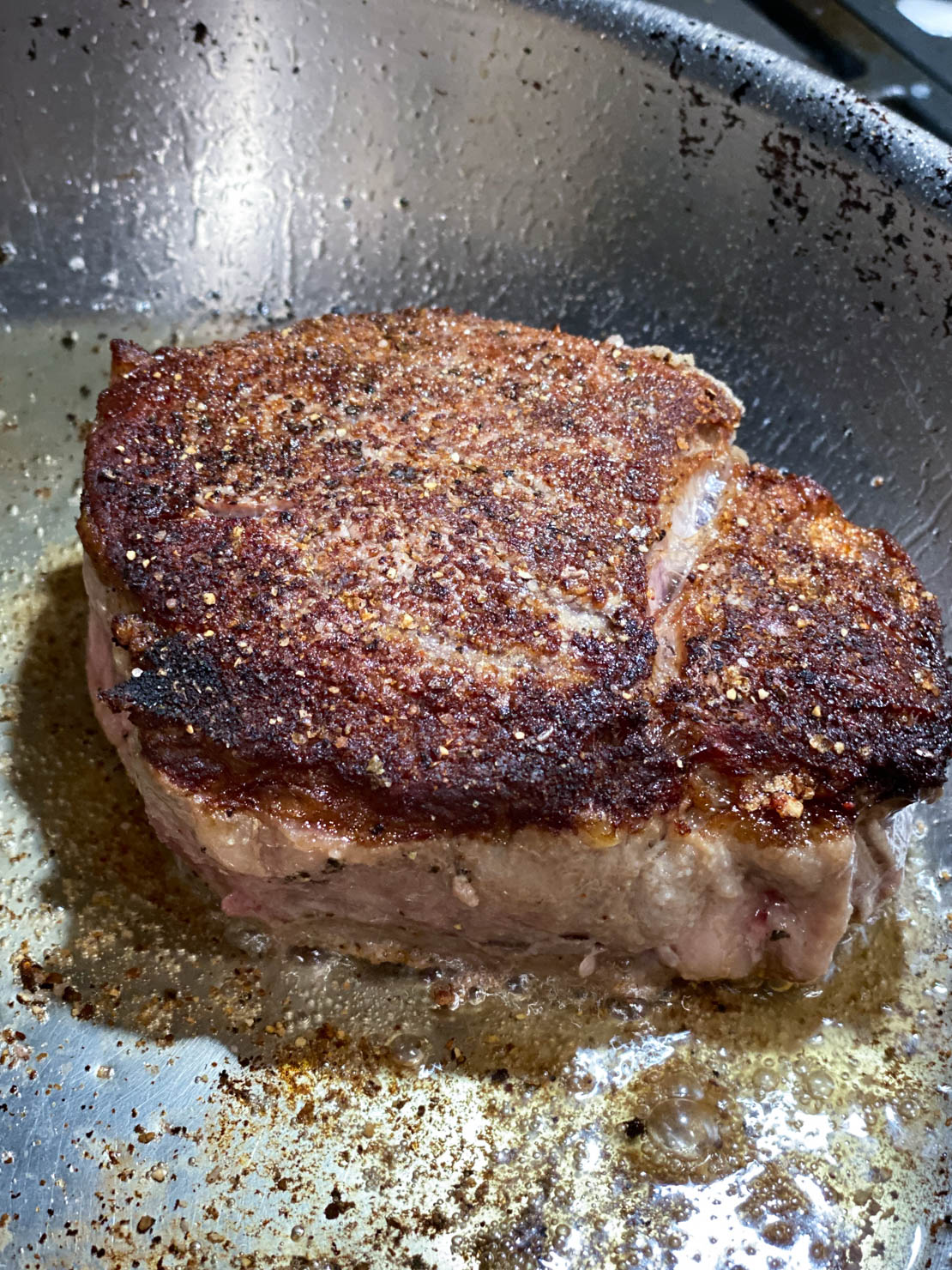 Remove the steaks and rest for 12 minutes. For the love of all that is good and holy, DO NOT cut into the steaks before letting them rest or the juices that give you so much flavor will run out! Lay the seared filet mignon out on a cutting board and slice into thin slices. Here is the Chef Knife I have and love as well as the Sharpener I use to keep all of my knives razor sharp.
When you have made your slices, cut again into 1/2 inch morsels…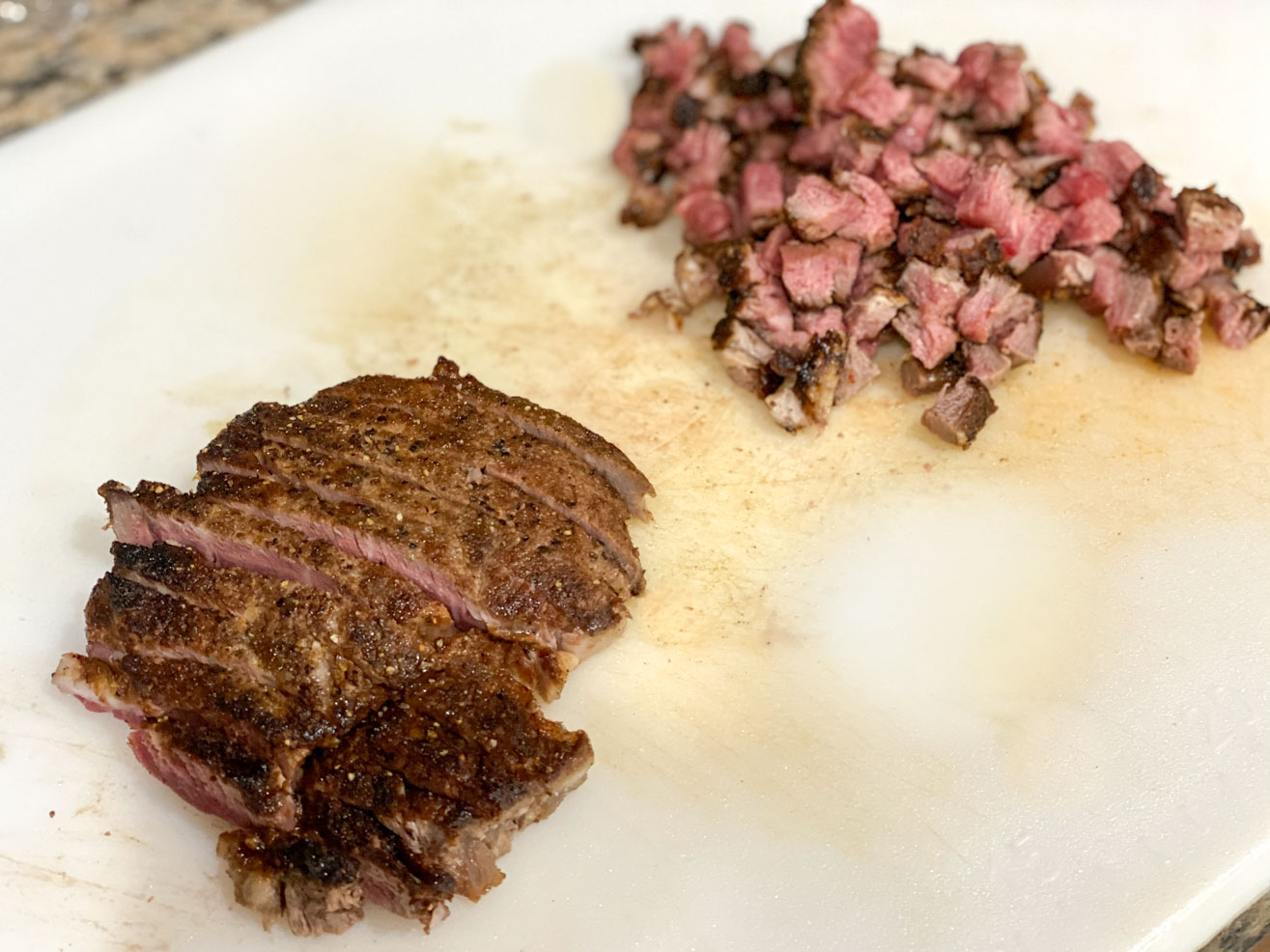 Add the morsels of seared steak to a bowl and combine with the caramelized sweet onion, and fresh herbs. Chill in the refrigerator while we start the piquillo pepper sauce.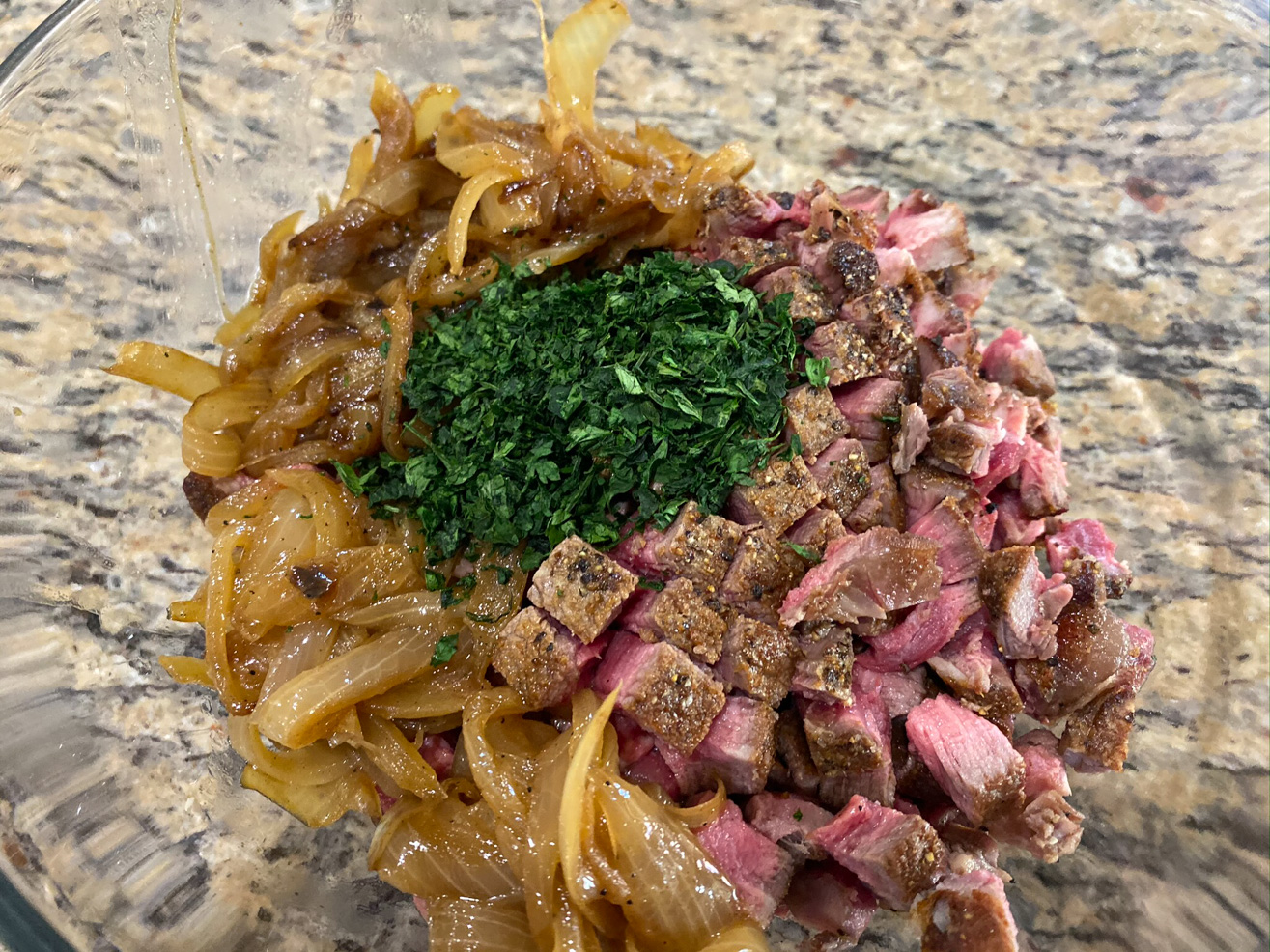 How to Make the Piquillo Pepper Sauce Recipe:
The piquillo peppers that I am using in the sauce for the steak bruschetta are grilled and roasted, jarred piquillo peppers. These roasted peppers are not hot at all. They have a sweet and smoky flavor and if you cannot find them, an adequate piquillo pepper substitute is ordinary roasted red bell peppers in the jar.
I prefer piquillo peppers for this recipe because they have a richer flavor and the flesh is consistently thin and delicate, which provides a consistent texture for the piquillo pepper topping. (The pretty red nibbles I put on top of the final bruschetta before serving.)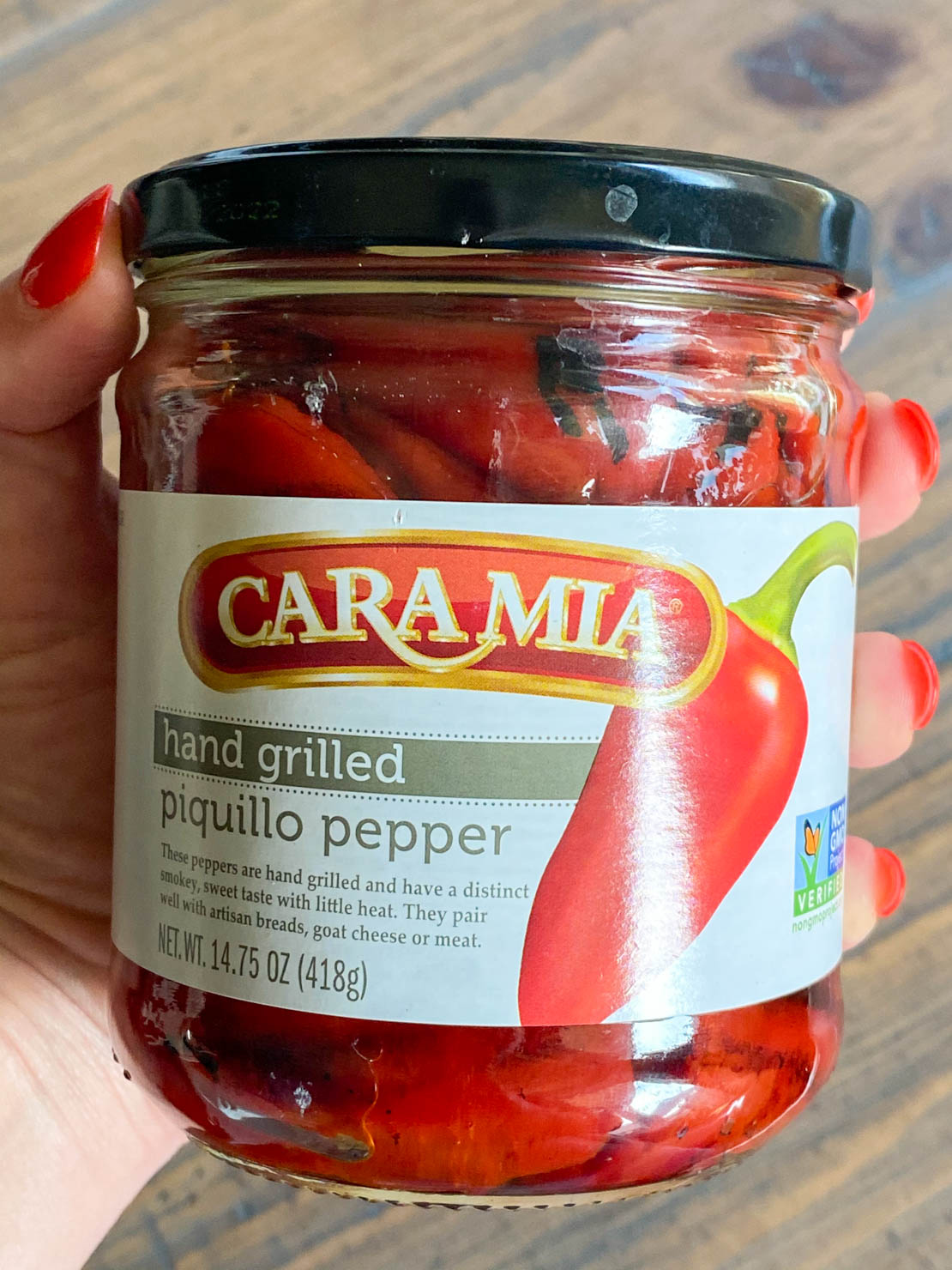 This is what my jar looks like. I am not personally attached to this brand of piquillo peppers, it's just what my Sprouts sells. I have also seen piquillo peppers on the olive bar at grocery stores. Here is a jar on Amazon if you cannot find it locally.
Here is what they look like when you open it up! They are very fine, silky roasted peppers and that gorgeous red color really gets my appetite going…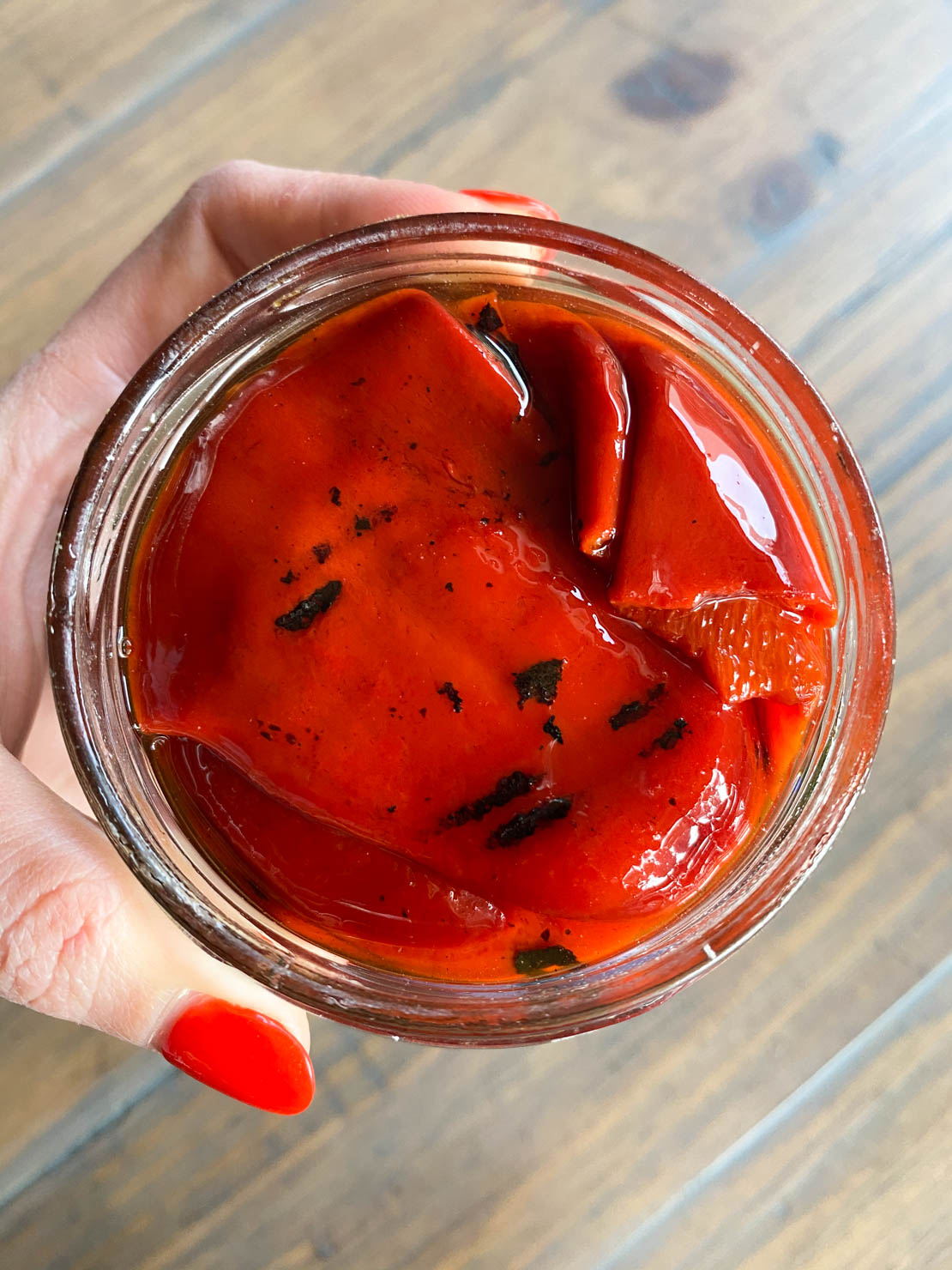 In a blender, you'll add all of the ingredients and blend well. That's it! What looks like a very daunting, cheffy recipe is actually super simple… taste the piquillo pepper sauce and add salt to taste. It should look like this…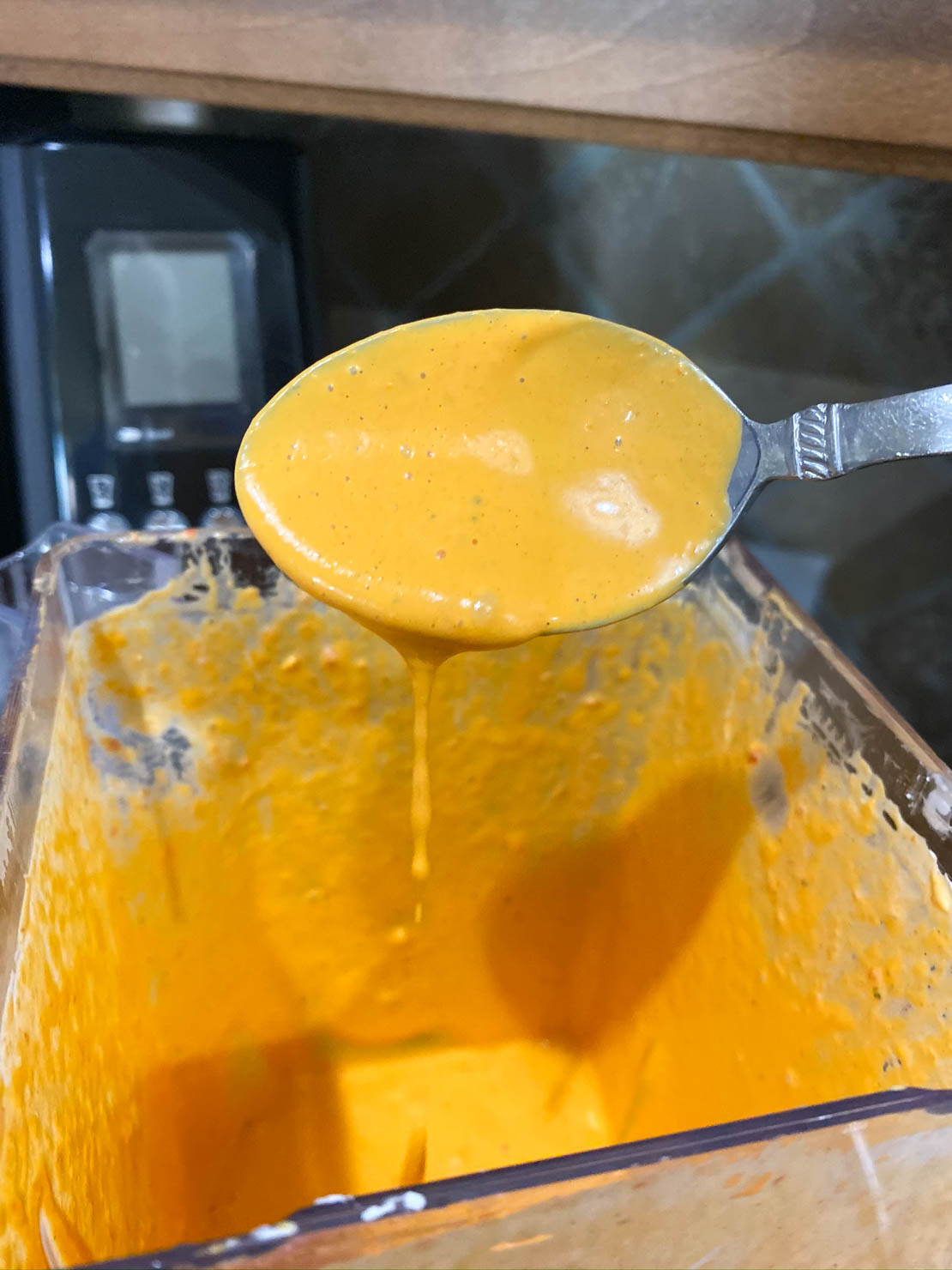 Add to your bowl of steak bites and fold the sauce throughout the mixture…
The grilled steak topping will look like this. It can be held for a full day ready to be placed on our crostini, making it a reasonably low maintenance appetizer for a cocktail party or get together.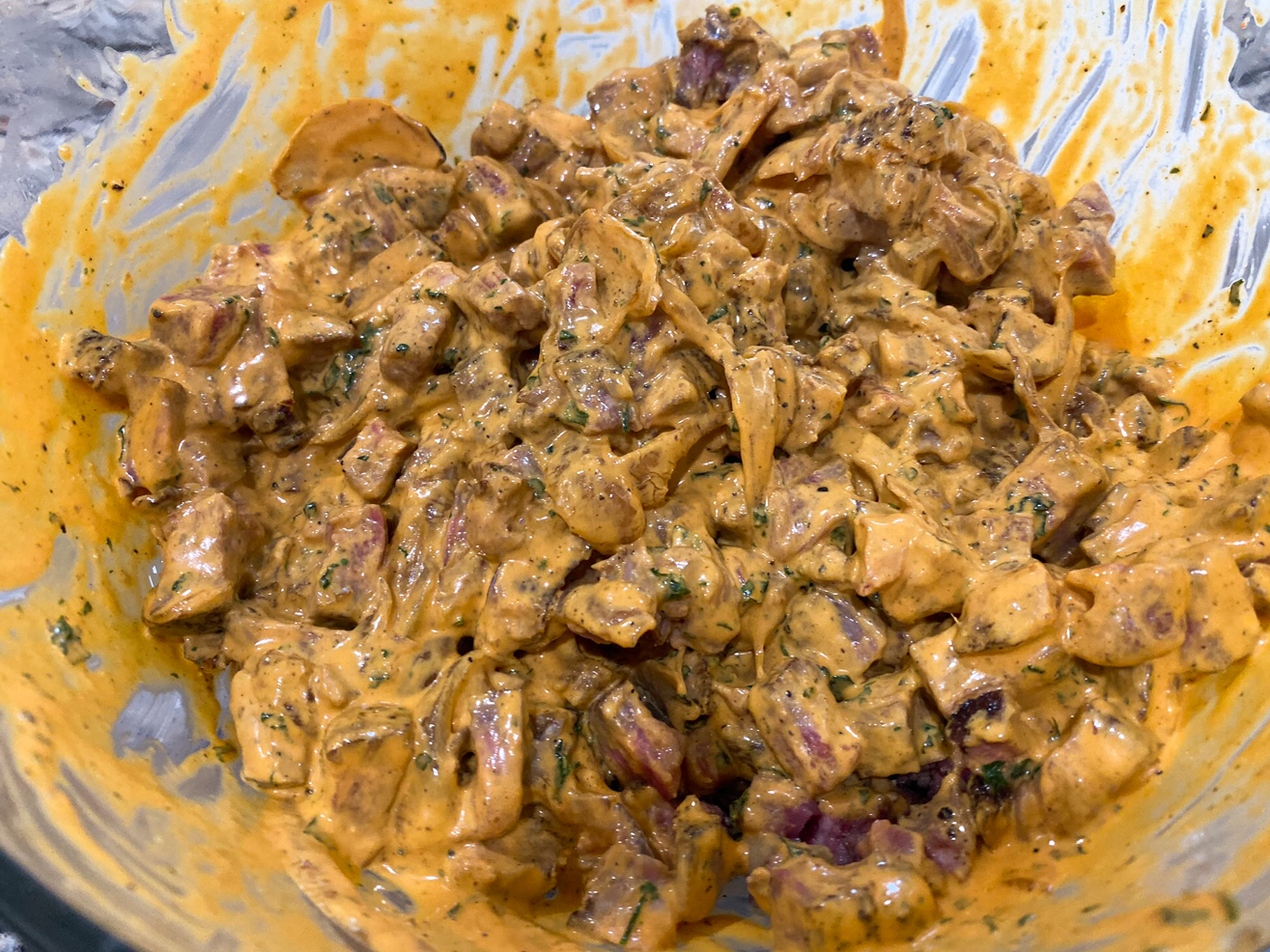 Now when you're ready to entertain, scoop the steak mixture onto toasted crostini and top with diced piquillo peppers. I add a sprig of thyme to each bite so they look extra pretty! Enjoy!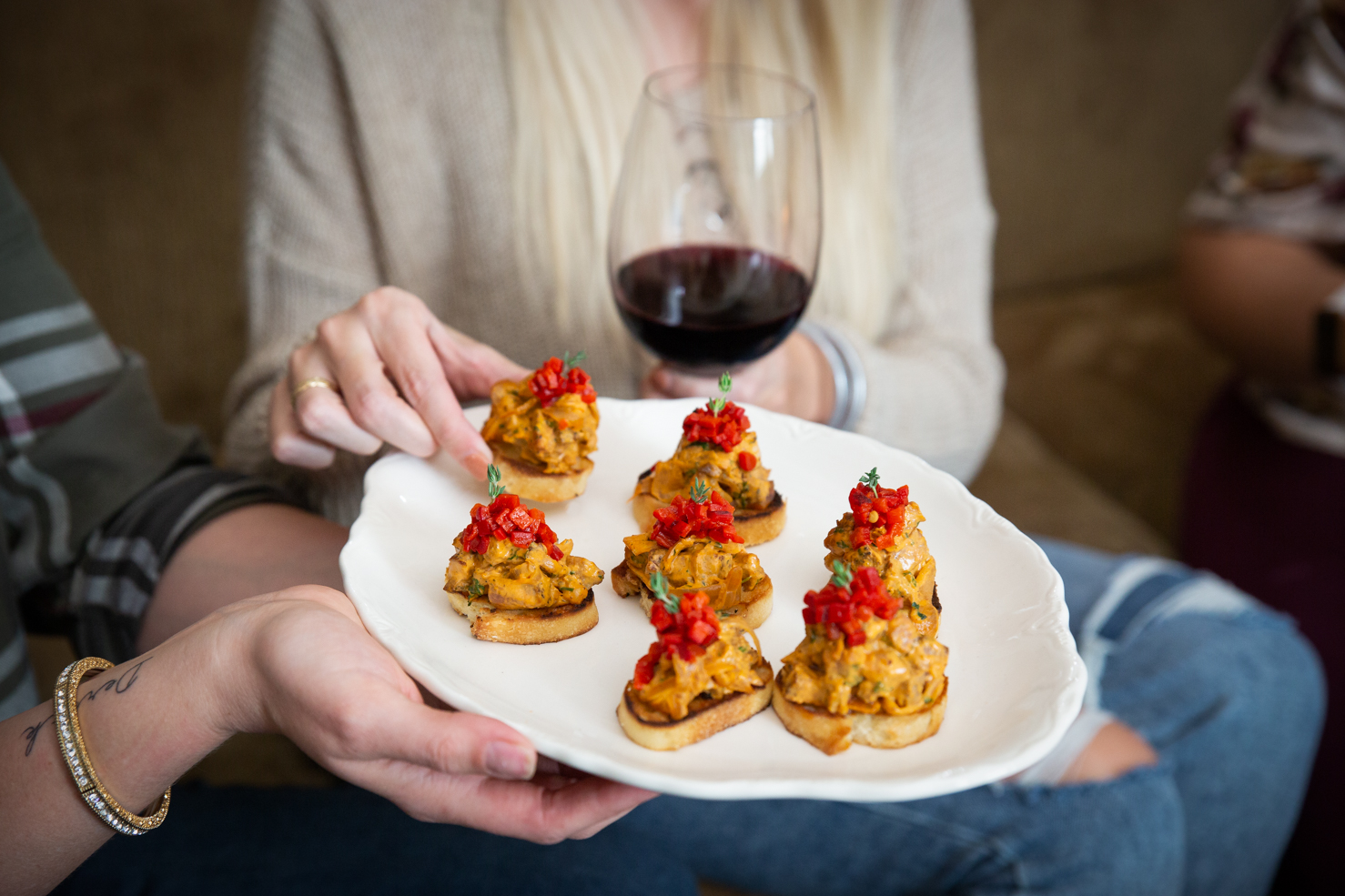 Here is the recipe for the Steak Bruschetta with Piquillo Pepper Sauce! If you make it tag @UrbanCowgirl on Instagram, and use the hashtag #UrbanCowgirl so we can see your dish!
Yield:

20-25 canapes
Steak Bruschetta with Piquillo Pepper Sauce Recipe
This delicious steak bruschetta appetizer is cheerful and festive for any special occasion! Tossed in a sweet (and easy) piquillo pepper sauce, your guests will be raving at this elegant appetizer.
Ingredients
2 thick-cut filet mignon steaks, or sirloin steaks
Salt
Pepper
Onion Powder
Garlic Powder
Avocado Oil or other high smoke point oil for pan-searing
Caramelized Onions:
2 onions, sliced according to instructions
3 T butter
1 T. sugar
water to deglaze the pan
salt and pepper to taste
1 t. fresh lemon juice to bring out the flavors (optional but super good)
2-3 T fresh herbs, I used thyme and parsley (chives are great too)
Piquillo Pepper Sauce:
3/4 c. roasted piquillo peppers, in the jar, oil drained (save the rest of the jar for topping if you wish)
3/4 c. mayo
1 T. red wine vinegar
1 T fresh thyme leaves
2 garlic cloves, pressed through a garlic press or minced
1-2 T. fresh lemon juice, added to taste
1/4 - 1/2 t. kosher salt
1/8 t. black pepper
Crostinis:
1 baguette from the bakery, sliced into coins
1/2 stick butter, softened
salt
pepper
Instructions
To prepare the steaks:
Add oil liberally to a skillet and set over medium-high heat. Season the steaks on one side with kosher salt, black pepper, garlic powder, and onion powder. When the oil begins to shimmer place the steaks, seasoning side down into the skillet. While they are searing you can season the other side with the same spice mixture. Cook 3-5 minutes per side depending on thickness. Cook the steaks to your preferred doneness. (I cooked mine medium rare but the recipe will work if you prefer to cook longer.)
Remove the steaks from the skillet and place on a plate to rest for 12 minutes before cutting into them.
For the caramelized onions:
Cut the onions in half and cut off the root and tip. This should allow you to peel the papery skin off. Slice the onions thin and place in a skillet with the butter, salt, and pepper. Start the onions over medium heat, cooking them until translucent, about 10 -15 minutes. Add the sugar and continue cooking the onions as they turn amber and golden. Occasionally you may need to deglaze the pan with a little bit of water as they caramelize, or they will burn. Caramelizing onions properly takes about 40 min- 1 hr because you will need to lower the heat and cook slowly to get them to turn golden brown. Stir in the lemon juice last and taste for salt and pepper. Set aside to cool.
Meanwhile, slice the steaks into 1/4-1/2 inch cubes and place into a bowl. Add 2-3 T. freshly chopped herbs to the bowl. Finally, when the caramelized onions are cool, add them to the bowl.
For the piquillo pepper sauce:
Add all of the ingredients to a blender and blend for 1 minute. Taste for seasoning. Pour this sauce into the bowl of steak ingredients and toss well with a spatula. Taste for seasoning. This mixture can now be chilled and held for up to 24 hours.
For the crostinis: Start a large skillet over medium-high heat on the stove. Take the baguette and cut it into coins, as seen in the photos. Butter each side of the coin with softened butter. Place the coins into the skillet and fry them on each side, similar to making a grilled cheese sandwich. I salt and pepper my coins while they are in the pan. You can also sprinkle on fresh herbs to make them extra pretty. Remove the coins when they are toasted and repeat until all of the crostinis are golden brown. Allow these to cool. These can be made 48 hours ahead of serving and held in Tupperware.
To Serve:
Place a mound of steak topping on each crostini. Top with additional chopped roasted piquillo peppers and a sprig of fresh thyme if desired. Serve immediately.
Notes
Roasted piquillo peppers are a common ingredient in the southwest and can be found on Amazon, or other online retailers. Substituting roasted red peppers would also work well.
Nutrition Information:
Yield:
25
Serving Size:
1
Amount Per Serving:
Calories:

334
Total Fat:

35g
Saturated Fat:

22g
Cholesterol:

92mg
Sodium:

344mg
Carbohydrates:

5g
Sugar:

1g
Protein:

2g