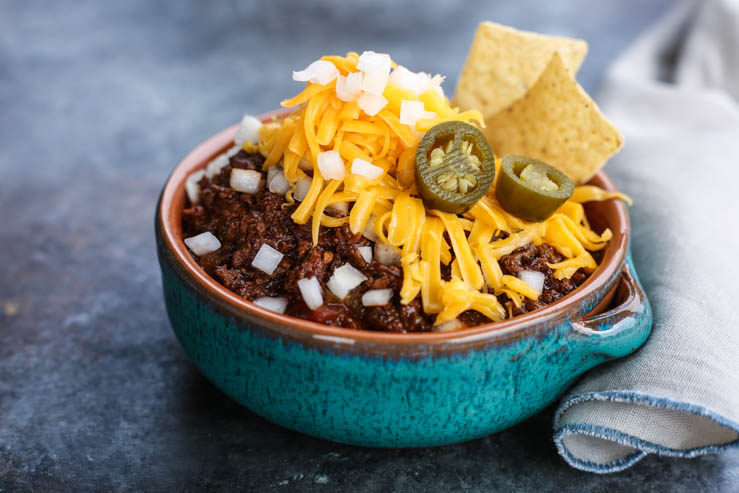 Well guys we got our one week of Fall didn't we?! 😀
And that means it's chili time in the south!
There is an ongoing joke in North Texas that we only get one week of Fall but I suspect this myth is derived from the fact that in Dallas, anything under 60 degrees is considered WINTER!
Get out your boots, your scarves, and a cup of horchata…
Cause Here Comes Chili Season Yall!
Dereck came home the other day to find me sipping coffee in the pantry, and doing inventory on our dried pepper collection. I hadn't been to the chile market since I created my Cherry Mole Enchiladas, and the cold weather had me eager to fill the house with the aroma of charred peppers and fresh chili powder again.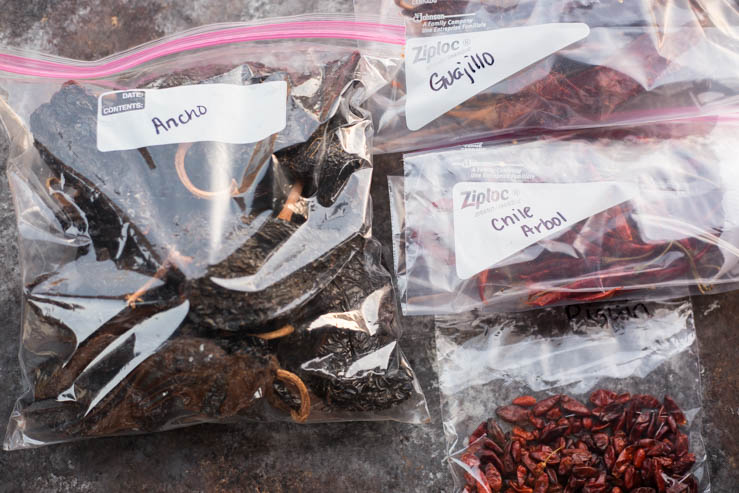 I find this is the best time of year to inspect all our little fellas to make sure they are still raisiny-dried, not brittle or stale, that way you can make fresh chili anytime your heart desires (obviously anytime a new Hallmark Christmas movie premiers.) 😉
I figured you guys were starting to feel the chili urges as well so I whipped up this batch of Bison Chili with Mexican Cinnamon to really get us off to a tasty start this year.
This recipe lets me teach and showcase 3 ingredients I'm really passionate about… Ancho Puree, Texas Chili Powder, and Canela, or Mexican Cinnamon.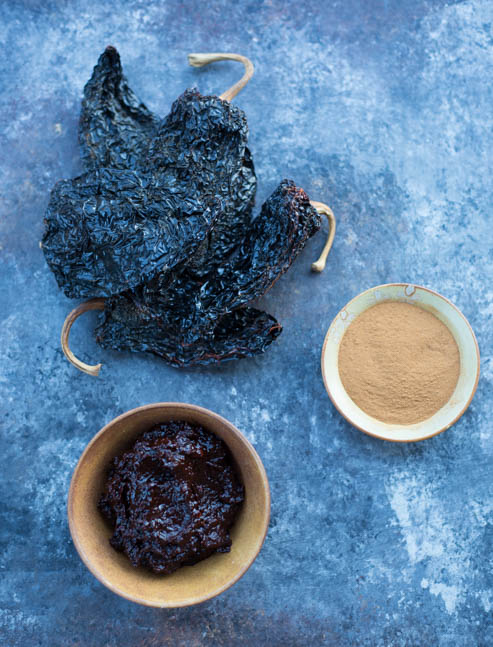 Here is a little bit about each one…
Ancho Puree:
Ancho puree is easy enough to make once someone shows you how. All you have to do is place your dried peppers (about 4-5 is sufficient) in a bowl and cover with boiling hot water. Let it steep for 20 minutes or so. (You may have to weigh them down with a drinking glass as a weight because they tend to float!) The dried peppers will absorb water and reconstitute.
Then you'll prepare a small food processor or blender. Remove only the flesh of the peppers, discarding the seeds and stems, and place in the blender or food processor. Add just enough of the pepper water to allow you to blend the pepper flesh into a smooth paste.
I always salt mine with a pinch of kosher salt and store in tupperware in the refrigerator. The puree lasts 7-10 days, or it can be frozen for 6 months.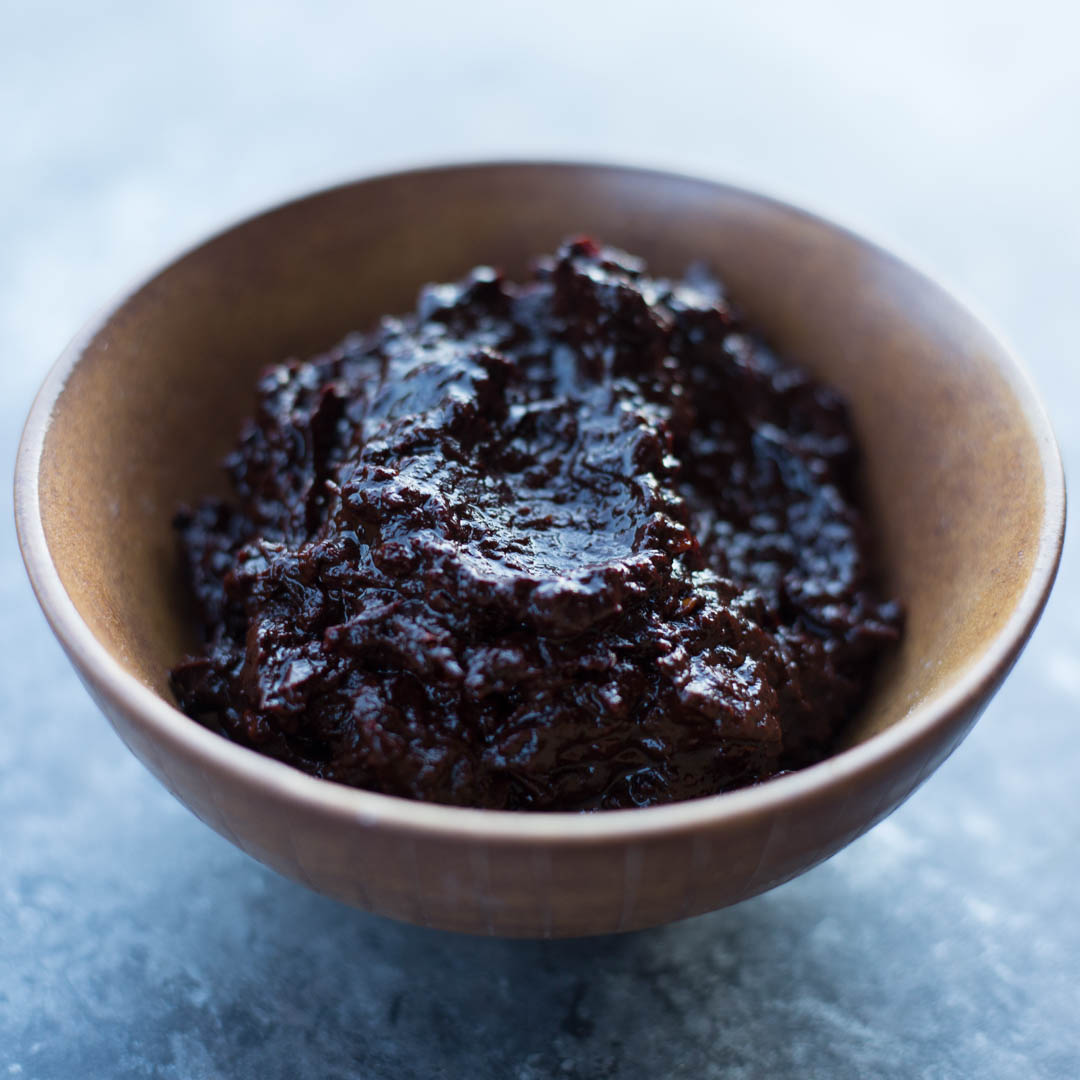 Texas Chili Powder:
Texas chili powder is a blend of powdered dried chilis, garlic, mexican oregano, a dash of cumin, AND MAGIC! 😀
Texas chili powder has more ingredients than standard chile powders (which are simply dried ground chiles), and is always spelled with an "i", not an "e" on the end.
If you're going to go out of your way to order some don't bother buying anything but Gebhardt's or Mexene. Both of the recipes for these brands are over 100 years old, and in my opinion the flavor is perfection. In fact, when teaching cooking to other Texans, learning about these brands is often their favorite take-away! Though we all grow up using chili powder not everyone ventures outside of store brand…but when they do the flavor transforms their favorite recipes!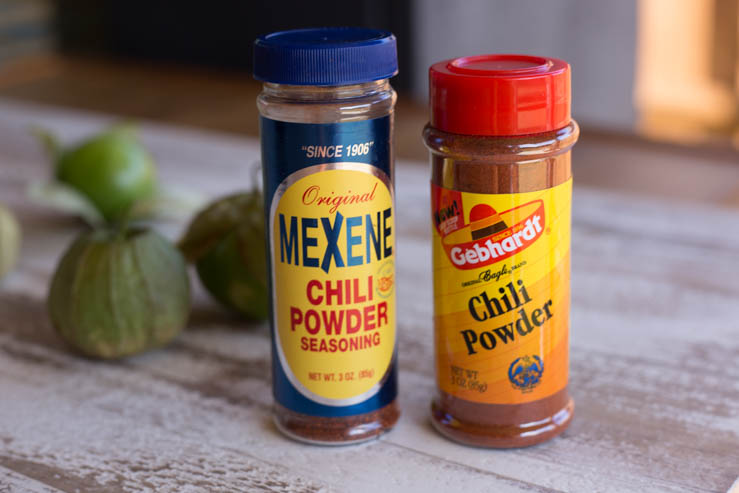 Check it out here if you want!
Mexican Cinnamon (Canela):
Come see the softer side of Cinnamon. 🙂
Mexican Cinnamon, also known as Ceylon Cinnamon or "Canela" in Mexican Supermarkets is a softer, vanilla-like cinnamon which lends itself to savory dishes like this bison chili. It's aromatic fragrance contributes to a richer flavor profile and it pairs well in dishes like mole, and Mexican hot chocolate!
Here is a little link to buy some on Amazon!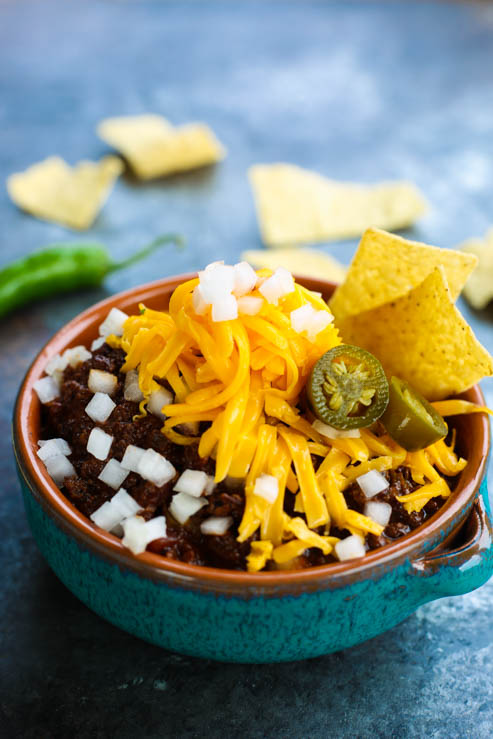 Here is the recipe for the Bison Chili with Mexican Cinnamon!
If you make it, tag me on Social Media. 🙂 I'd love to see how it turns out!
Yield:

6 servings
Bison Chili Recipe
This authentic Texas chili is made with bison or buffalo meat, easy homemade ancho paste, and a dash of Mexican cinnamon. Serve with chips and jalapenos, and a crisp beer.
Ingredients
2 lbs. Bison or Buffalo Ground Meat
1 T. Bacon Fat
1 T. Kosher Salt
1 t. Onion Powder
1 t. Freshly Cracked Black Pepper
1 t. Espresso Powder
1 Jalapeno Pepper, small dice
1 Serrano Pepper, small dice (remove seeds for milder flavor)
3 T. Tomato Paste
1 Can Petite Diced Tomatoes
4 Garlic Cloves, pressed through garlic press
1 T. Mexican Oregano
1 T. Mexene or Gebhardt's Chili Powder (Texas Chili Powders)
1/4 t. Cinnamon
1/4 Cumin
1/4 t. Allspice
1 T. Onion Powder
3 T. Fresh or Jarred Mole Paste
1 t. Salt
2 T. Fresh Ancho Paste (Made from 3 dried ancho peppers, as shown in the blog post)
1 Quart Beef Broth and Additional Broth or Water
To Finish:
3 Shakes of Tabasco Pepper Sauce
1 t. Cornstarch diluted in 1/4 c. Water
Finishing Spices:
1/4 t. Cinnamon
1/4 t. Allspice
1/2 t. Onion Powder
Salt to Taste
Top With:
2 c. Freshly Shredded Longhorn Cheddar
1/2 c. White Onion, small dice
Pickled Jalapenos
Corn Chips or Fritos
Instructions
In a heavy-bottomed stockpot or enamel pot, brown the meat. When seared, drain the fat and juices and return to the stove.
Add the bacon fat, salt, onion powder, pepper, and espresso powder to the meat and toss well.
Chop the meat finely with a wooden spoon until it smells like a steak house. 🙂
Add the fresh diced peppers and saute over medium-high heat. Cook 4 minutes lowering the heat if necessary.
Add the tomato paste, tomatoes, garlic, oregano, mole paste, ancho chili puree, all the spices (besides the finishing spices), and beef broth. Stir well and bring to a simmer. Simmer 30 minutes, adding water when necessary.
To finish add the tabasco for brightness, and the cornstarch mixed in water. Bring to a simmer to thicken. Stir in the finishing spices. Season to taste, and serve with toppings.
Notes
Ancho paste is made by pouring boiling water over 4-5 dried ancho peppers. Let the peppers absorb the water and reconstitute. Remove the stems and shake out the seeds reserving only the flesh of the peppers. Blend it well in a blender or food processor with a little salt. This puree keeps 1-2 weeks in the refrigerator.
Nutrition Information:
Yield:
6
Serving Size:
1
Amount Per Serving:
Calories:

1030
Total Fat:

55g
Saturated Fat:

25g
Trans Fat:

1g
Unsaturated Fat:

24g
Cholesterol:

223mg
Sodium:

3216mg
Carbohydrates:

67g
Fiber:

4g
Sugar:

52g
Protein:

66g
These nutritional values are an estimate only and provided as a courtesy. Different brands of ingredients may result in different calorie counts, and the software does not account for these differences. Consult with your dietician or doctor for precise nutritional values.