This Raw Pad Thai Recipe will absolutely knock your socks off! Plus it has a vegan raw pad thai sauce that you'll want to lick from the bowl. 🙂

The Bowlery, a veggie-based restaurant in Denton, Texas (my hometown 🙂 ), is my very favorite place to eat when I'm not in the mood to cook. (Yes, it happens to all of us.)
Everything on the menu is healthy, light, and guilt-free… 3 requirements for surviving the hot weather and active weekends which are suddenly upon us! Because spring has SPRUNG yall! Everyone's favorite dish is this Raw Pad Thai, drizzled in a creamy chile peanut sauce! 🙂 It's refreshing as a spring day—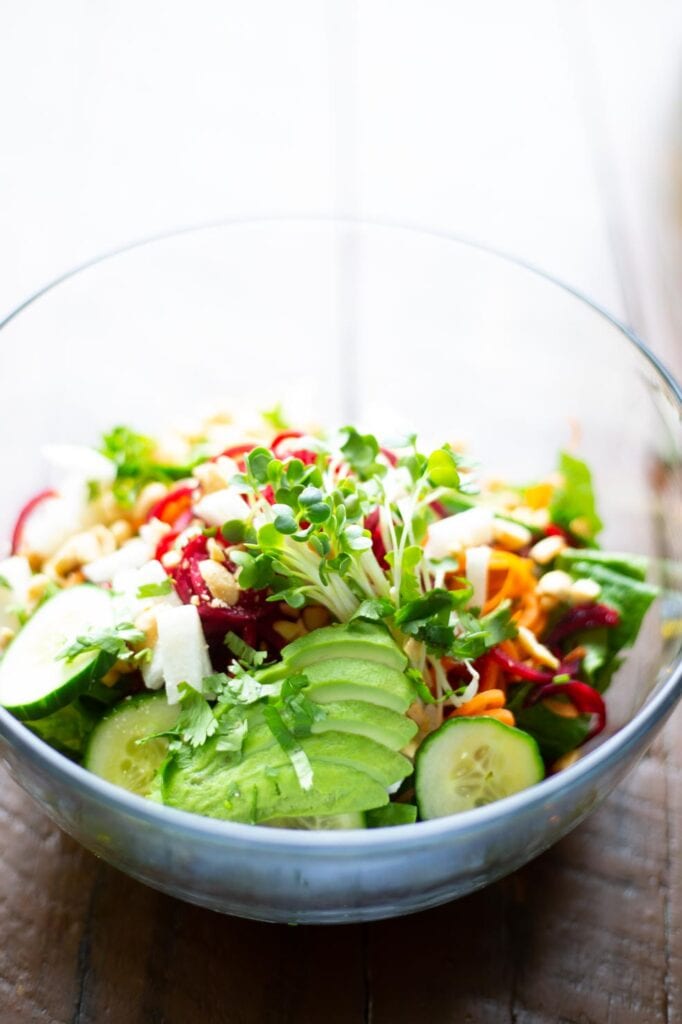 On a bed of ice cold lettuce, you'll find the crunchy rings of beet noodles, cucumber coins and slivers of jicama. A pop of cilantro lends an herbaceous, far-eastern flavor and the entire bowl is coated in a fiery, honeyed dressing, with just a flash of chile to balance the sweetness. So, let's make it!!!
It all starts with a bowl of crunchy romaine lettuce…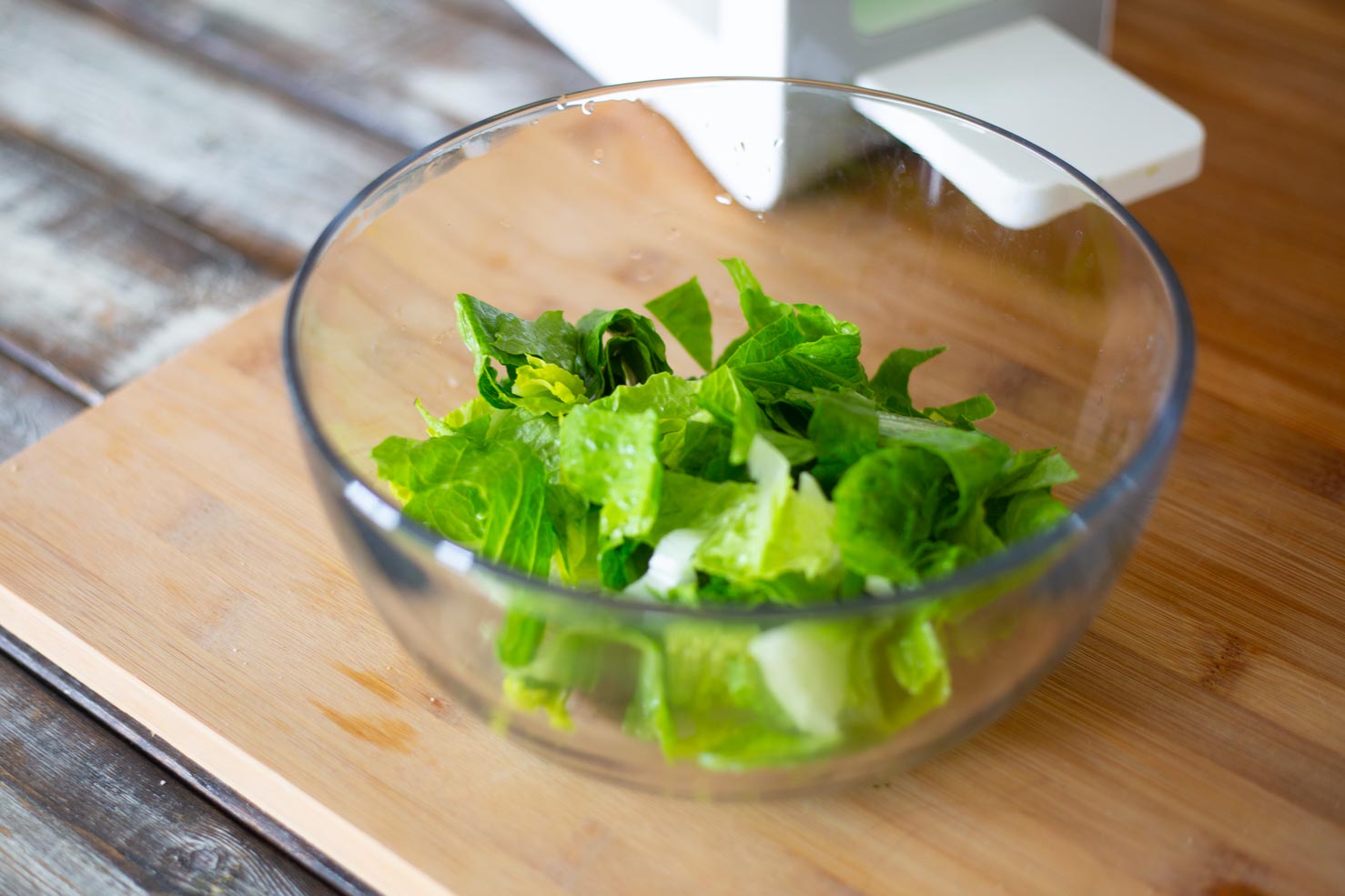 Then I'm adding spiralized raw beet and carrot "noodles" …
Here is a link to my OXO spiralizer which I have had for 2 years and am completely obsessed with. I broke all the other ones I tried, but this one is heavy duty and I actually use it in my private chef business for many client's food, so it gets A LOT of use!
Get the Spiralizer on Amazon Here!!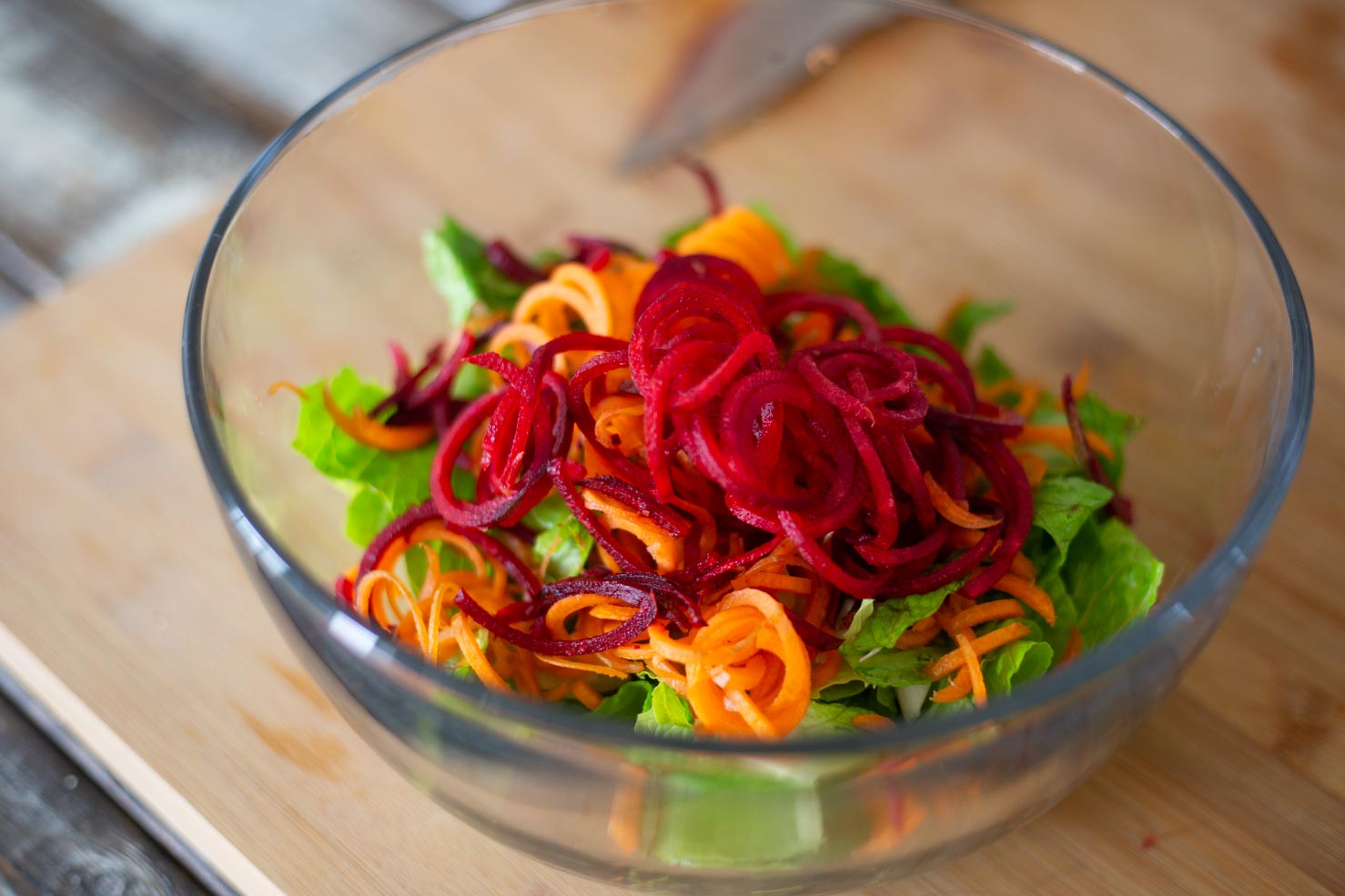 Then we're going to dice up and add jicama, cilantro, crushed peanuts, sprouts, cucumber coins, and a little bit of fresh avocado.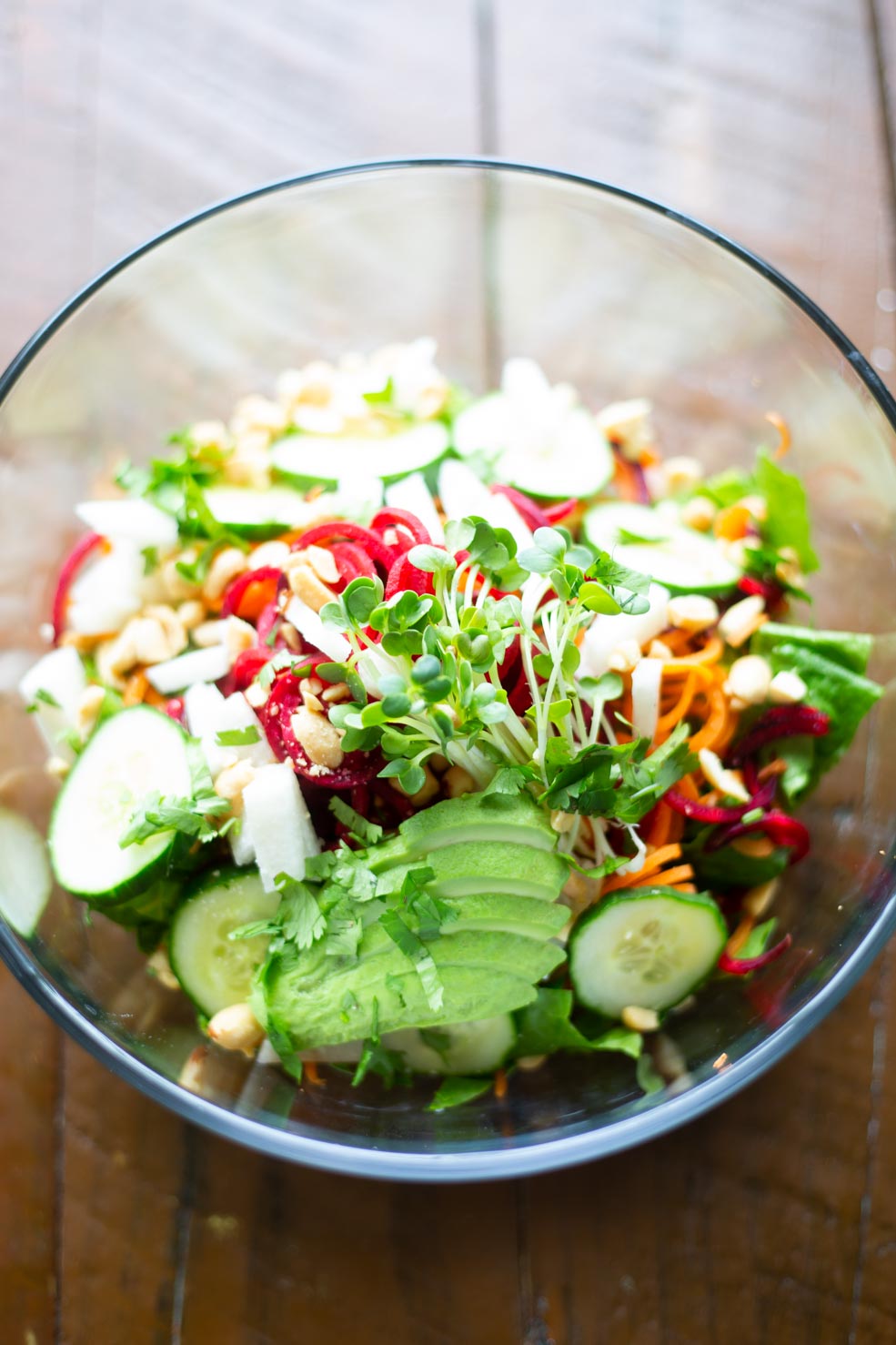 The recipe for Vegan Raw Pad Thai Sauce is good on anything from Tempeh to udon noodles… I make extra and store it in the refrigerator. The best way to make it is just to dump everything in a blender and give it a whirl. The flavor will enhance further after a few hours of marrying in the refrigerator.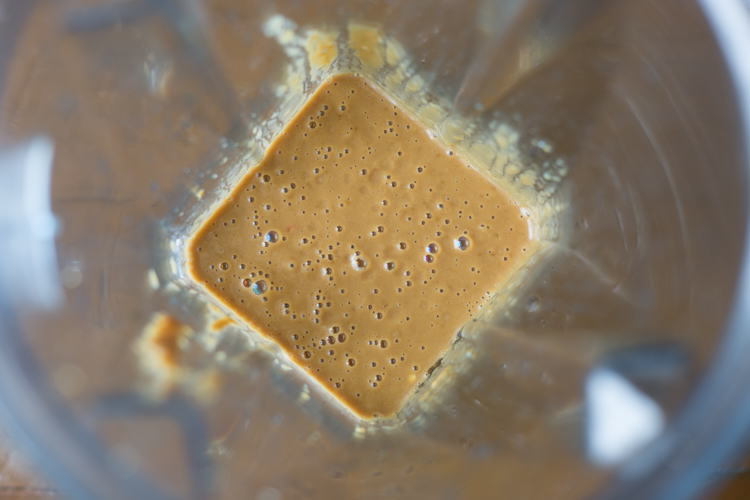 When I'm famished from a day at the gym, the idea of a bowl of Raw Vegan Pad Thai with creamy peanut dressing is just too tempting to pass up! And why would you? With seared tempeh, it's shockingly lean, but thoroughly satisfying.
This Raw Pad Thai recipe will serve 4 enormous salads, so for healthy, make-ahead lunches I pack a few salads in deli containers, for grab and go options. This recipe is sublime with lightly pan-seared sliced tempeh or marinated tofu. Pack the dressing in little cups on the side!!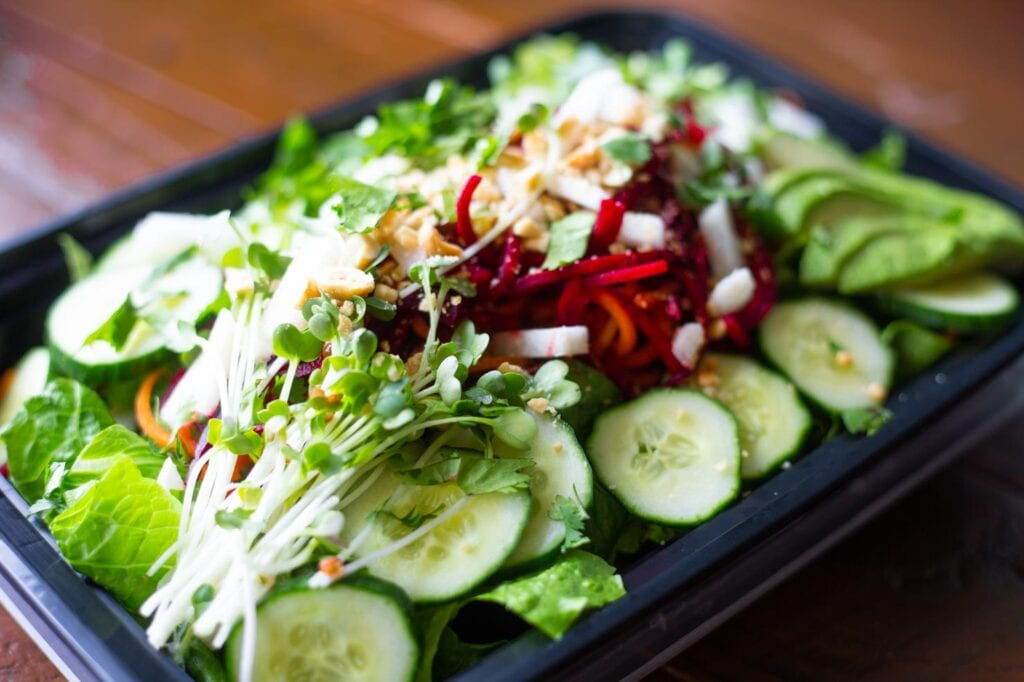 If you make the recipe for Vegan Raw Pad Thai,
TAG Urban Cowgirl!
I'd love to see how it turns out! 🙂
If you like this recipe, you may be interested in another healthy dish like…
Spinach and Mushroom Enchiladas
Yield:

4
Raw Pad Thai Recipe
This fresh and light raw pad thai recipe is reverse-engineered from my favorite restaurant in Denton, called The Bowlery. This salad is completely raw and coated in a bright and delicious peanutty dressing which coats the tender raw veggies. The raw pad thai recipe is vegan but can be served with shrimp or chicken if preferred.
Ingredients
1 head romaine lettuce
4-6 carrots
2 medium sized beets
1 english cucumber
1 package radish sprouts
1 avocado
1/4 c. chopped cilantro
1/2 c. crushed peanuts
1 small jicama
Peanut Chili Dressing:
1/2 c. peanut butter
1/4 c. tamari or soy sauce (may add more to taste)
1/4 c. turbinado sugar (any sugar is fine)
3 limes, juice of
1 garlic clove, pressed
1/2 birds eye chili (or any small chili)
1 T. sesame oil
Optional - splash of fish sauce (don't include for non-vegan)
2 T water, to thin after blending
Additional salt if needed
Garnish- Lime wedges
Instructions
Wash and tear the romaine lettuce into bite-sized pieces and place in 4 bowls.
On a spiralizer, spiralize the beets and carrots. If you don't have a spiralizer you can grate these veggies on a cheese grater for a similar texture. Place into the bowls equally.
Peel the jicama. Discard the peels and slice a few 1/4 inch slices off of the jicama. Use your knife to chop slivers off the slices and place them into the bowl. Store the rest of the jicama in saran wrap and place in the refrigerator for another recipe.
Dice the cucumber and avocado into half-moons and place in the bowls.
Top each bowl with radish sprouts, a pinch of chopped fresh cilantro, and peanuts that have been lightly crushed.
For the peanut chili dressing blend all of the ingredients in a blender and taste for seasoning. Serve the dressing along with the salads, garnish each bowl with a big wedge of lime.
Notes
This salad can be served with pan-seared tempeh, rotisserie chicken, or grilled shrimp if preferred.
Nutrition Information:
Yield:
4
Serving Size:
1
Amount Per Serving:
Calories:

847
Total Fat:

50g
Saturated Fat:

10g
Trans Fat:

0g
Unsaturated Fat:

31g
Cholesterol:

38mg
Sodium:

2812mg
Carbohydrates:

80g
Fiber:

21g
Sugar:

36g
Protein:

33g
These nutritional values are an estimate only and provided as a courtesy. Different brands of ingredients may result in different calorie counts, and the software does not account for these differences. Consult with your dietician or doctor for precise nutritional values.