For risotto fans, there is nothing better than a steamy bowl of cheese-laden rice, bathed in sauce and seasoned to perfection with a little fresh lemon or creme fraiche. Well, today we're sharing a recipe for this Mexican risotto with freshly roasted green chiles and pepper jack cheese!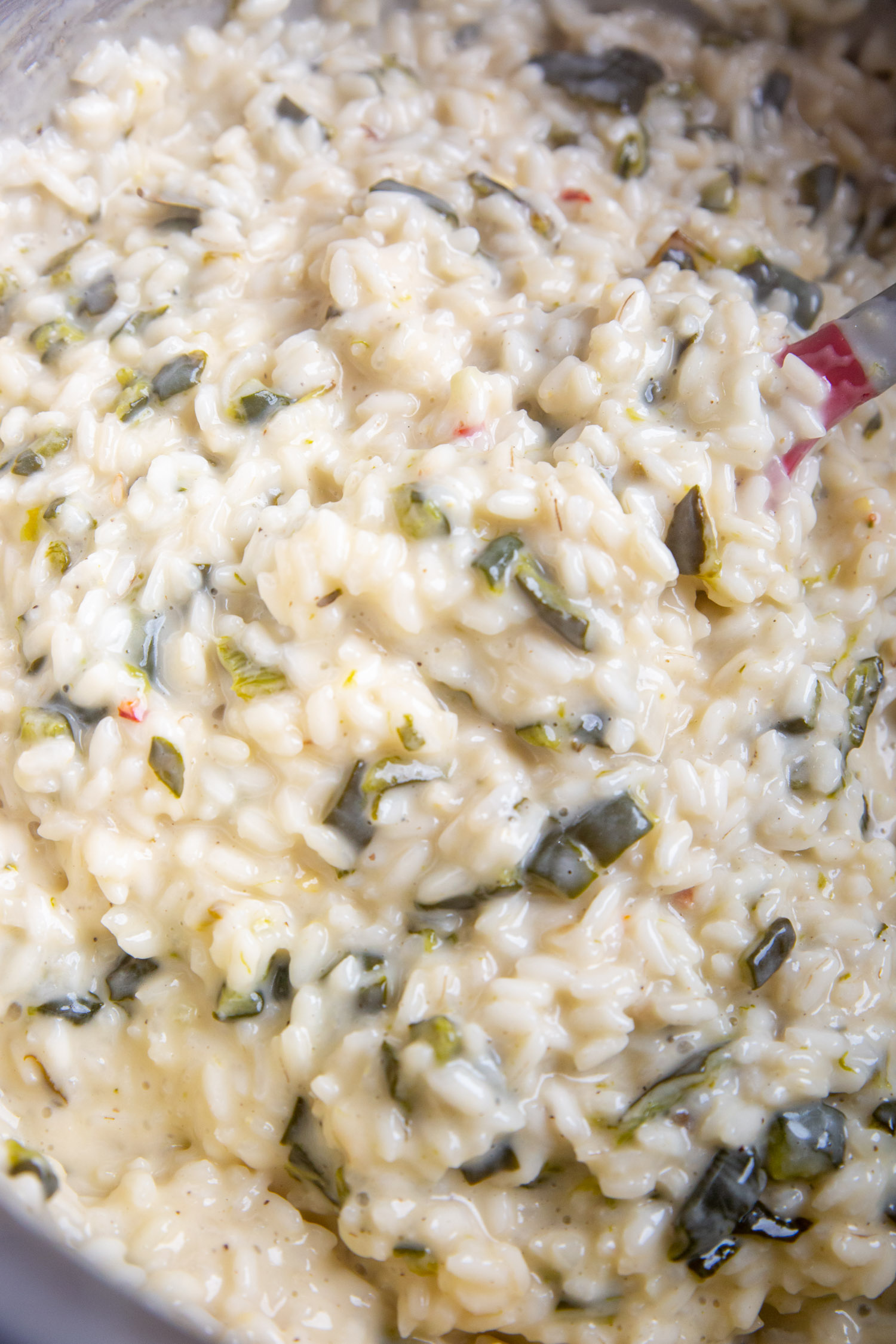 This recipe was developed for the Spring Grilling Madness Tournament, where expert-level pitmasters all over the country battle it out for bragging rights and a bonafide heavyweight style belt. This green chile rice recipe was my winning entry, along with my Grilled Steaks with Mole Butter which you can find here.
How To Roast Poblano Peppers On The Grill
To roast the poblano peppers, I will take 3 fresh green chiles, wash them well and place them on the grill. I am using these grill plates, and use them again later to sear my steaks.
(Links are affiliate links to products we think are helpful and we may receive a small commission, at no cost to you, if purchased.)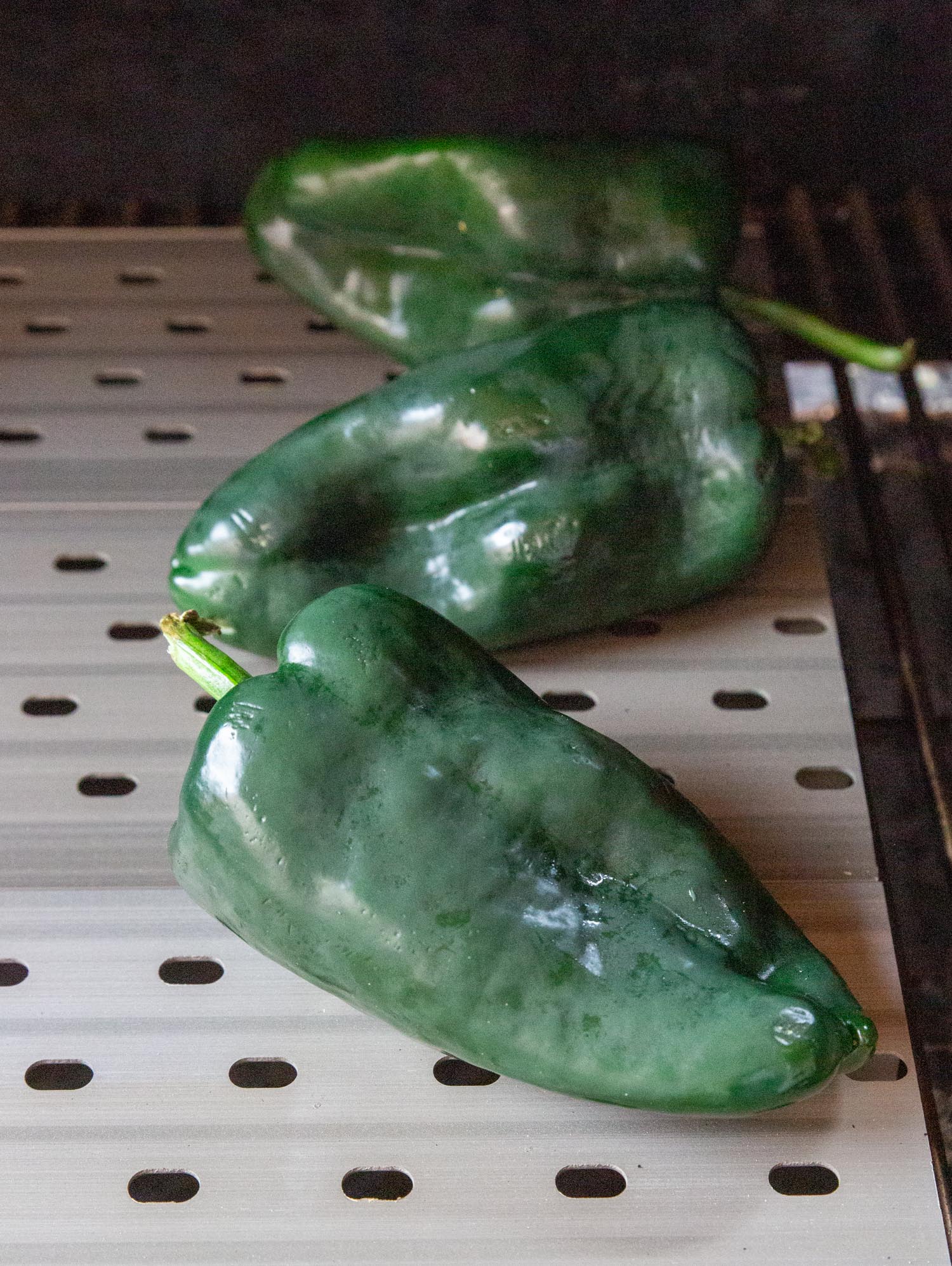 The peppers should be placed over low coals (smoldering heat) or I am using my pellet grill here, over high heat and I will turn them throughout the process to make sure they get wrinkly on all sides.
To roast peppers on the grill, cook for 15 minutes, flip, and then roast an additional 12 minutes on the other side. A charcoal grill will roast chiles much faster if you are using one, so be advised.
Transfer the chile peppers to a large bowl with a lid, or tent with foil. Leave them for 15 minutes while you work on the Mexican risotto if you like, and then peel them by brushing off the wilted skin layer with your fingers, or scraping it off with the blade of a knife.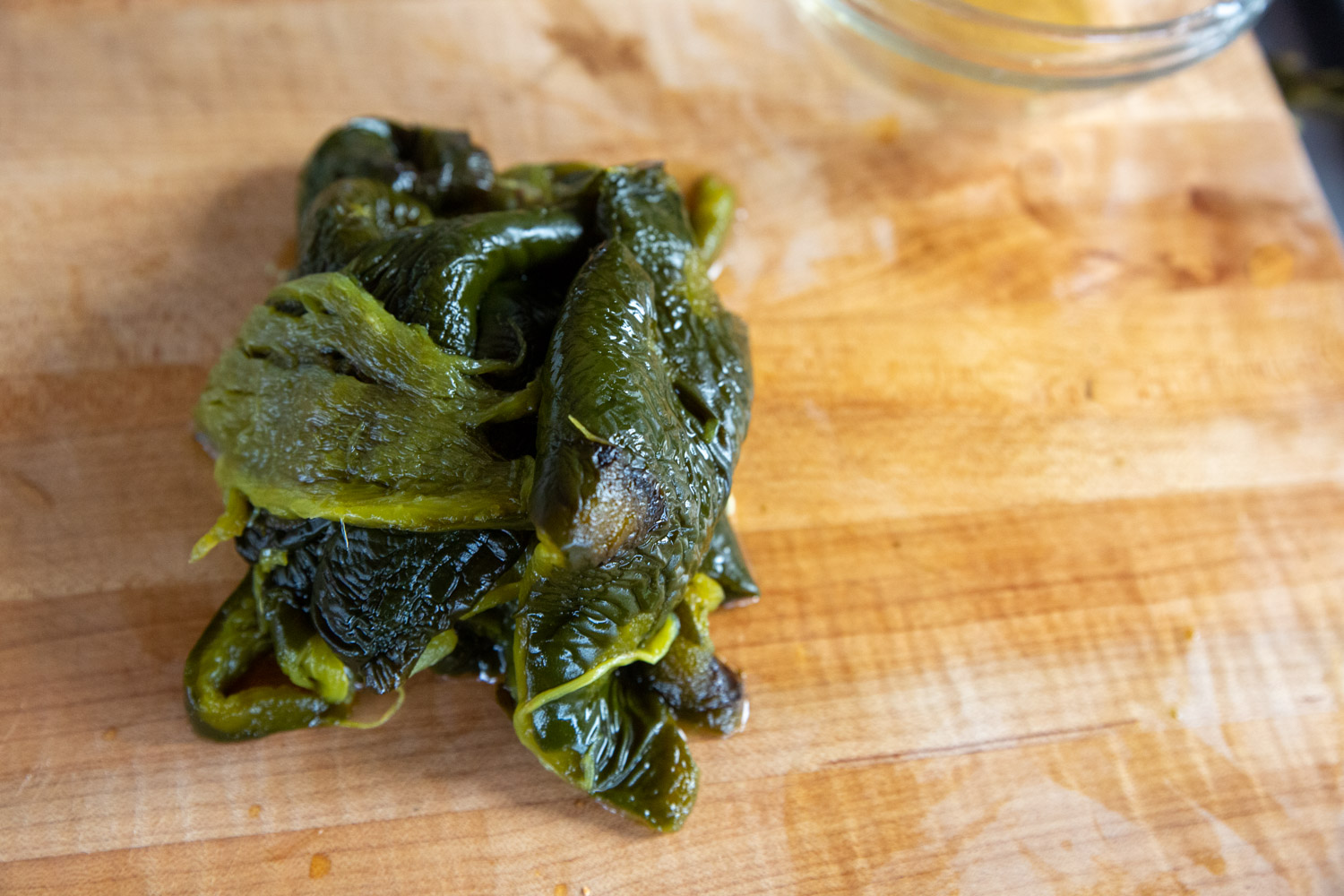 How To Make Green Chile Rice Risotto
Begin by melting the butter and oil in a large stockpot and adding in the arborio rice.
Toss well with a spatula over medium-low heat. This process is just toasting the rice gently and covering each individual rice kernel with oil, so that they will not stick together in the final completed green chile rice dish.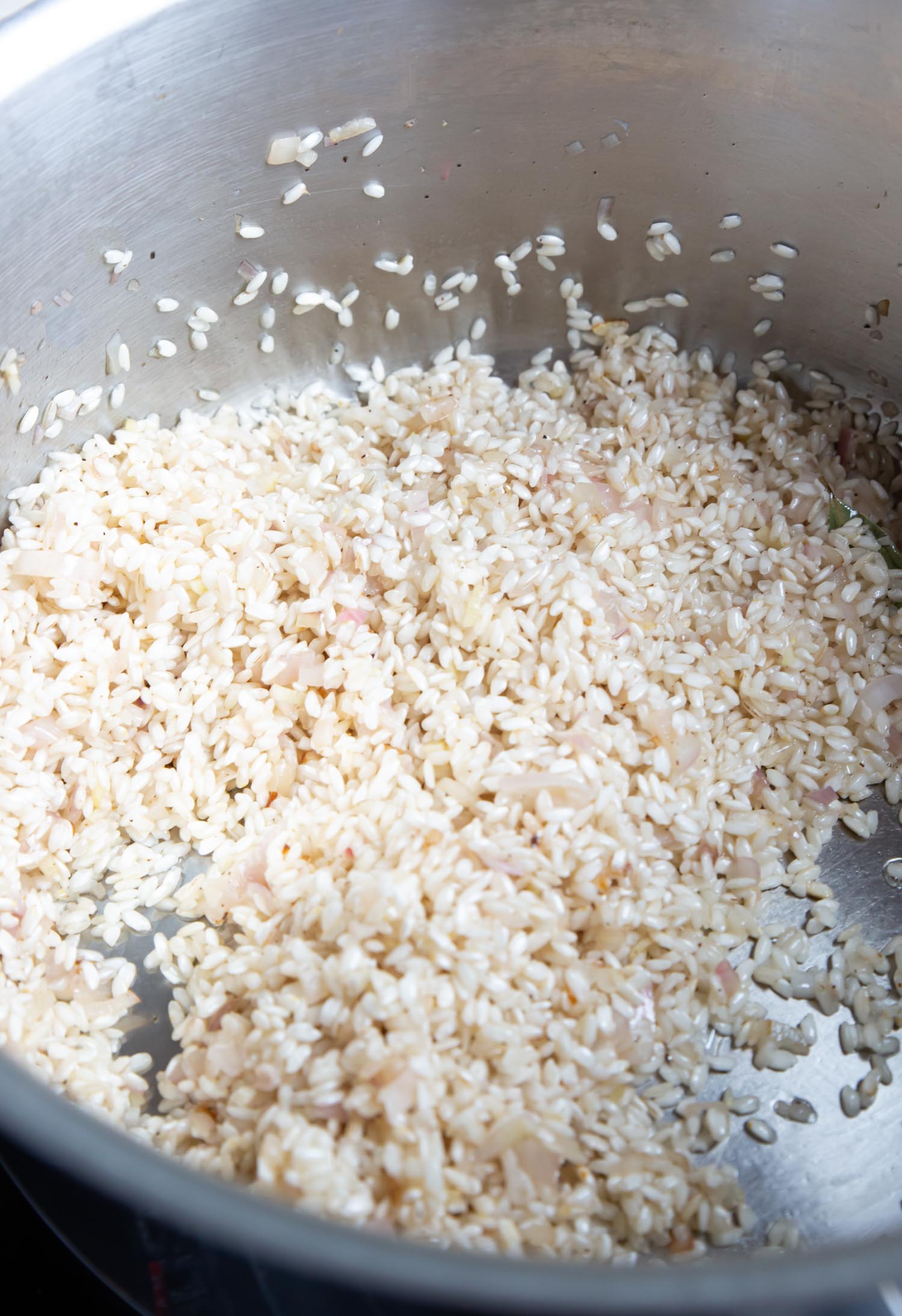 With risotto, the hot stock is added in by the ladle when the previous ladle full of stock has been absorbed by the rice.
This makes a wonderfully creamy rice dish, as the rice releases starch, which thickens the chicken stock, transforming the juices into a heavenly sauce.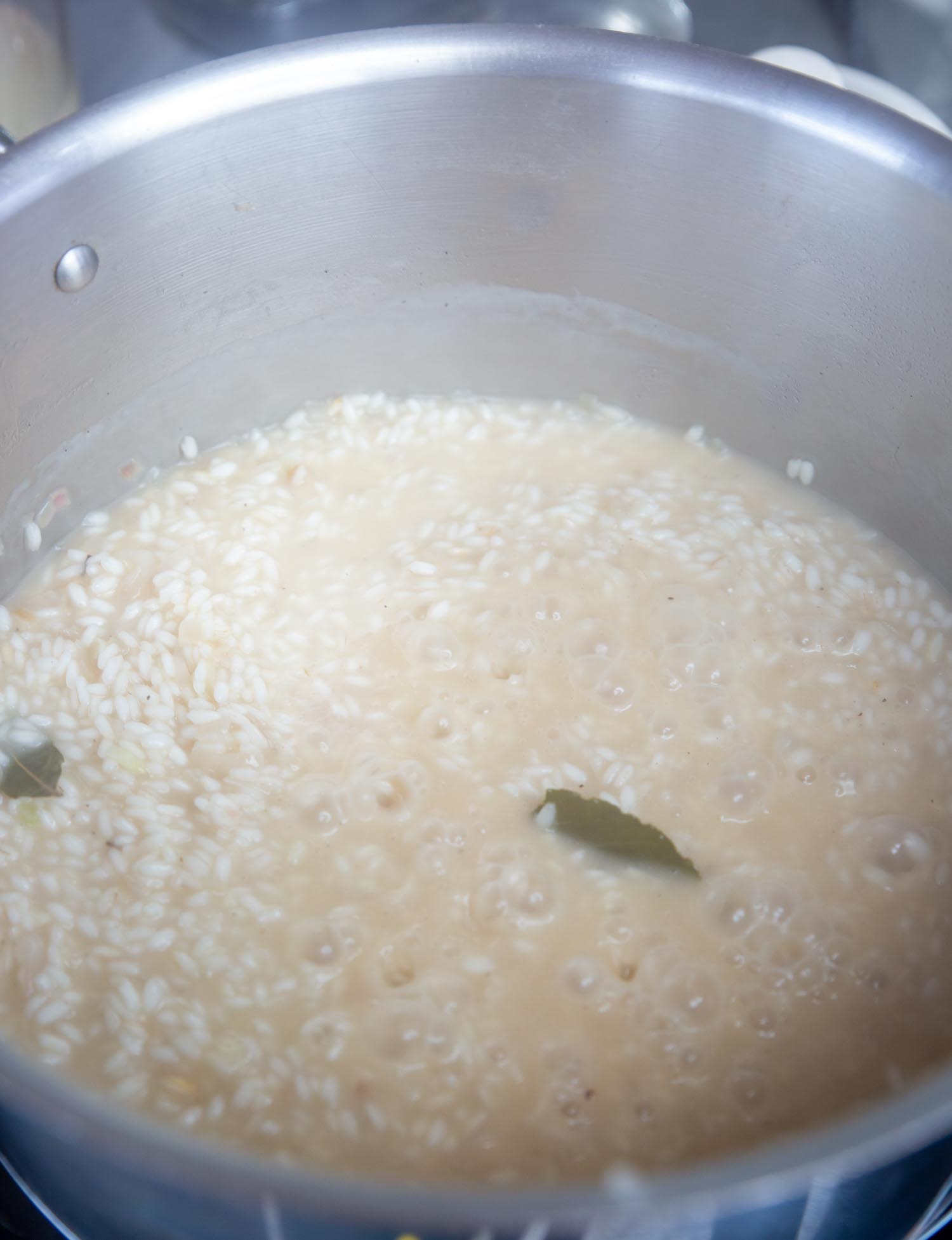 This process is continued for 20 minutes, adding hot stock, and stirring until combined, until all the hot stock is absorbed into the risotto recipe. The final rice should be al dente– cooked thoroughly with a nice chew, and swirling in creamy white sauce.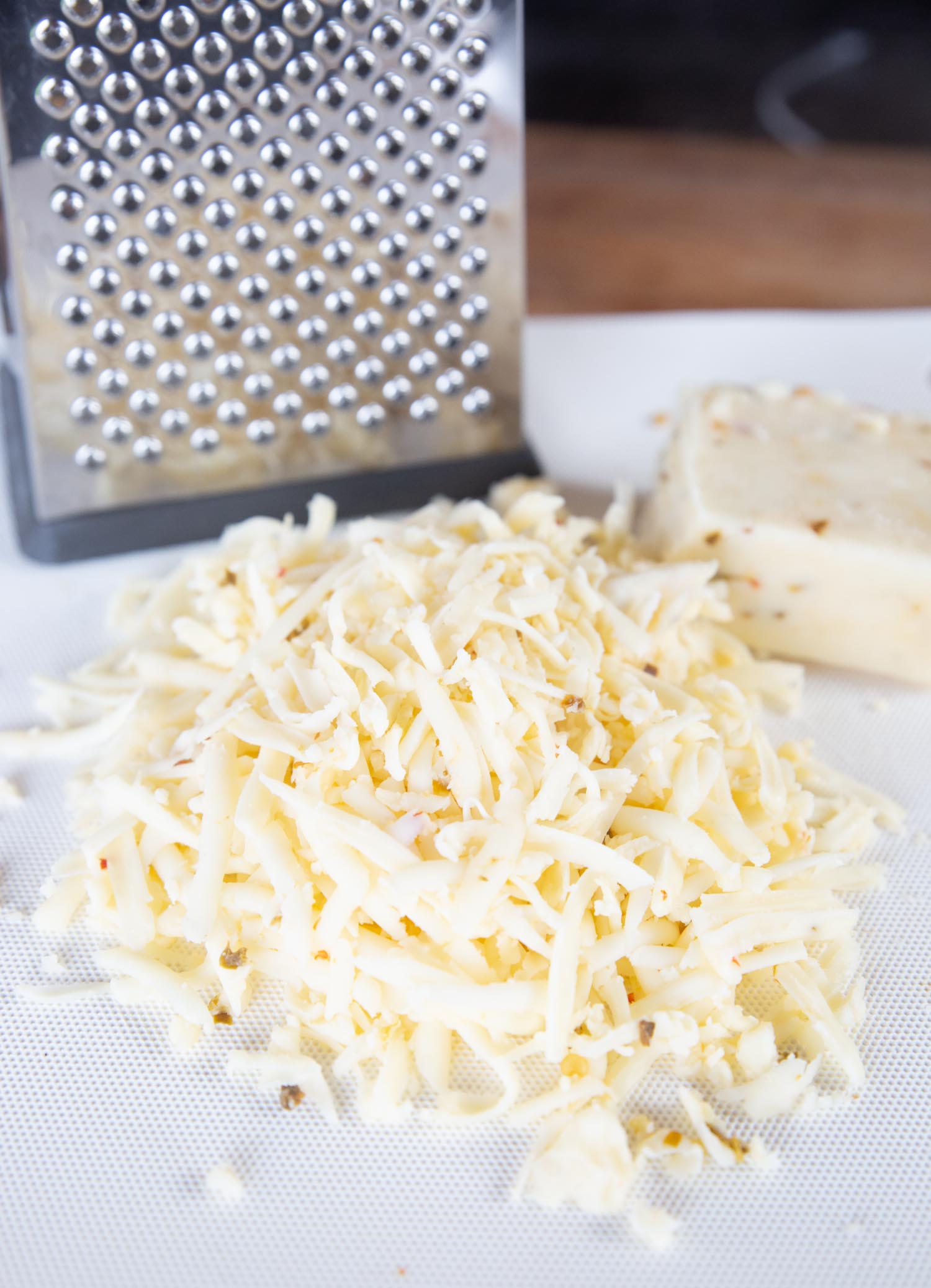 In traditional risotto, parmesan cheese is added to finish off and flavor the natural sauce which is created during the rapid stirring. For our Mexican version, we will be using pepper jack cheese which is creamy and rich with a spicy flair.
If you want to keep this dish mild, an excellent substitute is plain monterey jack cheese. Fold in to incorporate and watch the cheese melt into the sauce.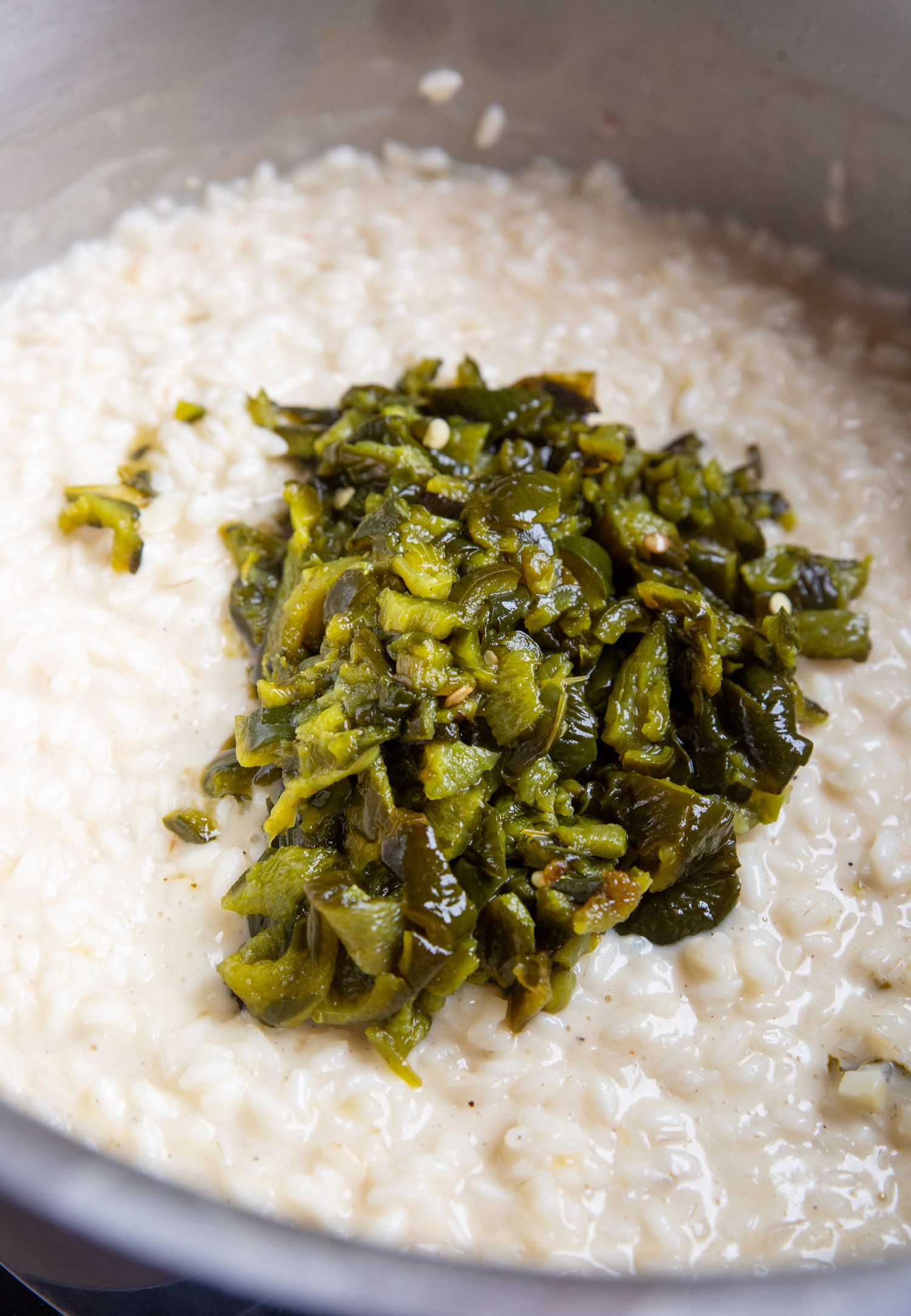 Finally, we will add in the roasted green poblano chiles. And stir well. This is where it really begins to smell amazing!!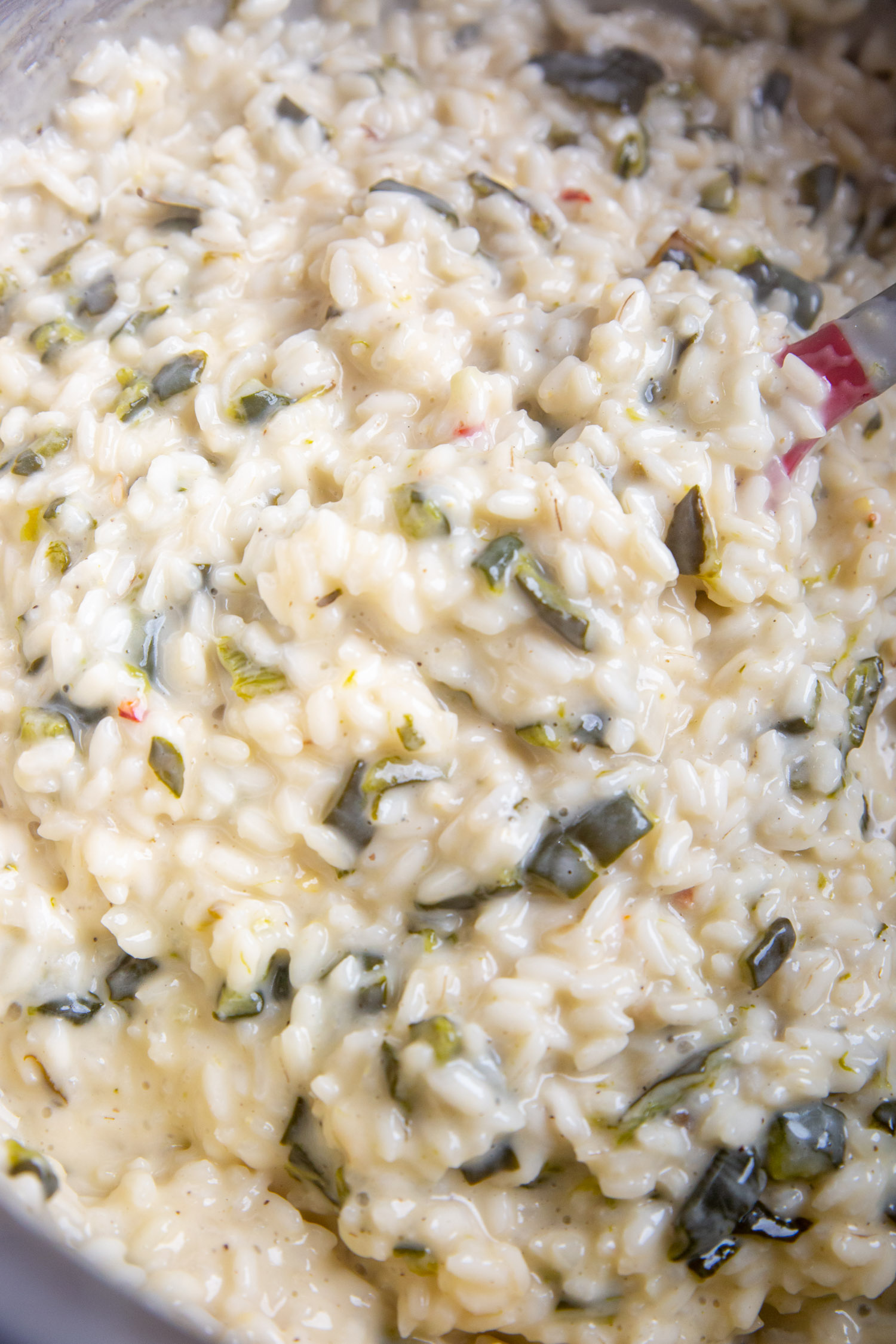 Yield:

6
Green Chile Risotto (Mexican Risotto)
Creamy and delicious green chile risotto is a fabulous rice dish that pairs well with steaks and seafood, tex mex recipes, or even on it's own as a cheesy meatless dinner.
Ingredients
1 lb. arborio rice
3 T. butter
1 T. avocado oil
2 shallots, small diced
2 garlic cloves, minced
2 dried bay leaves
1.5 quarts chicken stock (plus additional chicken stock or water if needed)
½ t. black pepper
1 t. kosher salt
¼ c. heavy cream
4 oz. pepper jack cheese, shredded
1 t. lime juice
Instructions
To Roast The Poblano Peppers for Risotto
1. Place the 3 poblano peppers into the smoker and close the chamber. Roast at 500 for 15 min, flip and roast an additional 12 minutes.
2. Transfer to a bowl and place a dinner plate on top of the bowl to capture the steam. Set aside while you cook the risotto, and the skin of the peppers will steam off.
3. Peel the skin off the peppers and discard. Some people chose to remove the skin under running water to make it easier. Some people feel like this washes off some of the roasted flavors.
4. Remove the seeds and stem and dice well. Reserve for the risotto.
To Cook The Green Chile Risotto
1. Choose a large stockpot with a heavy bottom. Over medium heat, melt the butter and add the oil.
2. Add the rice and toss with a spatula. Add the diced shallot and garlic, 2 bay leaves, salt, and pepper. Continue stirring the rice and vegetables with a spatula for 2 minutes.
3. Heat all of the chicken broth in a separate pot and keep simmering. (Use a ladle to pour additional spoonfuls of hot stock into the risotto as needed.)
4. Add the chicken broth in small increments (about 1 cup) while continuously stirring with a large spatula. Every time all the chicken broth has been absorbed, add another spoonful from the ladle.
(This cooking process should take about 20 minutes to cook the rice fully. Do not overcook the rice—it should be immensely creamy and almost pasta-like.)
5. Add the cream and pepper jack cheese, stirring well to incorporate. Add the lime juice and stir well. Taste for seasoning. Then add the roasted poblano peppers. Stir well and taste for seasoning.
-Add additional lime juice and additional salt if needed. Serve hot.
(Additional chicken stock may be added before serving to make the risotto loose again.)
Notes
(Additional chicken stock may be added before serving to make the risotto lose again.)
Risotto is traditionally made with arborio rice and results are best with constant stirring the full 20 minutes of cooking. Risotto should be served very loose with a lot of "sauce". Water or chicken broth can be added to thin out the sauce as needed.
Nutrition Information:
Yield:
6
Serving Size:
1
Amount Per Serving:
Calories:

373
Total Fat:

20g
Saturated Fat:

11g
Trans Fat:

0g
Unsaturated Fat:

9g
Cholesterol:

51mg
Sodium:

717mg
Carbohydrates:

34g
Fiber:

1g
Sugar:

5g
Protein:

13g
This nutritional information is provided as a courtesy as an estimate only. Consult with a dietician for precise estimates. This website makes no claims that the nutritional values listed are accurate.