This award-winning grilled steak recipe was created for the Rec Teq Summer of Grilling Tournament and won the first challenge against pitmasters and chefs throughout the country! Huzzah!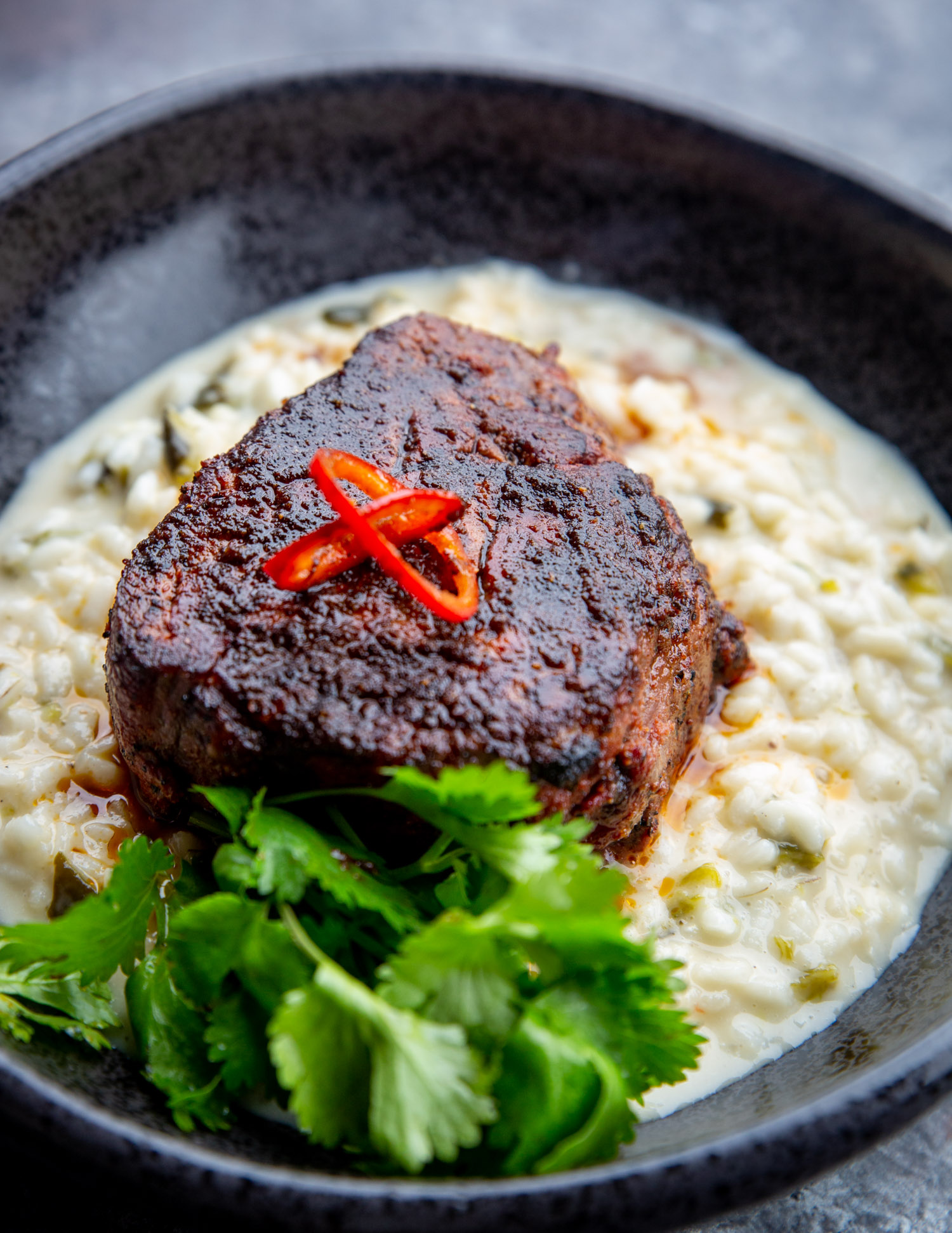 I love that steaks are versatile and can be dressed up in so many different and creative ways–in this recipe, we take your favorite cut of meat, doll it up with the best Mexican spice rub, and drizzle it with a heavenly honey mole butter!
It's miles away from ordinary and if you find yourself growing tired of preparing the traditional steak dinner then this creative grilling recipe is for you.
When it comes to summer cooking we love grilled meats, but could also use a new collection of family-friendly recipes to work into the recipe rotation.
How To Make Honey Mole Butter
This honey mole butter does not disappoint and would also pair well with grilled chicken and pork chops.
(Links are affiliate links to products we think are helpful and we may receive a small commission, at no cost to you, if purchased.)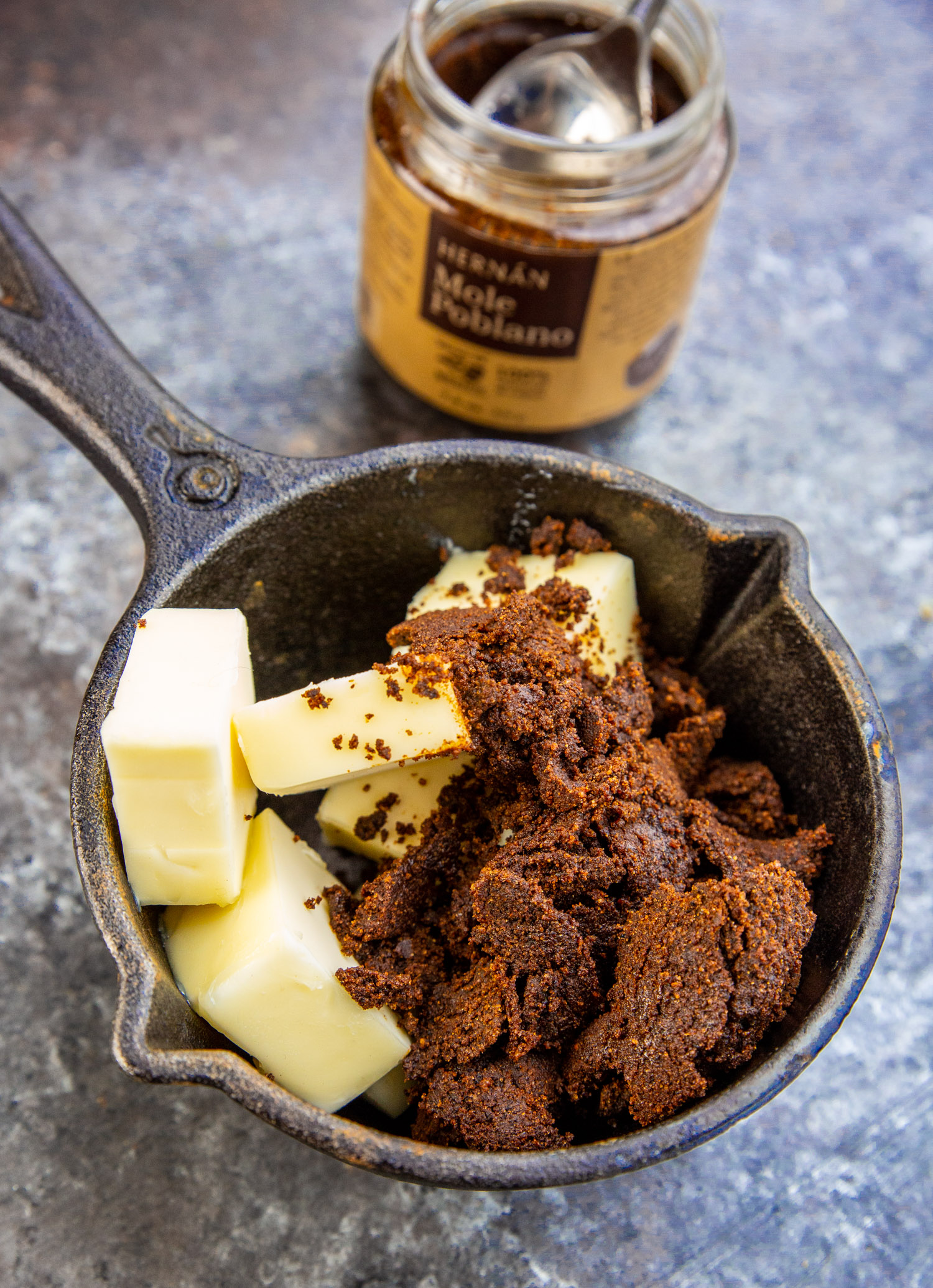 We start the mole butter by using high-quality, store-bought mole paste, adding a stick of butter and a touch of honey for sweetness–then it just goes on the back of the grill to melt and marry all of those delicious flavors into a fantastic steak sauce.
The final sauce is wonderfully rich and complex, not sweet per se, but earthy and warm with a whisper of sweetness.
Gear I used in this recipe: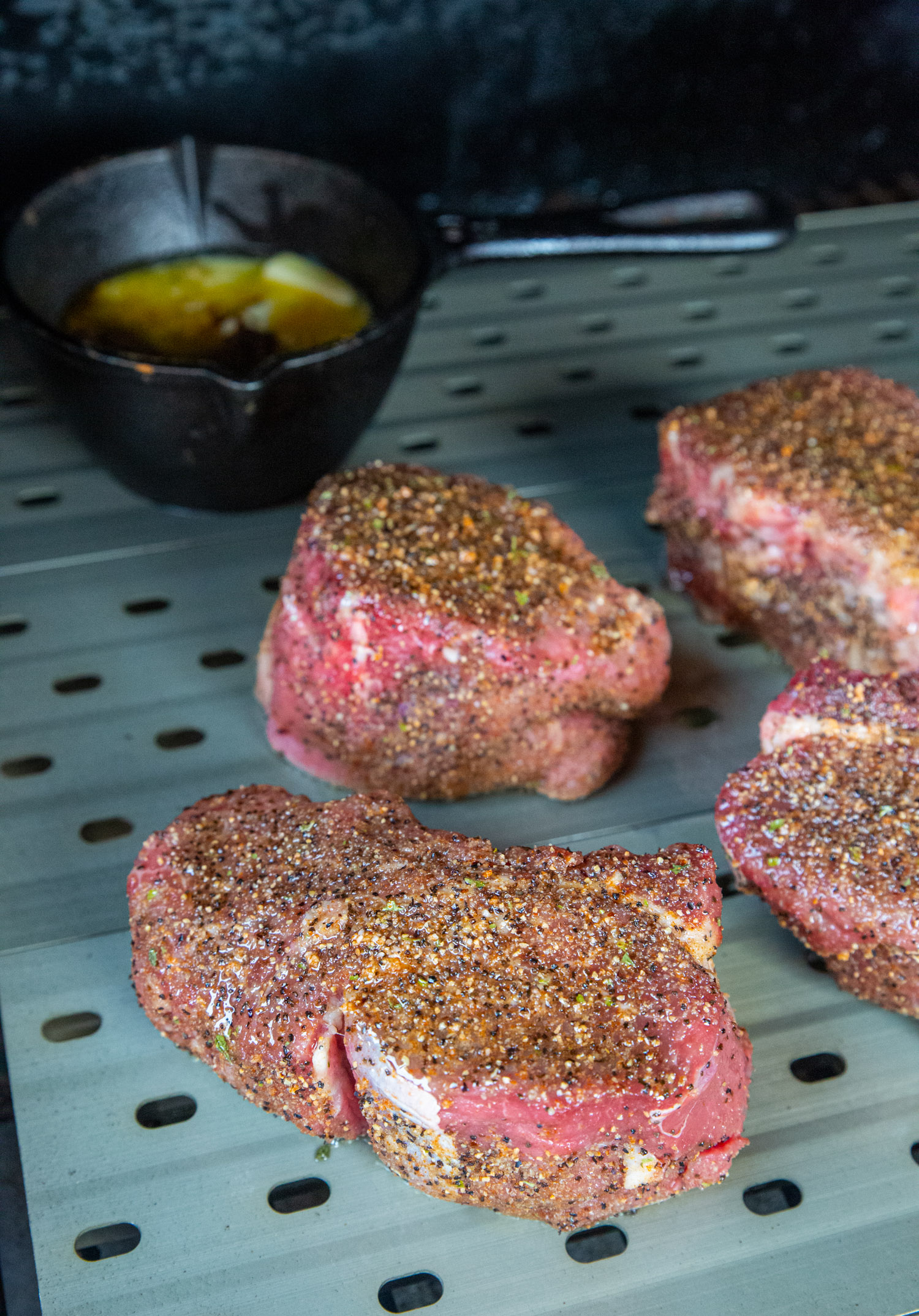 How To Make a Mexican Steak Rub
For this steak rub, we combine any good quality steak house seasoning (see suggestions in the recipe card) with a little bit of New Mexico chile powder. For southwestern flair, you can use any mild chile powder that you like… I recommend mild hatch green chile powder and California chile powder.
Chimayo chili powder, of Chimayo, New Mexico is renowned for its superior flavor and is considered the highest quality chile powder in the highly competitive region of Eastern New Mexico.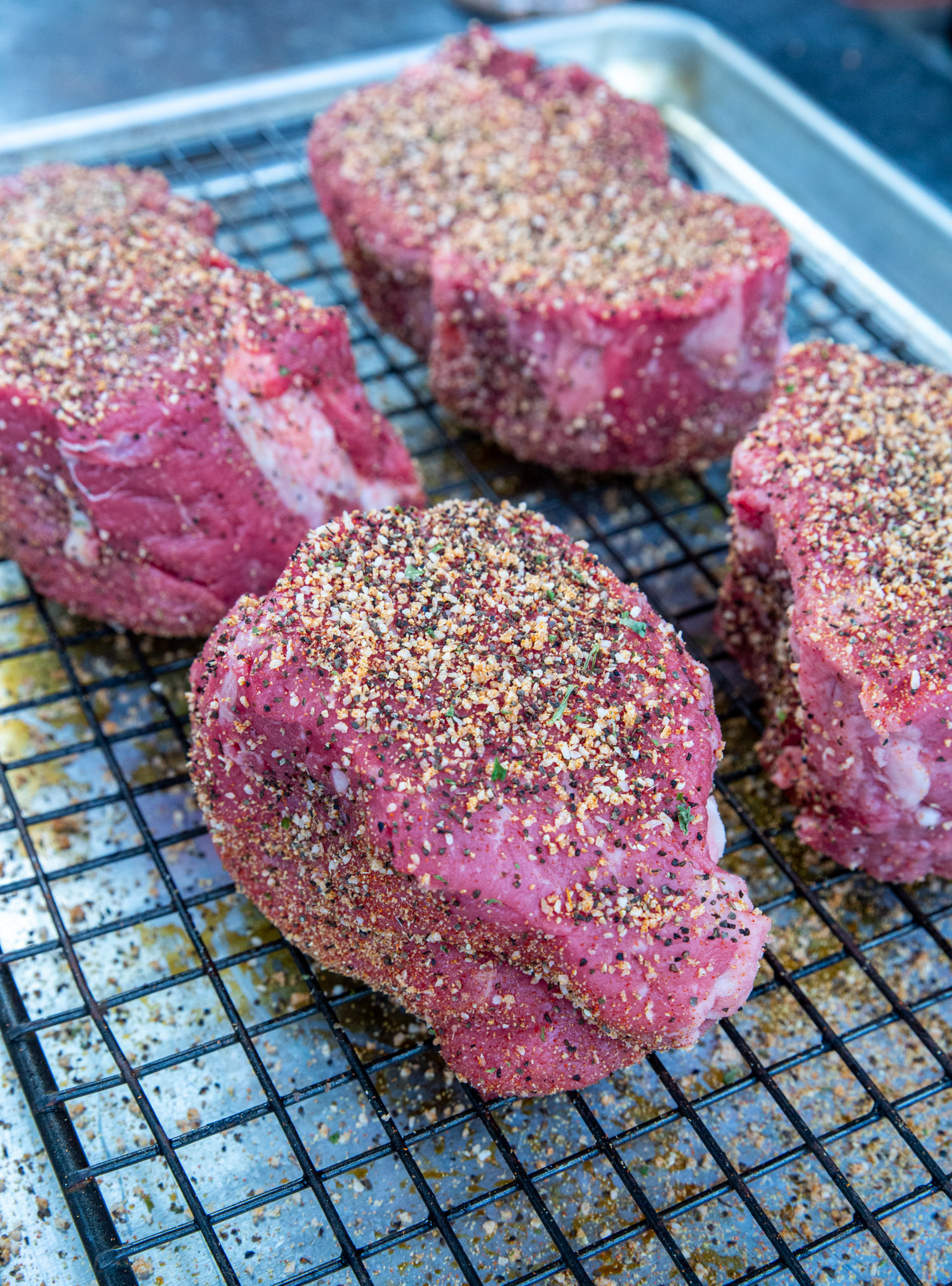 The only chile powder you might think twice about is Chipotle chili powder, which is smokey and quite spicy. This could work really well for adults, if used sparingly, but would not be appropriate for children or those with sensitive palates.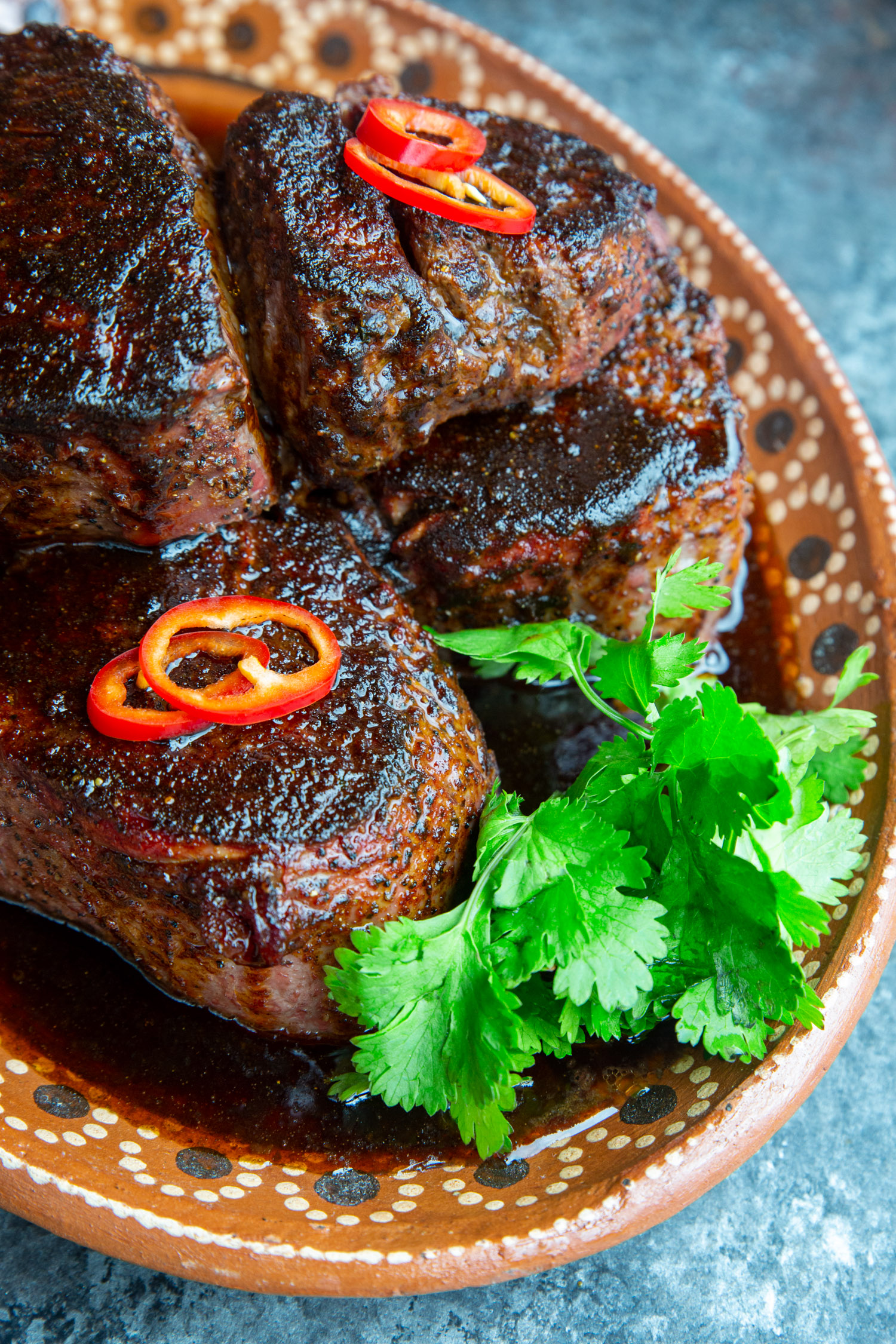 We serve the final dish with this heavenly green chile risotto recipe, which pairs nicely as a creamy side dish that soaks up all that juicy steak flavor!! (Don't be intimidated, my risotto recipe is easy to follow and so worth it.)
This is a family-friendly special occasion recipe that your loved ones won't soon forget!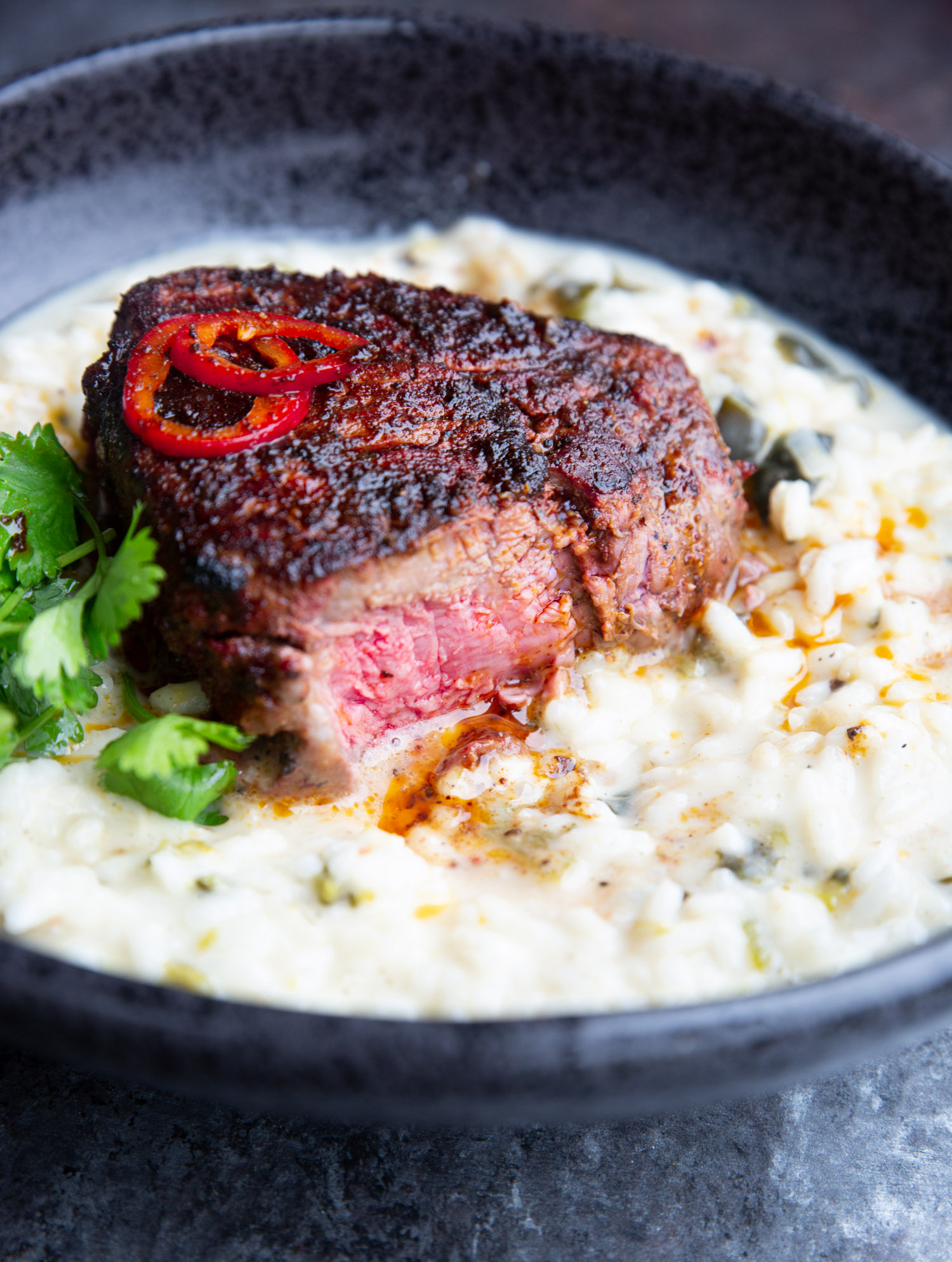 Yield:

4-6
Mexican Grilled Steaks with Mole Butter Recipe
Additional Time:
10 minutes
These perfect thick-cut steaks are coated in steakhouse seasoning, grilled to perfection, and topped with a fragrant, mexican mole butter steak drizzle!
Ingredients
4 filet mignons or thick-cut sirloin steaks (can use other favorite cuts of steaks as well)
Several shakes of chile powder (see post for recommendations)
Oil for coating the steaks or grill grates
1 stick butter, diced
2 t. honey
1 t. lime juice
Instructions
How To Make the Mole Butter:

Place the butter and mole paste into a small cast iron saucepan. (Alternatively, this may be done in a saucepan on the stove if you like.)
When melted and bubbling, remove from the heat and add the honey and lime juice. Stir well and taste for seasoning.
** All mole pastes are made with different recipes, so yours may require a little extra honey, salt, etc. (Just use your best judgment or I used Hernan mole paste and this recipe turned out perfect.)
How To Grill The Steaks:
Prepare your grill as per your usual method. For charcoal grills begin the charcoal, for pellet grills heat the chamber to high (500 degrees).
Oil the steaks lightly with oil and coat liberally in steakhouse seasoning. Dust with chile powder.
When the grill is ready, place the steaks down on the grill grates. Insert your Meatermade Thermometer if you use one. Close the chamber of the grill.
When the probe hits 110 degrees, open the chamber and flip the steaks. Close the
chamber and continue cooking to the desired doneness…
Pull at 125 degrees for medium rare
Pull at 128-130 degrees for medium
Alternatively, on a charcoal grill, grill the steaks for 4-5 minutes on each side, cooking to the desired doneness.
Remove the steaks and transfer them to a holding platter where they will get a good long rest.
After 10-15 minutes, coat the steaks with warm mole butter, and serve with green chile risotto.
Notes
You can make your own steakhouse seasoning by sprinkling liberally onto the steaks kosher salt, black pepper, onion powder, and garlic powder.
Nutrition Information:
Yield:
4
Serving Size:
1
Amount Per Serving:
Calories:

637
Total Fat:

52g
Saturated Fat:

25g
Trans Fat:

1g
Unsaturated Fat:

22g
Cholesterol:

197mg
Sodium:

372mg
Carbohydrates:

5g
Fiber:

0g
Sugar:

3g
Protein:

38g
This nutritional information is provided as a courtesy as an estimate only. Consult with a dietician for precise estimates. This website makes no claims that the nutritional values listed are accurate.