As an Amazon Associate I earn from qualifying purchases.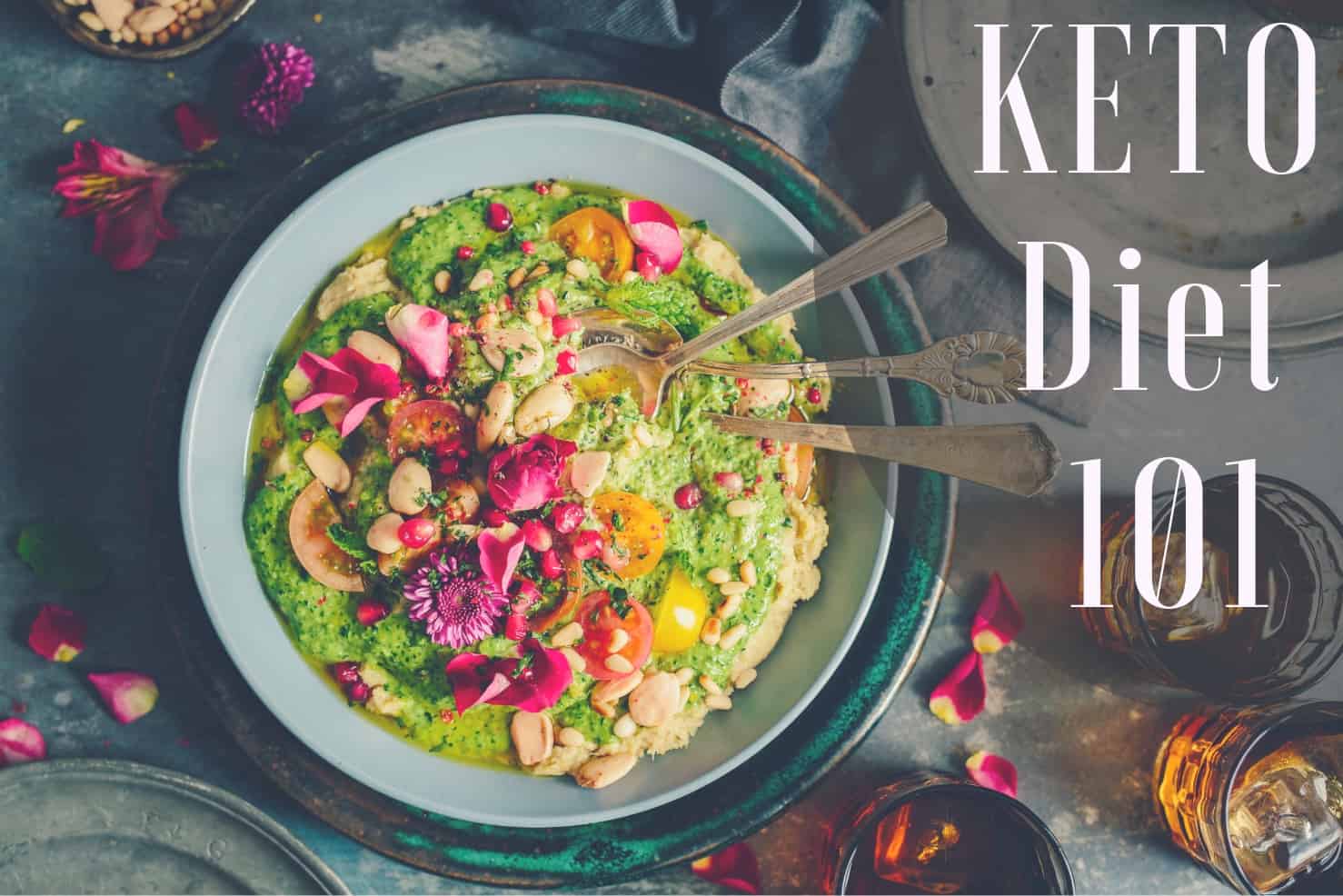 How To Prepare For The Keto Diet:
So, you've watched your friend's rapidly lose weight on the Keto Diet and you'd like to give it a shot?
Maybe you've watched our Youtube channel, tried the recipes, and watched me (Sarah 🙂 ) gradually shrink every week— well we're excited for you! And I want you to know you CAN do it, just like we have.
For my husband, he just woke up one day and motivated by his favorite doctor on YouTube, he effortlessly started the Keto Diet. He's now down over 40 lbs. in 3 months.
Yeah— my experience was nothing like that. 😀
I made fun of him for 2 weeks. I told him he was on the Atkins diet, and I continued to try losing weight by restricting my calories and running 3 miles a day. He lost 20 lbs in 6 weeks. I lost none.
After I saw the Keto diet dramatically transform my husband, I was ready to give it a try.
However, my mistake was thinking it would be as easy for me (a woman, a chef, and a foodie), as it was for Dereck—who's never had trouble sticking with any diet.
My first week I went through some massive emotional experiences that I now realize I could have avoided if I would have researched (at all), or had a female friend who had been through it before. Not everyone is the same.
Are you a foodie? Do you live for your midnight sweet tooth? Do you have PCOS? Your body might will experience some stuff that your spouse might not experience.
So that's what this blog post is about! Sharing what I have learned with you, so that you can prepare for this change, and make it effortless.
You don't have to go through what I went through—I actually quit keto 3 times because I was doing it wrong. It just helps to have a road map of what is coming, and to understand how you can assist your body as you ask it to change how it produces energy.
Sound good?! Awesome! Let's get started…
(This advice contained in this post is a narrative of my own personal experience and the tips, tricks, and products that the Keto community has found useful. I am not a doctor and you should discuss all questions regarding your health decisions with a licensed physician.)
WEEK 1 :What to Expect in Week One (the hardest week)
Don't Start Keto Cold Turkey
Don't load up on carbs all weekend and start your diet on Monday morning. I'm in a Keto Beginners group, and everyone (God bless us), tries to do this. Slowly try to cut carbs as you approach your Keto start date. Keto is not a diet of indulging in fats or protein, it's a diet that restricts carbs and sugar to 20-30 grams per day. So, help yourself ease into it by switching to lettuce wraps over bread, green veggies over baked potato sides, and cut out sugary salad dressings. In most cases Ranch, Blue Cheese, and Sugar Free Honey Mustard are Keto friendly.
Curing the Keto Flu:
(Comes on about the 3rd day and can last 7 days. Some people don't experience it at all, but those people may be robots.)
Every molecule of glucose (blood sugar) that your body carries around, is partly made up of water. As your body burns off it's reserve of glucose and glycogen, and you do not replace it (by eating sugar or carbohydrates), you will also begin to dump "water weight". This is exciting as you see a sudden drop in body weight, but also can cause flu like symptoms like diarrhea, low energy, mood swings, and a general negative mood.
It's believed that this is a combination of low electrolytes and dropping insulin levels. You might feel like you have a short fuse—you might even feel like quitting. Don't worry, it's much better on the other side. Here is what we used to counteract Keto flu…
Electrolytes
Replace electrolytes with a supplement. We use Bluebonnet Calcium, Magnesium, Potassium, or Country Life Magnesium, Calcium, and Potassium. I don't particularly recommend the Keto electrolyte products on the market because they don't contain enough of each supplement per serving (I've checked), and they're expensive. I recommend these two blends because they are 500-1,000 mg per serving. I take 3 pills if I get an upset stomach and it immediately goes away.

Probiotics
In addition to replacing electrolytes during Keto Flu, the first 2 weeks can be managed by taking a high quality, probiotic supplement.
We're reading more and more research coming out about the gut being the real brain of the body, and bacteria in the gut having the ability to send messages to the brain that cause you to crave sugar. I've always had a sweet tooth since giving birth to my sons, but after going through the detox involved with Keto, I have seen that rapidly change.
Keto beginners can find relief from some stomach problems by taking a probiotic. As these sugar craving bacteria die off they should be replaced with new gut flora. You can wait for that to happen naturally, or you can take a supplement.
After much research we chose to use Garden of Life Probiotics or you can use this one, which is Specially-Formulated for Women. I did hours of research on this company and they are one of the most reputable on the market. You and your spouse can split a bottle, and you'll be introducing healthy cultures of bacteria to your gut during a time of radical "rewiring" in your body.

Herbal Supplements To Consider
A little happy pill never hurt anyone and I take Holy Basil daily as a mood enhancer. It has transformed my life and I consider it a daily vitamin now. It makes me feel happy, optimistic, and less reactive to daily stressers. ????
If you have anxiety or feelings of unrest during your detox I recommend Rhodiola, which I have taken for 4 years on and off as an herbal anti-anxiety supplement. Again, no grogginess or changes in my behavior, just a feeling of peace. 🙂

For Sleep Aids:
For help getting to sleep, I used to recommend Hyland's 'Calms Forte' Herbal Sleep Melts but have since discovered Natural Vitality's "Natural Calm" Anti-Stress Drink Mix (I happen to love the Raspberry-Lemon flavor and they have Orange and Unflavored as well!) I use this often as a relaxing supplement if detox is keeping me awake. This stuff is a godsend and has absolutely no morning groggy "hangover". I actually use this at all times in my life when I find trouble sleeping due to stress or life changes. Try a bottle and you will wonder where this has been all your life.


Keep A Keto Dessert On Hand:
For the first couple of weeks keep a batch of Keto brownies on hand or buy some Keto Caramels for moments of weakness. We all have moments like this in the beginning. Heck, we still do! We always keep keto goodies in the house. It's a good practice in the beginning to keep these around so that when you break down and decide you HAVE TO HAVE SUGAR, you can pop a keto caramel and see if that satisfies you. Keto mug cakes are a quick way to make a tiny treat that can satisfy a sudden sugar craving. I'll make sure to post some on Youtube soon.
Here is some tips for your kitchen…
Prepare Your Kitchen For Keto:
The first two weeks I don't recommend tracking anything but carbs. This will allow you to adjust yourself from burning sugar into burning fat, without worrying about calories. I recommend tracking carbs after week 2 which I explain in the final part of this guide.

Fat Bombs:
Fat Bombs are little bites of cream cheese, MCT oil (We prefer the Now brand), and other seasonings that you can use as a tool to boost your mood and energy. Some examples are pumpkin cheesecake fat bombs, raspberry fat bombs, and smoked salmon fat bombs.
Keep homemade fat bombs on hand, and eat one if you ever feel like you have low energy or your mood is really bad. THIS FEELING WILL PASS as you become fat adapted.
I always stopped at this phase because I was not eating enough fat. My husband was always in such a good mood that I thought my personality just conflicted with Keto.
I was afraid I couldn't work, or be a good mom on Keto…not true.
I needed to eat some fat and have patience with my body as it learned to burn fat for fuel. (I was probably also still having major sugar withdrawals.)
I recommend keeping two fat bombs on hand, a savory fat bomb and a dessert fat bomb.

Erythritol
Let it be known that I would have never attempted this diet without discovering erythritol! It's the only artificial sweetener that I think tastes great in coffee!
Erythritol is a sugar substitute that was used in health and fitness supplements for a long time, but has only recently been available in grocery stores. My husband bought a small (expensive) bag from our local health food store and we FELL IN LOVE!
We put it in coffee, brownies, fat bombs, and desserts… so we had to find a cheaper version than the popular 'Swerve' name brand erythritol. We found it on Amazon. In our home we regularly buy Anthony's Erythritol in 5 lb. bags and they've since come out with a 2.5 lb bag. It's around $25 for the 5 lb bag, but compared to paying $8 for 1 lb in your local grocery store, we're pretty happy! It lasts a month or more around here and we bake treats all the time.
I dabble around with other alternative sweeteners like monk fruit sugar and Sweet Drops, but I have always viscerally hated artificial sweeteners of all kinds.
I sense an almost tingly sensation on my tongue with Stevia. 😛 Erythritol was the first sugar alternative that tasted almost exactly like sugar to me.
MCT Oil
I know, you've heard a lot about it, but why all the hype?
MCT Oil is a designer oil created with all medium chain triglycerides (MCT's) which break down easily and rapidly in the body. They are metabolized very quickly by the liver into energy. Numerous studies suggest using MCT oils as a substitute for other fats may encourage weight loss because the fats are quickly used for energy, instead of stored on the body.
We use Now brand MCT Oil in salad dressings, and in bulletproof coffee. It's also good for fat bombs.
We recently came across a Powdered MCT Oil that people are freaking out about. This would be a good version to keep at work for instant energy during those first few weeks of fat adapting.

Carb Quick:
The jury is still out on Carb Quick but we're researching it to make fried chicken. It's basically a low carb bisquick which can be used to make biscuits, pancakes, waffles, etc. If you'd like to ease yourself into Keto this is a good tool. We'll probably be using it in upcoming YouTube videos.

Vodka+ Water Enhancers:
So, you want to drink on keto aye? Me too. I think it's a mom thing.
(And I'm not like a regular mom, I'm like a cool mom.)
I didn't invent this trick, but my best friend who's lost 60lbs. on Keto introduced me to Tito's vodka + zero calorie water enhancers.
You'll add a variety of flavors, to taste and fill the glass with a sparkling water such as La Croix. You can find more of our Keto cocktails on our Youtube channel. We also make a zero calorie simple syrup recipe which is right here, along with a Keto margarita recipe.
Weeks 2-4 Getting Serious About Tracking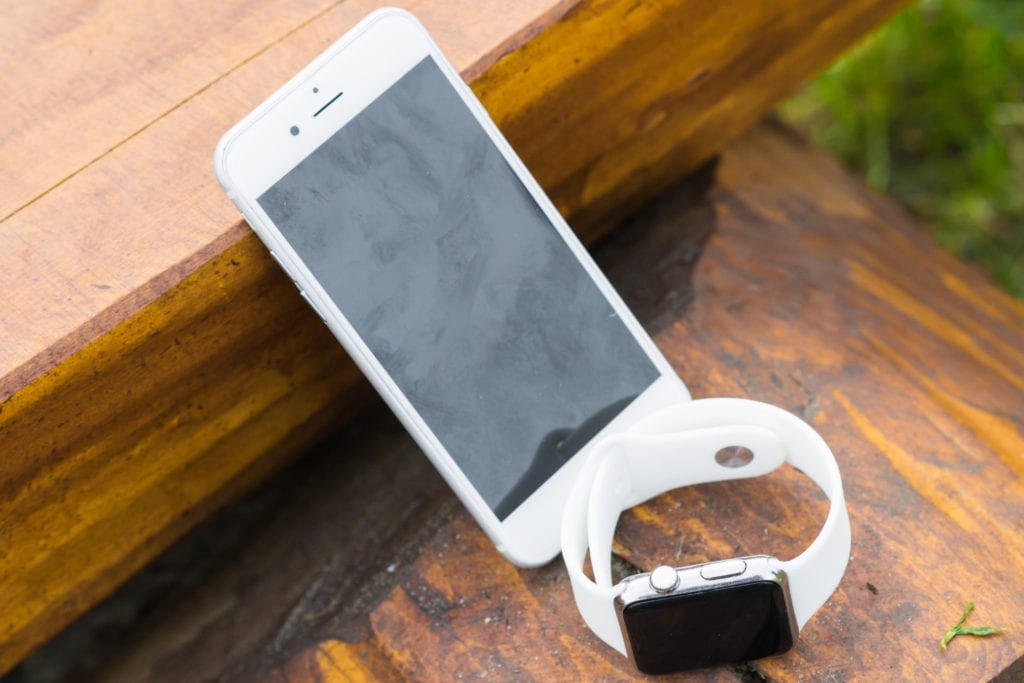 Welcome to the Keto party! By now your clothes are starting to fit better and might even be getting loose. Your out of the insulin spikes and drops that keep you running to the break room for snacks, and your starting to feel full all of the time.
Now it's time to get serious so you can see jaw dropping results.
Track Your Food:
Get an app for your phone. I use Carb Manager, but Livestrong has an app, and so does My Fitness Pal. Make sure you change your goals to Keto settings…
Go ahead and visit this Keto Macros Calculator to find your macros as an individual.
If you want to make sure you're in ketosis, or check certain foods to see if they knock you out of ketosis, consider purchasing…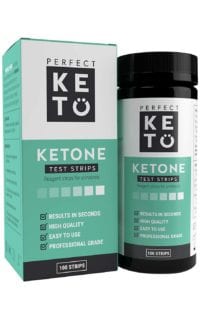 This is just the basic pee on a stick Ph test. It will show you through color changes on the stick how far into ketosis you are. They are cheap and discreet. People buy them to answer the question of have i achieved ketosis? is this what it should feel like? Am I deep in ketosis?
Soon, you'll be familiar with the feeling of heat as you burn body fat, but in the beginning some people just want a visual confirmation.
This kit is a little bit more serious. It's a painless finger prick device with a monitor and glucose meter. This is high level observation of your ketone levels. People have used this kit to determine if alcohol kick them out of ketosis, how much they can consume, and even how many carbs their body can have once they are at a body weight they want to maintain, without losing anymore weight. If you're the sciency type, you can use this to monitor and log your exact level of ketones.
Skincare and Beauty: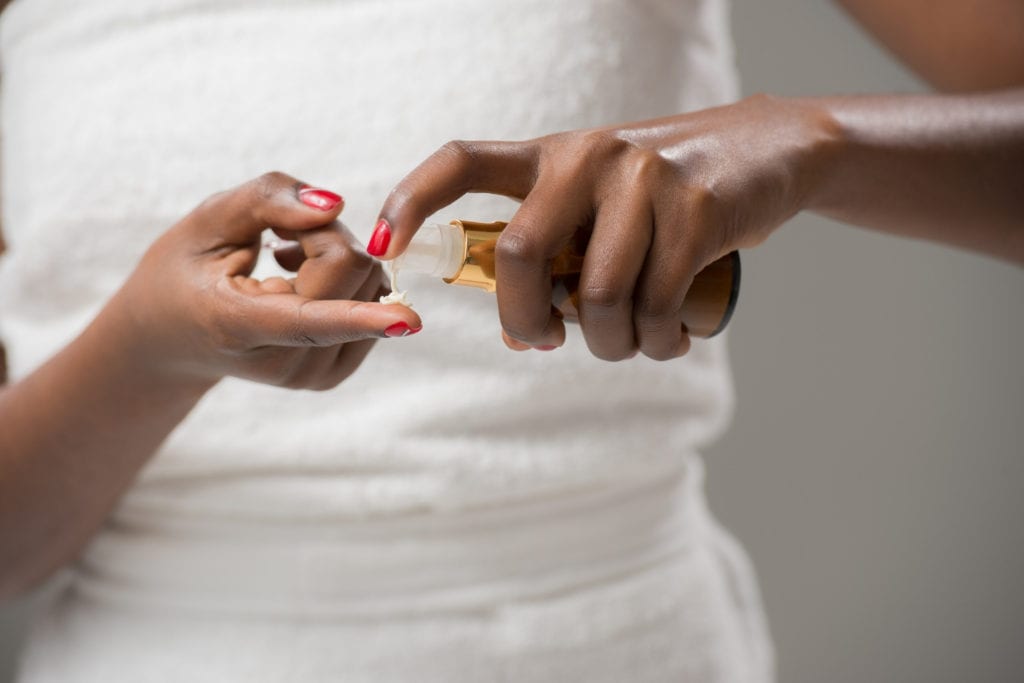 The last thing that I want to share, because I'm a thirty-something mom, is how Keto effects your skincare routine.
Once you reach this level of ketosis, I saw some major changes in my skin. First off I had to switch to this Neutrogena Hydro Gel Moisturizer because my skin was both oily, and somehow felt dried out. This is a lightweight moisturizer (not a cream) full of hyaluronic acid which plumped up my skin.
I now use the old school, big blue tub of Neutrogena Skin Cleanser that we all used in high school, and it has cleared up any excess oil.
I counteract these changes internally by making low-carb, freshly squeezed, green juice daily and eating lots of vegetables. I also take my vitamins!
Don't neglect your skin ladies (or gentlemen). You can also use high collagen bone broth in recipe requiring stock or broth, to help add collagen to your diet.
Good Luck!
Finally, good luck and let us know if you have anymore questions! We wrote this for our readers after requesting their questions on Keto. If you ever have any questions, we're always here and available to offer you any guidance that we can!
Make sure to checkout our YouTube Channel for recipes, live Q & A sessions, and videos we think will help you succeed. Here is our most popular recipe… Keto Pizza. People say it's better than regular pizza! Check out the comments and don't forget to SUBSCRIBE!
(This blog post contains affiliate links to products we use and believe in. If you purchase products using these links we receive a teeny tiny portion of that sale and we use it to pay for this blog, and continue creating useful content that we hope enriches the lives of our audience.)