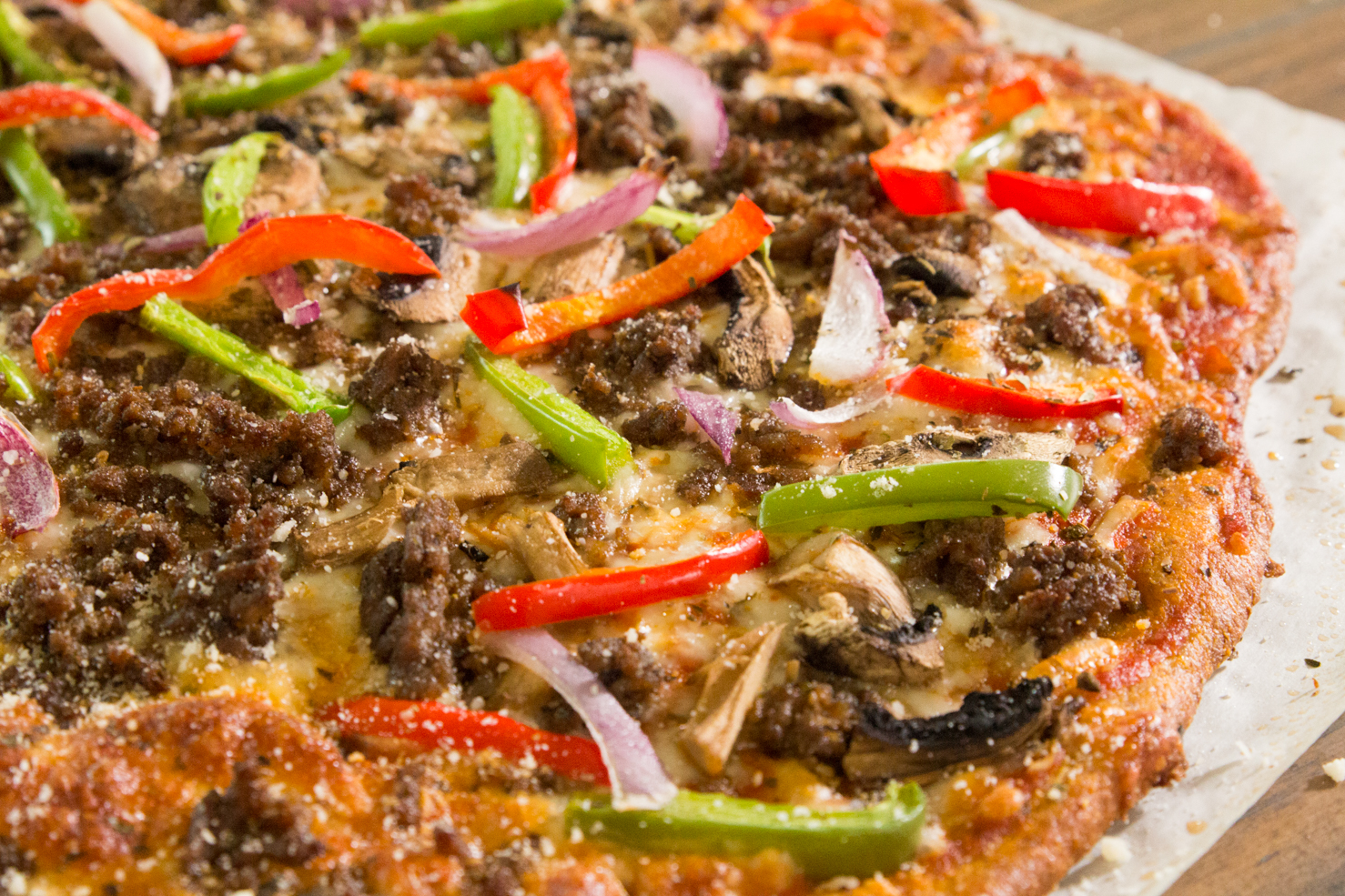 GUYS! I've lost 7 lbs in 1 week EATING KETO PIZZA—
Ok, well I've eaten a lot of other tasty things too, but more importantly I have stopped late night snacking, craving sugar, and today I put on a pair of pants from 3 years ago.
Do you know how good that feels?
It's better than a late night shopping spree at Target, in your sweatpants, while drinking wine with Matthew McConaughey!
It FEELS THAT GOOD. And I want you to feel it too… so I made a YouTube video so you could see just how excited I really am! 😀 And I wrote the recipe down for you too!
I am not going to go into extreme detail about the keto diet because I wrote a post on how to get started on it right here.
This easy keto pizza crust is just the beginning of a new chapter so I can't WAIT for you to try it!
Here is the recipe for the Easy Keto Pizza!
Keto Pizza – Cheesy, No Cauliflower Crust!
Ingredients
Crust:
3 T butter
2 c. mozzarella cheese
1 egg
1 1/3 c. almond flour (You can also make and use walnut flour which has almost zero carbs!)
1 t. garlic powder
Toppings:
Pizza Sauce (Rao's brand is the lowest carb option besides homemade)
Mozzarella Cheese, for topping
Mushrooms
Pan seared hamburger meat
Pepperoni (optional)
Red and green cell peppers
Thinly sliced red onion
Parmesan Cheese for topping
Pan Spray, Parchment Paper
Instructions
Microwave the butter and mozzarella cheese for about 1.5 minutes. Add the almond flour and mix with a fork. Add the egg and garlic powder and stir until it looks like a dough. EVentually, knead the dough with your hands for a few minutes.
Preheat the oven to 425 degrees. Lay the parchment paper on a cookie sheet and spray with pan spray. Press the dough out to form a pizza crust. Try to get it thin! It's better.
Top the dough with sauce and cheese and then lay your ingredients out. Sprinkle with parmesan or italian seasonings if desired. Bake for 12 minutes, or longer to your desired crispness. SLice and serve fresh! This pizza is also great cold! (For breakfast... obviously.)
7.8.1.2
56
https://urbancowgirllife.com/easy-keto-pizza-no-cauliflower-crust/