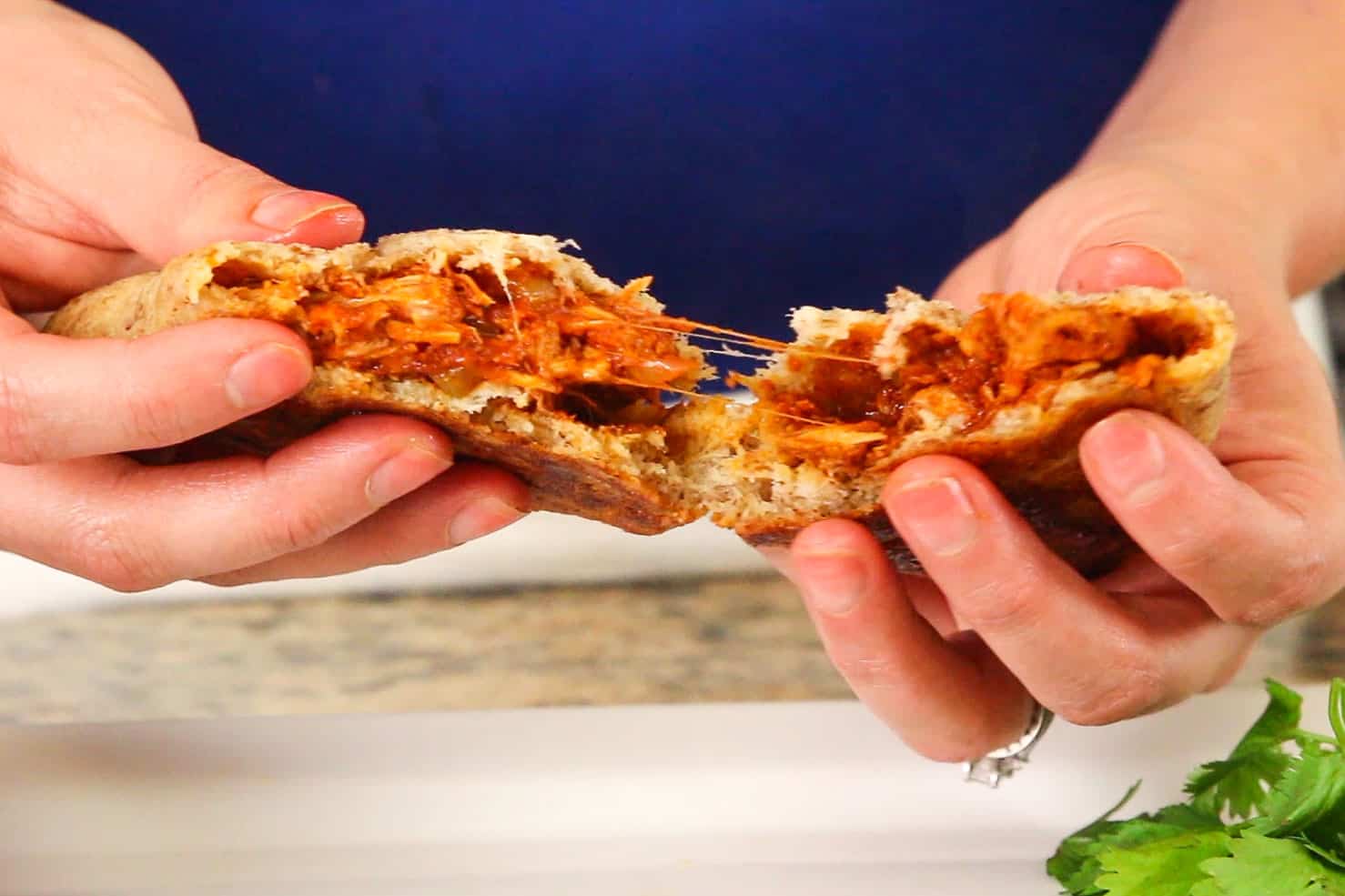 Everyone loved the Keto Pizza Crust so much that we decided to take the dough and make a hot pocket! These crunchy little pillows of cheesy chicken are filled with an authentic homemade enchilada sauce, and dipped in cool sour cream. 
Enjoy the video!
The Urban Cowgirl
Yields 5
Keto Chicken Enchilada Hot Pockets
20 minPrep Time
15 minCook Time
35 minTotal Time
Ingredients
Dough:
3 T. butter
2 c. mozzarella cheese
1 egg
1 1/3 c almond flour (you can also make your own pecan flour and use that for almost ZERO CARBS.)
Filling:
2 T. avocado oil
¼ c. minced onion
1 t. salt
1 t. garlic powder
1 t. cumin
3 T. ancho chile powder (or any mild chile powder)
Pinch black pepper
6 oz. tomato sauce (try to get as low carb as possible, read the back!!)
1 1/2 c. shredded chicken
1 c. monterey jack (can substitute any Mexican cheeses!)
1 squeeze of lemon or lime juice
Thin with water if needed
Instructions
For the dough:
Microwave the butter and mozzarella cheese for about 1.5 minutes. Add the almond flour, 1 egg, and garlic powder. Form into a dough. Refrigerate until ready to make dough circle. Press out on a baking sheet lined with parchment AND sprayed with your favorite pan spray. Make about 4-5-inch circles. Fill with filling and close as seen in the video. Lay down flat and repeat with remaining dough. (We have a full video for this dough on Youtube and on the blog under "Keto Pizza".)
For the filling:
IN a sauté pan add the avocado oil. Add the onions and cook 3 minutes. Salt well. Add all the spices and turn the heat down to toast the spices a bit. Add the tomato sauce and stir well. Cook 1 min. Add the cheese and chicken and toss to coat. Season with the lemon or lime juice. Taste for seasoning and adjust if needed. Set aside to cool and allow the flavors to enhance.
To Cook:
Preheat oven to 375 degrees. Bake the hot pockets for 12-15 minutes. Remove and serve with sour cream, cilantro, or your favorite fixins.
7.8.1.2
59
https://urbancowgirllife.com/keto-chicken-enchilada-hot-pockets/