Meatball Casserole is the hero of any low carb kitchen and it's a family friendly recipe that you'll want to make every week!
Meatballs are time savers for busy parents and professionals because they can be prepped in big batches and frozen, then cooked off when you're ready— with no one the wiser.
They are versatile in that they can be roasted in a bath of rich tomato sauce, sugar-free teriyaki, or rich creamy gravies, giving you a go-to meal idea for all your international cravings without the guilt!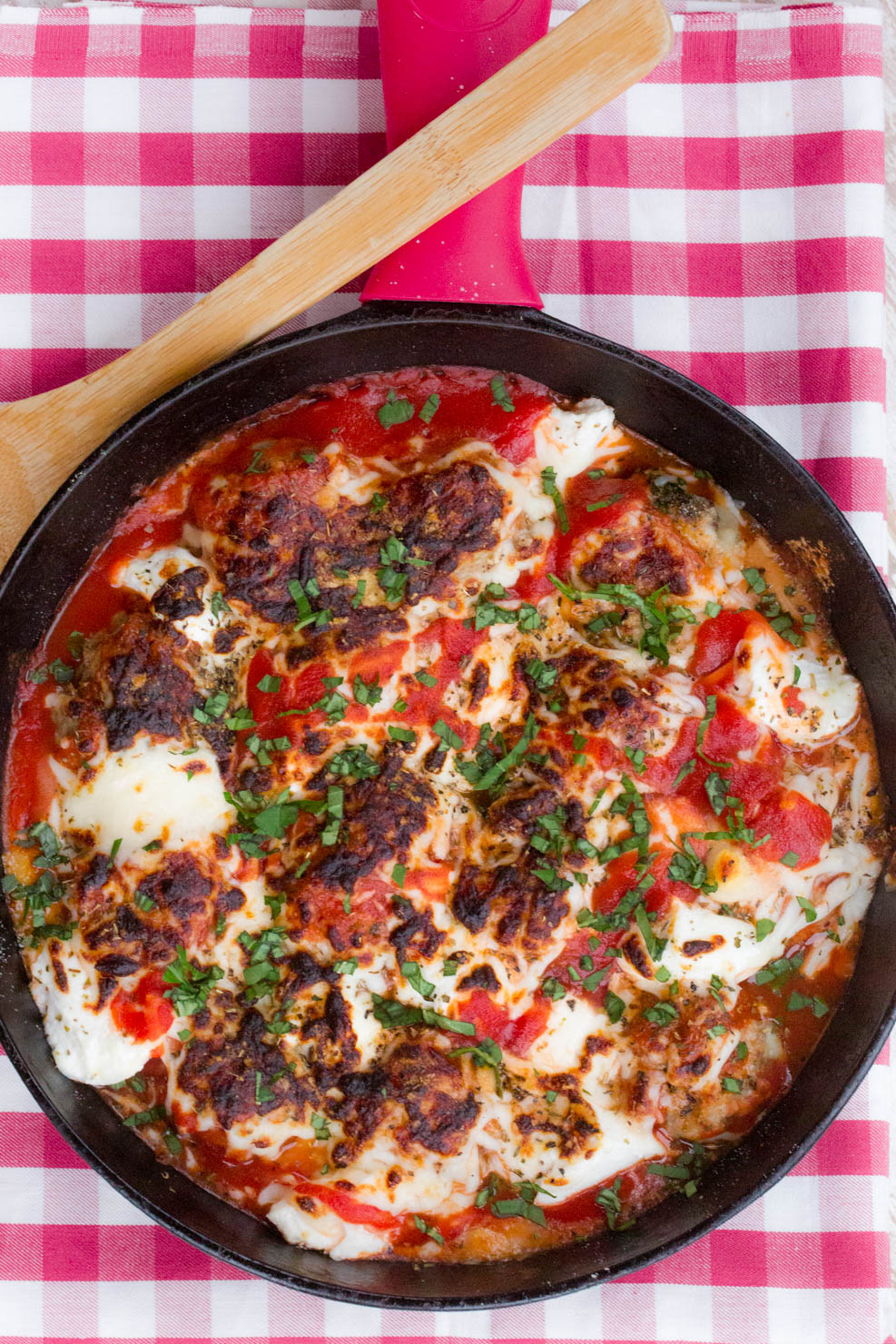 Meatballs are also crowd-friendly. Adults and kids alike love the flavorful dish and with easy recipes like this one, it's easy to see why.
Just look at those perfectly cooked meatballs with stretchy, melted cheese on top. They're always a big hit with the whole family!
The Anatomy of a Meatball
When it comes to making the perfect meatball, the biggest thing to understand is that the key is moisture. Fat, herbs and spices all play a role in flavor, but you really want to keep your meatballs moist and get that tender texture we all love.
Over the years I have done a bit of experimenting with different types of ingredients; ground pork and ground beef mixture for a richer flavor, Parmesan cheese, heavy whipping cream, and of course, lots and yummy Italian seasoning.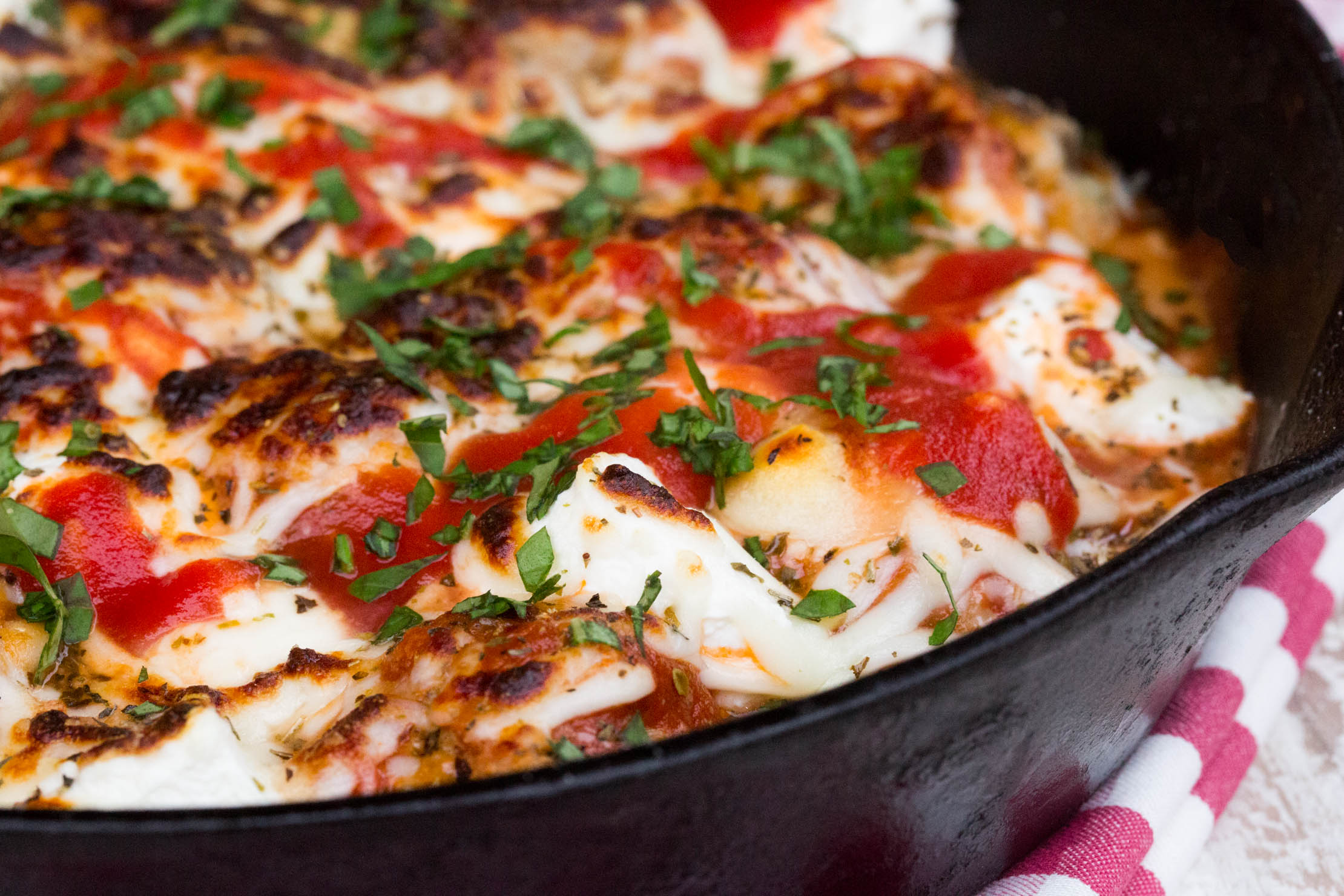 I do not use bread crumbs in this recipe simply because they're unnecessary. The flavor is rich and meaty and fewer carbs means they won't add an inch to your waistline.
These ingredients form the perfect texture and flavor in the meatballs—resulting in perfectly cooked little bites that melt in your mouth. Delicious!
Cheesy Meatball Casserole
If you're not sure what a meatball casserole is, let me explain. A couple of Fridays back, we were SUPER EXCITED to see that Marco's Pizza has started selling meatball bakes, making it all that much easier to order in on Friday nights! Pizza for the kids, meatball bake, and a Greek salad for us.
It seemed like we found a great dish for our keto and low carb lifestyle– until we continued craving it all weekend long. And so this keto meatball casserole recipe adventure began…
I decided we needed to create a simple recipe that was breadcrumb-free but still had the moisture, flavor, and interest of traditional meatballs.
Make a Big Batch – Easy Prep
These low carb meatballs need only 10-15 minutes—from basic ingredients to baking sheets, making them not only an easy weeknight dinner, but with a bit of prep you can make them ahead of time, or make extra for a great freezer meal.
If you are new around here I tend to cook once and eat twice. With this easy casserole dish, you can make a bunch of meatballs for tonight's dinner and freeze a gallon zip-lock bag of meatballs for dinner next week. It just makes sense with our busy lives to do time-saving favors like that for myself.
Don't you just love a meal you can make over the weekend then fill a freezer bag (or several) so you have everything you need to whip up dinner on busy weeknights? It's meal prep at its finest. And this recipe takes simple ingredients and turns them into juicy homemade meatballs every time…whether you're serving fresh homemade meatballs or prepping them from the freezer.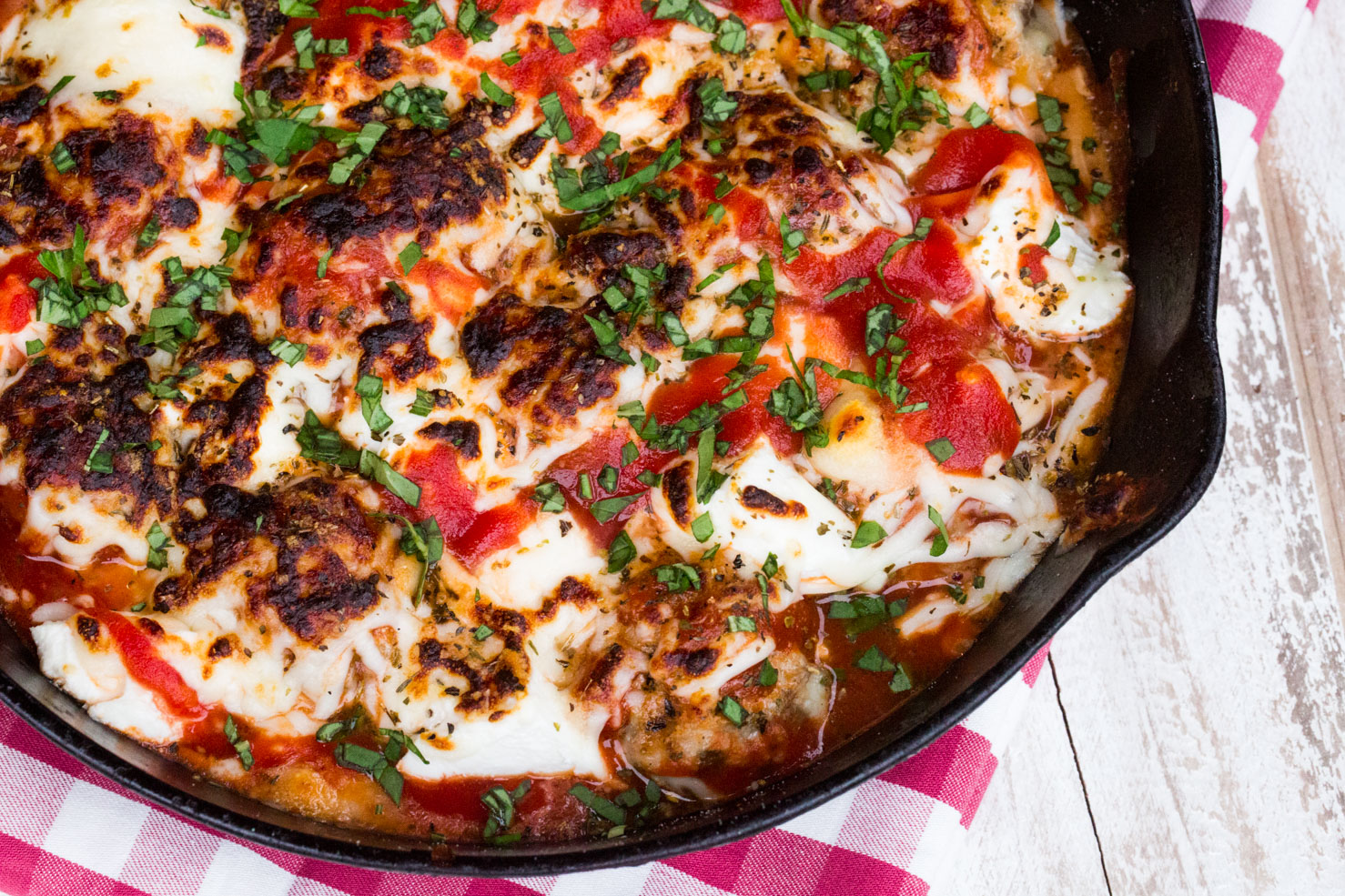 Ways to Serve Italian Meatball Casserole
Our family favorite is to eat them right out of the pan or pair the meatballs with some zucchini noodles and extra pasta sauce. Add a bit of fresh basil and you won't care about pasta ever again. It's a great, healthy option for a weeknight meal or weekend family dinner.
Here are a few more easy ideas for your frozen meatballs:
Make a meatball sub for the kids and enjoy yours on top of a chopped salad.
Italian meatballs with a creamy sauce and sprinkle mozzarella cheese on top
Baked perfectly paired with a nice side salad
Serve with cauliflower rice topped with mushroom gravy or over low carb gnocchi
Sweet and sour meatballs are also great with cauli rice
Give this frozen casserole as a gift to new parents or those recovering from loss or illness…include a bag of uncooked pasta and a sympathetic card, or prepared dessert.
There are so many delicious ideas for how to incorporate this easy dump recipe into your busy night, just replace traditional meatballs and skip the guilt.
How to Store This Keto Meatball Recipe
This low carb meatball casserole is a great make ahead meal. After cooking the meatballs, you can store them in the fridge for up to four days or keep them in an airtight container in the freezer for up to three months.
It's definitely one of those recipes that tastes even better as leftovers! When ready to eat, just pop it in the oven to heat up.
And there you have it: a delicious low carb meal that's easy to whip up on busy weeknights and tastes even better as leftovers!
For busy families, I recommend making a full batch and then splitting the 24 meatballs half and half into little baking dishes. Make one for tonight, and save one for later in the week or even freeze it!
This low carb meatball casserole recipe is short on baking time and big on flavor. Bring the delicious main dish to your dinner table and watch your friends and family drool with anticipation for their first bite. They'll never believe you didn't spend hours in the kitchen creating this easy keto dish.
Mix up a double batch of this perfect meal this weekend and watch it disappear!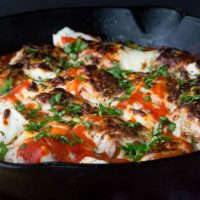 Meatball Casserole Recipe (Easy and Low Carb)
This easy meatball casserole has over 1,000 5 star reviews on Pinterest! The meatballs are specifically designedto be low carb, juicy, and delicious, making this tasty enough for a guilt-freefamily dinner that even the kids will approve!
Print
Pin
Rate
Ingredients
Meatball Ingredients
1

pound

ground beef

1

pound

ground pork

1/2

c.

parmesan cheese

1/2

c.

mozzarella

1/2

c.

cream

1

egg

1/2

c.

grated white onion

3

garlic cloves

pressed through a garlic press

1

dash

salt and pepper, garlic powder, onion powder
Additional Ingredients:
fresh basil or other italian herbs

1

jar

Rao's brand low carb pizza sauce (or homemade marinara)

3/4

c.

ricotta cheese
Instructions
Preheat the oven to 400 degrees.
For the meatballs:
In a large mixing bowl combine all of the meatballingredients. Mix the raw meat gently with clean hands, folding in the otheringredients gently. Folding gently creates tender meatballs that are notcompacted.

Using a 2-3 oz. scoop, scoop outmeatballs, roll in your hands, and place on an aluminum foil lined bakingsheet, sprayed with cooking spray. There should be about 24 meatballs. Sprinklethe meatballs with salt, pepper, garlic powder, and onion powder.

Bake at 400° for 20-25 minutes. Youwant some browning on the outside, but the meatballs will be cooked again momentarily.Transfer the meatballs to a glass baking dish or a large cast-iron skillet.

Pour the entire jar of pizza sauceon the meatballs and spoon ricotta cheese all over it. Sprinkle with extraparmesan if desired. Bake meatball casserole at 400 for 15 minutes and thenbroil for 1-2 minutes to create the browned top.

Remove from the oven and sprinklewith fresh basil. Serve these juicy meatballs hot
Notes
For a really easy meal, store-bought meatballs from the freezer area are a clear winner!
Nutrition
Serving:
3
meatballs with sauce
|
Calories:
407
kcal
|
Carbohydrates:
6
g
|
Protein:
28
g
|
Fat:
30
g
|
Saturated Fat:
14
g
|
Polyunsaturated Fat:
13
g
|
Cholesterol:
138
mg
|
Sodium:
374
mg
|
Fiber:
1
g
|
Sugar:
2
g