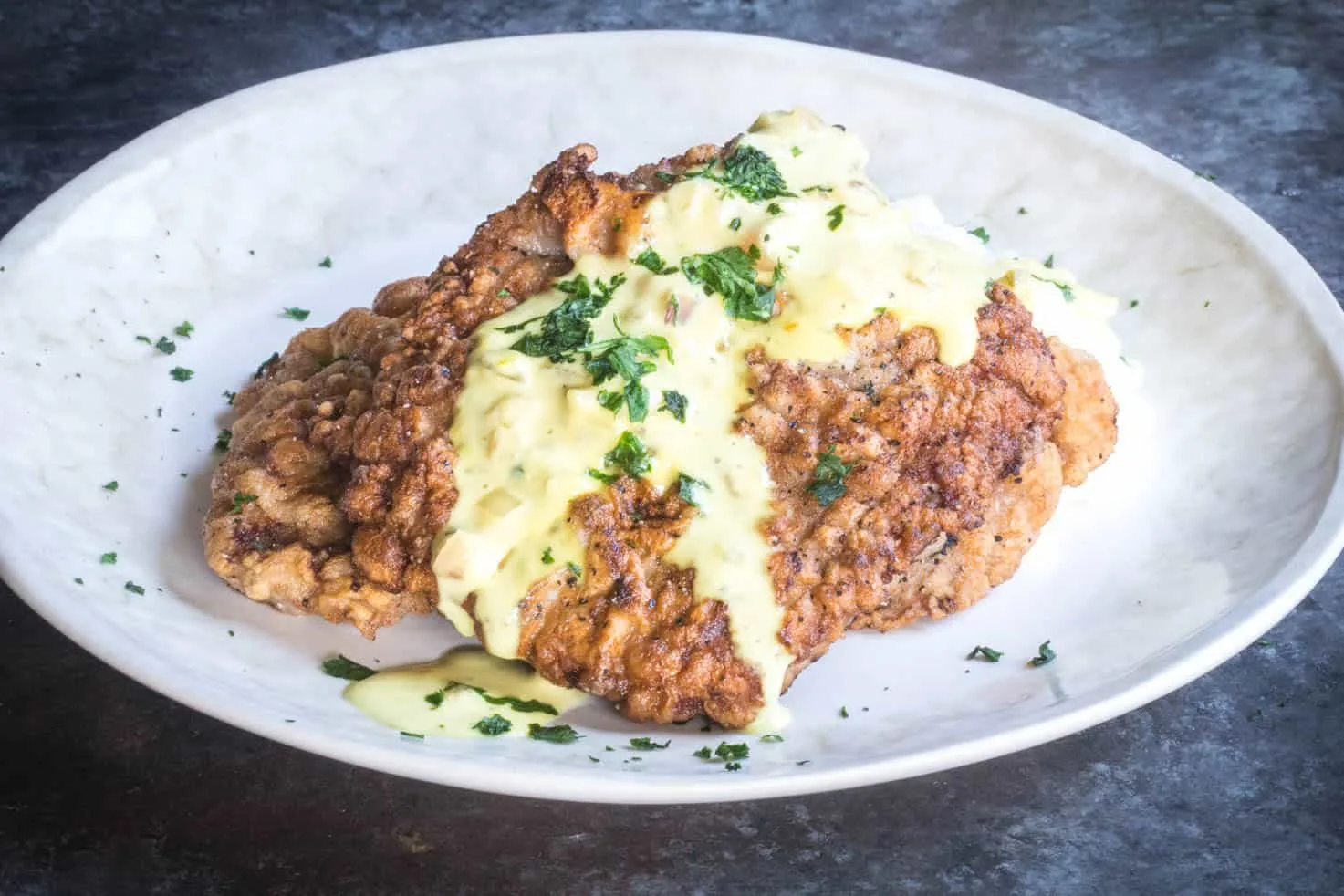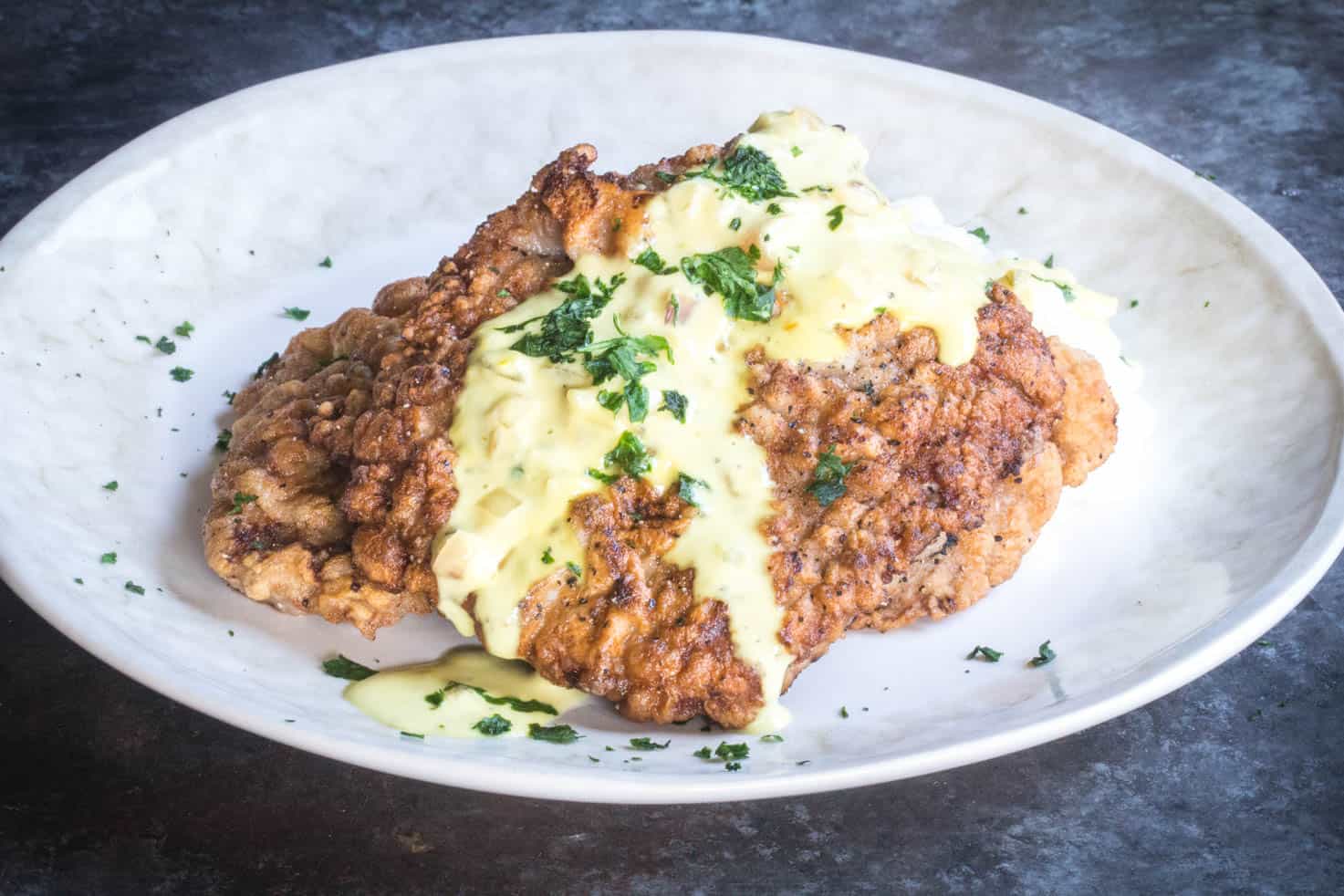 Do you ever get in the mood for chicken fried steak but the occasion just calls for something, SPECIAL? 🙂
I recently found myself working with The Honest Veal Company for the Annual Meat Conference, at the Hilton Anatole in Dallas, and I felt like we really had the opportunity to fuse Texan cuisine with a classic dish— veal scaloppine.
The scaloppine itself is so close to chicken fried steak, the recipe almost writes itself. I had been toying around with the idea of making a rich cream sauce out of the jalapeno mustard I see popping up at more and more gourmet shops, and this dish seemed like a great opportunity.
The jalapeno mustard cream serves the same purpose as a cream gravy, adding moisture and interest while providing a contrast to the crispy crunch of fried batter. You'll also find that the jalapeno cream sauce which is mild enough to serve to a child, adds a bright and tangy character to the velvety sauce.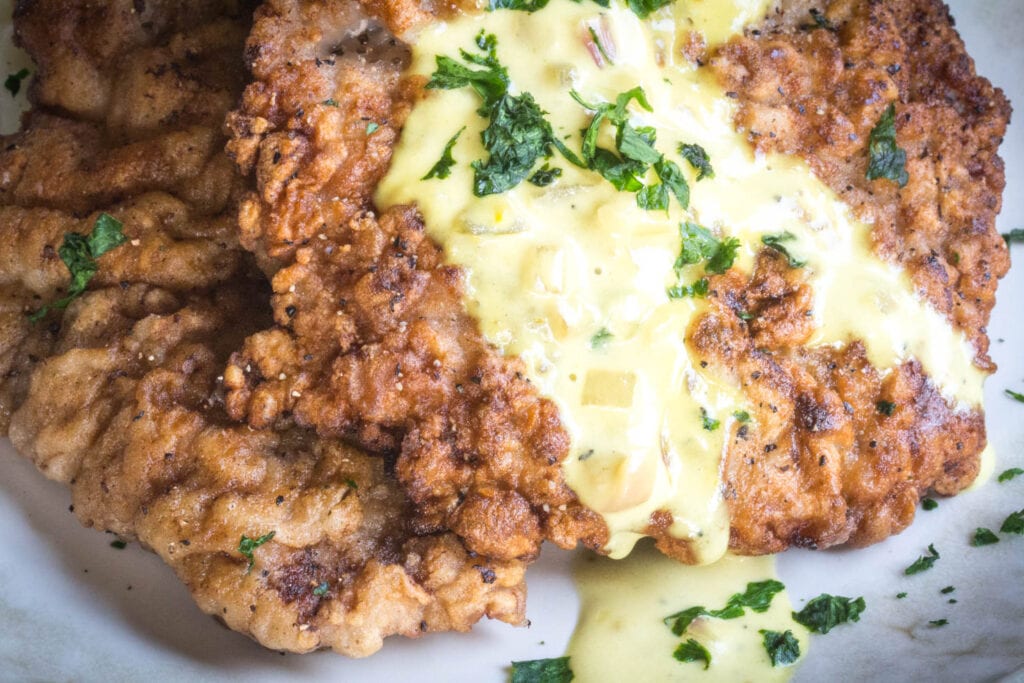 This Veal Scaloppine with Jalapeno Mustard Cream would be the perfect showstopper for a special dinner party, a romantic weekend at home, or holidays like Valentine's and Christmas.
We served ours on a bed of whipped buttermilk mashed potatoes (in true southern fashion) and that seemed to be quite a hit!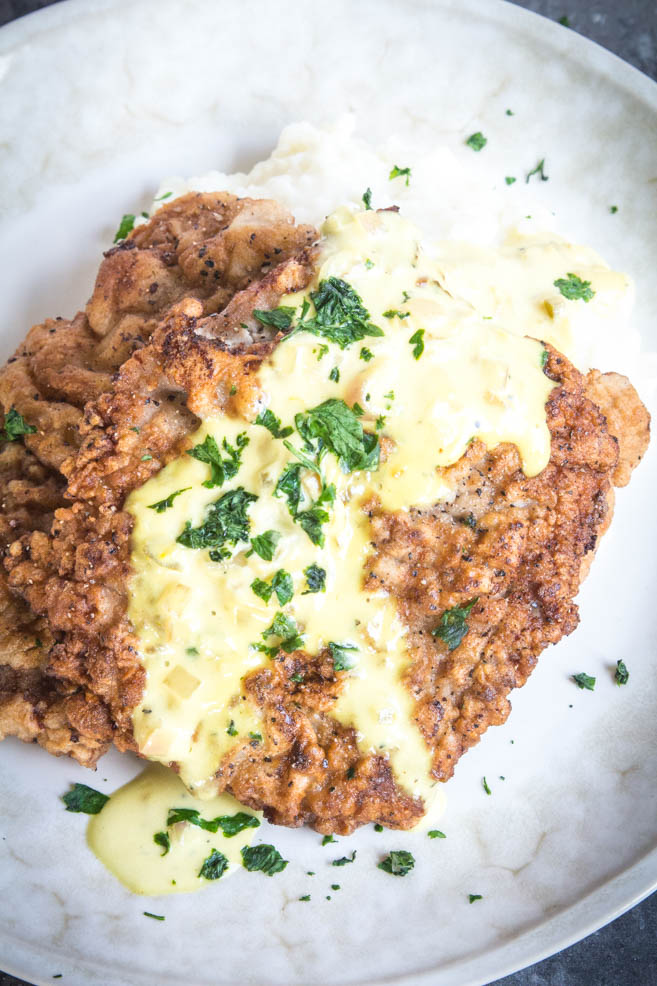 This Veal Scalloppine with Jalapeno Mustard Cream Sauce is simply a decadent treat for any night when you're in the mood to TREAT YO SELF…
Here is the recipe for the VEAL SCALOPPINE WITH JALAPENO MUSTARD CREAM SAUCE!
If you make it, TAKE A PIC and tag Urban Cowgirl! We'd love to see how it turns out! 🙂
[cp_info_bar display="inline" id="cp_id_bd52e"][/cp_info_bar]
Yield:

6
Veal Scaloppine with Jalapeno Mustard Cream
This veal scaloppine with jalapeno mushroom cream sauce recipe is similar to chicken fried steak with a mustard cream gravy that pairs well with mashed potatoes or buttered white rice.
Ingredients
3-4 veal cutlets, I used the honest veal company of Holland
2 c. Flour, seasoned with salt, pepper, onion powder, and garlic powder
3 eggs
1/2 c milk
1 pint fresh flavorless oil, such as sunflower or safflower oil, for frying
2 T butter
2 (about 1/2 c.) shallots, finely minced
1/4 t. salt
1 c. heavy cream
3 T. jalapeno mustard
Instructions
For the veal scaloppine, lay out 2 half casserole dishes and 1 cookie sheet for the veal. Salt and pepper the veal cutlets on both sides. In one dish place the flour seasoned with the herbs and spices. On the other dish, place 3 eggs whisked with the milk (the egg wash).
To dredge the cutlets, first dip both sides of a cutlet in flour, then dip into the egg wash, then back into the flour. Place on the cookie sheet to sit while you repeat this process with the other cutlets.
When all your cutlets are floured, tidy up, and fill a skillet or nonstick skillet about 1/4" high with oil. Heat to medium-high heat. Fry each scaloppine 3-5 minutes on each side, salting well after the crust turns golden brown. Move to a plate and reserve. Repeat with the remaining cutlets.
For the sauce: Melt the butter in a saucepan and add the shallots. Sprinkle with salt and stir well. Cook on low-med for about 4 minutes. Add 1 c. cream and the jalapeno mustard. Bring just to a boil, the sauce will thicken up very quickly. Taste for seasoning and remove and keep warm for serving.
For plating, place cutlets on plates and smother with the mustard sauce. Serve hot with a knife and fork. We recommend serving these with mashed potatoes or even pasta, or rice!
Enjoy!
Nutrition Information:
Yield:
4
Serving Size:
1
Amount Per Serving:
Calories:

5816
Total Fat:

648g
Saturated Fat:

159g
Cholesterol:

616mg
Sodium:

531mg
Carbohydrates:

23g
Sugar:

21g
Protein:

29g