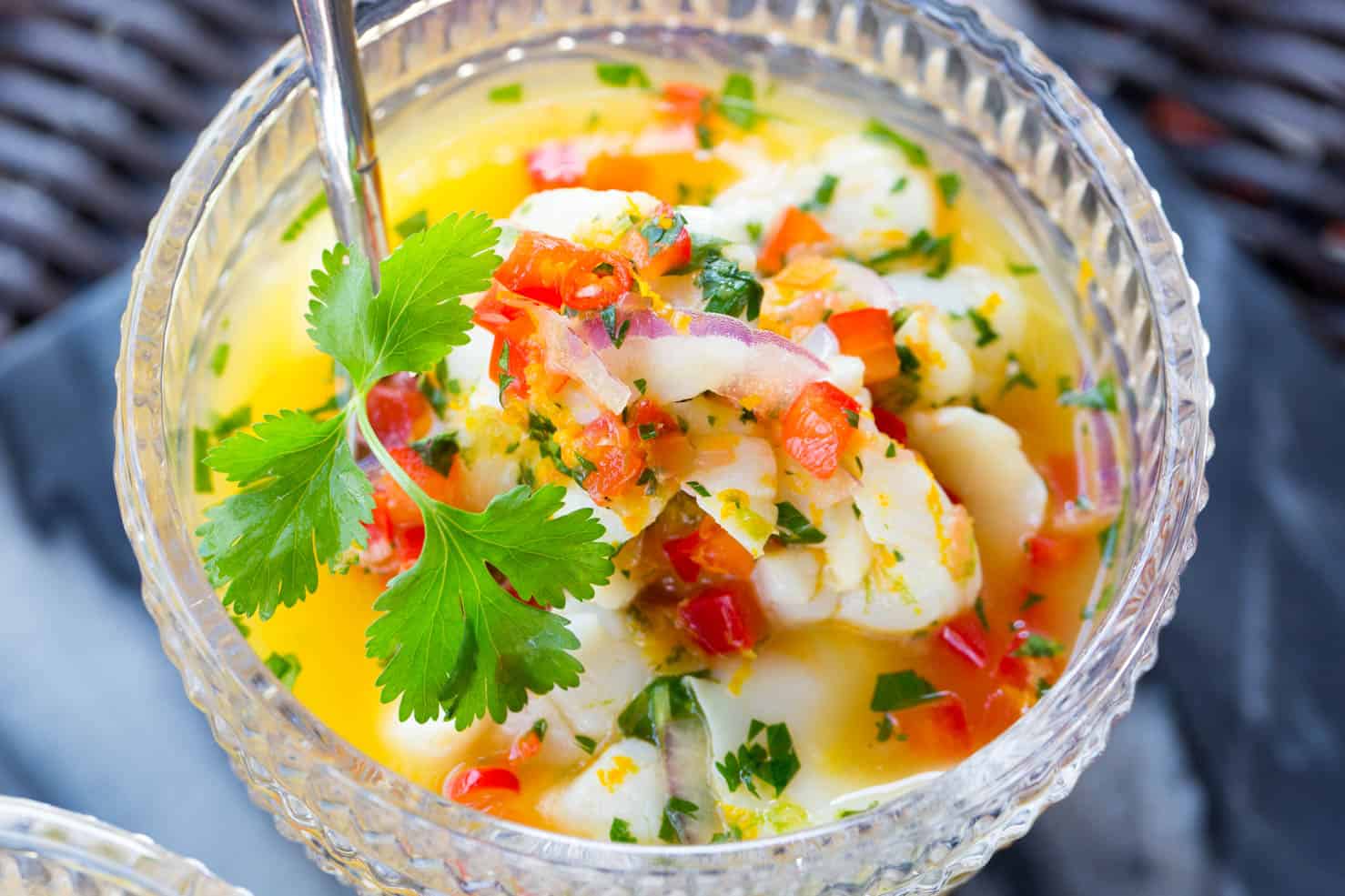 Though I may be in Dallas, I left my heart back in the Yucatan, and today I'm craving Casa Ceviche—one of my favorite restaurants in Playa Del Carmen.
The entire menu is made up of fresh and exotic ceviches, a specialty of the sun-soaked, coastal state of Quintana Roo.
Today, as our weather in the states turns warmer, it reminds me of days sipping cerveza and playing with my children in the sand. Once we built up an appetite we'd order big bowls of chilled ceviche, collapse into beach chairs, and marvel at the rainbow of tropical colors painting the sunset.
This is my home version of the scallop ceviche we love, and I hope it whisks you away to paradise.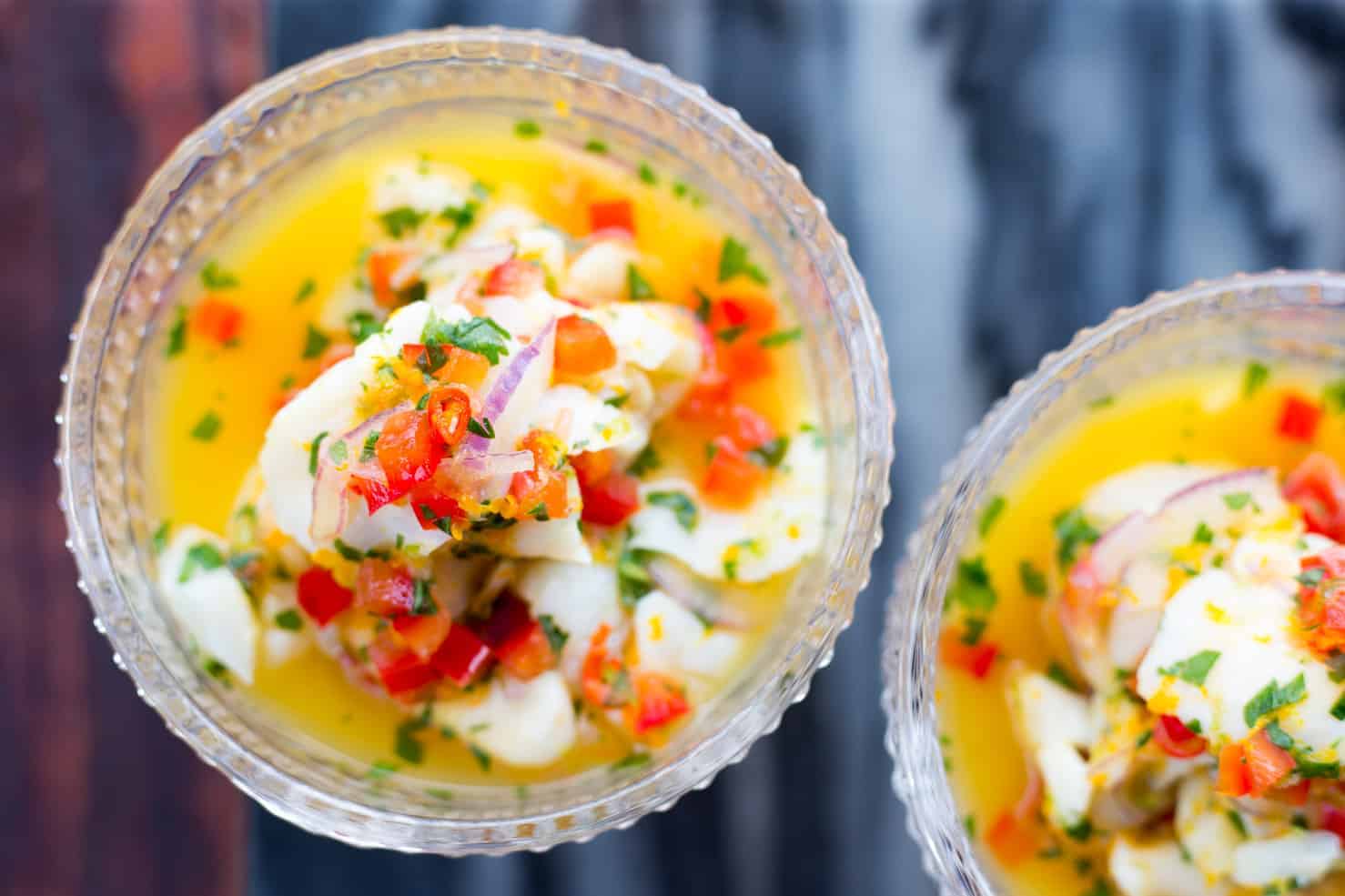 How to Make Scallop Ceviche:
In order to make scallop ceviche with tender sliced sea scallops, we'll need to get very large scallops. Seafood markets stock tiny bay scallops which are about the size of a pencil eraser, and these larger scallops which are about 2 inches in diameter. The tiny scallops are called bay scallops, and the bigger ones are called sea scallops.
Sea Scallops should smell salty and pleasant. If they smell fishy, ask the butcher which day he expects fresh scallops to come in and prepare to make this recipe on that day. Because ceviche is a raw dish you'll want to take extra care selecting only the highest quality scallops, which will give you the best flavor and keep you safe.
Take your chilled sea scallops and lay them out on a paper towel to remove excess moisture. Blot them on top with a paper towel as well.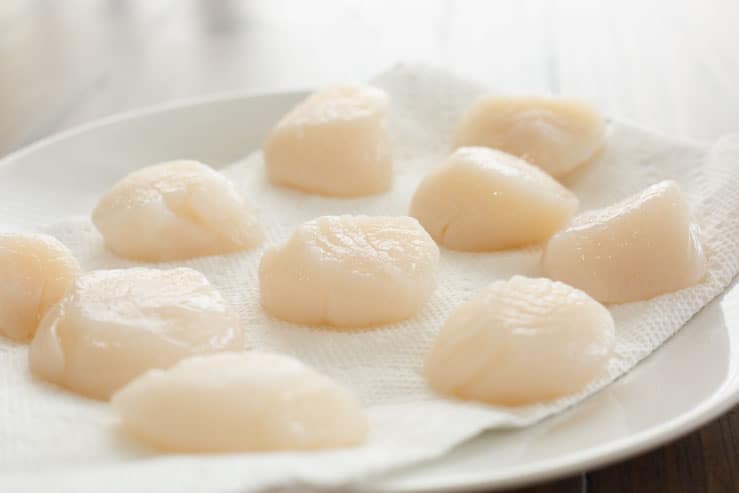 For slicing scallops razor-thin, I'm using my Shun 3.5″ Paring Knife. Concentrate on slicing the scallops a thin as you can, so that the citrus juices have a chance to really absorb and flavor the scallops.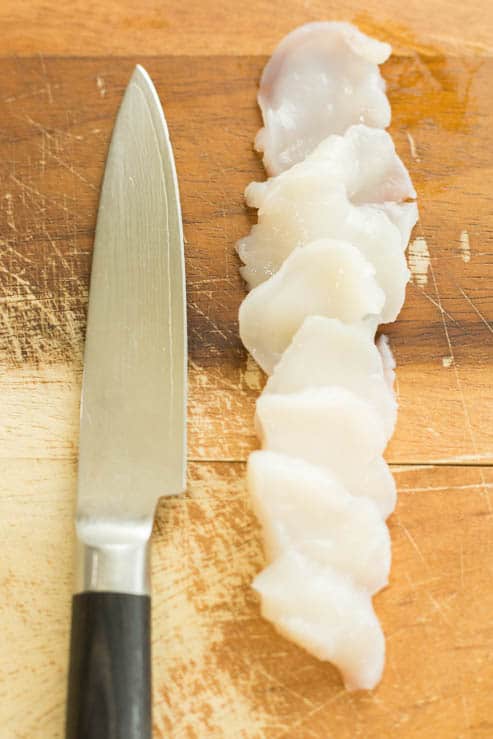 Place all of the sliced sea scallops into a bowl and keep them chilled while chopping up the rest of the ceviche ingredients.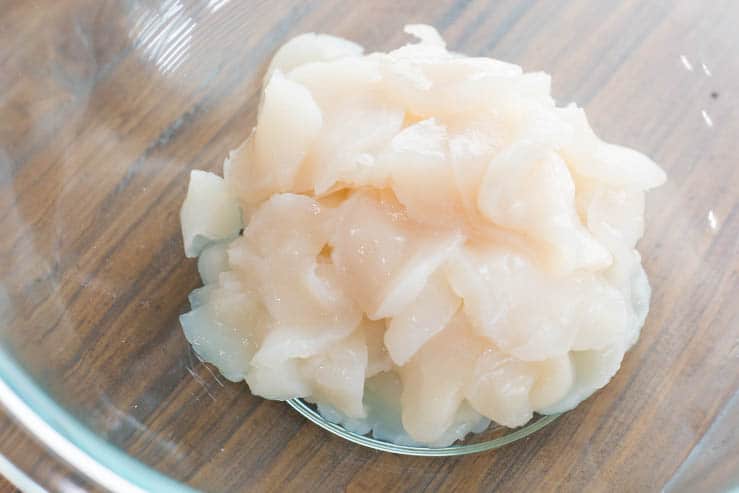 Zest the limes and orange and add to the bowl.
This is the Microplane I have used since culinary school and I still have it to this day. It's excellent for zesting citrus, as well as grating parmesan cheese, fresh nutmeg, etc.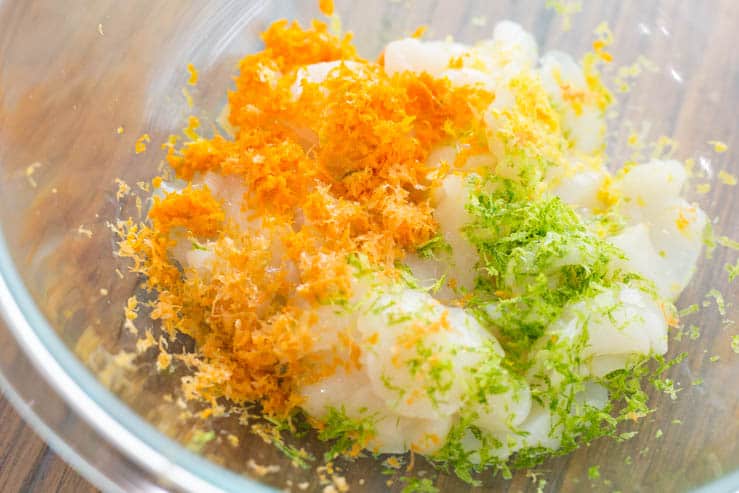 Now, I am adding in the sliced red onion, red bell peppers, chopped cilantro, and for a little heat one red thai chile or red jalapeno pepper. The chile is optional, and you can decide whether or not to include the seeds. (I usually only add in a very small amount of seeds because I want to taste all of the flavors instead of being blown away!)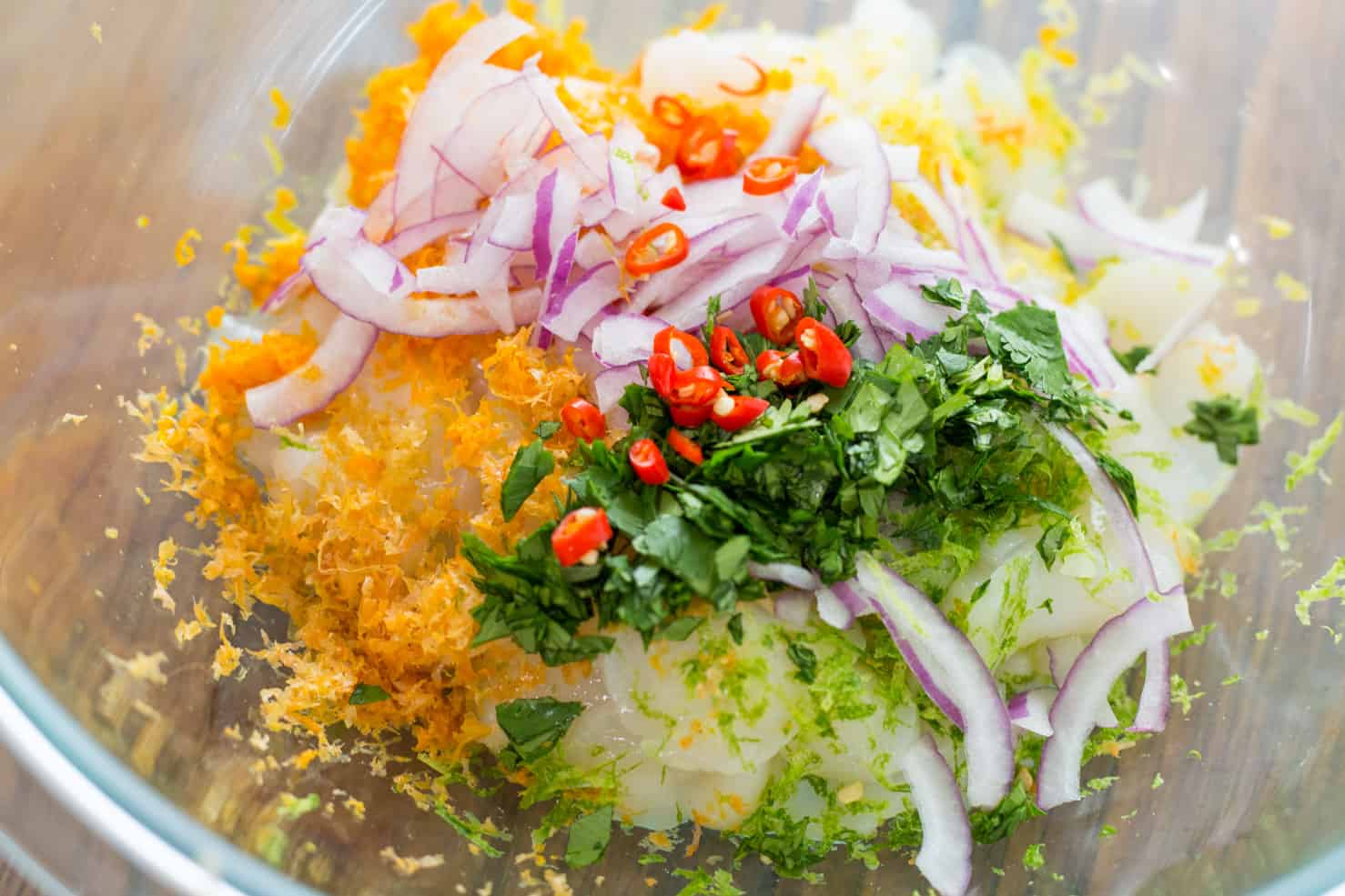 Now, add back in the freshly squeezed juices, salt, and sugar for balance. Marinate 3-5 hours in the refrigerator.
Before filling bowls give the ceviche a little taste. Depending on how sweet your citrus fruits are you made need a pinch of salt, or a bit more sugar. This is your chance to make it just how you like it! Many people eat ceviche with crispy tortillas chips, but I prefer to devour it with a spoon.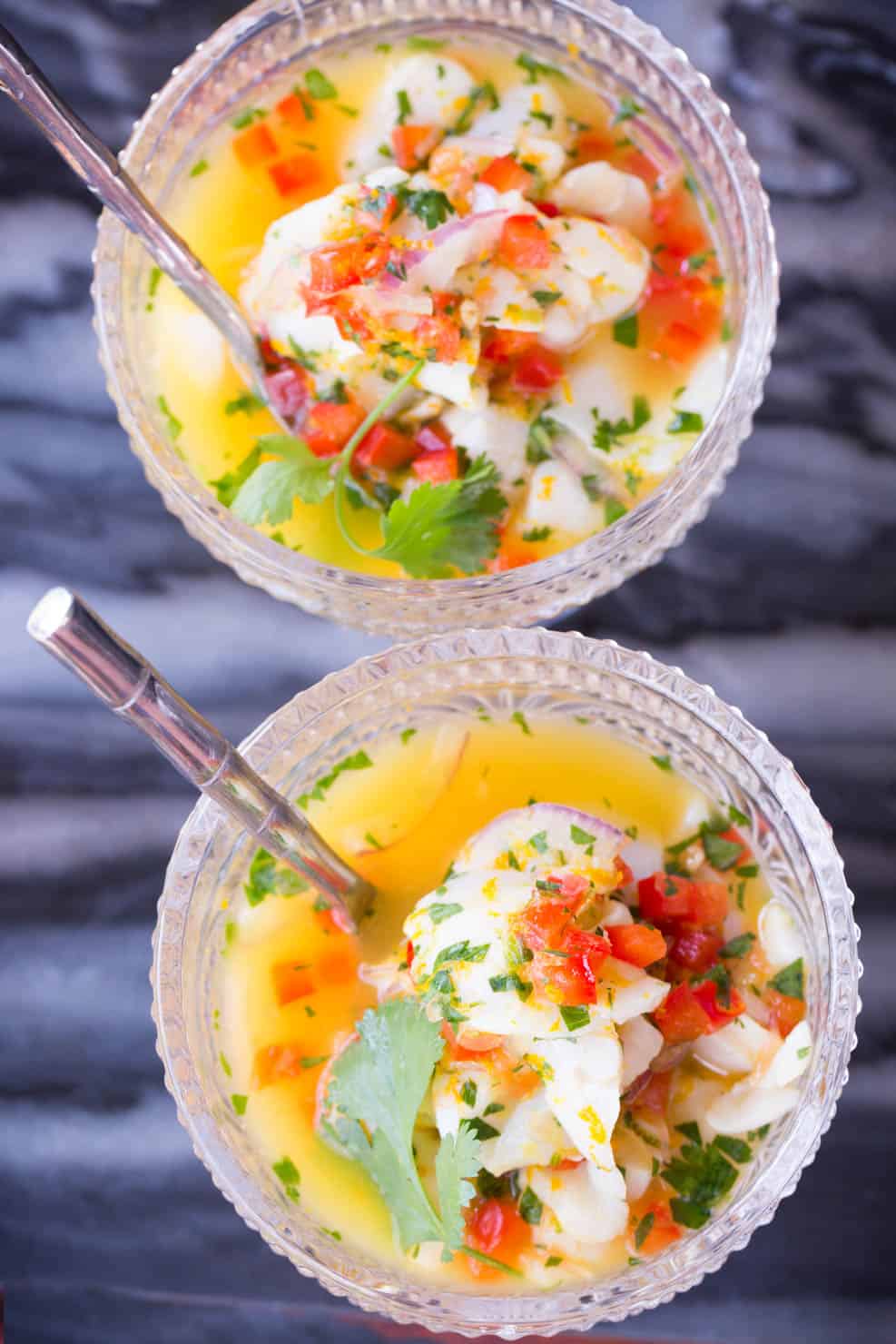 Delicious!
If you make this recipe, we'd love to see! Tag @UrbanCowgirl on Instagram!!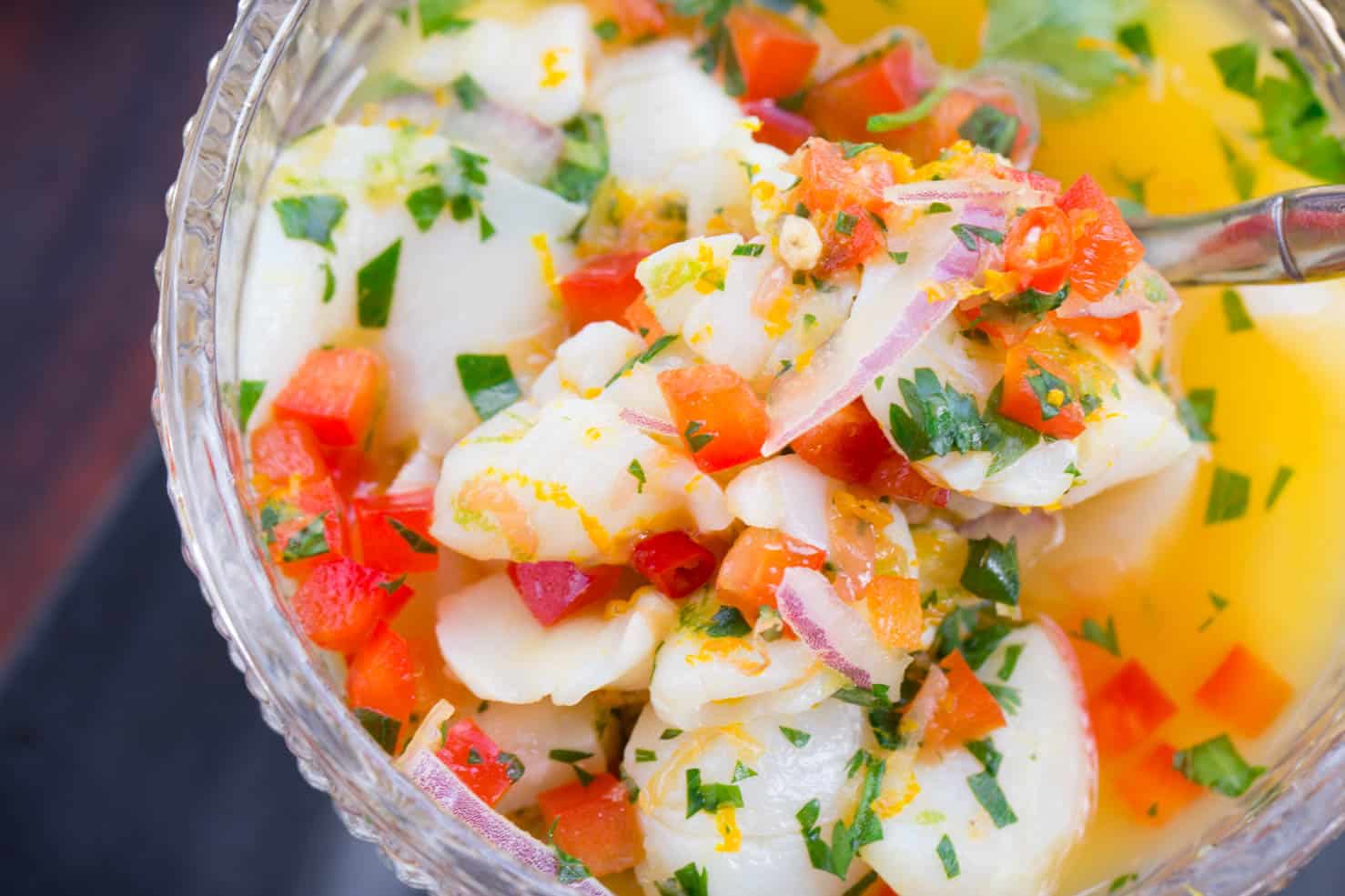 Yield:

2 as an appetizer
Sea Scallop Ceviche Recipe
Inactive Time:
5 hours
3 seconds
Total Time:
5 hours
15 minutes
3 seconds
This sunny and fresh sea scallop ceviche was inspired by the coastal Mexican city of Playa Del Carmen. It's a cool and refreshing appetizer by the pool, or a light dinner al fresco.
Ingredients
10 large sea Scallops
1 orange, zested and juiced
3 limes, zested and juiced
2 T. very thinly sliced red onion
1 red jalapeno or thai chile, sliced thin (best to remove seeds and ribs)
1/2 large red bell pepper, diced into fine cubes
2 t. sugar (may need more to taste)
2 T. fresh cilantro
1 t. kosher salt
Instructions
Blot the scallops on paper towels to remove excess moisture.
Using a sharp knife slice each scallop into razor-thin slices, place into a large bowl. When you're done slicing scallops place the bowl in the refrigerator.
Zest all of the citrus fruits and place the zest into the bowl with the scallops. Juice the orange and limes. Add the zest and juice to the bowl of scallops.
Slice the red onion and chile, if using. Add to the bowl. Sice 1/2 a red bell pepper into small dice and add to the bowl. Add 2 T chopped cilantro, salt, and sugar to the bowl. Fold everything together well
Chill 3-5 hours. Season to taste before serving. It may need a pinch more salt or sugar depending on how juicy and sweet your citrus fruits were. Serve chilled, with tortilla chips if desired.
Notes
Consuming raw or undercooked meats, poultry, seafood, shellfish, or eggs may increase your risk of foodborne illness. Please discuss your options with your doctor to make sure this recipe is safe for you and your family.
Nutrition Information:
Yield:
2
Serving Size:
2 as an appetizer
Amount Per Serving:
Calories:

144
Total Fat:

1g
Saturated Fat:

0g
Trans Fat:

0g
Unsaturated Fat:

0g
Cholesterol:

27mg
Sodium:

1602mg
Carbohydrates:

24g
Fiber:

4g
Sugar:

9g
Protein:

15g
This nutritional information is provided as a courtesy as an estimate only. Consult with a dietician for precise estimates.