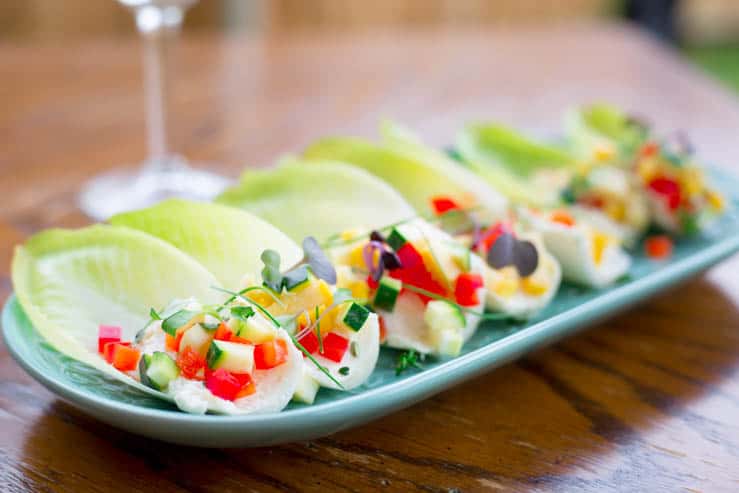 Spring is in the air and it's time to visit your favorite farmer's market for fresh baby vegetables, petite lettuces, and local wine!
Here at Urban Cowgirl, we're soaking up all the goodness by making up a batch of these Spring Endive Bites with Boursin Cheese and sipping crisp white wine on the porch— maybe you'd like to join us! This recipe is a quick and elegant snack, equally satisfying as a snack on the back porch with a close friend, or fit for a crowd at the first neighborhood barbecue of the season.
In fact you only need a couple items. A couple of veggies such as red bell pepper, zucchini, and yellow squash, fresh and washed.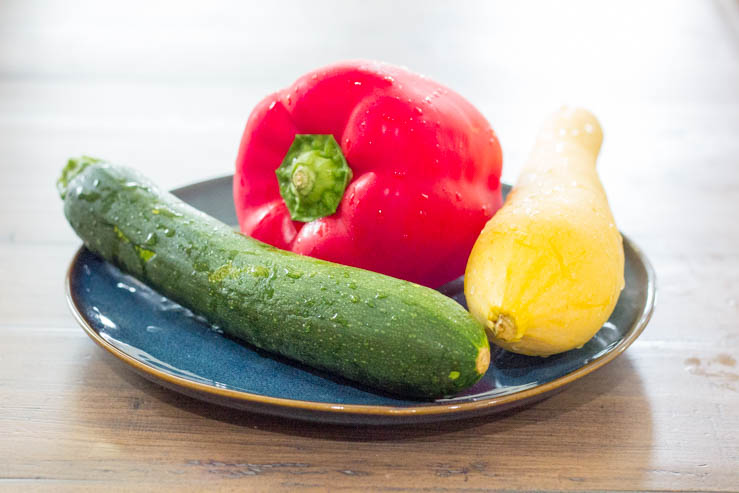 2 little heads of endive, and 1 box of Boursin cheese. This is the Boursin cheese when it comes out of the box…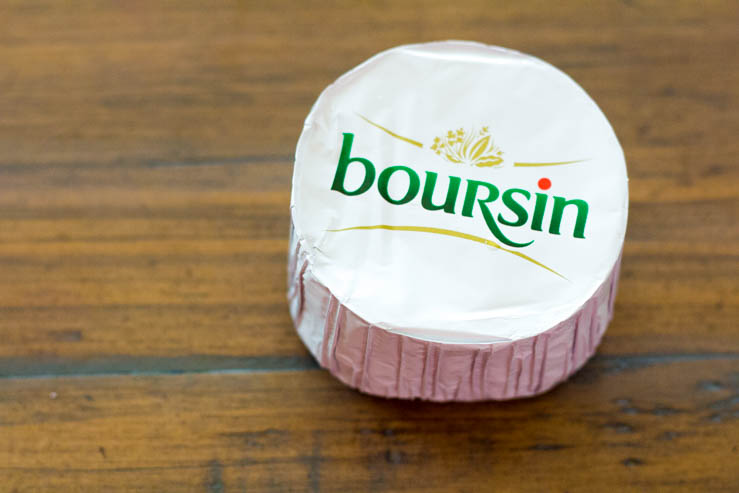 All we did was wash the endive, peel individual leaves off, and trim up the edge with a knife. Then scoop into the boursin cheese. A spoon helps make it looks nice.
So, we bought one of those chopper things…I thought it would be good for my 5 year old but guess who uses it the most? 😀
Cubing these veggies literally took me about 45 seconds. And they are perfect cubes. I use it all the time now for onions!
You can get one of your very own right here on Amazon.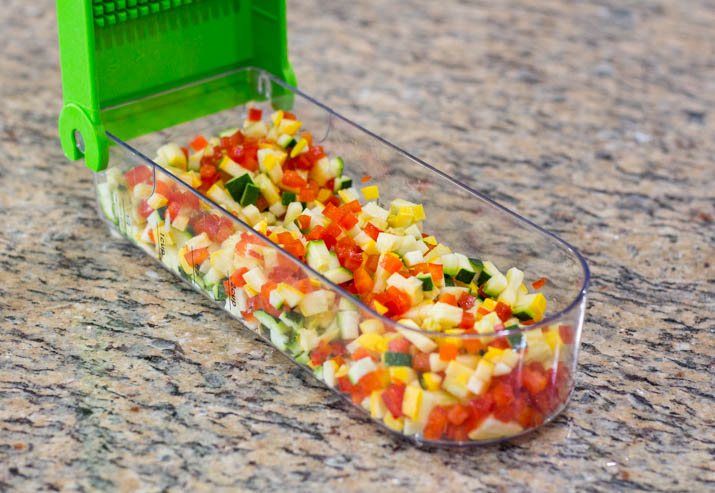 Or you can chop up the veggies the normal way, whatever works for you. Then just pinch the veggies on top of the endive bites! Garnish with fresh herbs, chives, or microgreens.
Yield:

20 bites
Spring Endive Bites
Enjoy the flavors of spring with these delicate bites of boursin cheese, fresh vegetable confetti, and scoops of endive! Our spring endive bites pair well with white wine al fresco!
Ingredients
1 package of Boursin brand cheese
2 heads of endive
1 red bell pepper
1 zucchini
1 yellow squash
Fresh Herbs such as chives, thyme, chervil, tarragon (minced or chopped), microgreens, or sprouts.
Instructions
Unpackage and unwrap the Boursin cheese and let it begin to soften and warm to room temperature.
Rinse the head of endive and pull "petals" off the endive body. Repeat with both heads of endive. With a knife, chop the end (where it attached to the whole head) of each petal off with a knife to give it a cleaner look.
Prepare the veggies: Slice the zucchini, squash, and red bell pepper into workable pieces. To make squares, utilize a kitchen chopper for quick perfect square pieces. Or, chop by hand by cutting into slices, gathering the slices and then cutting small pieces. They won't be perfect squares, but they are still tasty!
To Assemble: Use a spoon to scoop about 1 T. of Boursin cheese onto each endive petal. Sprinkle with veggie pieces and place on a plate.
Repeat with the remaining endive petals.
Garnish with freshly minced or chopped herbs. Enjoy!
Nutrition Information:
Yield:
10
Serving Size:
1
Amount Per Serving:
Calories:

29
Total Fat:

1g
Saturated Fat:

1g
Trans Fat:

0g
Unsaturated Fat:

0g
Cholesterol:

3mg
Sodium:

20mg
Carbohydrates:

4g
Fiber:

1g
Sugar:

2g
Protein:

2g
These nutritional values are an estimate only and provided as a courtesy. Different brands of ingredients may result in different calorie counts, and the software does not account for these differences. Consult with your dietician or doctor for precise nutritional values.