You don't have to be a chef or a foodie to take one look at the Blackstone Griddle and imagine being your own hibachi chef with this cool flat top grill in your own backyard.
Since we've already shared a full tutorial on our Blackstone Hibachi Steak Dinner (plus recipes for all those cool hibachi dipping sauces they give you), this week we decided to do a comprehensive Blackstone Chicken Fried Rice tutorial, with photos and video.
Chicken fried rice is a complete meal the whole family will love, and because it's the main dish, it's a fast recipe to get dinner on the table when you're pinched for time. This fun recipe can easily have dinner on the table in less than 30 minutes! (That makes it a family favorite for kids as well as busy parents.)
You've probably seen the hibachi chef make fried rice right in front of your eyes, but once you're behind the Blackstone grill, ingredients at the ready, it can feel intimidating. Not to fear, we've got the order for cooking the ingredients all ready for you to freshen up on before griddling.
As this has become one of the most popular Blackstone Griddle recipes we're certain you'll want to put your own twist on it, so we will also include some tips for adding simple ingredients that make this dish special.
(Links are affiliate links to products we think are helpful and we may receive a small commission, at no cost to you, if purchased.)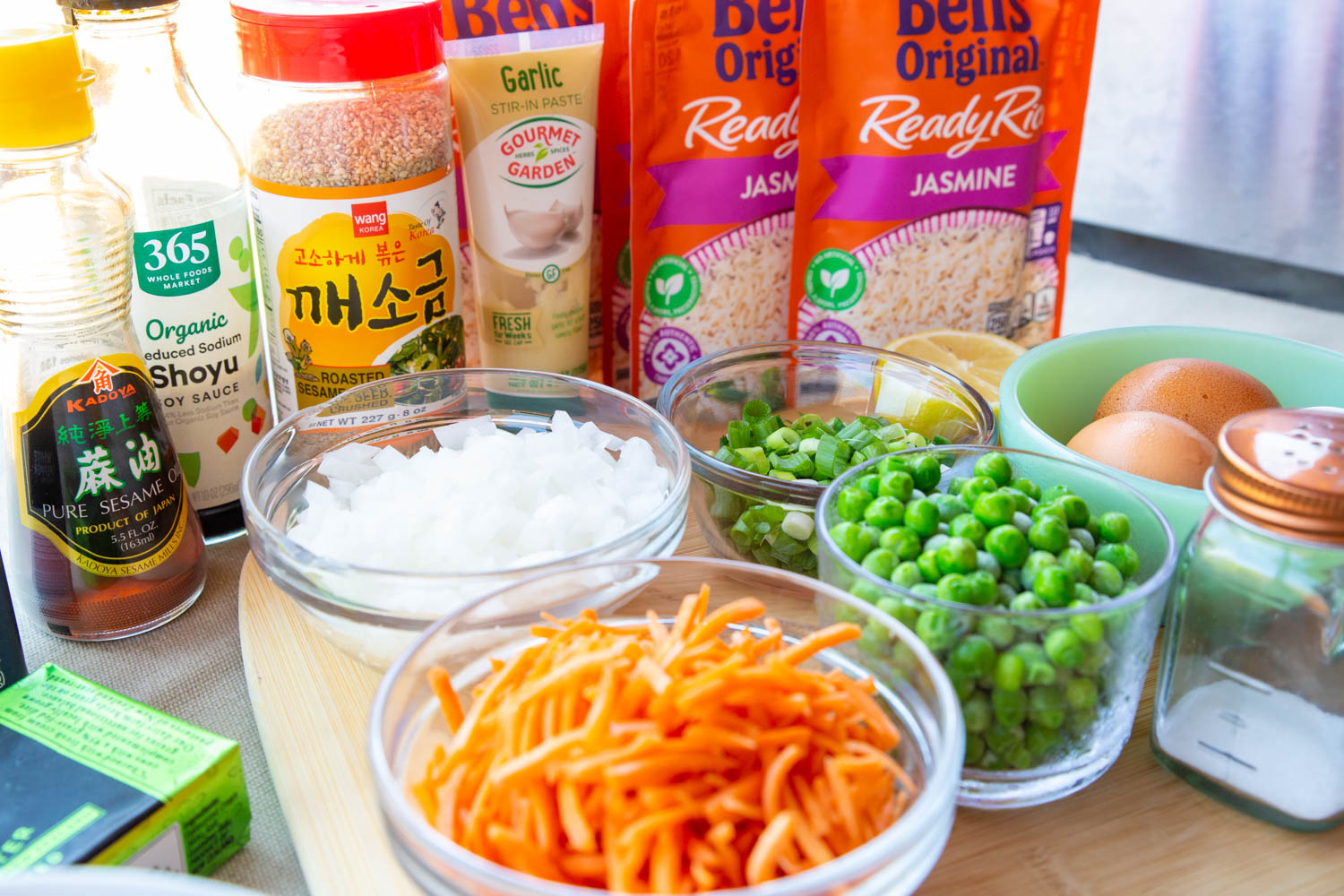 The Basic Ingredients Needed For the Blackstone Fried Rice Are:
leftover rice (or packaged cooked rice)
garlic butter
diced chicken
eggs
fresh vegetables
soy sauce (low sodium soy sauce is best)
If you want to create your own unique recipe, by all means, add in whatever you like.
On Instagram, I posted my culinary school recipe for fried rice and it includes shitake mushrooms. I chose not to add them because in America we don't often include mushrooms in fried rice, but the best part of this recipe is it's easy to fine-tune to your family's tastes.
We use the popular Uncle Ben's packages of rice because it's indistinguishable from homemade, but if you have a rice cooker you can make your own. You'll need 6 cups of cold white rice for this easy fried rice recipe.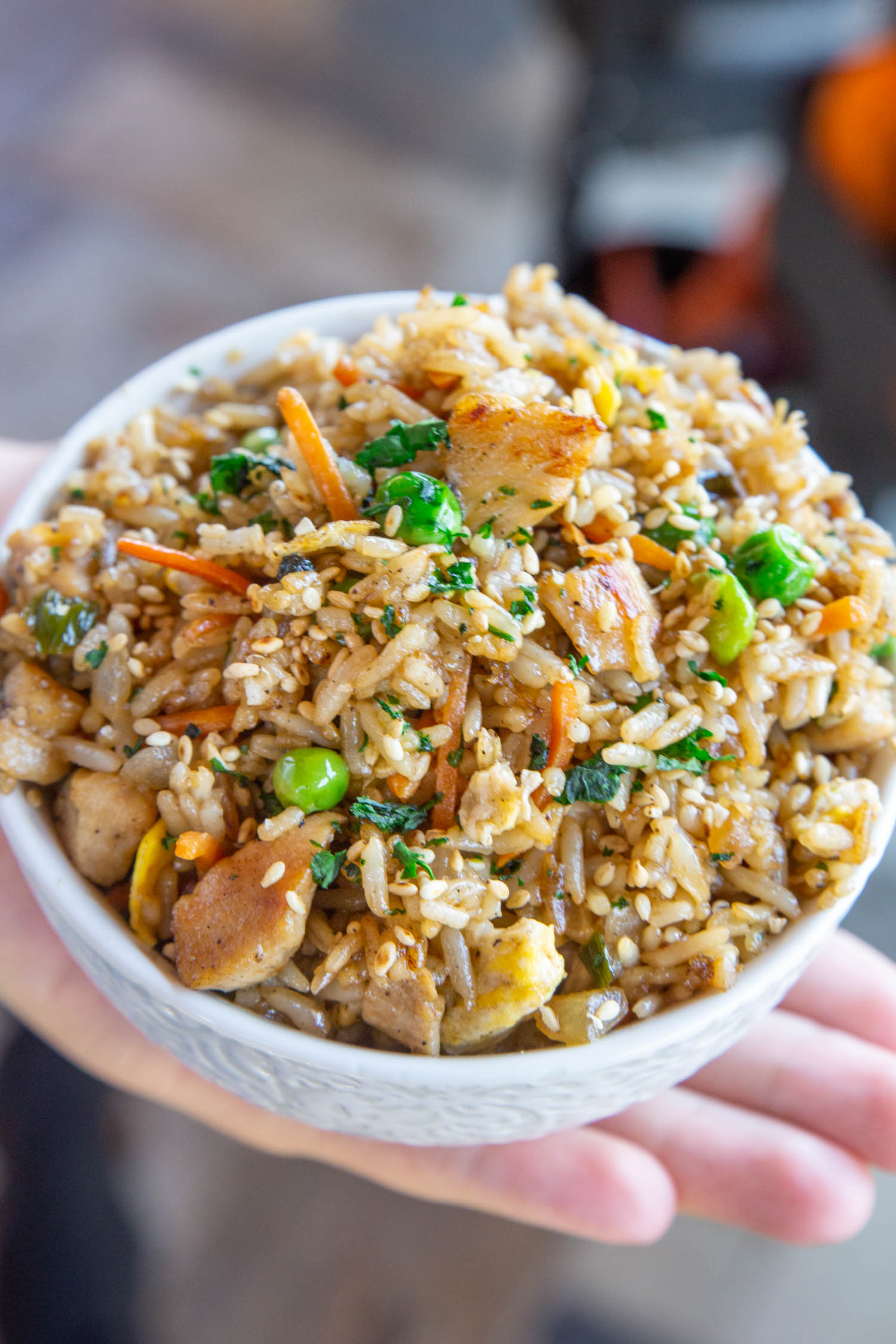 What Are The Main Flavors In Chicken Fried Rice?
As long as your recipe includes garlic butter, soy sauce, and roasted sesame oil, it's going to come out tasting like restaurant-style chicken fried rice.
Supporting flavors include fresh ginger (minced or in paste form), ground white pepper, oyster sauce, and occasionally teriyaki sauce (though we feel these go best on the seared chicken pieces).
How To Prepare The Chicken For Fried Rice
You'll cut 2 chicken breasts into small dice for this recipe. We aim for 1/4-1/2 inch cubes so that they will remain juicy. Here is how we diced them…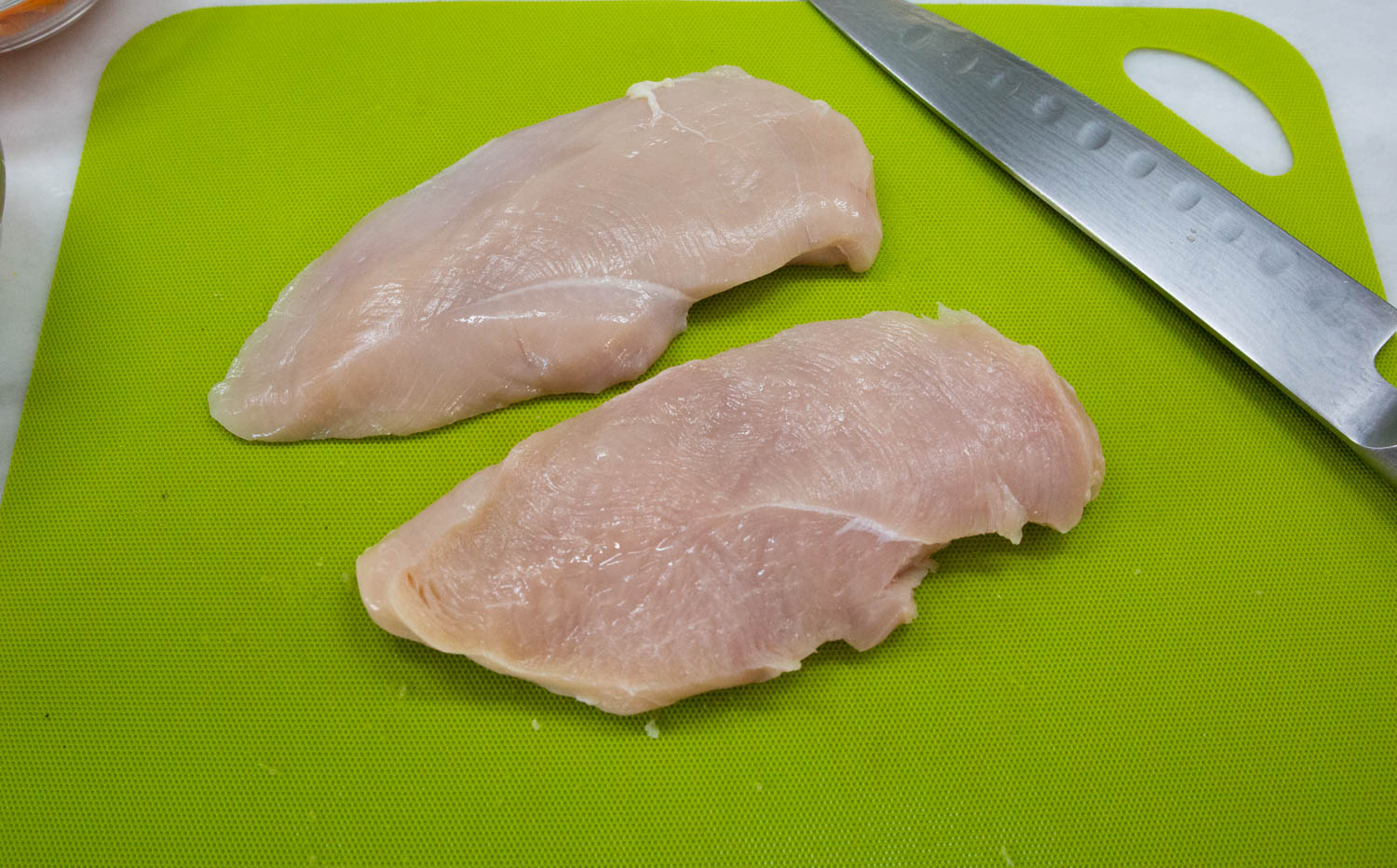 Next, we add those diced pieces to a bowl and marinate them with sesame oil, garlic, and seasonings. This may be done 2 days ahead of time if you like.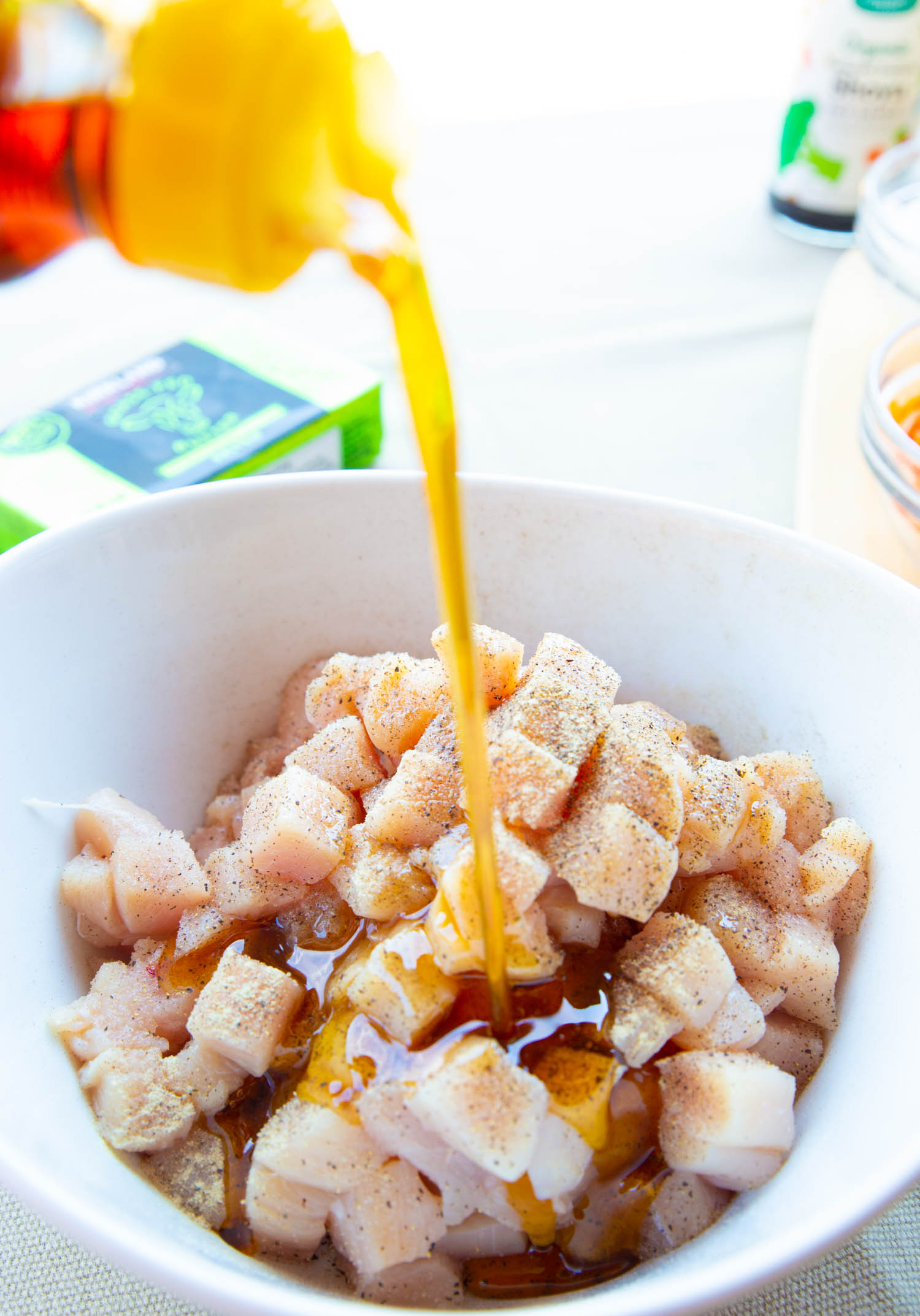 The Order Of Cooking Fried Rice Is:
Cook the diced chicken in garlic butter
Cook the fresh vegetables in garlic butter
Pour out the rice and saute in sesame oil and garlic butter
Incorporate all of the ingredients with your spatula
Fry the egg and add in last
Garnish with green onion or sesame seeds
This is of course subjective, but we love this order because the chicken has a chance to get seared and the rice doesn't overcook into a soggy mess.
Visual Steps On The Blackstone For The Chicken Fried Rice Recipe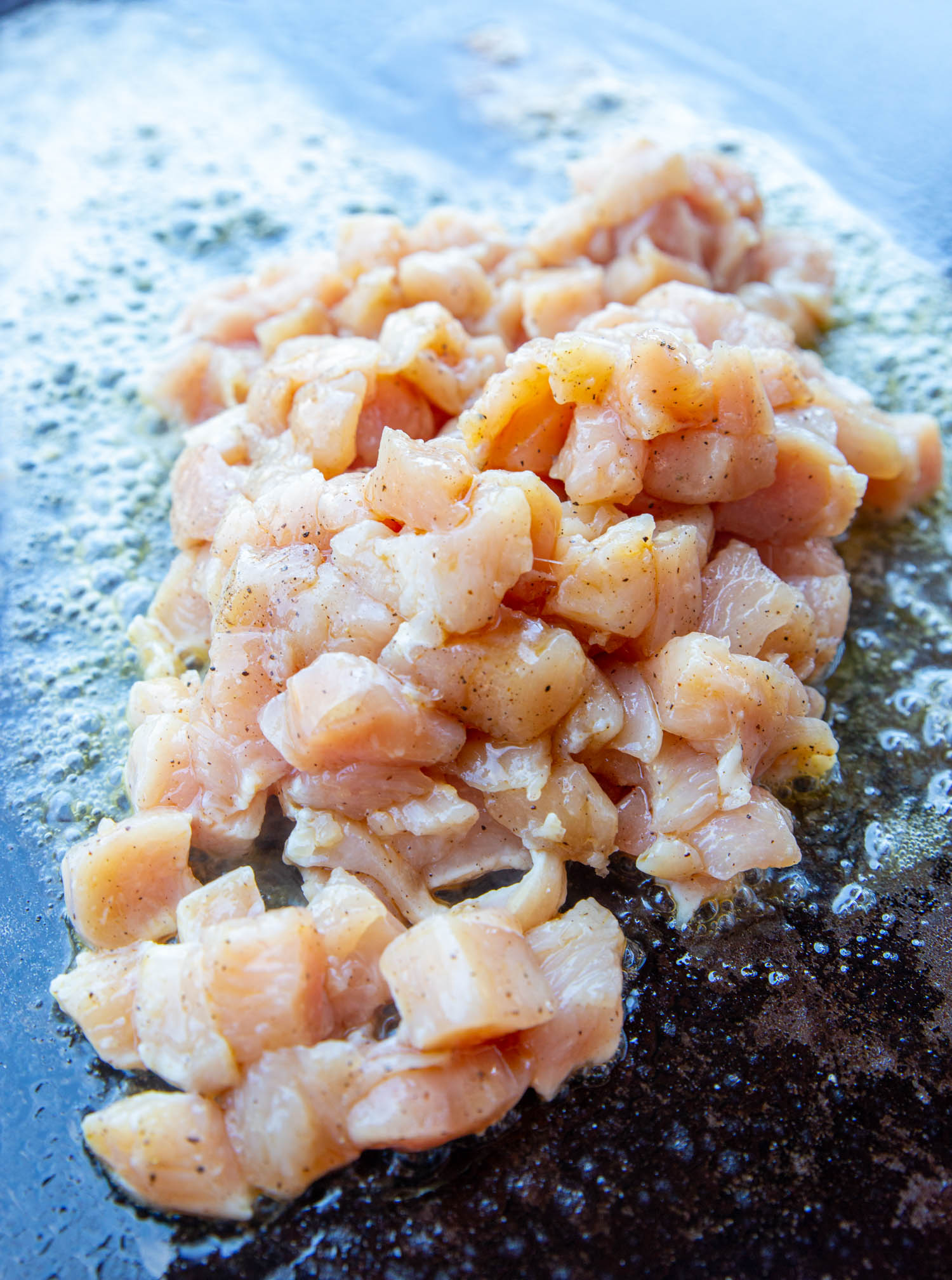 What Can I Do With Leftover Fried Rice?
This recipe serves 4-6 people so you may have some leftovers.
These can be cooled thoroughly and packaged into airtight containers and refrigerated for 3-4 days.
I don't recommend freezing fried rice unless it is in very small containers or it will be difficult to reheat in the microwave, and the rice texture will become soggy from steaming in the microwave.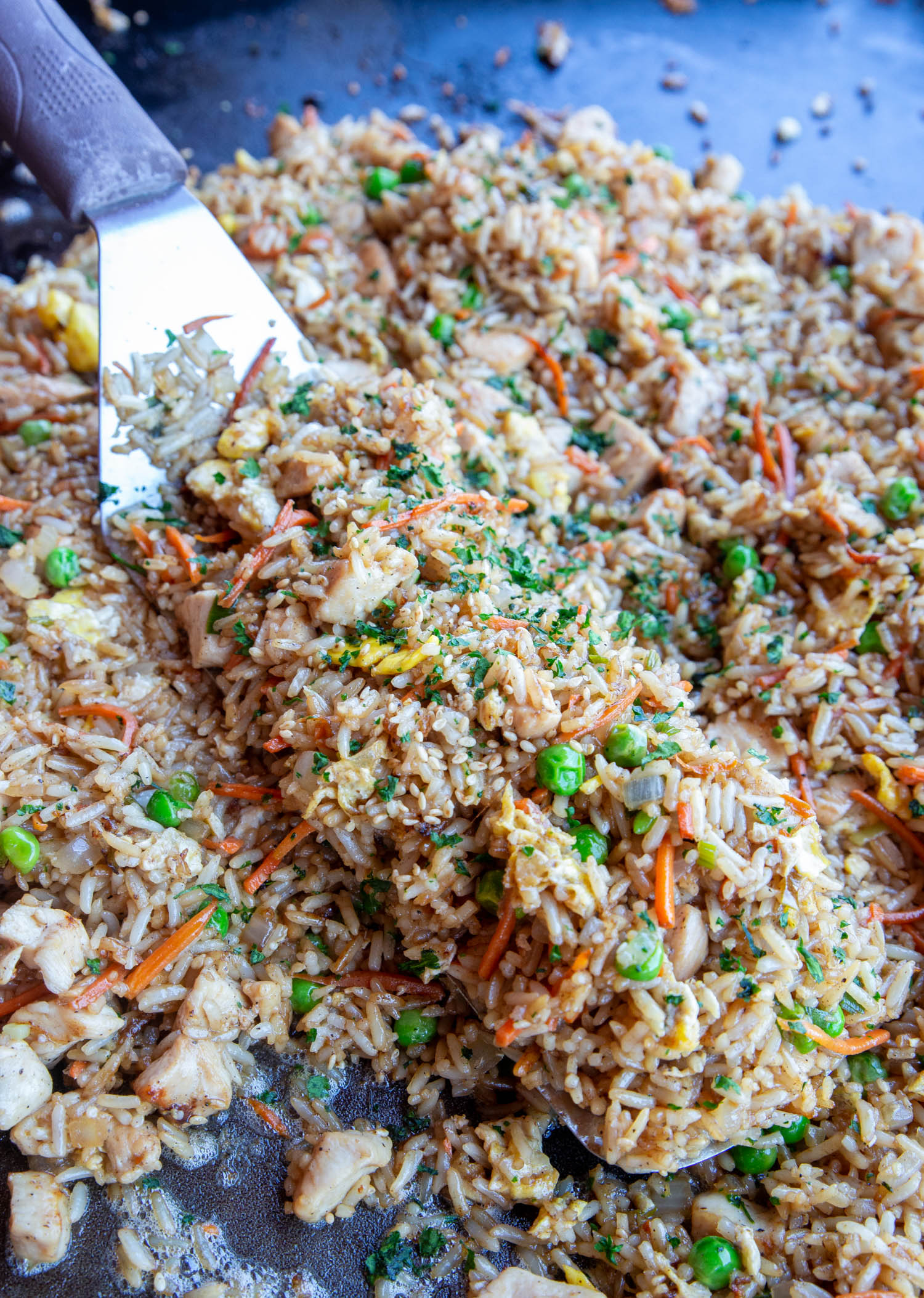 How Do I Make The Garlic Puree If I Can't Find Store-Bought?
Use a garlic press (this one by OXO is my favorite) to press fresh garlic cloves through the press and into a small bowl. It's about 4 cloves for every tablespoon of puree. I usually make a little extra!
Blend it into softened butter with a fork and don't forget to season with a little salt. Leftover garlic butter goes great with steaks, chicken, or shrimp. I'm sure you'll find a great way to use any leftovers on the griddle in another meal.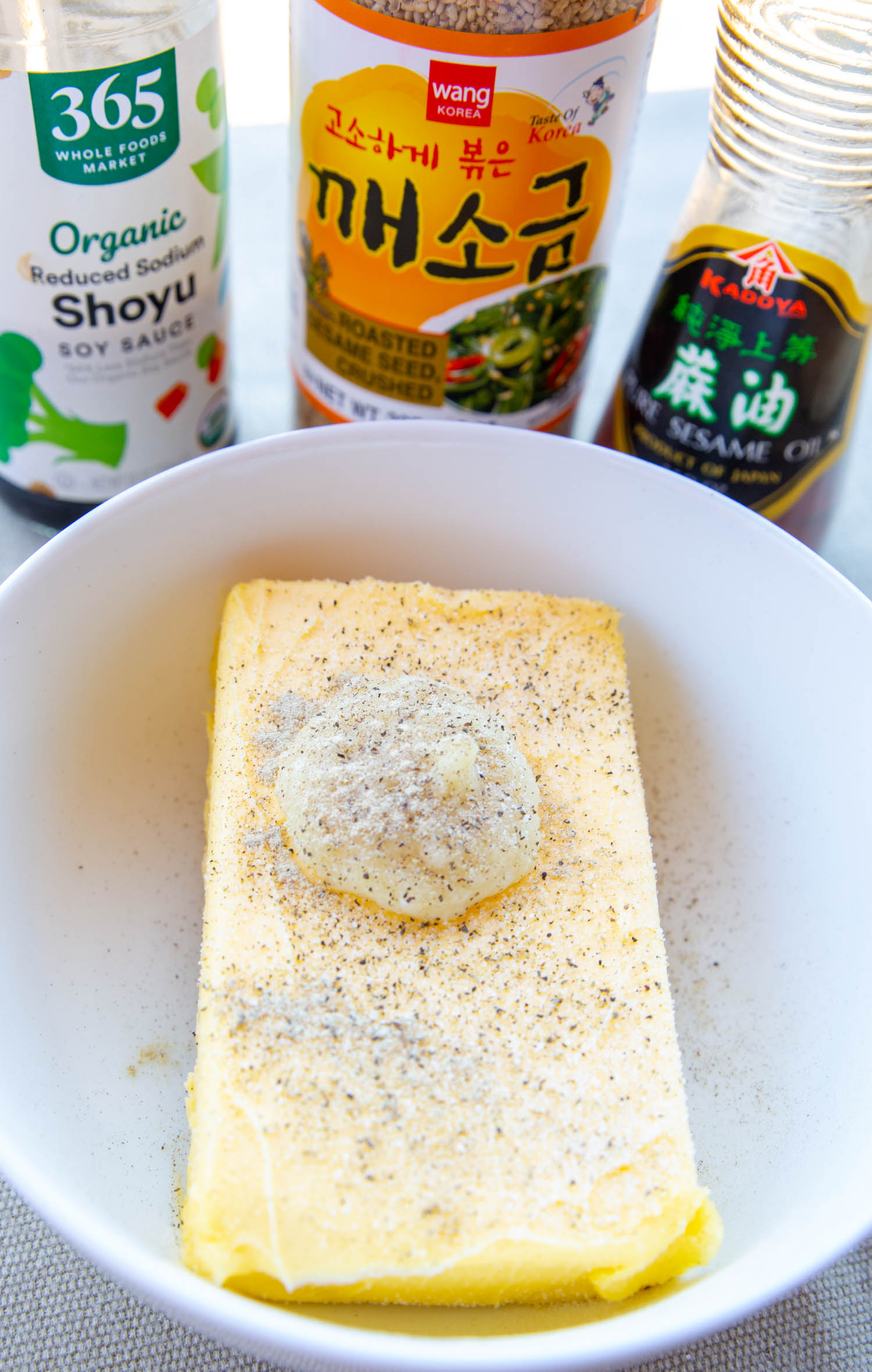 Yield:

4-6
How To Make Chicken Fried Rice On A Blackstone
The Blackstone Griddle makes great fried rice and this tutorial will teach you with step-by-step photos, the best way to cook juicy flavorful chicken and fluffy fried rice that will feed the whole family.
Ingredients
Chicken Fried Rice
2 chicken breasts, diced into cubes
4 (8.5 oz). packages Uncle Ben's Jasmine Rice (or 6 cups leftover rice)
1 c. julienned carrots
1 c. white or yellow onion, small dice
3 green onions, sliced thin (may reserve a pinch for garnish)
½ c. frozen peas
1 c. butter (2 sticks)
garlic puree (storebought or 10-12 cloves)
½ c. soy sauce (just shake from the bottle)
¼ c. roasted sesame oil (shake from the bottle)
3 eggs, cracked into a bowl
Sesame seeds for garnish
½ lemon for juicing onto the final fried rice (optional but delicious)
Salt, Pepper, White Pepper
Additional Ingredients to Consider to Fine-Tune Your Recipe:
Garlic Powder, Fish Sauce, Snipped Green Beans, Red Bell Pepper, and Mushrooms, Alternatively a bag of frozen veggies can be used in place of the fresh veggies. You can substitute steak or shrimp for the chicken.
Instructions
To Prepare the Fried Rice Ingredients:
Easy Blackstone Chicken:
On a cutting board, using a sharp knife cut the chicken breast down the middle, into 2 pieces. Slice each piece into ribbons, and then cut each ribbon into small cubes. (See the photo) Repeat with the remaining chicken breast. Place all of the chicken cubes into a small bowl. For the best chicken, season with 3 tablespoons of roasted sesame oil, 1 tablespoon of garlic puree, salt, pepper, and white pepper. Toss well. Reserve.
Veggies & Rice:
Pour veggies into small bowls for this quick cooking method. Do not steam the rice according to the package instructions, but open each package and set the cold rice near the griddle.
Note: Jasmine or Basmati Rice in 8.5 oz. package bags are great for this recipe, or you may use day-old rice saved from another recipe in an airtight container, as long as it's white rice. Brown rice could be used for those looking to add more fiber to their diet, but it won't have the fluffy consistency of your favorite hibachi restaurant. Brown rice is chewier.
Homemade Garlic Butter:
We made our garlic butter from 2 sticks or 1 cup of butter, but only ended up using a little over half of it. (I feel better knowing I have more if I want to season more!)
Make the garlic butter by combining the softened butter in a small bowl, 3 tablespoons garlic puree, salt, black pepper, and white pepper. Mash with a fork until combined. You can make your own fresh garlic puree by putting 12 garlic cloves through a garlic press. About 4 fresh garlic cloves make 1 Tablespoon of puree. You may want a little extra garlic puree for seasoning the rice.
Preparing the Blackstone Griddle and Area:
1. Gather the sesame oil and soy sauce, garlic butter, and seasonings near the cooking area. All liquid and dry seasonings are an estimate as we don't measure liquids when cooking on the Blackstone. Just shake and eyeball it! You'll get the hang of it. Bring lots of tasting spoons to season to taste.
2. Always start with a clean Blackstone Griddle by cleaning and scraping. Turn the griddle on and turn all burners to low. Wipe the griddle clean with a paper towel and coat with a thin layer of your favorite oil. The roasted sesame oil is great thing for this.
Set all burners to low to begin. The low setting on the flat top griddle is plenty hot enough to cook this recipe.
3. On the left side of the griddle place about a 1/4 c. dollop of garlic butter and pour out the marinated chicken mixture.
4. In the middle place another dollop of garlic butter and pour out the diced onion. Season both with salt and pepper and griddle with the spatula. After 1 minute, add the julienned carrot to the onion, add the green onion, and 1 tablespoon fresh garlic puree. Toss well. Cook 3-4 minutes while continuing to step 5.
5. Meanwhile, on the right side of the griddle shake out about 2 tablespoons of sesame oil and a large dollop of garlic butter, and spread that out with the spatula. Place the rice on top and toss it around with the spatula, coating the rice well with butter and oil. (Remember rice cant really fry unless it is coated in fat.)
6. At this point, season all 3 cooking zones well with soy sauce. Using the griddle spatula, toss well.
Check to make sure the diced chicken is cooked through and flavorful. You can season with more soy sauce or garlic butter if needed. You may chose to up the temperature under the chicken to medium high heat if it needs it.
7. Once the chicken is juicy, flavorful, and cooked through, begin combining the chicken, cooked vegetables, and rice. Toss well. Add the frozen peas and toss.
For best results, taste frequently to decide if it needs more garlic butter or soy sauce. If it's not tasting as flavorful as you want, chances are the whole thing needs a good seasoning of salt.
8. The last step is to fry the 3 eggs in a tablespoon of butter. We scoot the rice to the back of the griddle to act as a barrier in case the runny liquid eggs run backward. If your Blackstone is not perfectly level, just make sure the beaten eggs are in a well, protected by the fried rice. Scramble them, season with salt and pepper, and combine them with the fried rice.
You can now griddle the fried rice as you wish. You may raise the temperature to medium heat if you like to let the kernels of rice get some nice searing in the soy sauce. Taste once more for seasoning and squeeze the lemon juice onto the rice for a final pop of acidity. This is a chinese restaurant trick to bringing out the most flavor. Toss well.
9. Garnish with sesame seeds and diced green onion. Transfer to a large baking sheet for serving.
This simple recipe serves a large family fast meal, but for the whole hibachi experience make sure to check out our post on Blackstone Hibachi Recipe. In this sister post, we share how to make hibachi vegetables, steak and chicken, the sauces which usually accompany the meal at restaurants, etc. It's the whole enchilada over there!
Nutrition Information:
Yield:
6
Serving Size:
1
Amount Per Serving:
Calories:

1088
Total Fat:

77g
Saturated Fat:

32g
Trans Fat:

1g
Unsaturated Fat:

38g
Cholesterol:

1074mg
Sodium:

2285mg
Carbohydrates:

36g
Fiber:

6g
Sugar:

8g
Protein:

64g
This nutritional information is provided as a courtesy as an estimate only. Consult with a dietician for precise estimates. This website makes no claims that the nutritional values listed are accurate.