Are you looking for an impressive and delicious main course for your next holiday meal or Easter ham? Look no further than a smoked ham! With its tender meat and sweet smoky flavor, a smoked ham is sure to impress your guests and satisfy your taste buds.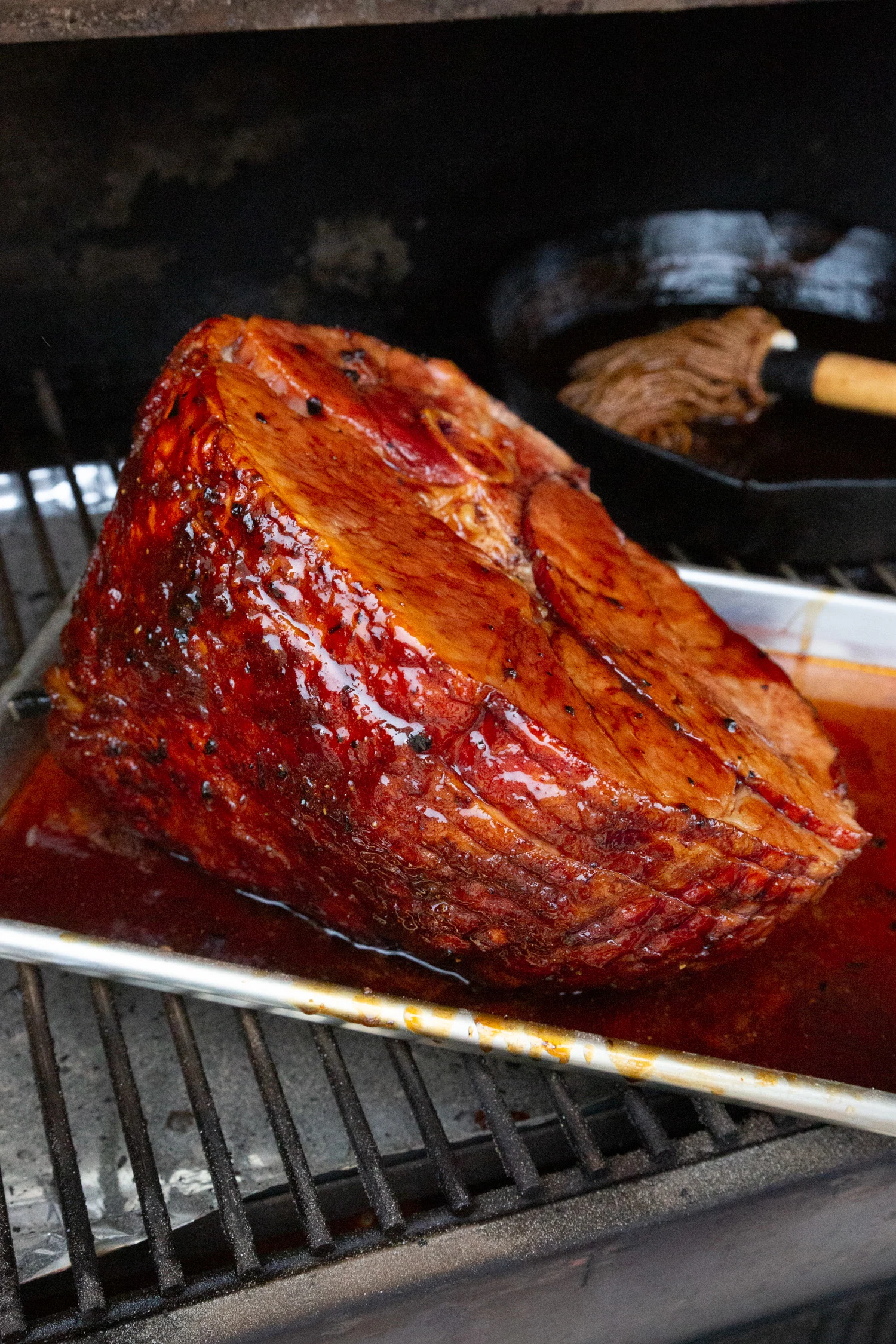 And the best part? During holidays like Easter and Christmas, you can easily find a variety of hams at your local grocery store, including bone-in ham, pre-cooked ham, fresh ham, whole ham, spiral cut ham, and even boneless ham. I'll get to explaining what each of these means shortly.
Most people order smoked spiral hams, which are technically already smoked and only require warming up and setting with a delicious glaze. I find a second short trip across the barbecue really sets the flavor and makes for a dazzling presentation.
Whether you're a seasoned pitmaster or a first-time smoker, this smoked ham recipe is perfect for you because it's so versatile. I've included my full recipe below for smoked ham rub and heavenly glaze, but you can use this method with your own honey glaze or your favorite pork rub if you like.
In this article, we'll cover everything you need to know to smoke a ham, from selecting the right type of ham to preparing and smoking it to perfection. We'll also share a delicious glaze recipe to add extra flavor and sweetness to your ham. So let's get started!
Types of Ham
Before we dive into the recipe, let's take a look at the different types of ham you can use for smoking and what the labeling means.
Bone-in Ham: As the name suggests, this type of ham includes the bone. Bone-in hams tend to be larger and more flavorful than boneless hams.
Pre-cooked Ham: This type of ham has already been cooked, so all you need to do is warm it up and add some smoke flavor or a nice brown sugar glaze.
Fresh Ham: This is an uncured ham that has not been smoked or cooked. It has a mild flavor and requires a longer cook time than pre-cooked ham because you are not simply warming it up and causing it, but cooking it entirely.
Whole Ham: This refers to the entire ham, including the shank and butt portions, not recommended for first timers.
Spiral Cut Ham: This type of ham has already been sliced, making it easy to serve… but I have some suggestions below on how to keep it moist because the slices can fan out and dry out in the smoker.
Boneless Ham: As the name suggests, this type of ham does not include the bone. It tends to be smaller and easier to carve than bone-in hams, though in my experience they can dry out quickly if not watched closely.
How To Choose the Right Ham
When it comes to selecting the right ham for smoking, there are a few things to keep in mind.
First, consider the size of your ham. If you're feeding a large group, a larger bone-in ham may be the way to go. I feel that most meat experts agree that bone-in meat tastes meatier and has more wow factor.
However, if you're cooking for a smaller group, a half ham or a boneless ham may be a better option. Regardless, it's good to know that any leftover ham can easily be frozen in slices or chopped up for omelets, chef salads, and sandwiches.
Second, consider the type of ham you're using. Pre-smoked ham will require less time in the smoker, while a raw ham will require a longer cook time (raw needs to be cooked to 155 degrees, while our presmoked ham only needs to come to 140 degrees f). Most people cannot taste a major difference between pre-smoked ham and fresh ham if they are both smoked and served with a homemade sauce.
I prefer to purchase a pre-smoked ham and add my own creative glaze and my famous homemade ham rub, which I am sharing below.
What is A Spiral Ham?
Spiral hams refer to the fact that they have already been sliced (it looks like a spiral, hence the name). These originally were invented because the bone in the center makes cutting the ham into slices a bit of a challenge.
I find that spiral hams tend to separate and fan out, essentially turning your smoker into an air-fryer and drying that juicy meat out.
For this reason, you can use toothpicks to secure the slices together, or I have sliced my own thicker slices using a sharp knife on a standard smoked ham that is not pre spiral-sliced.
In many cases, we must use whatever the local grocery store has in stock so I recommend a spiral-cut smoked ham secured with toothpicks, or we can certainly spiralize it ourselves by cutting slices in a half moon around the bone. (It's really not that hard if you own a good chef knife.)
How Much Ham To Buy Per Person?
The amount of ham per person can vary depending on several factors, such as the size of the ham, the other dishes being served, and the appetites of the guests.
As a general rule, you can estimate about 1/4 to 1/3 pound of boneless ham (4 to 5 ounces) per person.
For bone-in ham, you can estimate about 1/2 to 3/4 pound of ham (8 to 12 ounces) per person.
However, if you're serving ham as the main dish, it's always better to err on the side of generosity and have a little extra on hand, just in case.
What is the Best Way To Smoke A Ham?
I find that a great way to smoke a ham, especially if it is your first time is to use a technique called twice smoked ham.
All this means is that you buy a smoked ham (which is easy because it is the most commonly found ham in grocery stores) and you heat it back up on your backyard smoker at lower temperatures, glazing it with a homemade glaze of your own creation, providing incredible flavor to an otherwise ordinary holiday ham recipe.
With twice-smoked ham, all you have to do is smoked the ham to 140° while glazing well, and serve with your favorite sides.
This makes a perfect ham for your celebration and the smoker is available for favorite side dishes like smoked mac n cheese, bacon green beans, etc.
Preparing Your Ham For The Smoker
Once you've selected your ham, it's time to prepare it for smoking.
Unwrap the ham, discarding any packets of powdered sauce (trust me, ours is way better), and place it on a cutting board. You'll want to make some 1/4 inch slices if you weren't lucky enough to find a spiralized ham.
I smear the entire thing with a little yellow mustard, just as a binder, and then mix up my smoked ham rub. This smoked ham rub is absolutely delicious and creates a nice crust. (Leftover rub can be used on ribs or pulled pork.)
Then I move the ham onto a baking sheet lined with aluminum foil. With larger hams you will want to make sure the top of the ham can clear your smoking chamber without touching the top of the smoker. If you're good on size, you can place a cooling rack under the ham for extra smoke air-flow, though this isn't necessary. If you can't fit it, or you don't have one, don't worry about it.
Bring the ham out to the smoker and place a meat thermometer into the ham so that it's probing the center of the ham without touching the ham bone.
Set the smoker to low heat about 250° and place the ham and baking sheet onto the smoker.
What wood pellets are best for smoked ham?
When it comes to smoking ham, there are several types of wood that can be used to give the meat a delicious flavor. The choice of wood depends on personal preference, but some popular options include:
Hickory: This is one of the most popular woods for smoking ham. It gives the meat a strong, smoky flavor that is well suited to ham.
Apple: Applewood is a milder wood that imparts a sweet, fruity flavor to the ham. It's a great choice if you want a more subtle flavor.
Maple: Maple wood is another milder wood that gives the ham a sweet, slightly smoky flavor.
Cherry: Cherry wood gives the ham a slightly sweet, fruity flavor that is less intense than apple wood.
Pecan: Pecan wood is a bit less common but it gives the ham a nutty, smoky flavor that pairs well with ham.
Ultimately, the best wood for smoked ham depends on personal preference and the desired flavor profile. You can also experiment with different woods to find the one that suits your taste.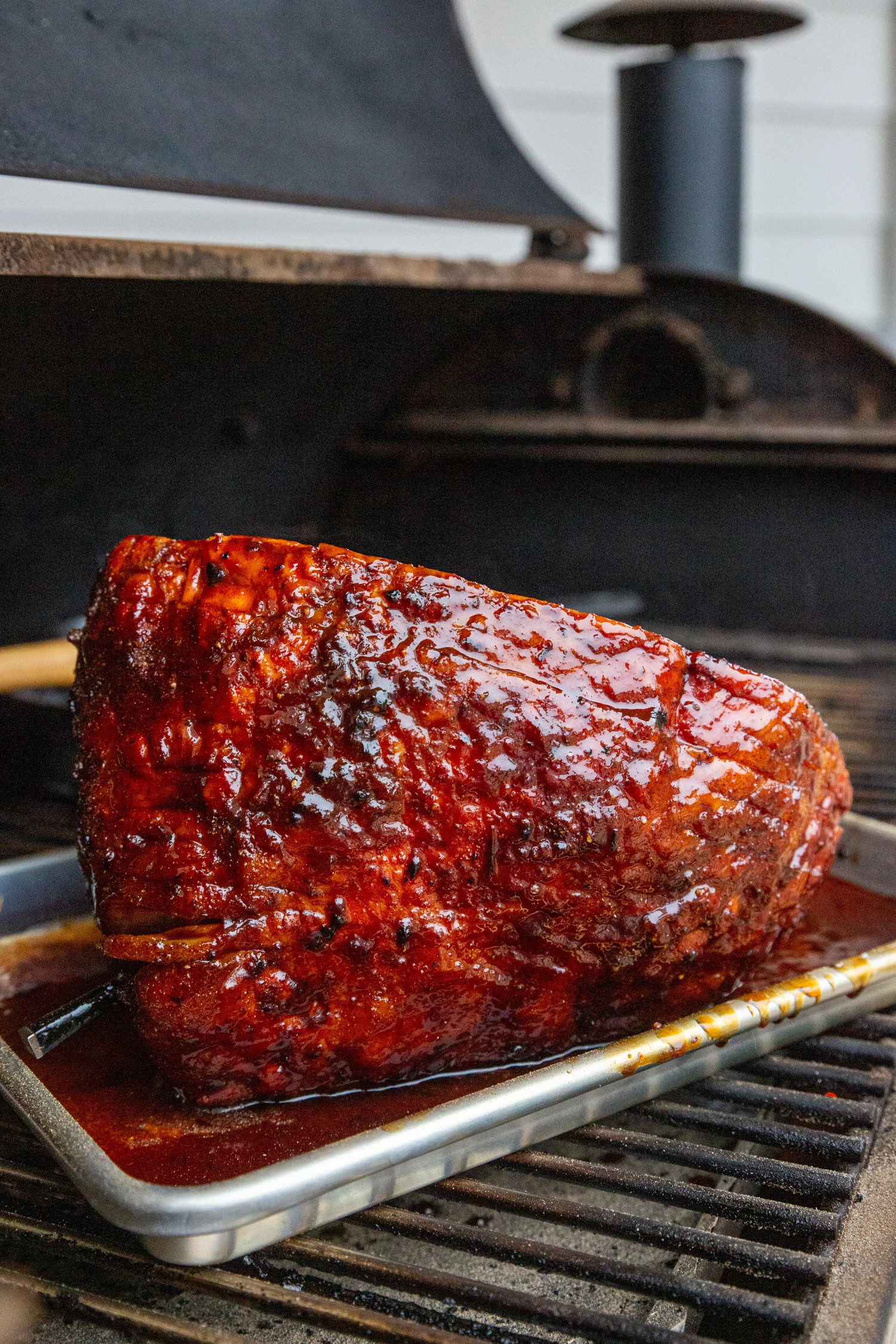 How Long To Smoke A Cooked Ham?
Smoke it until the internal temperature of the ham is 140°. Depending on the size of your ham, it can take between an hour to two hours to heat and glaze fully. My bone-in pre-smoked ham took 1.5 hours to smoke and glaze on my pellet grill.
Yield:

1 bone-in ham
Smoked Ham Recipe with Heavenly Glaze
Cook Time:
1 hour
30 minutes
Total Time:
1 hour
50 minutes
The smoked ham recipe takes a simple smoked grocery store ham and loads it up with homemade rub and a heavenly sweet glaze, perfect for Easter or Christmas dinner.
Ingredients
1 bone-in, smoked spiral cut ham (this is a pre-cooked ham)
1/4 cup mustard, as a binder
Wood or wood chips such as pecan, hickory, fruit woods, or a blend
Smoked Ham Rub:
3 tablespoons of paprika
2 tablespoons of garlic powder
2 tablespoons of onion powder
1 tablespoon of chili powder
2 tablespoons of salt
1 tablespoon black pepper
1 teaspoon of ginger
1/4 teaspoon of cloves
1 teaspoon of cayenne pepper
1/4 cup of brown sugar
Ham Glaze:
1 quart of guava juice (or pineapple juice)
One cup of brown sugar
One cup of coffee liquor
One dried ancho chile
1/2 t. black pepper
1 tablespoon instant espresso powder (see tips)
Instructions
To make the smoked ham rub:
1. Combine all of the spices in a Tupperware container with a lid. Add all of the spices, replace the lid, and shake well. (You will have some leftover rub and this is great to use on ribs or pulled pork.)
2. Place the spiral ham on a small baking sheet, dry well with paper towels, and begin by smearing, the smoked ham with yellow mustard.
3. Sprinkle the rub all over the outside of the ham. You will have some rub left over which can be used for pork butt or ribs.
4. Start your smoker or pellet smoker and bring the smoker up to 250°.
5. Place an instant read thermometer probe into the ham. You can use a cordless probe like the Meater, or a corded oven-safe probe that connects to a digital read out. Set the final temperature to 140°. This is when the ham will be ready to remove from the smoker or pellet grill.
6. Begin smoking the ham while you work on the glaze.
For the Glaze Ingredients:
In a large saute pan, add the brown sugar, guava juice, coffee liquor, espresso powder, and black pepper. Bring to a simmer over medium heat and reduce by half. Add the ancho chile purée as soon as it is prepared (below).
The glaze is ready when reduced by half and coats the back of a spoon.
(If you can't find guava juice, pineapple juice is also delicious.)
To Reconstitute the Dried Ancho Chile:
Remove the stem and cut the ancho chili in half with kitchen scissors. Shake out and discard any seeds or stems which can make the glaze bitter.
Fill a small bowl with water and microwave until very hot. Place the dried chile in the hot water and set aside until it is soft. (About 10 minutes.)
Remove the ancho chili flesh from the bowl, making sure to discard any seeds or stems. Chop with a knife until it is a soft paste, and add this chile puree to the glaze as the glaze is reducing.
To Glaze the Ham:
Carefully bring your glaze out to the smoker in a small saucepan, as it may be placed in the smoker and used throughout cooking. Using a meat painter, glaze the ham throughout cooking.
The ham is ready when the internal temperature hits 140 degrees. Remove your double-smoked ham from the smoker and rest 10-15 minutes. Carve 1/4 inch slices (if it's not already spiral sliced) and serve with extra glaze for a delicious Easter dinner!
TIPS:
To keep the inside moist we recommend glazing the exterior only until the ham is fully heated. Then bring the ham inside and you may drizzle the glaze inside the slices of ham before serving. This keeps the interior juicy and prevents drying out.
Instant espresso powder is not ground coffee beans. Espresso powder, which is found in the coffee area is crystallized coffee or espresso. If you can't find this product, just leave it out.
Notes
If guava juice is unavailable, pineapple juice may be used instead.
Nutrition Information:
Yield:
12
Serving Size:
1
Amount Per Serving:
Calories:

259
Total Fat:

2g
Saturated Fat:

0g
Trans Fat:

0g
Unsaturated Fat:

2g
Cholesterol:

7mg
Sodium:

1272mg
Carbohydrates:

48g
Fiber:

3g
Sugar:

39g
Protein:

4g
This nutritional information is provided as a courtesy as an estimate only. Consult with a dietician for precise estimates. This website makes no claims that the nutritional values listed are accurate.