Smoking a ham is a popular way to add flavor to this delicious meat, but smoked ham RUB recipes are hard to come by.
Many people rely on purchasing their ham pre-smoked from grocery stores, but for those of us who know our way around a barbecue smoker, it can be fun to smoke a whole ham from scratch (or even double-smoke your grocery store ham to warm the meat and add extra flavor).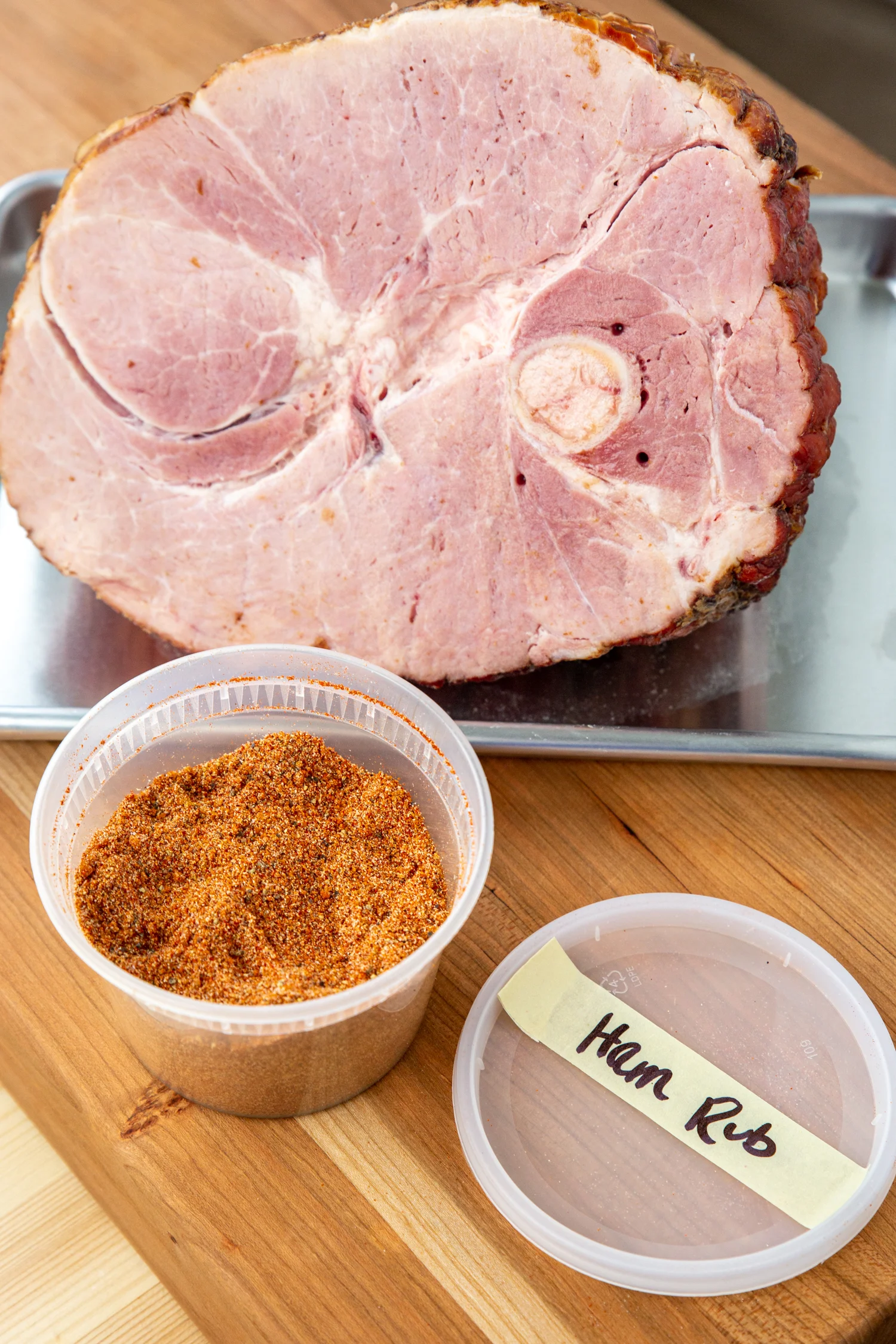 Since your favorite ham recipe likely has a glaze (and if it doesn't you should try this amazing Smoked Ham With Heavenly Glaze that I posted earlier this season), we're dedicating this post to demonstrating how you can make a fantastic homemade ham rub using some basic spice cabinet ingredients.
Ingredients For Smoked Ham Rub:
Today, I am sharing a smoked ham rub that I have used for many years and worked hard on…however, I want you to know that you can create a phenomenal rub of your own design using your favorite pork rub and perhaps adding a couple of ingredients that ham really loves.
You probably already know these classic ingredients… cloves, brown sugar, and ginger.
While every good pork barbecue rub includes some form of sugar, brown sugar and ham are happy companions. You can use brown sugar in other places like a brown sugar glaze as well, but a bit of brown sugar in the rub is a great carrier for the spices.
Ginger is a high note in creating a rub that is dynamic. Sometimes my rubs will be missing something and just a bit of ginger rounds off the harmony of all the other spices. It's particularly suitable for ham in cutting through the richness of the pork fat and balancing sugary glazes.
Cloves are traditionally studded in ham for the aroma they create and they seem to hold a nostalgic grip on the flavors of ham. I can't deal with a smoked ham rub recipe that does not include ground cloves because I always sense something is missing.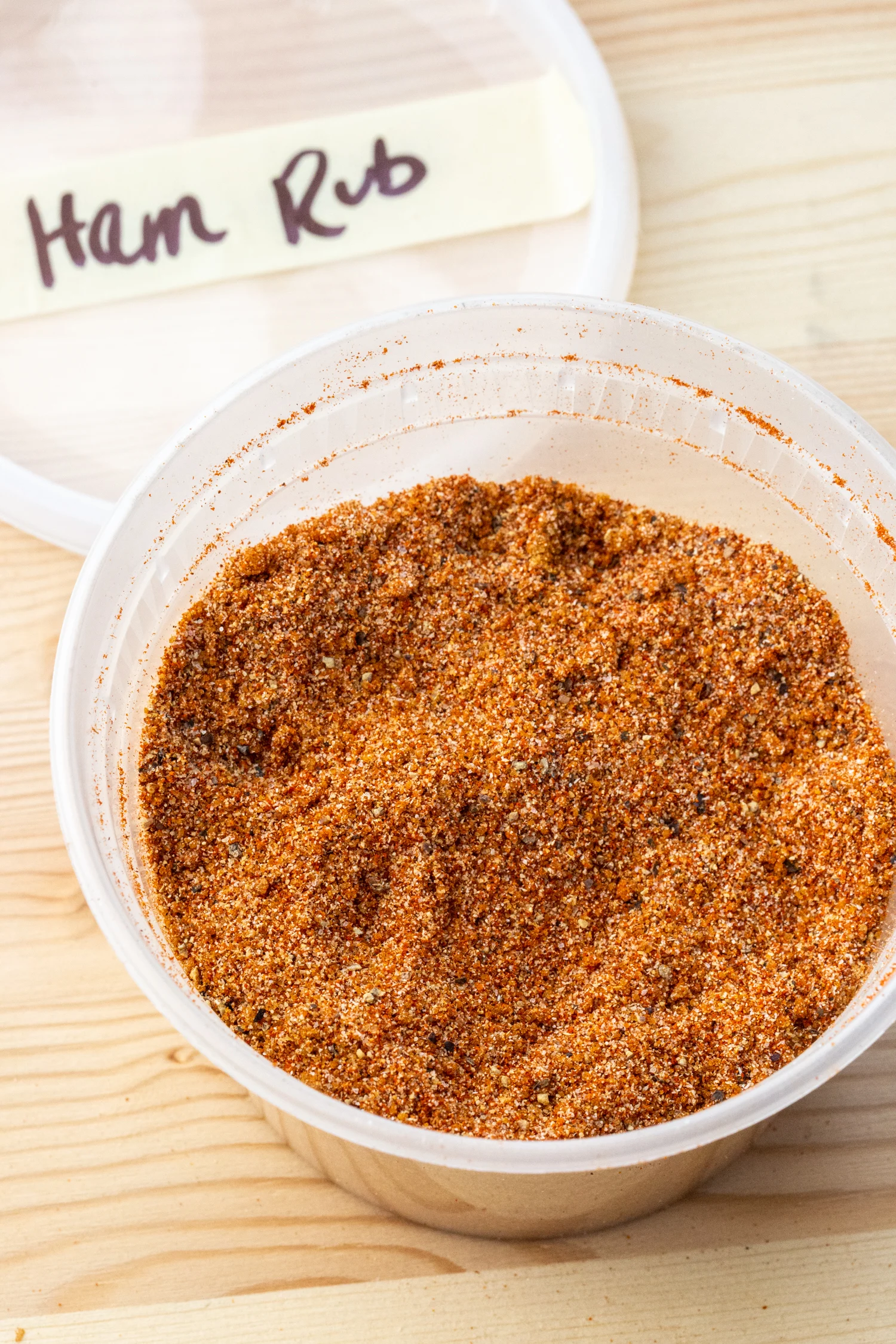 Regardless, the spicy sweet dash of cloves in this recipe is added to remind you of home. I guarantee it won't taste like grandma's house without the ground cloves.
These ingredients will be added to our basic pork rub which at a fundamental level is blended paprika, sugar, and salt, with spices like garlic powder, onion powder, dry mustard powder, and black pepper added for depth and dimension.
How To Mix The Smoked Ham Rub Ingredients
To create the dry rub all you need to do is measure out all of the ingredients and shake well.
I make my rub in Tupperware fitted with a secure lid and shake it. You can also use a quart-sized ziplock bag, though storing the rub long-term is easier in a tall jar or tub that you can keep with your other barbecue spices.
When To Add The Smoked Ham Rub
After opening your meat, whether it is a fresh ham or fully cooked ham, I will slather it with a bit of yellow mustard or dijon mustard and then apply the spice rub liberally.
This is best done on a sheet pan fitted with a cooling rack, so that smoke and hot air can circulate around the ham while it is in the pellet grill or barbecue smoker. Shake the dry rub onto the ham and transport it to the barbecue on the baking sheet.
Then add a probe thermometer into the thickest part of the ham and place it over indirect heat.
How To Smoke A Ham (The Basics)
While it can seem intimidating, the process is actually quite straightforward. Here are the steps to follow when smoking a ham.
Step 1: Choose Your Ham
The first step is to choose your ham. I recommend a bone-in ham and prefer pre-smoked ham but this recipe can be made to smoke a raw ham if you like. You'll smoke both hams to an internal temperature of 145°F. I don't prefer boneless ham because the bone provides so much flavor, but if you already have one you too will cook to 145°F.
A Note About Spiral Cut Ham: A spiral-cut ham is just referring to the fact that it's already been thinly sliced. Spiral hams are convenient in that bone-in ham can be tricky to slice because there is a bone in the center. The downside of spiral sliced is that if the slices begin to feather out you can get dry slices of ham.
So what do you do? Either secure the slices with toothpicks to prevent the fanning out of the slices or slice it yourself. Spiral cut or whole ham is just a matter of personal preference.
Step 2: Prepare the Ham
Remove the ham from its packaging and rinse it under cold water. Pat it dry with paper towels. Use a sharp knife to trim any excess fat, leaving a thin layer on the outside of the ham.
Step 3: Season the Ham
Before smoking the ham, we will add the mustard as a binder and pat on the dry rub. This can be done and set overnight in the refrigerator if you prefer. It can cut down on labor on the day of your barbecue or holiday celebration. You might need an extra dusting of rub if it has penetrated into the meat and caused weeping.
Step 4: Prepare the Smoker
Preheat your smoker to 250°F. Add wood chips or chunks to the smoker, depending on the type of smoker you have. Hickory wood, apple, maple, cherry wood, and pecan are all great woods to use for smoking ham.
Soak the wood chips or chunks in water for 30 minutes before adding them to the smoker. If using a pellet grill, add pellets to the hopper. Prepare a water pan for the smoker if you like.
Step 5: Smoke the Ham
Place the ham in the smoker on the baking rack. Insert a meat thermometer into the thickest part of the ham. Close the lid of the smoker and let the ham smoke until the internal temperature reaches 135 degrees at which point we will begin glazing the ham.
Meanwhile, in a small saucepan add your glaze ingredients and heat to a simmer. Prepare a silicone brush for brushing on the glaze. Want my glaze recipe? Click here.
Step 6: Glaze the Ham (Optional)
If desired, you can glaze the ham during the last hour of smoking. Brush the glaze all over the ham and continue smoking until the internal temperature reaches 145°F. For my heavenly ham glaze check out this recipe. I always save a bit of glaze to pass at the table.
The total cook time will depend on the size of the ham. Mine was done in 2 hours at 250 degrees, although larger hams can take 20 min per pound.
Step 7: Rest and Serve
When the ham is finished smoking, remove it from the smoker and let it rest for at least 10 minutes before slicing. This allows the juices to redistribute and makes for a juicier slice of ham.
Slice the ham and serve it with your favorite sides and the extra reserved glaze.
Smoking ham with this homemade smoked ham rub is a simple and delicious way to add flavor to this classic meat.
By following these steps, you'll be able to smoke a ham that is flavorful and tender. Whether you're serving it for a holiday meal or a casual get-together, your guests are sure to love it.
Yield:

1 1/2 cups
Smoked Ham Rub Recipe
This homemade smoked ham rub is perfect for smoking fresh or pre-smoked hams. We use a basic pork rub and add traditional ham-loving spices for warmth and aroma which bathes your ham in the nostalgic flavors of clove, brown sugar, and ginger.
Ingredients
3 tablespoons paprika
2 tablespoons garlic powder
2 tablespoons onion powder
1 tablespoon chili powder
2 tablespoons salt
1 tablespoon black pepper
1 teaspoon ground ginger
1/4 teaspoon ground cloves
1 teaspoon cayenne pepper (optional and may be left out)
1/4 cup of brown sugar
Instructions
To Make The Smoked Ham Dry Rub:
To make the smoked ham rub, combine all of the spices in a Tupperware container with a lid. Add all of the spices, replace the lid, and shake well.
To Apply To The Ham:
Unwrap the ham and pat it well with paper towels to dry off any juices. Place on a baking sheet. (It's very helpful to place on a cooling rack on a baking sheet for air circulation if you have one.)
Slather on yellow mustard to a raw or pre-cooked ham as a binder and then sprinkle the bbq rub liberally on the ham. I like to place the ham with the meat (and bone) side facing down on top of a baking rack. This makes for easy transportation to the barbecue smoker.
This recipe works great on twice smoked ham or fresh ham. As the ham cooks, the rub will flavor and fragrance the ham meat. I also add our heavenly glaze which can be found linked above.
As a reminder smoked ham is cooked to 145 degrees F. Smoke at 250 degrees until an instant read thermometer registers 145 F. You can begin glazing the ham at 135 degrees.
You will have some leftover rub and this is great to use on ribs or pulled pork.
Notes
You will have some leftover rub and this is great to use on ribs or pulled pork.
Nutrition Information:
Yield:
12
Serving Size:
1
Amount Per Serving:
Calories:

33
Total Fat:

0g
Saturated Fat:

0g
Trans Fat:

0g
Unsaturated Fat:

0g
Cholesterol:

0mg
Sodium:

1081mg
Carbohydrates:

8g
Fiber:

1g
Sugar:

4g
Protein:

1g
This nutritional information is provided as a courtesy as an estimate only. Consult with a dietician for precise estimates. This website makes no claims that the nutritional values listed are accurate.