We smoked pork belly (and pork belly burnt ends, and pork belly on a stick, and every other pork belly shape) for 4 months before writing this comprehensive, step-by-step guide to smoking your first pork belly.
We tried an array of different smoking temperatures and pull temps (and yes, one is better than the others) to figure out what formula makes the perfect pork belly, so you can taste for yourself why this common cut of pork is revered in both barbecue and chef circles alike.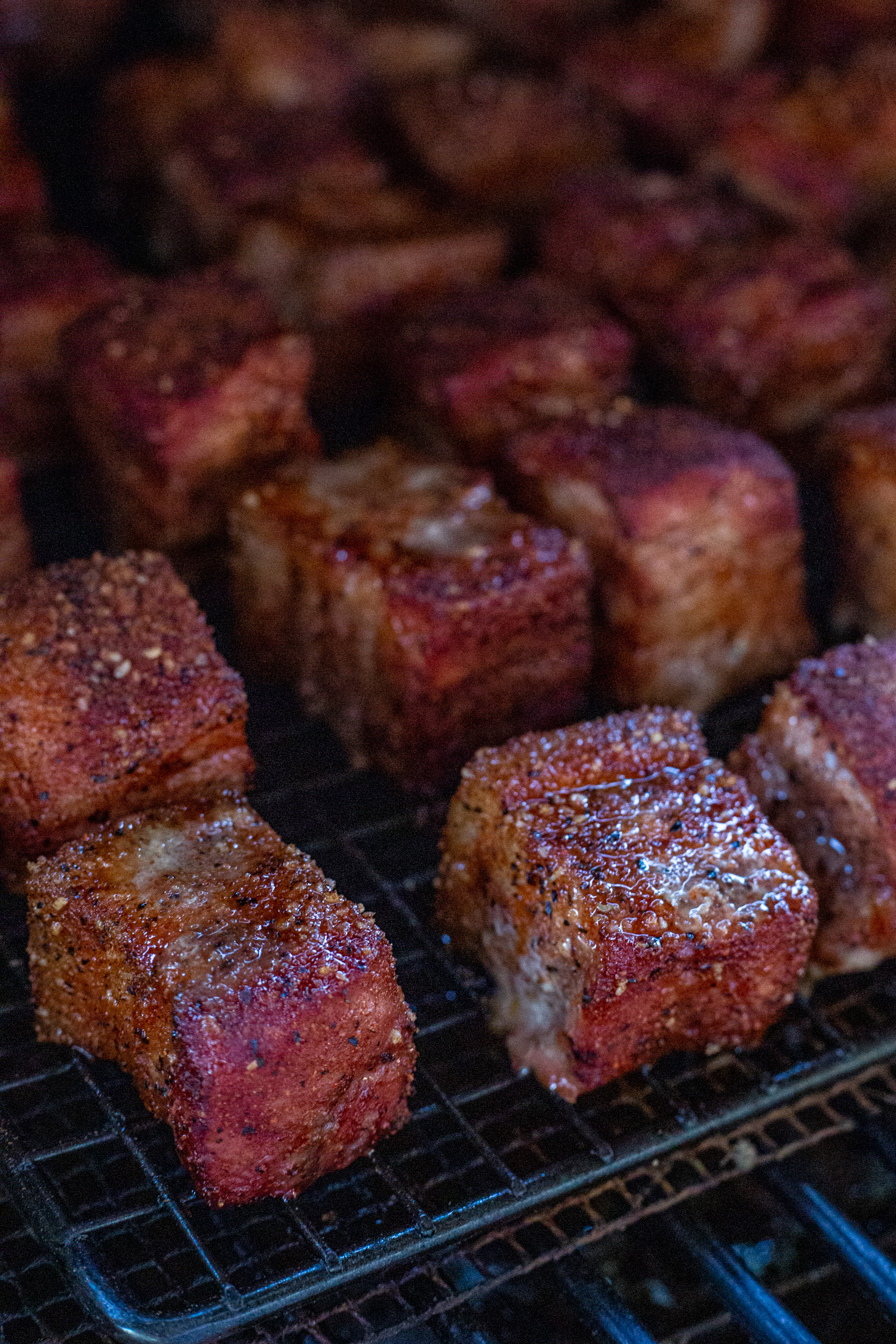 The Basics (Pork Belly 101)
What is Pork Belly?
A pork belly is a boneless slab of meat from the underside of the pig. It's the belly of the pig.
It has a high percentage of internal fat which is renowned in culinary and barbecue circles for its unmatched flavor, aroma, and mouthfeel.
Pork belly is the cut of pork that bacon is sliced from, so most people will be more familiar with seeing it in that preparation. Bacon is essentially extremely thin pork belly slices.
(Links are affiliate links to products we think are helpful and we may receive a small commission, at no cost to you, if purchased.)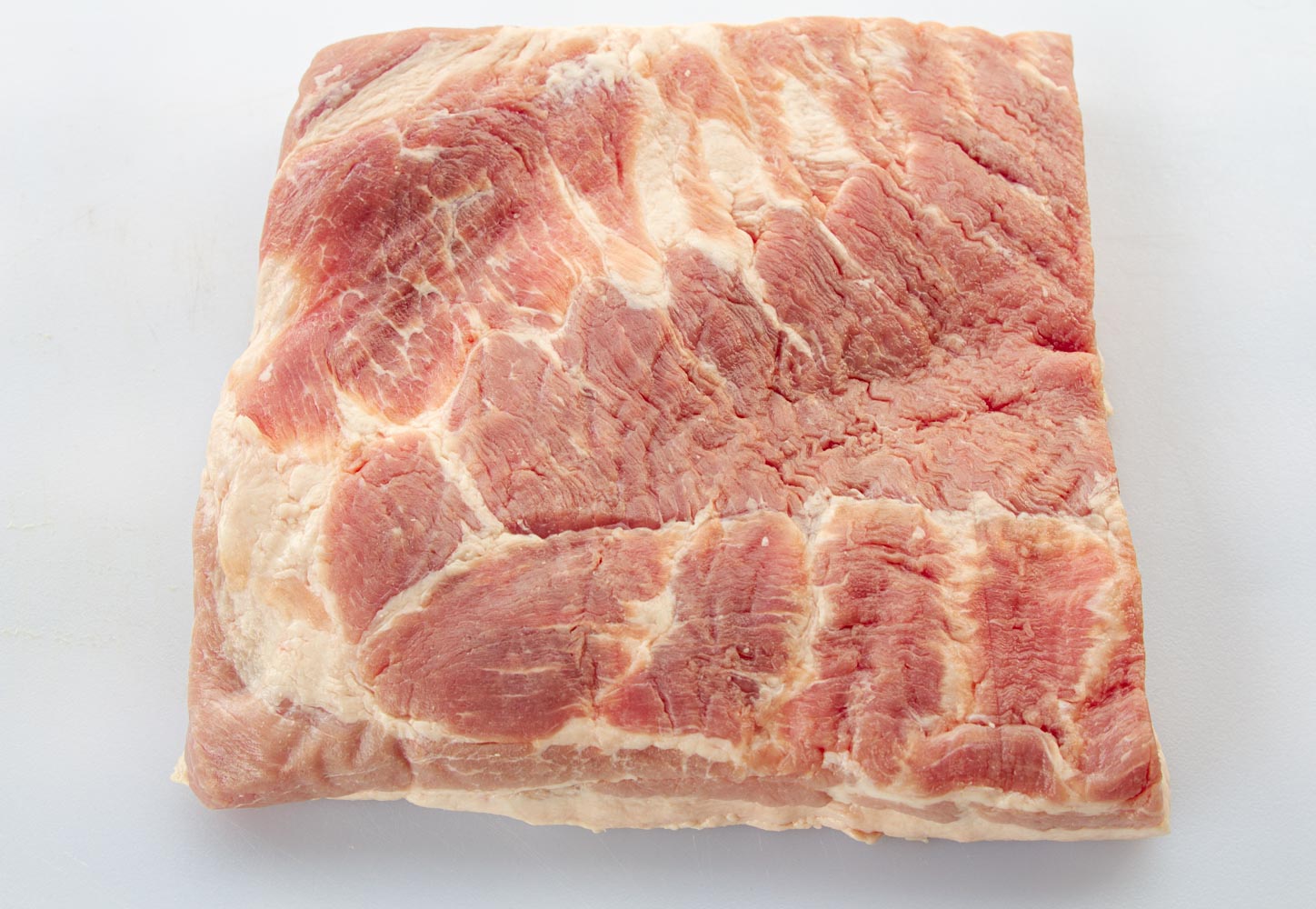 Size and Shape
This guide is going to walk you through our favorite method of smoking pork belly, but I want you to know that this recipe is extremely flexible.
We're going to cut our pork belly into squares for the maximum surface area seared, seasoned, and exposed to smoke.
Those with restaurants might choose to do a rectangle slice for serving at fine dining establishments, barbecue folks will likely cut into squares, and YouTube enthusiasts might like to smoke their pork belly on a stick lollipop style, like their favorite meat-obsessed pitmaster. Are you watching our meat-obsessed Youtube channel?! Click to watch!
Any shape and size will do as long as your breaking it down into manageable portions. I do not recommend smoking the entire pork belly whole (unless you are cold-smoking bacon) because you are losing out on valuable flavor obtained through the sear.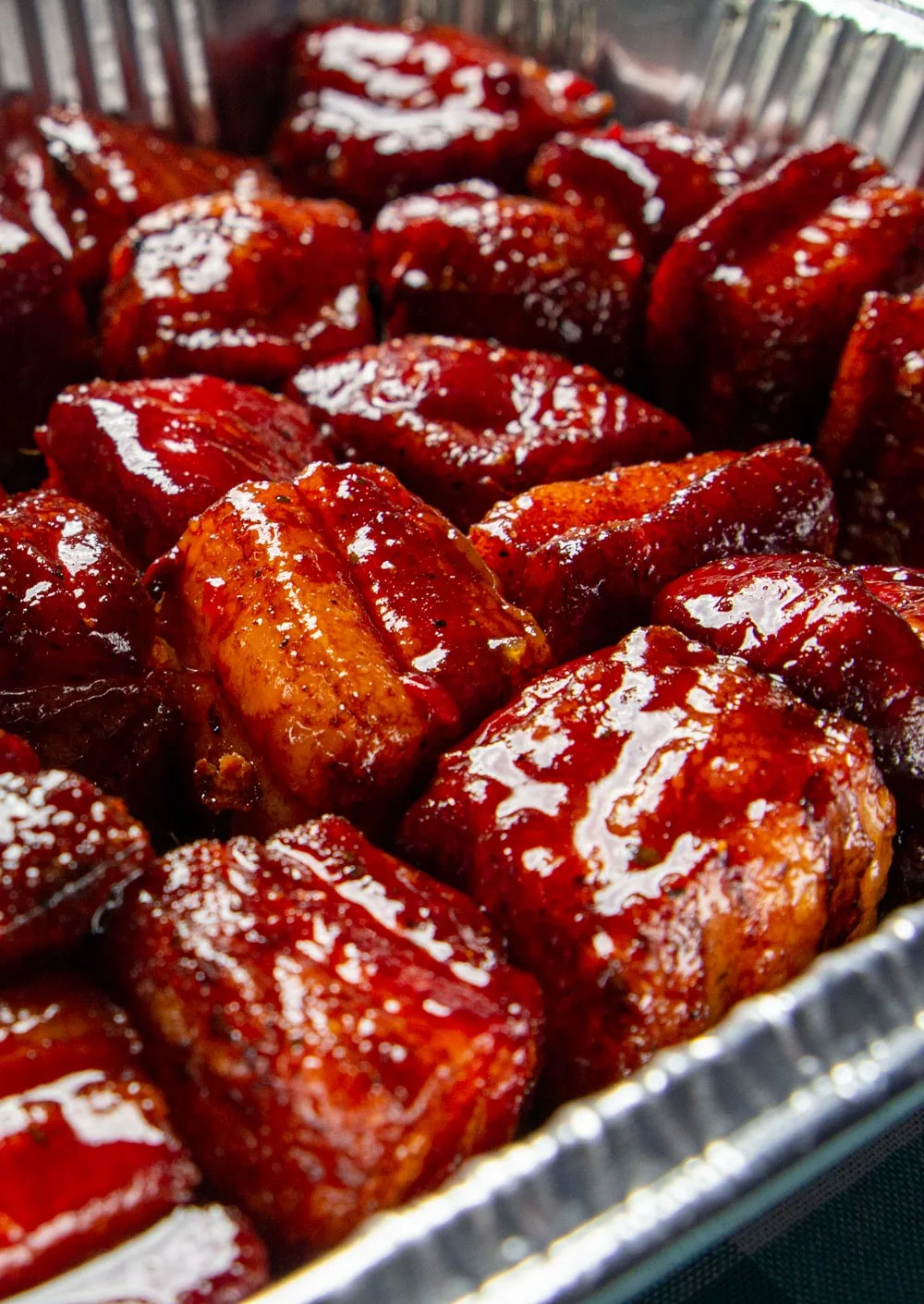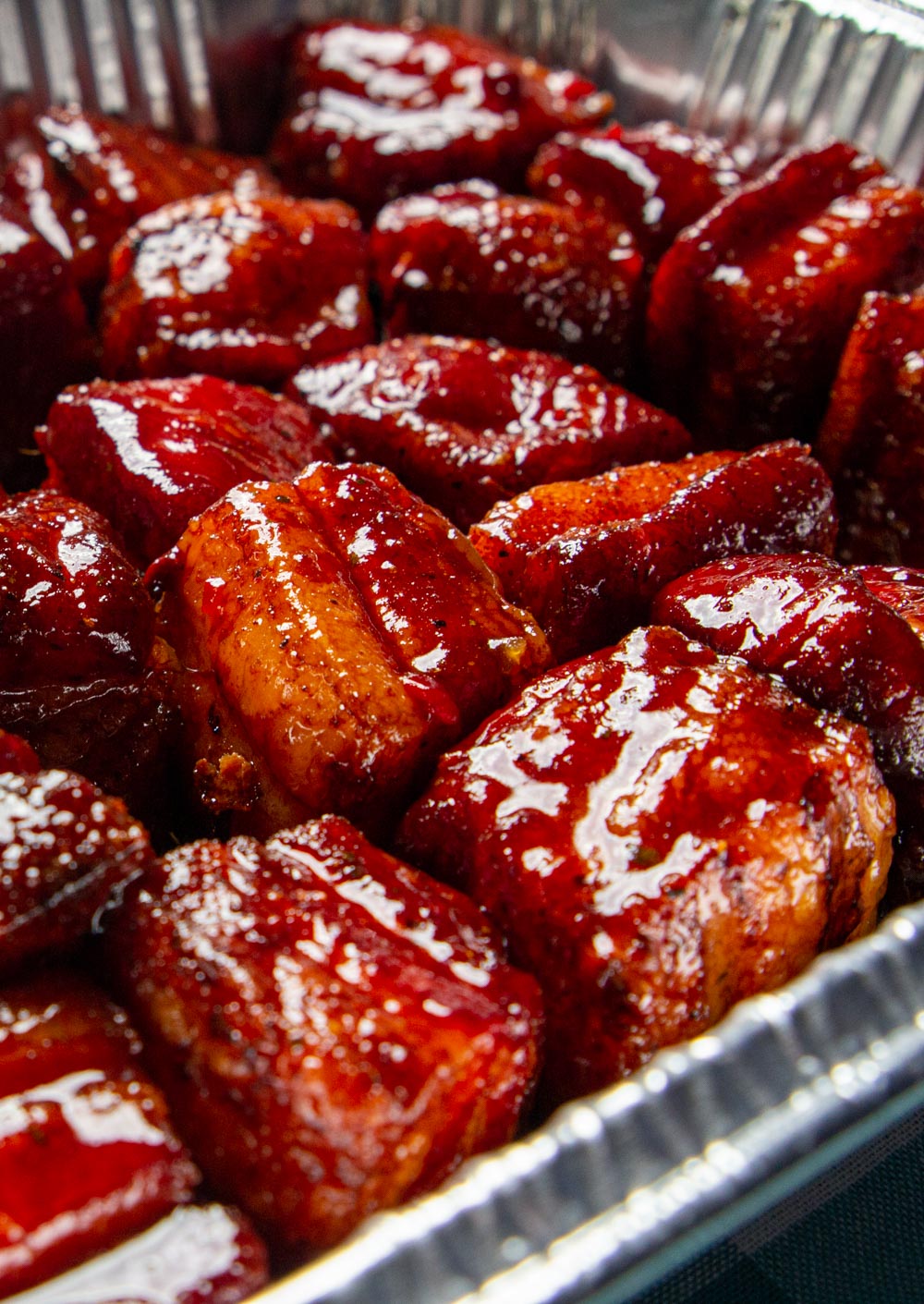 Choosing the Sauce
In this method, we will cook the pork belly to perfection in Step One. Then, in Step Two, the saucing stage of the process adds personality and interest.
It's not a critical part of the cooking process as you will find the seared pork belly is incredible all on its own with a simple dry rub.
When it comes time to add the sauce, you are free to add whatever sauce you like.
Below, you'll find my favorite recipe for cherry barbecue pork belly but this can be changed to your favorite sauce (teriyaki, bourbon bacon, butter and brown sugar), or you can swap out the cherry preserves for any jam or jelly (hot pepper jelly is terrific), or traditional chefs may have more interest in a balsamic glaze or aigre doux…
Whatever you choose is fine because Step 2 is just about glazing the pork belly and setting the sauce.
Where To Buy Pork Belly?
Whole pork belly is available at Costco and Asian Markets such as H-mart. You can find it on the web at our favorite online butcher, Snake River Farms.
Local butcher shops will also be able to order or obtain pork belly for you. Our local grocery store does not carry pork belly but I can order it as a special order if I speak to the meat department manager.
How Much Pork Belly Should I Buy?
You can buy half a pork belly and get a half steam table pan of pork belly cubes from half a pork belly. This is likely enough for a family of 4 because pork belly is very filling.
A whole pork belly will give you a full steam table pan of pork belly cubes. If you are making pork belly for a party, potluck, or any large gathering I do recommend a full pork belly because of the wow factor after your first bite. They tend to go fast in group settings.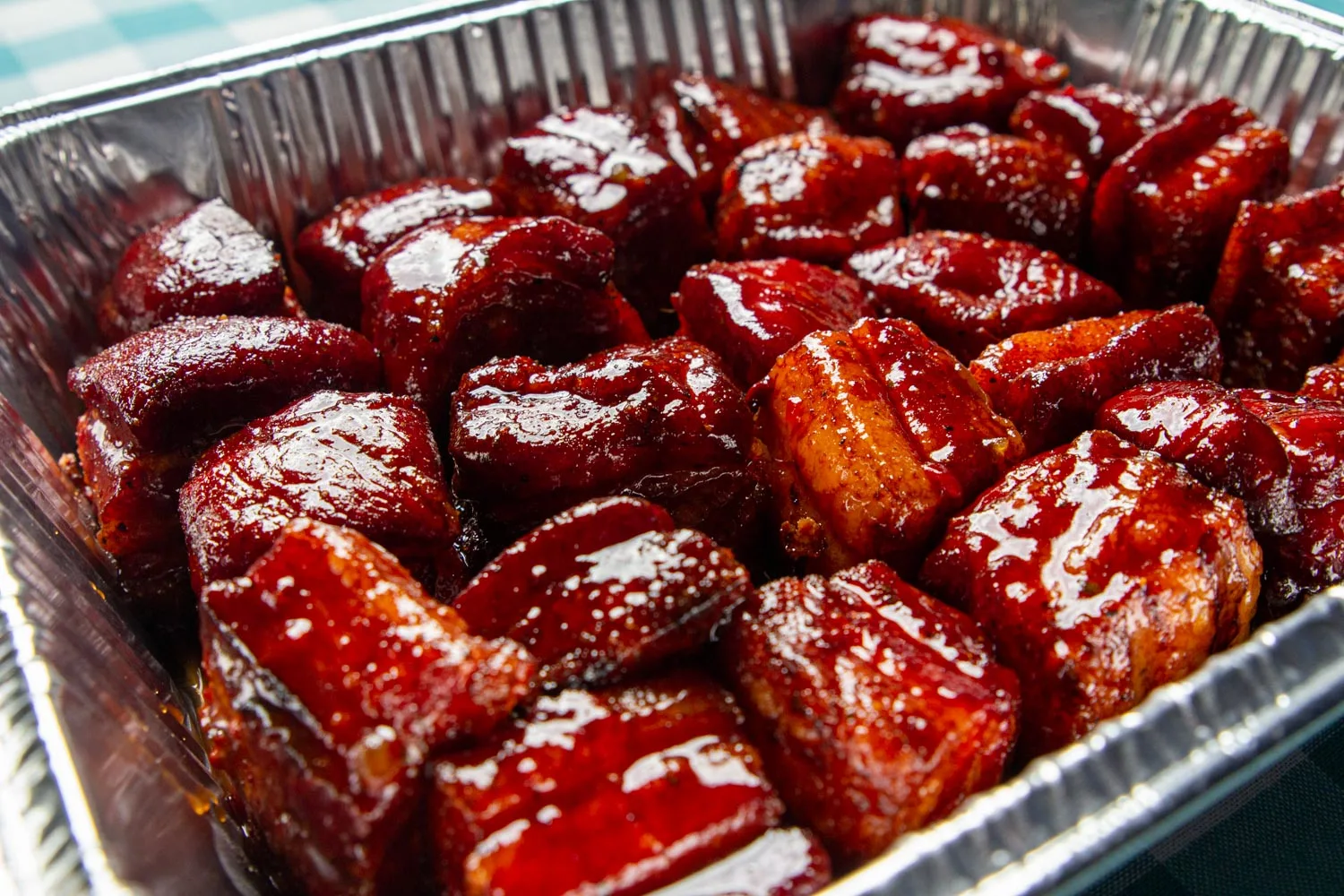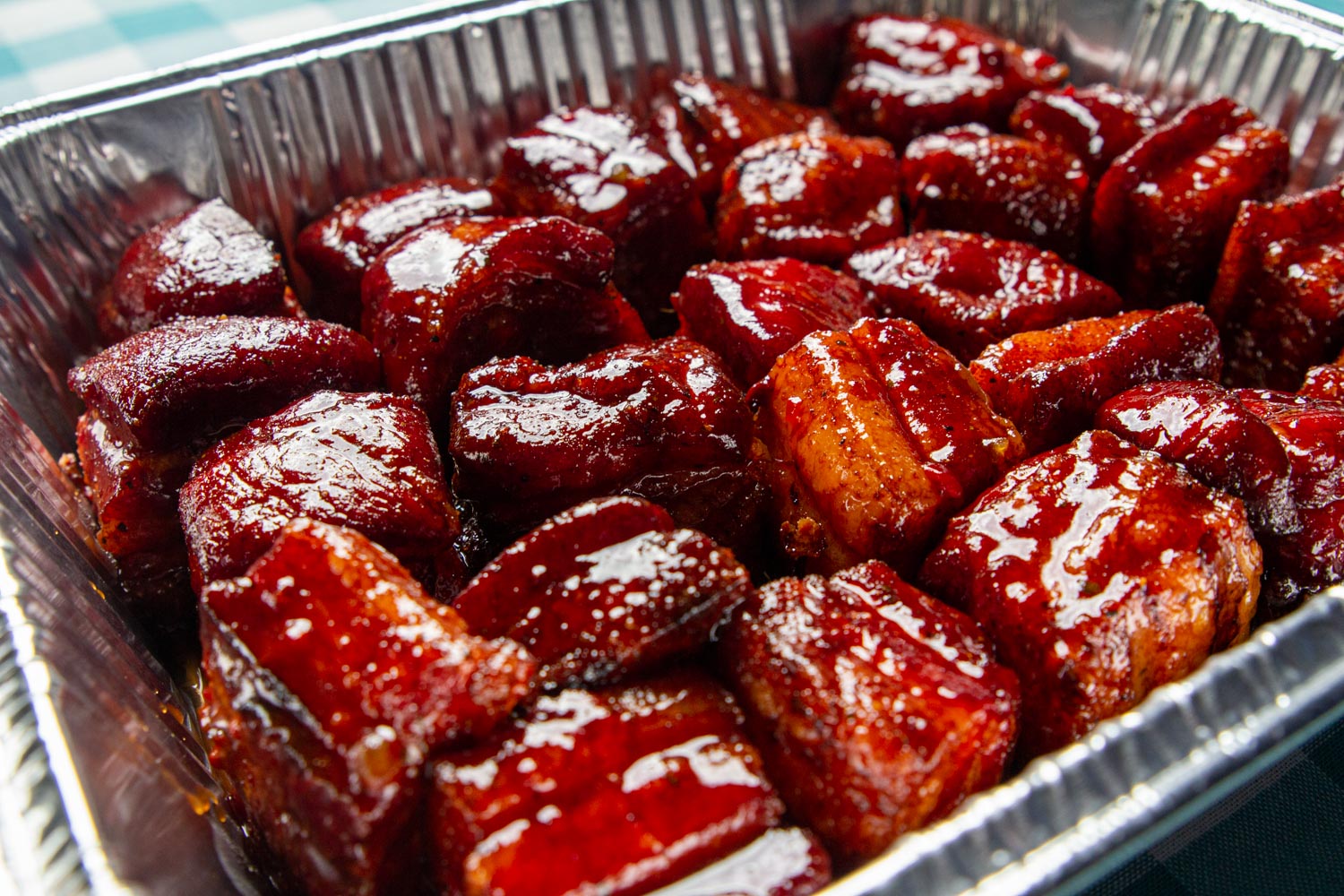 When it comes to mass, what you see is what you get with pork belly. There is no trimming needed and no considerable waste to account for.
The Method
Our method is simple. We tested out all of the various temperatures and settled on a smoking temperature of 275 degrees, cooking to an internal temperature of 195 degrees.
Some recipes call for a lower temperature, and although this did produce a decent and edible pork belly, we did not feel it could hold a candle up to the pork belly at 275 degrees. The seared exterior is everything!
We tried both spritzing with apple cider vinegar or apple juice towards the end of cooking, and not spritzing at all…and did not notice any difference.
Cooking hot, at 275 degrees with the chamber closed the entire time, produces pork belly with a smoky flavor and an incredible sear that is so delicious it doesn't even need sauce to be swoon-worthy.
Of course, we added sauce but several tasters didn't even think it was necessary.
Prepping the Pork Belly
To prep the pork belly you'll need a large cutting board, a sharp knife, and a cold pork belly. We like to pop ours in the freezer for 30 minutes before slicing it into cubes to get perfect pork belly strips, but this is optional.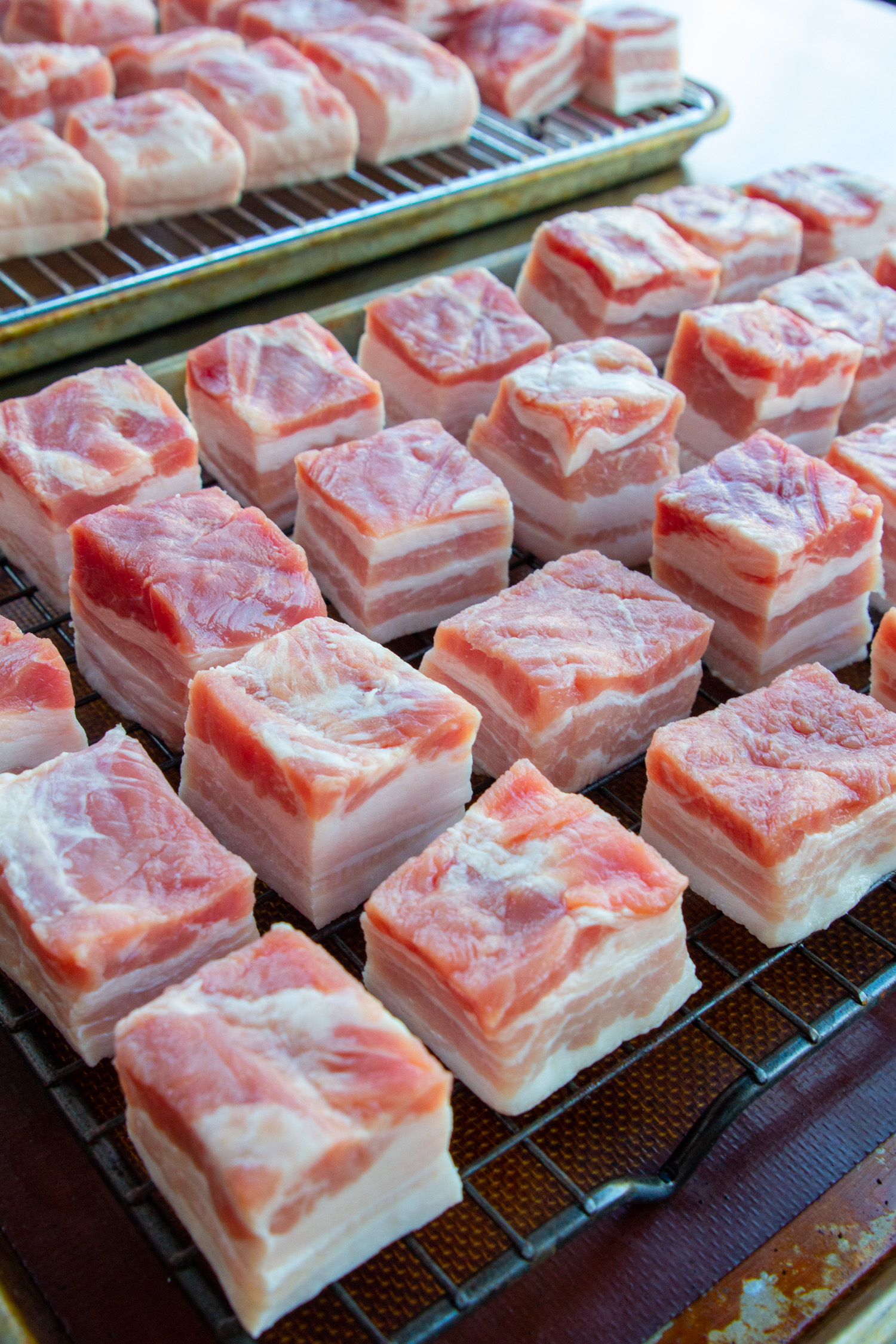 Slice the pork belly into 1- 1 1/2 inch cubes (or any shape that you prefer for presentation).
In a bowl, add your favorite sweet pork rub or pork ribs rub.
Bottled dry rubs are fine and the best pork rubs include brown sugar, kosher salt, black pepper, onion powder, garlic powder, ginger, cayenne pepper, and chili powder.
Dip each piece of pork belly in the rub and coat on all sides. Place onto a cooling rack like shown in the photo for easier movement to the barbecue smoker. Repeat with all of the cubes.
Prepping the Smoker
Prep the smoker by preheating to 275 degrees F. Any wood may be used but we especially love the woods used to prepare smoked bacon…apple wood, hickory, and pecan.
Pork Belly Smoker Recipe
Place the baking racks filled with pork belly cubes (we call them pork belly bites) onto the grill grate and close the chamber.
For the best pork belly, we did not open the chamber for nearly 2 hours and this created an excellent sear reminiscent of crisp bacon.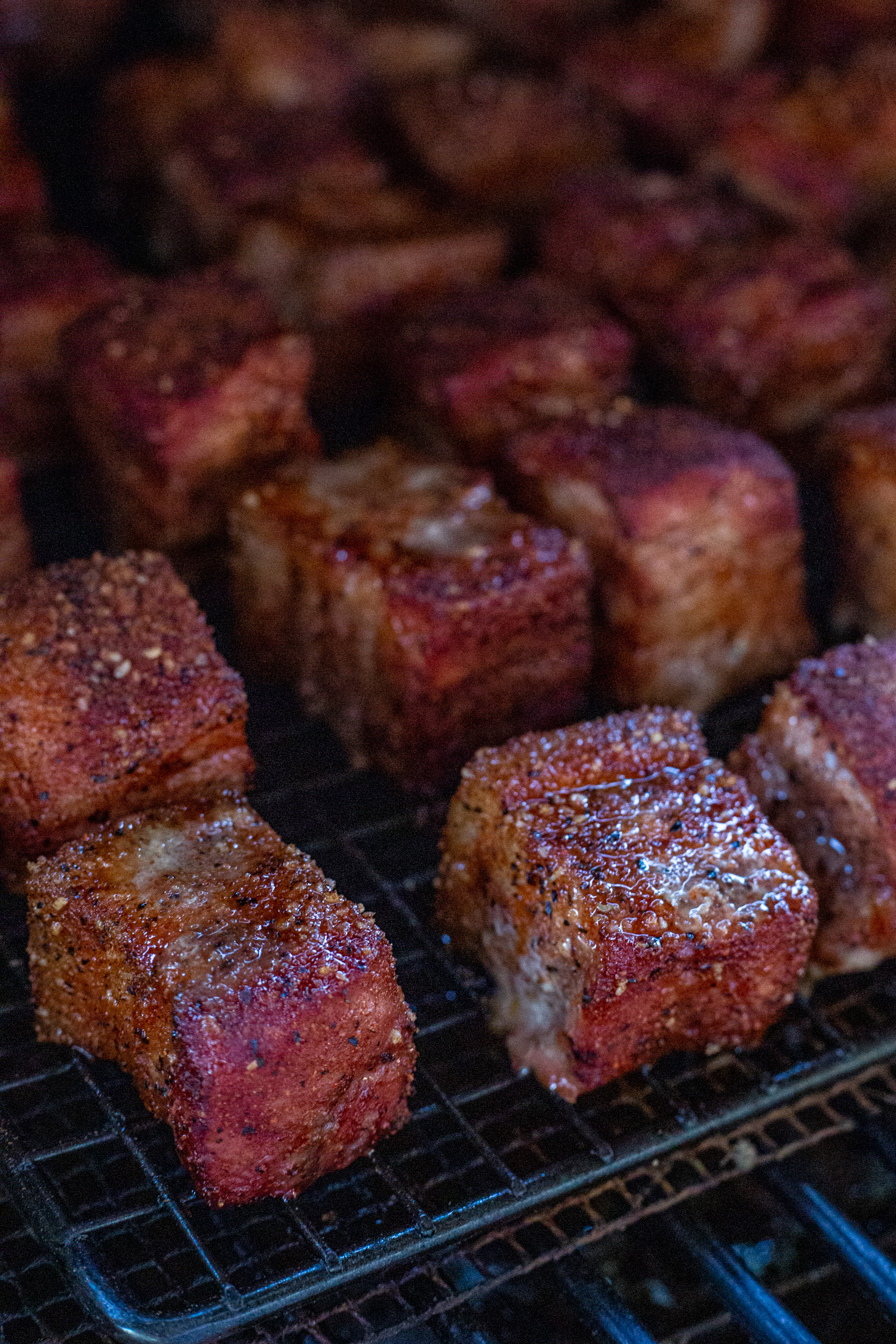 The total cook time ended up being 2.5 hours of smoking to reach 195 degrees.
Transfer the pork belly into a foil pan and coat it with the sauce. (You can substitute any sauce you like.)
Place the bbq pork belly back into the smoker for 30 minutes to let the sauce set.
I don't tent the pan with aluminum foil, but those with larger barbecue smokers may need to tent the pan to capture enough heat to set the glaze.
How To Store Leftover Pork Belly
Leftovers may be stored in an airtight container in the refrigerator for 3-4 days. Reheat in the oven in a foil pan at 350 for 15 minutes, or until hot.
Yield:

1 full steam table pan
Smoked Pork Belly Recipe (Step By Step)
Cook Time:
2 hours
30 minutes
Additional Time:
30 minutes
Total Time:
3 hours
15 minutes
Our method for smoked pork belly sears the exterior crisp like bacon while leaving the inside melt-in-your-mouth delicious. It's so good, it doesn't even need a sauce! (But we include our favorite cherry bbq sauce for good measure!)
Ingredients
1 whole pork belly
1/3 cup favorite pork dry rub (rib rubs, barbecue pork rubs, hot and sweet rub, asian rub, etc.)
2 disposable foil pans and 2 baking racks make this procedure much easier
Sauce:
1/2 c. favorite barbecue sauce (I like Stubb's or Meat Mitch)
1/2 c. cherry preserves
1 T. yellow mustard
2 T. balsamic vinegar
1/2 stick butter (4 tablespoons)
Instructions
Prepping the Pork Belly
1. Preheat the smoker to 275 degrees. (Fill your pellet grill with fresh pellets or your electric smoker with wood chips, enough for a 3-hour smoke.)
2. Chill the slab of pork belly in a refrigerator or freezer for 30 minutes. On an extra large cutting board, lay the pork belly out fat side up and slice vertically to cut slabs 1- 1 1/2 inches thick.
3. Cut these slabs into cubes of about 1 1 1/2 inch thickness. As stated in the post, the size and shape of your pork belly is customizable. We like cubes, but larger portions like rectangles can also be done depending on your final desired presentation.
4. Place your dry rub of choice in a small bowl and roll each cube in the spices. Don't be afraid to coat them fully. Then place it on a baking or cooling rack.
**We like these baking racks which we use to cool cookies. The pork belly can also be placed onto the smoker on top of grill grates, but really some vehicle should be used to move the cubes in 2 large batches and 2 baking racks seem to be the best way.
Smoking the Pork Belly: Part 1
5. Place the baking rack full of seasoned pork belly onto the smoker over indirect heat and close the chamber. A meat thermometer may be placed into a cube if preferred, but I like to start checking them after about 2 hours with a digital thermometer, such as the Thermoprobe. They are little and loaded with fat and so it's hard to get a temperature probe to stay correctly inserted throughout cooking.
6. Smoke the pork belly bites until the internal temperature is 190-195 degrees F. A full pork belly took approximately 2.5 hours on our pellet smoker.
7. Pull the smoked pork belly out of the smoker and transfer it into a foil roasting pan. (I used 2 half steam table pans.) Make sure you try one at this stage before saucing because you may even like them naked. We certainly did!
Glazing the Pork Belly: Part 2
8. In a bowl, combine 1/2 cup of your favorite bbq sauce, cherry preserves, mustard, butter, and vinegar. Microwave for 1-2 minutes and whisk well. Pour this over the cubes of pork belly, tossing well so that each cube is covered in sauce.
9. Place back in the smoker for 30 minutes to set the glaze.
10. Remove from the smoker and serve immediately.
Recommended Products
As an Amazon Associate and member of other affiliate programs, I earn from qualifying purchases.
Nutrition Information:
Yield:
12
Serving Size:
1
Amount Per Serving:
Calories:

116
Total Fat:

5g
Saturated Fat:

3g
Trans Fat:

0g
Unsaturated Fat:

2g
Cholesterol:

18mg
Sodium:

174mg
Carbohydrates:

14g
Fiber:

0g
Sugar:

11g
Protein:

2g
This nutritional information is provided as a courtesy as an estimate only. Consult with a dietician for precise estimates. This website makes no claims that the nutritional values listed are accurate.