Cooking steak in an air fryer is the most convenient way to ensure the juiciest results every time.
If you follow these easy directions (that we created after hours of experimentation and kitchen science) you'll be rewarded with a delicious steak at the touch of a button…like literally. How awesome.
I'm going to show you the most critical tool every air fryer steak needs as well as what NOT to do (that every other air fryer steak recipe tells you to do)!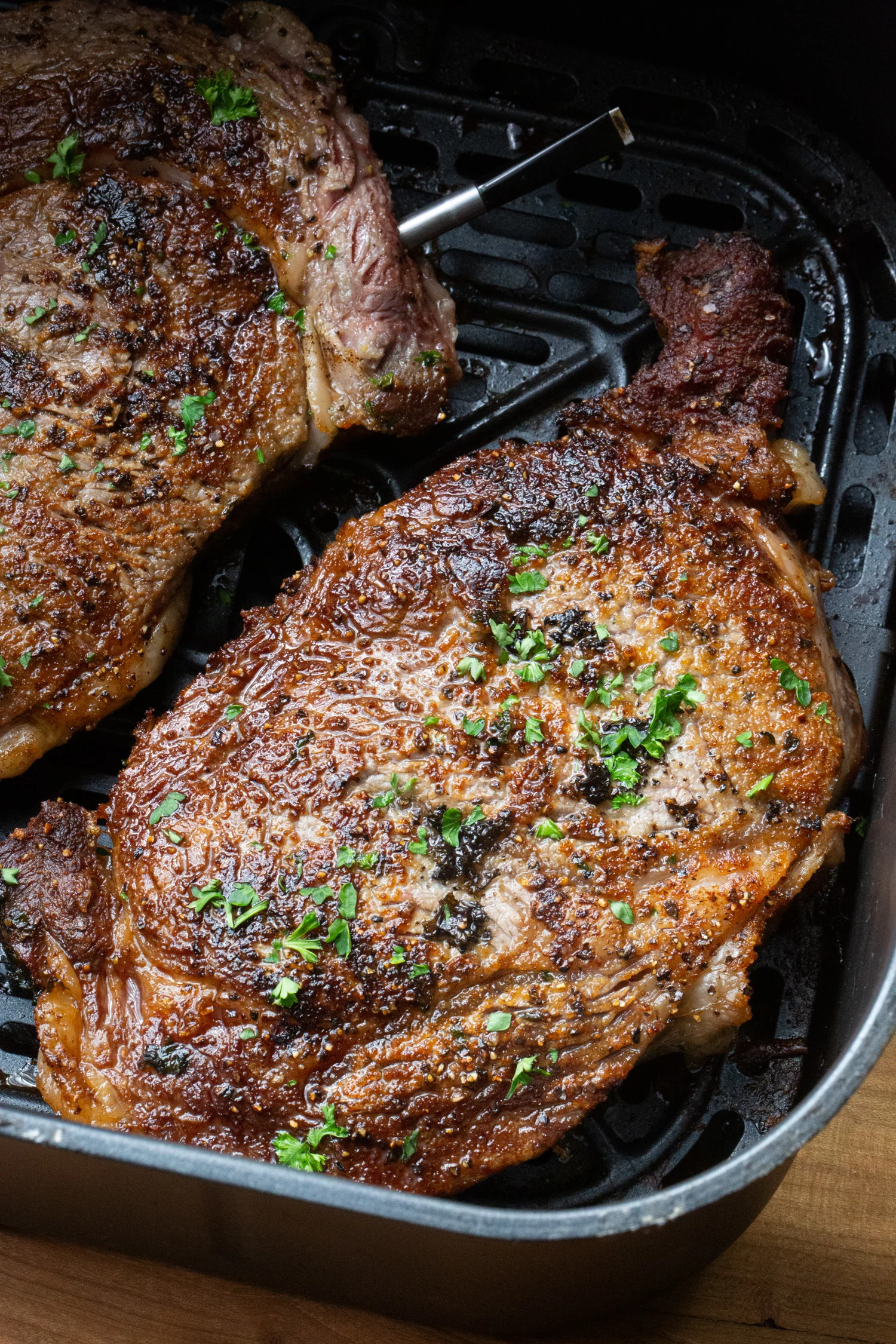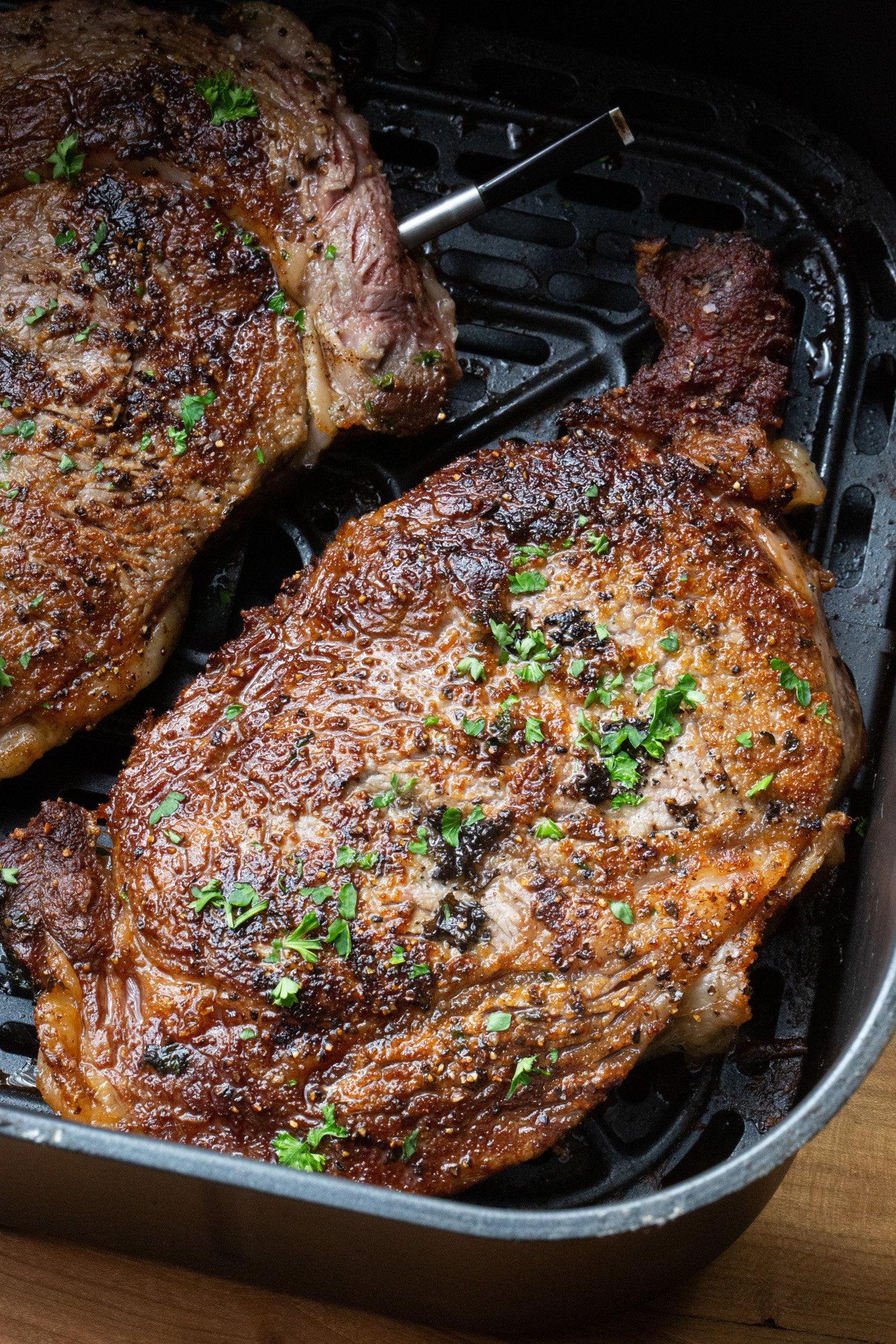 We think after your first time cooking a good steak this will become one of your favorite air fryer recipes.
How long do you cook steak in an air fryer?
The chart below is the best guide I can give you for the perfect steak when air frying 1″ thick steaks at 400 degrees F. (We want to cook as hot as possible to encourage browning).
Generally, you should always cook meat to an internal temperature and not to time because our equipment varies from household to household–but this cooking time guide will get you the best results if you don't have a meat thermometer handy.
Air Fryer Steak Time (At 400°F)
| | | |
| --- | --- | --- |
| Doneness | Flip Steak | Pull Steak |
| Rare (120°) | 3.5 mins (87°) | 7 mins (115°) |
| Medium Rare (130°) | 4.5 mins (92°) | 9 mins (125°) |
| Medium (140°) | 5.5 mins (97°) | 11 mins (135°) |
| Medium Well (150°) | 6.5 mins (102°) | 13 mins (145°) |
| Well (160°+) | 7.5 mins (107°) | 15 mins (155°) |
Don't get too caught up in the 1″ thick part because most steaks sold at stores fall into this category. If you happen to get a thicker-cut steak at your store or butcher, the Meater thermometer will ensure you get the perfect air fryer steak no matter the thickness of your steak.
(Links are affiliate links to products we think are helpful and we may receive a small commission, at no cost to you, if purchased.)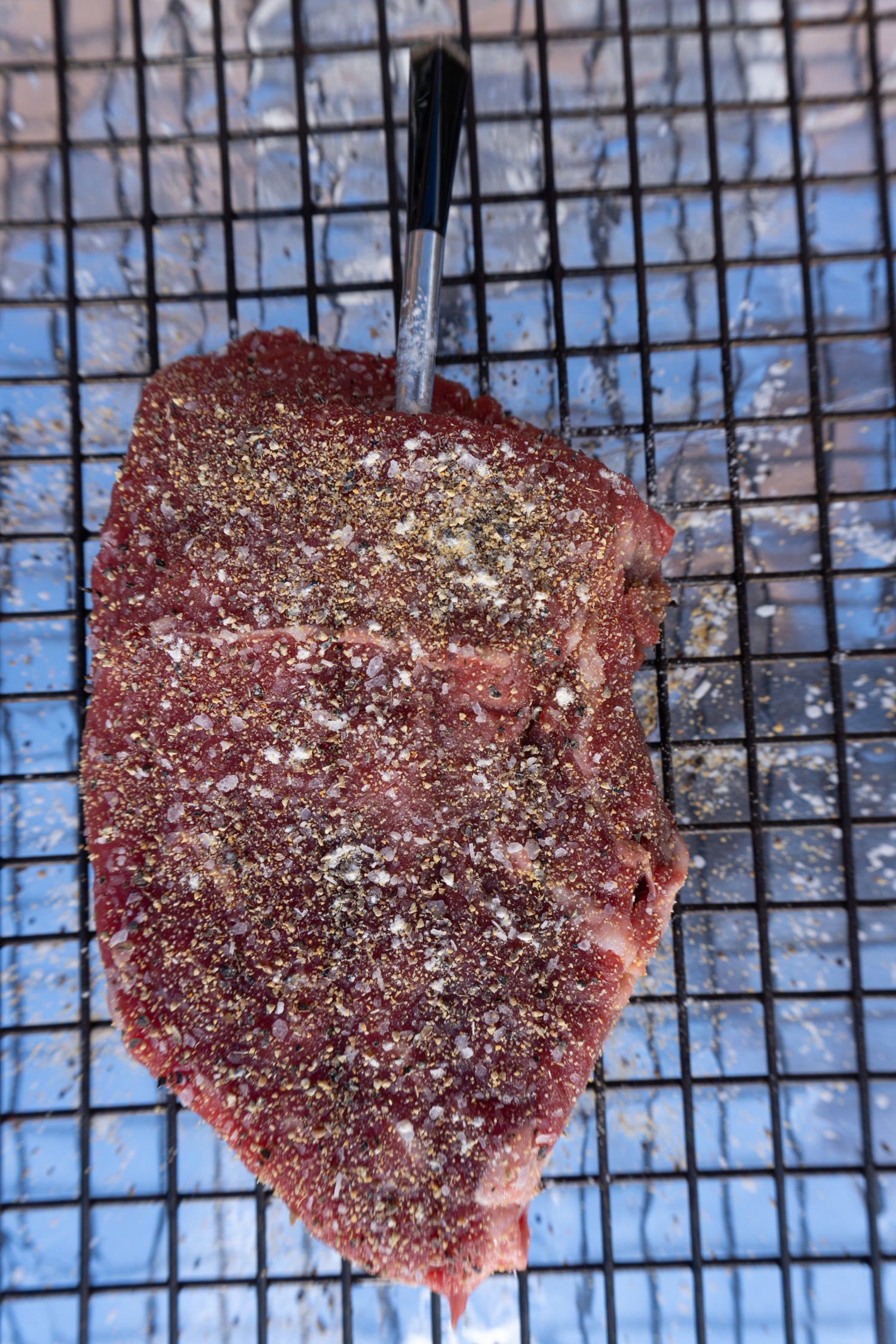 What is the best steak to cook in an air fryer?
This comes down to your personal preference but the general rule of thumb is the thicker your piece of steak, the more delicious air fryer steaks you'll get because the outside can get brown and crisp, while the inside is cooked to your degree of doneness.
The thinner the steak the harder it is to get a sear and keep the inside medium rare or medium. If you like your steaks more well done you encounter the possibility of overcooking a thin steak.
I personally prefer an air fryer filet mignon but you will get a perfectly cooked steak from any of the below cuts (Provided they're 1″ or thicker steaks):
T-Bone Steak
Ribeye Steak
New York Strip Steak
Filet Mignon
Sirloin Steak
One of the best tips is to stay away from any thinly-sliced steak, which we define as less than 1″, and avoid skirt steak and flank steak because they are naturally thin cuts.
The thickness of the steak is paramount here because a thinner steak will cook way too fast and not give the outside of the steak enough time to develop any kind of sear.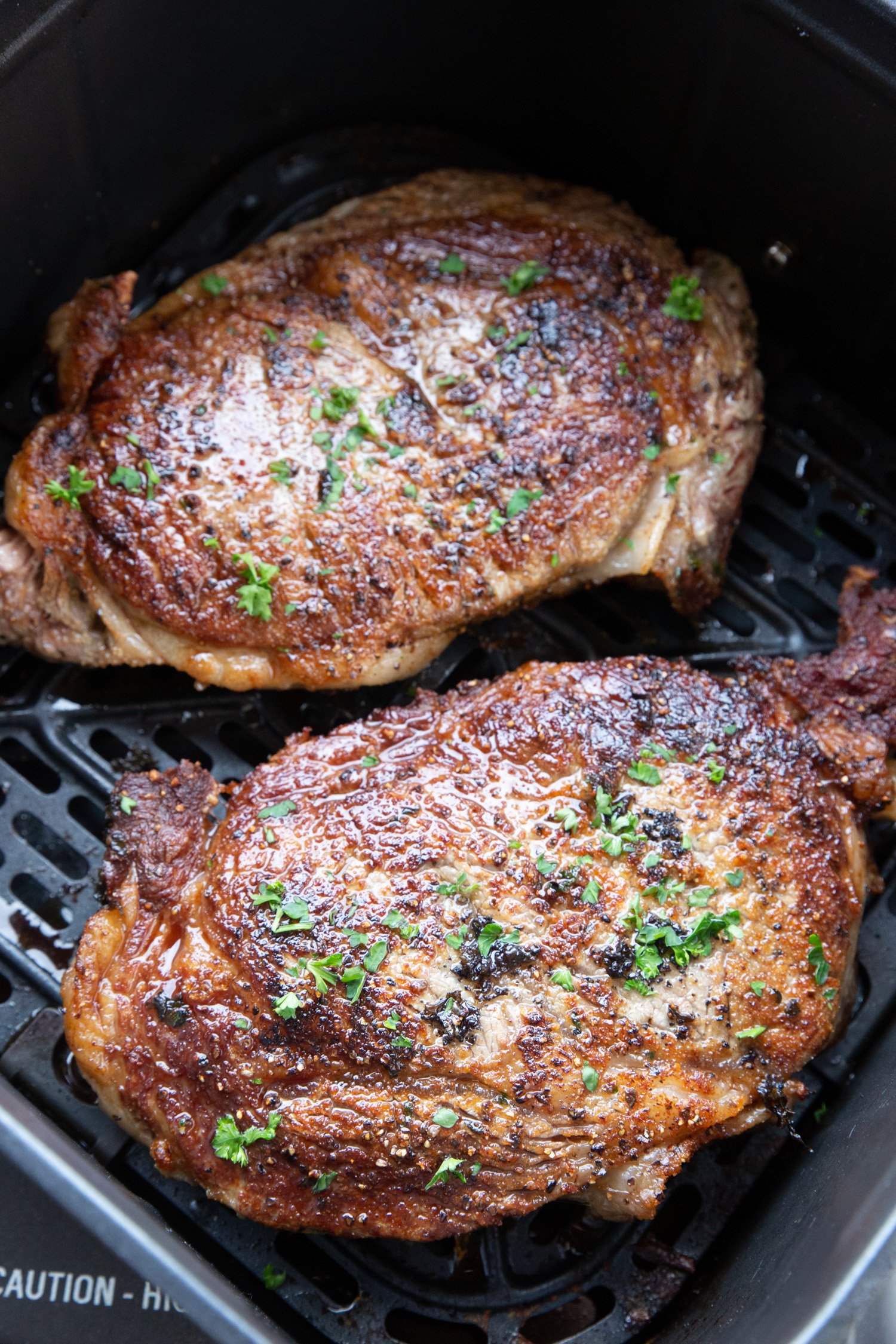 Does steak need to be flipped in an air fryer?
Yes, a steak needs to be flipped in an air fryer about halfway through. We've listed the approximate times and temperatures above in the chart.
You'll get better results flipping your air-fried steak because the heating element and fan that circulates the hot air throughout your air fryer basket, come from the top of your air fryer.
So if you don't flip your steak, you'll have uneven searing and that delicious steak will be cooked heavily on one side and just warmed on the other.
How does steak taste in the air fryer?
With a good sear, air fryer steak is indistinguishable from pan-seared steak in flavor and texture.
This is an easy air fryer steak recipe that will give you delicious tender and juicy steak every single time! You can even add homemade garlic butter or store-bought garlic herb butter to kick it up a notch and add that extra steakhouse flavor.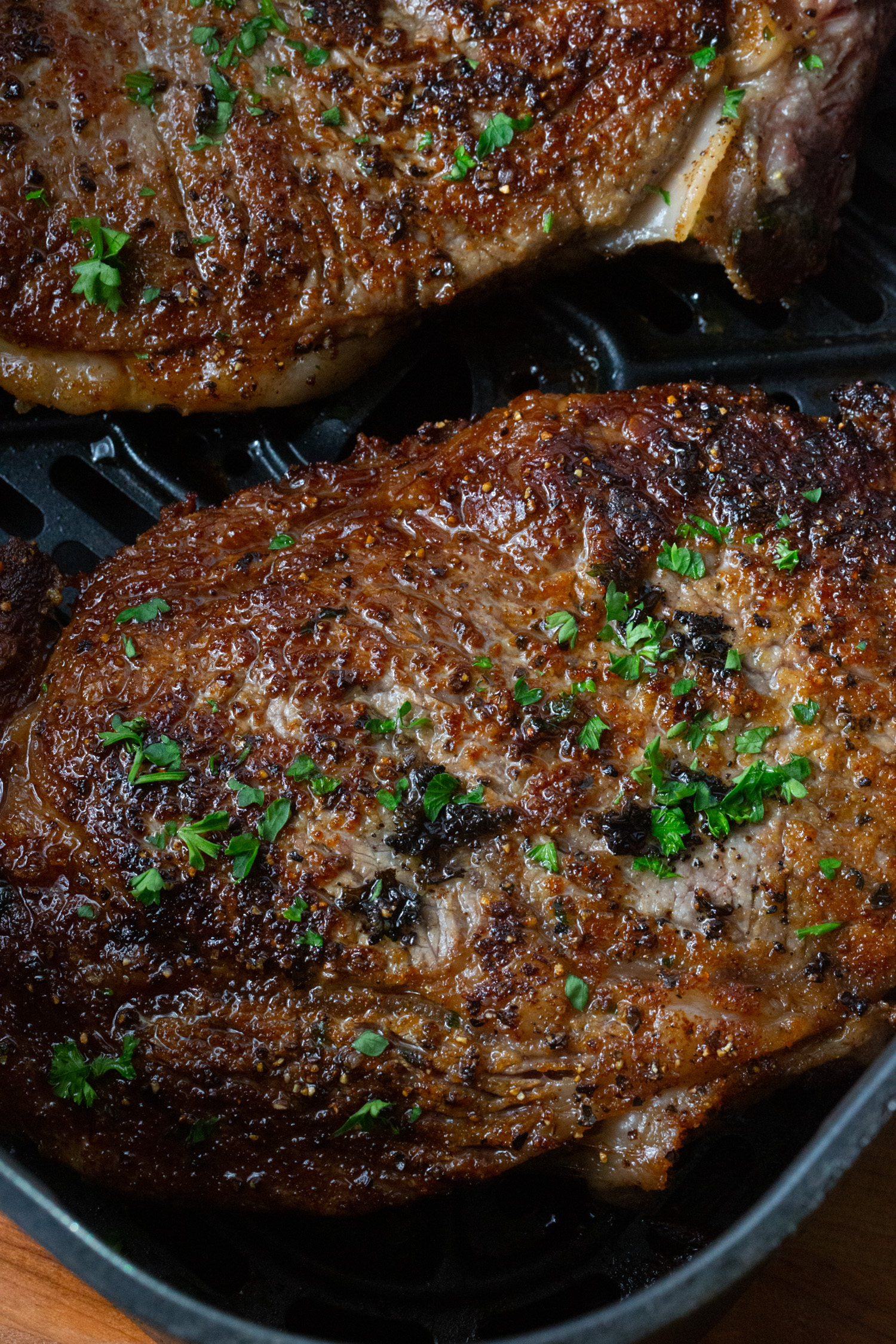 Dry Brining
One of the best ways to infuse big flavor into your steak is by dry brining it. A great way to do this is to sprinkle kosher salt on both sides of your steak while waiting for it to come up to room temperature. Dry brining a steak works by pulling the water out of your steak and replacing it with a salt solution which brings out the beefiness and adds depth of flavor and dimension that is unmatched.
Dry brining can be done with other spices in addition to the salt…try a dry rub of your own making or a classic Montreal Steak Seasoning. It is the salt that is the workhorse in providing the majority of the flavor but other ingredients like garlic, black pepper, and beef rub, season steak and bring in extra flavor.
Do steaks do well in an air fryer?
Steaks do extremely well in an air fryer because you have an expert level of control over the high temperatures, unlike when you're grilling on charcoal and have hot and cold spots that can throw off your target temperatures substantially.
Because of the temperature control that you have with an air fryer, you can control the degree of doneness within 1-2 degrees and have a perfectly cooked medium-rare steak, if that's what your heart desires.
Isn't a perfectly cooked medium steak dinner all anyone ever really needs?!
Is steak better on a pan or air fryer?
Is steak better on a pan or in an air fryer? This all comes down to your skill level.
It's like asking someone if painting by numbers is better than painting freehand for the best-looking painting.
I'd argue that because I'm not a skilled painter at all that painting by numbers is the best-looking painting for me. Whereas I'm sure Michaelangelo would say painting freehand will result in a masterpiece.
So if you're a novice with searing steaks in a pan, you may not always be pleased with your results, but if you place steak into an air fryer and follow this simple recipe, you're going to look like a pro and have no leftover steak when the meal is over!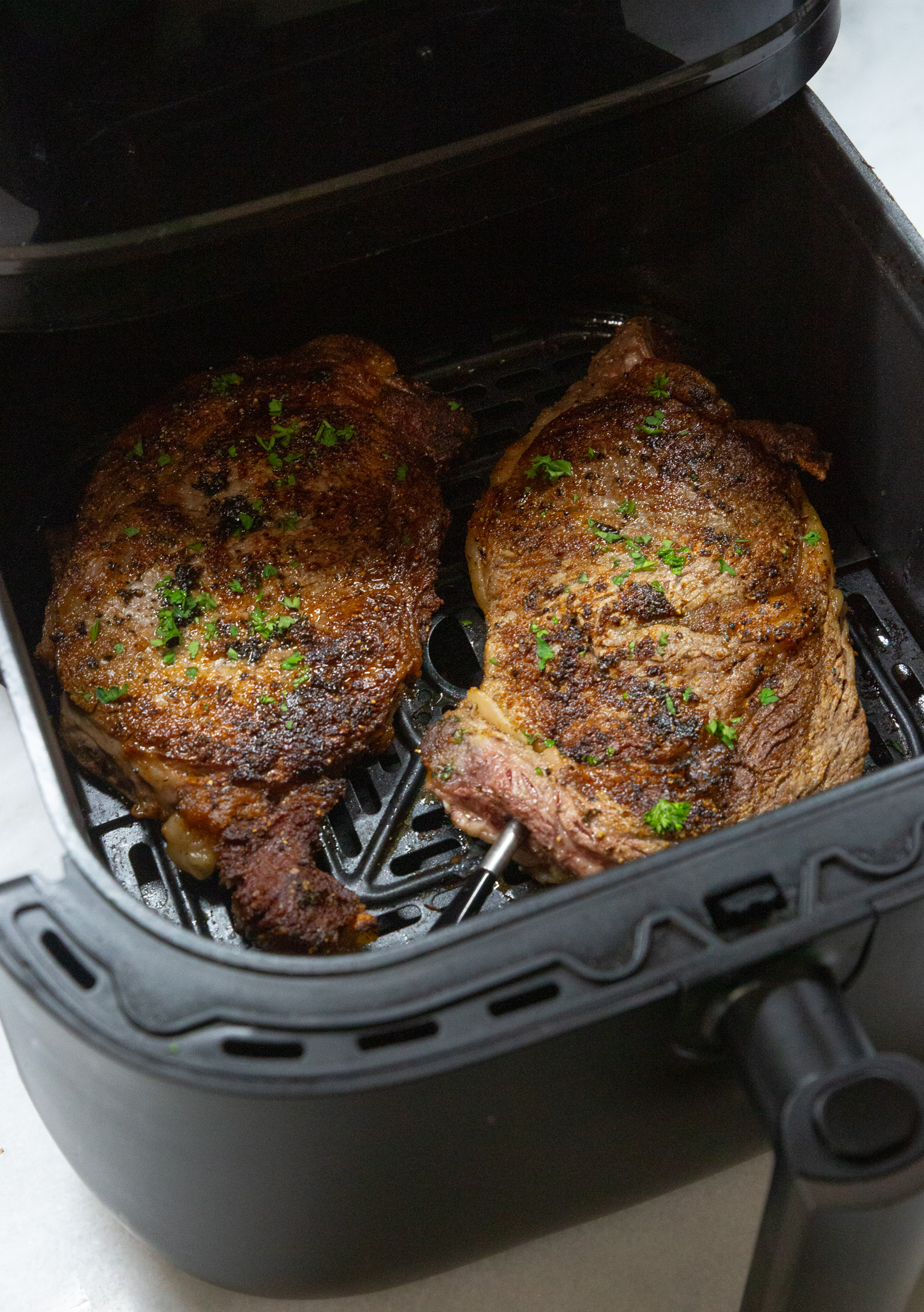 Heck, I'm a professional chef and I know how to cook a great steak in a pan, but I'm also a busy parent and LOVE that I can cook my family a steak dinner with virtually no mess, and very little effort.
How do I know when my steak is done?
Here is the absolute, most important piece of information that I can give you when it comes to cooking the perfect air fryer steak. Throw out the cook time and cook to temperature using a meat thermometer–whether it is an instant-read thermometer or a Meater wireless thermometer.
I prefer a Meater wireless thermometer because you only need to stick it into your steak and then place your steak directly into your air fryer. (No cords!)
The one I use if I'm doing 2 similar-sized steaks is the single probe version. If you enjoy cooking, I recommend the larger one that has multiple probes for many dishes. (Think about the holidays.)
The difference between instant-read and wireless thermometers is critical, because you still have to keep track of time with the instant-read thermometer, and we all know we can get sidetracked by everyday life… which will result in overdone and tough steak.
On the flip side, the Meater wireless thermometer has an app for your phone that's incredibly easy to use and it has an alarm!
So even if you have a little ADHD like my wonderful hubby (who I love so much) you will consistently get a perfectly done steak. Any anything else you want to cook for that matter.
Understanding Carryover Cooking in the Air Fryer
The second most important thing to know when cooking your steak in the air fryer is that you pull the steak 5-6 degrees BEFORE your desired doneness.
For example, if you are like me and love your steak medium rare (about 130 degrees F), you'll pull it out of the air fryer around 124-125 degrees F.
The reason is because of carryover cooking, which is a fancy way of saying the steak will keep cooking for about 10-12 minutes after you pull it out.
Do you need oil to cook steak in an air fryer?
No, no, a thousand times no. You do not need oil to cook your steak in an air fryer. Not even a little oil.
The reason oil is used to cook steak on a cast iron skillet, pan, or flat-top griddle is to prevent it from sticking because the surface is extremely hot and heats through conduction (surface-to-surface contact and energy exchange).
Air fryers use convection (a circulating air current) and therefore there is no surface to stick to. (It won't stick to the air fryer bottom because it's nonstick and air circulates here as well.)
Different air fryers may have slightly fluctuating temperatures from what they say on the digital readout, but 400 degrees F is our target temperature. This 400 degree heat is not in direct contact with the meat so it will not be sticking to anything.
I'm not sure if the misinformation being put out about needing oil for an air fryer steak is caused by people not testing their own recipes, or just not knowing how the Maillard reaction (browning of the exterior steak surface) actually works.
The Maillard reaction begins at around 325 degrees F and requires protein, heat, and the complete absence of water.
Oil creates a barrier on the meat's surface that prevents this reaction from taking place…at least in the convection environment of our air fryer.
Just to make sure I wasn't the one who had lost their mind, I went ahead and used avocado oil on one of the test steaks. Guess what happened?!
It barely, and I mean barely browned at all! Remember that this brown sear is what gives a steak its incredible flavor, so no to oiling those steaks, friend!
Just to sum things up: you do not need oil to cook steak in an air fryer, but you certainly do in a pan, griddle, or cast-iron skillet.
Air Fryer Steak Recipe
Grab our handy guide to cooking the perfect golden brown steak in the air fryer in under 15 minutes!
Print
Pin
Rate
Ingredients
2

steaks

any cuts from the list above are perfect

1-2

tablespoons

kosher salt

garlic powder

onion powder

black pepper

[Meater Thermometer Probe

optional]

Optional: You can finish the steaks with a dollop of compound butter and a sprinkle of parsley if you like.
Instructions
How To Make Steaks In The Air Fryer
Using a paper towel, pat your steak(s) dry on both sides.

Salt both sides of your steak, place it on a baking rack and allow it to sit at room temperature for 30-60 minutes.

After they've sat for 30-60 minutes, pat them dry again to make sure as much moisture is removed from the surface to get the most browning possible.

Season both sides of your steak(s) with salt, pepper, garlic powder, and onion powder or your own preferred seasoning blend.

If you have a Meater or other oven-safe probe thermometer, insert it into your steak(s).

Preheat your air fryer to 400 degrees.

Place your steak(s) in the air fryer.

If you're not using a probe, follow the Air Fryer Steak Time chart above for the TIMES listed to flip your steak and pull it out of your air fryer. (We've already accounted for the 5 degrees that your steak will rise from carryover cooking).

If you're an oven-safe probe, follow the Air Fryer Steak Time chart above for the TEMPERATURES listed to flip your steak and pull it out of your air fryer. (We've already accounted for the 5 degrees that your steak will rise from carryover cooking).

Use an instant-read thermometer to probe your steaks to ensure you're pulling them off at the temperature listed in the Cooking Chart.

Rest your steak for about 8-10 minutes.

Enjoy your juicy, perfectly cooked steak with all of your favorite steakhouse sides. We hope it's your new favorite way to cook steaks. We certainly think it is!
Nutrition
Serving:
1
g
|
Calories:
493
kcal
|
Carbohydrates:
1
g
|
Protein:
44
g
|
Fat:
34
g
|
Saturated Fat:
14
g
|
Polyunsaturated Fat:
15
g
|
Cholesterol:
168
mg
|
Sodium:
1998
mg