Springtime is the best time for a crawfish boil! A traditional Southern staple, crawfish boils are a fun way to spend an afternoon with friends and family.
Spending time together is always a little more fun with a delicious meal, and crawfish boils are no exception.
That's why I'm sharing our favorite boiling brew recipe with a complete guide to hosting your first big boil–from how much crawfish to buy, to helpful tips for keeping your crawfish happy (and alive!), all the way to cooking up a killer cajun citrus brew to boil in, this guide will help you find success.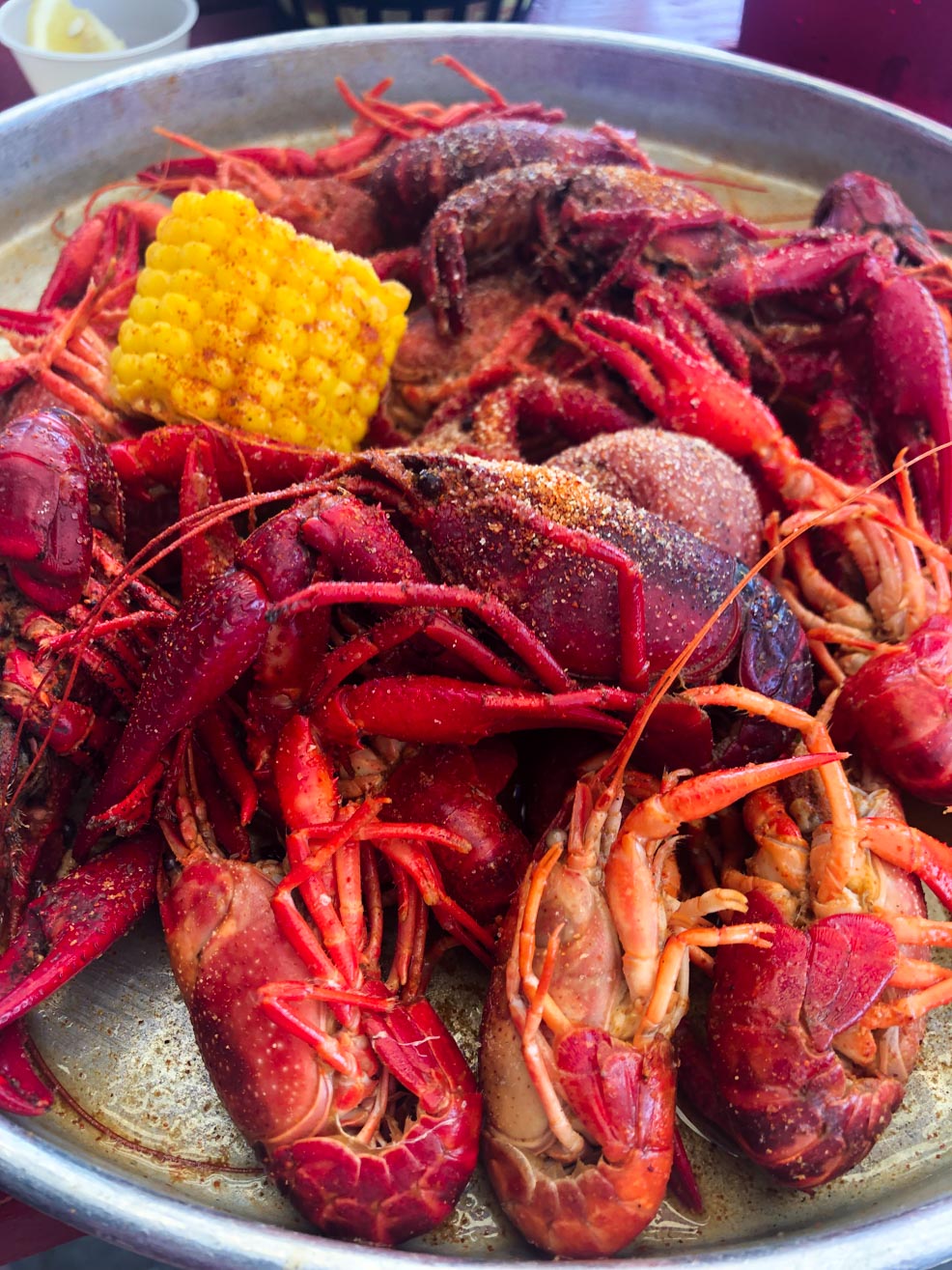 To make a perfect crawfish boil, it's important to have the right ingredients. Thankfully, it's not complicated—all you need is some fresh crawfish, potatoes, corn on the cob, cajun spices, and sausage.
The key to great boiled crawfish is seasoning: usually a mix of garlic, lemon, onion, and cayenne pepper. Once everything is boiled together for about 20 minutes in a large pot of water over an open flame and the crawfish are ready to eat!
The best part of a crawfish boil is the way it brings people together; everyone gathers around the table and enjoys each other's company while savoring the southern Louisiana flavor.
Table of Contents
How Long Is Crawfish Season?
Crawfish Season is from late January to early July (for purchasing wild crawfish from Louisiana), with the peak months being March, April and May.
Since a crawfish boil takes place outside, the best times for hosting a crawfish boil are in the spring or early summer months.
You'll notice crawfish are back in season when every seafood bar and shrimp shack in town begins advertising their own crawfish boils. In our family, we love to get together at the house and host our friends for an authentic crawfish boil in the backyard.
There's just something about the process that makes it more fun than dining out– it has the same appeal as a summer barbecue but with different activities.
Today we're going to learn how we throw a large 60 lb. crawfish boil right in our own backyard.
What are Crawfish?
Crawfish are a freshwater crustacean related to lobsters and shrimp, but they are harvested wild from creeks and riverbeds. They're usually boiled in a pot of heavily seasoned water, with vegetables like potatoes and ears of corn.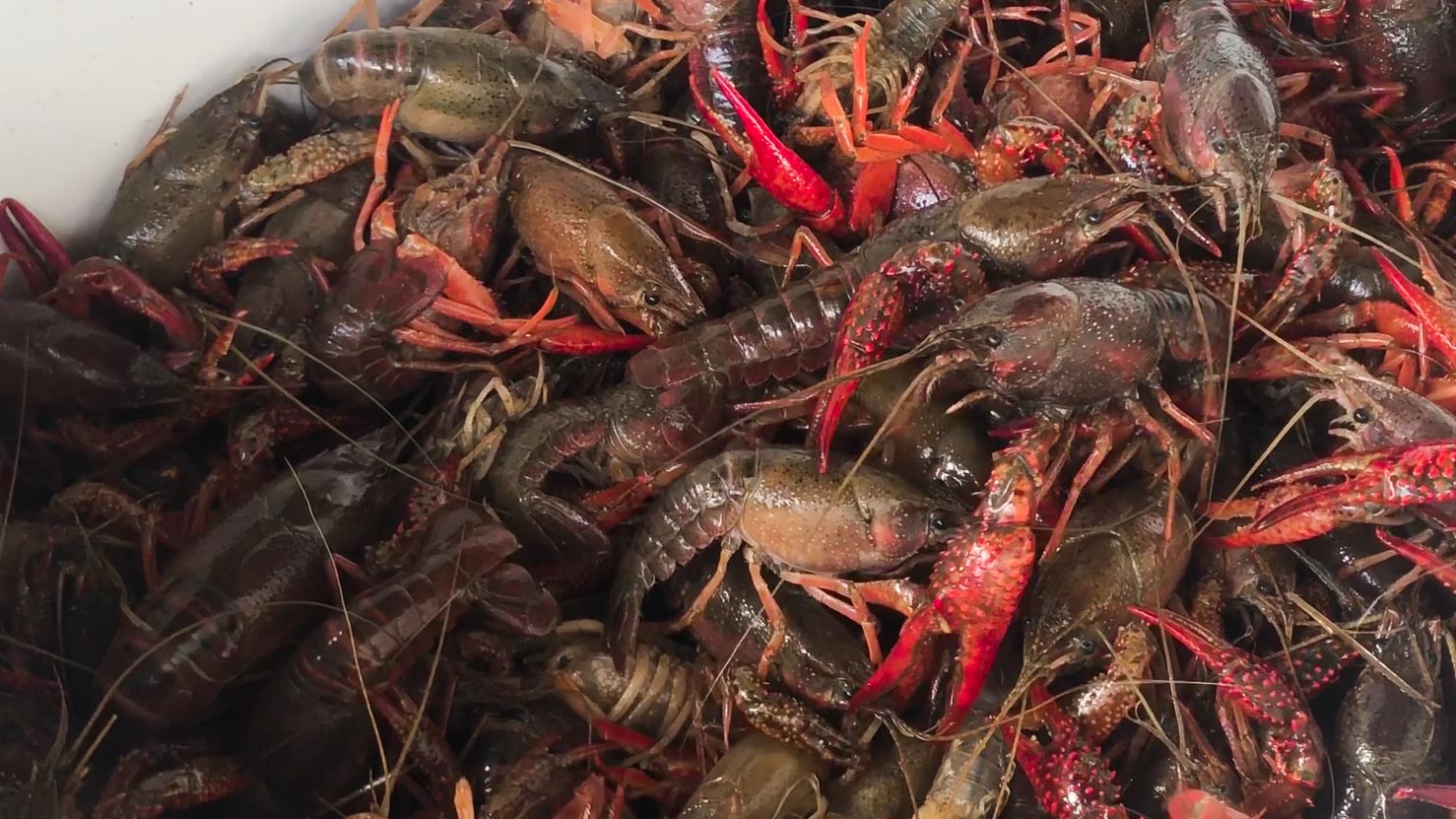 Farmed and imported crawfish meat (from other countries) are available year-round, but live, whole Louisianna crawfish are solely used for Southern crawfish boils in the United States.
In my opinion, they also have the best flavor!
You may see bags of frozen crawfish tail meat available year-round for etouffee, gumbos, and creole dishes, but these are not used in a traditional boil.
For this reason, you will need to research a supplier of whole, live crawfish for your event and understand how to hold them while you prep for your boil. It's not hard but it does take some planning.
Prepping for a Crawfish Boil Party
Now that we've talked about the what and who, let's talk about how to get ready for your backyard party. We're going to discuss how much crawfish to buy and the gear you will need for the event.
How Many Pounds Of Crawfish Per Person For A Boil?
This varies based on the appetites of your guests and what else you'll be serving…
For a light meal or when other dishes will be served, plan for 1-2 pounds of crawfish per person.
If you're serving boiled crawfish as the main dish, 2-3 pounds per person should do it.
Native Louisianans can easily peel and eat 4-5 pounds over several hours with cocktails at an all-day boil.
And in case you're wondering, 60 lbs. of the little crustaceans is a party for 15-25 adults, so start that guest list!
PRO TIP: Even if boiled crawfish will be the main course it's always a good idea to have grilled hot dogs for the kids, and chicken or burgers for non-seafood-loving guests.
(Links are affiliate links to products we think are helpful and we may receive a small commission, at no cost to you, if purchased.)
What Equipment Do I Need For A Crawfish Boil?
Receiving and Holding the Live Crawfish:
Dead crawfish cannot be boiled so this step is crucial in keeping them in conditions fit for their survival before the party starts.
Crawfish come in varying sizes of bags but I find 20 or 30-pound bags are the most common in my area.
To prevent the live crawfish from dying, you will need a 150-quart large ice chest, filled with ice, for every 20 or 30 pound sack of crawfish. (You will need 2-3 of these coolers if you are following our crawfish recipe below.)
—> Here is a link to the right size of cooler for holding a 30 pound bag.
The bags they come in are made of fine mesh and lay flat perfectly in these large coolers. The live crawfish are stored on ice because they go dormant and essentially fall asleep.
Do not fill the cooler with water as they will drown. They can be sprayed lightly with water from a garden hose every couple of hours because they must be kept moist.
Drain the cooler regularly if the bed of ice is melting and creating water that would threaten to drown them.
How To Clean The Crawfish For Boiling
You will be surprised at how dirty these little mudbugs can get! They burrow deep in the mud around creeks and riverbeds, so rinsing them is not optional.
If you do not wash them you will completely ruin the tasty liquid of your crab boil infusing the taste of mud into everything.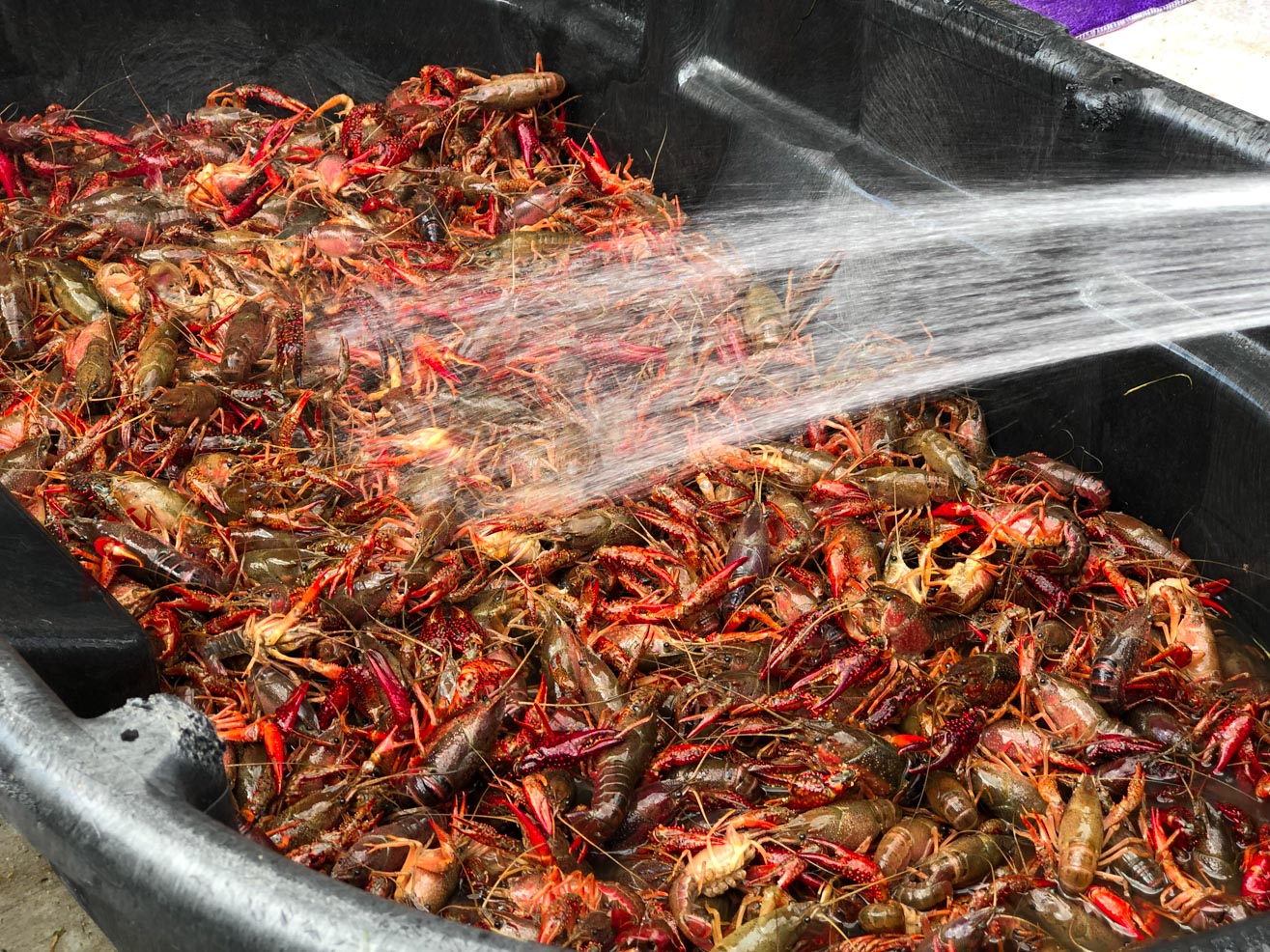 You must rinse them in batches in a large container several times until the water runs clear off of them. We clean 15-20 pounds at a time with a water hose fit with a gentle spray nozzle.
They will excrete mud from within the shells throughout the rinsing process, so be patient letting the crawfish soak, and then pouring off the dirty water and repeating–you'll be rewarded with a phenomenal court bouillon for boiling red potatoes and sausage in.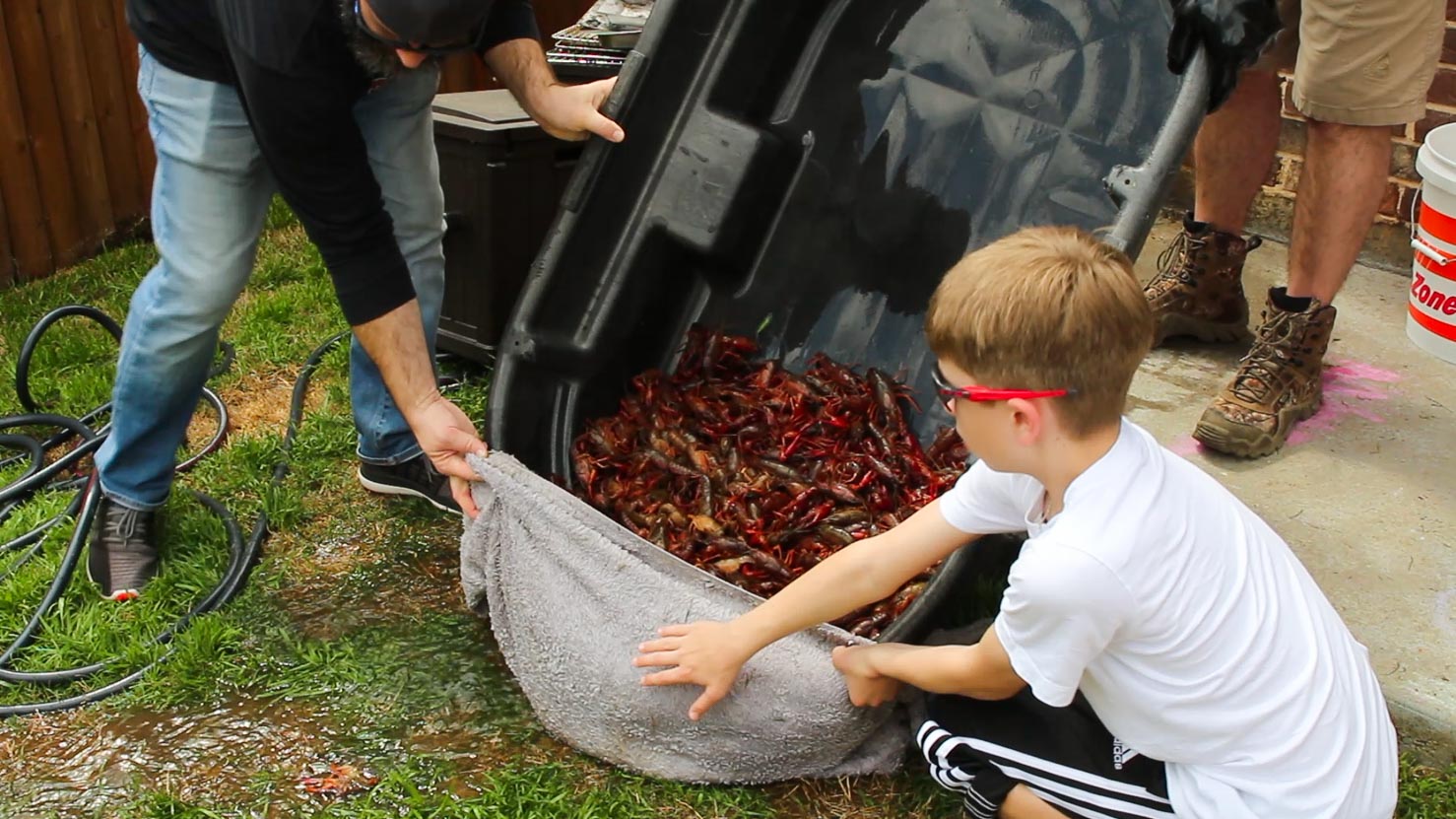 You will need either a large 75-gallon water trough from Tractor Supply Co. or a large, hard plastic, backyard kiddie pool for washing them in batches.
The rinsing and soaking process can take up to 15-20 minutes before they are clean, so keep that in mind as you are heating your liquid crab boil.
Remove any dead crawfish and throw them away!
After they are thoroughly rinsed they can be held in the large tub to await cooking, just remember to keep them moist.
Where To Buy Live Crawfish
We ordered our crawfish online by googling crawfish sales in our area. We are in North Texas so we picked up our 60 pounds of live crawfish from Bayou Boils.
Dallas/ Fort Worth: Bayou Boils
FED EX to your home from southern Louisiana: www.Cajuncrawfish.com
(I spoke with these guys and states excluded include Hawaii, Washington, Michigan, Minnesota, Wisconsin, Illinois, and Pennsylvania, due to state wildlife laws.)
Talk to your crawfish supplier to understand when they will deliver (or if you will pick up your order) and be aware that sometimes you will be receiving the crawfish the night before the party.
What Cooking Equipment Do You Need For The Crawfish Boil?
Crawfish boils are usually performed outdoors with a seafood boiling kit (same setup as a turkey fryer) with a propane gas boiler and either stainless steel or aluminum pot and strainer, plus lid.
Here is an aluminum set-up made by Creole feast – (Click to View)
This entry-level aluminum boiler is cheaper but more difficult to get clean.
Here is a stainless steel set-up made by Bayou Boils – (Click to View)
Bayou Boils is the gold standard and stainless steel is much easier to clean, but slightly more expensive. I originally bought a cheap off-brand boiler for my first time and quickly regretted not buying stainless steel. This is a must for families who fry their turkeys every year.
Large stirring paddle for crawfish boiling – (Click to View)
This is a must for stirring the contents of your boil. I don't really know what you could use instead of a long paddle. It must be extremely long and temperature safe.
How to Make the Best Crawfish Boil Recipe
For the crawfish boil recipe, we're using Zatarain's Cajun Seasoning: Crab and Crawfish Boil Seasoning, plus citrus fruits like oranges and lemons, to make the flavorful liquid used to boil the Louisiana crawfish.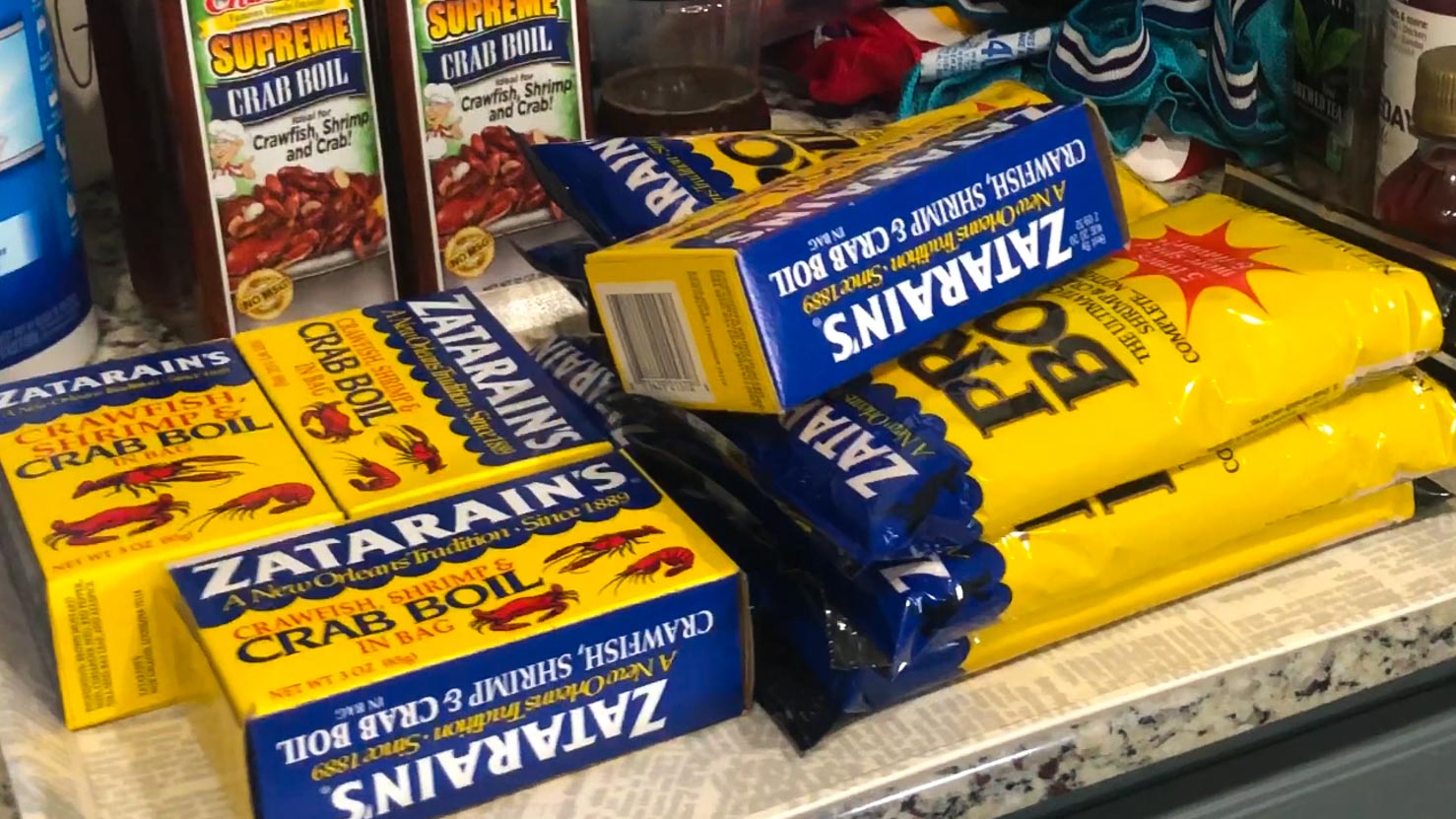 You can find Zatarain's at seafood markets and grocery stores. It can be labeled as crab or shrimp boil but it's all the same spice mix.
You'll see 2 choices when shopping for this Zatarain's crab boil seasoning…boxes of herbs and concentrated bottles of brew, both of which are boiled with gallons of water to make a good crawfish boil.
The crab and crawfish boil come in boxes containing mesh sleeves of dried spices. Inside the sacks, you'll see dried bay leaves, black peppercorn, dry mustard, red pepper, whole cloves, whole allspice, and other traditional crab boil spices.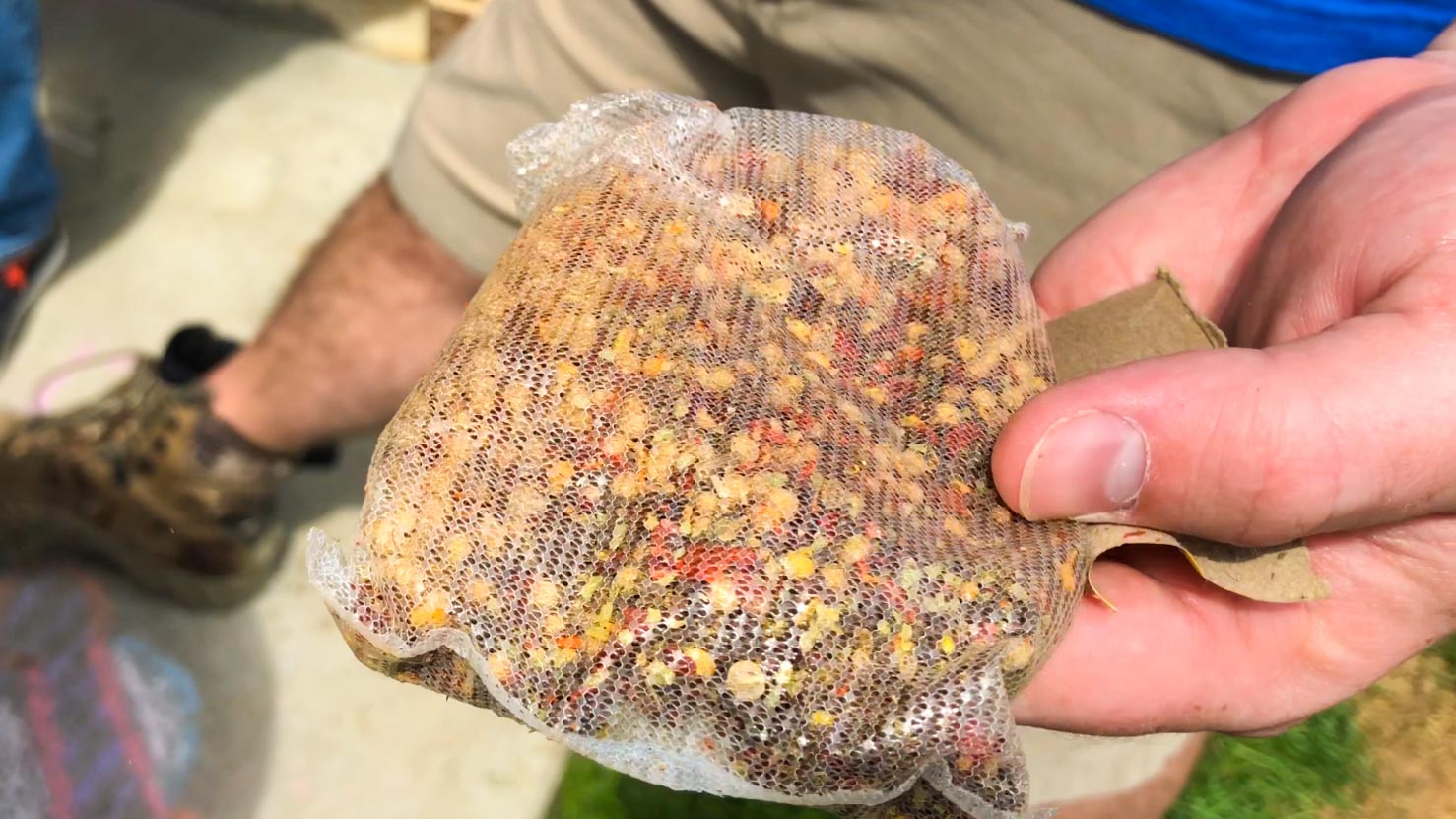 In our large crawfish boiling pot, we started with 8 gallons of fresh water and started adding all of the main ingredients into the pot and bringing it to a simmer.
Time to add more spices to the boiling water.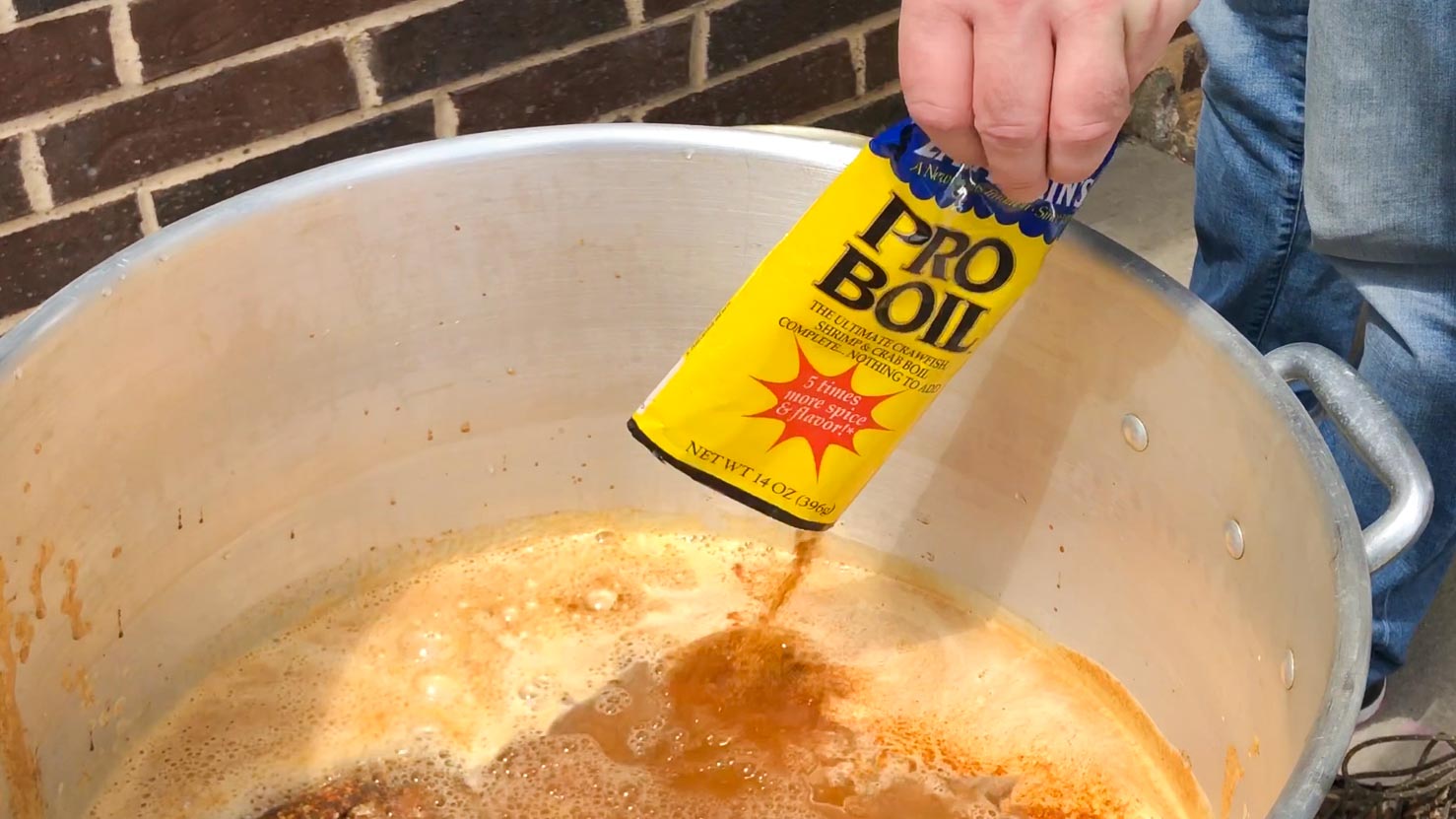 Last we added all of the squeezed lemon juice and fresh citrus on top of the crawfish. You can throw the lemon halves right into the brew as a lot of their flavor is in the rind.
Turn on the cooker and heat at high heat until a rolling boil.
Add the crawfish in at about 10-20 lbs. at a time, along with the veggies you've chosen for each batch. (Traditional choices include frozen corn and red potatoes. See the recipe card below)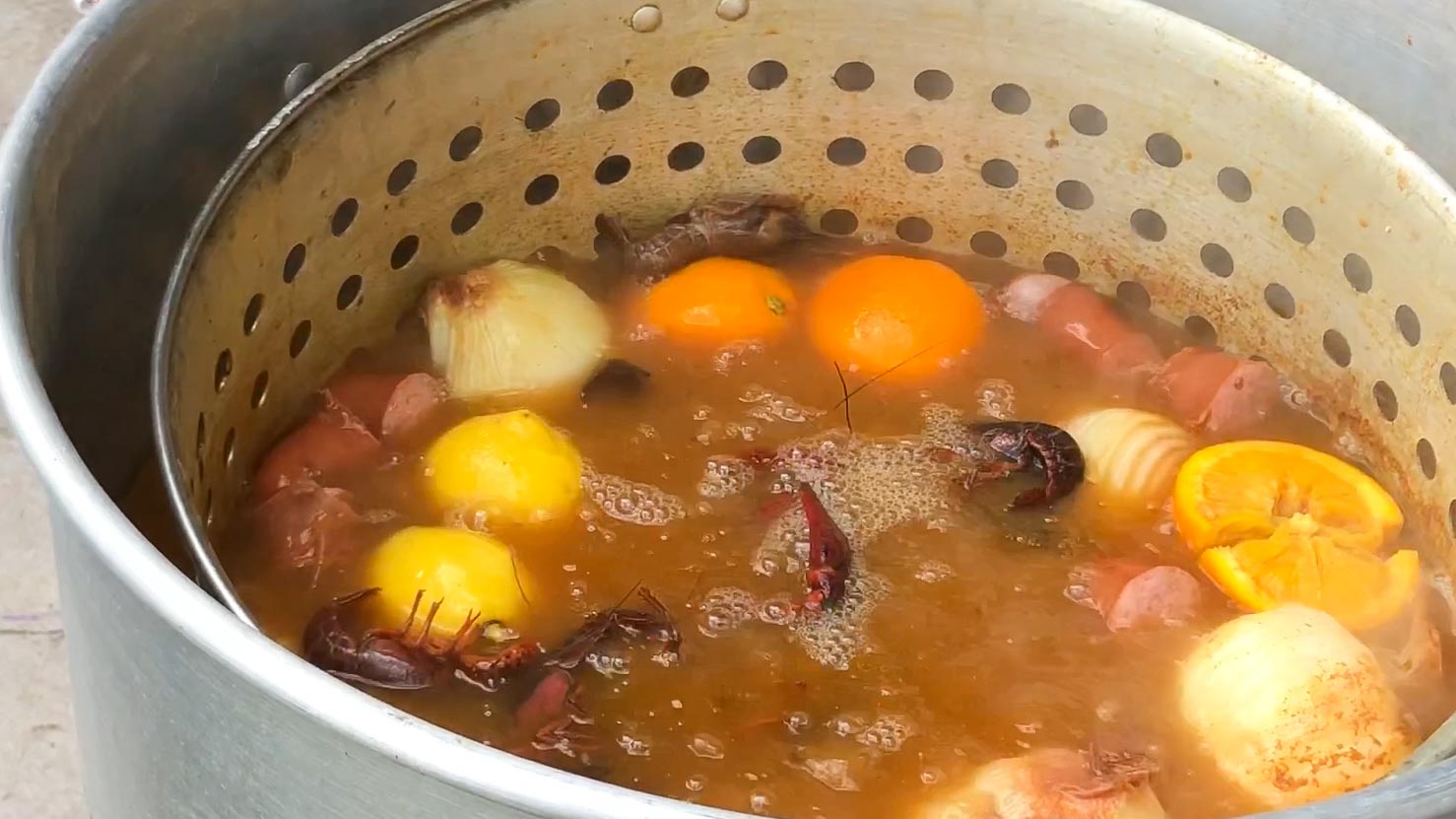 When it reaches a full boil, cook 5 minutes at a hard boil, then turn down the heat, place on the lid, and simmer for 15 min. Cooking times can vary a bit, so keep an eye on your pot.
Strain the boiled crawfish by lifting up on the simmer basket and pulling them up gently. All the broth will run out and into the pot.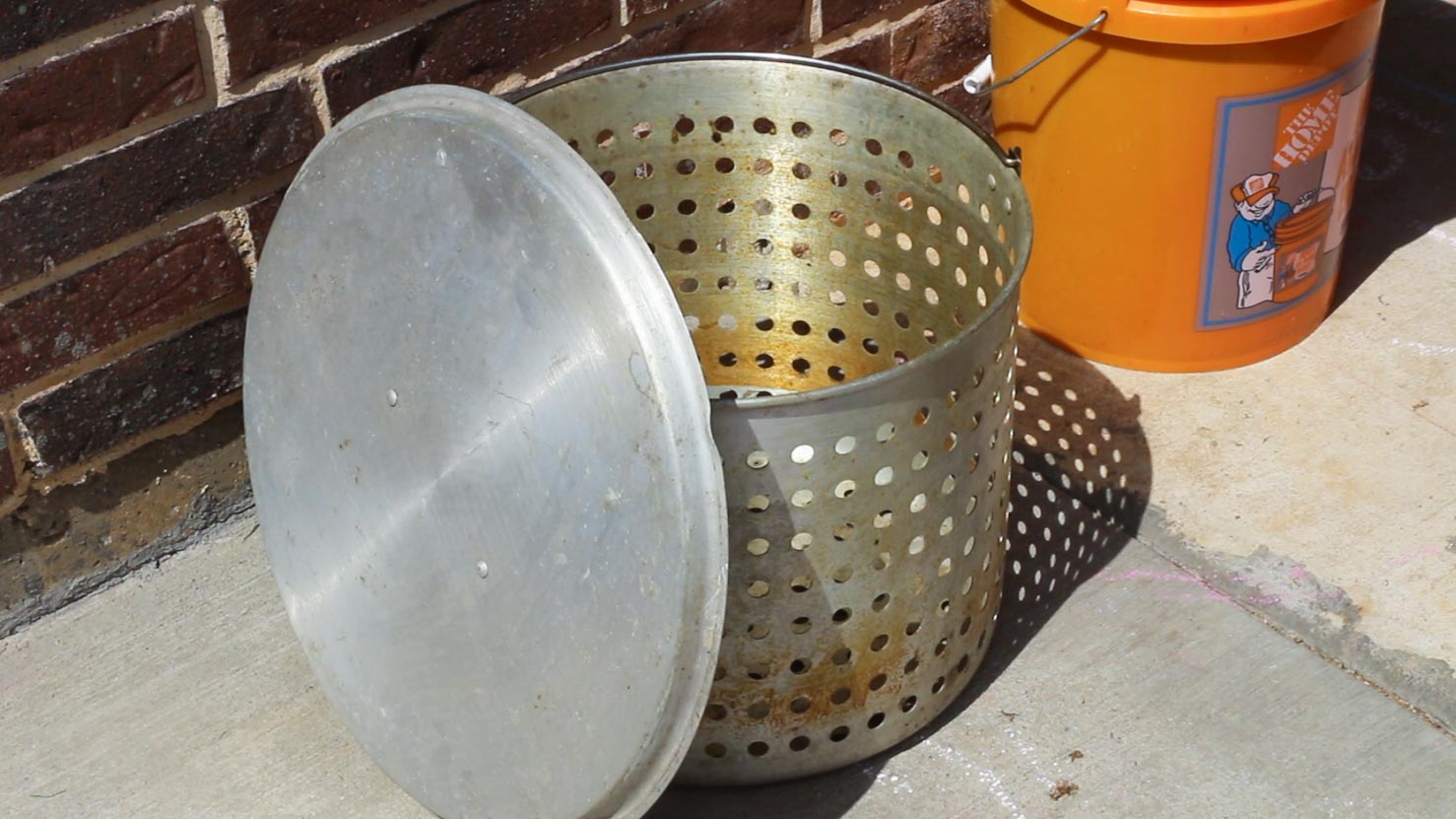 After this batch is served you'll simply repeat the process until all the crawfish are cooked. As the boil concentrates it will get a little spicier every time.
It's easiest to serve by dumping the crawfish directly on plastic tablecloths or on a picnic table lined with trash bags, outside in the backyard.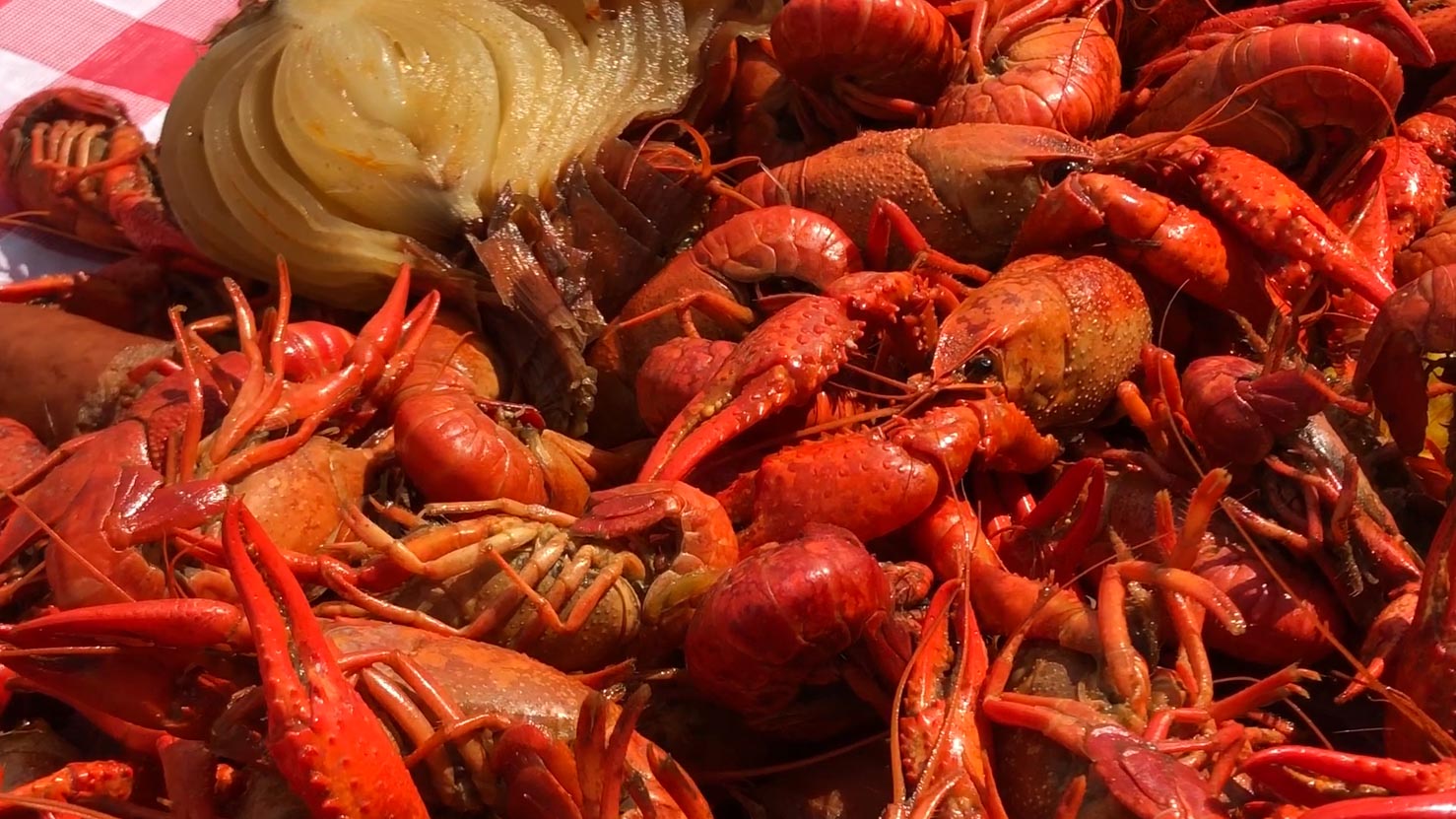 But if you like to serve guests on individual trays that would be cool too!
Make sure you provide plenty of paper towels, fresh lemons, and plenty of cold beer. You'll need buckets or bowls for collecting the crawfish shells.
What To Do With Leftover Crawfish
The best method is to ask friends at the party to help you peel the leftover crawfish, collect the delicious tail meat into quart-sized ziplock baggies, press out all the air, and freeze for up to 3 months.
These crawfish tails are phenomenal in gumbo, etouffee, and crawfish bread.
Hosting a seafood boil has never been easier or so much fun! We hope you enjoyed learning how to make the perfect easy crawfish boil!
Don't forget the sides, like boiled corn on the cob, Andouille sausage, bell peppers, potatoes, garlic butter toast, and of course ice cold beer.
It's the best way to enjoy some authentic cajun cuisine like your right in New Orleans!
Yield:

15-25 Adults
Best Crawfish Boil Recipe: A Beginner's Guide To A Large Backyard Boil
The definitive guide to throwing a 30 or 60 pound crawfish boil in your own backyard, for beginners and experienced crawfish lovers!
Ingredients
60lb. live, whole crawfish (2 30 lb. bags)
15-gallon outdoor cooker kit - propane outdoor stove, and 15 lb pot. (Also sold as a turkey fryer)
6 oranges
6 lemons
6 heads garlic
6 white onions
6 small bags of red potatoes
3 large containers of whole mushrooms
24 half ears of corn (frozen corn is fine)
4-6 lbs. assorted sausage, see note below
For the boiling brew:
8 gallons of water
3 16 oz. bags of powdered crawfish boil (Zatarain's or Louisiana Brand preferred)
3 4 oz. bottles of crab boil concentrate (Zatarain's or Louisiana Brand preferred)
1 large bottle of Louisiana Hot Sauce
1/4 c. cayenne (optional for spicy lovers)
Instructions
This boil is made first and reused for every 20 lbs of crawfish boiled...
Part 1 - 20 lbs crawfish, strain from the simmering pot and serve
Part 2 - 20 lbs. crawfish, strain from the simmering pot and serve
Part 3 - 20 lbs. crawfish, strain from the simmering pot and serve
For the Boil:
Fill the 15-gallon pot with water about 3/4 of the way up. Add 3 bags of powdered crawfish boil and 3 bottles of crab boil concentrate, 1 large bottle of Louisiana Hot Sauce, add 1/4 c. cayenne. Squeeze all of the oranges and lemons into the boil. (We throw a few in each batch as well!) Every batch will get a little bit spicier as the brew concentrates, so let guests know to expect that.
For every 20 lb. round of crawfish added to the pot, add 2 bags of red potatoes to the pot because they need the longest cooking time. Add 2 garlic heads whole and 2 onions. Next, add the crawfish. Stir, and bring to a boil.
Let boil for 5 minutes. Turn off the heat. Add 1 package of mushrooms and 1/3 of the corn. Place the lid on the pot and simmer for 20 minutes.
Drain, Dump on the picnic table. Repeat with each batch, totaling 3 batches.
Notes
Assorted sausage can be used as well and added in with the veggies, or grilled on the grill if you have that going as well. We used andouille, hatch chile pepper sausage, and mild sausage for the kids. Cut into 3-inch chunks and boil along with the crawfish if desired.
Nutrition Information:
Yield:
60
Serving Size:
1
Amount Per Serving:
Calories:

995
Total Fat:

56g
Saturated Fat:

18g
Trans Fat:

0g
Unsaturated Fat:

30g
Cholesterol:

659mg
Sodium:

1823mg
Carbohydrates:

16g
Fiber:

2g
Sugar:

5g
Protein:

101g
These nutritional values are an estimate only and provided as a courtesy. Different brands of ingredients may result in different calorie counts, and the software does not account for these differences. Consult with your dietician or doctor for precise nutritional values.