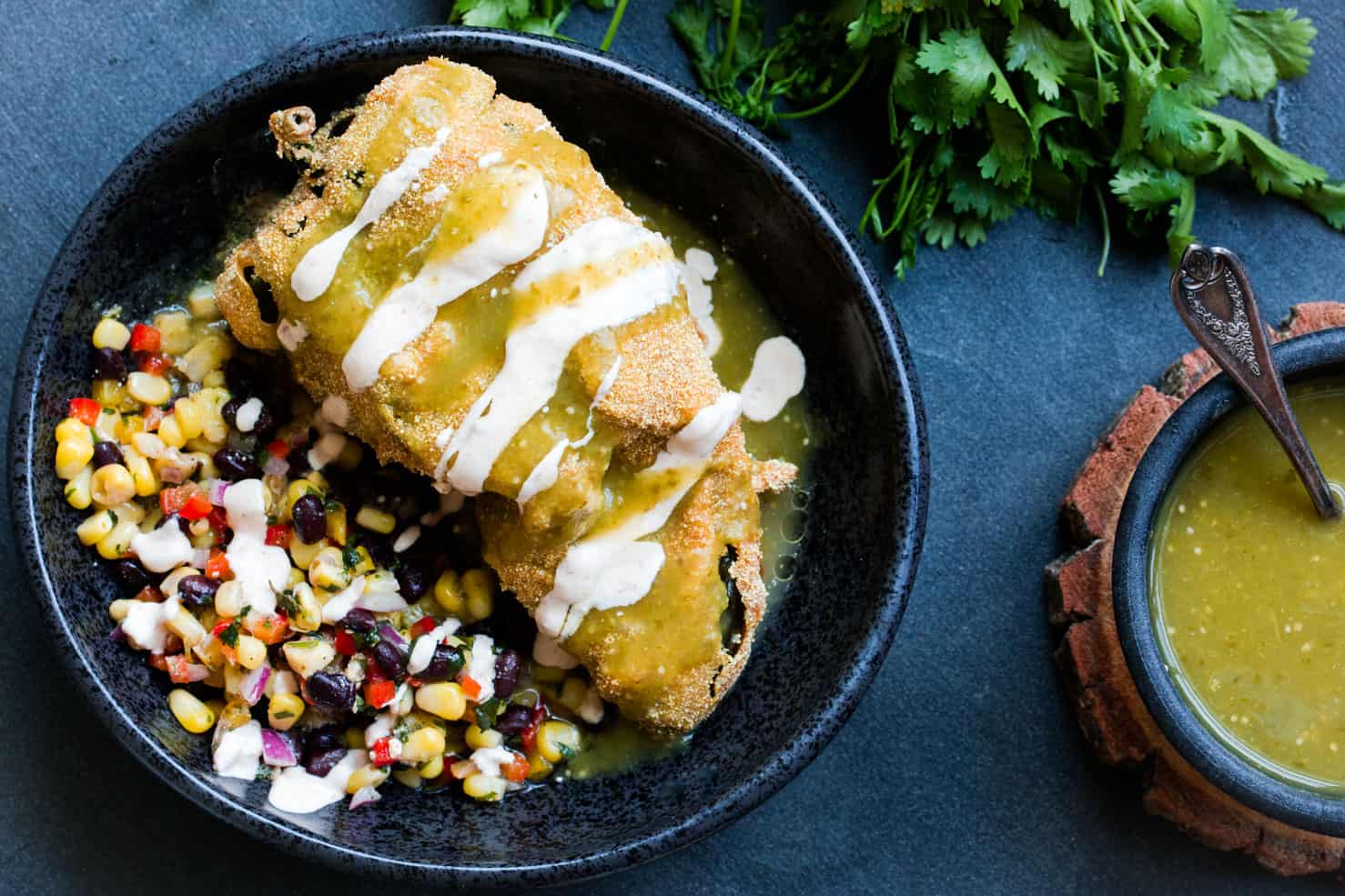 Nestled in between the hustle and bustle of downtown Southlake, I discovered a restaurant that whisked me back to memories of chef school in Scottsdale, Arizona and vacations in the red rock canyons of Sedona… Redrock Canyon Grill has stolen my heart and given me the ability to taste the American Southwest without the hassle of boarding a plane.
If you've read my cookbook, you'll know I was originally in culture shock when I hopped in my little, green rodeo, with my brand new Air Force husband, and took off on a 3 year southwestern adventure to Phoenix, Arizona. I was not prepared for the cultural shift—specifically the transition from Tex Mex to Sonoran cuisine, and as we voyaged on into the vast, Chihuahuan Desert, I sipped my last Dr Pepper and contemplated how sheltered I had been raised.
In that moment something shifted. With every plate of red chile enchiladas, and with every sip of prickly pear sangria, I started to embrace this enchanting, Southwestern fairy tale. Just a few short months later I turned down my writing scholarship to New England Culinary Institute, and enrolled at Scottsdale Culinary Institute, a meca of Sonoran cuisine, (and likely the final step in the genesis of Urban Cowgirl.)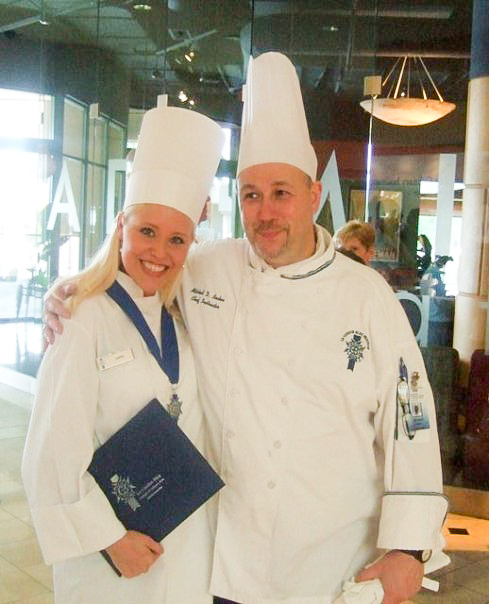 So last week, as I darted from shop to shop searching for the perfect dress for Good Morning Texas, I did a double take when my eyes read the sign, "Redrock Canyon Grill".
I walked in greeted by the aroma of roasting peppers and the sizzle of spit-fire rotisserie chicken… like a hacienda campfire, but with high end cocktails and cozy, black leather booths.
Of the MANY tasty dishes we sampled that day, (all of which are featured on Instagram), the smoked cheddar and chipotle chicken stuffed pepper with corn salad and salsa verde won my heart and whisked me back to that magical time in Arizona.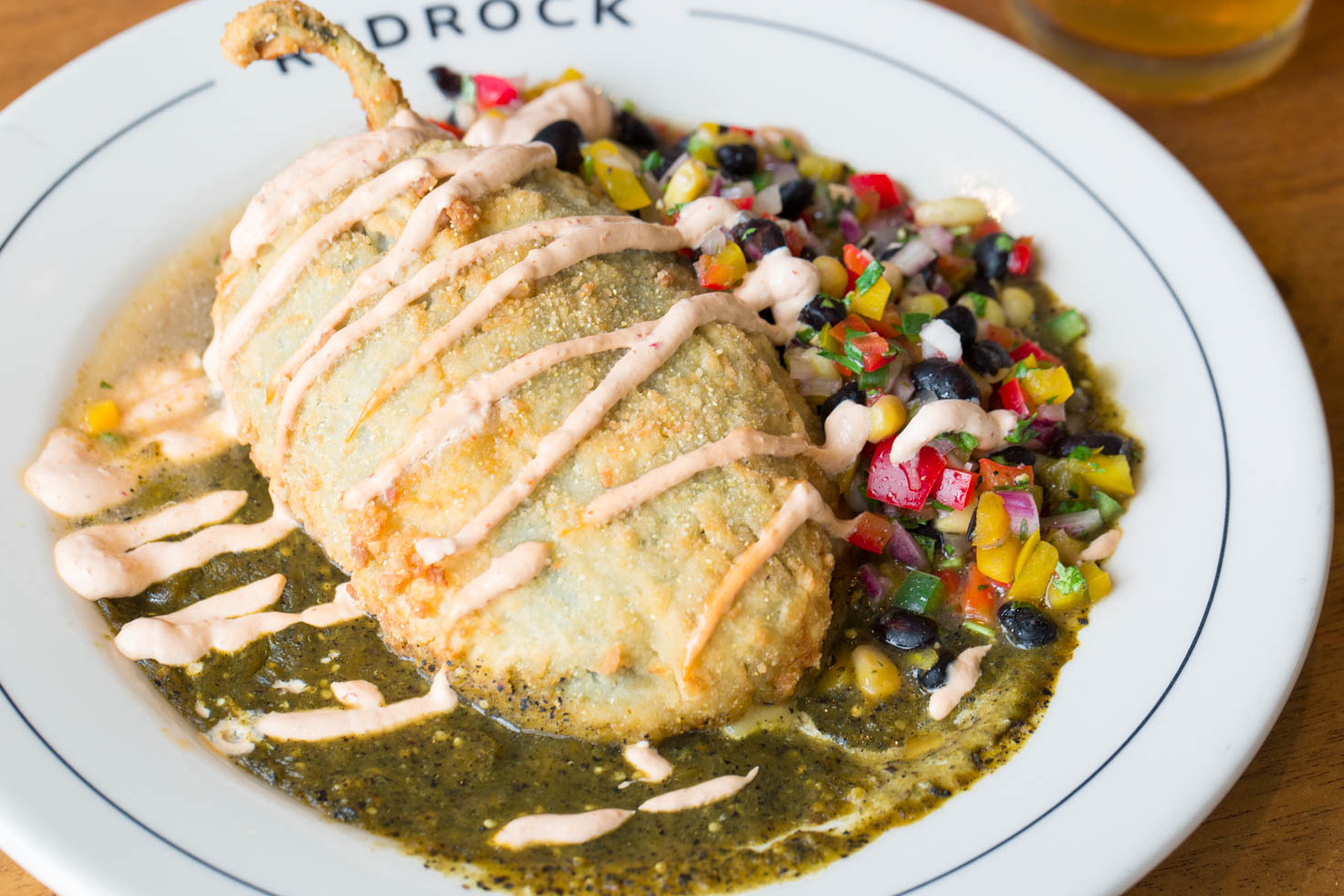 Now this stuffed pepper, which is a signature item for the restaurant, is found on the appetizer menu— but filling enough for an entire meal. I'll be including my recipe recreation below and also posting the corn salad and salsa verde in linked posts for easy indexing on Urban Cowgirl.
If you find it seems too laborious for you, I recommend stopping in at the restaurant where you can taste the entire dish for under $10. DO NOT skip the Almond Joy dessert drink, or the calamari with roasted garlic aioli (which now keeps me up at night thinking about it 😛 ).
Ready to get started? Let's make it…
Here is the original dish from Redrock Canyon Grill. It's like a cheesy chicken stuffed pepper, or chile relleno…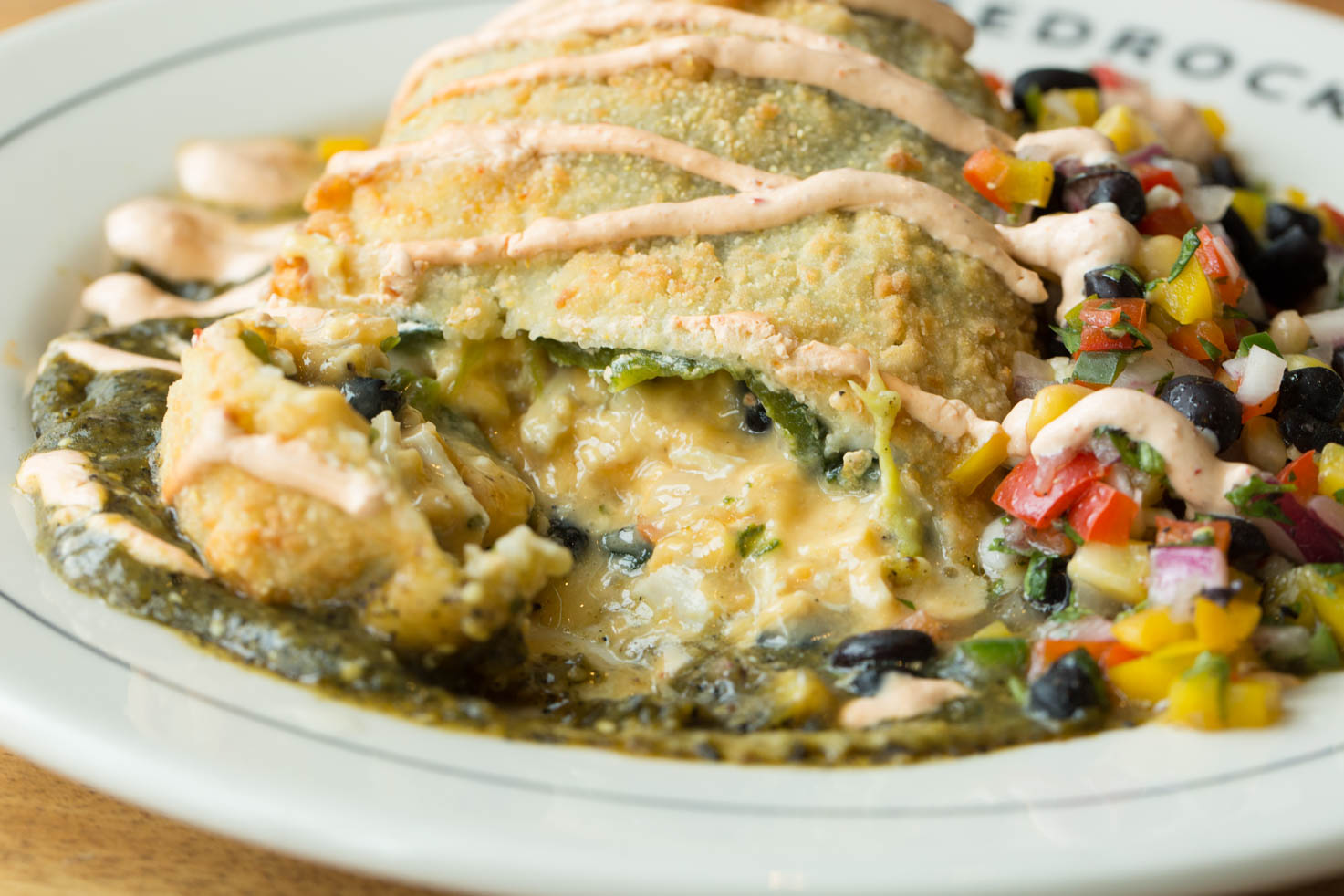 It's an enormous poblano pepper stuffed with smoked cheeses, tender rotisserie pulled chicken, and roasted peppers. It's nestled on top of a bed of Homemade Salsa Verde, accompanied by fresh Corn and Black Bean Salad, Marinated in Mexican Vinaigrette.
We'll start by making the filling…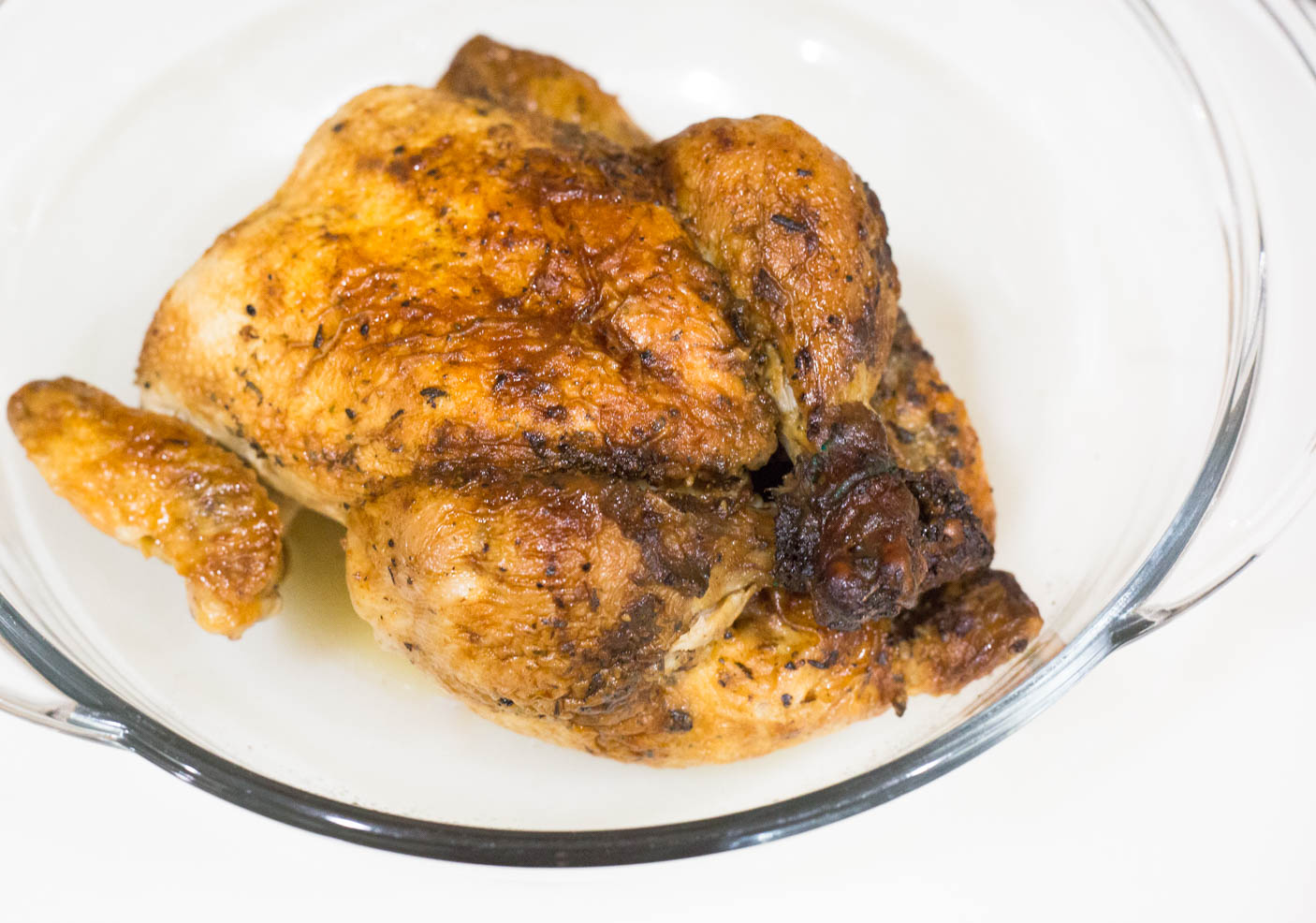 I just picked up a store bought rotisserie chicken, pulled the meat and placed it into a bowl. Then I add freshly shredded monterey jack cheese and smoked cheddar cheese.
In a small skillet I'm melting butter and caramelizing the red onion. I'll season it and add my chopped, roasted red and yellow bell pepper into this mix. Finally I'll add in 1-2 t. minced chipotle peppers in adobo sauce, (which are found canned in the Hispanic section of the supermarket.) I'll cool this and add it to my bowl.
The last step is to whip up some chipotle sour cream. I'll mix up 3/4 c. of sour cream with 1 T. minced chipotle peppers in adobo sauce, and stir well. Half of this will be reserved for topping the stuffed, cooked peppers, the other half I will add to the filling for moisture and interest.
Now I'll refrigerate both the chicken filling and the sour cream while I roast my poblano peppers.
To make great stuffed peppers, also referred to as chile rellenos, you'll want to learn a technique called the T-CUT.
This way of slicing the peppers is done beforehand so that once you the flesh has been lightly roasted, you can stuff the peppers without damaging the fragile flesh of the roasted pepper. This technique works well with all recipes for stuffed and roasted, long, mexican peppers.
The T-CUT for Chile Rellenos and Stuffed Peppers: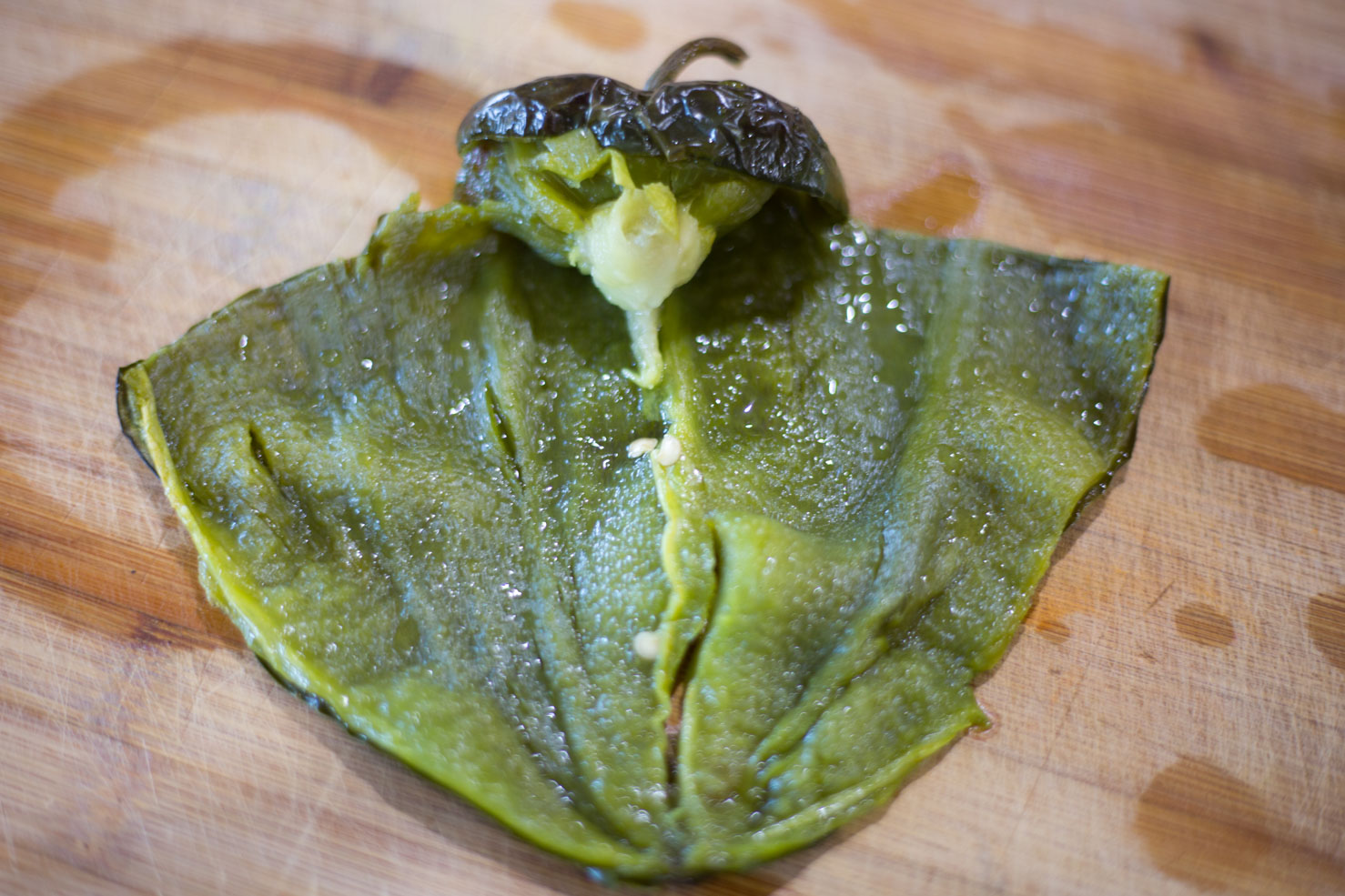 Fill all the peppers and lay them out of a cookie sheet. Place them in the freezer to chill while you clean up and prepare to fry them.

Frying the Stuffed Peppers:
Prepare the breading station and heat the oil to 350 degrees while the peppers chill in the freezer.
For the breading station dip the peppers… egg wash, flour, egg wash, cornmeal, egg wash, cornmeal… then lay the stuffed peppers out to sit for 10 minutes as the crust will harden and adhere, and the egg and flour develop into a kind of glue….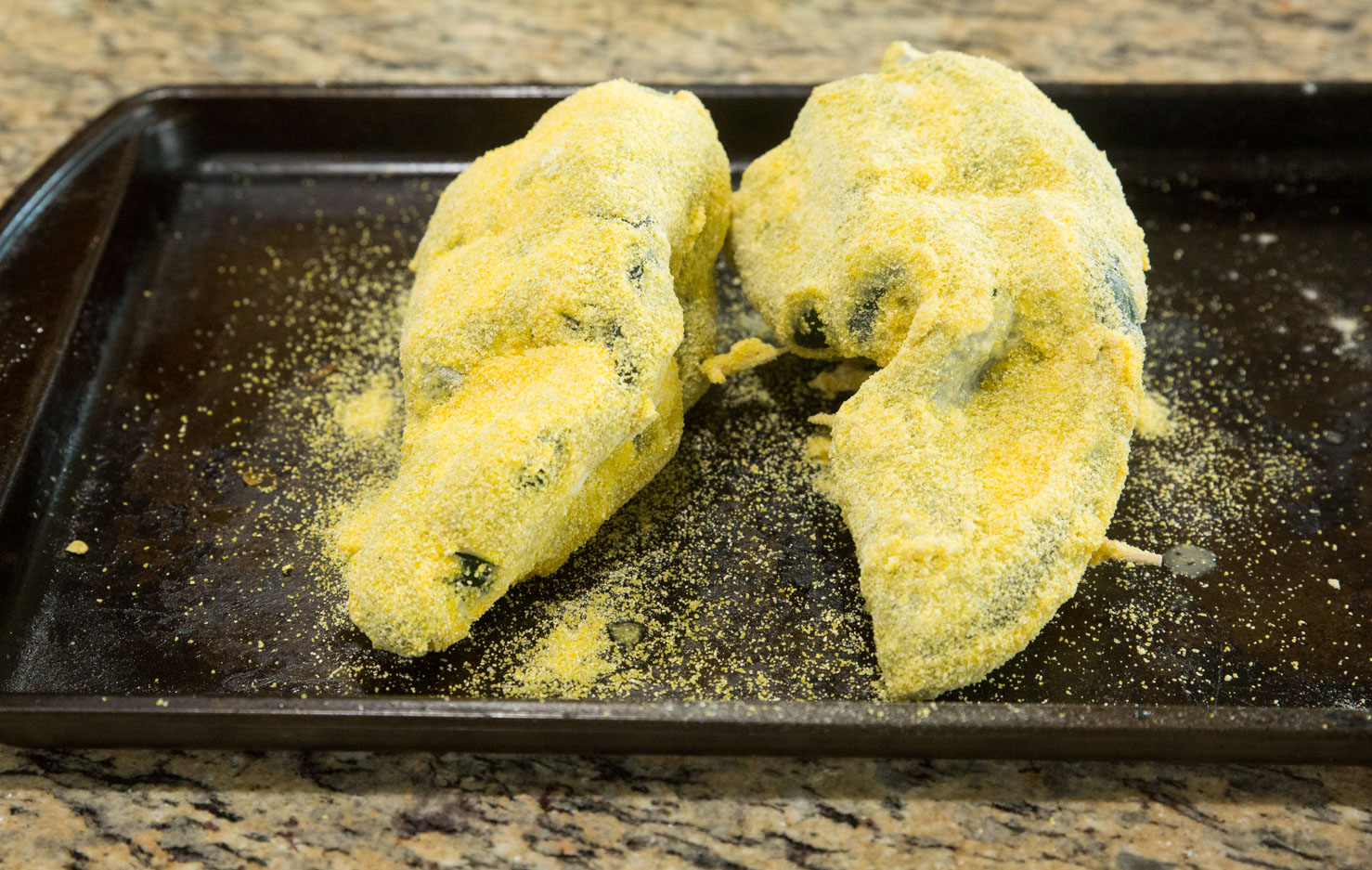 Fry the peppers one at a time until golden brown. Drain well on paper towels or on a cooling rack. Salt the outside of the stuffed peppers.
To Serve:
Place the peppers down on a cooling rack or paper towel so that excess grease can run off of them. On each plate place a serving of the Homemade Salsa Verde, place the pepper on top. Drizzle with the Chipotle Sour Cream. Serve with the Corn and Black Bean Salad in Mexican Vinaigrette.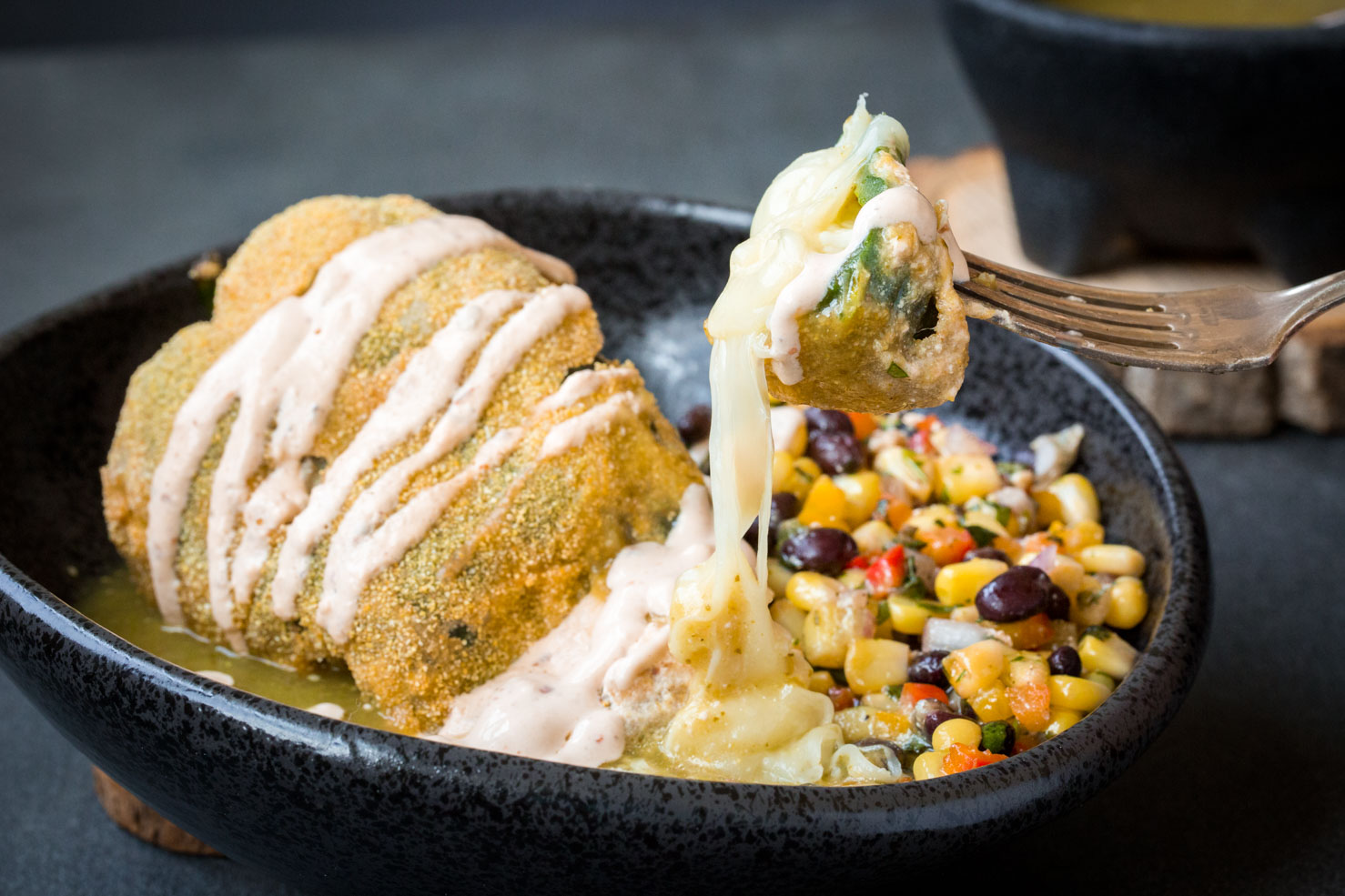 Here is the recipe for the Cheesy Chicken Stuffed Peppers
If you make the recipe, post it to social media and tag Urban Cowgirl!
I'd love to see how it turns out!
Yield:

4-6
Cheesy Chicken Stuffed Peppers from Redrock Canyon Grill
Ingredients
1 recipe for Texas Style Salsa Verde
1 recipe of Corn and Black Bean Salad with Mexican Vinaigrette
4-6 large poblano peppers
Filling:
1 small rotisserie chicken
4 oz. monterrey jack cheese, freshly shredded
4 oz. smoked cheddar cheese, freshly shredded
1 T. butter
1/4 c. red onion, diced
1-2 T. chipotle peppers in adobo sauce, minced fine (use as much as you like to spice it up)
1/4 t. kosher salt
1/4 t. pepper
1/4 t. granulated garlic
1/2 of each - roasted red bell pepper, and roasted yellow bell pepper (see instructions in the post)
Chipotle Sour Cream:
3/4 c. sour cream
1 T. chipotle peppers in adobo sauce, minced fine
pinch of kosher salt
To Fry:
1 bowl of Flour (2 c. is fine)
4 eggs mixed with a little water to thin (egg wash)
2-3 c. cornmeal
1 quart of canola oil poured into a large saute pan with high sides, or you can use a medium-sized dutch oven to fry the peppers.
Instructions
For the Filling: Roast the red and yellow bell pepper in a 425-degree oven for 20 minutes, until the skin begins to puff up. Using tongs remove them to a glass bowl and cover with saran wrap or a lid. This allows the skin to steam off. Carefully rinse the skin off under cold running water. Dice up the roasted peppers and reserve. You will only need half a red and half a yellow for this recipe. (You can also purchase roasted red peppers in a jar if you choose. They won't be as flavorful but it will allow you to skip this entire step.)
Mix up the chipotle sour cream and add half of it to a bowl for your filling. Reserve the rest of the chipotle sour cream for topping the stuffed peppers.
In a small saute pan, melt the butter and soften the red onion for just a few minutes. Add the chipotle pepper and the seasonings. Add to the bowl with the chipotle sour cream.
Shred the rotisserie chicken with your fingers and place it in the bowl with the chipotle sour cream. (You really only have to use about half of the meat off of 1 chicken to fill 4-6 peppers. Reserve the rest of the chicken for another use if you wish. If not you will have extra filling which can be used to make enchiladas, or a wonderful filling for sandwiches.)
To the shredded rotisserie chicken add both shredded cheeses, the onion mixture, and the roasted peppers. Season with the rest of the ingredients. Chill this filling until its time to fill the peppers.
For the poblano peppers, cut them with a sharp knife in the T formation shown in the blog post. This allows them to easily be opened up after roasting. Place them in a 425-degree oven for 20 minutes until the skin begins to puff up. Using tongs remove them to a glass bowl and cover with saran wrap or a lid. This allows the skin to steam off. Carefully pick the blistered skin off. Lay out as shown to get ready to fill them.
Fill the poblanos with the chicken mixture and place in the freezer while you clean up and prepare to fry them.
Fry on each side. Serve with corn salad and salsa verde.
Notes
Corn Salad and Salsa Verde Recipes are given their own pages and are linked within the post.
Nutrition Information:
Yield:
6
Serving Size:
1 Stuffed Peppers
Amount Per Serving:
Calories:

2415
Total Fat:

184g
Saturated Fat:

25g
Trans Fat:

1g
Unsaturated Fat:

152g
Cholesterol:

230mg
Sodium:

895mg
Carbohydrates:

156g
Fiber:

15g
Sugar:

8g
Protein:

46g
This nutritional information is provided as a courtesy as an estimate only. Consult with a dietician for precise estimates.