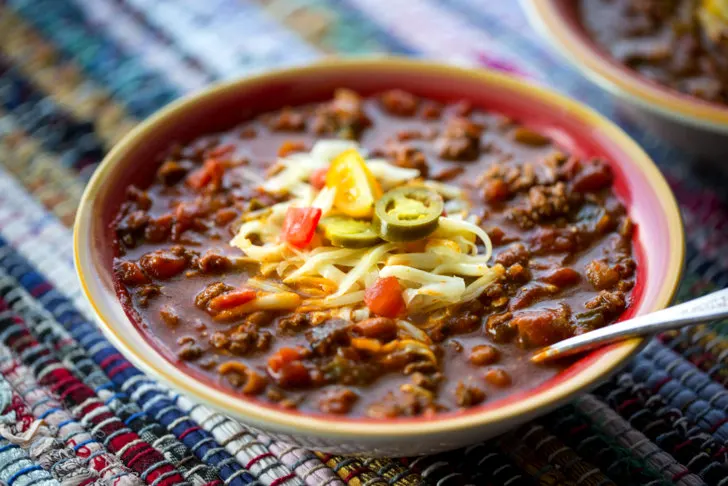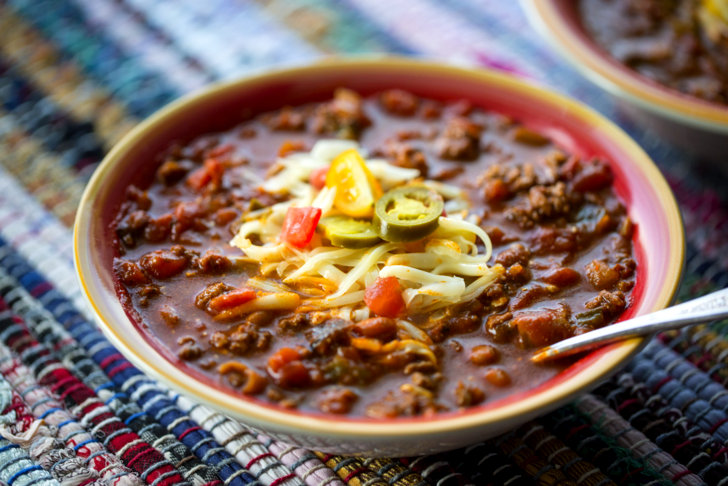 The Origin of Texas Taco Soup aka "Dr Pepper Taco Soup"
I have a confession to make before we get started. Texas Taco Soup was originally called "Dr Pepper Taco Soup" when I published it back in 2006 on an old website called RecipeZaar. I don't know if there are enough foodies around to remember that site before Food.com bought it out.
The great thing is that it has almost a 5-Star Rating from 35 Reviewers and in this gal's opinion, it's the best taco soup out there! And before you ask, I do believe it's even better than Paula Deen's. What kind of self-respecting, Texas Chef would I be if I didn't think my recipe was the best? LOL 🙂
Taco Soup on Food Network Star
When I was on Food Network Star (FNS from here on out), I never imagined I would have to pull this recipe out of my hat! Sure I thought I'd have to be ready with my 5 French Mother Sauces, but my Taco Soup Recipe? HA! That recipe was the farthest from being something I thought I'd have to wow anyone with, let alone Bobby, Giada, and Alton.
Then, in comes FNS with a competition to showcase our cooking, problem-solving, and stage-presence skills on none other than The Rachael Ray Show!
My challenge…to help a recently separated mom, Shannon, and her 3 kiddos, Arianna, Benjamin, and Stephanie, with an easy to put together meal that also stores well. The "easy to put together that also stores well" is the easy part.
Oh, and all I had was 3 1/2 minutes to whip this all together!
So, what's the hard part you ask? Shockingly, it wasn't the timer. It was making sure that Shannon's 3 kids like it as well! I have 2 boys of my own, Gabriel and Micah, that you may already know from other posts. And as any mom or dad know, getting all of their kids to like a meal is quite a task!
Then a light bulb moment hit me like a freight train. My Taco Soup recipe! My family loves it so much, I just knew it was the best shot I had to give them an amazingly easy meal that also happens to store extremely well!
And here's the best part about this recipe, it's flavors become even more rich the very next day!
If you'd like, you can watch how the Rachael Ray Show went and (Spoiler Alert!) how much the ENTIRE family enjoyed their soup. 🙂
Tips and Tricks for Your Taco Soup
I've learned this recipe is extremely versatile. What I mean is that it is incredibly easy to replace the ground beef with whatever meat you'd like! Some reviewers used Chicken, some used Turkey, and I want to say I even saw someone used Chorizo! Use whatever floats your boat!
I prefer to make mine fresh as the recipe shows below and I understand the attractiveness of the crockpot. This is the perfect recipe to dump everything into your crockpot or slow cooker and enjoy it as soon as you get home from a long day at work.
I haven't made this recipe Keto yet, so please forgive me. That version will be coming though. In the meantime, just get the lowest carb substitutes for each of these ingredients and you're on your way! My family and I love to stay as Keto as possible but sometimes, when we're breaking our "Keto Streak" (That's what we call it, hehe), we go all out and use our favorite dipping mechanism available…Frito's Scoops!

If you're in the midst of your own "Keto Streak" you'll definitely want to forgo the Frito's and sub some Pork Rinds or possibly some Parmesan Cheese Crisps. The Dr Pepper should be subbed for Diet Dr Pepper or even Dr Pepper 10.
Now…here's how to make it!
This version is how you make taco soup on the stove. Again, its my preferred method but you do what you and your family prefer!
Brown your meat of choice in a separate pan or you can make it easy on yourself and use the same pot you're going to cook your taco soup in. You'll also have less dishes to clean after which is always a huge plus!
If you're making a chicken taco soup, use chicken, if you're making a keto taco soup, I'd use 80/20 beef or even ground up brisket if you can get it. Like I said, this is a versatile recipe!
When the fat begins to drip from the morsels of crusty ground beef (if you went the beef route), toss in the diced white onions and cook for 3-5 more minutes until they soften.
Now, are you ready for the main reason that I call this an easy taco soup recipe? Well here goes! You literally just dump everything else in! Outside of the toppings that is. Wouldn't make sense to throw toppings in the bottom now, would it? Then they'd be "bottom-ings", right? Sorry, I got off on a tangent. Back to the easy part…
That's right. You are literally going to open (Do not drain) and pour in the cans of bean, corn, tomato, and the star of the show…Dr Pepper! In this humble chef's opinion, the Dr Pepper is what takes everything to a whole other wordly level. It's only 6 oz, so there will be just the perfect amount of sweetness to balance out the cayenne's little bit of kick, without going overboard.
One reviewer, admittedly, poured in 20 oz of Dr Pepper. Then they began to complain about how sweet it was and gave it 4-stars! LOL, the nerve of some people…
For the rest of the seasonings, use your favorite taco seasoning and ranch dressing mix. We prefer Hidden Valley for our ranch dressing mix like the one below.


Now you're just going to let it simmer for about 20-30 minutes or 4-5 hours if you go the crockpot / slow cooker route.
And for the big finale? Well what else besides your favorite taco toppings! For some of you, like my husband, that may just be freshly grated cheese. And for those like me, cheese, Sour Cream, Pickled Jalapenos, and Freshly Diced Tomatoes! What can we say? I'm a complex woman and my husband is an easy to please man!
If this isn't the best and easiest Taco Soup recipe to make, I don't know what is! And don't forget to bask in all of the glory and compliments you're going to get!
(If you liked this Texas Taco Soup recipe or you have any modifications, let me know in the comments!) 🙂
For more cool weather football and tailgating recipes check out these recipes…
Bison Chili with Mexican Cinnamon
Galveston Shrimp Kisses with Caramelized Pineapple Coulis
Beef Tortilla Soup From The Menger Hotel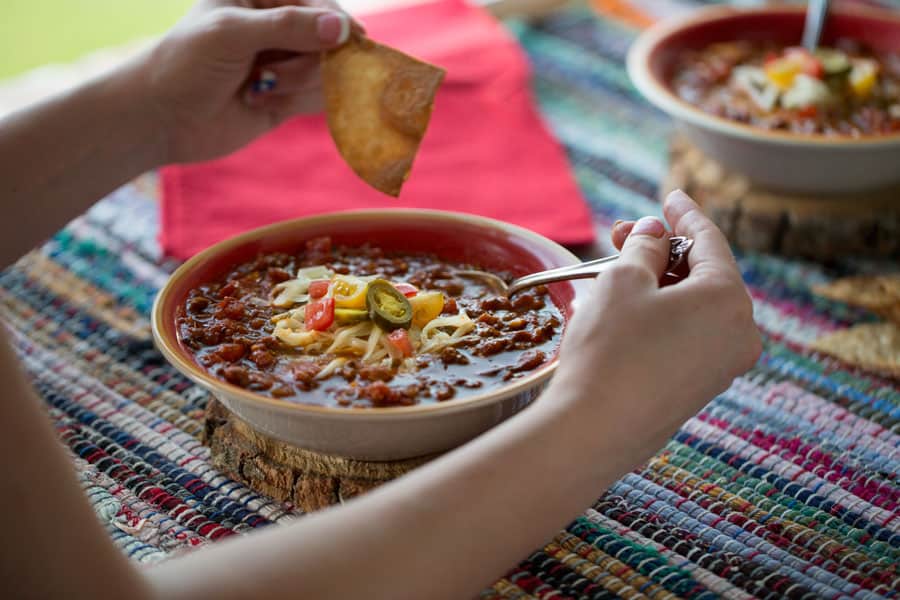 Here is the recipe for Texas Taco Soup!
(If you make it, tag me on social media so I can see!)
Yield:

Serves 4-6
Texas Taco Soup
This Texas Taco Soup Recipe will be your easiest, family-pleasing, go-to recipe in your family recipe box! This satisfying chili/soup comes together quickly and with minimal work. Mostly a "dump recipe", the ingredients are added from cans and simmered until you can't ignore the smell of dinner, and it's even better the next day! Try leftovers as a hearty dip at your next tailgate or sports event!
Ingredients
1.5 lb. Ground Beef
1/2 c. White Onion, Diced
2 14 oz. Cans Tomato Sauce
1 14 oz. Can Corn
1 14 oz. Can Ranch Style Beans (or Kidney Beans)
1 14 oz. Can Diced Tomatoes
1 package Taco Seasoning
1 package Ranch Dressing Mix, Such As Hidden Valley
Cayenne pepper ( to taste)
1 can of Dr. Pepper
1 t. Garlic Salt
Topping Suggestions:
2 c. Freshly Grated Cheddar Cheese
1 Bag Fritos Corn Chips
8 oz. Sour Cream
Pickled Jalapenos or Jalapeno Relish
Freshly Diced Tomato
Instructions
To begin, brown the hamburger meat in a large stockpot until brown and seared, breaking it up into small bite-sized pieces. Add the diced white onion and continue to cook 3-5 more minutes allowing the onion to soften.
When the beef is fully cooked, drain the grease off and return to the stove.
Over medium heat, begin adding the rest of the ingredients besides the toppings. Don't drain any of the cans, just dump them right in. Add the seasonings and Dr. Pepper.
Simmer 20-30 minutes over medium-low heat with the lid on, letting the flavors blend.
Serve topped with cheese, Frito Chips, and your favorite taco toppers!
This dish goes very well with Frito Chips and your favorite chili and taco toppings.
Notes
This dish goes very well with Frito Chips and your favorite chili and taco toppings.
Nutrition Information:
Yield:
6
Serving Size:
1
Amount Per Serving:
Calories:

774
Total Fat:

43g
Saturated Fat:

19g
Trans Fat:

2g
Unsaturated Fat:

18g
Cholesterol:

161mg
Sodium:

2550mg
Carbohydrates:

50g
Fiber:

9g
Sugar:

25g
Protein:

49g
These nutritional values are an estimate only and provided as a courtesy. Different brands of ingredients may result in different calorie counts, and the software does not account for these differences. Consult with your dietician or doctor for precise nutritional values.