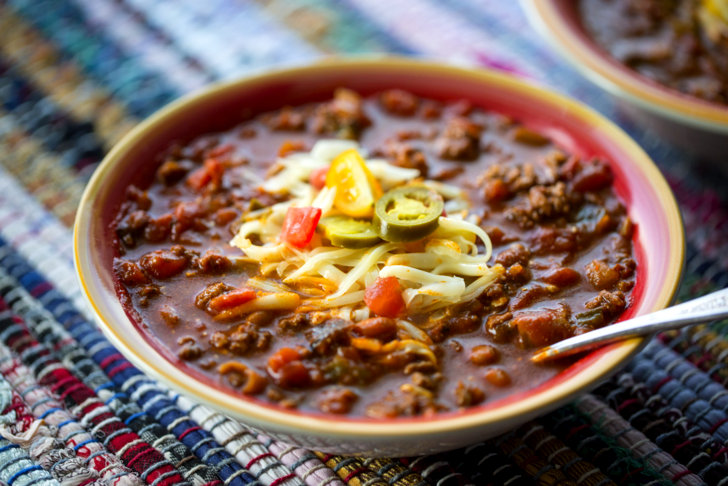 Last night, Dak Prescott threw the first touchdown of his NFL career and as the crowd erupted with a deafening roar I realized that we were witnessing the future of our beloved Dallas Cowboys.
Football season is upon us. In Texas, that means kielbasa sausage hissing over an open charcoal grill, dunking black pepper pecan smoked brisket in sweet and boozy cherry bourbon barbecue sauce, and sipping cold brewskies with the tribe around a crackling fire pit…
(In short, heaven)
Football season is a bookmark in each year of life, making it pleasantly nostalgic. We're compelled to remember the football seasons of yester-year, reminiscing on our former job or an old flame, where we lived, and who our game day compatriots were.
Naturally, the most important thing we discuss is the food.
Every time I hear that referee whistle, I am whisked back to the gopher bowl stadium, on the edge of seventeen, wrapped in a pretty blue letter jacket and warming my fingers around a piping hot chocolate. Perched on my lap, sits a platter of nachos dripping with bright yellow cheese dip, savory picadillo scented with mexican oregano, and a mountain of fiery jalapeno relish that would make a linebacker blush.
Remarkably, this is just an appetizer— by halftime, we'll begin checking in with the parking lot campground of football Dads (AKA the barbecue brethren) smoking ribs and sausage, a satisfyingly decadent pastime reborn every Friday night.
Food and football. The original time machine.
Now-a-days, my Mom-thinking is more like, what would be reasonably stress-free to munch while I am folding the 160 loads of laundry I'll inevitably be doing Sunday afternoon? I'm sure you're with me on this. Some Sundays I am the grandmaster of the feast, while others I'm frantically searching for the weenie dog howling from inside a laundry basket. (Shiloh, gets stuck more than she'd like to admit)
Days like this call for something warm and comforting, yet quick and easy. A bowl of yum that hits the high marks required for respectable football noshing. Texas Taco Soup always comes to mind.
It begins with a rich, peppery picadillo pan-fried in your best chili pot. When the fat begins to drip from the little morsels of crusty ground beef you'll toss in a minced white onion, a hunk of fresh aromatic garlic paste and a packet of taco seasoning… then you stir until your kitchen smells like Taco Tuesday.
When the picadillo is ready you'll dump in the cans of corn and ranch style beans, canned tomato, and finish it off, Urban Cowgirl Style, with a freshly opened can of Dr. Pepper. (Don't worry, it's the secret ingredient and it only adds a subtle sweetness!)
Then go forth to the land of laundry or studying, or writing recipes (if you're me). The taco soup should simmer about half an hour, then top with all of the things… freshly grated cheddar cheese, jalapeno relish, salted corn chips, and minced white onion.
It will be happy simmering on the stove top all day long, though I doubt it will last past halftime. 😉
(If you liked Texas Taco Soup or you have any modifications, let me know in the comments!)  🙂 
For more cool weather football and tailgating recipes check out these recipes…
Bison Chili with Mexican Cinnamon
Galveston Shrimp Kisses with Caramelized Pineapple Coulis
Beef Tortilla Soup From The Menger Hotel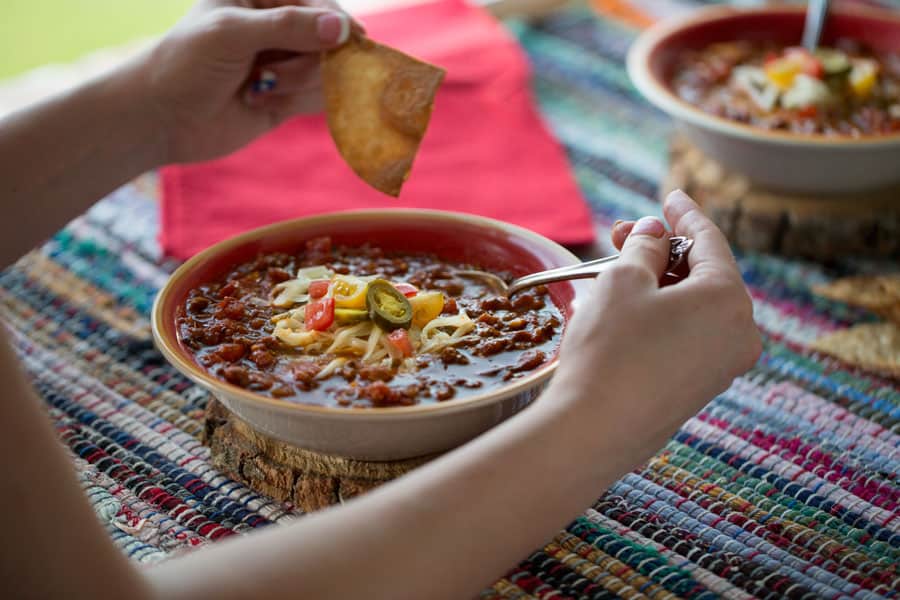 Here is the recipe for Texas Taco Soup!
(If you make it, tag me on social media so I can see!)
Ingredients
1.5 lb. Ground Beef
1/2 c. White Onion, Diced
2 14 oz. Cans Tomato Sauce
1 14 oz. Can Corn
1 14 oz. Can Ranch Style Beans (or Kidney Beans)
1 14 oz. Can Diced Tomatoes
1 package Taco Seasoning
1 package Ranch Dressing Mix, Such As Hidden Valley
Cayenne pepper ( to taste)
1 can of Dr. Pepper
1 t. Garlic Salt
Topping Suggestions:
2 c. Freshly Grated Cheddar Cheese
1 Bag Fritos Corn Chips
8 oz. Sour Cream
Pickled Jalapenos or Jalapeno Relish
Freshly Diced Tomato
Instructions
To begin, brown the hamburger meat in a large stock pot until brown and seared breaking it up into small bite sized pieces. Add the diced white onion and continue to cook 3-5 more minutes allowing the onion to soften.
When it is full cooked, drain the grease off and return to the stove.
Over medium heat, begin adding the rest of the ingredients besides the toppings. Don't drain any of the cans, just dump them right in. Add the seasonings and Dr. Pepper.
Simmer 20-30 minutes with the lid on letting the flavors blend.
Serve topped with cheese, Frito Chips, and your favorite taco toppers!
7.8.1.2
2
https://urbancowgirllife.com/texas-taco-soup/