People are always asking me how we choose recipes for Urban Cowgirl. I always say I'm just lookin for that extra special somethin somethin' that I know Texans and Southerners are into— the recipes have to be great and the dishes tend to be familiar, but done up in lipstick and high heels.
And that my friends is exactly where the Oilman Margarita comes in.
I was scrolling through Instagram recently and came across a photo that D Magazine had posted…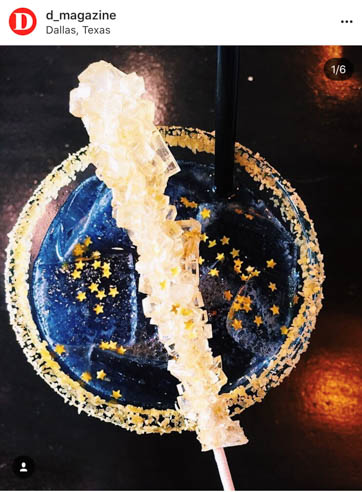 My heart almost shot out of my chest like that scene in Alien! How freakin cute is that?! It's called the Oilman Margarita and it hails from El Bolero, an upscale, authentic, mexican eatery in Dallas.
The Oilman features cointreau negro and charred agave in addition to fresh lime juice and blackberry syrup, and was designed to honor the oil legacy in Dallas.
For our copycat El Bolero, we designed an easy to make blackberry syrup and stuck to classic fresh margarita ingredients with fresh lime juice, top shelf tequila blanco, and grand marnier.
The gold sugar  is available here and the edible gold stars are available here.
The rock candy is available at Hobby Lobby, Whole Foods, and Amazon.
Here is the recipe for the Oilman Margarita…
If you make the recipe and post it to social media, tag Urban Cowgirl! I'd love to see how it turns out!
Ingredients
Serves 1 shaken in a cocktail shaker:
1 ¼ oz. tequila blanco
3/4 oz. grand marnier
1 oz. blackberry simple syrup (see below)
1 oz. fresh lime juice (1-2 limes)
Splash blue curacao
Pinch salt
Splash of water if desired (about ¾ oz.)
Gold Edible Sugar and Edible Stars
A saucer of corn syrup or rose's lime syrup to rim the glasses with gold sugar
Lime slices for garnish
1 rock candy per margarita
For the blackberry simple syrup:
1 small jar seedless blackberry jelly or jam
1 ½ c. water
Instructions
For the blackberry simple syrup:
In a small saucepan, empty the contents of the jar of blackberry jam and 1 ½ c. water. Bring to a boil and whisk until the jam melts down into the water. Simmer 5-8 minutes. Remove from the heat and cool. Transfer to a permanent storage container. (I use a squirt bottle.) The syrup should be kept in the refrigerator. Can be kept 1 month.
In a cocktail shaker add the tequila, blackberry simple syrup, blue curacao, fresh lime juice, grand marnier, pinch of salt, and a splash of water. Add a cup or so of ice and place the lid on the shaker. Shake 40 times.
To prepare the glass:
Take a glass and dip the rim in corn syrup (or any bar syrup) and then dip the rim into the gold sugar. Very carefully pour the shaken margarita into the glass so as not to disturb the sugar. Garnish the glass with edible stars and a rock candy stirrer. Garnish with lime.
7.8.1.2
40
https://urbancowgirllife.com/oilman-margaritas/