These authentic, homemade sour cream enchiladas are one of the most popular recipes in my private chef business and today I'm sharing my from-scratch recipe for this family favorite!
In my recipe, tender rotisserie chicken breast is wrapped in warm corn tortillas and smothered in an ultra-creamy sour cream sauce infused with mild green chiles, and coated in ooey-gooey Monterey jack cheese.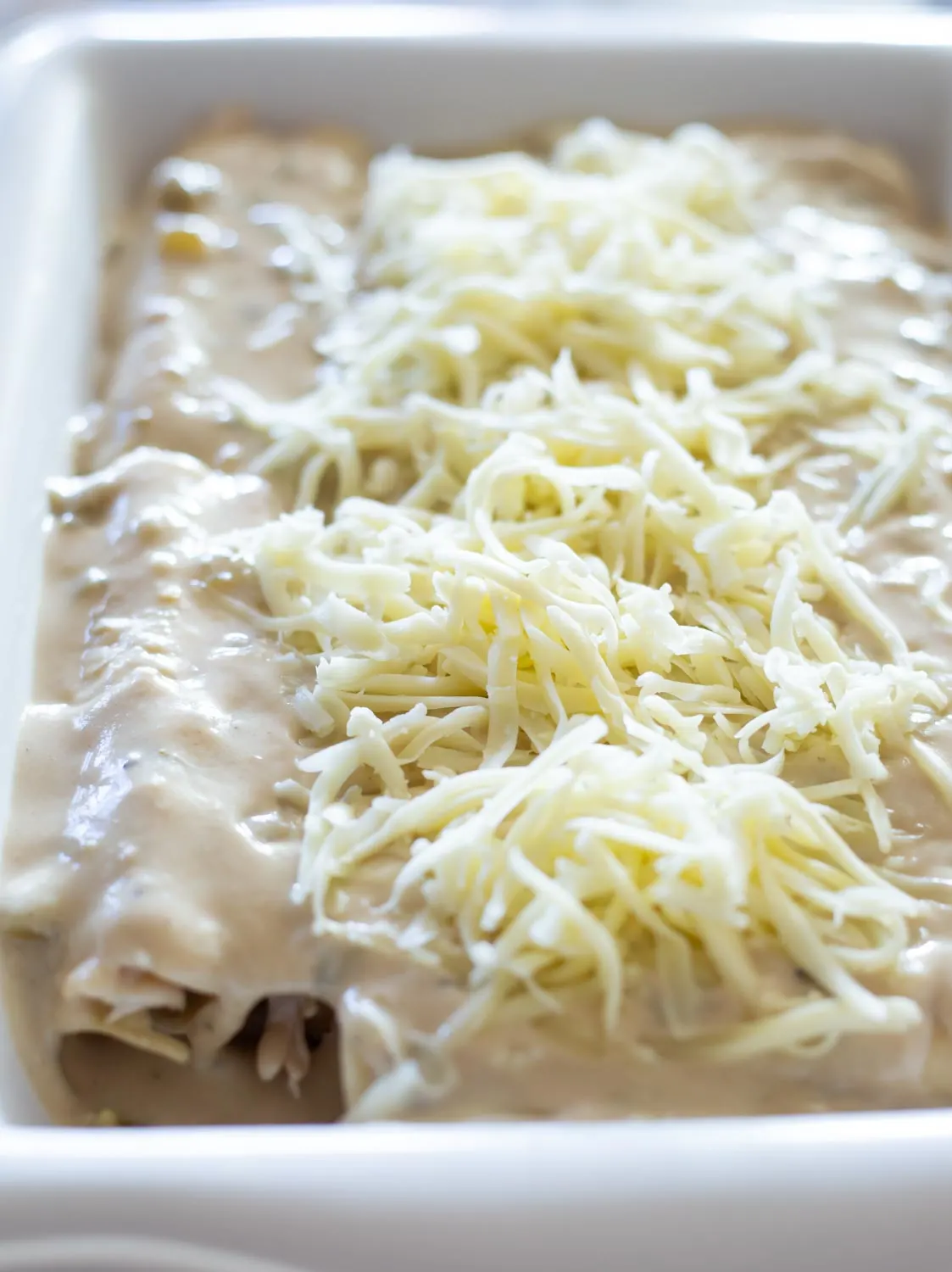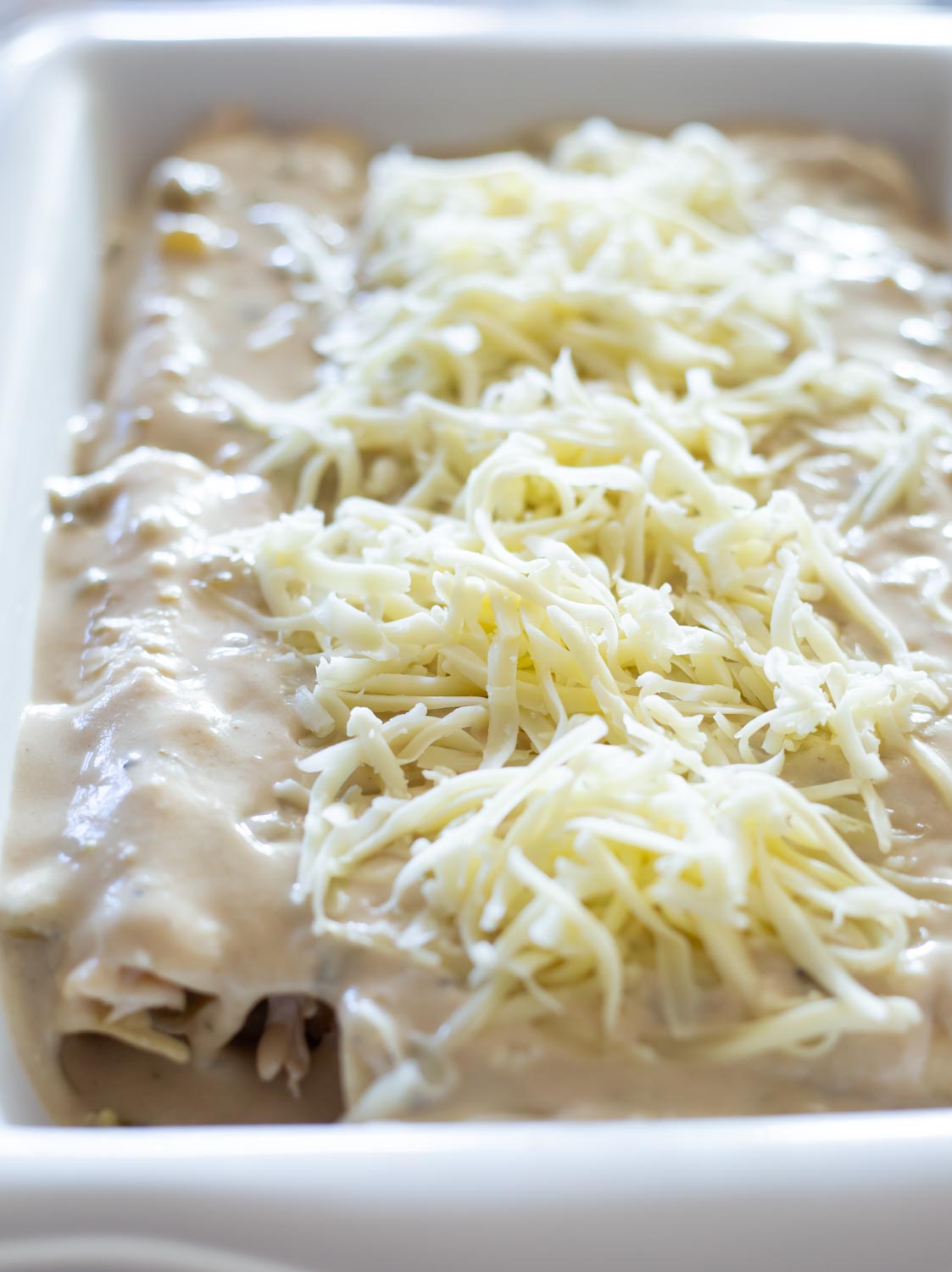 How To Make Shredded Chicken For Enchiladas
I have an entire tutorial on boiling chicken for the filling of the enchiladas right here on the blog. Some people choose to use a rotisserie chicken and that's a great method for making the filling if you're pinched for time.
I enjoy the boiling method because you get more chicken mixture and it's possible to make a double batch or save the shredded chicken for another recipe. You can also use simple cooked chicken breasts from the grocery store.
How To Make Sour Cream Enchilada Sauce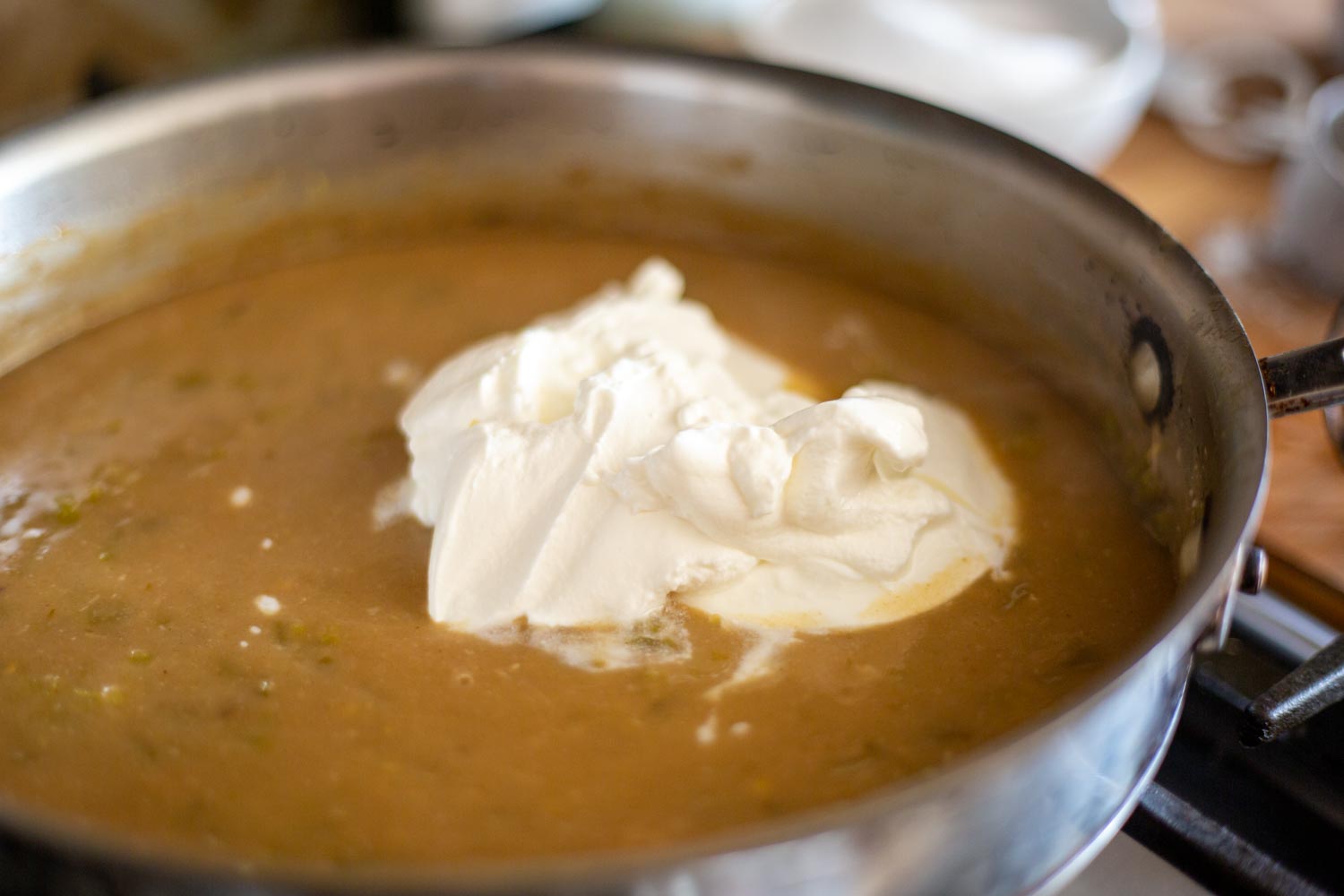 This easy recipe is going to blow you away and have you forgetting that old recipe with canned cream of chicken soup. It consists of a simple butter and flour roux with chicken broth or stock.
Once thickened a cup of sour cream is added for a fluffy texture and creamy mouthfeel.
Green chilies and Monterey jack cheese are added for flavor and aroma.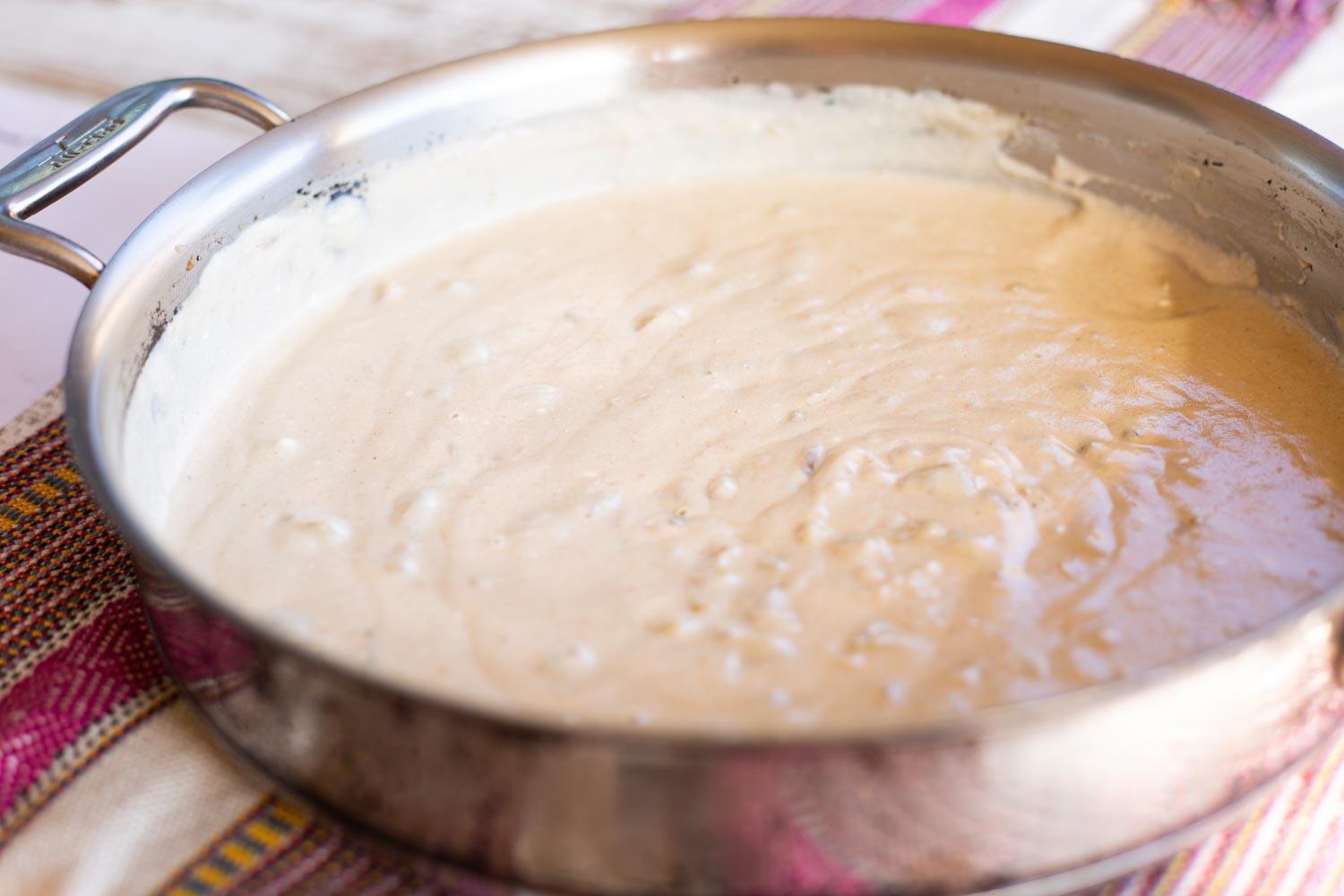 Filling The Tortillas and Rolling The Enchiladas
To prepare the enchiladas you will need a glass casserole dish or disposable pans. (I enjoy making a double batch of enchiladas and freezing them for a later date and I give instructions for that below.) I pour just a little sour cream sauce into the bottom of the baking dish so that the enchiladas won't stick to the bottom.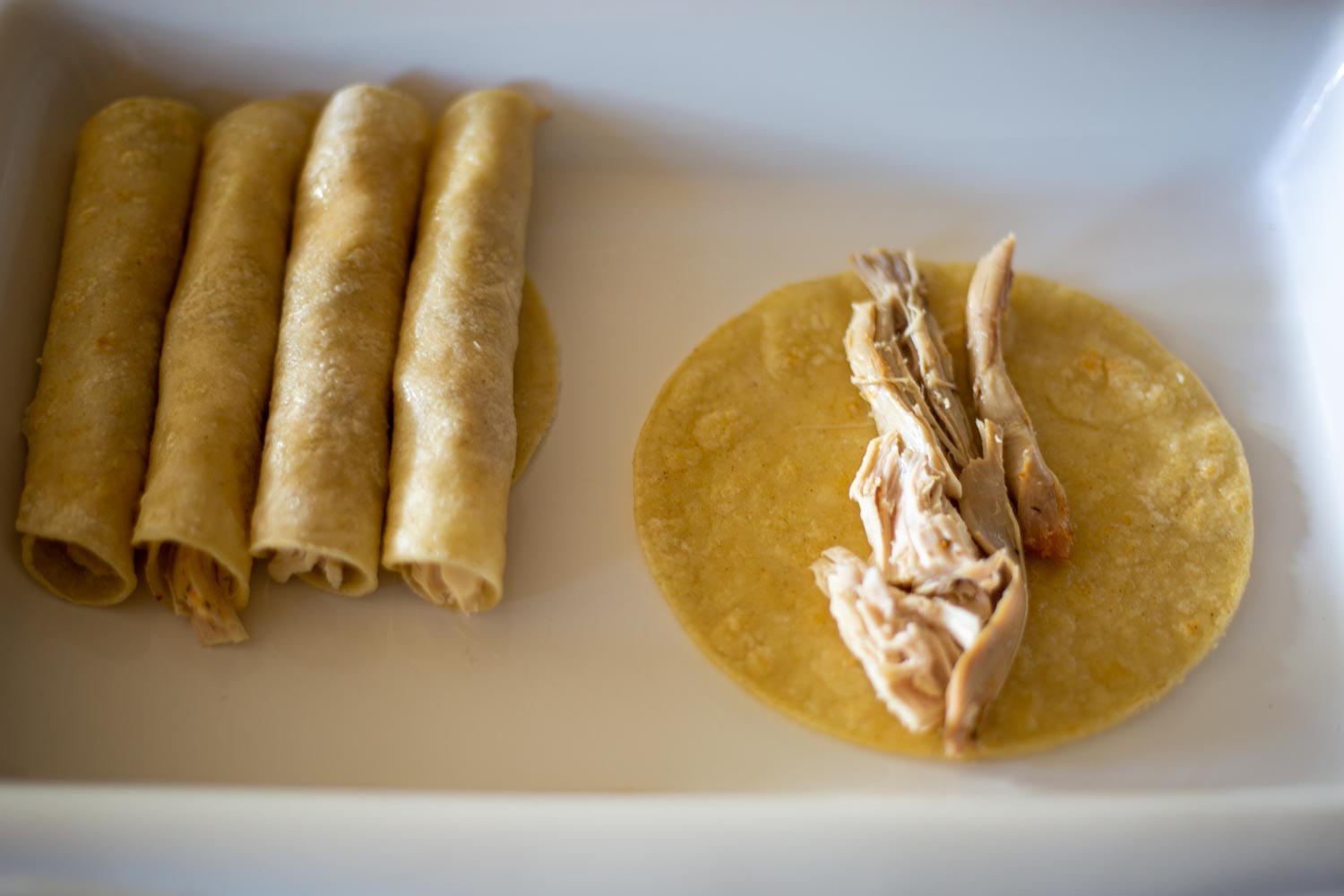 Lay out warm tortillas and fill with 2 tablespoons of chicken filling. Roll up and place them seam-side down into the casserole dish.
Repeat with the remaining corn tortillas until the casserole dish is full. Pour sauce over them. Top with remaining jack cheese.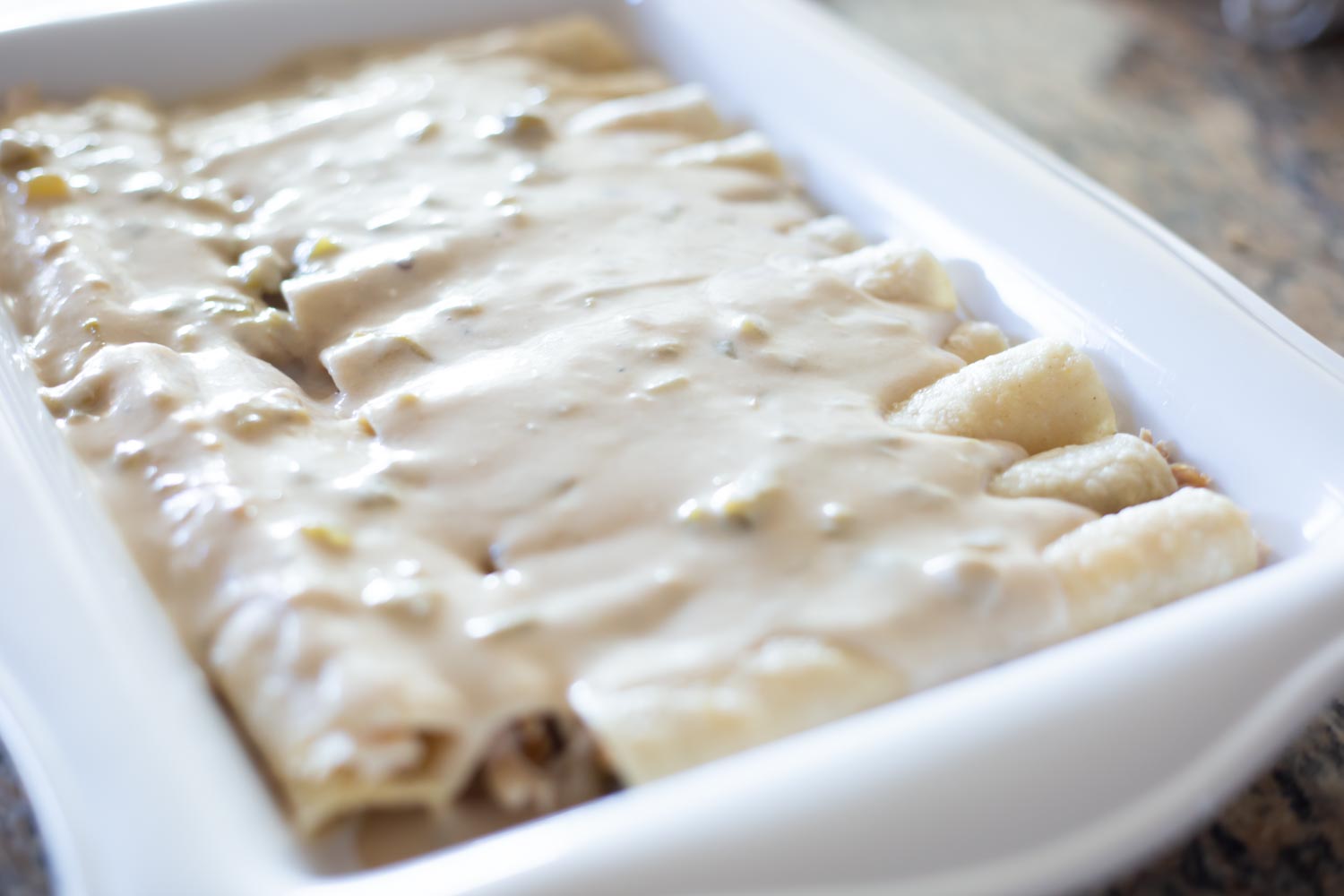 Can Enchiladas Be Frozen
Yes. White chicken enchiladas are one of the only Mexican food items that can be frozen. I prepare the enchiladas up to the point of baking them, cool them in the refrigerator, and then seal them tightly with saran wrap, followed by foil. Freeze.
These can be defrosted in the refrigerator and then baked off per the usual 30 minutes at 350 degrees.
For cooking frozen enchiladas I recommend wrapping the enchiladas in fresh foil and baking for 1 hour. Remove the foil and continue cooking for another 10-15 minutes or until the inside is hot and bubbly.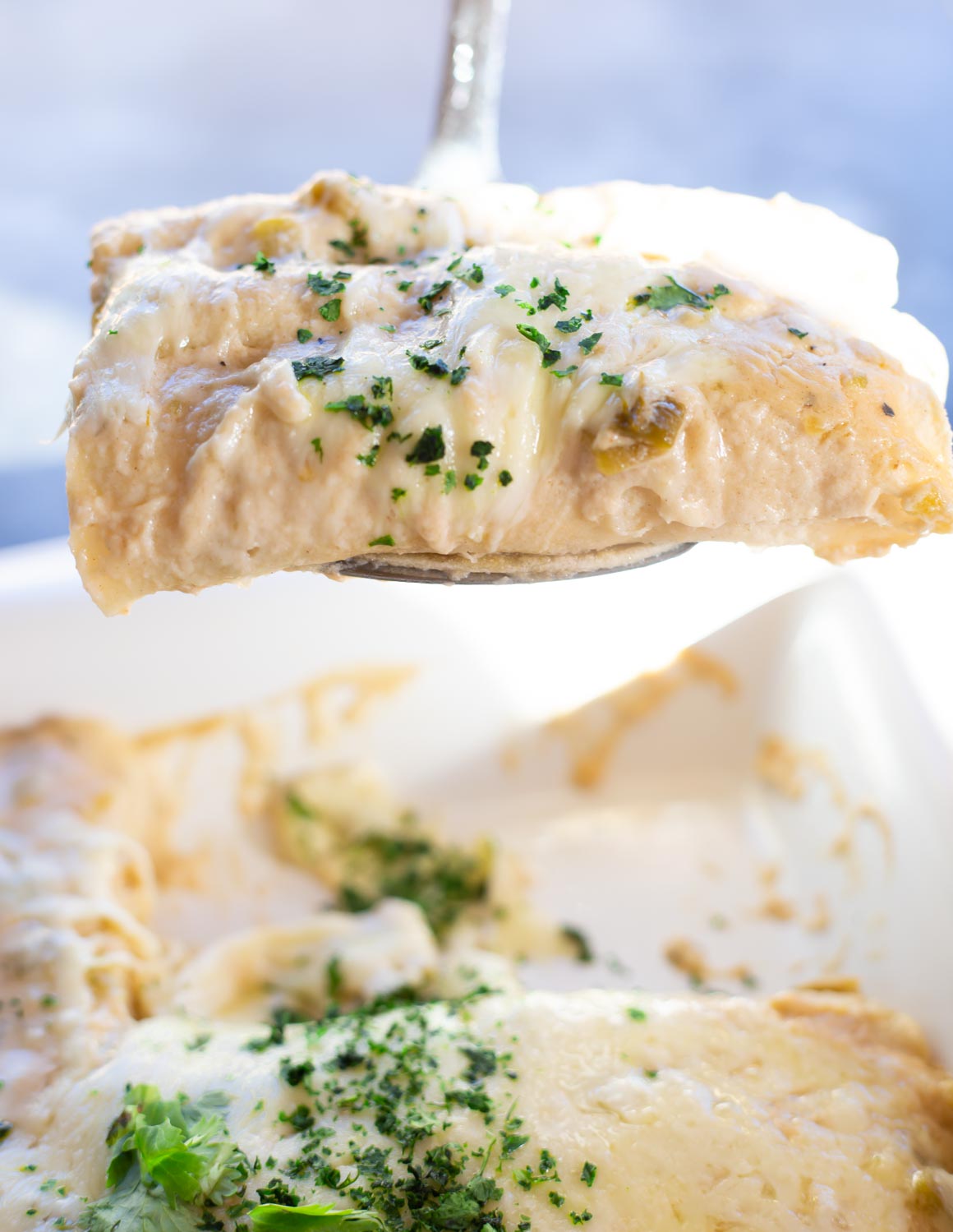 How To Reheat Leftover Enchiladas
These enchiladas are even better the next day and they can be reheated in the microwave, or in a 350 degree oven. Coat the casserole dish with foil the night before and it goes directly into the oven at 350 degrees. Reheat gently until just warm, about 20-30 minutes.
What to Make with Leftover Chicken
Any leftover chicken is great for freezing until you make another batch of these easy chicken enchiladas, or take it for lunch as soft chicken tacos wrapped in flour tortillas with cheese and green chilis.
This chicken makes great chicken taco salads sprinkled over lettuce with fresh cilantro and a creamy sauce of half salsa and half ranch dressing. Try making a chicken salad with mayonnaise and diced celery and keeping it stored in an airtight container for quick sandwiches.
What To Serve With Chicken Enchiladas
Yield:

Serves 6
Homemade Sour Cream Enchilada Recipe
These from-scratch sour cream enchiladas have a heavenly sauce and will leave you feeling like your kitchen is the best tex mex restaurant in town!
Ingredients
1/4 c. butter
1/4 c. flour
2 garlic cloves, minced
16 oz. chicken stock
1 c. sour cream
4 oz. can green chiles
1 t. fresh lemon or lime juice
1 1/2 c. Monterey jack cheese
12-15 corn tortillas
4 c. shredded chicken for enchiladas
Garnish with fresh chopped cilantro or green onions
Instructions
Preheat the oven to 350 degrees.
Sour Cream Enchiladas Sauce Recipe
Melt butter in a medium saucepan over medium heat, add in the minced garlic, and stir well. Cook 30 seconds.
Whisk in the flour to make a roux.
When the flour is fully incorporated into the butter, slowly whisk in the chicken stock and raise the heat to medium high. Bring the sauce to a simmer and stir well with a spatula until it thickens. Simmer about 1 minute.
Reduce the heat and add in the sour cream, season with salt and lemon or lime juice. Add the green chiles and stir well. Add 1/2 cup of Monterrey jack cheese and whisk into the mixture.
Taste for seasoning and set aside until you are ready to pour onto the enchiladas.
To Prepare the Corn Tortillas
In a large skillet, heat 2 T oil over low heat.
Place a corn tortilla into the oil and warm for 5 seconds, flip and heat the other side in the oil. Using tongs, remove the hot corn tortilla to a plate lined with a paper towel to drain any excess grease off.
Repeat with the remaining corn tortillas and they will be pliable for rolling into enchiladas. Keep covered with a cloth until ready to roll.
How To Make the Sour Cream Chicken Enchiladas
Prepare a large 9 x 13 casserole dish for the enchiladas and gather all of your ingredients. Pour a small amount of enchilada sauce into the casserole dish and swirl around so the rolled enchiladas won't stick.
Lay out one corn tortilla and fill it with 2 tablespoons of chicken filling. Roll up and place seam-side down into the casserole dish.
Repeat with the remaining corn tortillas until the casserole dish is full. Pour the sauce over them. Top with remaining Monterey jack cheese.
Bake the enchiladas at 350 degrees for 30 minutes or until hot and bubbly.
Nutrition Information:
Yield:
6
Serving Size:
1
Amount Per Serving:
Calories:

637
Total Fat:

35g
Saturated Fat:

17g
Trans Fat:

1g
Unsaturated Fat:

14g
Cholesterol:

144mg
Sodium:

645mg
Carbohydrates:

43g
Fiber:

5g
Sugar:

4g
Protein:

40g
This nutritional information is provided as a courtesy as an estimate only. Consult with a dietician for precise estimates. This website makes no claims that the nutritional values listed are accurate.