Mexican food lovers know there are several methods for preparing shredded chicken for chicken enchiladas including boiling whole chickens, simmering boneless skinless chicken breasts in a slow cooker, or even using a rotisserie chicken from the deli to pull out long strands of flavorful, juicy meat.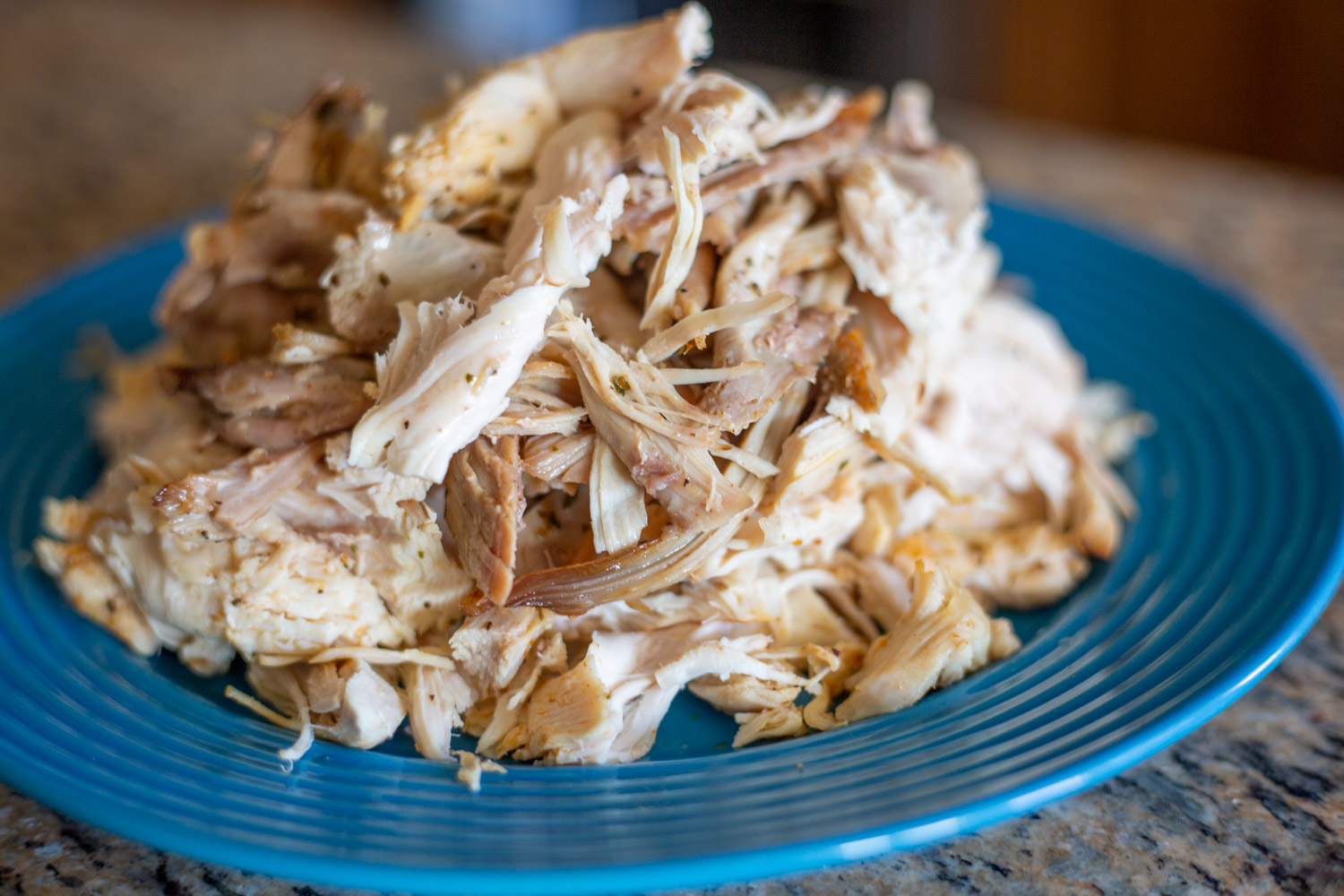 Of all these tasty approaches, our favorite chicken recipe is still the classic method of simmering a whole chicken in a large pot full of aromatic vegetables and spices. Not only do you get juicy, pulled chicken, but the chicken broth this process creates is a wonderful addition to sour cream sauces or thinning out our award-winning green enchilada sauce.
For this method, a whole chicken may be used, or a package of chicken pieces from the butcher. We love a mixture of white meat and dark meat, but if you strongly prefer one or the other, chicken thighs or boneless skinless chicken breast may be used without altering the recipe.
How To Cook Chicken For Enchiladas
We begin by placing the raw chicken (make sure to remove the giblets if included in the cavity) in a large pot. We add in diced tomato, garlic cloves, and onion which will flavor the chicken and infuse the cooking liquid with excellent flavor– producing a rich chicken stock for homemade enchilada sauces, or even a homemade soup using leftover chicken the next day.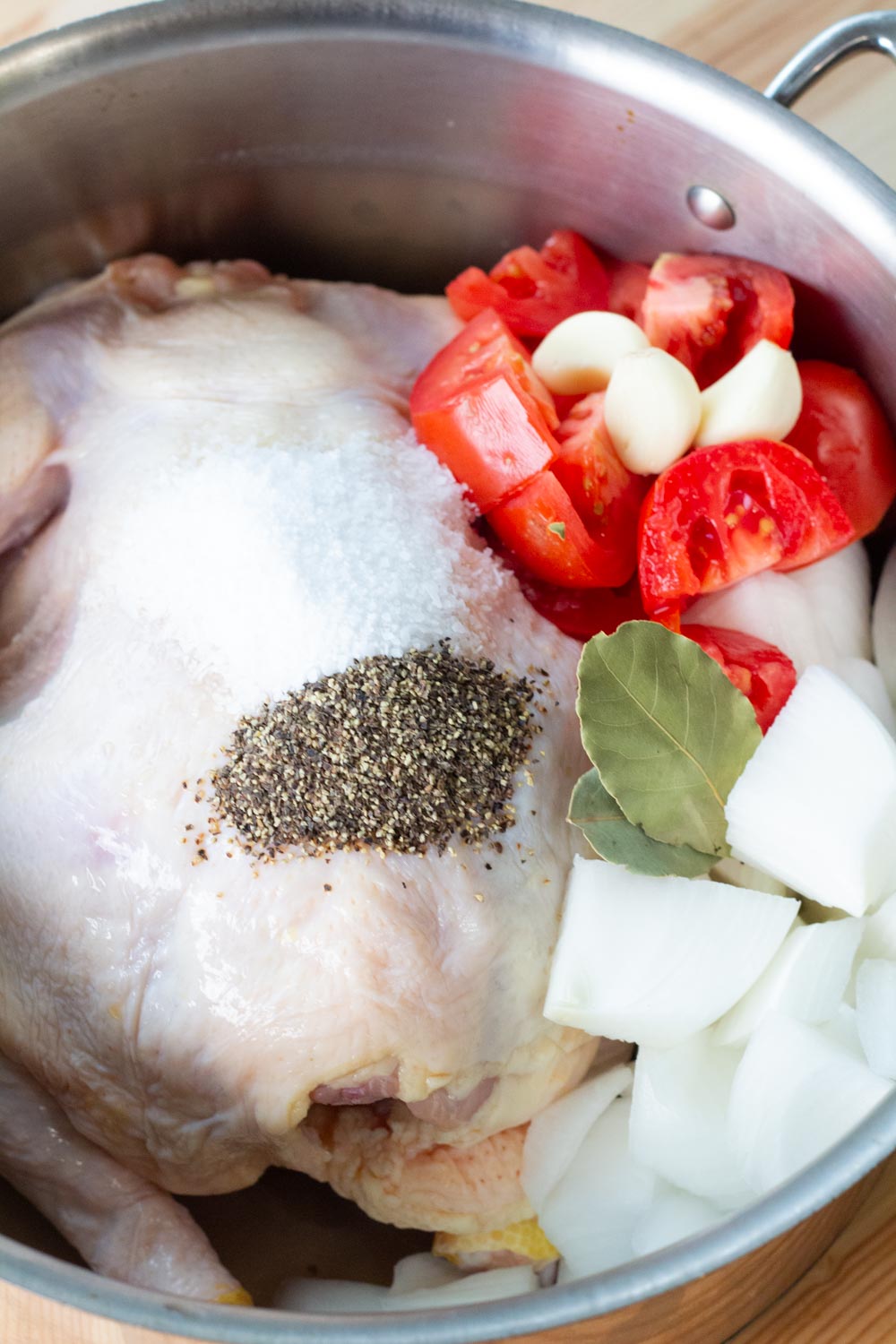 For herbs, it's traditional to use dried bay leaf, though fresh herbs such as cilantro or Mexican oregano are always wonderful to flavor the broth.
In this basic recipe, we've included lots of salt and pepper as base spices, but chili powder and New Mexico chile powder are also appropriate to add depending on the type of flavor profile you're aiming for with your enchiladas. About 1-2 T. of any chili powder will be a nice addition to your recipe.
Add just enough water to cover the chicken and begin heating over medium heat until the chicken mixture comes to a low simmer. This mixture will be simmered until a meat thermometer registers an internal temperature of 165 degrees or about 40 minutes of cook time.
It's important to keep the chicken submerged in the cooking broth or flip the chicken once through cooking to make sure the meat is white and any juices run clear.
Sometimes a white foam collects on the surface of the broth. This is perfectly normal and may be skimmed off and into the sink.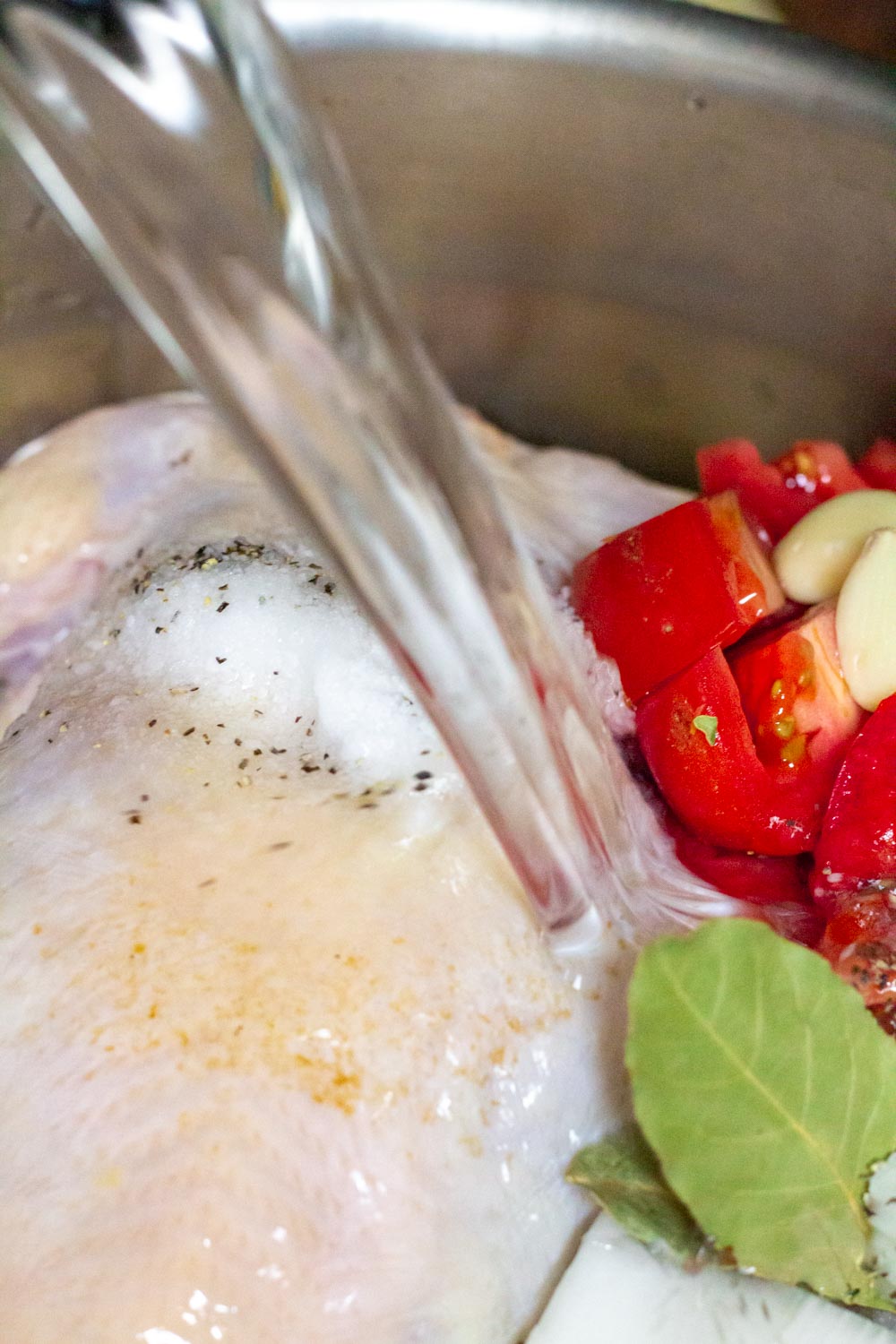 How To Shred Chicken For Enchiladas
Remove the chicken from the poaching liquid and be sure to drain all broth from the chicken back into the pot. Remove the chicken to a large bowl or baking sheet to cool slightly.
After cooling there are several methods for shredding the meat. The simplest way is to use 2 forks to remove the meat and shred it using the forks to pull the meat into ribbons. Another method is to use freshly cleaned hands to pull apart the meat.
The best way is to pull large pieces of meat from the chicken bones, discarding the skin. Place all of the chicken pieces into the bowl.
Set up your hand mixer like you are going to make a cake batter with beaters. Use the hand mixer on low to shred the chicken with the beaters! This technique is the easiest way to have flavorful meat ready for enchiladas or any other meal prep calling for cooked chicken.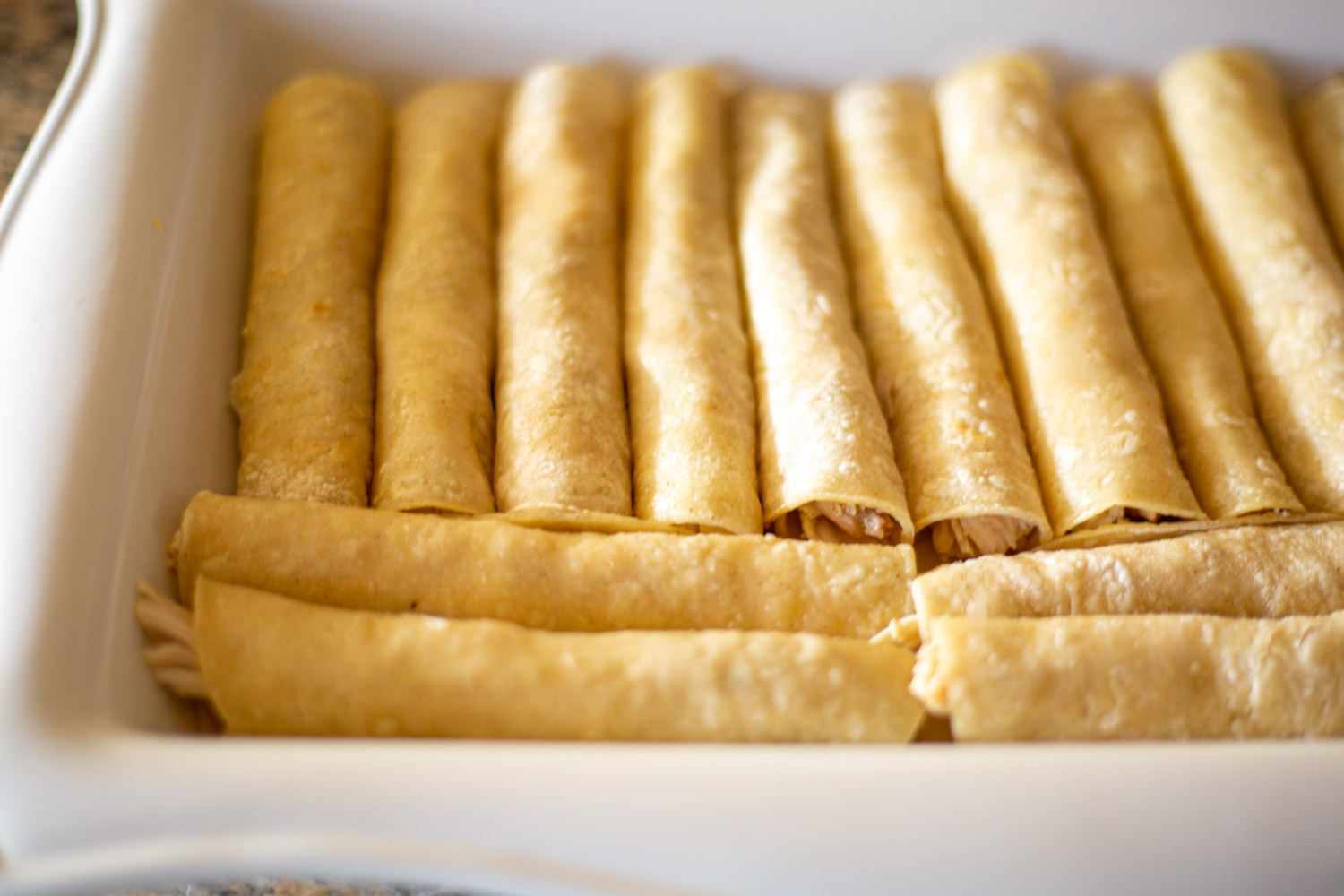 Easy Recipe For Instant Pot Shredded Chicken
If you're in a time crunch this recipe can be made in half the cooking time in the Instant Pot.
We use boneless chicken breasts under the high pressure of the pressure cooker to make juicy chicken in 20 minutes. Simple place this recipe in the Instant Pot, covering the boneless skinless breasts with plenty of water, and cook for 20 minutes. Depressurize and shred the chicken as instructed above.
This is one of my favorite ways to boil chicken breasts for many recipes like chicken salad or a casserole dish.
Crock Pot Method For Chicken Enchilada Filling
The crockpot method is similar to the Instant Pot Method only you will allow the chicken to cook over medium-low heat for 4-6 hours, then shred as instructed. Make sure to cover with enough water that it won't dry out over this longer cooking time.
How Much Shredded Chicken Does A Whole Chicken Make?
Testing this recipe we consistently produced at least 4 cups of tender chicken and 4-5 cups of broth by boiling a whole chicken. This method can be used to make chicken tacos, chicken sandwiches, chicken flautas, and even as a base for chicken tortilla soup.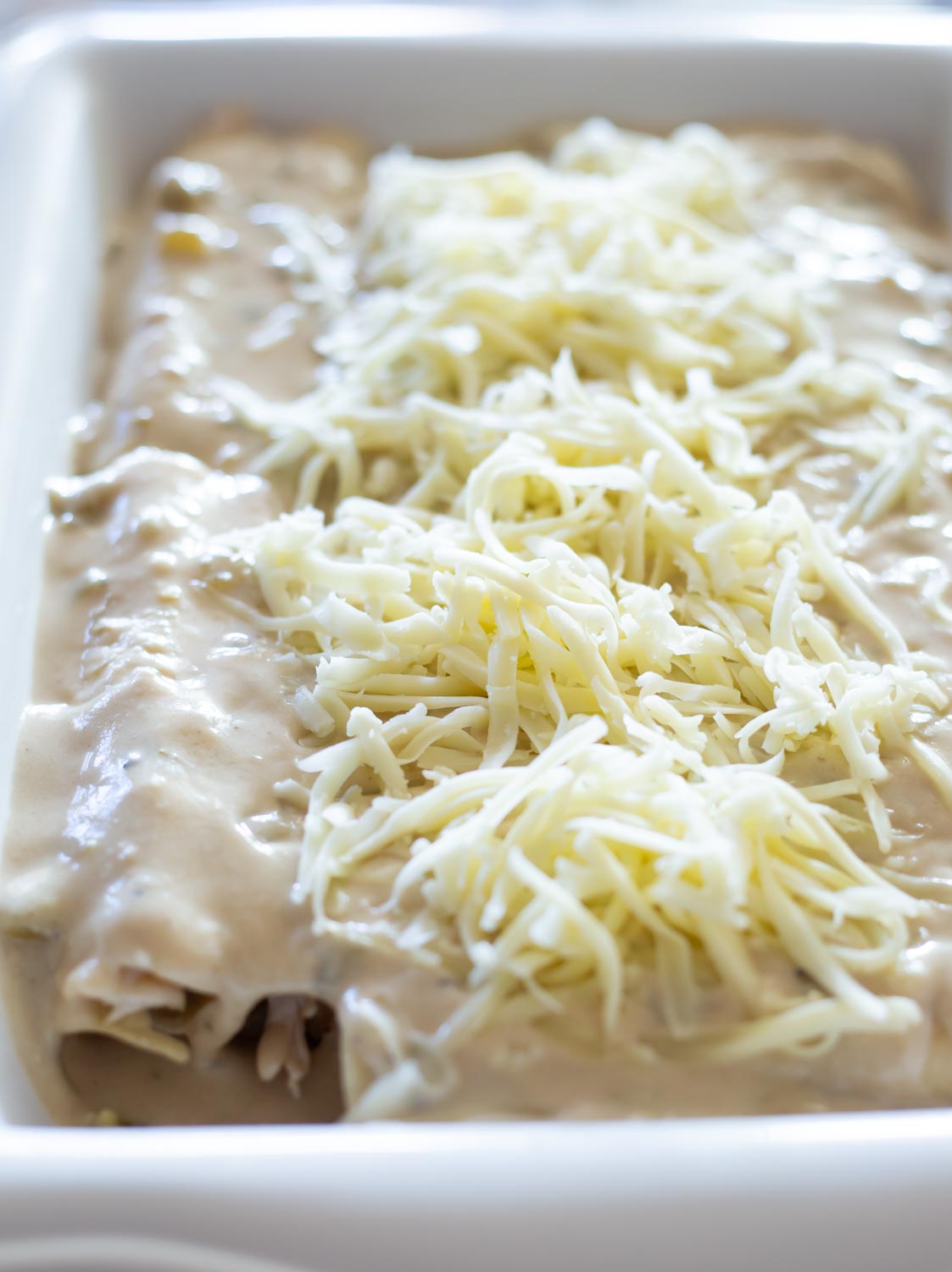 Recipes Using Our Shredded Chicken
Side Dishes To Serve with Chicken Enchiladas
Yield:

4-5 cups
How To Boil Chicken For Enchiladas
Additional Time:
10 minutes
Ultra juicy shredded chicken is a must for homemade chicken enchiladas and this classic method is the best recipe we've ever found!
Ingredients
1 whole chicken, or a mixture of chicken pieces, or 4-6 chicken breasts
1 roma tomato, chopped
1/2 white onion, chopped
3 garlic cloves, whole
2 bay leaves
1 1/2 Tablespoon kosher salt
1 Tablespoon black pepper
Fill with enough water to cover the chicken (about 2-3 quarts)
Optional: 2 Tablespoons Chili Powder or New Mexico Chile Powder, or Pollo Asado Seasoning
Instructions
How To Make Chicken For Enchiladas
To a large pot add the chicken or chicken pieces or boneless skinless chicken breast. Add the tomato, garlic, onion, salt and pepper, and optional spices.
Fill with enough water to cover the chicken or fill the pot about 3/4 full. Large chickens will need to be rotated once during cooking to ensure they are fully cooked, if they poke out of the top of the pot.
Boiling Chicken For Enchiladas
Place the chicken on the stovetop and set to medium high heat. When it begins to boil, lower the heat to manageable bubbles, and let the chicken boil for about 40 minutes, rotating once during cooking. Gently remove the chicken from the broth using tongs to drain the excess broth out.
Methods to Shred The Boiled Chicken
Place in a bowl or on a baking sheet to cool slightly. Shred the boiled chicken using the methods described with either 2 forks, electric beaters, or even a food processor.
Reserve the meat for your enchiladas and discard the bones. Use the delicious broth to thin Mexican enchilada sauces, or store it in the refrigerator for another recipe (suggestions mentioned above).
This chicken can be rolled into corn and flour tortillas to create delicious enchiladas, flautus, and soft tacos.
Nutrition Information:
Yield:
8
Serving Size:
1
Amount Per Serving:
Calories:

398
Total Fat:

17g
Saturated Fat:

5g
Trans Fat:

0g
Unsaturated Fat:

10g
Cholesterol:

164mg
Sodium:

984mg
Carbohydrates:

3g
Fiber:

1g
Sugar:

1g
Protein:

55g
This nutritional information is provided as a courtesy as an estimate only. Consult with a dietician for precise estimates. This website makes no claims that the nutritional values listed are accurate.