Beef Birria is sweeping the internet as the new taco sensation, but can we shorten this 8-hour cooking session with the help of our Instant Pot? Absolutely! It's juicy, beef birria taco time (in half the time), with this authentic recipe from the Urban Cowgirl Kitchen.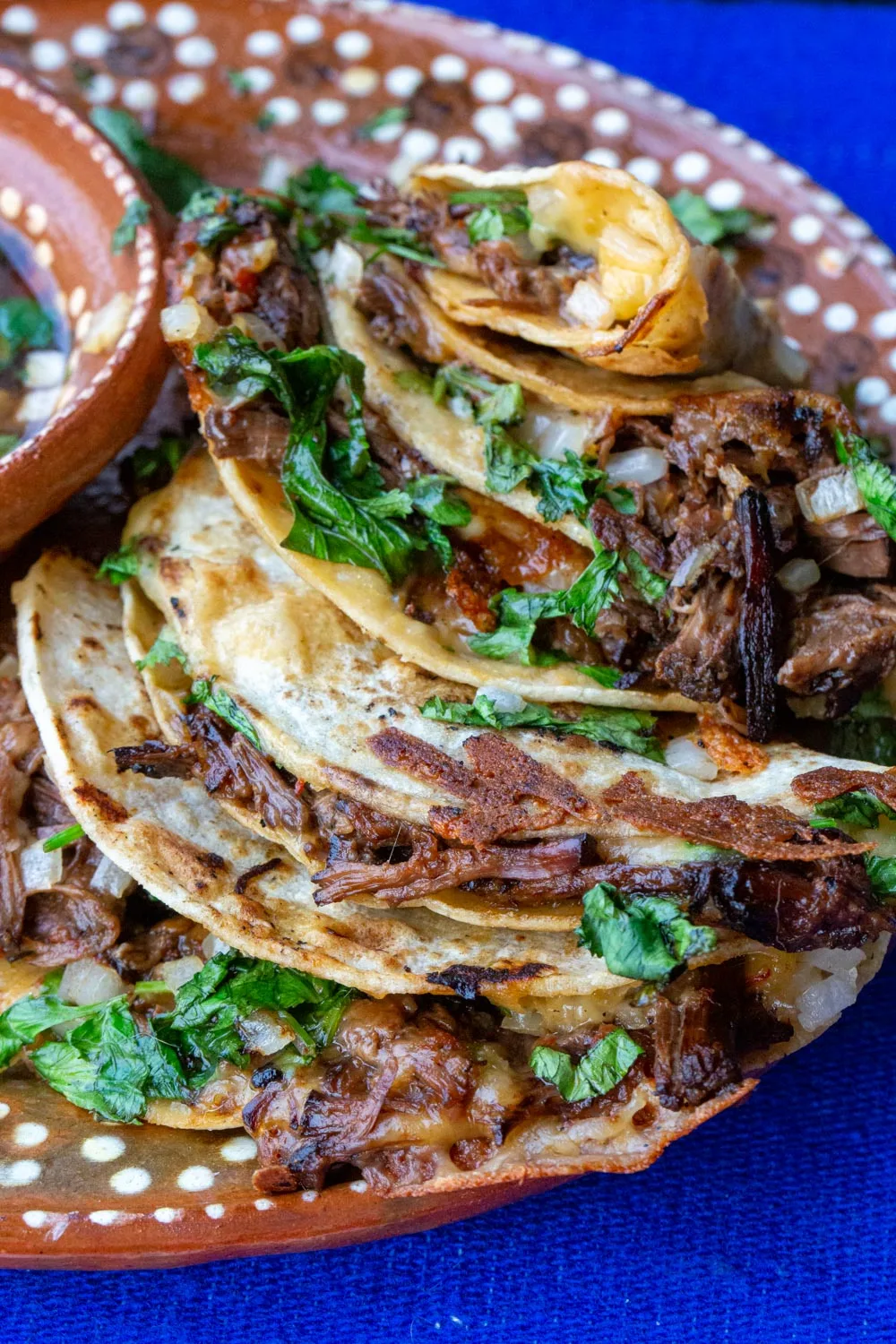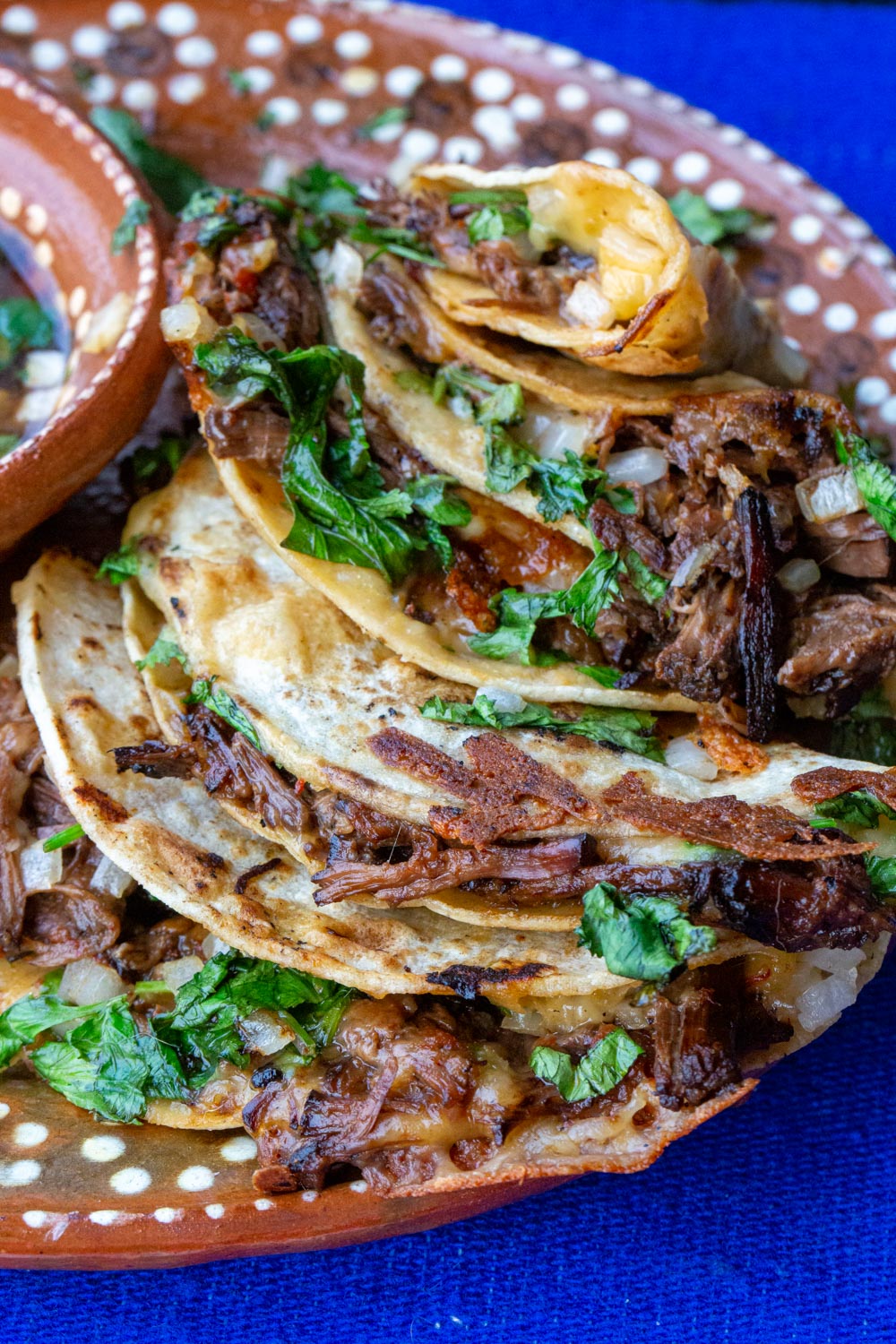 Table of Contents
What is Birria?
Birria is a Mexican stew from Jalisco, traditionally made with braised goat meat, dried chiles, and Mexican spices, in a flavorful broth.
Birria de Res specifically means that this traditional braised dish is made with beef. Birria "of beef".
What Are Birria Tacos?
Birria Tacos, also known as Quesabirria, exploded onto the cooking scene in early 2019, originating from Southern California food trucks selling stewed beef and cheese tacos, fried on a griddle, and served with a flavorful cup of consomme for dipping.
The quesabirria, is kind of a cross between a taco and a quesadilla, and this taco trend has been sweeping the country ever since, via social media.
(Links are affiliate links to products we think are helpful and we may receive a small commission, at no cost to you, if purchased.)
How Long Does it Take to Make Birria Tacos?
About 8 hours– but don't worry because this recipe will change all of that. Because birria recipes take considerable ingredient prep followed by a long stewing method, it's no quick dish.
The first time I made it, it took me (a professional chef) about 8 hours from start to finish, but most of this is due to the low and slow cooking method which we're going to turn over to our good friend the Instant Pot! (Any pressure cooker will work as well.)
Utilizing the Instant Pot's high pressure cooking, we've cut this recipe time down to 2 hours with absolutely no flavor loss. Our juicy tender meat is indistinguishable from longer cooking methods. We're using the Instant Pot 6-quart Pressure Cooker, which you can view here.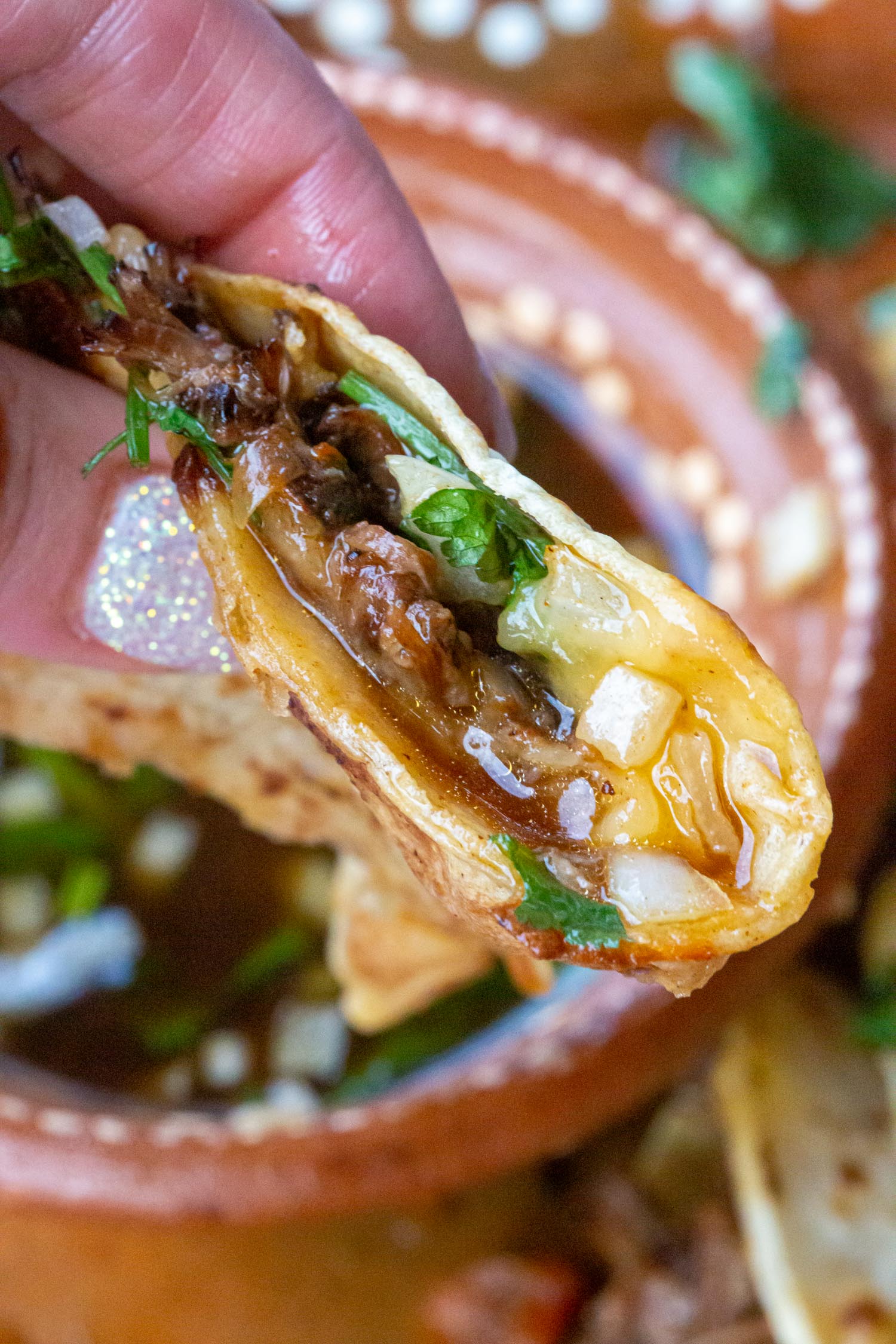 What Ingredients are in the Birria Dipping Sauce?
The birria dipping sauce is made from the flavorful cooking liquid the beef is braised in consisting of garlic, onion, Mexican spices, tomato, and dried chiles, along with the broth the beef roast has simmered in. It's traditionally topped with fresh white onion and cilantro.
What Is the Best Cut of Meat for Beef Birria?
You'll want to use a chuck roast which is inexpensive, easy to find, and just the right size for the pot.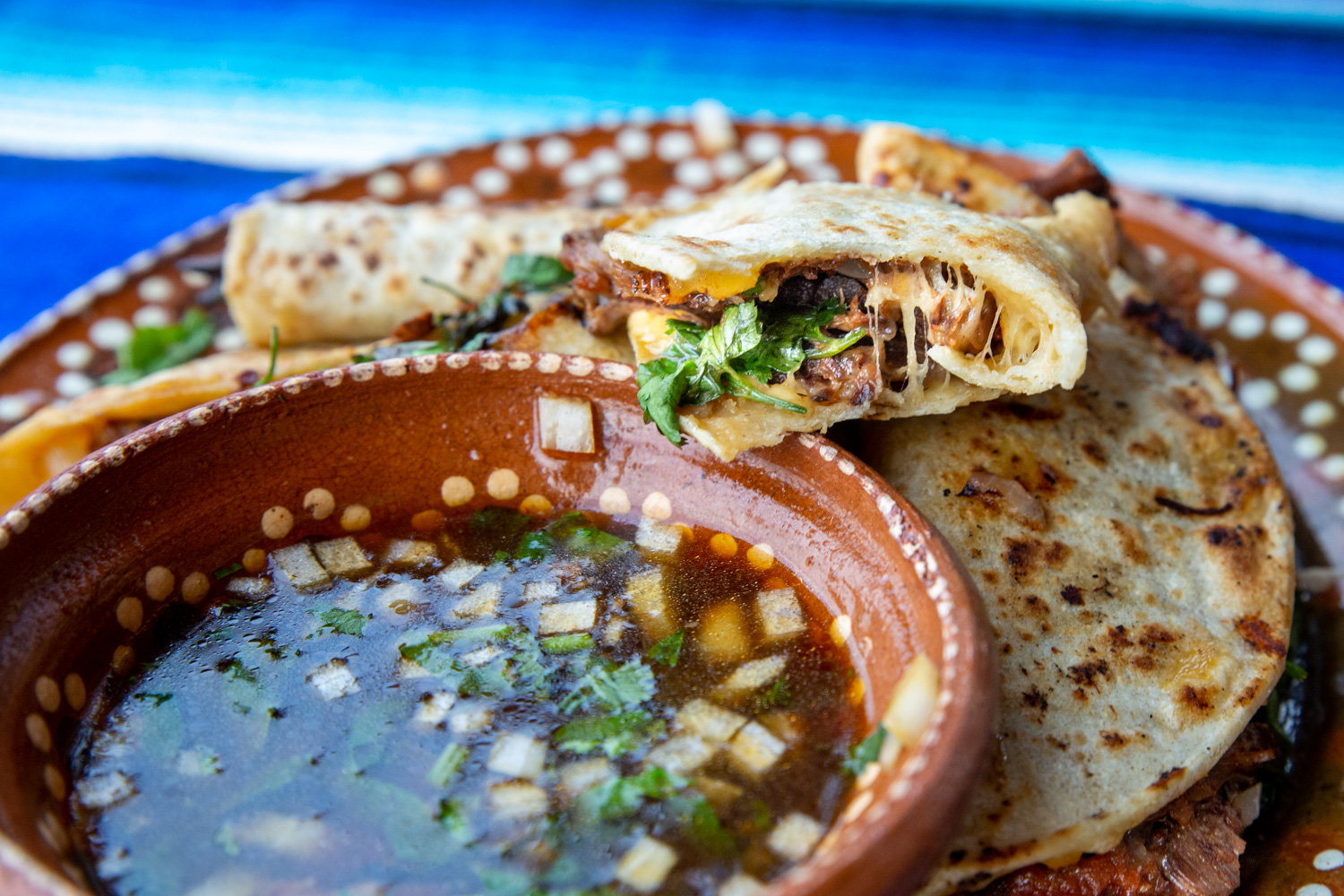 How To Make Birria in the Instant Pot
Sear the Beef
This process will begin by searing the chuck roast in a cast-iron skillet or large dutch oven over medium high heat to create that delicious brown crust. The browned meat will richly flavor the final dipping sauce so don't skip this important step.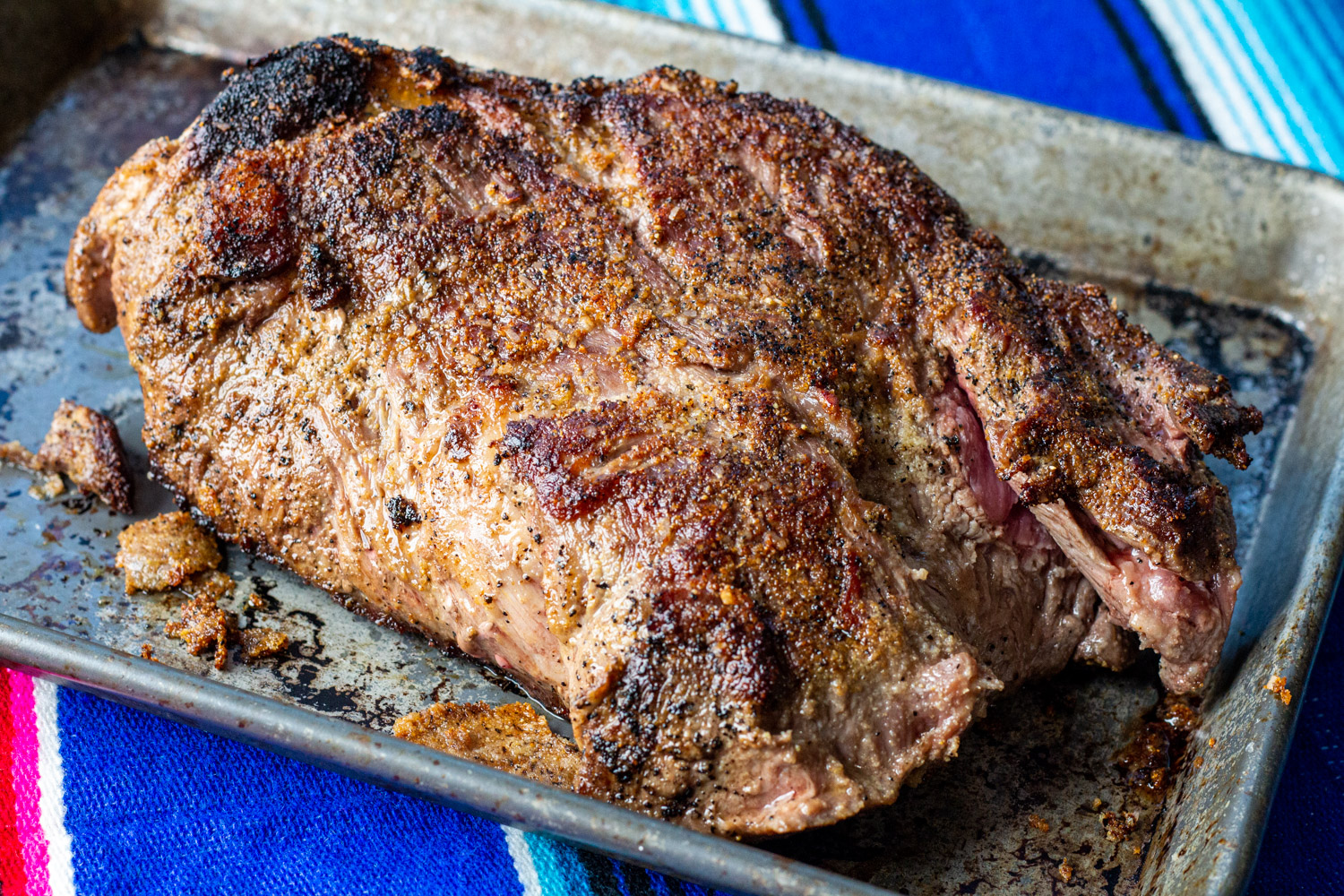 Add the Spices and Vegetables
Next, you will place the seared chuck roast in the Instant Pot and add the garlic cloves, tomato paste, cinnamon stick, bay leaves, whole spices, bouillon, and chopped vegetables.
For the bouillon, I prefer to use Mexican brands such as Knorr for the beef and tomato bouillon. These are found at Mexican grocery stores as well as online here.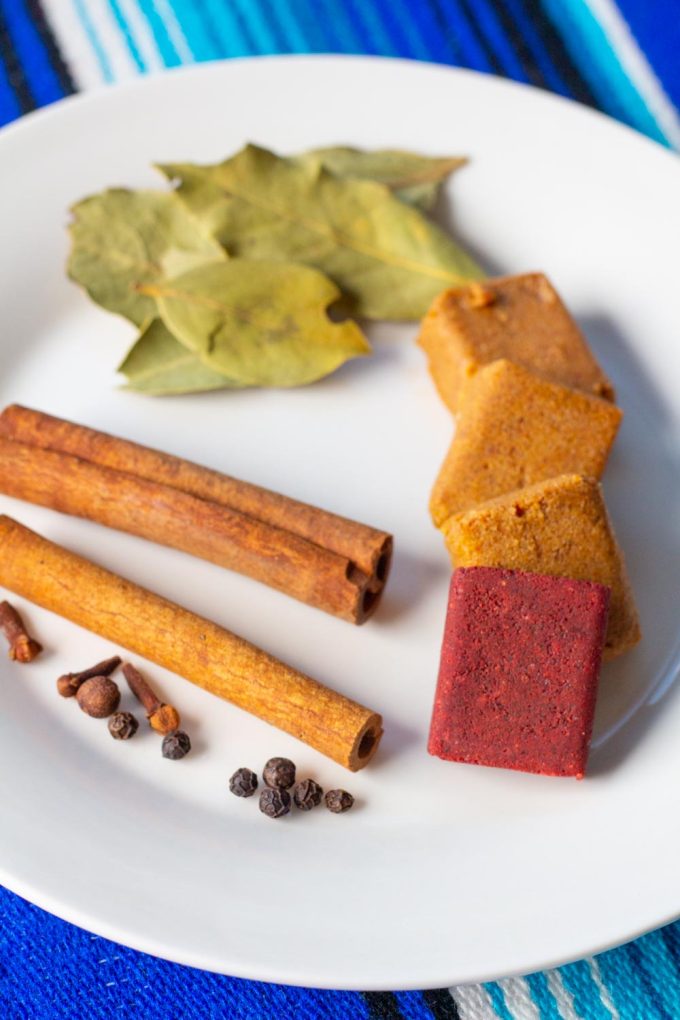 Add the Dried Chiles
A combination of several dried chiles is added to the traditional dish, which we include in the Instant Pot version. Dried guajillo peppers, which are mild, tangy, and have a rich smoky flavor are included, along with pasilla peppers (aka chile negro), which resemble large raisins and have a slightly more aggressive flavor.
To prepare the chiles, you must cut the stems off with scissors and remove the seeds. I use gloves to protect my hands while snipping the chiles into small pieces and shaking the seeds down the sink.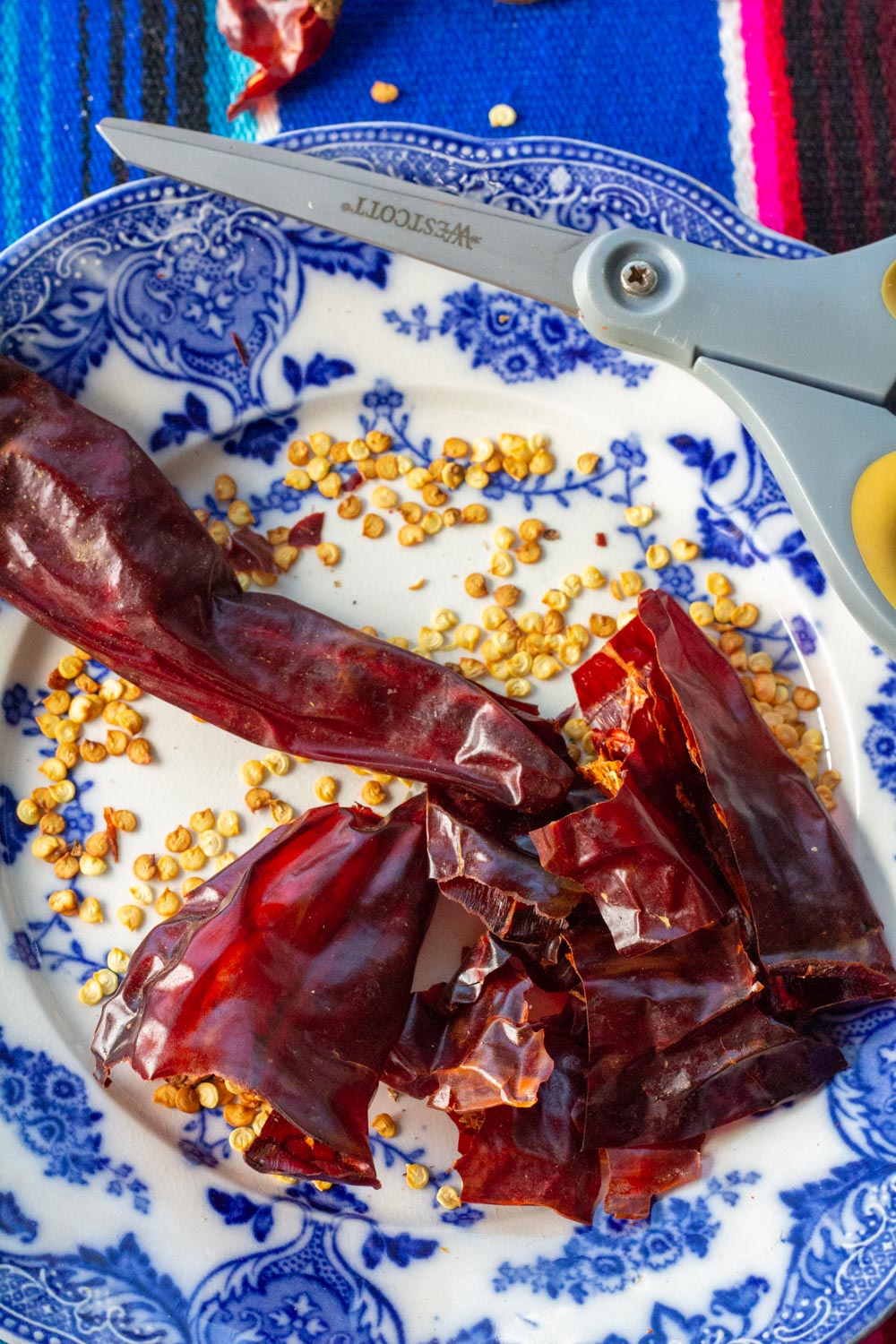 Cover with Water
1 1/2 quarts is usually the amount of water needed to cover this recipe with a 3-4 lb. chuck roast. Finish with a squeeze of lime juice.
Seal the Instant Pot and Set for 2 Hours
Seal the Instant Pot making sure the pressure valve is set to sealed. Set for 2 hours. Now is a good time to shred the Oaxaca cheese, and chop the cilantro and white onion for the quesabirria tacos.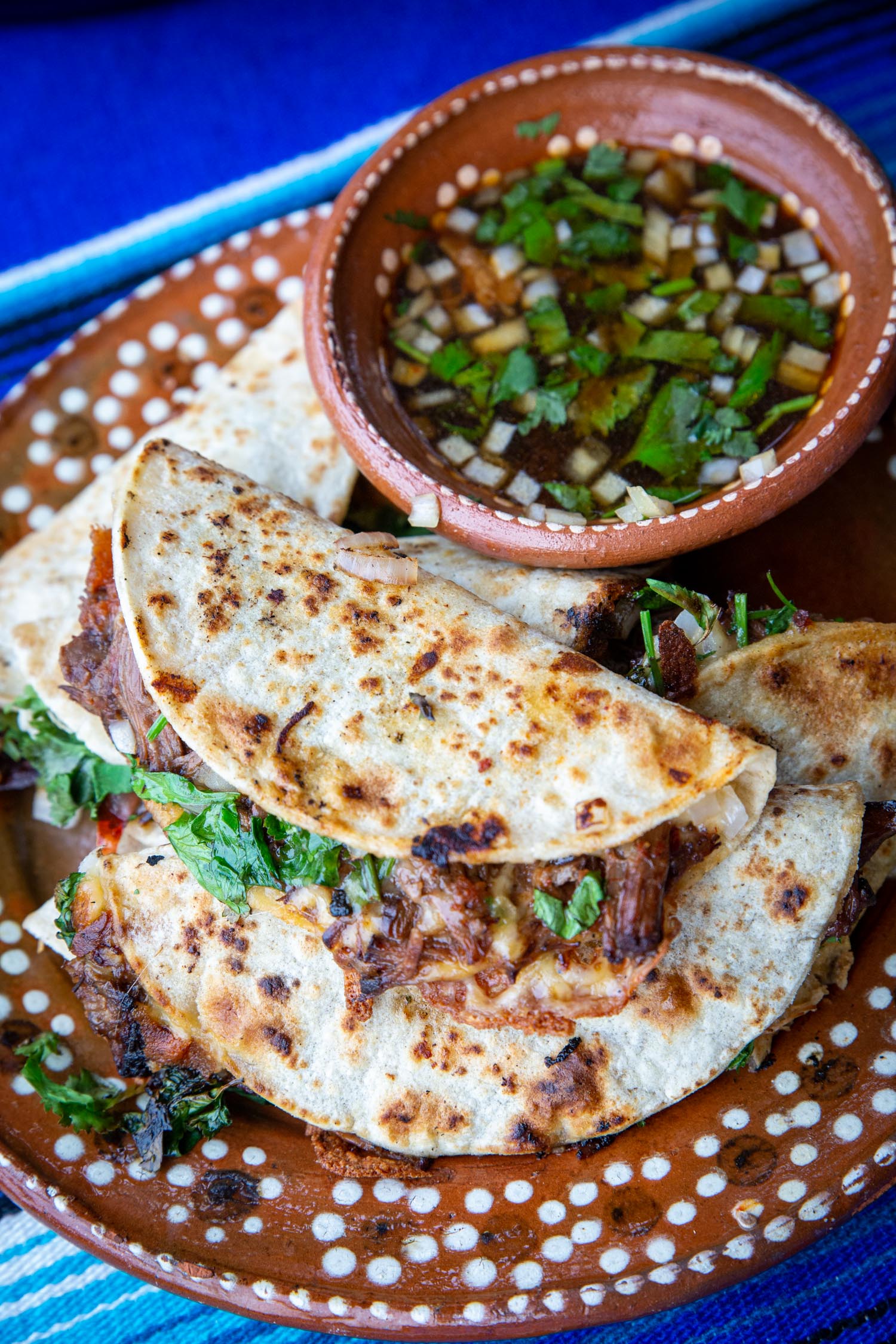 Finishing the Beef Birria
After the Birria de Res is done cooking the Instant Pot will keep the meat warm until you are ready to shred it.
When you are ready, press the pressure valve button to release the steam and prepare a large glass casserole dish for the stewed meat. Carefully open the lid and transfer the meat to the dish. Shred the meat with two forks and reserve.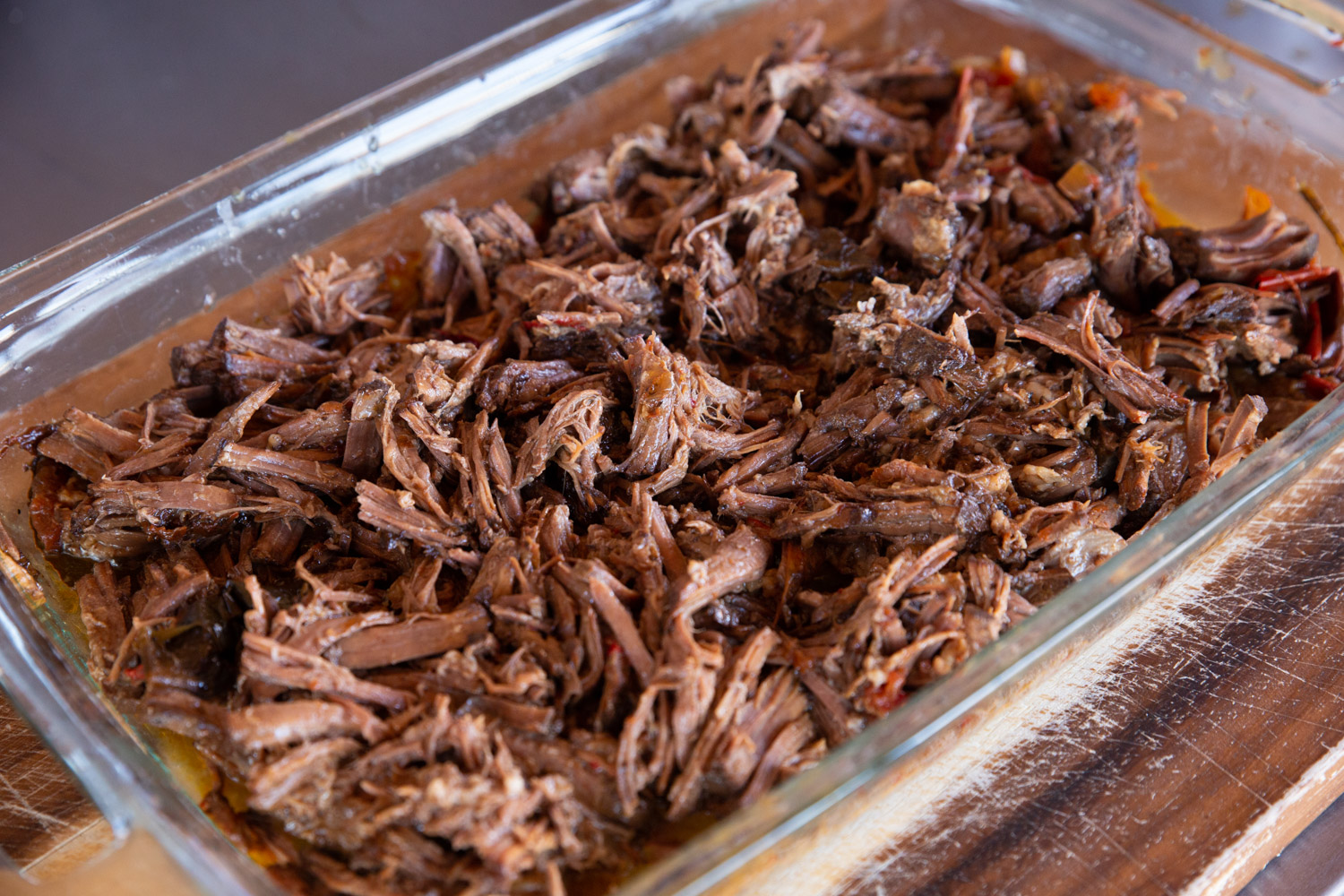 For the birria broth, discard the spices and strain the broth into a large glass bowl.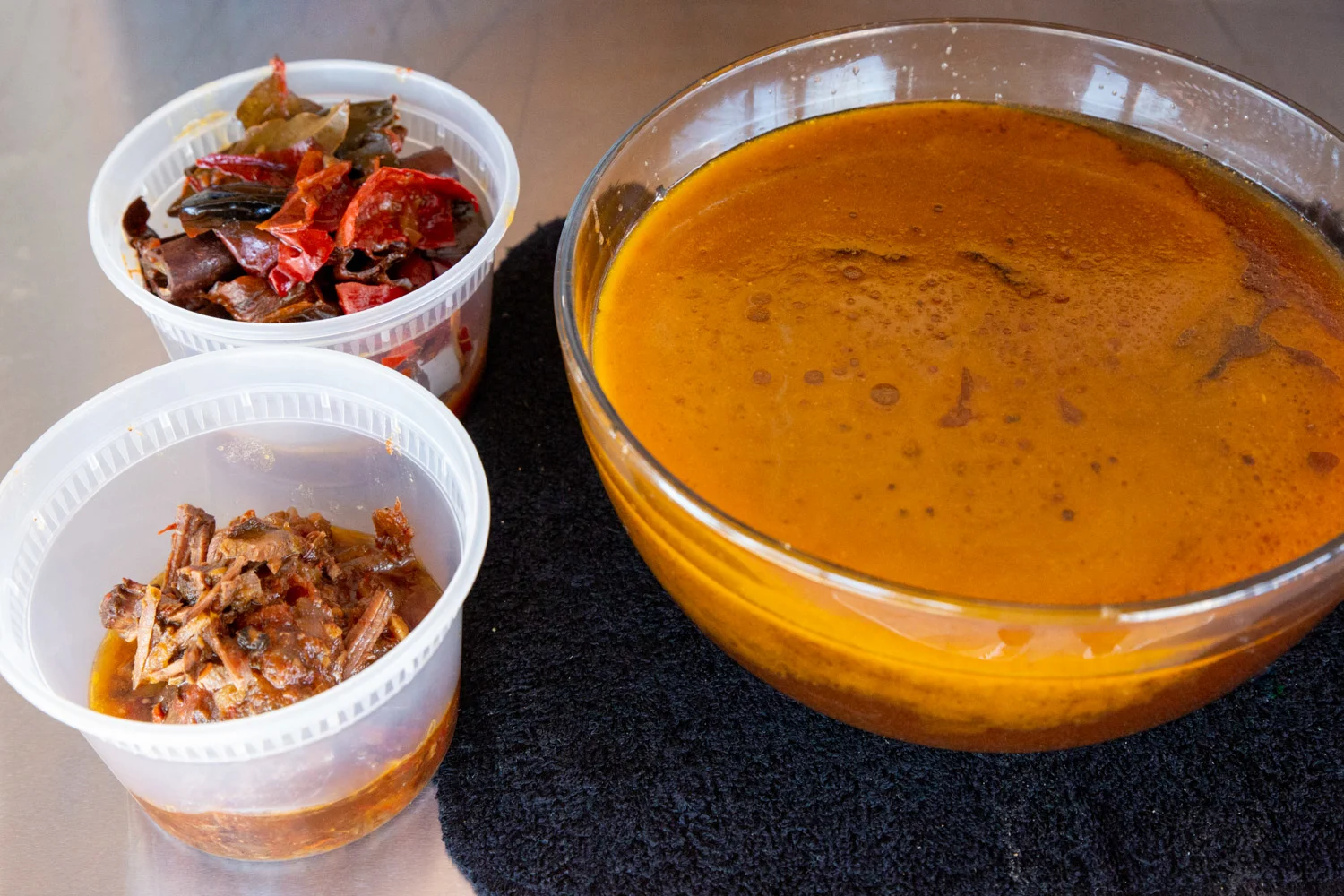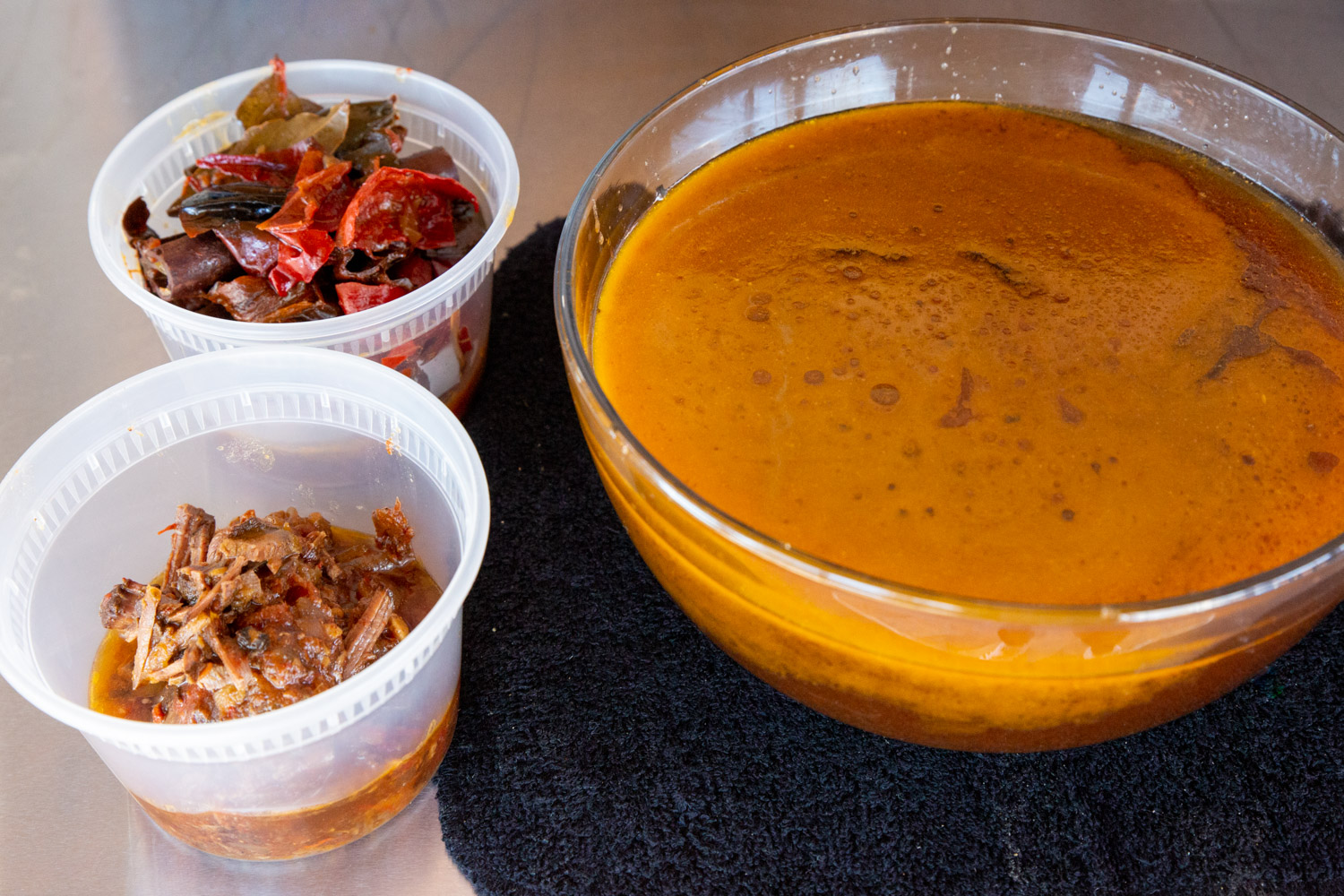 It is easy to separate the fat from the broth by chilling in the refrigerator for 20-30 minutes. The fat will rise to the surface and create a raft that can be removed and stored separately for frying the corn tortillas in (when making quesabirria tacos).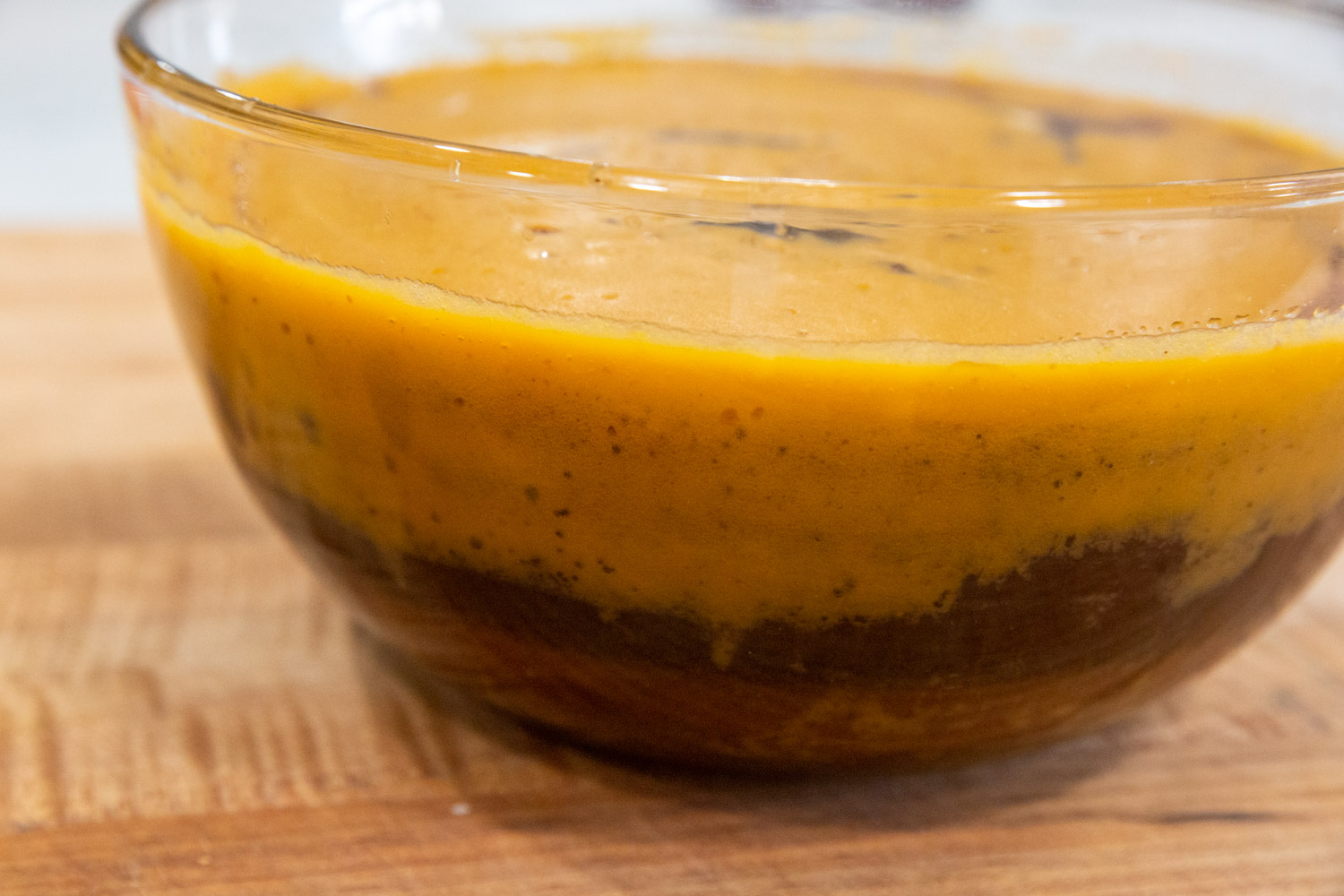 For continuing on to make birria tacos, the broth should be kept warm in a large pot for ladling out into individual dipping bowls.
If the dish is to be served as bowls of birria de res stew, add the shredded beef back into this liquid and serve bowls to all your guests.
Instructions for Instant Pot Birria Tacos
Birria tacos or quesabirria, is made in a large skillet or a griddle… I'm using my Blackstone Griddle which I have become fully obsessed with! It will make a ton of birria tacos all at once. If you want to check it out here is a link.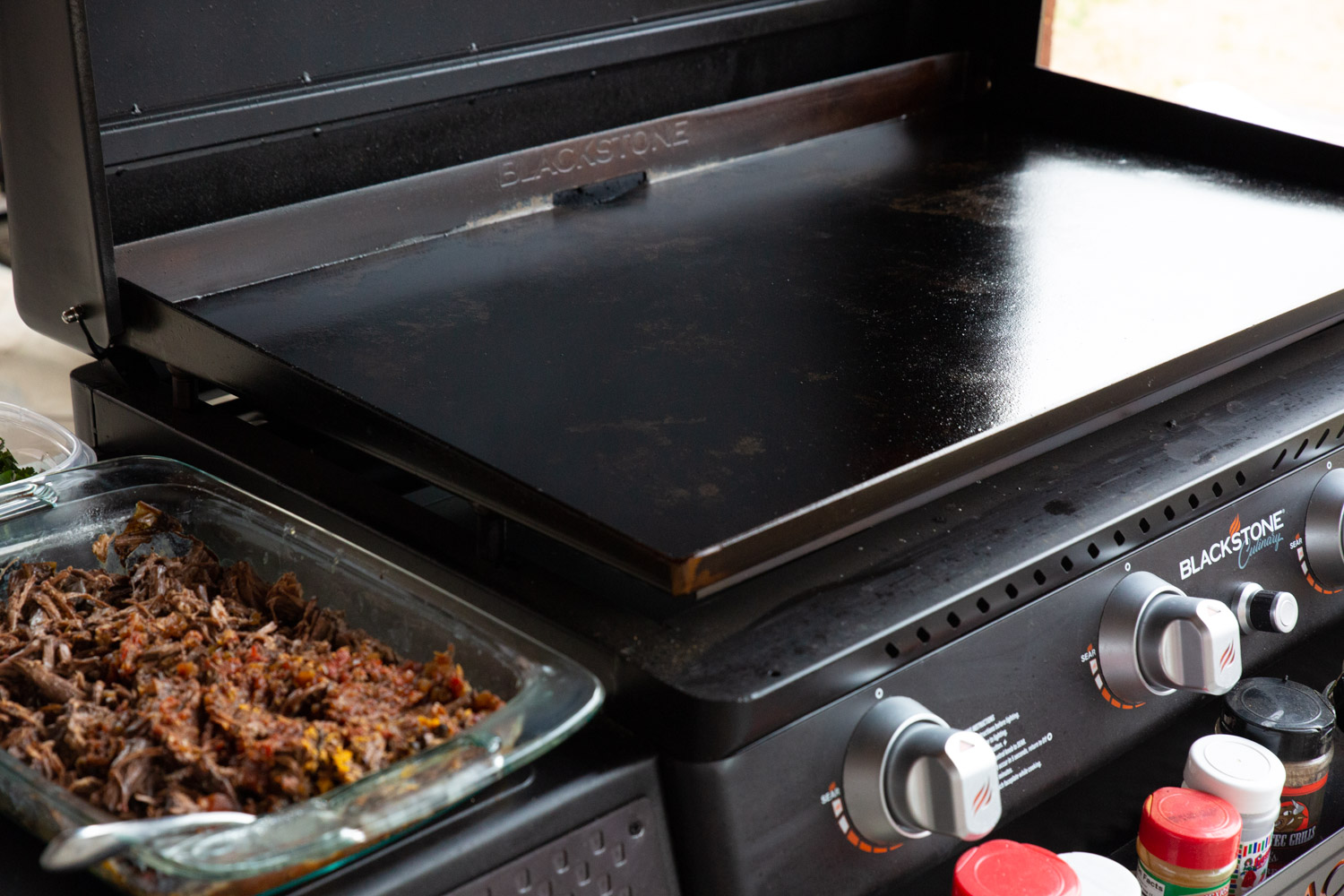 Spoon some of the fat reserved from the broth onto the griddle and place a corn tortilla down.
Top the tortilla with cheese, birria meat, cilantro, and onion, and fold over. Cook 1-2 minutes over medium heat, and then flip and repeat on the other side.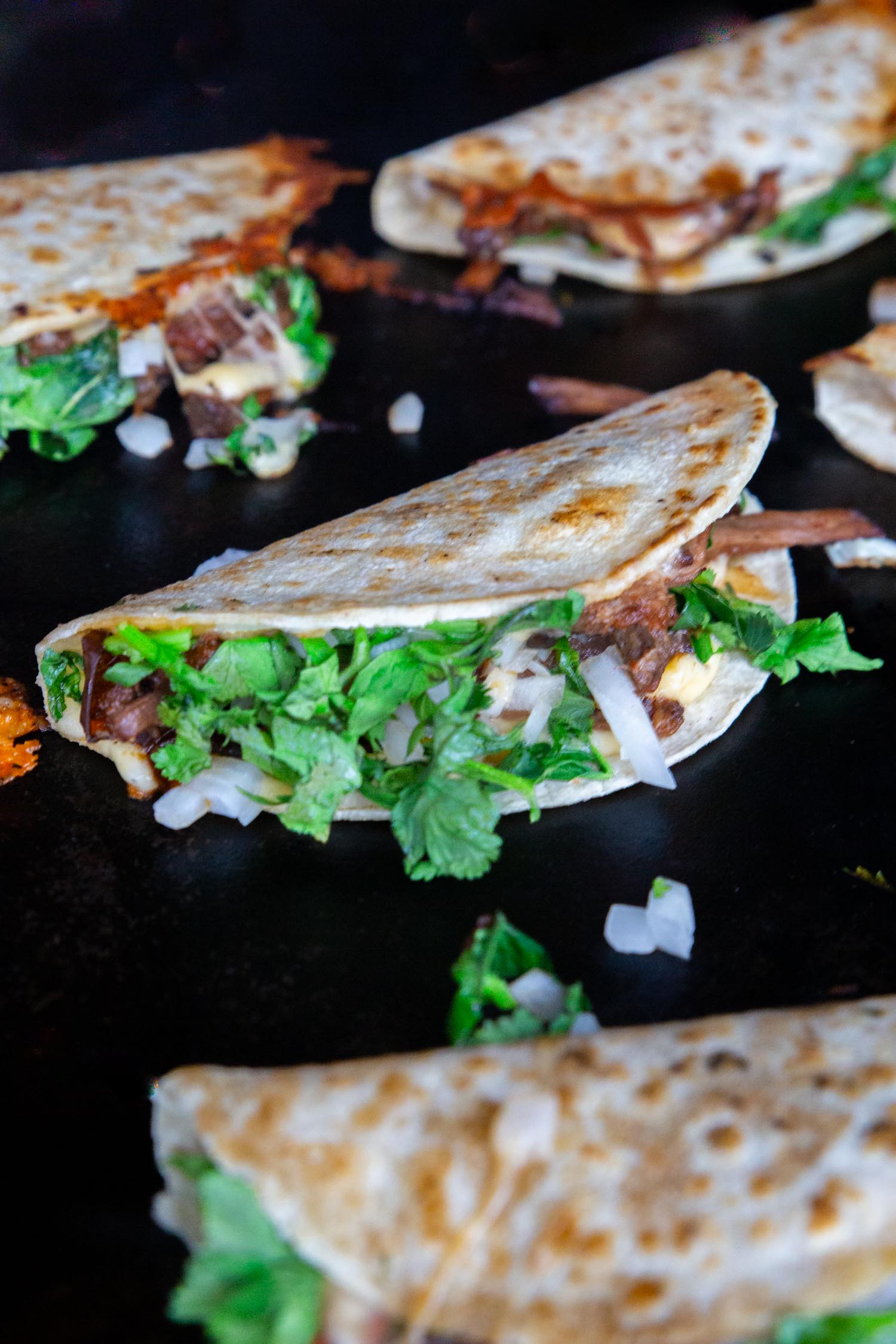 Serve with small bowls of birria broth for dipping.
This delicious birria recipe will be one the whole family enjoys!
Can the Mexican Beef Stew be Frozen?
Yes, stews and soups freeze and reheat wonderfully. Place leftovers in a freezer-safe dish and cool fully. Place the lid on securely and freeze for up to 1 month. To reheat, defrost the beef in the refrigerator and reheat gently on a stovetop or microwave.
Side Dishes To Serve With Birria in the Instantpot
Yield:

10 servings
Instant Pot Birria Recipe (For Tacos with VIDEO)
Additional Time:
30 minutes
Total Time:
2 hours
50 minutes
This delicious Instant Pot birria recipe is made in 2 hours, without sacrificing any of that beefy, juicy flavor. Quesabirria tacos in 2 hours with this authentic recipe.
Ingredients
3-4 pound chuck roast (see note)
2 T. oil
Kosher salt
Black Pepper
Garlic Powder
Onion Powder
3 beef bouillon cubes or teaspoons
1 knorr tomato cube (tomato bouillon)
2 cinnamon sticks
3 whole cloves
2 allspice berries
6 black peppercorns (or 1 t. freshly cracked black pepper)
4 bay leaves
2 T. tomato paste
7 guajillo peppers, destemmed and deseeded
3 chile negro (can substitute guajillo)
2 roma tomatoes. Chopped
1 tomatillo, chopped
½ white onion, chopped
4 garlic cloves, smashed
Juice of 1 lime
1 ½ quarts water
1 t. kosher salt
To prepare tacos:
Oil for frying the tortillas in a pan
Corn tortillas
3 c. Oaxaca Cheese, shredded (or Mexican blend in a bag works too)
½ white onion, small dice
Cilantro, freshly chopped
Additional limes for seasoning and serving with the tacos
Instructions
To Sear the Chuck Roast: Over medium high heat, heat a large heavy-bottomed skillet. Add the oil to the pan.
Sprinkle the chuck roast with kosher salt, pepper, onion powder, and garlic powder liberally on all sides.
When the oil in the pan is hot and glistening add the chuck roast to the pan, sear 4-6 minutes (until golden brown) and then flip the roast and repeat on the other side. Take the seared roast and place it in the Instapot.
Adding the other ingredients to the Instapot: On top of the chuck roast, add beef and tomato bullion. Add diced onion, tomato, tomatillo, smashed garlic, all of the spices, and tomato paste.
For the dried chiles: Cut the stem off of each chile with scissors. Using the scissors split open the chile, removing the seeds which can make the broth taste bitter. Discard the seeds and stems. Cut the chile skins into 2-inch pieces and add to the Instapot. If chile negro cannot be found, you may substitute additional guajillo chiles which are usually easy to find. Substitute any mild chiles you enjoy for different flavor combinations
Add 1 ½ quarts water (should cover the meat), juice of one lime, and 1 t. kosher salt.
Place the lid on the Instapot and secure. Set the Instapot for 2 hours.
After cooking, vent the steam from the Instapot. When it is safe the Instapot will allow you to open it but beware of additional hot steam. Let the stew cool slightly.
Using tongs, transfer the cooked chuck roast meat to a bowl and shred the meat with 2 forks.
Carefully pour the broth through a pasta strainer into a medium pot, removing all of the cooked vegetables and spices. Season the broth with additional lime juice or salt if needed.
After tacos are made each portion should be served with some of this delicious broth for dipping the tacos into. Each portion of the broth should be served hot, topped with fresh white onion, and cilantro. You don't have to measure, just eyeball it.
To prepare the tacos you will need a hot griddle or large non-stick skillet heated over medium heat. Add 1-2 T. oil to grease the pan. Dip a corn tortilla into the broth and then lay on the hot skillet.
On the tortilla add shredded cheese, some of the shredded meat, and if you like a sprinkling of diced white onion and cilantro. Fold the corn tortilla in half with your spatula and fry on each side 1-2 minutes, until seared. (They don't get crunchy, but they do get a bit crisp.)
Serve 3 tacos and a cup of broth per serving.
Notes
This recipe may be made with a 2-pound chuck roast but results in very little meat for all that effort. When using a 2-pound chuck roast go ahead and use the exact same recipe.
Nutrition Information:
Yield:
10
Serving Size:
1
Amount Per Serving:
Calories:

704
Total Fat:

45g
Saturated Fat:

19g
Trans Fat:

2g
Unsaturated Fat:

23g
Cholesterol:

187mg
Sodium:

793mg
Carbohydrates:

21g
Fiber:

4g
Sugar:

6g
Protein:

56g
This nutritional information is provided as a courtesy as an estimate only. Consult with a dietician for precise estimates. This website makes no claims that the nutritional values listed are accurate.